Creating and sustaining interest in your company's webinar series is an art few have mastered.
It takes the right amount of marketing finesse to remind your customers about the event without pestering them.
Because your customers likely receive a steady flow of emails throughout their day, it may be difficult for them to differentiate what's important from what's not, and your webinar email alerts may pass by unnoticed.
This article will walk you through the practical ways your company can send out email notifications to increase registrations, attendance, and follow-up actions that produce profit from your webinar series.
Here's what's in it for you:
Increased Webinar Attendance
Higher Conversion Rates
Positive Relationships with your Prospects/Customers
Let's start at the beginning.
Best Practices for Sending Notification Webinar Emails
Once a prospective customer registers their email with your company, it's important to welcome them into your business.
However, there are a number of tips to follow if you want to stay in their good books.
1. Don't Spam
Remember, the notifications you dispatch are only a click away from ending up in the spam folder.
People don't like being nagged by countless emails that essentially say the same thing. Instead, try to limit the number of notifications you send, and keep them interesting and relevant to your customer base.
So, what is the right amount?
Like any event, the frequency of your webinar will determine the appropriate number of notification emails.
If you host a monthly webinar series, then 43% of event planners would agree that sending one email per week leading up to the event is suitable.
However, if you run a new webinar each week, then a higher frequency of notifications is justified.
2. Timing Is Everything
Sending out email notifications at the wrong time may cause them to be lost in the customer's sea of inbox content.
The right time will give your customers the chance to notice them as well as make a mental note of what's being said.
So, when is the best delivery time?
53% of event creators believe Tuesdays are the best days (generally) to send emails, and the best time of day is between 9am and 1pm. So, if you're starting an outbound invite/awareness campaign, give it your all on Tuesday.
Additionally, if you wait just 5 minutes to send a notification after someone has registered to your email list, this decreases the chance of them immediately disregarding your notification.
With Demio, you have the option to automate webinar email notifications in a cadence similar to the below: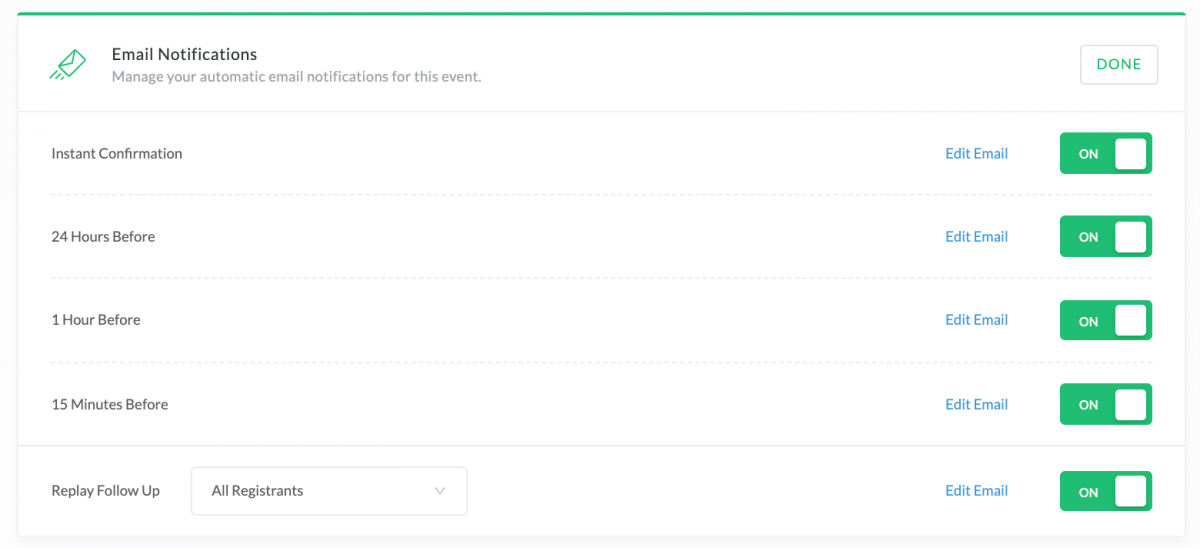 3. Be Clear, Concise, and Consistent
We all know subject lines are everything when it comes to email open rates. If they don't appeal, you don't get an open, and score zero points.
There are a few types of subject lines: Direct, Blind, or Hybrid.
As their names suggest, direct subject lines say outright what people will get in the email, while blind subject lines "tease" instead (hybrids blend the two). But whether the audience sees the bait or not, it's always the same question: will they bite?
When someone signs up for a webinar, we suggest using direct subject lines and including the name of the event in it. That way, if they search their inbox for important info about your webinar, they won't have to stumble around or wonder which email has it.
The content of your webinar emails requires some thought as well. A few things to reiterate before the event include:
The time and date as well as the link to the webinar itself.
A recap of what they'll get out of the webinar, the value, and any resources or perks
Anything your audience should prepare/know in advance.
Contact details for questions.
A link to share the invite, if desired.
Demio provides basic templates that include the necessary info and a link. But you can add to and customize these to suit your particular needs and style them as you wish.

If the webinar is a big event, you may want to drip exciting info about your presenters, and include the agenda and social links.
We loved including video nuggets and downloadable content to keep registrants interested and prime them for what to expect.
4. The Follow-Through
Once your (amazing) event is over, it's important to wrap things up properly to get the most ROI from them.
This means following up with attendees and no-shows soon (if not immediately) after the event has concluded.
In both cases, you should provide a link to the event recording so everyone can recap the whole thing, or the bits they found most interesting or missed entirely.
The post-webinar email is also a prime opportunity to offer special discounts, or hook your audience with a strong and compelling call to action. You can link to other resources like the presentations themselves or helpful pieces of content you shared in the webinar.
Including FAQs and short snippets of the recording in your follow-up are effective ways to maintain engagement and get the most out of your content.
However, it doesn't end there. Many studies indicate it can take up to seven follow-up emails to hook and engage a prospect (if that's the intention of your webinar). As attending a webinar is already high on the intent funnel, a webinar prospect likely would be more open to a personal call or one-on-one demo.
Don't let enthusiasm wane. Keep it up with the right invites for a more personalized interaction with your prospect/customer. You'll either turn them into a new customer, or create a superfan out of your existing ones.
5. Measure, Track, and Improve Email Reply Times
Many people use mass outbound email to drive registrations to their webinars and follow up after they end.
But, what happens when a prospect/customer responds to one of these emails? Do you have a system in place that ensures a sales/support team member replies to them promptly? Can you guarantee none of these emails slip through the cracks?
According to HubSpot, 90% of customers rate an immediate response as important or very important when they have a customer service question. 60% of customers define "immediate" as 10 minutes or less.
Companies spend thousands of dollars on lead-gen efforts, but they're futile unless the leads convert. This requires a clear, straightforward process that ties together sales and marketing, and leaves no prospect unattended.
Harvard Business Review performed a study that found 71% of internet leads are wasted. Imagine the time, effort, and money spent to generate those leads, only to end in failure.
To be successful, you need a tool that tracks incoming email requests, streamlines the response process, and ensures no one is ignored.
Using Email Analytics Tools
This is where an email analytics tool like timetoreply comes in handy.
Timetoreply tracks the time it takes for both your customer-facing teams and the customer to reply to each other's emails and tells you which emails still need a reply.
With timetoreply, you can analyze:
Average first reply and overall reply times
Time to close a conversation
Email volumes (great for balancing workloads)
The number of emails in a conversation (identifying and eliminating email pingpong)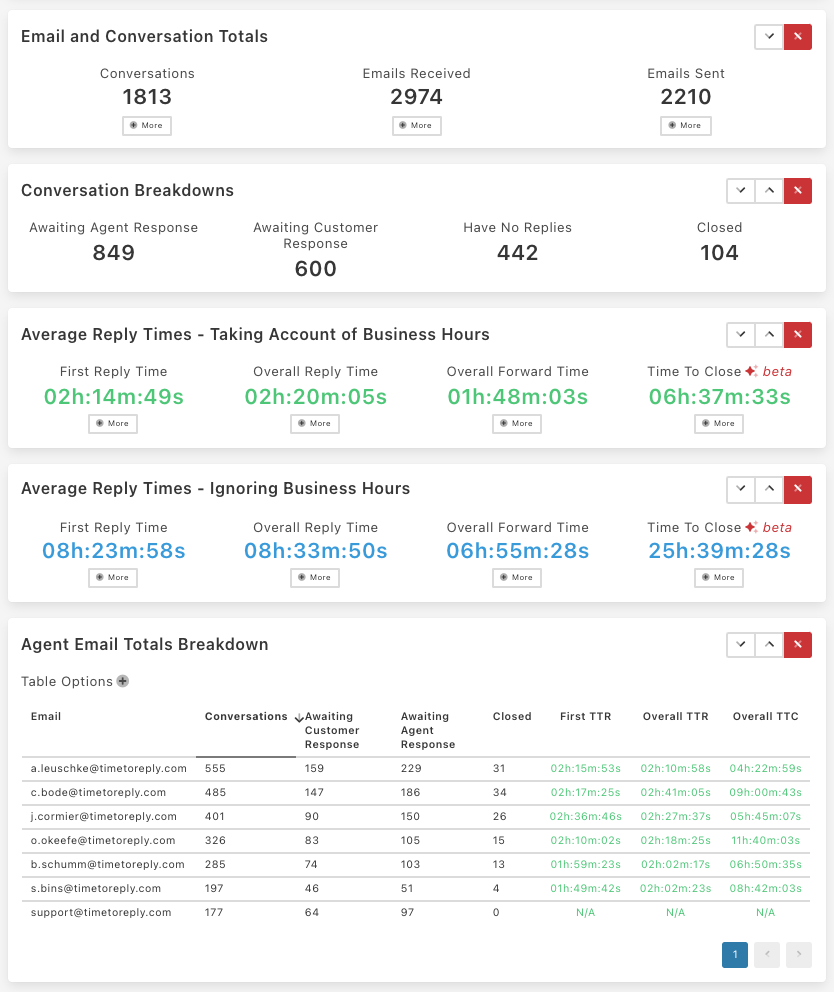 It can track individual email accounts ([email protected]) or group accounts ([email protected]). You can also organize groups of high-priority customers and create teams of agents for them.
Using timetoreply enables you to set up reply time goals, and then track and improve based on those goals. You can also follow your team members' "time to reply ratio," or the relationship between their reply time and how this impacts their contact success rate.
You can even turn on Real-Time Alerts when an email has not received a reply within a timeframe of your choosing.
The reply time stats also integrate directly with CRMs like Hubspot. You can see your team's and customers' reply times alongside other metrics like open rates and click-through rates, subject lines, etc. These stats can help you determine which campaigns elicit the highest customer response and engagement.
Final Thoughts About Webinar Emails
Email plays a pivotal role in the success of your webinar, from awareness all the way to conversion and customer engagement/retention. Having a robust process in place to handle the email components of your webinar will maximize the ROI of your webinars in two ways:
It makes sure your prospects and customers notice and derive value from what you send them.
It ensures your prospects and customers receive replies in a timely manner.
Uniting tools like Demio with your CRM and timetoreply will automate this process for you, giving your team more time to focus on achieving their goals.


DOWNLOAD YOUR FREE WEBINAR STRATEGY CHECKLIST BELOW
Use this checklist
to design your very own high-converting webinar marketing strategy from scratch, then automate the process to attract high-quality leads.
We promise to never spam or send emails about cats.
Okay, maybe some cat stuff.