In this article, we bring you the seven best webinar case studies of 2020 that show the secrets to planning and promoting results-driven webinars.
Most likely, we'll remember 2020 as the year of sweatpants, Netflix, and fatigue. No traveling, no events, no hugs. Yet, the stay-at-home reality also came with new opportunities and marketing experiments. More companies than ever before redirected their marketing efforts towards launching webinar campaigns and building audiences with online events.
As 99Firms notes, "Webinars are a treat for marketers, with a total of 95% of respondents seeing them as important for their strategy." Also, according to Statista, "In 2021, 77 percent of surveyed tech vendors are planning to use product demos as a marketing tactic." (Did you know you can turn your product demos into qualified leads via webinars?)
Regardless of your marketing goals for 2021, the impact of webinars will continue to increase, ensuring brand awareness and a higher number of quality leads for your business.
If you're still on the fence, we have something that will not only show you the INCREDIBLE results you can get by running webinars, but also help kick off your webinar campaign with a full-cycle workflow. 
Our Micro-Research Identifying the Best Webinar Case Studies
To set you up for success, we researched and put together seven of the best webinar case studies. Our goal was to identify and define efficient, easy-to-implement webinar workflows that marketers can simply copy and paste into their 2021 strategies. That's not all: Our webinar case studies work regardless of your budget or team size, so they're great if you want to do more with less.
Not only did people open up about their specific webinar workflow results, but they've also described everything in detail so YOU can copy their process in 2021 and run results-driven webinars.
So, if you're interested in upscaling your marketing and business results in 2021, these webinar case studies are for you.
Let's dive in.
(Note: The webinar case studies presented below are in alphabetical order.)
Autodesk: Achieving Results Beyond Expectation
Let's kick off the list with Autodesk, a 3D design, engineering, and construction platform. The brand helps people create things ranging from high-performance cars and towering skyscrapers to smartphones and movies.
Its tools can be used for modeling, animation, civil engineering, drafting, manufacturing, product design, and more. Considering how wide the Autodesk audience is, we were very curious to know more about its webinar target group.
To get the webinar data, we talked to Cole D'Ambra, the Marketing Automation Manager at Autodesk.
👉 Webinar Details
Webinar title. Top Workflows To Win More Bids in 2021
Webinar audience. Leads: general contractors in North America who dove into bid management, vendor qualification, and model conditioning workflows
Quick webinar description. Discuss time- and money-saving strategies along with increasing project win rates as the key to success in 2021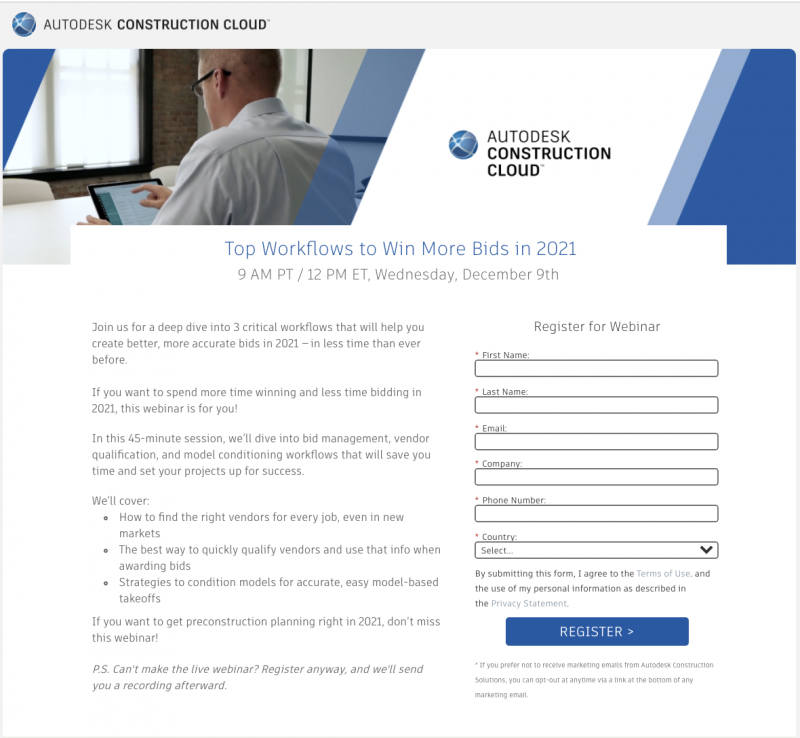 ? The webinar KPIs were very specific: 700 Registrants, 200 Attendees, 50 Demo Requests.
👉 The Webinar Promotion Strategy
In-app messages and email campaigns. The best promotion strategy the webinar team deployed was email and in app. Autodesk has many products in its portfolio and is cross-selling to customers and leads based on their Ideal Customer Profile (ICP) segmentation. As Cole D'Ambra indicated, the Drift Email was a game changer: instead of filling out a registration form, the leads could simply reply to the email to register.
Social media. According to Cole, driving organic social media traffic to the registration page didn't bring many registrants, yet it helped to keep followers up to date.
Paid promotion. Autodesk used paid promotion in collaboration with industry publishers. This action brought 15%-20% of registrants.
👉 Autodesk Webinar Results
The results of this webinar campaign were beyond expectation:
The webinar attracted 1,306 registrants.
340 people attended the webinar.
The company received 85 Demo Requests. One week after the webinar, the webinar team emailed the absentees to offer a personalized demo. This yielded a 5% conversion rate from no-shows to demo requests.
👉 Webinar Case Studies: Autodesk Workflow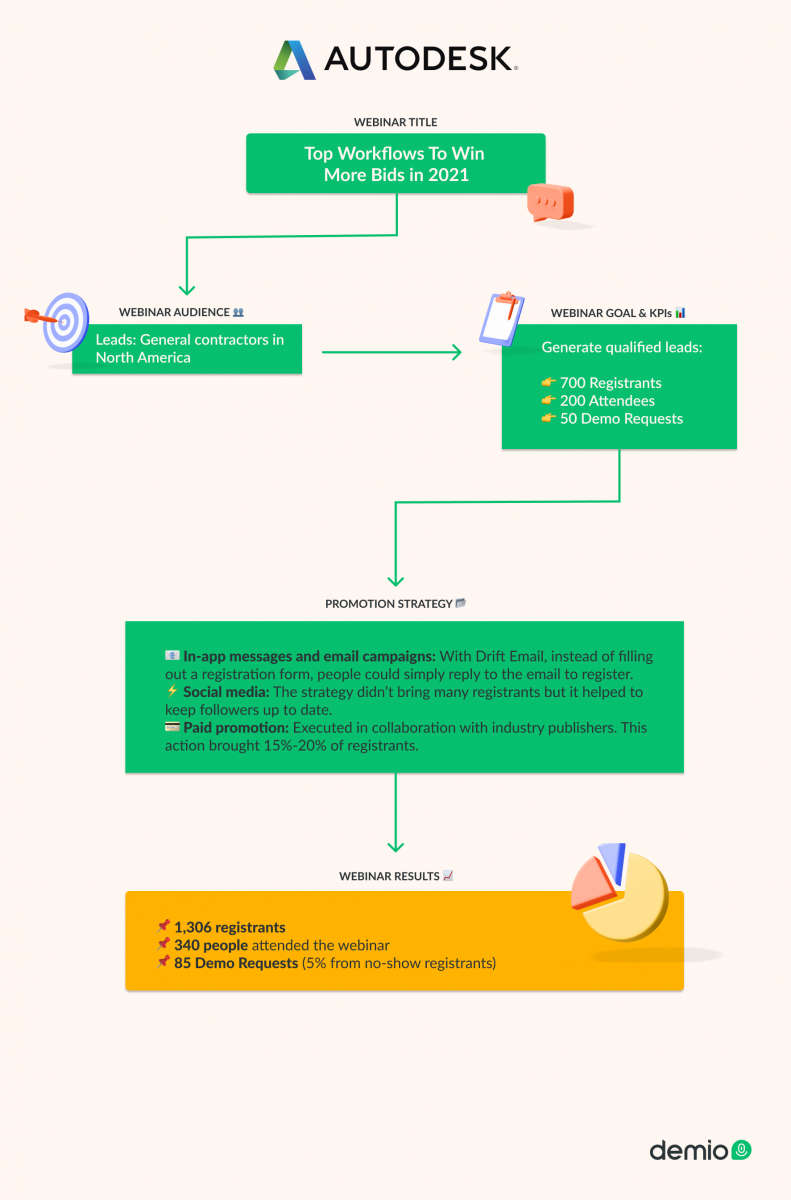 👉 Quick Lessons From Autodesk:
Although you may have different audiences, be very specific about your target group. For example, Autodesk clarified its audience by indicating the job (general contractors), the location (North America), and a characteristic. So, make sure to follow the Autodesk example and get super specific about your target group.
Use your database and promote your webinars through email blasts.
Make sure the registration process is as simple as possible. Eliminate the friction so it's easy for your leads to register to attend your webinars.
Curacubby: Doubling the Number of Registrants
Let's move on to Curacubby, a school administration software for K-12 (kindergarten to 12th grade). The brand helps schools simplify their administrative operations via Curacubby's management solution.
To get more insight about the webinar campaign, we talked to Anna McVeigh-Murphy, the Head of Marketing at Curacubby.
👉 Webinar Details
Webinar title. Preparing for the 2021 School Enrollment Season
Webinar audience. Customers and leads: Independent school leadership (principals, assistant principals, directors, heads of school, and enrollment coordinators).
Quick webinar description. Showcasing the strategies schools need for a successful enrollment process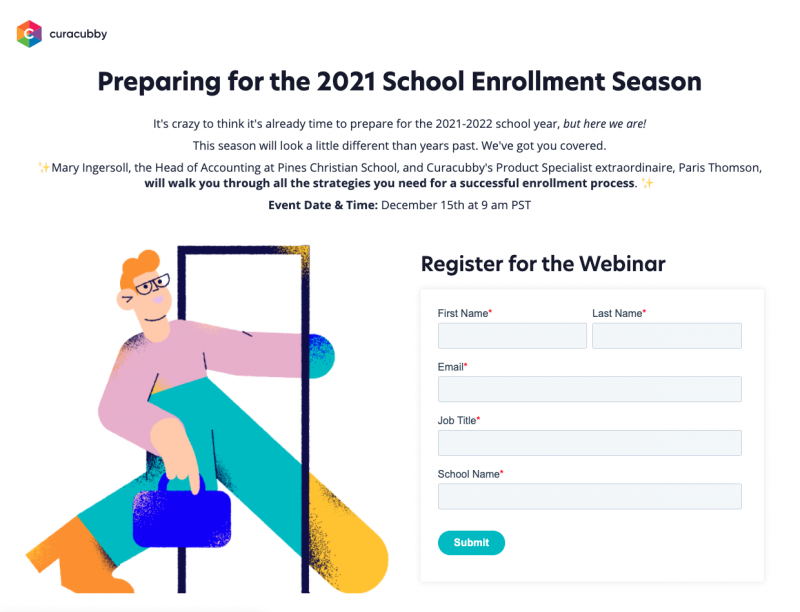 ? The main goal was to engage existing customers. Curacubby works in education, and enrollment is a major challenge for its customers. That's why Curacubby wanted to provide support in the form of thought leadership that will help its customers going into 2021.
Second, Curacubby focused on lead nurturing. As Anna told us, Curacubby solves many enrollment challenges, so they wanted to engage their leads in conversations about enrollment and convert them to Marketing Qualified Leads (MQLs).
👉 The Webinar Promotion Strategy
Social media. The Curacubby team promoted the webinar via social media, driving organic traffic to the landing page. As Anna indicated, they didn't have much success with paid social media, so they decided to focus on nurturing their existing audience.
Email campaigns. The webinar team sent a promotional email to their customer base, as well as leads.
👉 Curacubby Webinar Results
Compared to other webinars, with this campaign, Curacubby doubled the number of registrants:
130 registrants (who received the recording and the additional on-topic resources)
20 MQLs who said yes to get a demo. Although this wasn't a product-centric webinar, the registrants who qualified as leads showed an interest in learning about the product.
The Curacubby team achieved an 85% close rate on deals from the webinar.
👉 Quick Lessons From Curacubby:
You can pursue different goals when running a webinar. For example, you can use it as a thought leadership element, as well as a marketing piece to attract MQLs, as long as the content is relevant for all included audiences.
Use webinars to strengthen the relationship with your paying customers by helping them overcome specific challenges.
When promoting your webinar, leverage your existing audience.
👉 Webinar Case Studies: Curacubby Workflow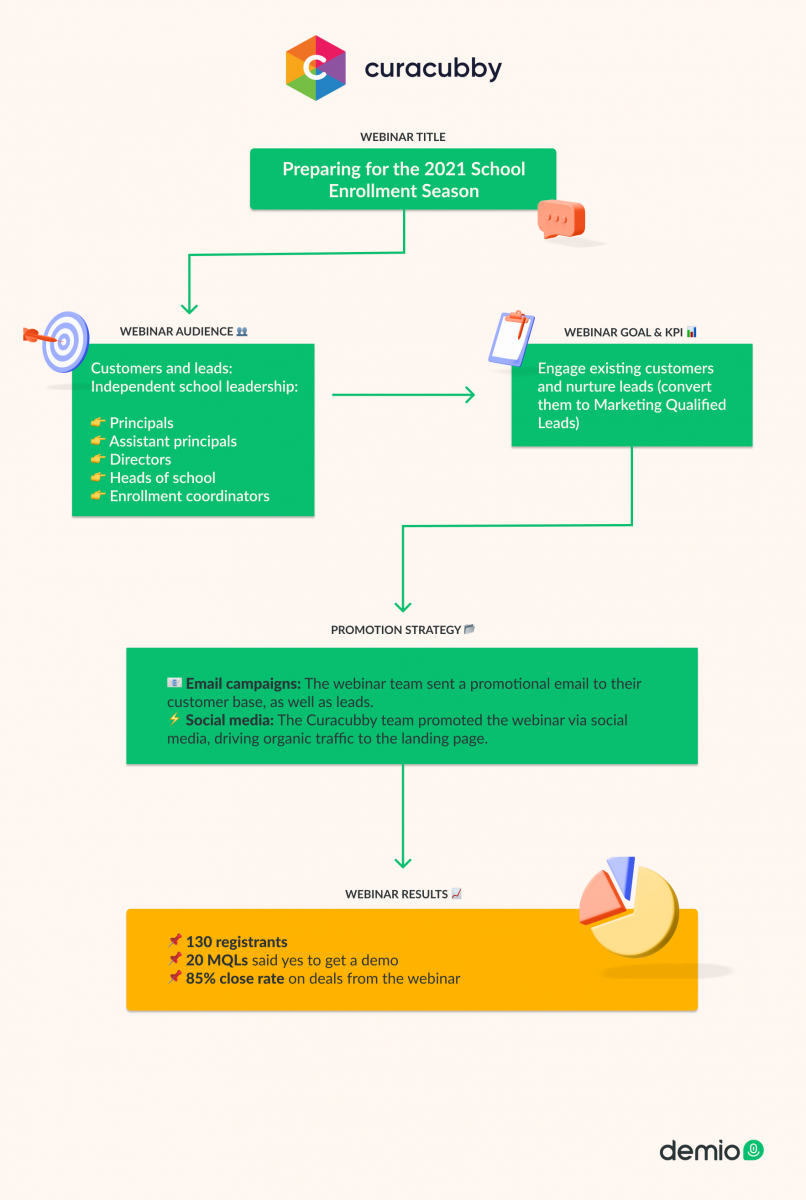 Demandbase: $3.1M in Influenced Closed Won
We'll continue with Demandbase, an account-based marketing platform. Using real-time data and AI, Demandbase helps B2B marketers find accounts in-market, engage those accounts, and convert them into customers.
To learn more about the company's approach to webinars, we connected with Brandon Redlinger, Head of Demand Generation & Partner Marketing at Demandbase.
👉 Webinar Details
Webinar title. The ABM Innovation Tour
Webinar audience. Generate new leads: B2B marketers, both practitioners and executives
Quick webinar description. The webinar series was focused on the latest and greatest marketing practices from industry experts, front-line practitioners, and general revenue rockstars. Instead of a one-off webinar, Demandbase launched a 4-part webinar series which they called tour stops:

1st tour stop. Identify and Attract
2nd tour stop. Engage and Personalise
3rd tour stop. Convert and Close
4th tour stop. Measure and Align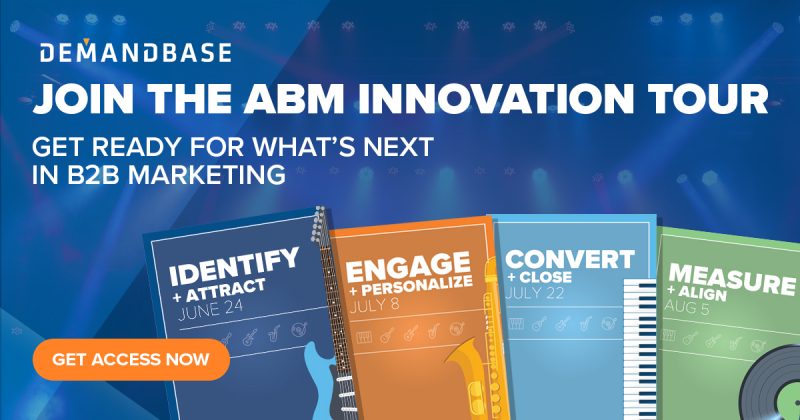 👉 The main KPIs were very specific:
Get 2,500 registrants
Achieve 50 sales qualified leads (SQLs)
30 leads for the sales pipeline
👉 The Webinar Promotion Strategy
Email campaigns. According to Brandon, Demandbase promoted the series through email campaigns. First, the webinar team sent three general emails explaining the ABM Innovation Tour. Then, they continued their email campaign by sending two emails per tour stop. 
1:1 invitations. Next, Demandbase engaged their Sales Development reps, asking them to send 1:1 invitations to target accounts. About 22% of the accounts were post-opportunity stages. The rest were at the pre-opportunity stage. 
Social media. The webinar team deployed a social media-heavy promotion campaign, publishing text, graphics, and videos.
Website banner. Another promotional tactic was to create a webinar banner and display it on the homepage of the website.
Email signatures. The rest of the Demandbase team helped promote the webinar by using an email signature. 
Paid promotion. The webinar team created account-based ads targeted at the Demandbase accounts. 
Personalized landing page. Finally, the landing page was personalized for the targeted accounts. 
Even after the first series of messages, ads, and emails, the team continued to promote the webinar with 1:1 emails, 1:1 calls, engagement with target accounts, LinkedIn connections, and InMail messages. 
All these efforts led to impressive sales results.
👉 Demandbase Webinar Results
Demandbase achieved better results than originally expected:
3,605 Registrations, 32+% from target accounts
77 sales qualified leads (SQLs)
43 leads for the sales pipeline
Closed Won Opportunities: 51 influenced ($3.1M)
👉 Quick Lessons From Demandbase:
Instead of running one webinar, create an entire webinar series. This will increase the impact of your webinar efforts and generate more leads.
Ask your Sales Development reps to get involved with promoting your webinar and send 1:1 emails to their accounts.
Send multiple emails to the same accounts, get on calls with them, and continue maintaining an active promotional campaign to get more people registered.
👉 Webinar Case Studies: Demandbase workflow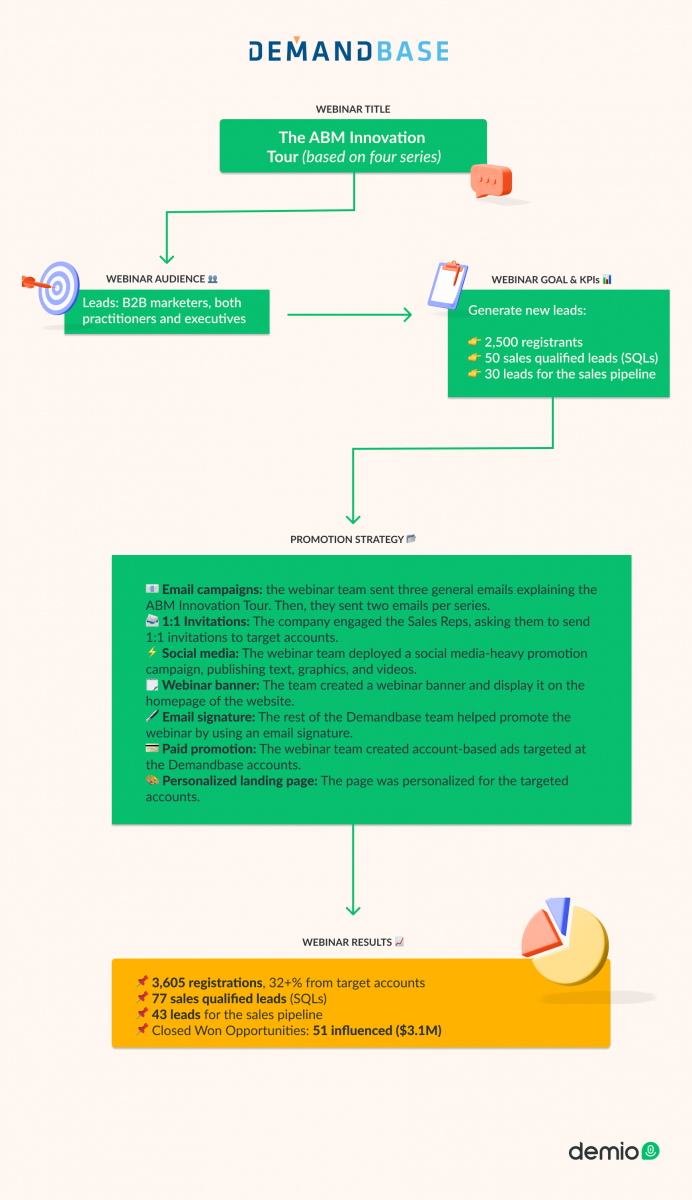 Innovatemap: Building a Community With Webinars
Let's move on to Innovatemap, a team of experts in digital product research, branding, marketing, and design. The company is dedicated to transforming shopping technology ideas into high-growth businesses through collaborative client partnerships. For example, some of the services it offers are user and market research, strategy, product management, branding, and more.
To discover how webinars work for Innovatemap, we talked with Sara Croft, Principal Marketing Partner and Ellie McCandless, Community Manager and Product Marketing Partner.
👉 Webinar Details
Webinar title. Better Product Speaker Series
Webinar audience. Leads: product practitioners and leaders who work in the field of product management, product marketing, product design, and brand. While the Innovatemap focus was on the Midwest, the team also welcomed attendees from anywhere in the country.
Quick webinar description. The webinar series focused on having experts answer product questions. It was a five-week series (which is now offered on-demand) that aimed to explore what it takes to design, build, market, and sell better digital products.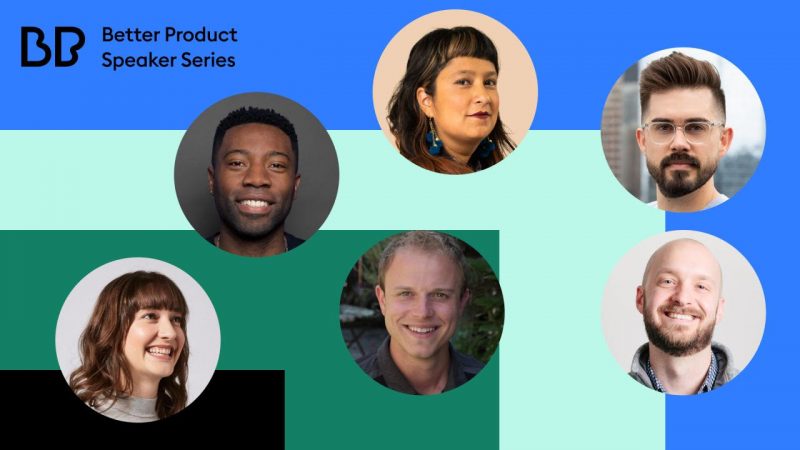 👉 The main goal was to launch an information series to acquire new members for their Better Product Community, a digital product conversation group created by Innovatemap. The KPI associated with this goal was to register 50 product practitioners or leaders per session.
👉 The Webinar Promotion Strategy
Email campaigns. Innovatemap promoted the webinar series to its existing community members, which included 430+ people at that time. The promotion used email drip campaigns, which drove traffic to a dedicated landing page. People could sign up for one, three, or all five webinars.
Social media The Innovatemap team promoted the series on LinkedIn and Twitter, and featured a week-long Instagram ad campaign.
1:1 invitations. Finally, the team sent personal messages via LinkedIn and email to leads at targeted accounts.
Active promotion throughout the webinar series. After each session, the Innovatemap team sent a recap email with a link to watch the webinar on YouTube.
👉 Innovatemap Webinar Results
Here are the results the Innovatemap team achieved after the live webinar series ended:
290 unique registrants for the combined five sessions.
239 of the 290 registrants weren't community members; these people received a drip-email campaign. The message nudged them into completing their profile and finalizing their membership.
This webinar series brought the community closer to 700+ members, proving this one activity was well worth the time and effort.
👉 Quick Lessons From Innovatemap:
Use webinars to grow your community.
Partner with your speakers and get them to promote the webinar.
Send personal messages on LinkedIn and email to engage with your contacts and put a face on your webinar promotion campaign.
👉 Webinar Case Studies: Innovatemap Workflow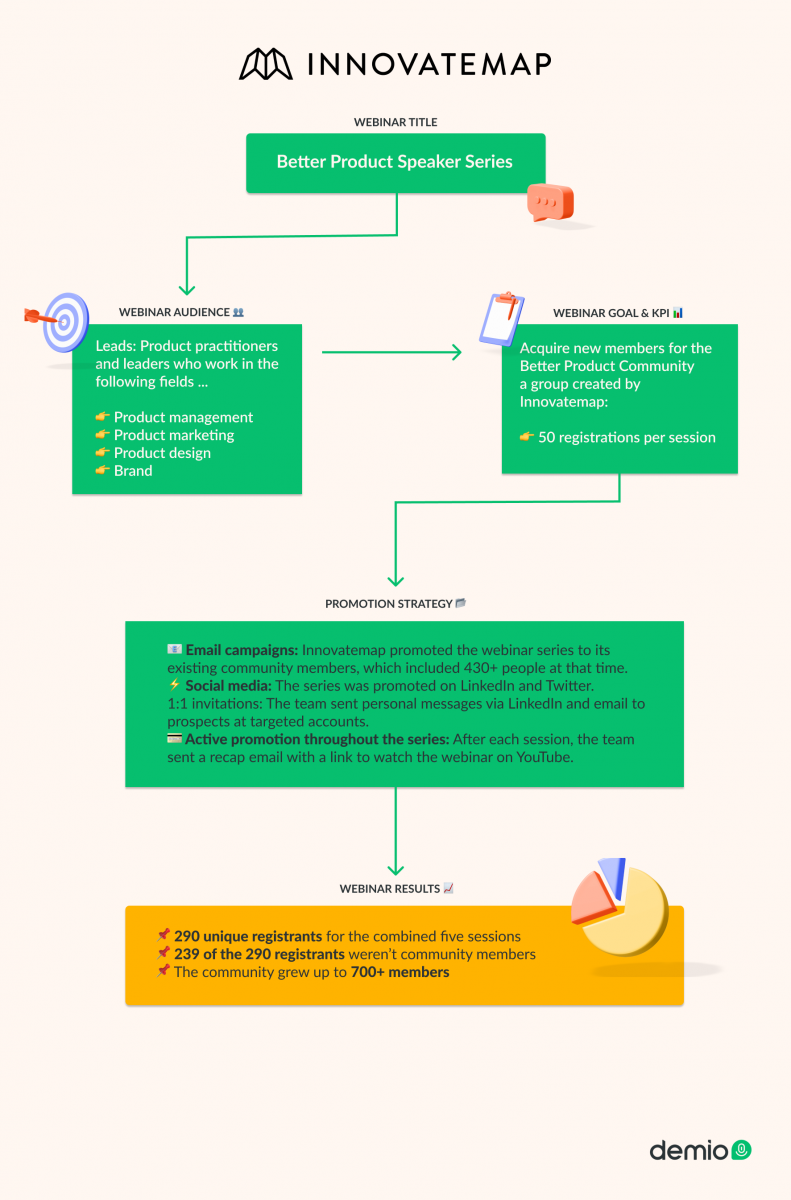 JB Sales Featuring VanillaSoft: Choosing the Speakers Strategically
Next, let's talk about the JB Sales featuring VanillaSoft webinar campaign. JB Sales is a training brand that helps sales professionals and teams optimize for remote delivery and immediate results. JB Sales was founded by John Barrows in response to limited formal academic sales trainings. VanillaSoft, on the other hand, is an all-in-one platform, providing tools for sales professionals to engage, qualify, and close a deal.
Both brands combined their efforts to launch a webinar campaign. To find out more, we spoke with Ollie Whitfield from VanillaSoft to learn the details.
👉 Webinar Details
Webinar title. 10 Innovative Cold Calling Strategies To Help You Book More Meetings in 2020
Webinar audience. Leads: Sales reps
Quick webinar description. The webinar focused on cold calling and how to stand out when making a sales call. The structure was interview based. The host was a sales expert with a large audience. Also, the webinar had two guests who were carefully selected; one was a practitioner, and the second was a thought leader. The guests brought different perspectives and opinions to the table.
👉 The main goal of the webinar was to generate new quality leads, and the KPI was attracting between 1,000 and 2,000 leads.
👉 The Webinar Promotion Strategy
The webinar team deployed multiple marketing tactics:
Email campaigns .Three promotional emails were sent to an existing audience.
Social media. The team used the company's social media profiles and those of influential people on the team to push the webinar. This tactic drove up the registrant numbers over time.
Guest speakers' audiences. The expert sales leader who was acting as a moderator promoted the webinar to his big audiences on LinkedIn and Twitter. This strategy brought a few hundred registrants. The guests were chosen strategically. The first one was a practitioner who had a great personal brand. The second guest was a well-respected leader with a large audience as well. Both guests agreed to promote the webinar. As Ollie Whitfield highlights, this was a home run. The webinar would have done well with different guests. But the real extra ground was gained when the organizers followed up with the speakers and asked (politely) them to help promote the webinar.
👉 JB Sales Featuring VanillaSoft Webinar Results
The webinar gathered 3,500 leads, a record for the company.
👉 Quick Lessons From JB Sales Featuring VanillaSoft:
To make your webinar engaging, invite guests with different opinions on the topic.
Get your moderator, webinar guests, and influential people inside the company to promote the webinar.
👉 Webinar Case Studies: JB Sales featuring VanillaSoft Workflow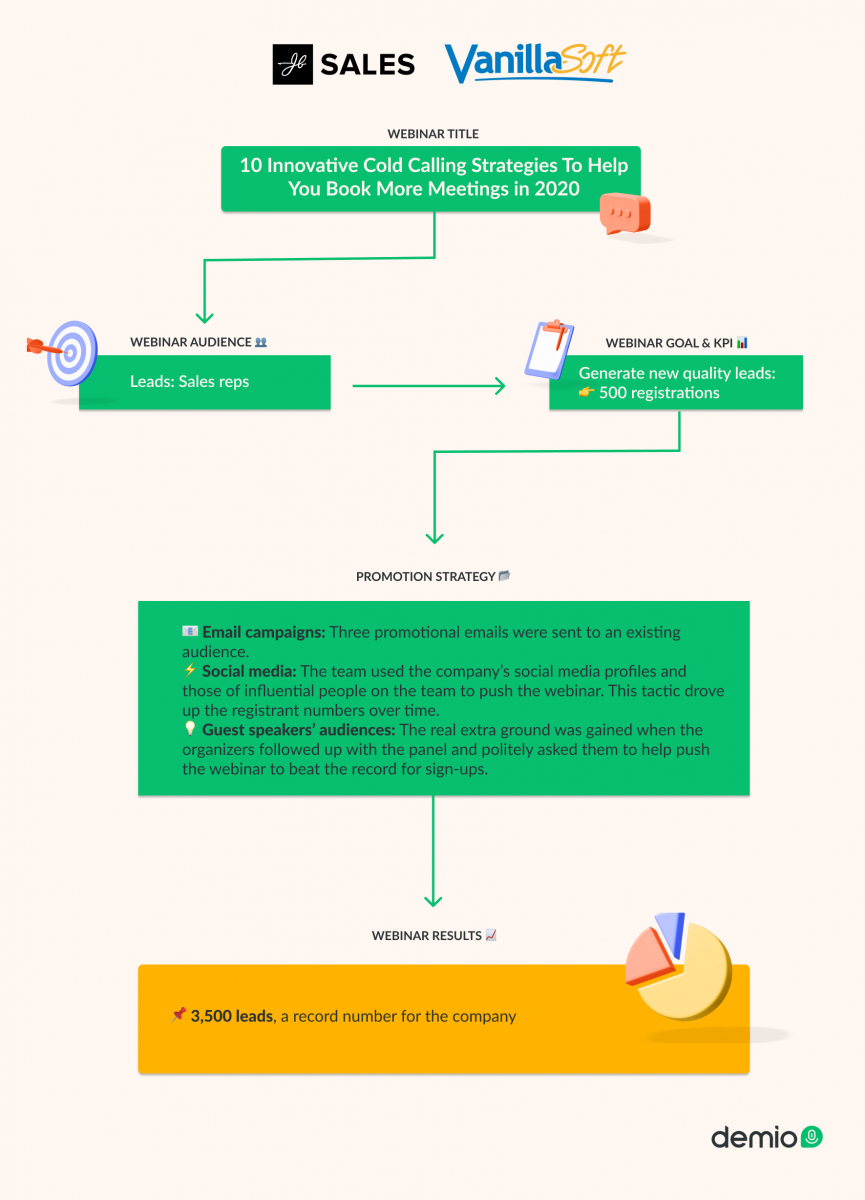 MeetEdgar: Getting Your Successful Clients To Talk About Your Product
Moving on, we have MeetEdgar, a social media management platform. MeetEdgar helps people automate their social media accounts to spend less time managing them. The company boasts a list of famous customers such as Darren Rowse, the founder of ProBlogger, and Neil Patel, one of the top 10 marketers in the world.
To discover their webinar success formula, we talked with Megan McMullin, Outreach Lead at MeetEdgar.
👉 Webinar Details
Webinar title. How to Plan a Year's Worth of Content in ONE DAY (Note: According to Megan, at MeetEdgar, they like to relate the title of their webinars to a business outcome they know their community needs. In this specific case, it was focused on gaining more time.)
Webinar audience. Leads: small business owners and solopreneurs
Quick webinar description: MeetEdgar leveraged the experience of real people. Obviously, they could have someone from MeetEdgar explain the platform, but real-life examples are more interesting for webinar attendees. That's why the webinar team invited entrepreneur Alyssa Coleman, a successful MeedEdgar user. During the webinar, Alyssa shared her strategies on planning content for social media. The webinar focused on helping people be more productive. Also, it showed how to create social media content that consistently converts. All that, without spending hours each week staring at a blank screen.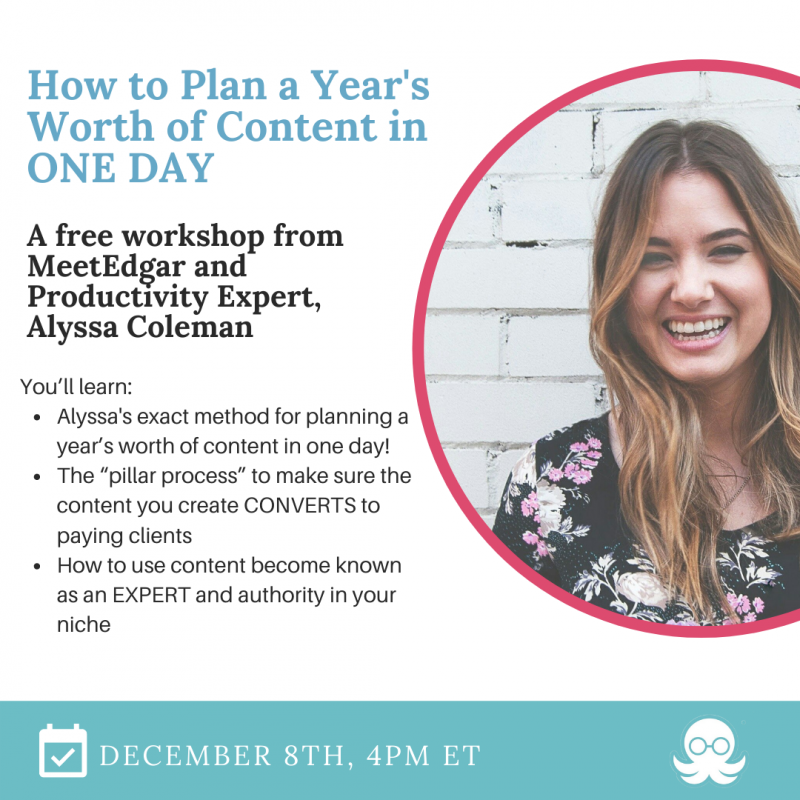 👉 The main goal of the webinar was to increase brand awareness and generate more leads for their email list.
👉 The Webinar Promotion Strategy
Guest speaker's audience: As Meghan told us, planning partner webinars is a great way to access other people's audiences. The promotion for this webinar worked particularly well, because the speaker had a strong connection with her followers. The MeetEdgar team offered the speaker $200 to run Facebook and Instagram ads on her account. This tactic helped catch a different audience. Also, it increased the brand awareness for both MeetEdgar and the speaker.
Email campaigns. Apart from leveraging the speaker's audience, MeetEdgar ran four invite emails to a list of 125,000+ subscribers.
Social media. Invest in Facebook and Instagram ads.
👉 MeetEdgar Webinar Results
1,776 people registered to attend the webinar.
455 of them showed up live, while 586 registrants were new to the email list as leads.
After the webinar, the MeetEdgar team sent a follow-up email with an offer for a 7-day free trial. A week later, they sent an invite to their Social Media Success Kickstarter Challenge. This is a week-long email course that helps new leads get onboard to MeetEdgar. It includes a daily email with a PDF checklist and video. These content assets help people set up the software to reach social media goals. Also, it gets the leads to put into practice what they've learned during the webinar.
👉 Quick Lessons From MeetEdgar:
Instead of having someone from your team explain how your software works, better to invite a successful client who can share real-life experiences. Also, if possible, invite clients who have a large (and new) audience that you can leverage during promotion.
Help your speakers promote your webinar by providing them the necessary resources to run ads on their social media platforms.
Once the webinar is over, continue to nurture your relationship with the new leads. Offer them free product trials and relevant content pieces that will help them put their knowledge into practice.
👉 Webinar Case Studies: MeetEdgar Workflow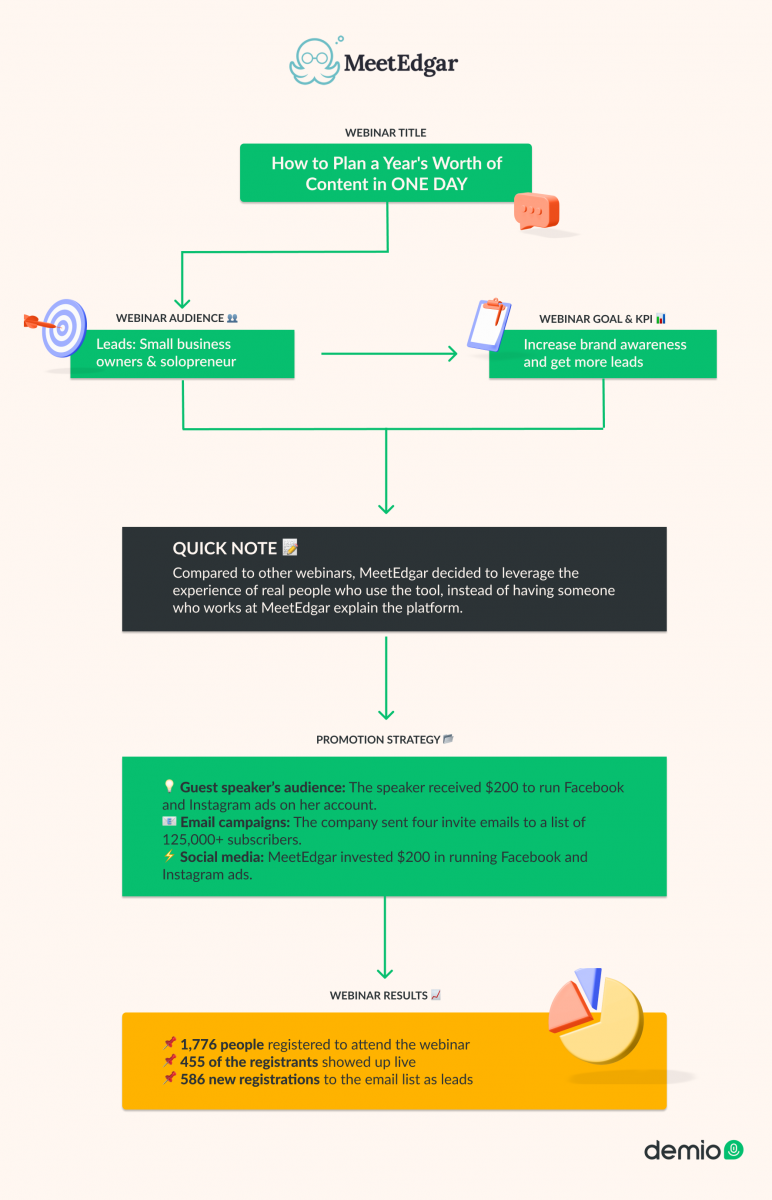 Piktochart: Reaching out to Professional Communities
Finally, let's discuss Piktochart, a web-based infographic application that easily allows users to create infographics and visuals without intensive graphic design experience. Professionals from Accenture, Oxfam, Typeform, and booking.com use Piktochart to create engaging content in any format.
Like many other companies, Piktochart decided to include webinars into its marketing strategy. To find out how it went, we spoke with Wilson Moy, Marketing Project Specialist at Piktochart.
👉 Webinar Details
Webinar audience. Leads: HR professionals and change managers
Quick webinar description. This webinar was published at the beginning of the COVID-19 pandemic and subsequent lockdown that began in April 2020. Piktochart noticed most companies were opting for remote work and wanted to contribute visual communication tips for the HR community embracing new ways of keeping their employees engaged and motivated. This was the first live webinar where Piktochart used Demio.
? This was the very first Piktochart webinar initiative. The main goal was to attract new leads, and the KPI was to have 500 registrations. Another goal was to get people to download a PDF handout the company gave away to promote its templates for HR professionals.
👉 The Webinar Promotion Strategy
Email campaigns. The webinar team sent emails to their list of newsletter subscribers.
Communities. Wilson told us the Piktochart team promoted the webinar on various HR communities through groups on Slack, Facebook, and LinkedIn.
Social media. Piktochart promoted the webinar to its existing audience. Also, to reach their target group, the webinar team set up a LinkedIn ABM campaign. This connected them with HR professionals based on their job, title, and interests.
Website banner. Additionally, Piktochart set up a banner at the top of its home page, which resulted in an increased number of registrants.
👉 Piktochart Webinar Results
By running the webinar campaign, the Piktochart team ended up attracting 637 registrants, of which 80 attended the live event.
After the webinar, all the leads received a follow-up email with a PDF handout. Next, the leads list was passed to the Piktochart sales team for further nurturing. According to Wilson, the number of registrations contributed to the achievement of their team's OKR for the quarter.
👉 Quick Lessons From Piktochart:
Get started for free with Demio for an easy webinar setup. It will reduce the hassle considerably as well as help you design a webinar workflow in no time.
Promote your webinar on professional communities via Slack, Facebook, and LinkedIn.
Set up a LinkedIn ABM campaign to connect with your preferred audience.
👉 Webinar Case Studies: Piktochart Workflow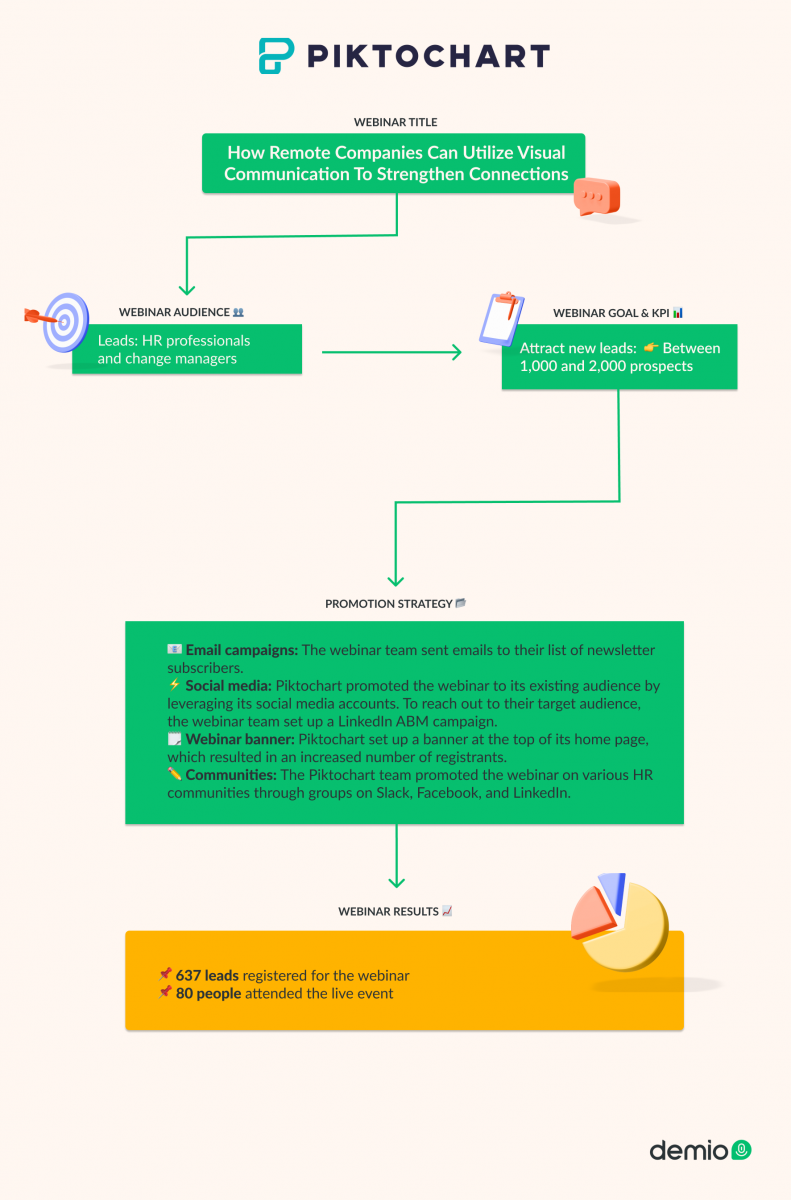 Final Thoughts
By analyzing these best webinar case studies, we can conclude it's very possible not only to achieve your goals, but to exceed them. So, if you want to generate positive marketing results, start running webinar campaigns.
Whether it's to increase brand awareness or attract high-quality leads, webinars are a great way to break through the online noise and engage your audience. If you want to give it a try and set up a quick webinar campaign, head over to Demio and try our free trial. In one or two months, you'll thank yourself for giving webinars a chance.