Can you recall the last time you signed up for a new product? The first time you saw Slack? Do you remember your first glance at Intercom? Drift? Or Demio?
I always feel one of two emotions the first time I see a new product, and I'm sure you've experienced similar: either relief that I understand how the product works, or overwhelm and confusion because I don't know what to do or how to use it.
My internal dialogue sounds something like one of the following:
1) "Oh, this is great! I know exactly what to do here."
2) "What the heck am I looking at??? What am I supposed to do with this? Why is that there?"
3) "Who are you ???" ← as I stare at an unknown name in my inbox trying to get me to come back and use their product.
Onboarding is the most important phase of the customer journey because, if done right, it addresses the top reasons people churn. Here's a list from Conversion XL naming the top reasons companies experience churn:
They don't understand your product.
They haven't gotten any value out of your product.
They aren't sure what your product actually does.
The customer isn't onboarded quickly or frequently.
(Sounds a little like my internal dialogue, huh?)
Webinars are a great tool to use during your onboarding process because you're able to address all the reasons people are likely to churn, which means you keep those customers around longer. (Happy dance!)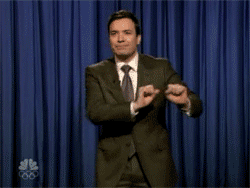 In this post, we'll break down exactly how to use webinars during your onboarding, I'll show you some awesome examples of companies that are currently using webinars for onboarding, and we have a sweet SaaS webinar template for onboarding to share with you.
Why is Onboarding Important?
Onboarding is your first impression with a customer, and like every first impression, you have only seconds to make a good one. The way a customer experiences onboarding sets the tone for every interaction they have with your product. Do they fall in love immediately? Or are they overwhelmed and confused? Does the solution you provide solve their problem perfectly, or are they struggling to see how your product will be a good fit? Good onboarding will help alleviate many of these questions and concerns.
SaaS companies need to be particularly focused on getting onboarding right because the entire SaaS business model is dependent upon gaining and keeping customers actively using their software.
Here are a few stats from Hubspot to help drive my point:
Essentially, if you get your onboarding right, you can guarantee you will see a reduction in churn and higher LTV. But how do you get it right?
Why Use Webinars For Your Onboarding?
There are multiple opportunities to use webinars throughout the onboarding process, and according to Conversion XL, there are five different ways to onboard new users:
Benefit-Focused: Explains the 2–3 core benefits and how to achieve that benefit via the site/product/app.
Function-Focused: Explains the 2–3 core functions of the site/product/app and how to use them.
Doing-Focused: Walks the user through the first or most common actions.
Account-Focused: Walks the user through the account/profile creation process, including finding and adding friends or interests.
All: For particularly complex sites/products/apps, it may be necessary to combine the above four.
The approach you choose needs to be the best fit for your product and your customers' needs, which will vary greatly. It's a precarious balancing act between walking your customers through each step and feature, and being completely hands-off so they can get to work. Every audience is different, and every customer is different.
But that's exactly why webinars are such a great tool to support your onboarding — they allow you to walk through each step, each feature, every use case, but on your customers' time and availability, or if they only have a need for more education. The users who feel proficient with your product right away can choose to skip the onboarding webinar altogether and watch more advanced level content instead.
Webinar Onboarding Rockstars!
At Demio, we love seeing the way our customers and other companies use webinars in creative and amazing ways.
Drift
One of those amazing companies is Drift. Drift is using webinars as an entire training series for their customers. This approach is both benefit-focused and function-focused. The onboarding begins when you first interact with their chatbot, which right now is named Pride Bot.
The first email you receive from the Drift team is a very personable and fun email from a team member offering to help you place the Drift chatbot onto your site. There are two call-to-actions in this email. The first is to start watching your video, and the second is to share a tweet announcing to the world that you are now a Drift user.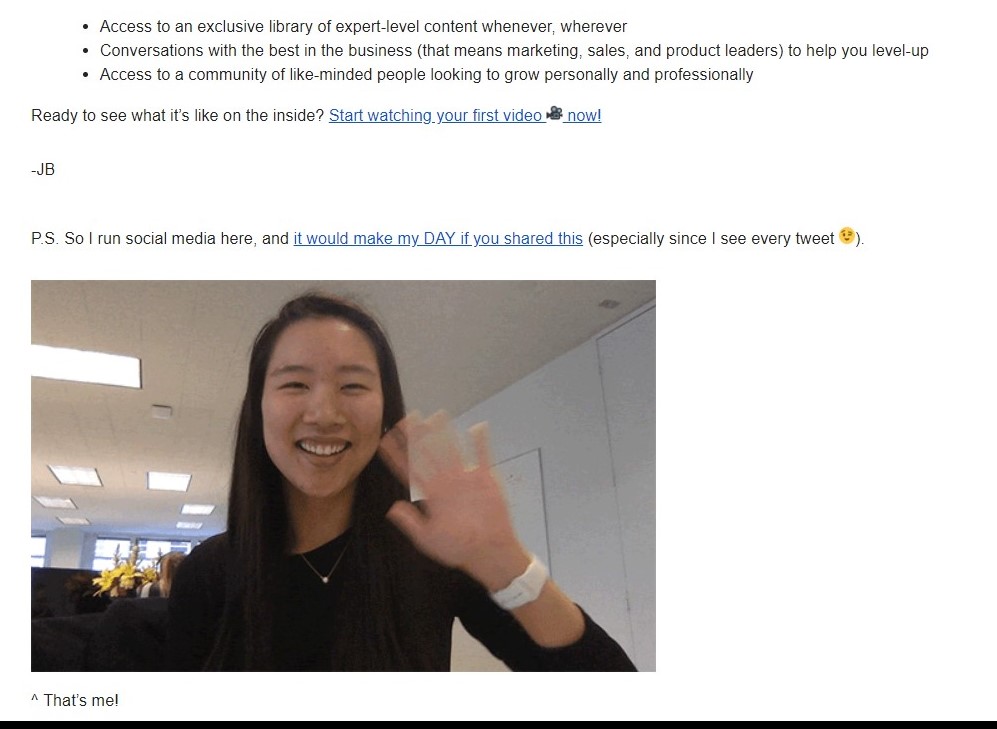 There are so many wonderful things about this email! The easy tone of voice, the video of JB waving "hi," and the fact that I have access to expert-level content whenever, wherever I need it.
The library of content is great: Drift has dozens of different webinars and videos to meet the variety of their users' needs. Their onboarding webinars are under the "Drift Training" tab.

With titles like "Be the Best Marketer You Can Be" and "Drift Training: Getting Your Drift Account Set Up," you can tell Drift uses webinars for multiple focuses.
Being a brand new customer to Drift, I chose the "Drift Training: Getting Your Drift Account Set Up." From there, I see Drift has broken up the entire onboarding process into 12 short videos.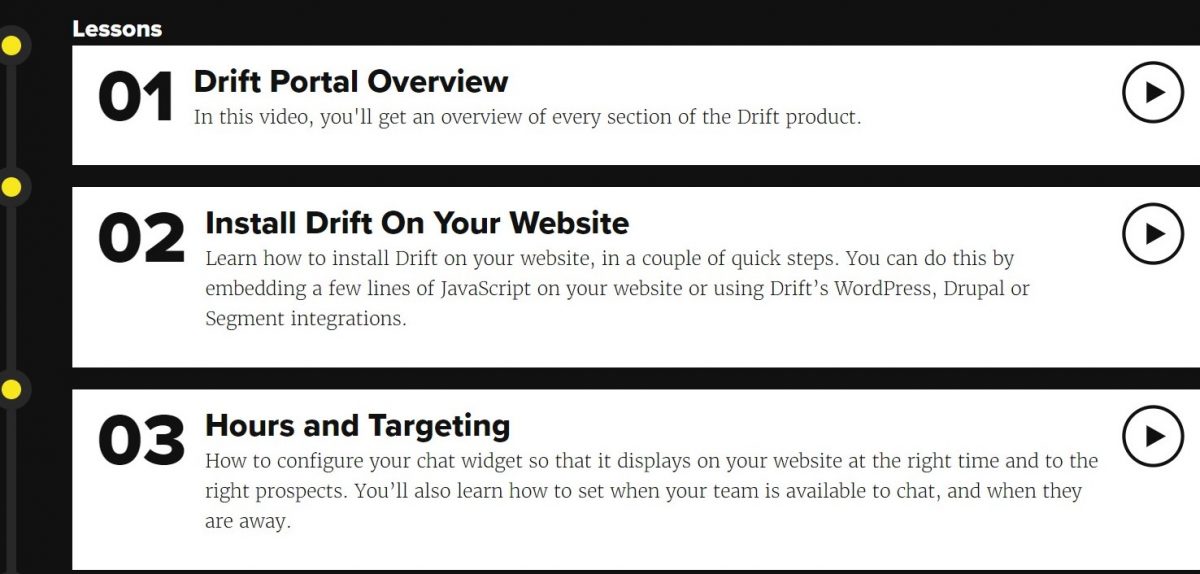 Each video is only one to three minutes long and has a very specific focus on helping me set up my account.
This is why Drift is in the Rockstar section of this article! These training videos are geared toward helping their customers who aren't confident in the very basics of website coding and widgets (*cough* these are my people *cough*) get set up and started with a conversational chatbot in under an hour.
Another great aspect of Drift's onboarding webinars is that they create content that is geared towards all of their customers. They've shared everything from Dave Cancel's keynote speech at HyperGrowth in London to webinars that help you use Drift to increase your sales.
Leadpages

Leadpages is another onboarding rockstar that uses webinars to help educate and engage their customers. When you sign up for a free trial with Leadpages, the first email you receive is all about sending you to their "Conversion Journey Training" webinar.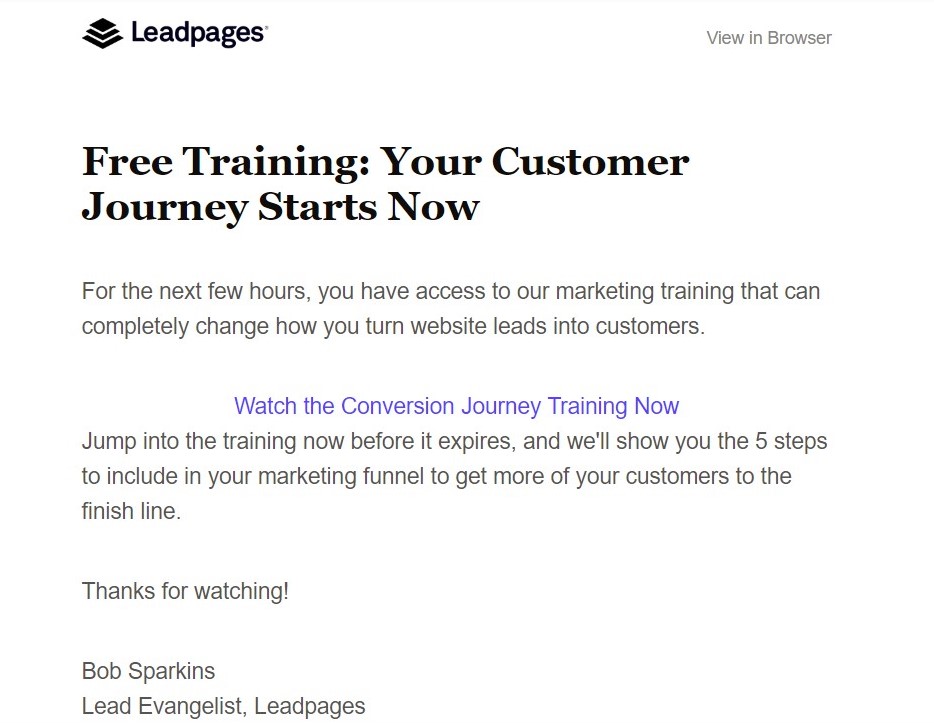 The webinar is a little over an hour long and jam-packed with information on how to start your own marketing funnel and use Leadpages to grow your business. With handouts that can be downloaded and a workshop recap section, it's apparent Leadpages wants every customer to have the confidence of a seasoned marketer in their business.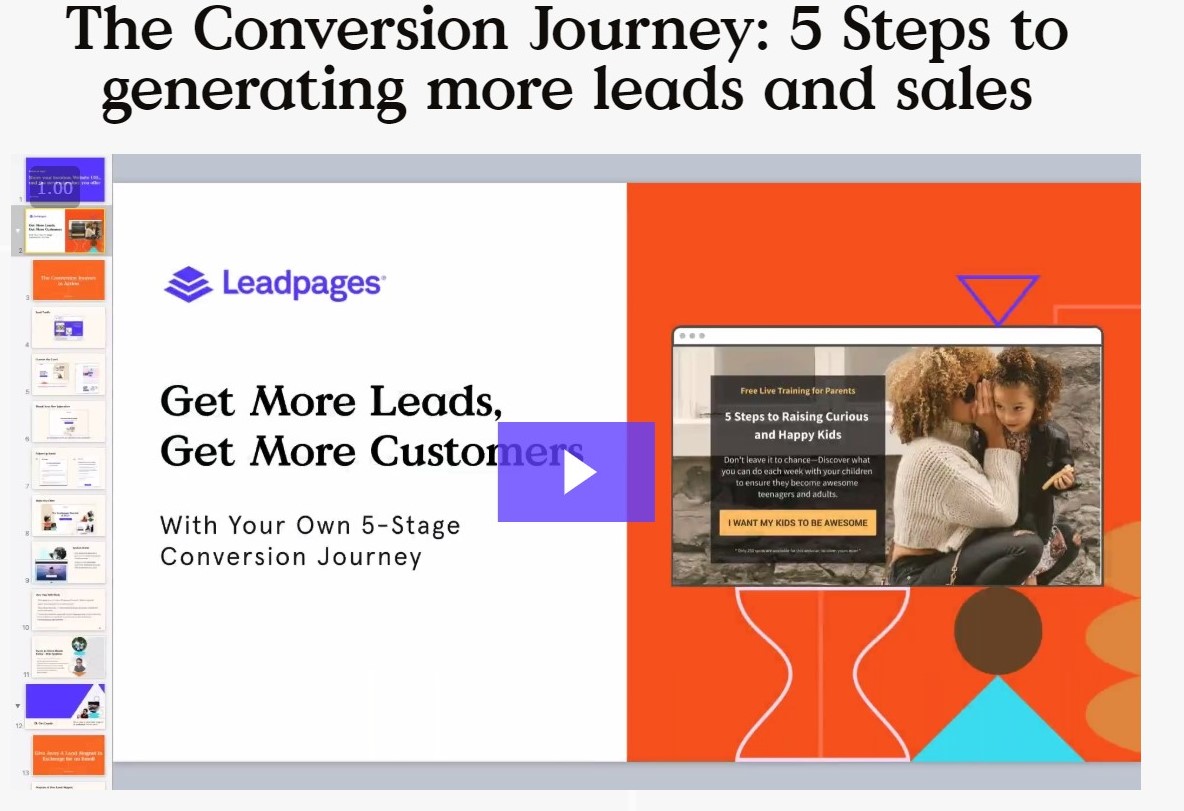 Demio
We wouldn't be a very good webinar company if we didn't onboard our customers using a webinar. 😉 One of the first onboarding webinars we offer in our process is a "hands-on" practice webinar for our new customers.
This gives them the opportunity to go through an entire webinar process — scheduling, beginning the webinar, engaging attendees, asking poll questions, uploading handouts, and even closing the webinar. It's a stress-free, interactive way to learn the platform. While it's not a traditional webinar where we present to a new customer, we've found it's a great way to engage our customers and help them with the onboarding process.

Immediately after signing up, a new customer will find the "My First Webinar Experience on Demio" webinar available for them to join. When you join the room, you begin your first interactive webinar experience. Someone from Demio is there to greet you and help you get started. Click the Start Webinar button and your first webinar has begun.
You can practice chatting with attendees.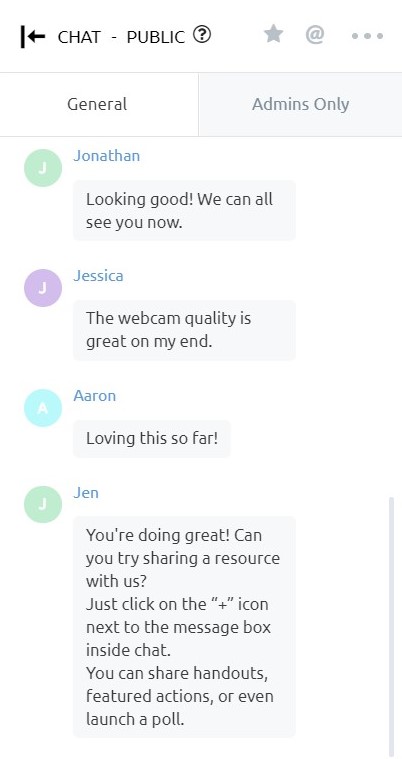 You can also see what it's like to add a poll or handouts during your webinar.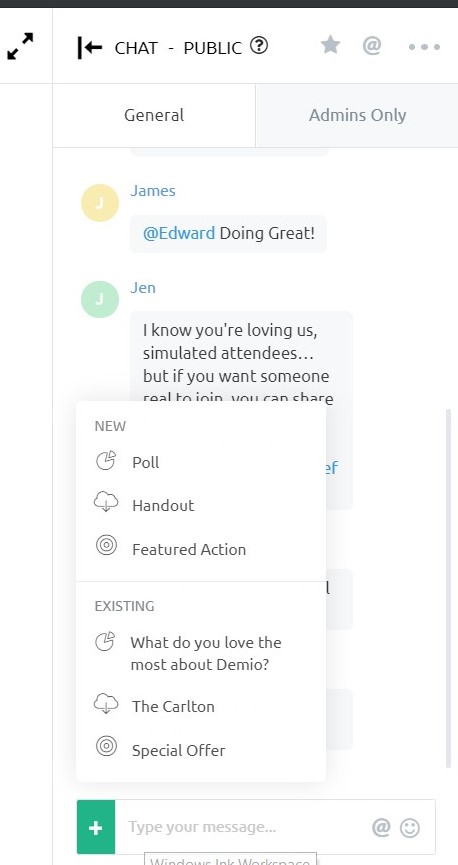 All this while you're recording your first practice round. Go through your whole webinar if you need the practice, or just play around with the mic, camera, chat box, and handouts.
We also do traditional benefit-focused webinars for our new customers. We host these webinars on Thursdays. The goal of these webinars is to help Demio customers learn how to use webinars in a way that is successful for their business. We spend 30 minutes each week teaching users how to optimize their webinar, put Demio's features to work for them, and answer any and every question they have.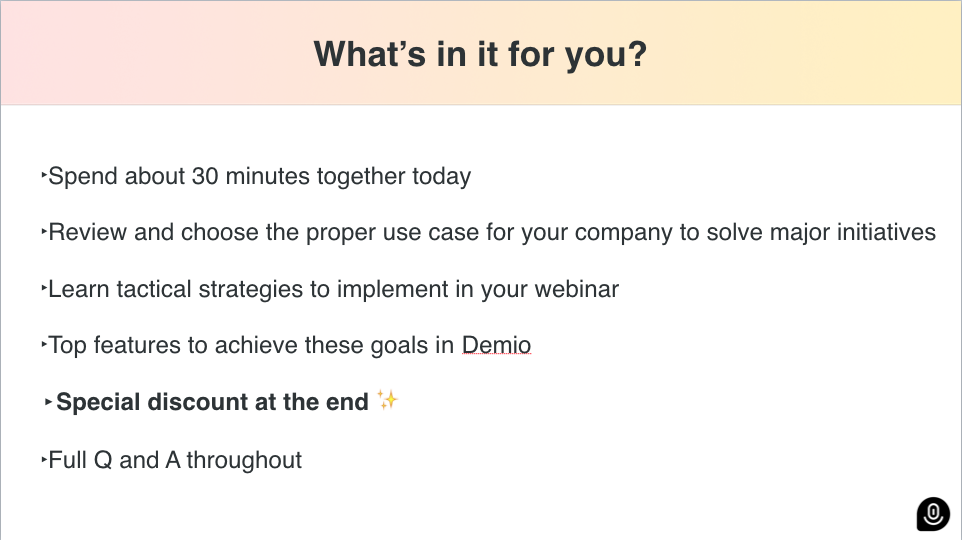 The Do's and Don'ts of Webinar Onboarding
Webinars are a great way to engage, educate, and build relationships with your customers and at no time is that more important than when your customers are first learning about and using your product. Here are a few do's and don'ts of webinar onboarding to keep your customers actively using your product and falling in love with it at the same time.
Time is of the essence
Onboarding should begin the moment your customers have given you their email — whether they're on a free trial, paid premium, or freemium model, you have a small window of time to engage them and entice them to come back. Send a "thank you" or "welcome" email full of your brand's personality with a simple call-to-action to register for a webinar.
2. Keep it engaging
An onboarding webinar needs to be just as interactive and engaging as your marketing webinar. This is not the time to throw in the towel because the customer converted. On the contrary, this is the time to delight and engage them. Ask your attendees questions and be sure to answer their own. Share handouts during the presentation such as a written guide to your product, an informative ebook about the industry, or a template that helps them solve a common pain point.
3. Show Not Tell
Show specific use cases of your product in action. Provide examples that your new customers will relate to and show them all the possibilities of your product by what your current customers are already doing. This is where the light bulb moments happen, and your new customers begin to see the possibilities of using your product.
4. Flex Your Muscles
No, not your arm muscles! Your products. Show your audience your important features — the most amazing things one can do with your product. Now is the time to show off. Share your screen, take and answer questions. This is where most people churn: they don't understand the product; they are confused with the UI and features. In many cases, a couple minutes of explaining the features is enough for people to feel confident using the product on a regular basis.
5. Give them options
If you only onboard your customers in a single way, you're likely missing an opportunity to connect with a large portion of your audience. It's important to reach as many people as you can, and the more opportunity and options you provide during onboarding, the more customers you're likely to teach and engage.
Webinar Template for Onboarding
So, rather than only telling you how to create an amazing webinar for onboarding, we thought we'd show you with this template. Plug in your own content, and you're ready to rock n' roll ?!
To Recap
Webinars are a great onboarding tool for your SaaS company. They help you reach a large audience while helping customers learn about your features and product. Use great examples like Drift, Landing Pages, and Demio as inspiration to help keep your new customers engaged and actively using your product. Stick to the dos and don'ts of webinar onboarding and you'll have the beginnings of a great onboarding process.