Building excitement alone won't guarantee a high attendance for your webinar. Likewise, compelling content is no longer enough to convert most attendees into customers.
It's how you promote your live events and engage your audience before and after each webinar, coupled with the quality of your content, that determines whether or not your bottom line will improve.
According to the ThriveMyWay report, sending registrants an email reminder about your event could increase attendance by 20%.
The underlying message is clear: Using behavioral data to tailor your pre- and post-webinar flows to your audience can boost your webinar ROI. Luckily, you can collect and incorporate this information with Demio.
The direct Demio to Pardot integration allows you to synchronize Demio data with Pardot automatically, segment registrants, attendees, and no-shows into different lists, and target them with automated flows based on their behavior.

5 Ways to Elevate Your Webinar Game with the Demio + Salesforce Pardot Integration
The Demio Pardot integration unlocks a set of features for marketers and sales teams to prioritize the prospects who are most likely to convert instead of applying a one-size-fits-all approach to the funnel.
1) Record prospect activity
If you use Pardot, chances are you run hyper-targeted campaigns aimed at closing the low-hanging fruits at the bottom of your funnel. However, if these prospective buyers are sourced directly from a webinar, your webinar platform must be able to feed this data to Pardot. 
The Demio to Pardot integration can do that easily.
You can also enable activity recording for a specific event. This generates a Pardot log every time someone registers for a session and also after the session.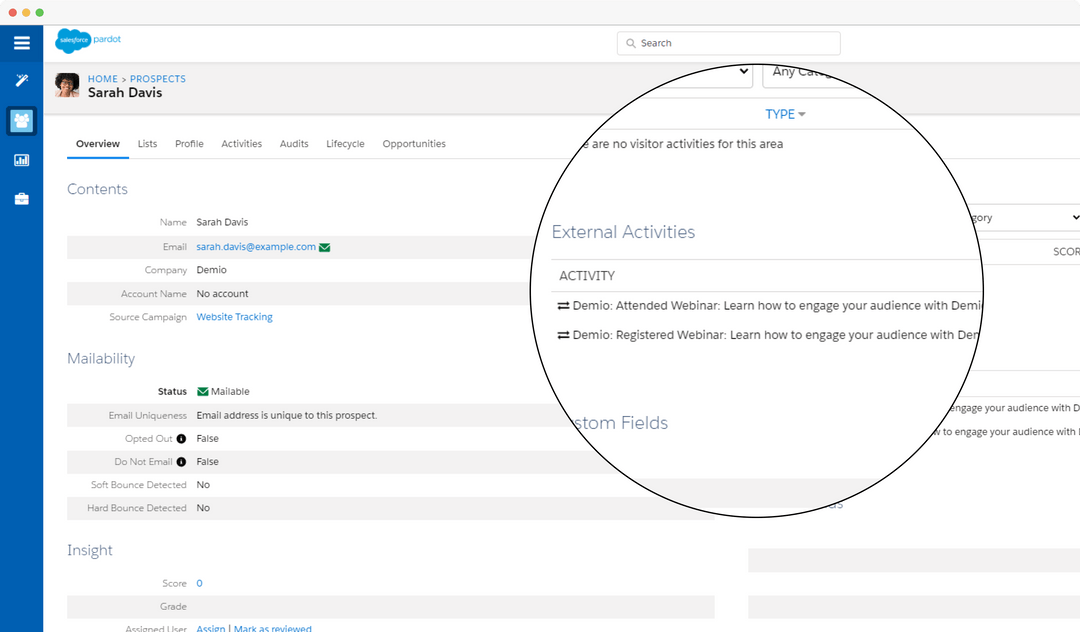 By logging these actions, your sales team or anyone on the marketing team will know where in the customer journey a prospect is.
2) Leverage join links
Create join links that allow your audience to enter your Demio live session room with a single click.
The integration also lets you send personalized reminders with the unique attendance link to anyone who registered for your event at any time on Pardot. These communications increase the likelihood that registrants will attend your webinar.
3) Segment your list
When someone registers for a Demio event, their data is automatically synchronized with Salesforce Pardot, which includes an activity log (as explained in the first point).
From there, you can organize your prospects into lists according to whether they:

Registered – Automatically save new Demio registrants as Prospects
Attended – Automatically update Prospects based on webinar attendance
Missed – Automatically update Prospects if registrants fail to show up for a webinar
This helps answer questions such as:
Who registered?
Who joined the event?
Who didn't show up?
How many webinars has this Prospect attended?
How many webinars did this Prospect register for but not attend?
You can then incorporate this information into your lead and engagement scoring.
Additionally, these segmentations provide marketers with immediate feedback on the performance of their webinar campaigns and whether their webinar strategy, promotion, and content are serving the intended audience.
4) Set automation rules
You can also leverage the Demio and Salesforce Pardot integration to set up automation rules for all Demio webinar sessions according to which segmented list the prospect falls in.
For example, if a prospect has attended a webinar, you can set up an automation that sends them an email containing a lead magnet. If they engage in the conversation, your team can initiate conversions to convert them.
Sending Pardot your webinar registrant and attendee data clearly shows your sales team who's most engaged and ready to talk so they can prioritize key contacts.
After the webinar, all registrants, whether they or not attended, receive a thank you email with the replay so everyone can watch it at any time. It also allows registrants who missed out on the webinar to catch up.
5) Create post-webinar flows
In Engagement Studio, you can set up post-webinar nurturing sequences using an automated post-webinar workflow that triggers after a Prospect has participated in a Demio session.
This workflow can map to a specific session or the entire webinar series to nurture Prospects through the buyer's journey until they're ready to talk to sales or take the next step.
Engagement studio acts like Automation Rules with the only difference being that the former is prospect-centric. Which means, if you want to run an automation based on a specific campaign, you can build it inside Engagement Studio. Also, tracking and reporting is easier to do thanks to the single canvas view.
How to Integrate Your Demio Account into Salesforce Pardot
Connecting your Demio account to your Salesforce Pardot account is a seamless experience.

First, click on the dropdown menu in the top right corner of your Demio dashboard. Then, click "Settings."

From there, select the Integrations tab.

On the new page, you'll see a section labeled "Add New."Click on it, and you'll see the Pardot integration.

Select "Pardot," which will automatically display a modal where you can add your Pardot Business Unit ID credential.
Here's how to find your credentials.
Head over to Salesforce under Setup > Pardot Account Setup. Your Pardot Business Unit ID begins with "0Uv" and is 18 characters long.
If you're unable to access the Pardot Account Setup information, ask your Salesforce Administrator to provide you with the Pardot Business Unit ID.

Now that you've added the Pardot Business Unit ID, click on "Connect" to finish setting up Pardot as one of your Current Integrations.

And you're all set! You've successfully connected your Pardot and Demio accounts.
The last step is to enable and set specific settings from the Integrations option card within the Event.

Supercharge Your Webinars With Pardot and Demio
Offering your audience a seamless webinar experience is critical to meeting your marketing goals. By leveraging the Demio-Pardot integration, you can automate email flows using behavioral data while propelling your prospects through the funnel.

Are you already a Demio Premium user and you want to increase your webinar engagement by personalizing and automating your communications? Connect Demio to Pardot now.