More and more marketers rely on webinars for promotion and lead generation. Recent studies show that "73% of marketers and sales leaders find webinars to be one of the most reliable ways of generating quality leads."
Well-crafted webinars will help you not only provide critical knowledge about your product, but also connect with your leads and move them further down the pipeline. But without a strong webinar marketing strategy, things can become overwhelming. After all, there are countless details you need to consider when designing a webinar. A webinar marketing strategy will help you define and articulate the elements necessary to plan and run impactful webinars.
This guide will give you the tools to build a webinar marketing strategy from scratch that is both sustainable and replicable.
Here's what you'll learn:
The Pre-Webinar Stage involves the initial decision to set up the webinar, including the necessary preparations and promotion.
The During-the-Webinar Stage includes your webinar presentation and engagement strategies to connect with your attendees.
The Post-Webinar Stage involves nurturing the relationship with your webinar attendees, along with extending the value of your webinar content by continuing to generate new leads.
DOWNLOAD YOUR FREE WEBINAR STRATEGY CHECKLIST BELOW
Use this checklist
to design your very own high-converting webinar marketing strategy from scratch, then automate the process to attract high-quality leads.
We promise to never spam or send emails about cats.
Okay, maybe some cat stuff.
Webinar Content

Content is king, especially for webinars. To grab and maintain people's attention, you have to create relevant, highly-targeted content that will help them change the life-situation they're experiencing.
---
Finding the Right Webinar Speakers
✍️ Note: Whether or not to use guest webinar speakers (those outside your company) will depend greatly on your webinar format and goal. If you run a product demo, for example, you might not need to invite any guest speakers — a member from your product team could function as the main speaker for your webinar. However, if you're planning an interview or a success story webinar, then bringing in a guest speaker would make the most sense.
Effective speakers broaden the impact and outreach of your webinar. By "effective," we mean speakers both with strong communication skills and a relevant story or experience to share. How to determine who should speak? Your speaker should be a great communicator, know how to navigate the content and webinar platform, and be confident. That might come in the form of external guests, or internal colleagues. There's a large pool of speakers and industry stakeholders to choose from. Here are a few examples of speakers you can include on your webinar:
Guest Speakers
Potential clients.

Webinars are great to establish strong connections with future clients. Let's say, for example, you've developed a product for SaaS marketing leaders. One way to engage with your ideal customers is to create a media product, such as an educational webinar series, where you invite them to discuss different industry-related topics.

Industry leaders.

To increase your brand awareness, invite high-level professionals who have a large audience. If it's a big industry name, chances are you'll increase the number of leads registering to attend your webinar. Also, you'll extend your reach and become a better-known brand.

Current customers.

Your customers make great webinar speakers. They can connect easily with your audience, and

their insights

show

how your leads can achieve their desired

outcome. Also, your customers can explain how they've overcome certain challenges by using your product.
Internal Speakers
Internal subject matter experts

. You can always look internally for insightful speakers. Your company has professionals who possess a great deal of knowledge and experience to share with your webinar audience, if the topic matches the expertise.

C-level executives.

Having your CEO or President be your webinar speaker is a great option for high-level thought leadership webinars designed to educate your target audience.
For example, you can invite potential clients or industry leaders to run educational webinars or in-depth interviews. Inviting your paying clients is great when you're planning a success story interview. Internal subject matter experts are awesome for your product AMA and update webinars. 
---
Creating Your Webinar Outline
When running a webinar, you can't just show up and start talking without anything prepared. On the contrary, you need to create an engaging webinar structure that will help you maintain people's attention and deliver as much value as possible. That's why the next step is to come up with your webinar outline:
➡ Kick off the webinar, managing the expectations of your attendees
Before launching your presentation, address a quick list of items that will guide the experience of your webinar guests. First, define the webinar timeline and structure. Then, list the main advantages of attending the webinar until the end. Present the housekeeping items, such as how your attendees can navigate and use the webinar platform. Finally, outline how the Q&A session will proceed and when you'll be opening the floor for questions. Although these aspects are focused on the webinar logistics, they'll help your attendees take better advantage of their experience.
➡ Start your webinar session by acknowledging the challenges your audience is experiencing
This will show people you're aware of their struggles, and that by attending the webinar until the end, they'll find the answers to their questions.
➡ Back up your points with statistics and relevant data
To increase your credibility and better defend your statements, research your topic thoroughly and find relevant data to back up your position.
➡ Present the solution and why it's the best or only option
Once you've presented the challenges and the relevant statistics to support your arguments, it's time to introduce the solution. This can be your product, a specific feature you've developed, or a new methodology. You can present it as the best or the only solution your attendees need to overcome their challenge(s) and achieve positive results.
➡ Tackle the objections your audience has
Next, focus on dismantling the objections that prevent your audience from purchasing your product.
➡ Prepare for the Q&A session
Be ready for the questions your webinar attendees may ask. This part is as important as the rest of your webinar because it entails a higher engagement with your audience. We recommend preparing a handful of frequently asked questions so that, if no one raises their hand to ask a question, you can launch into your prepared ones.
➡ Present the offer
Consider presenting an exclusive offer for your webinar attendees that draws them closer to their desired outcome. What will help them make their purchase decision? Is it the free use of your product for 30 days? Or maybe a 35% product discount?
Now, take this structure and turn it into your webinar slides.
---
Designing Your Webinar Slides
Now that you have the webinar outline, you can proceed with creating your slide deck. Here are a few rules to consider when building your slides:
➡ Keep the 10-20-30 rule in mind
 Although originally created for designing pitch decks, this rule can apply to most cases, particularly educational webinars. It breaks down to crafting 10 slides with a 20-minute maximum delivery time and size 30 font text.
➡ Pay attention to your white space
Whitespace is the space you use around the elements (including icons and your logo) in your design. It doesn't have to be white, as long as each element gets breathing space. But why add all this space between elements? To give your webinar slides a neat and minimalistic look — one that's free of clutter and thus easier on your audience's eyes. To do that, limit the number of elements in your slides.
➡ Use your brand colors and fonts
Don't try to innovate or come up with a different range of tones, colors, and fonts for your slide deck. On the contrary, reaffirm your brand identity by using your company colors and fonts. Make sure your slide deck aligns with your brand identity.
➡ Keep your design clutter-free
Don't clog your slides with text. You may want to copy/paste your entire speech onto the slides, but this will overwhelm or bore your attendees. Instead, add only one sentence per slide. Even better, limit your text and add a few words that describe the point you'll be tackling. Also, combine your text with visual elements relevant to the conversation. The graphics you use in the deck should help your audience visualize the spoken words. This will make your slide deck more engaging. However, as with the text, avoid cluttering your slides with unnecessary visual elements.
With this in mind, start designing your webinar slide deck. Note that there isn't an ideal number of slides. Avoid creating slides that don't support your topic and outline, and you'll be in good shape. Less is more.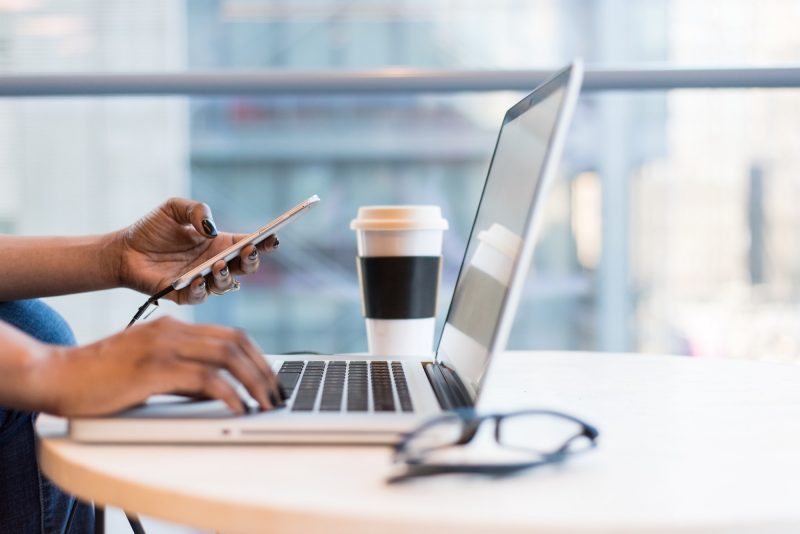 Photo Source – Unsplash
---
Webinar Set-Up

How will your attendees register and attend your webinar? To answer these questions, you'll have to take care of the webinar set-up, which includes finding the right webinar technology and creating a registration funnel.
---
Choosing the Best Webinar Software
To ensure a hassle-free experience for your attendees and to nail your webinar presentation, you need reliable webinar software. So, when choosing your webinar platform, make sure it provides the following features:
✨ No-download webinars 
A frictionless attendee experience starts with easy access to the webinar room. Instead of asking your attendees to download your webinar app, worrying if they got the instructions right, try Demio and host engaging events in the browser. You'll reduce the hassle and make the attendee experience truly enjoyable.
✨  Customized, beautiful registration pages
The best webinar software will offer the possibility to create and customize the webinar registration process. With Demio, you can customize the registration page in a matter of minutes. Moreover, a good webinar platform allows you to include additional custom fields to the registration form and capture relevant information from your new leads.
✨ Powerful engagement tools
Running live webinars is especially advantageous to build long-lasting connections with your leads. Engagement tools such as live polls, handouts, featured actions, chat, and emojis remind your attendees that webinars can be educational and fun! These tools also keep your audience focused and responsive during your webinar.
✨ Email reminders for your audience
Go with a webinar platform that will increase attendance with email notifications and reminders. Reminders help your registrants remember the date and time of your webinar so they will be more likely to attend.
✨ Infrastructure to run live, automated, on-demand, or hybrid webinars
Strong webinar platforms will support your webinars regardless of their type or format.
For quick insights and better decisions, choose a webinar platform that provides the analytics needed to improve your webinars in the future. Important analytics to consider include not only registration and attendee numbers, but also how people watched your webinar, giving you a breakdown of every poll, handout, or featured action launched during the session.
✨ Easily integrated into your existing marketing stack
A powerful webinar platform will integrate seamlessly with the marketing tools you already use.
✨ Quick learning curve
You don't want to spend days or weeks learning your new webinar solution. Find a solution that's intuitive and easy to use.
✨ 24/7 dedicated support team
Finally, when you go live with your webinar, you'll have no time to wait for support. Choose a platform that provides you prompt service in the method you prefer (chat, email, etc.).
Choosing a trustworthy platform is essential to run great webinars and impress your attendees.
---
Building a Conversion-Driving Landing Page
The next step is to create a landing page where people can learn more about the webinar and register to attend it. To design a conversion-driving registration page, you need to combine clear structure, powerful visuals, and appealing copy that speaks directly to your audience.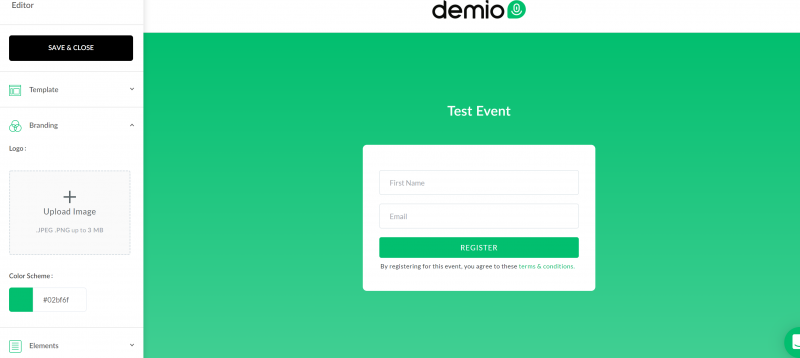 Needless to say, your landing page will depend on your webinar topic and goal, webinar audience, and brand identity. As for its design, we recommend you keep it simple and use the following structure:
➡ Catchy headline
This can be the webinar title or an introductory hook to grab people's attention and keep them reading.
➡ Description or main copy
You can dedicate this segment to explaining the key points of the session. The reason? Let the potential registrants know exactly what benefits they will walk away with if they attend the event.
👉 Remember: help them understand how your webinar will bring them closer to their desired outcome.
Keep it short and simple, and be sure to highlight how you are providing value. An effective method is the use of bullet points. They let you quickly share three to five digestible benefits that will result from your webinar — and they work amazingly well from a readability perspective, too.
➡ Call to Action
This part is usually added to indicate the next steps page visitors should take. In this case, you'll want to capture registrations, meaning the "Register" call to action should be the only step available to people.
➡ Registration form
Set up a registration form to capture people's information. Before doing so, determine what data you want to gather from your registrants. Also, resist the temptation to create a large registration form, which will intimidate your potential registrants and turn them away.
➡ Date and time
Depending on the frequency of your webinar, you have different options for presenting the date and time. If it's a one-time webinar, just indicate the day and the hour when people can connect to the live session. But if you're running recurring webinars, you can add a drop-down list with different date options people can choose from.
➡ Visuals (images and/or videos)
If you want to add some personality to your webinar registration page, use branded images and/or videos. For example, you can publish a webinar banner or trailer.
➡ Short biographies of your webinar presenters
What qualifies the webinar host and guests to run the session? Answer this question by adding short bios for the webinar host(s) and guests.
If necessary, you can add other sections to your landing page, such as related webinars or blog posts. However, try to keep things simple and avoid redirecting people's attention to other content assets or calls to action. 
---
Setting Up a Post-Registration "Thank You" Page
After your audience registers for your webinar on the landing page, they should automatically be redirected to a "Thank you" page. This page is a great opportunity to thank them for registering and provide them details for the webinar.
Your webinar "Thank you" page should contain two main points: "How To Join the Webinar" instructions, and calendar reminder information. The instructions should be clear so registrants are fully prepared when it's time to attend. The reminder should make it easy for registrants to save the details and keep that time slot vacant with an "Add to Calendar" call to action.
We also recommend taking advantage of the "Thank you" page real estate to keep your leads interacting with your content. Here are some additional calls to action you can add to your "Thank you" page:
Watch a demo to learn more about your product

Read a series of articles on the same topic as the webinar

Download an eBook or other gated content asset related to the webinar topic

Share the webinar information on social media
By adding different actions and content assets to your "Thank You" page, you'll be able to qualify your leads efficiently and understand their level of interest more clearly.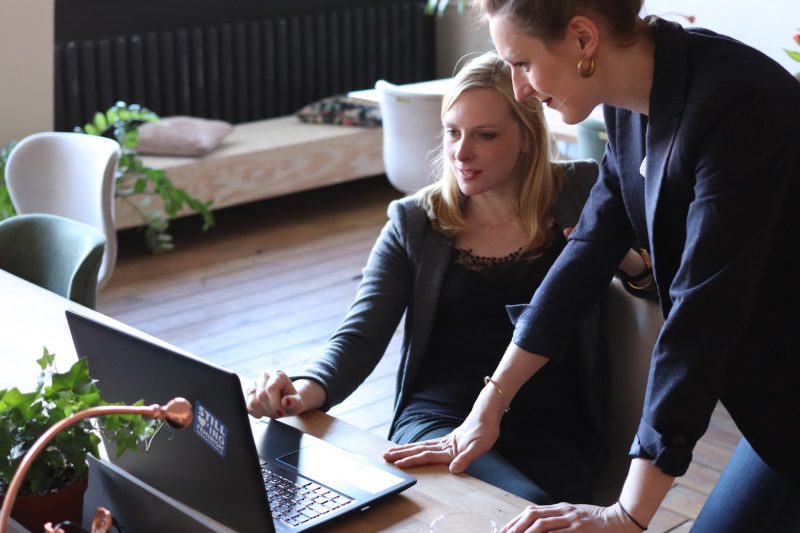 Photo Source – Unsplash
---
Preparing the Emails for Your Webinar Attendees
Once registered, people should receive an email confirmation for your webinar, providing the following information:  
A quick webinar description

The date and hour reminder 

The "Add to Calendar" call to action

The instructions on how to join the webinar 
Send email reminders to help people remember to attend. We recommend the following cadence: 
First email reminder:

24 hours before the webinar

Second email reminder:

1 hour before the webinar 

Third email reminder:

15 minutes before

your webinar begins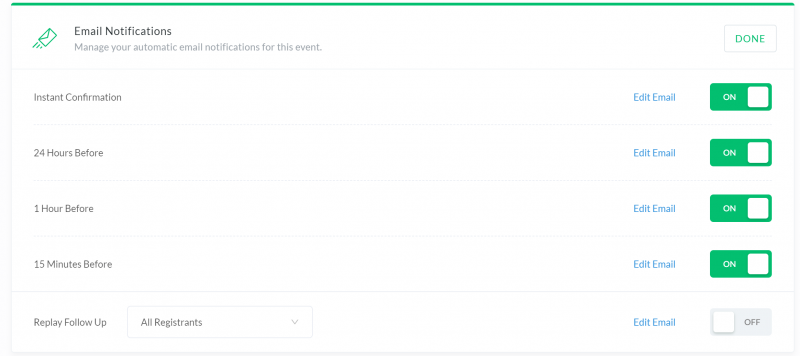 Note that with Demio, you can integrate your webinar platform into your marketing automation system so you remain consistent with design and branding. Or, simply use Demio's automated email reminders to keep it easy.
---
Webinar Promotion

Webinar promotion is an integral — if not the most important — part of your strategy. Without effectively communicating the value of your webinar, you won't be able to attract your desired audience.
---
Deploying Promotion Strategies That Drive Registrations
Everyone is running webinars, along with virtual summits, online events, and digital conferences. Each time, it becomes harder to promote your webinar and drive traffic to your registration page. Luckily, there are several tactics you can use to cut through the noise effectively  to reach your desired audience. These tactics don't cost much and are easy to deploy, even with a small marketing team: 
➡ Email the appropriate audience segment
Start your webinar promotion campaign by leveraging your email list. Create an email invitation, highlight the value you're providing in your webinar, and send it two or three weeks before the event.
👉Quick tip: If you have a cluttered list with multiple audiences, send your email to the segment you're specifically targeting with your webinar. 
➡ Send 1:1 invitations
Another great way to promote your webinar is to send personalized emails. For example, if you're planning a webinar for VIP or targeted prospects, you can ask your sales team to send 1:1 invitations to the webinar. Compared to mass emailing, these 1:1 messages are personal and direct, strengthening the connection between your sales reps and their leads.   
➡ Make use of social media 
Be where your audience is. If your desired audience is on LinkedIn, make sure to promote your webinar with several LinkedIn posts, leveraging company and employee pages. The same is true for Facebook and Instagram. Moreover, you can take it one step further and set up ad campaigns on social media to get even more specific with your audience.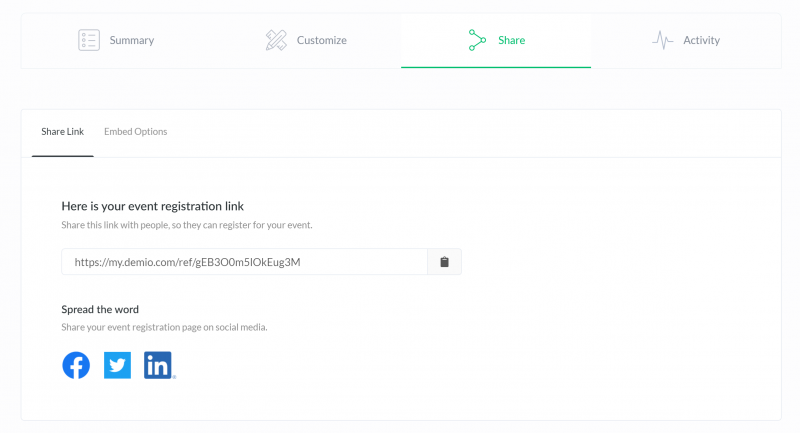 ➡ Promise a special offer for those who attend your live webinar
Your offer can be anything from a substantial discount to an extended free trial. This will encourage people to not only register, but also attend the live session of your webinar. 
➡ Leverage the editorial calendar to promote your webinar
Leverage the other content (blog posts, email campaigns, etc.) scheduled in your calendar to help promote your webinar. Take a look at your editorial calendar. Any content due for release in the five or six weeks before your webinar should include a registration call to action.
➡ Design an email signature for your team
The email signature banner should include the name of the webinar, the date, and perhaps an image of the speaker. Note that you'll have to prepare different visual elements to promote your webinar on social media. To make things easier, you can adapt them for the email signature. Once you have the banner, you can send an email to all of your teammates (and speakers) and ask them to copy/paste it into their signatures.
➡ Create a webinar trailer
Compared to plain text or banners, webinar promo videos or trailers are visual, engaging, and memorable. When making your trailer, focus on addressing the benefits and solutions your webinar will provide — in less than one minute. When it's ready, add it to your landing page and your social media.
➡ Leverage other people's social networks for promotion
Encourage your colleagues and executives to promote the webinar on their social media channels. Set them up for success by crafting the copy and visuals ahead of time so it's easy for them to share. Also, if your webinars include interviews with industry players or paying customers, ask them to help you promote the webinar to their audiences. Work with your guest or your guest's marketing team to create a promotional calendar about four to six weeks before the event. The calendar should include social media postings (personal and business), newsletter inclusions, video, and more for both parties. To streamline this process, prepare all the assets your guests will need for their promotion, including banners, images, videos, and even copy.
Back in the day, webinars were a great way to differentiate yourself in the industry. Today, however, more and more companies are jumping into webinars, virtual summits, and online events. That's why you have to level up your game and design a strong strategy to promote your webinar.
---
Creating Webinar Promotional Assets
To deploy the tactics mentioned above, you will need a series of visual and promotional assets. You can create these by leveraging your Canva skills, or by teaming up with a designer. Here's a quick list of webinar promotional assets to keep in mind: 
Newsletter banner.

This will be sent with your email campaigns. 

Email signature banner.

According to

Newoldstamp

, "The best size for an email signature image should be around 300–400 pixels in width and 70–100 pixels in height (with approximately 70 dpi)." 

Facebook graphics.

You can add your Facebook graphic as a cover photo for your page (820×312 pixels) or as a simple post (1200×630 pixels).

LinkedIn graphics.

An image for a LinkedIn post should have 1200×628 pixels. 

Instagram graphics.

If you're planning to create an Instagram post, make sure your image has 1080×1080 pixels. If you publish an Instagram story, your image should have 1080×1920 pixels. 

Webinar trailer. Keep your trailer simple. You can go on camera yourself to introduce the webinar and the reasons why people should attend.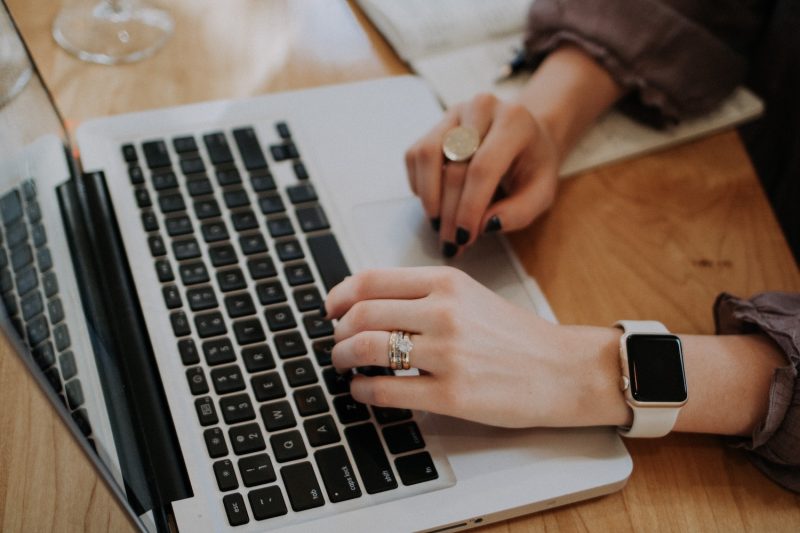 Photo Source – Unsplash
---
Reading the Google Analytics Data
Setting up your UTM links will help you understand which channel is most successful in driving traffic and registrants to your webinar landing page. A UTM code is a snippet of code you can add to your URL to track the performance of campaigns and content. 
Let's take, for example, your webinar landing page URL. If you post this link to Facebook, you'll add a unique UTM code that will identify the leads who registered for your webinar as coming from Facebook. The same works for other social media posts, your newsletters, and your Google ads. For each distribution channel, you'll have a unique UTM code providing you valuable data about the performance of each marketing action you take. 
To create a UTM code, you can simply go to Campaign URL builder by Google Analytics and insert your information.
---
DOWNLOAD YOUR FREE WEBINAR STRATEGY CHECKLIST BELOW
Use this checklist
to design your very own high-converting webinar marketing strategy from scratch, then automate the process to attract high-quality leads.
We promise to never spam or send emails about cats.
Okay, maybe some cat stuff.
DOWNLOAD YOUR FREE WEBINAR STRATEGY CHECKLIST BELOW
Use this checklist
to design your very own high-converting webinar marketing strategy from scratch, then automate the process to attract high-quality leads.
We promise to never spam or send emails about cats.
Okay, maybe some cat stuff.
Run Webinars To Grow Your Business
Webinars should be part of your marketing strategy, especially if you want to reach thousands of leads in a short period of time. They work perfectly for both small and large marketing teams. Webinars are key to increasing your brand awareness, understanding your leads better, and connecting with your target audience.
We encourage you to use the tips and tools we provide in this guide to maximize your webinar marketing strategy and improve your business results.
DOWNLOAD YOUR FREE WEBINAR STRATEGY CHECKLIST BELOW
Use this checklist
to design your very own high-converting webinar marketing strategy from scratch, then automate the process to attract high-quality leads.
We promise to never spam or send emails about cats.
Okay, maybe some cat stuff.