Here at FunnelDash, we use webinars as our primary way of generating revenue. We find it's most effective for potential customers to be able to see our platform in action and understand how it can work for them, before they purchase. Once that happens, we inevitably make sales.
We use Demio's webinar platform to make that magic happen every week. And our results are fantastic!
On average, we get $55 in revenue, per lead. That means for every 100 people who register for our webinar, we make $5,500 within the first 30 days. Like I said, fantastic results.
Before I show you how we do this, I want to tell you a little about us.
---
Who We Are and What We Do
FunnelDash is a tech startup based in Santa Barbara, CA. We build growth tools and Facebook ad reports dashboards for digital marketing agencies and businesses that run Facebook ads.
Our analytics platform pulls the data from your Facebook ads account and lets you see the information you need quickly and easily. This helps you decide which of your Facebook campaigns are ineffective and should be turned off, and which are performing well and should be scaled. You can also drill down into your audiences, ad sets and ads to determine which are the most profitable.
Our lead generation growth tools help you expand your customer base and grow your business. We offer pop-ups that lead potential clients to an Instant Audit of their Facebook ad accounts and to notifications of Facebook Live appearances, among others. And we're developing new growth tools all the time.
We have 260 active customers and we're steadily growing our community of digital marketing agency owners and Facebook ad managers who want to get the most from their Facebook ad campaigns.
---
Why Are Webinars So Effective as a Revenue Stream?
There are so many ways to promote a product. You can run traffic to a standard sales landing page; you can run a product launch; the list goes on…
But webinars have become one of the most effective tools for companies of all sizes to promote their products.
Why?
Because webinars introduce a live human element into the sales process.
A webinar gives the attendee more than the standard talking head video ever could. It gives an interactive experience that assures the attendee they matter.
Whether you have one presenter and one moderator, or your presenter handles both aspects, a viewer can ask questions and get them answered in real time, instead of waiting for an email response, possibly days later. They can also make comments and get responses from other attendees.
The entire experience is deliberately designed to excite and encourage viewers to take action and buy your product or service.
Our founder and CEO, Zach Johnson, has experience doing live webinars at other tech startups. He knows exactly how effective they can be.
So, when we launched our new app earlier this year, Zach put his webinar strategy into action.
---
Showing How Our Story Can Be Your Digital Marketing Agency's Success
Zach originally started a digital marketing agency, not a software company.
As he built his agency, he discovered the need for the software that would ultimately become FunnelDash.
More importantly, he was on a journey that many agencies find themselves taking as well. That journey of "how do I move beyond the clients who are demanding and pay poorly, to those who are wonderful and pay well?"
We use the story of this journey and the secret to that code-breaking moment as the basis of our webinar.
We also make sure we include two very important things in our webinar script:
Excellent storytelling: We want our webinar attendees to empathize with everything Zach went through, because they're going through it now, or they've heard the horror stories and want to avoid it. We use the story of Zach's experience to show how not to let your agency run your life, and instead to get your life back from your agency.
Useful, actionable steps anyone can take, with or without FunnelDash: We show the entire process we use to get new clients for our agency (yes, it still exists) from start to finish; we don't hold anything back. And we make sure to explain it so that anyone can use this process, with or without FunnelDash. We make it clear that it's much easier with FunnelDash, but you don't have to use our platform to make these techniques work. That way, people can take away actionable steps with them after the webinar.
---
Why We Use a Pro to Present Our Webinars
A webinar is a type of performance. So, you want to make sure whoever is presenting your webinar has a good "stage" presence and understands what they're doing.
You don't have to hire a professional actor to present your webinar, but you do want someone who sounds confident when they're talking about your product and is able to explain your product well.
There are plenty of excellent webinar presenters out there. Most of them are promoting their own products. One may even work for your company, so be sure to ask around to see who has performing, speaking, or presenting experience.
We are incredibly lucky to have the legendary webinar pitch man, Tim Paige, as our presenter.
Tim may be the only professional webinar pitch man out there. He started as the podcast and webinar host for Leadpages, and in the past four years, he's done over 800 webinars for different clients, including ours. His average conversion rate is 32%.
Having a "voice" for our company on our webinars is very effective. Tim is an excellent webinar presenter and is genuinely interested in our product. He engages well with webinar attendees and is very convincing when it comes to our offer.
Tim converts registrants to customers on every live webinar. The number usually depends on the number of registrants.
DOWNLOAD YOUR FREE WEBINAR STRATEGY CHECKLIST BELOW
Use this checklist
to design your very own high-converting webinar marketing strategy from scratch, then automate the process to attract high-quality leads.
We promise to never spam or send emails about cats.
Okay, maybe some cat stuff.
---
It All Starts with Successful Promotions
We have two ways that we drive traffic to our webinars.
Facebook ads
We regularly run a series of Facebook ads to promote our webinars.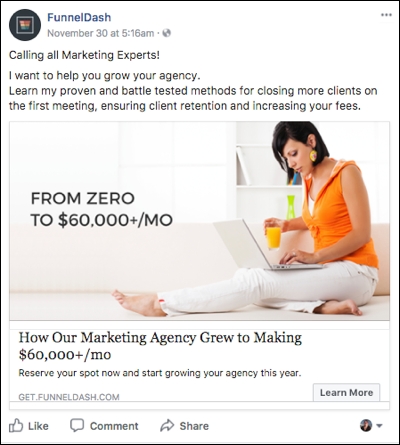 These ads go to this landing page, which converts at 44%.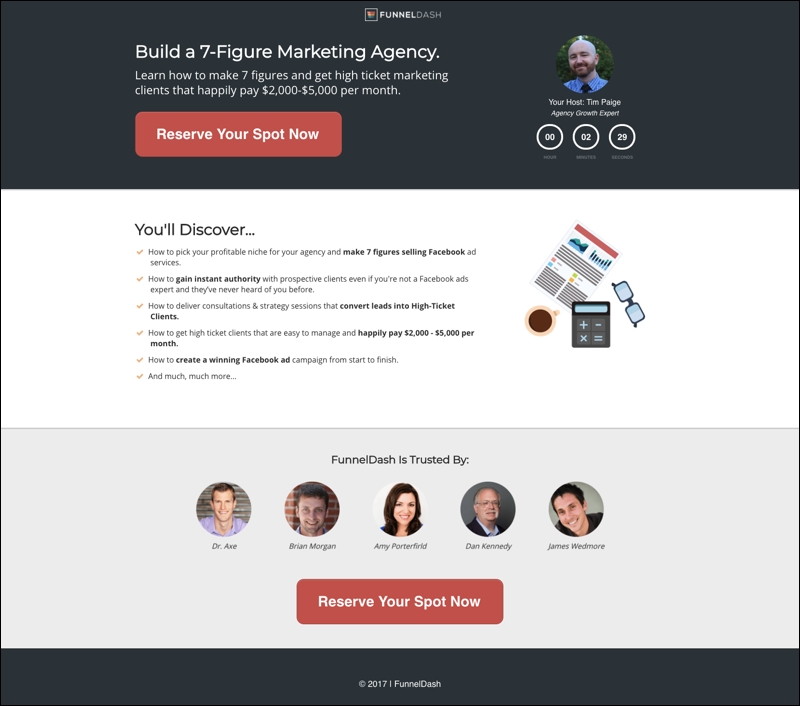 Our ads are targeted towards digital marketing agency owners who:
Currently run Facebook ads for their clients and want to expand their client base.
Currently run an agency and want to expand their services to include Facebook ads.
New agencies who want to build their clientele by offering Facebook ads.
We typically spend between $1,500 and $2,500 on Facebook ads, per webinar. Our cost per lead for webinar registrations averages out to $4.47.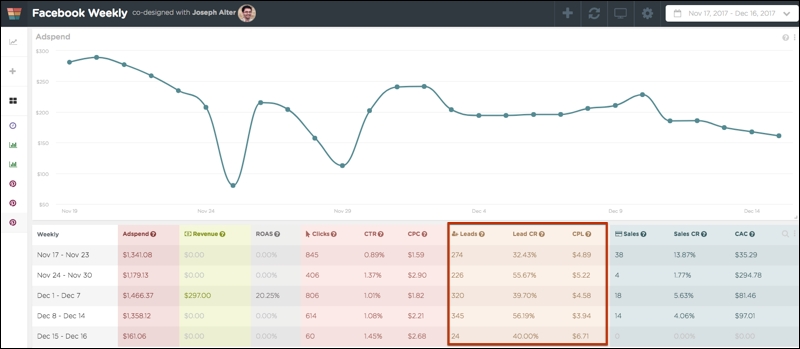 ---
Emails
We regularly partner with other companies to cross-promote our products to each other's audiences.
So, for example, we would have Company XYZ send 2–3 emails on our behalf (that we wrote and they would adapt to their audience) to promote our webinar. Then, we would do the same for them to promote their webinar.
Each company builds their email list and gets attendees on their webinars.
We also email our own list when we do live webinars. We regularly get new subscribers who haven't heard about our webinar yet. We also get folks who have already attended our webinar, but want to hear it again.
Between our Facebook ads campaigns and our partner email campaigns, we get between 250 and 450 registrants for each webinar.
---
Getting Email Addresses in the Right Places
We currently use HubSpot as our CRM, so we have a little extra work to do when it comes to maintaining our email lists.
Once someone has registered on our landing page, their name and email address are sent to HubSpot. We have a Zap (from Zapier) set up to send that name and email address to Demio. Demio then returns a Unique Join Link to the original listing in HubSpot, so we can add each registrant's Unique Join Link to their confirmation email.
---
Getting Registrants to Show Up to the Webinar
Once you've got people registered for your webinar, you have to remind them to show up, or your fantastic live presenter will be talking to thin air.
We have a series of five "anticipation" emails, similar to the ones with Demio, but ours are customized to our webinar and we send them from HubSpot. Thanks to the Zap I mentioned earlier, each email contains the registrants' Demio Unique Join Link so they can easily find it when the time comes.
The first one goes out three days before the webinar to remind people that it's coming up. Registrants can sign up for our live webinars up to a week in advance, depending on when they see our Facebook ads or find out about the webinar, so we want to make sure we stay at the forefront of their minds.
We also include a free guide in the confirmation email and the first anticipation email. This guide prepares people for what they'll learn in the webinar and even shows them how to use FunnelDash before they see the full presentation.
Our goal here is to get them excited about what FunnelDash can do for their business so they'll be more inclined to act on our offer.
The next email goes out the day before the webinar and includes a special video message from Tim.
The video runs through a few of the slides attendees will see the next day. It also tells registrants about the three free gifts anyone who attends the webinar will receive. Finally, this video encourages registrants to join the webinar early and to write down any questions they have so Tim can answer them live, during the webinar.
The last three emails go out the day of the webinar:
One first thing in the morning (regardless of what time we've scheduled the webinar) to get registrants excited about joining later that day.
One an hour before the webinar, so registrants don't lose track of time and miss the whole thing.
One 15 minutes before the webinar, encouraging registrants to join right away.
---
Putting On the Show — How We Run Our Webinars
I mentioned earlier that Tim's hosting style is very interactive. If he sees questions pop up in the chat window, he'll answer them, mid-stream.
This makes it a lot easier for our team moderators, who join the webinar to help Tim with questions that come up during the webinar. He can't get to every single one, so we help out as much as possible.
We use the "Public" option for our live webinar chat. Frequently, attendees will answer each other's questions. Plus, seeing positive reactions from other audience members will frequently push someone toward making that final purchase.
One of the many reasons we love Demio is the system makes it very easy to run a webinar, from setup to replay.
Demio is incredibly easy to use and intuitive. It's made hosting our webinars a breeze.

– Tim Paige
Demio also lets us redirect attendees to our checkout page after the webinar is over.
DOWNLOAD YOUR FREE WEBINAR STRATEGY CHECKLIST BELOW
Use this checklist
to design your very own high-converting webinar marketing strategy from scratch, then automate the process to attract high-quality leads.
We promise to never spam or send emails about cats.
Okay, maybe some cat stuff.
---
Catching Those Who Missed It with the Replay
We do a live replay the following day.
"What the heck is a 'live replay'?" I hear you cry.
Here's how we set it up:
Every webinar is scheduled as a series, with the registrants staying registered for two presentations (Usually one on Thursday and the second on Friday).
We download the webinar recording from Demio once it's finished processing.
We upload the recording to YouTube.
We use Demio's hybrid system to add the YouTube recording to our Friday webinar.
We send the Demio automated emails 1 hour and 15 minutes before the replay, to remind registrants to join us.
One of our team moderators starts the webinar on Friday (thus the replay), and stays on to answer questions in the chat (so there's a live person available).
We inevitably get at least one more sale from using this process, and more people get their questions answered in an interactive setting.
---
Making the Sale on the Follow-Up
After the webinar, we run what we call a "Clincher" sequence for 6–7 days (depending on whether the live webinar is on a Wednesday or Thursday). Our sequence always ends the following Tuesday at 11:59 pm, Pacific time.
Many companies send the replay link to those who missed the webinar and the "here's the offer again" emails to those who attended.
We combine the two into one sequence. There are plenty of people who want to see the webinar again, because they missed part of it or because their internet connection was bad.
We also set up a separate replay page with the recording of the webinar, plus the offer, right there on the page. That way, people don't have to wait for the "live replay" the next day. They can see the webinar as soon as they wish.
Our email sequence starts by sending registrants to the replay page. As the time draws closer to the deadline to get the offer, we talk more about the offer and losing the opportunity to get in on it.
By the time we send the last email on Tuesday night, we get another 2–5 purchasers.
So, that's how we get our 20% conversion rate and make $55 in revenue, per lead, or $250 in revenue, per attendee.
DOWNLOAD YOUR FREE WEBINAR STRATEGY CHECKLIST BELOW
Use this checklist
to design your very own high-converting webinar marketing strategy from scratch, then automate the process to attract high-quality leads.
We promise to never spam or send emails about cats.
Okay, maybe some cat stuff.