Wow. What a year 2017 was.
Reflecting back as a company it's unbelievable to see how far we came in just one short year. Some of the obstacles and changes that happened internally and within Demio itself are mind-blowing, there's challenges that tested us all as a team and a company.
We definitely hustled through the hard things (tech challenges that seemed near impossible).
We had more late nights and working weekends than anyone should have to go through.
We had some big wins too! And attracted amazing new customers and advocates.
We doubled down on our values of customer service and transparency.
We personally talked to over 3500+ people on 1 on 1 demos (whoa).
We listened to feedback and criticism and evolved forward thanks to both.
And recently, we took the time to interview, survey, and research where we should go as a platform.

We learned a ton.
Through the tsunami of feedback, we recognized there was a big void in the marketplace. A need for a simple, easy to use platform that was reliable, but provided the tools for marketing and education teams to scale their efforts faster.
We saw the pain specifically in the SaaS and Software business niches. These niches often have smaller teams wanting to unleash the power of webinars but are tripped up by the technical systems, integrations with their marketing stacks, and getting attendees to join and engage during the webinar.
Demio was built for just that.
We decided to step up. With a few changes to our product, we are coming out in 2018 with a primary focus to be the best webinar platform for these teams.
What does that mean for you?
There will be some feature roadmap items directly focused on marketing and education teams. There will be new features focused for interactivity. For engagement. Reporting. For automation and automated webinars.
But, we are still Demio.
The platform will still be the same easy to use, simple platform that we started with. We'll always work to improve both our infrastructure, user experience, and are committed to doubling down on what matters most.
That said, we wanted to make this change with a big splash.
We'll be releasing a new look on both our branding and website, along with a brand new pricing structure for all new users.
The new Demio logo is focused on interaction, engagement, and well webinars that are fun. We call him Mikey (the mic), and he's a ton of fun.

Our website will soon reflect the new benefits we can truly solve for our users. It's easier to navigate and straight to the point, with a more modern feel.
Our pricing will be an updated reflection of what we think the market wants. A simple, straightforward plan system that reduces confusion, but gives you all the tools you need to get results in your business.
We organized them into the Starter, Growth, and Business plans.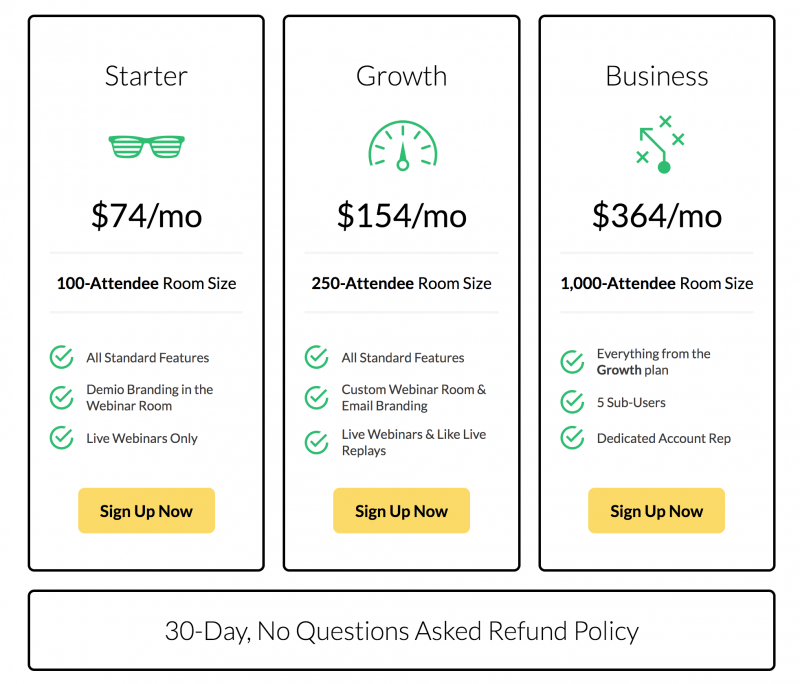 Each plan contains all the primary features of Demio along with a certain attendee limit for live webinars (now listed at 100 Attendees, 250 Attendees, and 1,000 Attendee limits). You'll still get unlimited webinars each month and all the consistently great customer service on live chat.
As we continue to evolve and innovate, new features will appear in tiered packages (for example, we might release our premium Hubspot and Intercom integrations in the Growth package only) to fit the needs of customers and the packages they subscribe to.
For any current customers, you don't have to worry about a thing! You will be completely grandfathered on your current plan and nothing will change for you. Things will stay the same for your account no matter what 🙂 . That's our guarantee!
However, if you want to upgrade later, you would find your billing area will be changing to these new sizes. We'll be allowing any upgrades manually for the next 7 days in case you want to secure a package before this takes full effect (this is just in case you want to secure a final package on an original price before things shift over).
As a platform, we're truly humbled that our users have put their faith in us and have joined us on our journey.
We are deeply dedicated to providing an amazing experience and build the world's best webinar platform.
Thank you.
Increase Your MRR from 1 Simple Campaign This Week!

Enroll in our brand new Demio mini-course: Activate! to learn the exact steps you need to take to create, run, and launch a simple campaign that can explode your MRR in a week
(or less). It's all 100% Free and brought to you by Demio.