When you hear the word webinar, what do you think?

You might think formulaic sales pitch, a long drawn-out presentation, educational content, or some combination of all those things.

But in reality, webinars are simply another channel; they're a way to connect with your audience and deliver value through an interactive, real-time experience.

No matter what your opinion is on webinars, it's hard to dispute the fact that they work, especially for SaaS companies.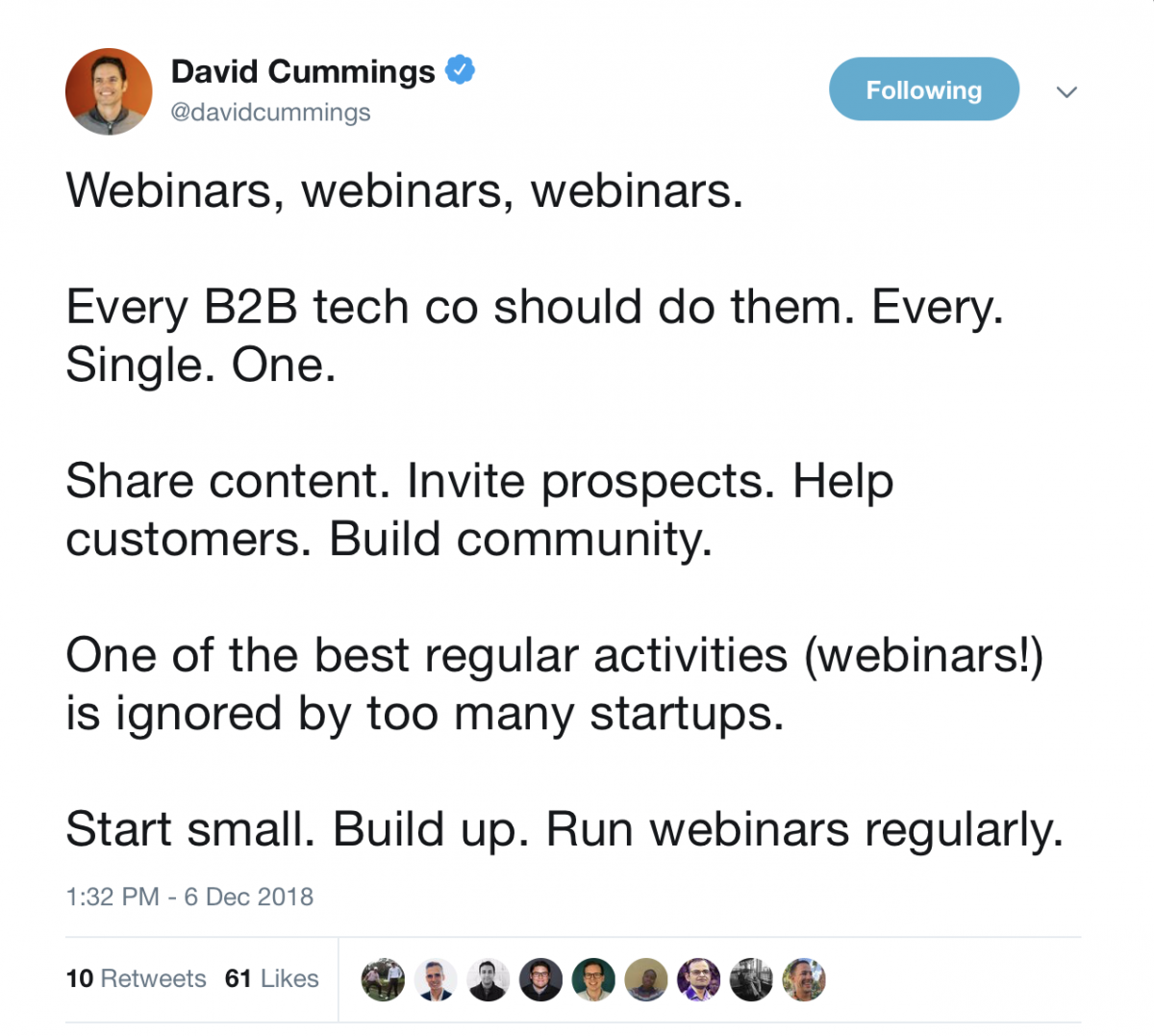 I think Jason from SaaStr said it best in his blog post, Webinars Almost Always Work:

"One thing if you are a first-time founder in SaaS that may seem as boring as you can imagine is webinars.

You never go to them. And they seem like something you do, well, later. When you are bigger.

But I'd challenge that thinking with one simple rule: if even 2 qualified prospects and/or 2 existing customers come to a webinar, that's great. Because think of webinars as scaleable ways to interact, as a human being, with groups. Email is fine and all, eBooks have their place, but there is no human interaction there. No Q&A. And no chance to get to know the humans behind an application. 1-on-1 chats are also great, but not only can you only do so many, and sometimes prospects don't want a 1-on-1. Sometimes they want a more passive experience, where they can consume a demo and a discussion without having to answer a bunch of qualifying questions up front."
At Demio, we think of webinars very much the same way. In fact, it's even on the homepage of our website: leverage the power of personal conversations at scale.

DOWNLOAD YOUR FREE WEBINAR STRATEGY CHECKLIST BELOW
Use this checklist
to design your very own high-converting webinar marketing strategy from scratch, then automate the process to attract high-quality leads.
We promise to never spam or send emails about cats.
Okay, maybe some cat stuff.

But in case you're not quite sold on the idea of running webinars yet, I put together four reasons why every SaaS company should run webinars.

So let's jump in…
Webinars Create Reusable Content for Multiple Channels
When you try to create content for every marketing channel from scratch, it can be overwhelming to say the least. You'll need a full team of content creators to create native content for Twitter, Instagram, Facebook, your blog, YouTube, email, your podcast, and more.

One of the easiest ways to product content for all of these channels without hiring an army of content creators is to use the top down approach. With this approach, the focus is to create long form content that you can repurpose for each and every channel.

For example, your content team puts together a 45-minute webinar with original content around a specific topic. You can invite your customers, users, and leads and deliver a ton of value to that initial audience. Following the event, you can post the replay on your blog or your dedicated webinar channel; alternatively, you could even turn the event into an automated webinar for evergreen content.

Then, you can chop up the webinar into one or two different videos ranging from 5-15 minutes that you can post on YouTube and Facebook– just make sure the content makes sense out of context. Lastly, you can take those videos and break them down further into 30 second or 1 minute clips you can post across Twitter and Instagram. As a bonus, you can even upload your slide deck from the webinar (if you have one) to a slide sharing site like LinkedIn's SlideShare.

Here's how that top down approach might look: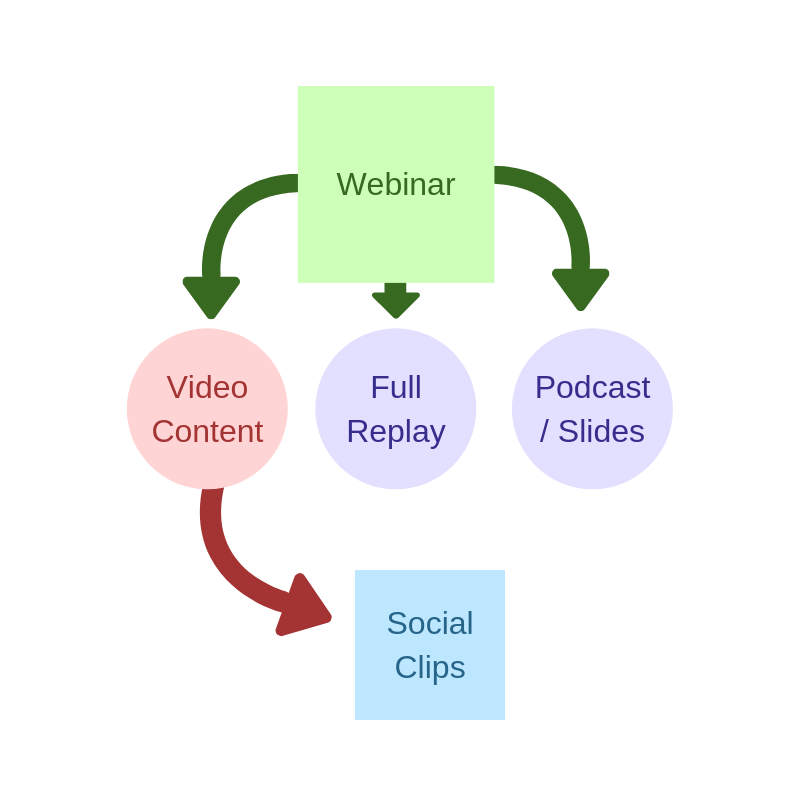 Hopefully you can see the power of this content strategy. A single webinar ultimately becomes 5-10 pieces of content across a wide variety of channels to ensure maximum reach.
Find Your Niche and Dial-in Your Messaging

For early stage SaaS companies, typically less than $1M in ARR, finding and nailing a niche is usually one of the most important tasks, and it's prerequisite before you can truly scale.

So how do webinars help you find your niche? Unlike other forms of content, webinars can help you get real-time feedback. By putting together an event around a specific topic, you'll be able to see if you can attract the right audience to register and ultimately show up to the event. If you fail, no sweat; you can just go back to the drawing board, adjust the topic, adjust your messaging, and try again.

But that's just the beginning. The real magic happens on the live event. Simultaneously talking to dozens, or even hundreds of prospects is one of the quickest way to find out what does and doesn't resonate with your audience. Through a real-time chat and by measuring engagement, you can identify some of the most powerful messaging for your product in less than a few hours.
What gets your audience excited? What kinds of questions are they asking? Were there any points of the webinar where interaction was low or attendees started dropping off?

You can also try launching a couple polls throughout the event to learn even more about your audience.

If done right, you can condense weeks of learning into a single webinar.
Generate Leads, Hot Prospects, and Ultimately More Revenue

At the end of the day, this is the main reason that most companies start running webinars in the first place. There are a variety of ways to use webinars, and whichever way you choose will completely depend on your end goal. For some innovative ideas, you can see how other companies are using webinars to grow.

More often than not, we see SaaS companies utilizing webinars with one of these three goals in mind:
Lead Generation

Nothing better than creating reusable content and generating new leads at the same time, right? Thus, the power of webinars at the top of your funnel. Since registration is an expected part of any webinar event, you'll be able to capture registrations as new leads seamlessly (with very little resistance, even with cold traffic).

If you're looking to see an example, Mention does an amazing job of using webinars to generate new leads and scale up their strategic partnerships. We put together a case study here.
Demand Generation
You may already be generating consistent lead flow from your blog, resources, videos, case studies, ebooks, etc. However, you probably don't have enough resources to offer one-on-one sales demos to every new lead immediately.

By using webinars and promoting them to your existing leads, you can continuously engage and qualify those leads until they're hot prospects ready to chat with your sales team.

With Demio, you can easily integrate your email marketing solution and automatically tag contacts based on registration and attendance, so you'll know exactly which leads are more interested in your content than others.
To see this in action, you can check out Drift's webinar strategy for producing 2-3x more qualified leads.
Customer Engagement
It's commonly known that one of the easiest ways for a SaaS company to grow revenue is by focusing on existing customers. By reducing churn and growing expansion revenue, SaaS companies can grow without even attracting new customers.

Webinars are a great way to engage your customers, keep them active, and teach them more about your product in an interactive environment.

Leadpages knows the power of using webinars for customer engagement, and they show it by typically running more than 15 webinars in a single month! You can read more about how Leadpages is using webinars here.
Connect with Real Humans and Build a Community

Before you roll your eyes and leave the page, hear me out. This may be one of the most important reasons for your SaaS company to run webinars.

It's easy to forget that your leads, users, and customers are actually people and not just numbers inside of a CRM. On the flip side, it's easy for your customers to forget that your company is actually made up of people and not just a faceless brand.

It's challenging to measure but building "community" around your brand is one of the most effective ways to reduce churn, increase success, and ultimately produce more word of mouth for your product. It's a lot harder for a customer to leave a brand that they actually feel a connection to — a brand where they actually know people by name and recognize their faces. Even if they do leave, they'll be a lot more likely to talk about your company and maybe even come back in the future.

It can be intimidating but getting in front of the webcam and actually interacting with your audience live is more powerful than any other form of content. Right behind getting on a plane and meeting your customers in person.

Just Get Started

Your first webinar doesn't need to be perfect. Just set up your event, schedule a date/time, and send it out to your audience.

Worst case? You spend some quality time with your leads and customers.

Best case? You get great results, and you can work on implementing webinars into your regular content strategy.
[
DOWNLOAD YOUR FREE WEBINAR STRATEGY CHECKLIST BELOW
Use this checklist
to design your very own high-converting webinar marketing strategy from scratch, then automate the process to attract high-quality leads.
We promise to never spam or send emails about cats.
Okay, maybe some cat stuff.