This post was updated in September 2022.
Webinars are widely utilized in marketing. You can use them to present your new product or feature, to educate your customers on how to use your software, to discuss relevant topics or issues, and many other reasons. This post is about sales webinars and how a well-thought-out webinar funnel generates leads that turn into customers.
If you are in doubt about whether or not you need a sales funnel at all, you can use this sales funnel calculator to check how your revenue could grow with an optimized sales funnel.
A basic webinar sales funnel looks like this:
You've got traffic of people interested in your webinar coming from somewhere (your website or email list, let's say). Then, after people signed up for your webinar, they attend the event — if they remember. At the end, you point them to a sales page, and if they buy, they go to an order confirmation page. Pretty simple.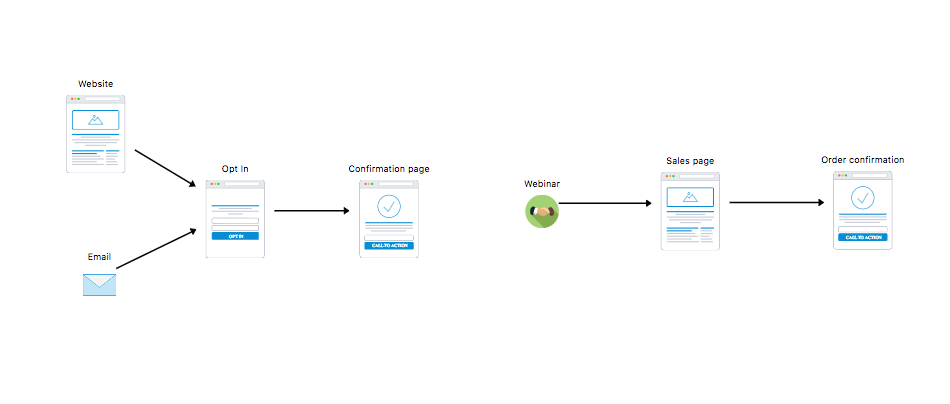 The problem with that funnel is that people might drop out at several different points:
They might not remember to attend
They might not finish the webinar
If they turn up, they might not go to the sales page at the end
If they go to the sales page and add to cart, they still might not finish checking out
That's why you want to create an ideal webinar funnel to ensure you get the most out of the effort you put into preparing and running the webinar. The ideal webinar funnel would look like the one below, and in this post, I will show you how to create one yourself.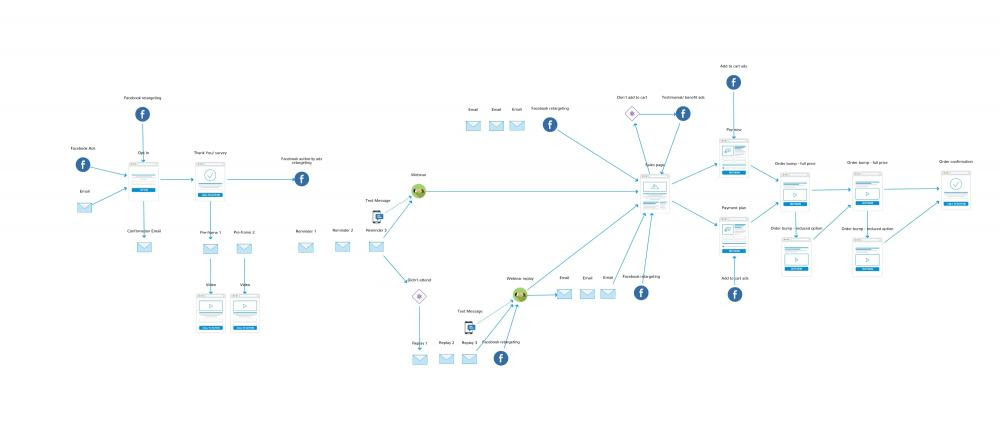 Having a good webinar funnel in place is the best way to:
Be sure you will not lose potential leads
Increase your conversion rate
Increase the average amount each customer spends
I already knew this, but when I started doing webinars, it took me a while to figure out what worked best and how to set everything up. Over time, I became so good at creating webinar funnels (and other funnels) that I made a business out of it.
At Data Driven Marketing, we teach people how to set up different kinds of funnels, or we do it for them.
In this guide, I will show you how to create a webinar funnel that will gain you maximum results from your webinars. Let's start at the beginning.
What Is a Webinar Funnel?
When you build a webinar funnel, you create an entire marketing process that has a very specific goal. Organizing a webinar is similar to an iceberg: what you see above the surface is just the tip of it. Underneath lies a complex process of automations, tools, and systems. It all starts with bringing people to the sign-up page to register for the webinar, then reminding them to attend and following up to make sure they take the desired action once the webinar is over.
If you are planning to host a webinar to promote your product or service, there are many questions you should be asking yourself:
What is the main purpose of your webinar?
What is the desired action you want your target audience to take after watching your webinar?
How can you make sure you don't lose potential leads along the way?
How can you remind your leads to attend once they register?
Where will you redirect leads once the webinar is over?
How many times should you send follow-up emails?
Yes, I know, there are so many questions! Don't worry if you don't have all the answers yet. Preparing a webinar and creating the funnel is a complex process. This guide will provide you with an overview of the basic steps you need to take in order to set up a great webinar funnel. So keep reading.
Why Go Through the Trouble of Building a Webinar Funnel?
Surely you've given some thought to hosting a webinar before. You might have already done it and found something was missing. Perhaps you did not get as many leads as you thought you would, or you did not sell as many products/services as you expected.
Most likely, you've made these common mistakes: You ran your webinar just to see how it goes. You expected people to realize your product is great. You expected them to watch the webinar until the end, wait for your email to hit their inbox, and then purchase what you were pitching. Why overcomplicate a simple thing?
Well, once you start researching how other people run successful webinars, you will realize it's actually not as simple as that. Since you will invest significant time and effort to prepare for it, why not make the most of it?
DOWNLOAD YOUR FREE WEBINAR STRATEGY CHECKLIST BELOW
Use this checklist
to design your very own high-converting webinar marketing strategy from scratch, then automate the process to attract high-quality leads.
We promise to never spam or send emails about cats.
Okay, maybe some cat stuff.
8 Steps To Build a High-converting Webinar Funnel
Step 1 – Preparation
When done right, webinars can be engaging and educational for viewers while acting as a high-converting branded resource for your business. Thus, prep work is important, because it will make sure you:
Pick a relevant topic and decide what your goal is
Create a well-thought-out presentation and practice it (make sure to leave time for Q&A)
Create the webinar using webinar software (in our case, Demio)
Assign people from your team to moderate the webinar
Create a smart sign-up page and confirmation page
Set email automations — We use Demio's integration with Active Campaign (our email marketing software), but there are many other ways you can set this up.
Step 2 – Warm up people who registered for the webinar
In order to encourage people to turn up for your webinar and make them more interested, send one or two emails containing useful content that links to the topic of the webinar (e.g., videos, articles, stories, or freebies) a few days before to those who registered for the webinar. Remind them what they will learn and how it is going to improve their business.
Remember always to communicate the benefits they will receive, not just what you will discuss. Participants need to know what they can do and the results they can expect from what you offer.
This should be prepared in advance and automated. It can look like this (without the sign-up link if they have already signed up):
Share a testimonial from a satisfied customer
Start a story that you will finish during the webinar
For example, I share this story:
Seonaid is a friend of mine. She has one of the most incredible online courses I've ever seen. Her materials and tips are excellent. However, her website was struggling to convert traffic into sales.
Excellent course, a bunch of visitors to the site…but disappointing sales.
We see this all the time. In fact, many top online course creators experience similar struggles.
So, I told Seonaid there are a few simple things she could do to generate more sales. For two months, I tried to get her to implement these ideas to improve her funnels. Instead, she just kept writing new courses.
I felt like a school teacher, nagging her to do her homework.
Then, one night, over a beer in the Royal Academy of the Arts in central London, I explained something to Seonaid that made her sit up straight and listen.
What did I say to make her react that way? Why was this so different from anything I'd said before?
Using a pen on the back of a beer mat, I showed her the mathematical proof of just how much money she could make by building one of these funnels.
As soon as she saw how much more money she could be earning on a monthly basis, she was over the moon!
That was it! Suddenly, she was begging me to give her all the tips I'd been trying to offer her for the past two months.
The very next day, she put one of these tips to the test.
The result? Seonaid worked for 10 minutes on her funnel and made $1,500. That's $9,000 an hour!
What did she actually do? Come to the webinar and we will talk about that — and much more!
Step 3 – Send reminders
As you probably know, people tend to be forgetful, even concerning things planned in advance. That is why it is important to set up reminders about the webinar so they don't miss it. You can use various communication channels to do this, such as:
Email
Facebook ads
Text message
Right after setting up the webinar, arrange email reminders to be sent to registrants 24 hours, 1 hour, and 15 minutes before the webinar starts. That way you will increase the percentage of people who actually show up for the event. Demio, for instance, makes it easy to set up reminder emails. I recommend you take the time to customize them.
Facebook retargeting is a great way to remind people about your webinar. It works as a backup and gives people who miss your emails a second chance to stay in touch.
Sending a webinar reminder to two or three different communication channels at the same time will keep the information fresh in the minds of your registrants.
See the following example of a reminder email you can easily set up with Demio. This is the simplest version. You can add a few points about what they will learn in the webinar and the benefits of attending: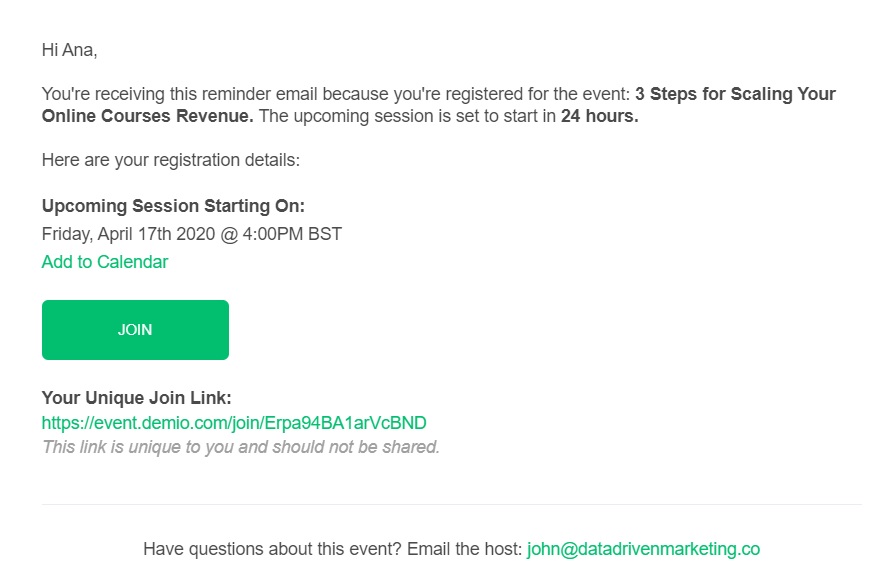 Step 4 – Set up the webinar replay
Some people might not be able to attend the webinar even though they want to. In that case, send a link with the webinar replay for them to watch when they have time. Sending a replay to both those who attended and those who didn't is common practice with webinars.
You can create an advanced webinar replay automation that includes 2–3 reminder emails. This increases the chances of them seeing the webinar and the offer. After they watch the webinar, send the link with your CTA (Call to Action). Below is a very simple email example you can set up in Demio. Here, you can add main learning points from the webinar to motivate those who haven't attended to watch it: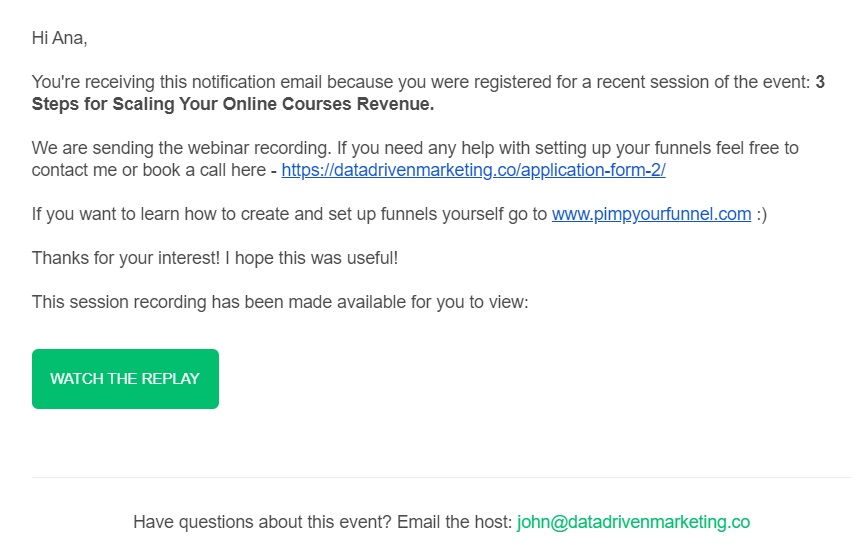 After you set up email reminders, webinar replay, and Facebook retargeting ads, your webinar funnel should look like this. Facebook retargeting should be added along with email sequences (that's what the arrows indicate):

Step 5 – Ask for feedback
Thank people who attended and send them the useful resources from the webinar. Ask them to fill out a feedback form so you can improve your future webinars. Remind them of your CTA and encourage them once more to look at your product or to write to you if they have questions or need help.
This should also be automated and set up in advance.
Step 6 – Turn webinar attendees into your customers
After a webinar, you want people to buy from you. Some of them might do it right after the webinar, but others might need some time to think. During that period, they can forget or decide they don't actually want the product. That's why the next step should be to set up a sequence of emails reminding them about the actual offer you provided them during the webinar. That way, you will increase the percentage of people who attend the webinar and later convert to the sales page.
What should be in that email sequence? It can be useful information (pointing to your blog for more info), a small sample of the course you are selling, a free ebook, or some other resource your registrants will find useful.
Make your webinar attendees feel special. Include some bonus or special offer only for people who attend the webinar, and make it time-sensitive (e.g., the offer expires in x days at this date and time). Remind them why they would be crazy to miss that opportunity and how they can benefit from it.
Here is an example: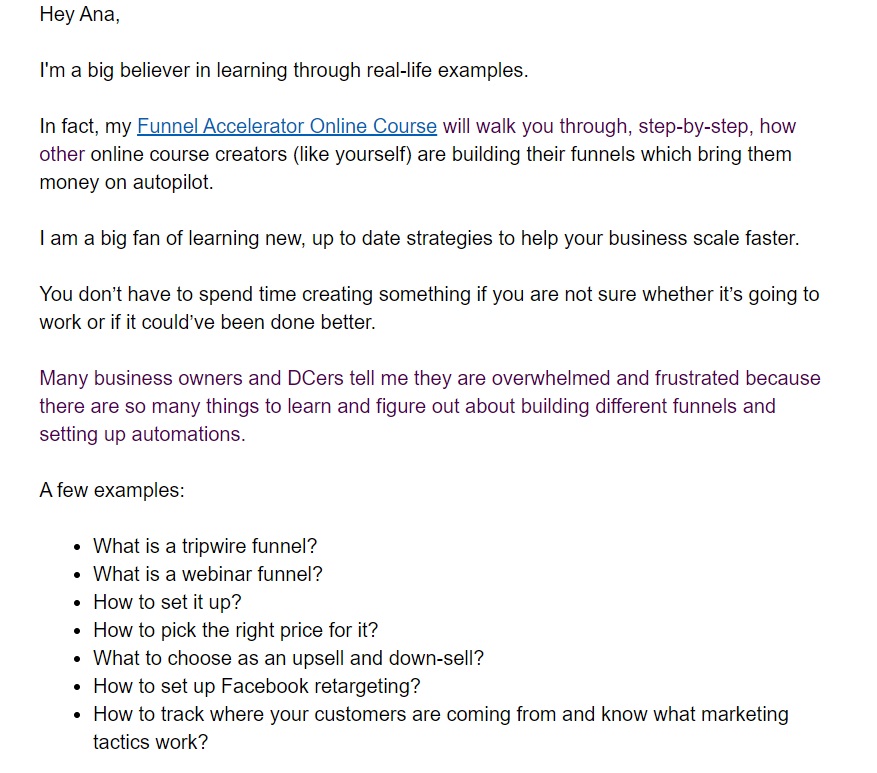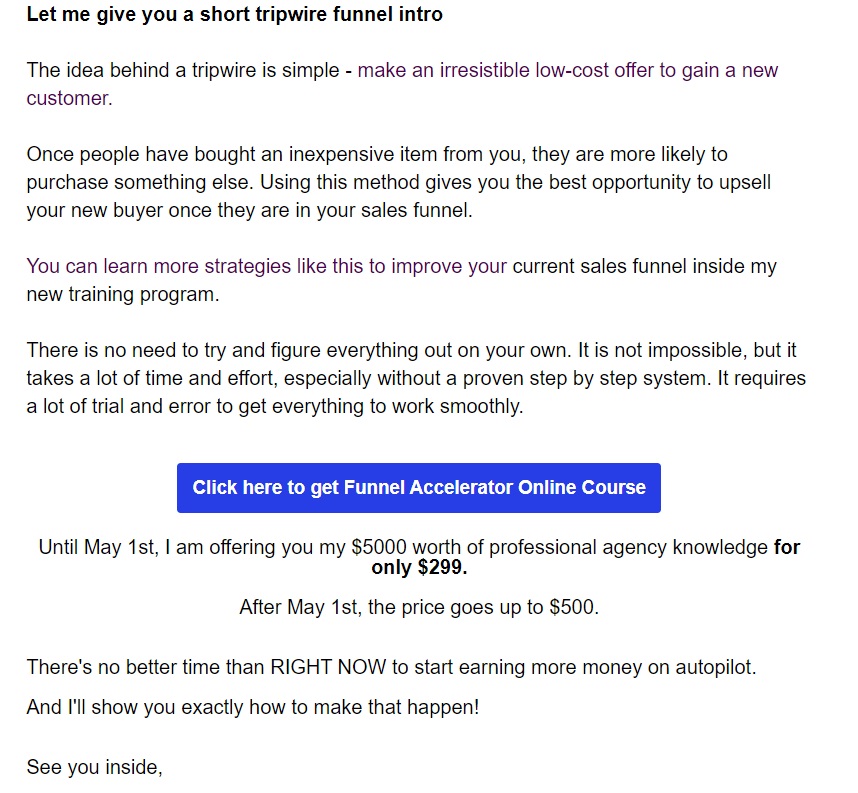 Step 7 – Don't abandon the abandoned cart
If the webinar attendees already made it to the order page, you want to keep them there. However, there are many reasons why they can drop out at this point: they realized they don't need the product you're selling; they are not sure if they actually want it; they are still thinking about it. Often during this process, they can simply forget to finish ordering the product and do not finish checking out.
You can easily remind them by sending one or two emails saying the product is still waiting for them. The emails should contain information about the discount you're offering or a deal for a limited period of time. You can also send a few testimonials from other customers who used your product. Once they buy your product, send them an email with confirmation, but read closely — maybe you need to include something else on that confirmation page.
Here is an example of the abandoned cart email:
Subj: Is everything ok?
Hey [FIRST NAME],

I just noticed that you tried to buy COURSE, but unfortunately it looks like we were having some trouble.

Did something happen with our order page? If so, please let me know so we can fix it.

If you closed out of the page already, don't worry! I found your pending order and created a link for you with your details already in the form so you can pick up where you left off:

[LINK TO ORDER FORM – PRE-FILLED OUT IF POSSIBLE]

If you need any help, feel free to reach out to us at [SUPPORT PHONE NUMBER], or via email at [SUPPORT EMAIL ADDRESS].

Talk soon,

[YOUR NAME]
Step 8 – Sell more products to your customers by using upsells and downsells
People who already purchased your product are much more likely to buy from you again, as you've already gained their trust.
After people buy from you, add an upsell on the confirmation page. What is an upsell? That's another product or service that you are offering, for example, a premium version of the product they already bought, or a course on a related topic. It can double your cart value. Your customers might be interested in it, and they might want to spend more money, so why not let them?
If people are not interested or cannot afford more expensive versions of the product, on the next page, you can offer them a downsell. A downsell is a cheaper version of the product you're selling. Let's say you are selling three videos in a bundle for $35.99. If your customer doesn't want to buy it at the time or cannot afford all three videos, you can offer two videos for $25.99 or one for $9.95. That way, you are giving them options that might fit their budget.
This is now your webinar funnel with upsells and downsells in place:

This is how the ideal webinar funnel works. If set up properly, it can increase your revenue significantly. Yes, it is complex and takes time to arrange everything, but it brings results.
We had a client that worked over 300 hours on building his own webinar funnel, but putting in the time and effort means you will be selling more of your products. And if you set this up with pre-recorded webinars, you could be making money on autopilot!
This is exactly the point of creating funnels. Think about how this can help your business and give it a try. Use our funnel calculator to see how much money your revenue could grow with an optimized sales funnel.
You can also check out this video I created where I explain the webinar funnel.
DOWNLOAD YOUR FREE WEBINAR STRATEGY CHECKLIST BELOW
Use this checklist
to design your very own high-converting webinar marketing strategy from scratch, then automate the process to attract high-quality leads.
We promise to never spam or send emails about cats.
Okay, maybe some cat stuff.