Companies have known about the power of webinars for quite a while, but only recently have more and more started to use automated and on-demand webinars. These events can be great for generating qualified leads and new customers, and reducing churn 24/7 without even having to present live.
With automated webinars, businesses can reach their audience at any time of day and achieve some of the highest conversion rates across all available marketing channels. Recently, we interviewed 100 of the top software companies and, somewhat surprisingly, more than 46% of the companies we surveyed had no idea automated webinars were even possible.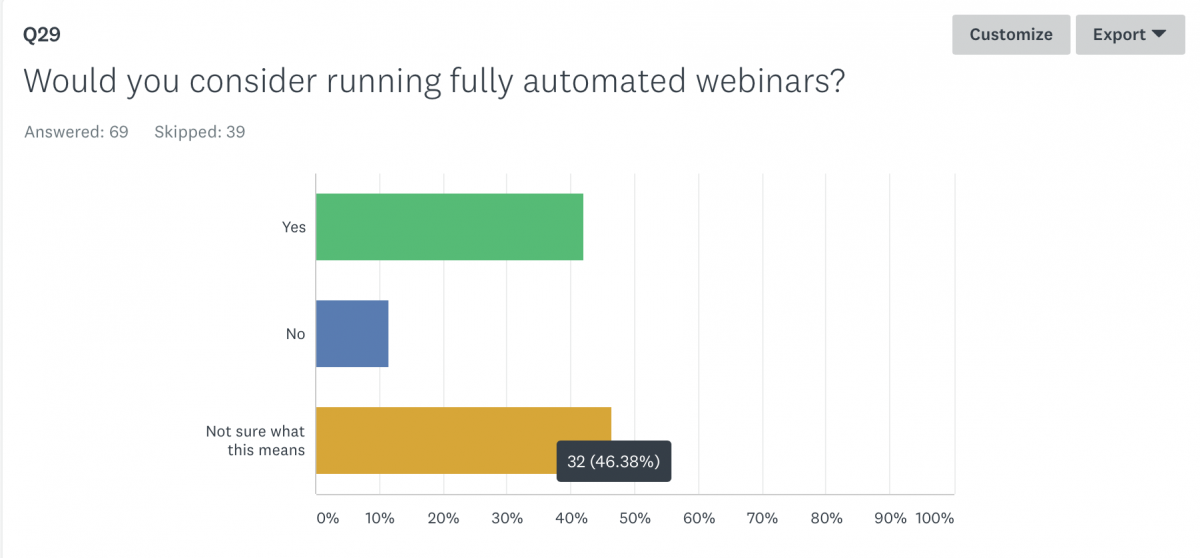 Meanwhile, companies like Consulting.com, mentioned later in this post, have single-handedly grown to eight figures in revenue with the help of automated webinars.

A common debate between marketers seems to be live vs. automated webinars and whether one performs better than the other. As the linked post above summarizes, both types of events serve their own unique purposes, and it greatly depends on the type of business and webinar goals set. In fact, the best strategy may involve using both live and automated events. For example, you can use live webinars to dial in your presentation and offer, then make it automated when you're ready to scale your campaign.
DOWNLOAD YOUR FREE WEBINAR STRATEGY CHECKLIST BELOW
Use this checklist
to design your very own high-converting webinar marketing strategy from scratch, then automate the process to attract high-quality leads.
We promise to never spam or send emails about cats.
Okay, maybe some cat stuff.
With that being said, this post showcases how five innovative companies, from Shopify to InfusionSoft, are using automated webinars to grow their business.

Shopify's Webinar Goal: Drive Free Trials

A common misconception is that only internet marketers use automated webinars, but that's simply not true. The billion dollar Canadian startup, Shopify, promotes their automated webinar front and center on their blog.

No matter what post you're reading, you'll see a banner in the sidebar promoting an upcoming event.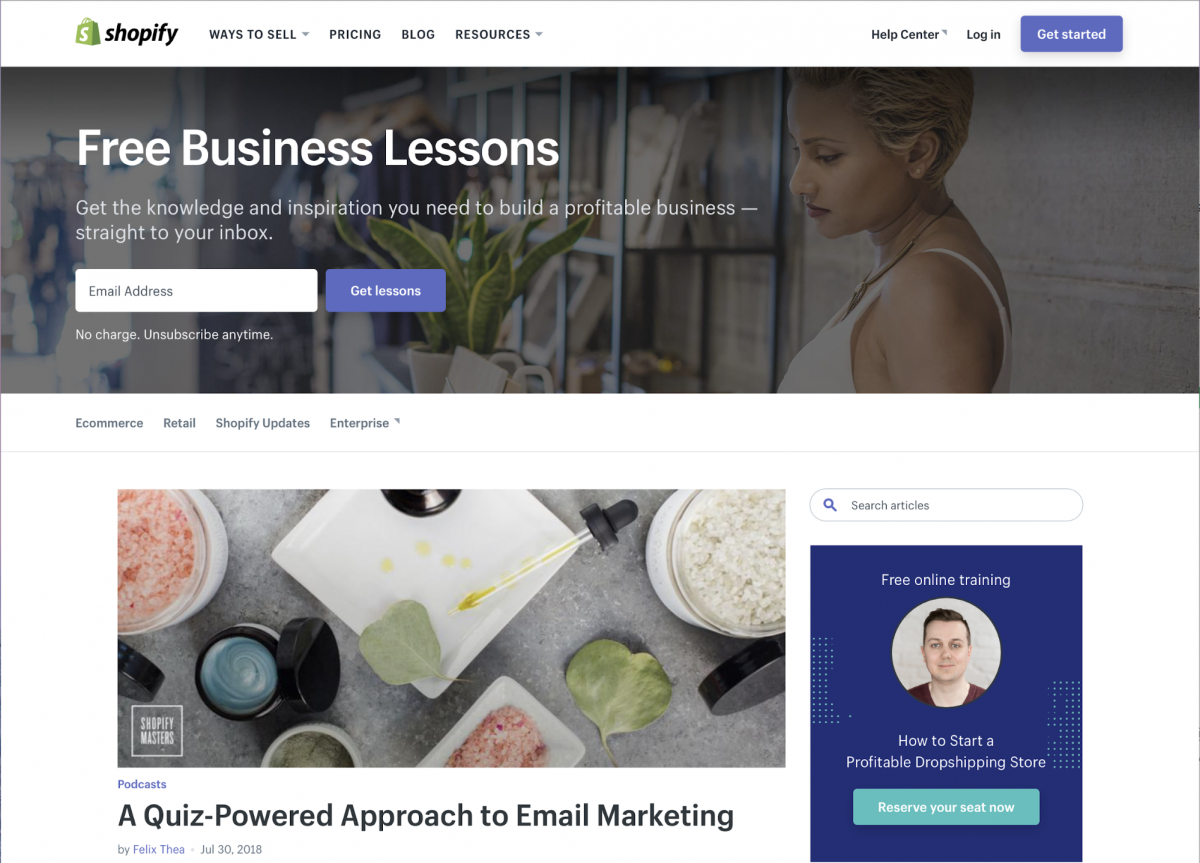 The webinar they're promoting is titled, "How to Start a Profitable Dropshipping Store," which is aimed at entrepreneurs or beginners just starting out with eCommerce.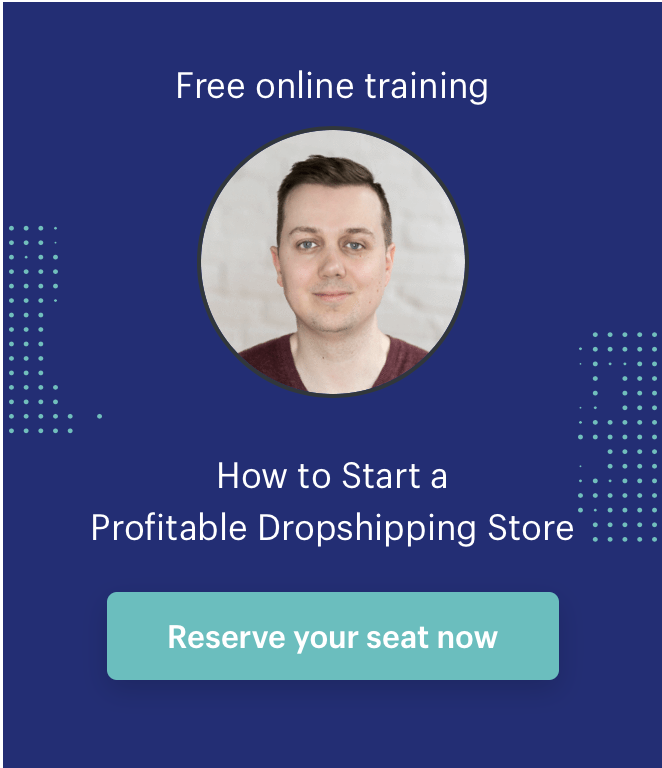 By putting a banner in the sidebar, Shopify continuously drives traffic to this automated webinar with every new post on their blog.

When you click to reserve your seat, a pop-up appears for you to register and select an upcoming time. They use what we, at Demio, call "Starting Soon" on-demand times to always have sessions starting within the next couple of hours, so people registering don't have to wait long to join.

After registering, Shopify sends a confirmation email, which continues to sell the value of the webinar content.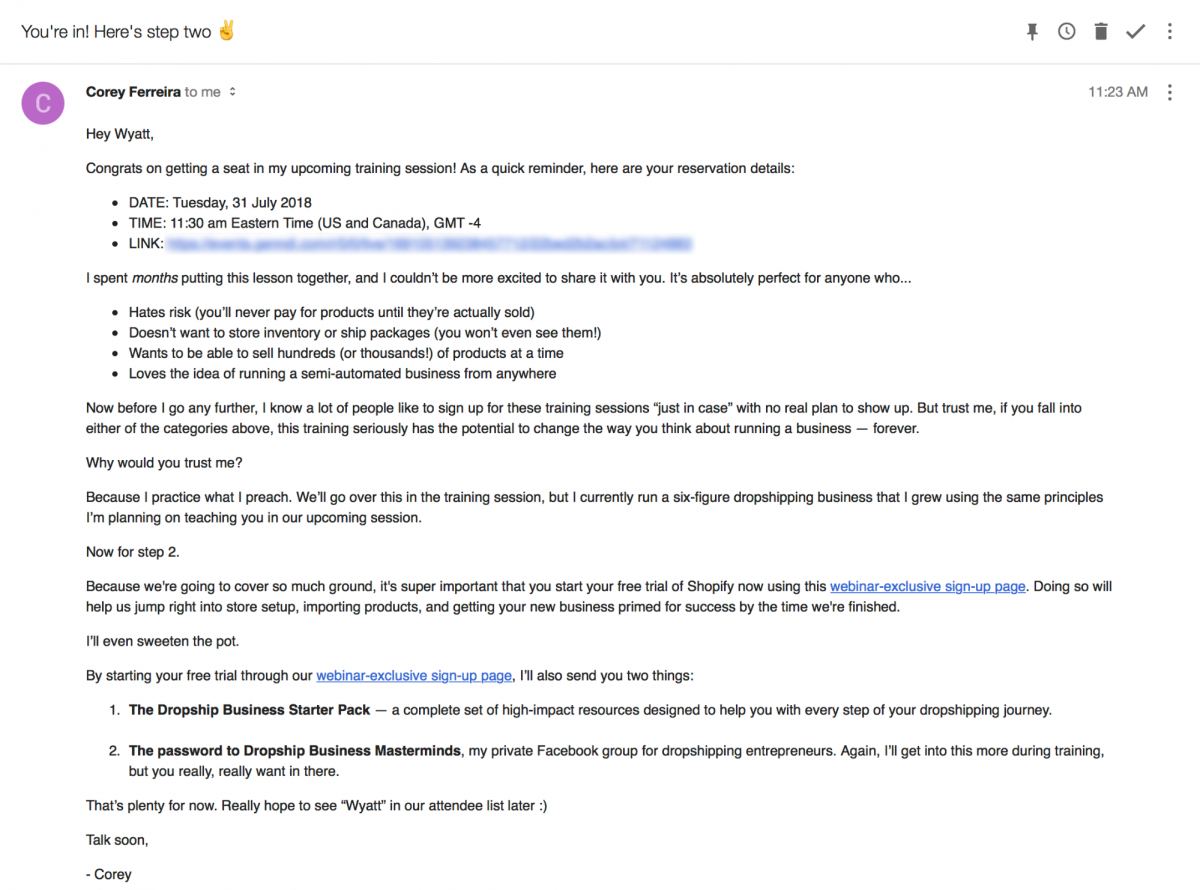 As you can see at the bottom of this email, Shopify is urging the registrant to sign up for a free trial of Shopify. This is also their primary goal in the free webinar training.

To summarize, this simple automated funnel allows Shopify to take blog visitors and turn them into qualified leads and free-trial users.

Demio's Webinar Goal: Improve Trial Conversion

At Demio, we run weekly automated onboarding webinars for our new free-trial users in order to increase free-trial to paid conversion. Full disclosure, I'm one of the co-founders at Demio, so of course we're using our own platform to run these events.

When someone signs up for a no-credit-card free trial on Demio, we send them an automatic email promoting our weekly webinar.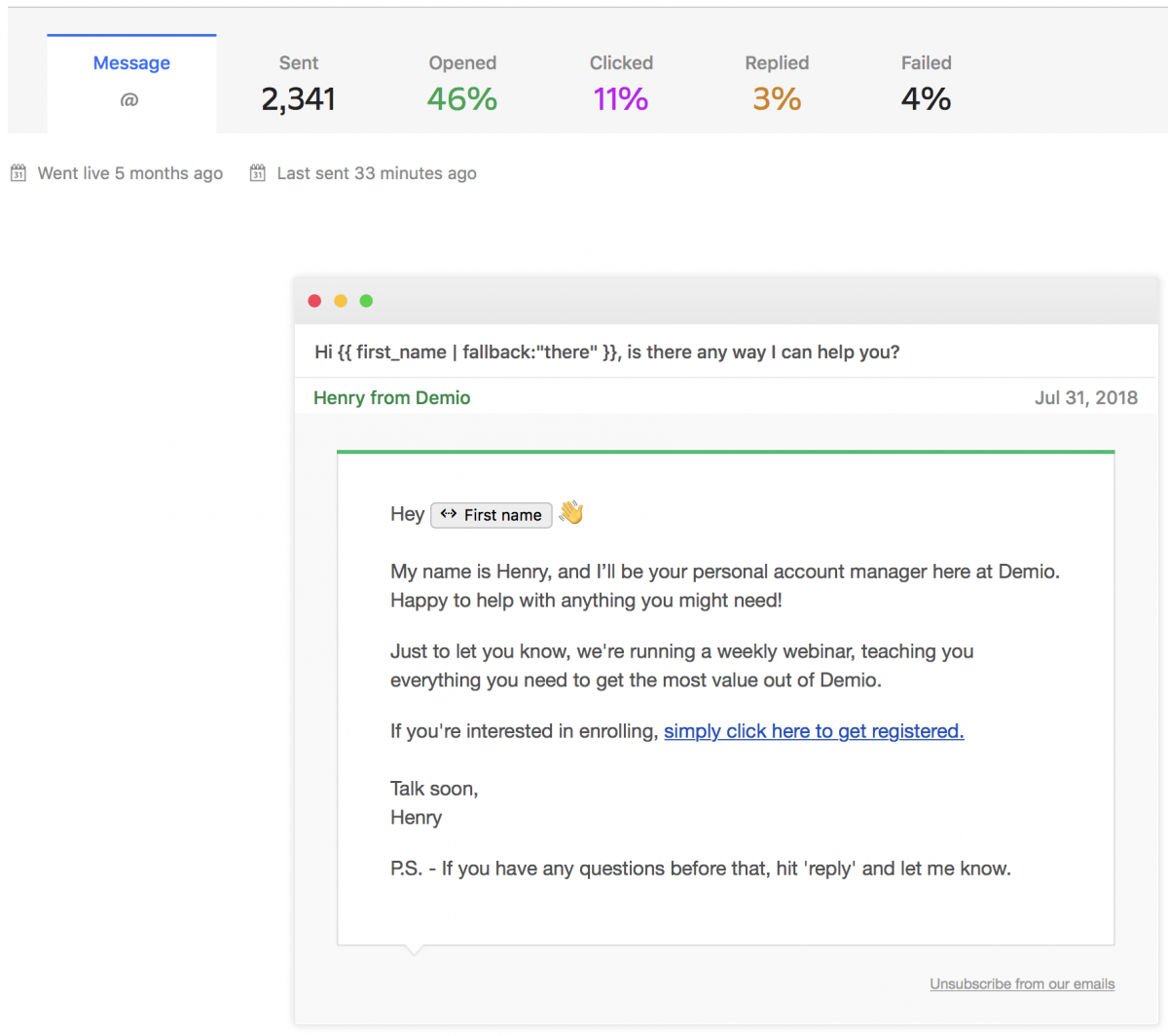 We then continue to push the event over the next couple of onboarding emails we send to our new users.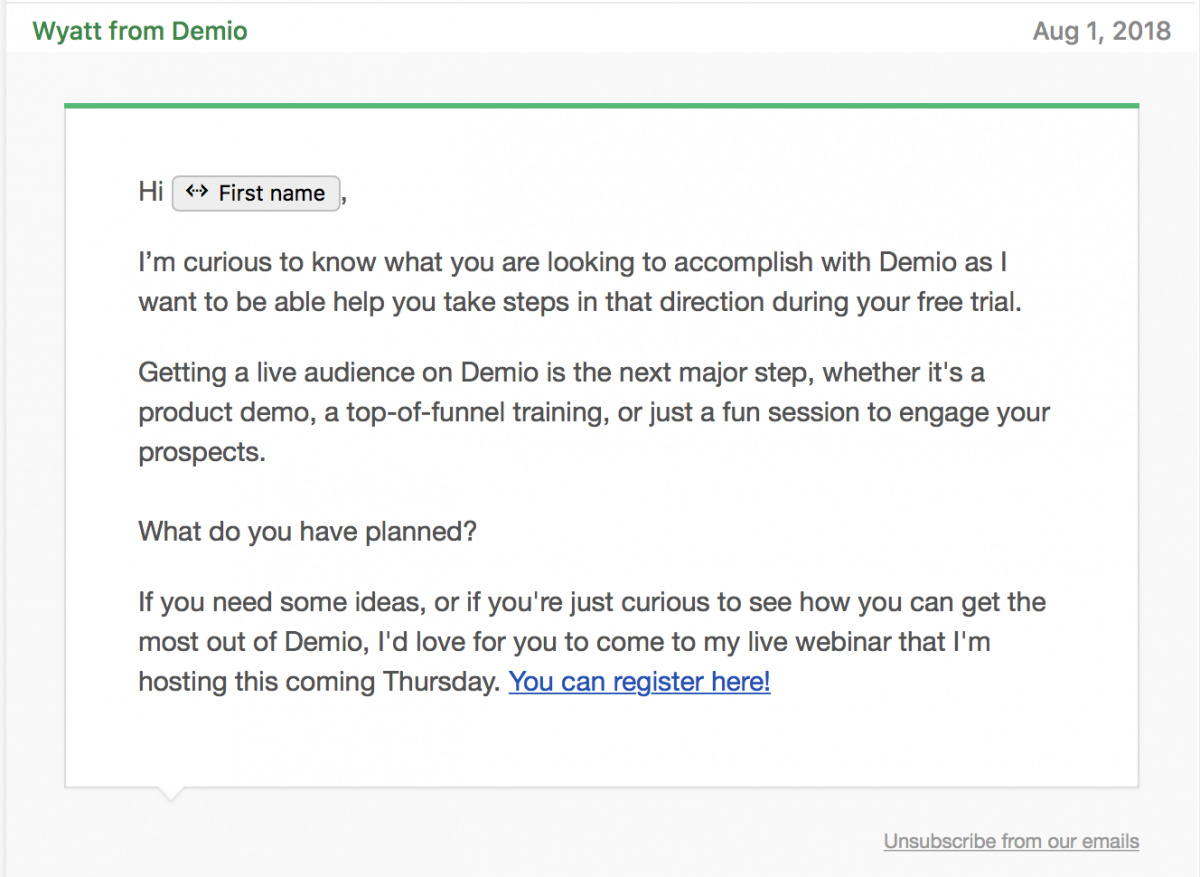 Since the content is the same every week, it was an obvious choice for us to make this an automated event. However, because we're running this event at scheduled times each week, a Demio team member can actually join the webinar and chat with the audience in real-time, just like a live event. This allows us to keep the communication personal, answer specific questions, and achieve the same results.

Recently, we've even begun promoting this event to all of our website visitors through an Intercom message.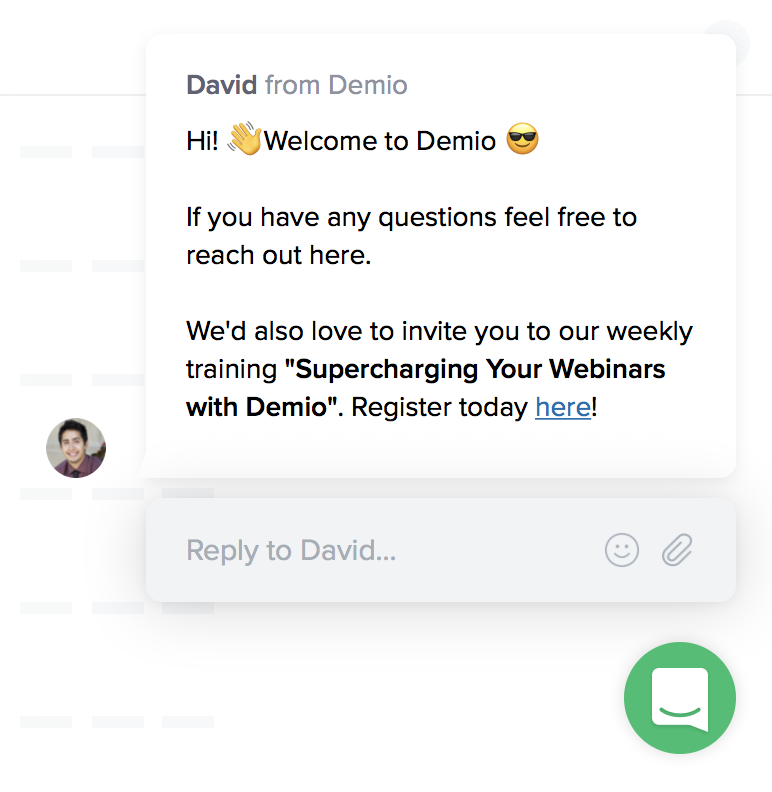 This has been a great way to turn visitors into qualified leads.
Campaign Monitor's Webinar Goal: Generate Qualified Leads
Campaign Monitor implements what seems to be a common webinar strategy for larger companies: completely on-demand events. From their website, you can access all of their "resources," where you'll see all upcoming and past webinars being promoted.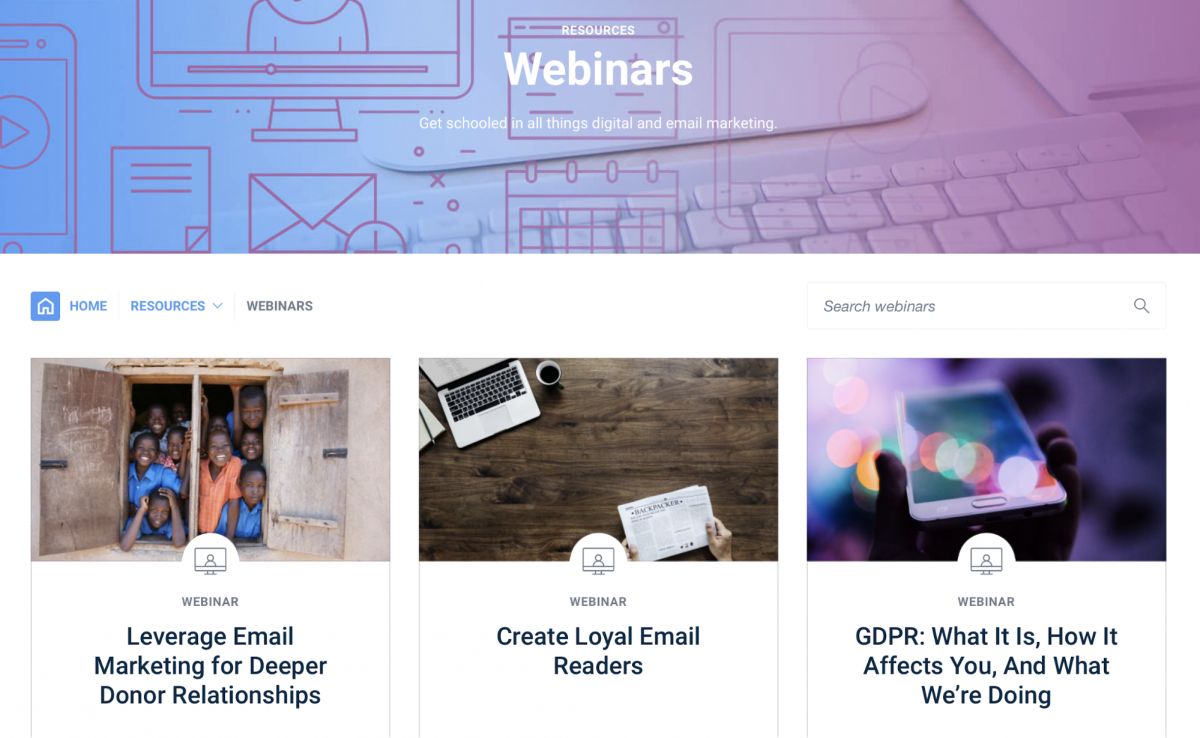 Most of the webinars promoted on this page are available for visitors to access in an on-demand format, meaning they can start watching right away.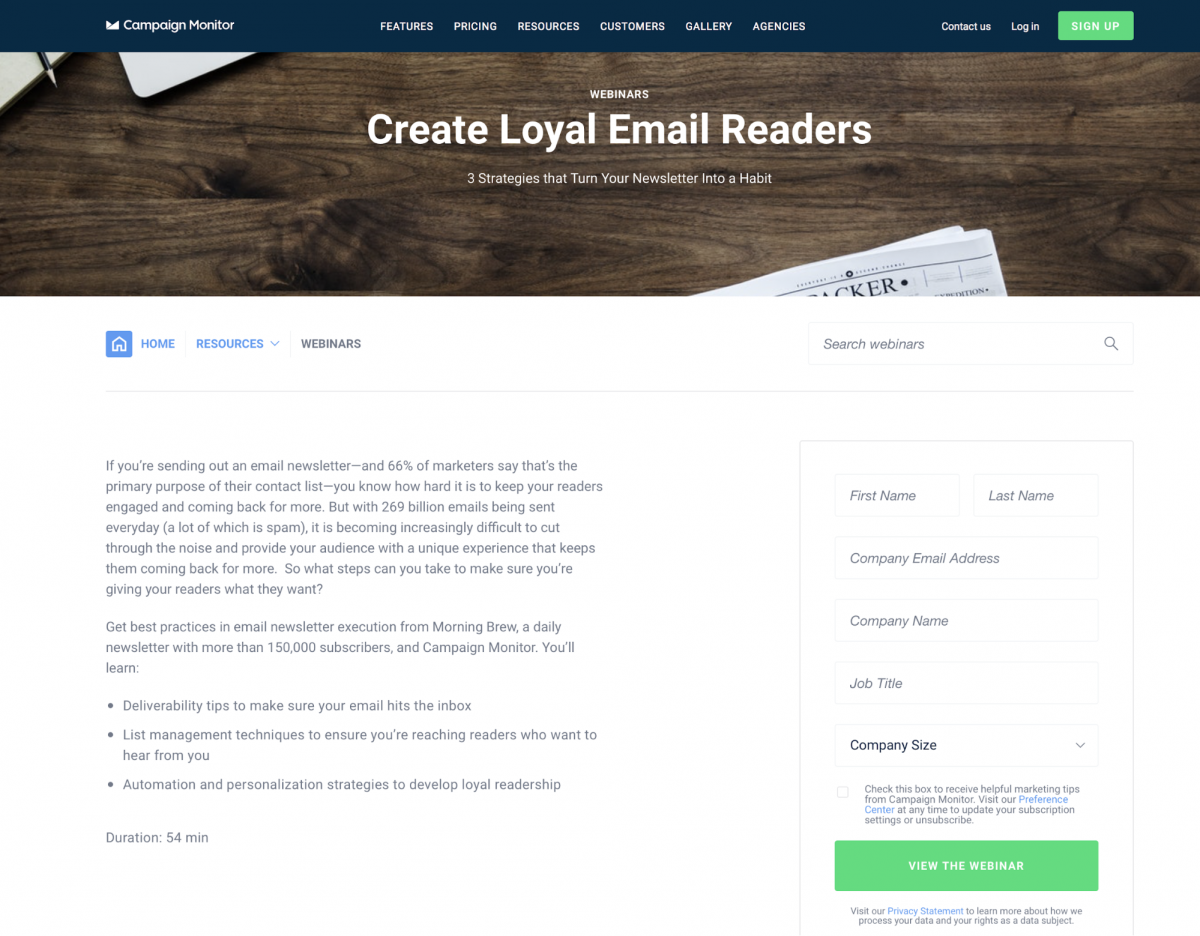 On each registration page, you'll see a comprehensive form capturing info such as company name, job title, company size, etc.

Through a wide variety of available resources, Campaign Monitor can capture leads from all sectors of their target market and easily reach out to more qualified leads based on the information they already gathered.
Consulting.com's Webinar Goal: Drive Direct Sales
If you're a marketer and you've been on Facebook in the last year, chances are you've seen this ad floating around: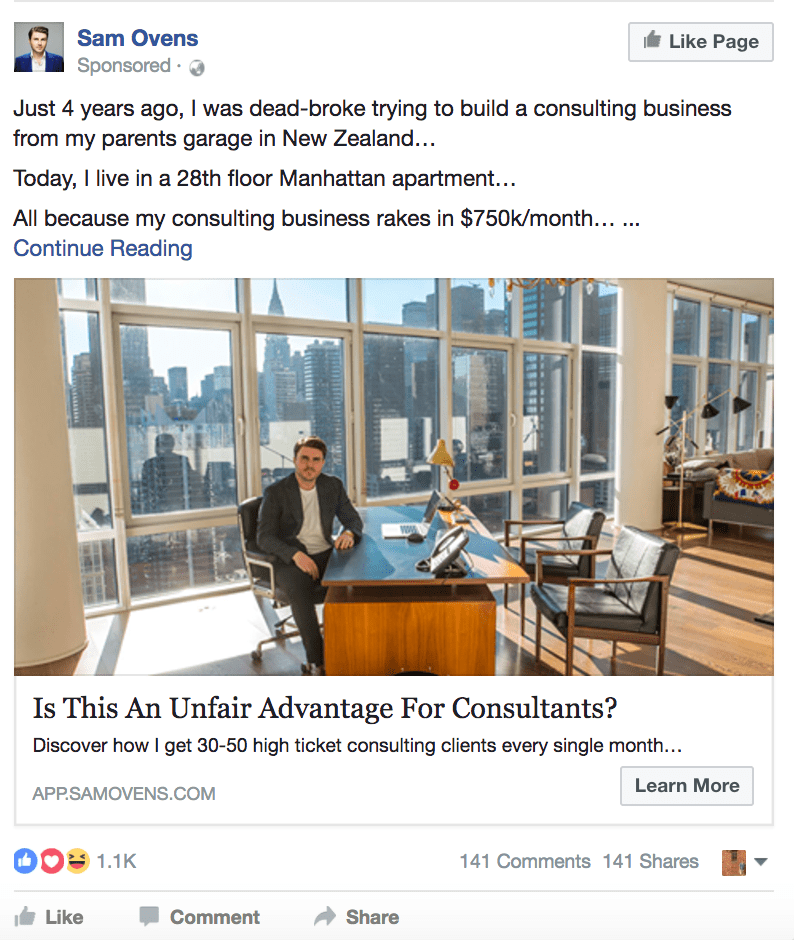 This ad, by Sam Ovens, is promoting an automated webinar for his 8-figure company, Consulting.com. When you click on the ad, you're taken directly to the registration page with a video of Sam breaking down what will be covered in the event.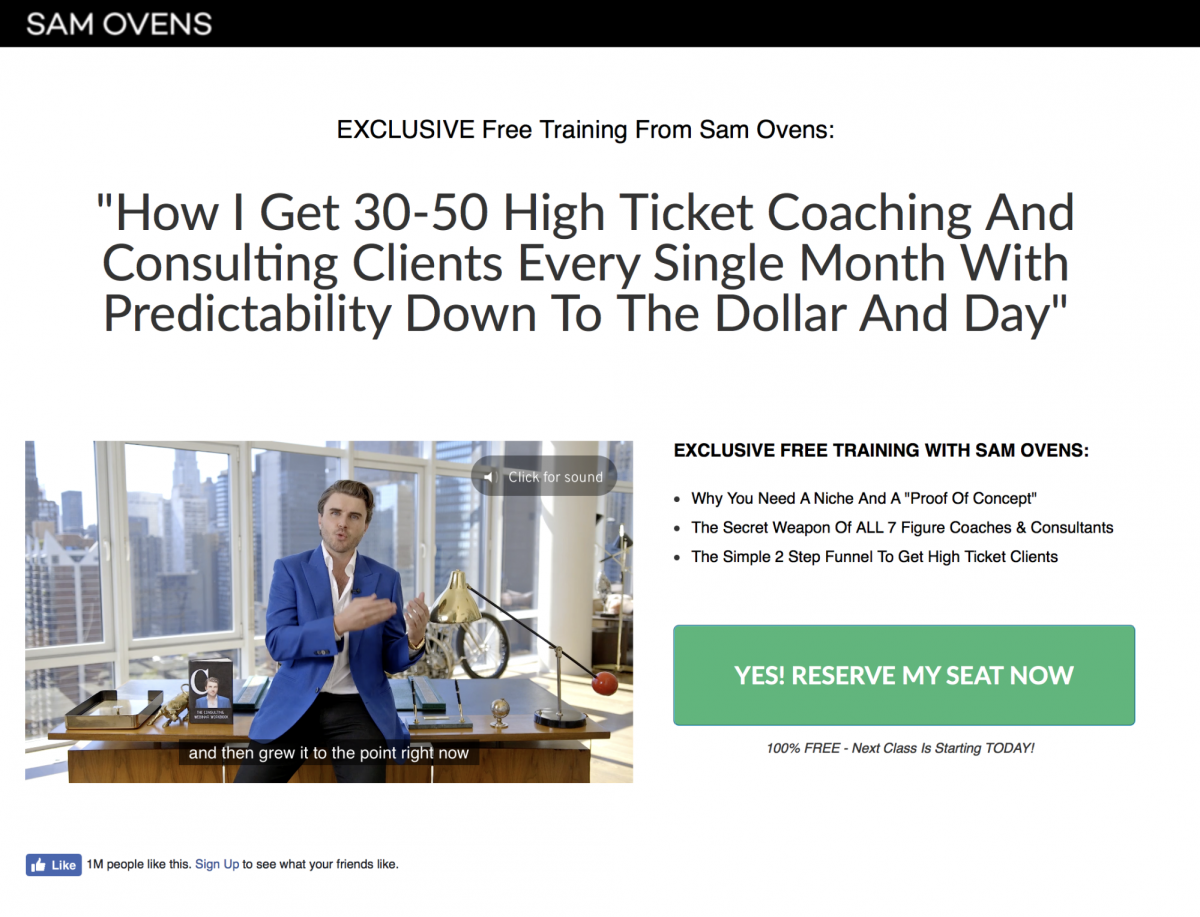 Similar to Shopify's automated webinar, you're offered multiple upcoming times to choose from when you click on the green reserve button.

This campaign has been running for what seems like an eternity, and marketers have even written blog posts breaking down the ad strategy and campaign.

In fact, this campaign works so well that it's the primary call-to-action on Consulting.com's homepage.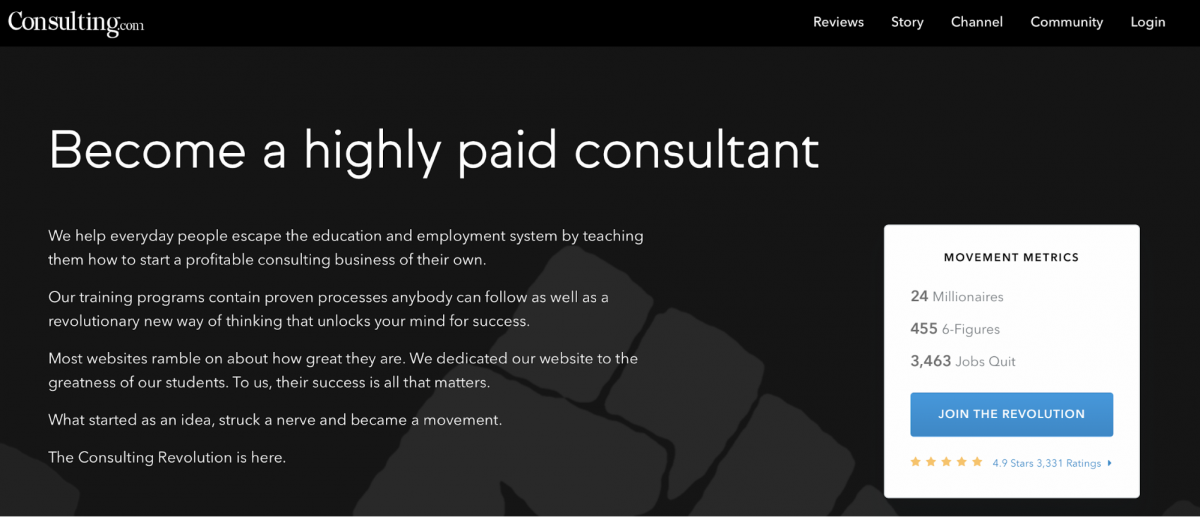 When you click the blue "Join the revolution" button, you're taken to the same registration page as the one above.
InfusionSoft's Webinar Goal: Increase Top-of-Funnel Lead Generation
Similar to Campaign Monitor, InfusionSoft is using on-demand webinars to capture qualified leads for their sales team.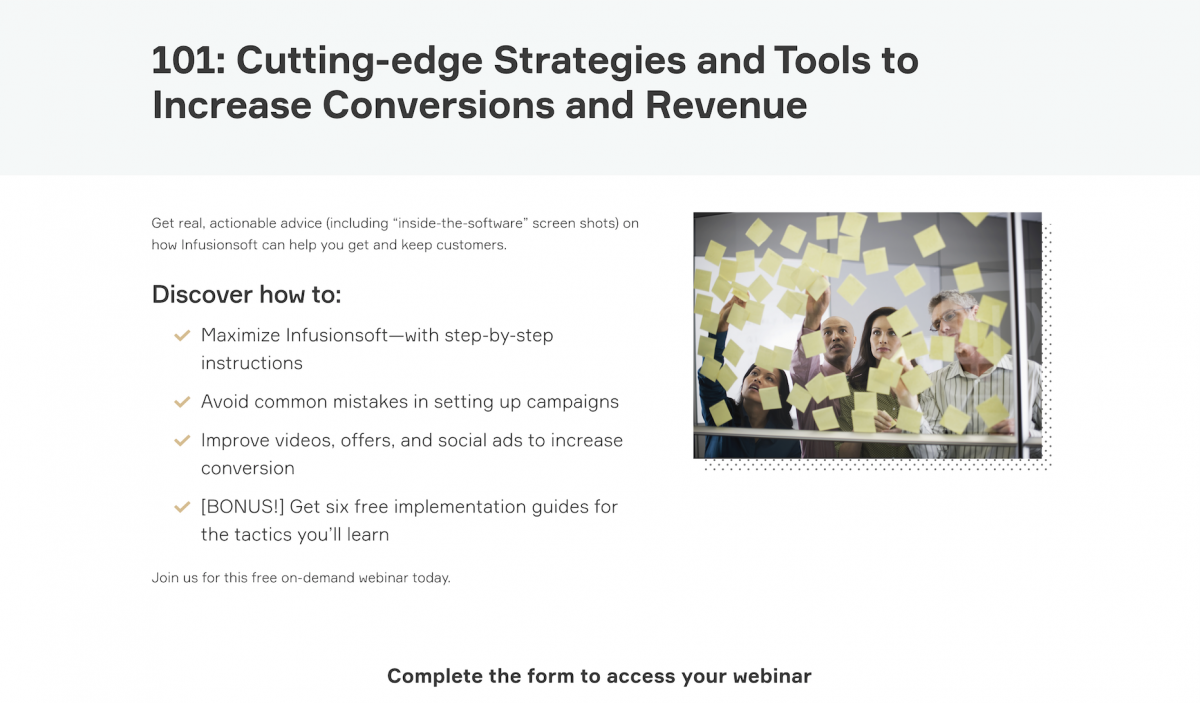 Not only is InfusionSoft collecting an email address on their webinar form, but also a phone number.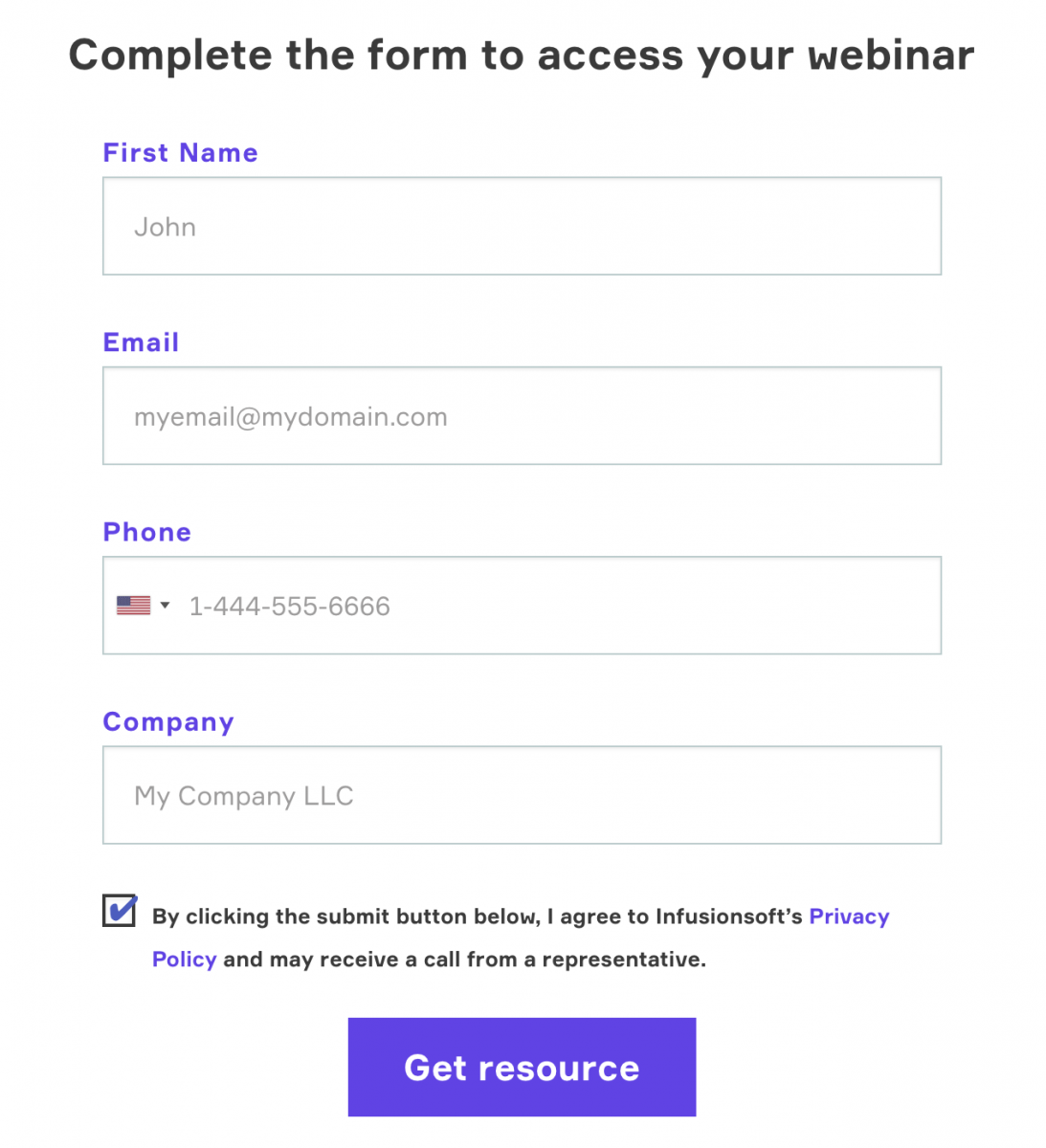 This allows their reps to call directly anyone who registers to view one of their on-demand events.

A few minutes after registering, I received this email in my inbox:

By offering a large library of on-demand webinars, InfusionSoft can attract top-of-funnel leads with a wide range of event topics. These events keep their sales reps busy with qualified, inbound leads.

Try It out for Yourself
From top-of-funnel lead generation and free-trial pushes to onboarding and direct sales, you can see some of the most innovative companies are starting to use automated webinars as their conversion mechanism of choice.

If you're interested in setting up your own automated webinar, you can get started for free with a 14-day trial of Demio, a webinar platform built for marketing with both live and automated events.
DOWNLOAD YOUR FREE WEBINAR STRATEGY CHECKLIST BELOW
Use this checklist
to design your very own high-converting webinar marketing strategy from scratch, then automate the process to attract high-quality leads.
We promise to never spam or send emails about cats.
Okay, maybe some cat stuff.