Webinars excel at generating leads and creating stronger brand awareness. They're a powerful vehicle to deliver quality and entertaining content to your target audience, foster a deeper connection with your consumers, and qualify webinar leads as prospects move to the next phase of their buyer's journey. Thanks to the diverse functionality of live, automated, and on-demand webinars, you can increase your audience reach and earn more conversions off a single webinar. 
If you utilize them effectively, webinars can secure more qualified leads, influence attendees' decision-making process, and, ultimately, close more deals. To obtain optimal results though, you have to measure and analyze the performance of each online event.
Read on to learn about webinar analytics, important metrics to track, and the tools to simplify this process.

Understand Webinar Metrics
Understanding webinar metrics leads to deeper knowledge of what makes a webinar successful among your audience members. The following webinar metrics let you know you're on the right track and can guide you toward creating relevant and useful content.
Registrations and Attendance
You need to track how many people show up to your webinars compared to the number of registrants secured. Although the latter count will almost always be higher, if there's a large difference between the two, you need to make adjustments to your marketing strategies, especially if your webinar registration numbers are growing but your attendance rate isn't. Perhaps you need to optimize your landing page, or push your virtual events more aggressively on your social media channels.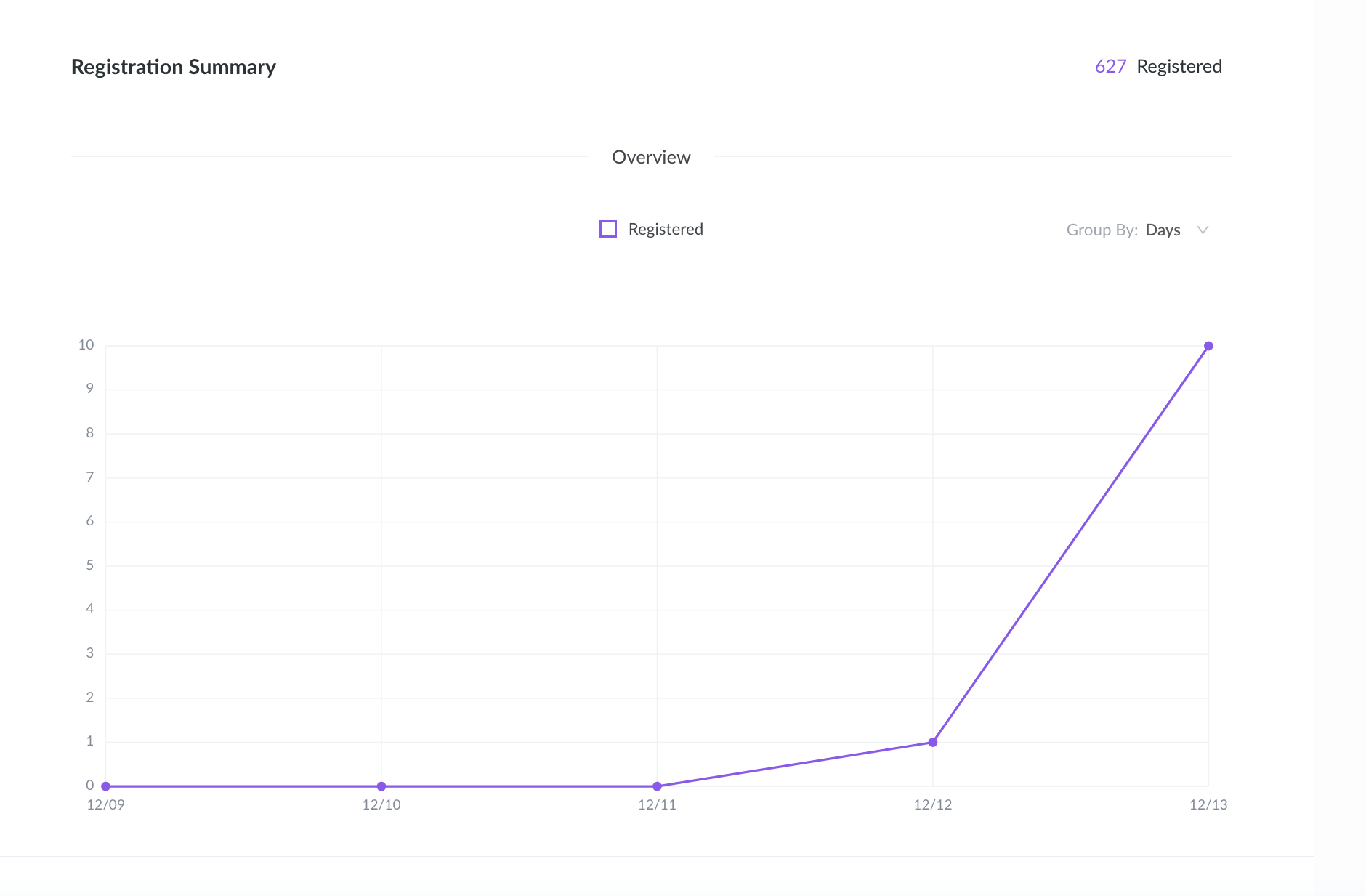 Engagement Metrics
Engagement metrics quantify your interactions with your audience and help anticipate their behaviors. For example, you might run a Q&A session to speak to your audience or use attendee spotlighting or other engagement features. Can you incorporate any other engagement metrics that may perform better? Which of your current engagement strategies work well and which aren't? A solution for on-demand, live or automated events, would be to track relevant engagement elements to hold your audience's attention and strengthen your conversions.
Types of Webinar Analytics Tools
Webinar Creation Tools
Different webinar creation platforms have varying webinar analytics tools. Demio, for example, features audience tracking and engagement tools as well as post-webinar analytics to provide actionable insights on how to maximize the impact of your webinars. Some tools offer automation to help you craft quality content that earns the results you want.
Webinar Analytics Tools
A smooth integration should exist between your webinar creation and analytics tools so you achieve a broad audience reach. This ensures a smoother experience for attendees so they move to the next step of the buyer's journey with ease. If your audience engagement strategies, integration efforts, and event topics fail to resonate with your audience, look to your webinar analytics tools to track and pinpoint where you need to improve.
Demio's analytics tools allow you to monitor your webinars' performance with your audiences (and how well integrations work) so you can refine your virtual events and secure stronger results. Leverage analytics tools to determine which of Demio's integrations will best support your webinars. You can use more than one integration per webinar, depending on how well they do.
Analyze Webinar Data
Interpreting Registration Data
How many people registered for your webinars versus showed up? Are late or early registrants more likely to attend based on your findings? What engagement strategies convince registrants to commit to viewing your webinars? Analyze this data so you can refine your registration page and incorporate stronger email marketing and engagement strategies to convert more registrants into webinar attendees.
Evaluating Audience Engagement
Whether it's a real-time event or on-demand, attendees are more likely to stick around longer when they're actively engaged. Evaluate your audience engagement strategies — such as Q&A sessions, surveys, polls, featured actions, chat (both private and public), CTAs, etc. — to see which ones performed best with viewers and which fell flat. Demio is a great live, on-demand, and automated webinar software that features several engagement elements you can implement. They're proven to keep audiences focused longer and more likely to watch your webinars until the end so you can drive home your CTAs. Then, you can evaluate the performance of each right in the Demio platform for streamlined analysis.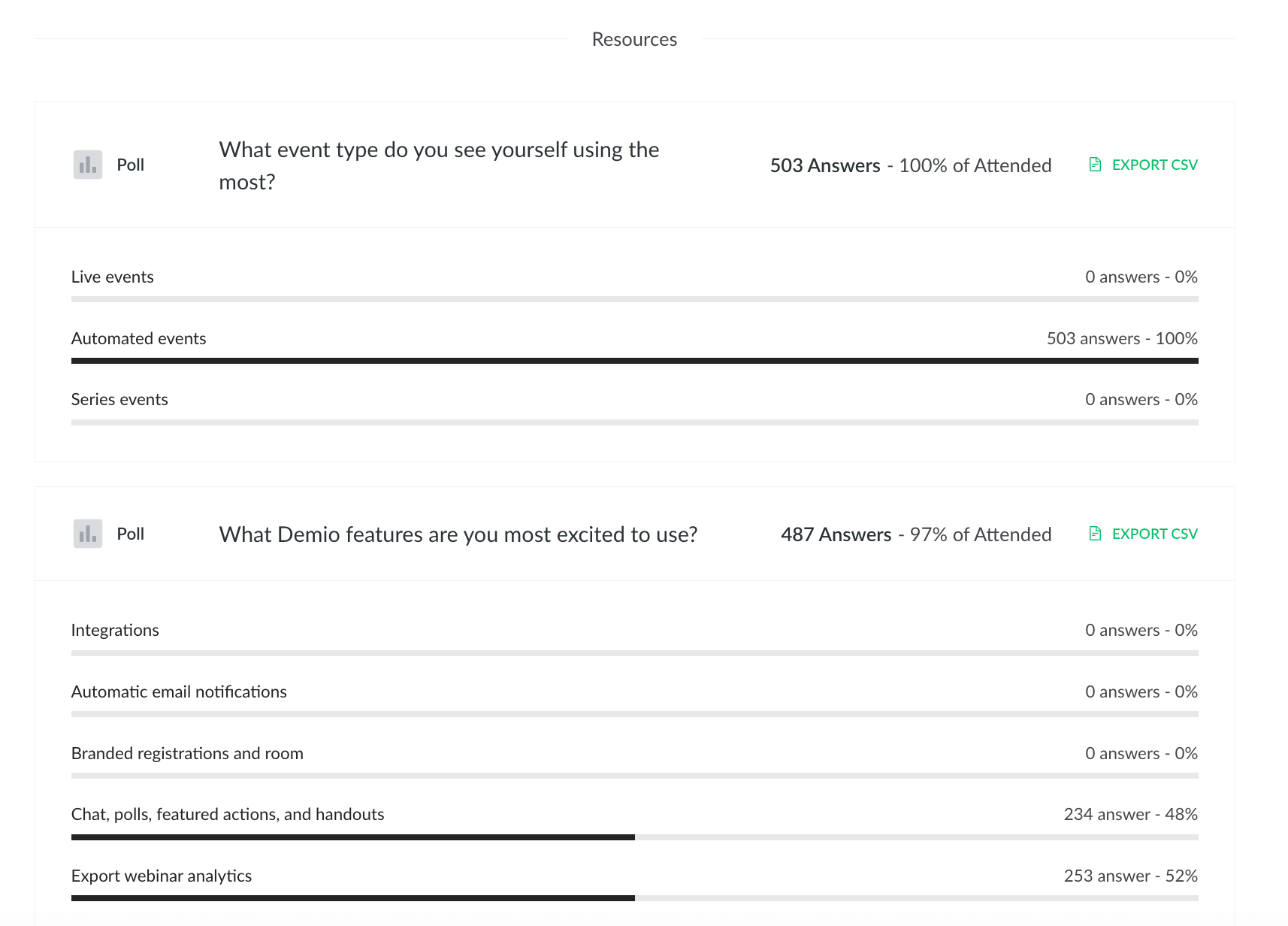 Measuring Conversions & ROI
Conversions and measuring webinar ROI are essential indicators of the success of your event. Your conversions are those who attended your webinar and then committed to the next step, such as participating in a CTA or making a purchase.
ROI, meanwhile, is your return on investment: What did you gain from your webinar in relation to what you put into it? While this is usually tied to financial input, it can also take the form of brand awareness, conversion rates, and other benefits that aren't directly related to monetary gains for your business.
Leverage Insights for More Profitable Webinars
Make Data-Driven Decisions
Use what you learn from your webinar analytics tools to guide your marketing strategy and creation of new webinars. Be sure to keep your consumers' pain points in mind throughout both to emphasize your value.
Analytics track conversion rates, attribute sales to your webinar, and enable you to justify further investment in online events. This information is essential to future webinar success and that of your brand as a whole. By making data-driven decisions that align with your target audience and webinar goals, you'll find a winning formula that yields consistent results from your efforts.
Improve Webinar Strategies
Based on the information you uncover, refine and update your webinar strategies to pique the interest of your target audience. Often, it's not the webinar itself that needs improvement but the pre- and post-webinar engagement tactics you employ. Adopt email marketing tools to create a drip campaign that engages registrants and turns them into attendees. Then, leverage post-webinar engagement tools to follow up with attendees and continue the conversation to acquire more conversions. Integration tools, meanwhile, allow you to expand your audience reach and maximize your webinars' overall success. Demio features several integrations worth considering, including Drip, AWebinar, Active Campaign, and more.
Use analytics tools to measure the effectiveness of the changes and improvements you make to boost ROI and conversion rates.
How to Analyze Webinar Performance With Demio
Audience Participation
Demio has many focus areas that can help you track metrics concerning your webinar, your audience, your marketing, and more. The platform monitors your events' attendance time and webinar session ratios, as well as how long audiences stayed focused in general. It allows you to pinpoint which viewers stuck around until the end and even where they registered from (so you can better target your marketing activities).
You can also track audience click-through rates to see if CTAs and other incentives are being activated, including who clicks on your emails during the registration and post-webinar interactions.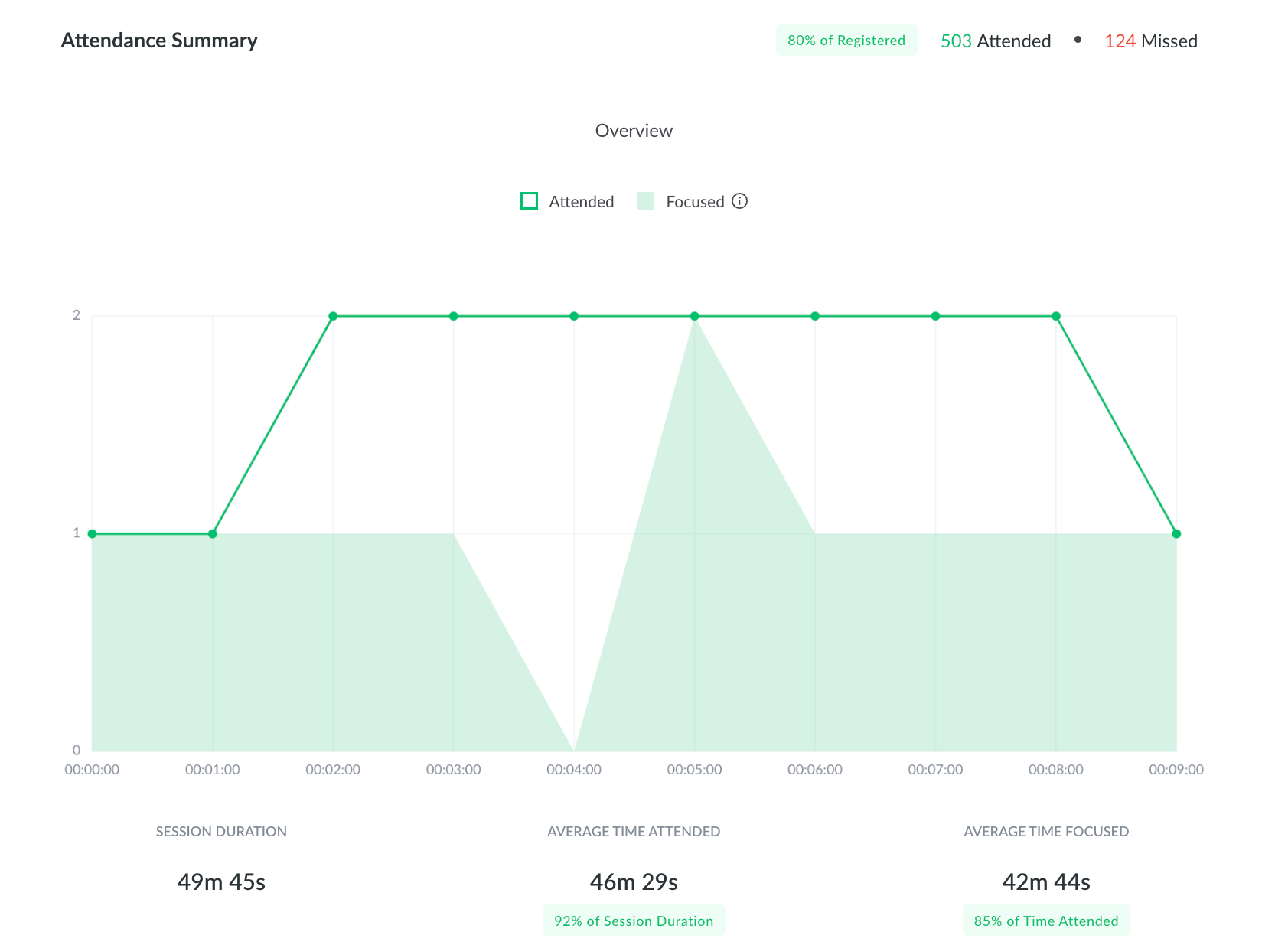 Conversions Based on Engagement Strategies
Which integrations are most effective at moving audiences to the next phase of the buying process? Do you achieve a stronger registration response when you personalize emails? Which engagement strategies help you qualify leads? Do audiences prefer your Q&A sessions or do they love your free incentives and trials? Demio helps you find the answers to these questions, improve conversion rates like what Nutshell saw, and earn the best ROI from every webinar.
Smash Your Webinar Goals by Diving Deep Into Them
Your webinars can draw in more customers and significantly expand brand awareness, but only if you're able to optimize your virtual events, and that requires robust analytics and data interpretation. With the right tools tracking the right metrics, you can accurately gauge the success of every component of your webinars, from your promotional tactics to your post-event follow-up.
Learning which strategies to keep and which elements to replace ensures every webinar bears lucrative fruit for your business, be it a higher conversion rate, greater brand awareness, an expanded following — whatever success looks like to you. That's where a reliable webinar platform comes into play.
Demio gives you the tools you need both to create personal, engaging webinars and evaluate how successful they are. If you're ready to take your content to the next level, book a demo to see what Demio can do for you. Or, if you're ready to commit, you can get started for free today. 

Frequently Asked Questions About Webinar Analytics
What Are the Analytics of Webinar Engagement?
Webinar engagement analytics provide valuable insights into the performance and effectiveness of your webinars. The specific metrics you track may vary depending on your goals and the platform your use.
What Makes a Webinar Successful?
Two key factors determine a successful webinar: audience engagement and conversion rate, which are intricately tied to one another. The more your attendees participate in your webinars, the more likely they are to convert, so both components need to take priority in your webinar creation. Although you have to consider other factors as well, audience engagement and conversion rate should be your North Stars to fine-tune your online events.
What Are the Components of a Webinar Strategy?
A webinar strategy is the compilation of the goals you have for your webinar, the target audience you have in mind, how you plan to promote your webinar, and the content it contains. Having a strategy for your virtual events helps you outline what you hope to gain from your webinars so they stay aligned with your brand's goals as you build, promote, and host them.