Webinars are widely considered one of the most successful lead generating tactics in marketing. They're an excellent channel to deliver information, connect with your customers, convert leads, and answer questions.
We've seen webinars increase leads, close deals, and build relationships. In short, webinars are an excellent marketing strategy, if you know how to use them.
However, although more and more organizations are running webinars, many don't have any measurements in place. That means you don't get insight into your webinar ROI, how the events drive value, and whether you're targeting the right audience.
Most of us wouldn't run PPC ads without being able to measure the results — and webinars (usually a considerable time investment) should be the same. If you can't tie your efforts back to results, why bother?
Analyzing your webinar success and using the data to back up your claims will help you optimize your performance, refine budgets, and adjust content to gain more relevant audiences and conversions.
Data, or It Didn't Happen
You can't prove a webinar's worth if you don't measure its performance.
Reliable data is the backbone of any marketing initiative. It's how you track conversion rates, attribute sales to your webinar, and justify further investment.
Here are a few reasons to encourage you to track your webinar success:
1) Data Justifies Your Investment
Seeing the leads and conversions your webinar earns can justify your investment and determine whether to repeat it.
In addition to planning time, a webinar can cost money to promote. You may also have giveaways for your attendees, which are an extra expense. Plus, you have your reputation on the line, so your webinar needs to be executed well. All of that equals money from your marketing budget, and time from your marketing team.
Tip: When you set your webinar goals, they should align with measurable business targets that track directly to your bottom line. These goals focus on your end result, such as:
5%+ of attendees become qualified sales leads.
20%+ of attendees sign up for email contact.
30%+ of attendees respond to a survey.
2) Data Helps You Close Deals
Tracking your webinar success can show where you need to improve your funnel. You'll be able to see where to follow up and how to increase lead conversions.
For example, if you observe your webinar leads convert well into sign-ups, but fail to buy a paid subscription, you can tweak your strategy accordingly. Instead of prompting to sign up in your webinar CTA, you might offer a 50% discount on the first two months of a subscription.
3) Data Shows What Does and Doesn't Work
Tracking your webinar success will also reveal what does and doesn't work. You can measure which promotional strategies drive the most engagement, which partners send the most qualified leads, and what topics generate the most conversions.
Based on your findings, you can alter your webinar strategy to include topics and partners that interest your audience and produce the best results.
Take a look at your historic data and find your average:
Registration page click-through rate
Attendee-to-registrant ratio
Exit survey response rates
Webinar rating submissions
Audience retention
You can use those numbers to benchmark the success of your future webinars.
If you don't know what your own webinar data looks like or how it compares, check out this webinar benchmarks report with data on attendance rate, audience engagement, and other important stats.
Where To Find Your Data For Measuring Webinar Success
We've covered why you need to track and analyze your webinar success; now let's dive into where to find your data.
Your metrics should come from three key sources: your webinar tool, Google Analytics, and your internal KPI tracking tools.
1) Your Webinar Tool
Your webinar software should be the first place you check to get a pulse on your webinar's performance. Pay attention to how many registrants show up, how long attendees stay on the webinar, and your overall audience retention rate.
For example, Demio offers built-in analytics to track click-through, conversion, viewer rate, drop-off rate, and more.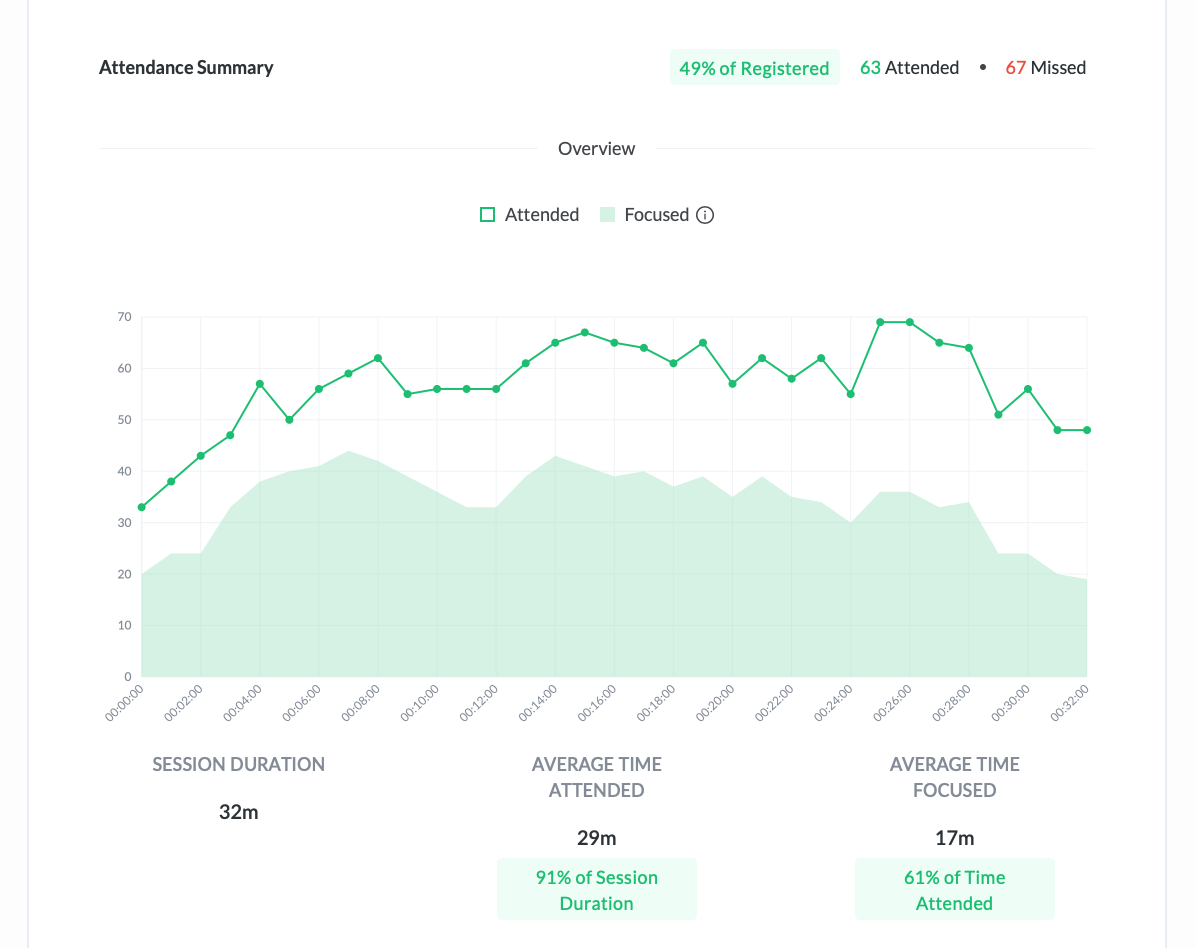 If you're a Demio customer, you'll be able to access and export your data easily from your event dashboard.

2) Google Analytics
Another common place to obtain webinar insights is through a metrics tracking tool like Google Analytics.
Google Analytics is one of the most popular tools for marketing teams to gauge their content success, and with good reason: it lets you track click-throughs, conversion rate, and how long leads spend on your website.
When you connect your initiatives in Google Analytics, you'll be able to see how leads from different sources (like a webinar, blog, or referral) interact with your content and follow your CTAs.
We'll expand on Google Analytics and how to set up for success later in this article.
3) Your Internal Tracking Tools
Each company has its own data attribution model. SaaS companies in particular usually have their entire system custom built, which means there's no cookie-cutter solution for tracking. Companies may use Metabase, Klipfolio, Pardot, Heap, HubSpot, or any number of custom instruments to track leads through their funnel.
No matter your tracking model, you should start with your KPIs. These should be set in advance in accordance with different targets, partners, and goals.
Key performance indicators should reflect measurable goals with business value. Choosing the right KPIs requires looking at industry benchmarks and past performance. However, if you're new to webinars or haven't been collecting data, you'll likely have to rely on industry benchmarks and tweak your KPIs as your own data develops.
Use your internal tools to analyze lead quality and how they move through your sales funnel. How many sessions does it take them to sign up? After they do, how quickly do they convert to a paying customer?
How To Use Your Google Analytics Data For Webinar Success
Now, let's dig deeper into setting up and reading your Google Analytics data.
Why Google Analytics?
Google Analytics sets itself apart in that it's a comprehensive experience, whereas each webinar tool has a unique reporting dashboard, and every company uses different internal metrics tracking software.
Google Analytics is a free tool you can use to track multiple stages of your sales funnel. You likely can utilize it no matter your industry, KPIs, or webinar software — Google Analytics is nearly universal.
However, Google Analytics records information generically; it's difficult to track one specific user through the entire funnel. If you want full insight into individual customer journeys with their specific actions, you'll need other tools. Google Analytics is great for directional data that can reveal your greatest strengths and areas of improvement.
If you haven't already, take some time to make sure your tools are connected to Google Analytics. For example, if you use Demio, you can connect your Google Analytics account with Zapier, using UTM codes, or import data directly with Google Campaigns.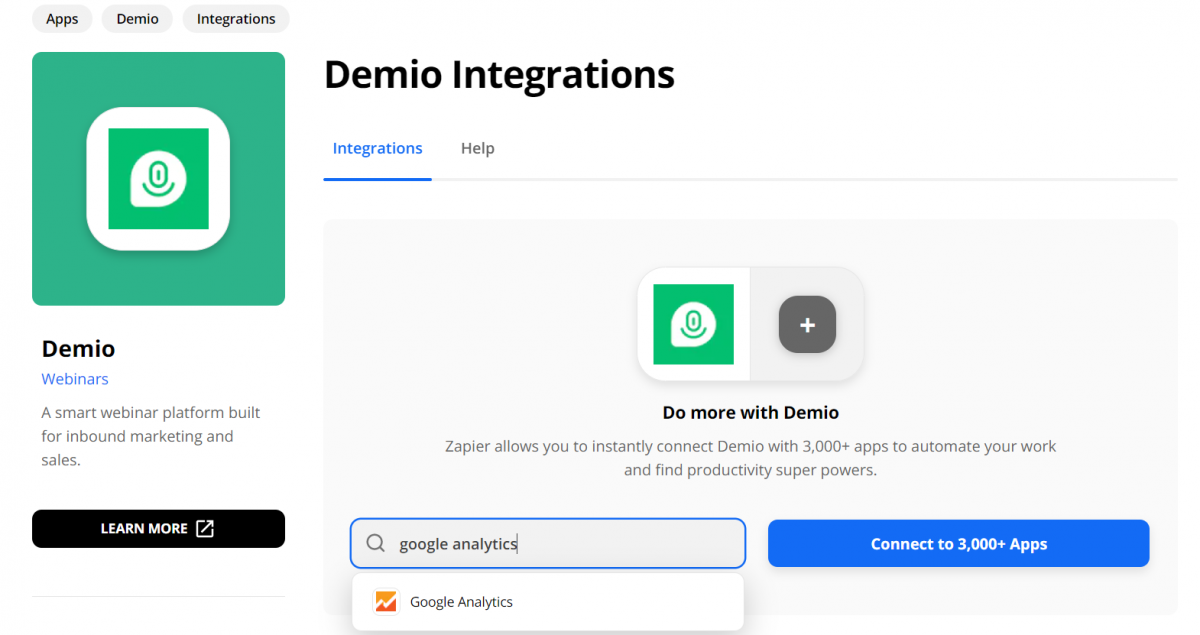 You can use UTM tracking to analyze your webinar touchpoints, and how people find your webinar and take action.
1) Incorporate UTM Tracking
UTM tracking parameters are a common way to discover where people click on your links, such as a link to your webinar page or sign-up page.
An acronym for "urchin tracking module," it's a unique web URL that tracks click-throughs from one asset to the next.
When properly integrated as part of a Google Analytics campaign, UTM codes allow you to follow visitors from an ad to a webinar registration page, and further on to a sale.
Their largest value is in helping you identify which channels drive visitors and registrants, and showing the path from channel to sign-up so you see where value is generated.
A URL with UTM tracking attached looks like this: https://webinarlandingpage.com/?utm_source=google&utm_medium=webinar&utm_campaign=dataanalytics
To recap, UTM codes are great to:
Identify unique visitors.
View click paths.
See return loyalty metrics (such as first-time vs. returning visitors/frequency of use).
Track campaign performance.
How To Include UTM Codes
Setting up a UTM code is a simple three-step process. From there, though, it requires more work, as you'll have to update every link connected to the campaign.
Make sure Google Analytics is installed on your website. Double check your account is properly set up, properties are clear, and data is filtered how you want. For example, some marketers prefer to create a unique property for webinar landing pages. This isn't necessary, but it does simplify filtering inside the tool.
Go to Google's Campaign URL Builder and enter your tags to generate your URL. Be sure to add a source (ex. newsletter), medium (ex. webinar), and campaign (ex. demandgen).
Build your campaign by adding your URL with relevant tags to their respective places. For example, use a different UTM tracking code when you promote a webinar in your email newsletter versus your blog.
A few reminders when creating your UTM links
Use trackable and consistent naming conventions for tags. For example, always use the same word to refer to paid ad traffic so you only need one click to filter for that tag.
Keep tag names short.
Organize links and their destinations in a spreadsheet or your project management tool.
Make sure campaign name tags match those in Google Analytics. Replace spaces with "%20" in the URL builder.
Tags are case sensitive, so use the same case for every tag ("PPC" and "ppc" will show up as separate tags, for example).
Enable auto-tagging in your account to reduce workload if you use paid search.
Make sure the "Campaign Term" tag reflects your targeting.
Establish consistent rules for updating and changing parameters.
Don't tag internal links. Google Analytics will already track progression through your website. Use Goals and Conversion tools in Google Analytics for this.
Set up Sub-domains so Google knows they're your website.
If you want more, Google offers a short list of best practices for building UTMs.
2) Add CTAs Across Touchpoints
Once you've built your campaign, you'll have to assign a unique UTM tracking code or campaign URL to every link you want to track. That can be intimidating if you already have a large number of ads, automated emails, and calls-to-action in place.
You'll need to make sure every link that points back to your webinar landing page is tagged, including any partners you've asked to promote your webinar, the email signatures of your customer-facing team, and your website banner CTA.
Here are a few places to be wary of un-tagged URLs:
Social media posts
Social media ads
Google ads
Email newsletters
Email signatures of your internal team
Partner newsletters
Guest posts
Internal blogs
Website banners or pop-ups
While it's important to create a separate link for each touchpoint, UTM links function just like a regular link to your landing page or asset, so don't worry about having multiple variations for one page. Simply replace the CTA link with your respective UTM link, and it's ready to go.
3) Filter for Your Campaign in Google Analytics
Once your tagged URLs are in place, it's time to monitor your campaign and see how your links perform. Based on the sources, you'll be able to see which links are clicked the most, which partners send the best leads, and more.
Go to your Google Analytics dashboard and navigate to Acquisition -> Campaigns -> All Campaigns.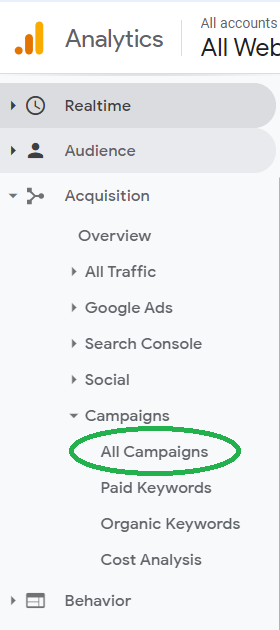 Adjust your dates to those you want to see. A good rule of thumb is to start tracking from the date you published your landing page.
Click on "Source/Medium" to see where your clicks originate.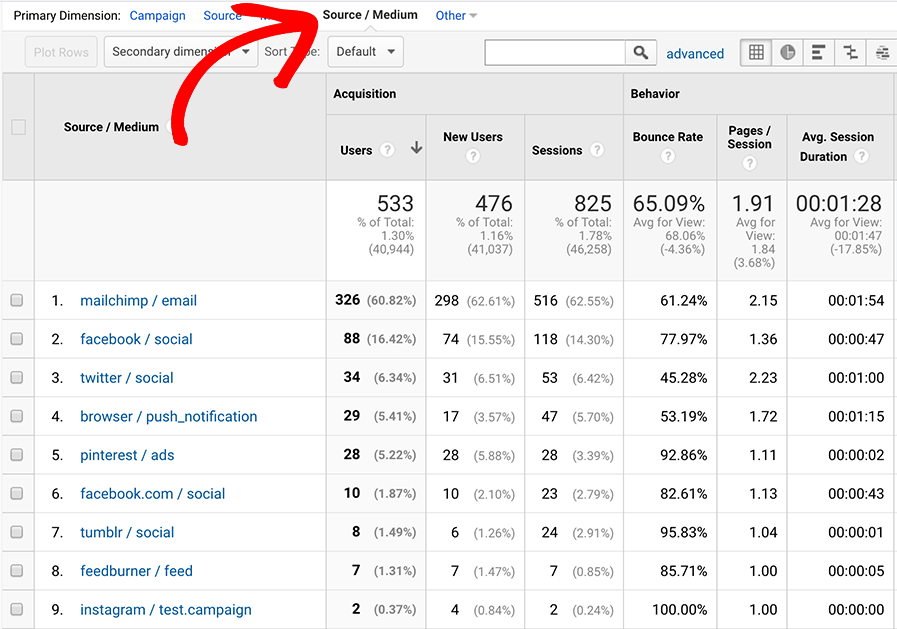 Click on "Advanced" to see more filtering options.

4) Analyze Your Conversions
Google offers plenty of tools to track inbound traffic automatically, attribute conversions, and measure goals. For example, Goals and Smart Goals help you track conversion rate, determine if your links are meeting goals, and attribute visits to your webinar stream to sign-ups on your registration page. You should also consider setting up "Multi-Channel Funnels" to track conversion across sources to pin down a single entry point.
Goals might include webinar registration, but should also have follow-up targets like conversion to a marketing list (you can use your thank you page URLs to track this), or concrete sales.
You can learn more about setting up goals in Google Analytics here.
Wrapping Up About Webinar Success and Data
Based on your findings, your next action items could look like these:
Run another webinar with the partner who brought the most converting leads.
Send out more email invitations to the list that earned the most registrants.
Schedule additional social media posts on the channel that drove the highest interest.
Follow up with a webinar recording or offer it on demand on the blog post that sent registrants.
Tracking webinar data allows you to see your conversion rate, where viewers go after conversion, and how interested viewers are in webinars and their topics. This in turn can help you adjust the presentation, content, advertising, channels, and even the steps of your funnel to optimize for goals and end-stage conversions of viewers to customers.
DOWNLOAD YOUR FREE WEBINAR STRATEGY CHECKLIST BELOW
Use this checklist
to design your very own high-converting webinar marketing strategy from scratch, then automate the process to attract high-quality leads.
We promise to never spam or send emails about cats.
Okay, maybe some cat stuff.