Webinars have become increasingly popular due to COVID-19, as they are a great way to present information without the audience having to leave their homes. Even for the most successful webinars, getting meaningful feedback is a crucial part of a healthy webinar marketing strategy. It is always helpful to learn how to improve for future events from your attendees.
One of the easiest and most effective ways of gathering feedback is through surveys. You can tailor them to suit your needs and disperse them to your audience either before, during, or after the event.
Keep reading to discover some hot tips for preparing a well-tailored webinar survey.
The Different Types of Surveys
There are three main ways to conduct a survey: telephone, paper, and online. Since the majority of people use the internet, online surveys have become increasingly popular. Going paperless is environmentally friendly as well, and it takes less manpower to design one survey to send out en masse than it does to make individual calls.
Besides different methods of administration, surveys also feature a range of types. Each design can be used to obtain different information, depending on individual needs.
1) The customer satisfaction survey
The customer satisfaction survey is one of the most common and useful types. As the name suggests, the point is to obtain a greater understanding of how customers feel about a particular product, service, or business activity.
These surveys can provide valuable insight into your customers' opinions about your business. The information collected can easily be used to make improvements and maintain high customer retention.
2) The conference, event, and webinar survey
While many survey types focus on products, this format is designed with events in mind. A webinar and conference form measures how well an event was (or was not) received by attendees. This gives the organizers important feedback about what attendees wanted more of, and what they liked and disliked.
When organizing networking events, it is imperative to ensure attendees are satisfied with the overall experience, so feedback is invaluable. Furthermore, if you want people to continue to attend your events, show you care about their constructive feedback by implementing their suggestions.
3) The product and marketing survey
Regardless of your business industry, knowing your customers is essential. The purpose of a product and marketing survey is to determine your target audience's wants and needs, and to learn how to reach out to more potential customers.
The data gathered in a product and marketing survey will help your business create more effective marketing campaigns to increase sales. The goal is to connect with your target audience and find out what you can do to engage your audience further.
How To Create a Webinar Survey
Creating a survey from scratch doesn't have to be difficult. If you take the right steps, you can reduce the stress of developing questionnaires.
1) Decide how to conduct your survey
Before you begin creating your survey, it's a good idea to consider the best way to engage with your target audience. Decide if a paper form, online form, or telephone questionnaire is the most appropriate way to reach out to your customers.
If you are dealing with older customers, a telephone survey might be the best option. However, you also need to consider what products, services, or events your business is offering and tailor the engagement strategy to fit that.
For example, if you are running webinars, your users are obviously tech savvy and happy to do things online, so an online survey would be preferable.
Thinking about the most convenient way for your audience to receive a survey will not only show you are aware of their needs, but also increase the chances of them completing it.
2) Know the purpose of your webinar survey
To create a useful survey, you need to consider what information you want to gather and why you are conducting the survey in the first place.
Do you want to know what went right or wrong, or what people want from a future webinar?
Some important information to gather includes:
Attendee names and contact information
What was successful
What could be improved
Any major suggestions for overall change
Attendee opinions about the webinar overall
3) Make it easy for yourself
One of the main struggles of creating an online survey is not the content, but the survey design itself. Online surveys are arguably the most convenient way to connect with your target audience, but are also the trickiest to produce.
Many people assume they need to know how to code to create an online form. However, this is no longer the case. There are a variety of survey makers online that will do the hard work and leave the important segments to you, such as inserting relevant questions.
So, instead of worrying about learning to code, or having to hire someone to make a form for you, keep it simple and use an online builder.
How To Get the Most out of a Webinar Survey
After all that work, you want to make sure you get the most out of your survey. Don't forget the aim of your survey is to guide the participant towards providing you with insightful answers.
Setting a clear goal for your survey is a great place to start. This will allow you to tailor the questions towards gathering the information you require. Consider if you want insights for improvement, to understand more about your audience, or simply to grow your email list. Knowing what you want to achieve will allow you to determine which questions to include.
Regardless of the reason for the survey, it is usually helpful to collect the participants' names and email addresses, as this will help you follow up with registrants.
Getting the most out of your survey necessitates as many responses as possible, so ensure your survey is user friendly. Keep it short and concise to avoid intimidating people. This will improve your response rate.
Also, focus on close-ended questions. This not only helps the participant, but also makes the information easier for you to analyze. However, it is recommended you leave space for additional comments to give participants freedom to express their thoughts.
How To Get a High Response Rate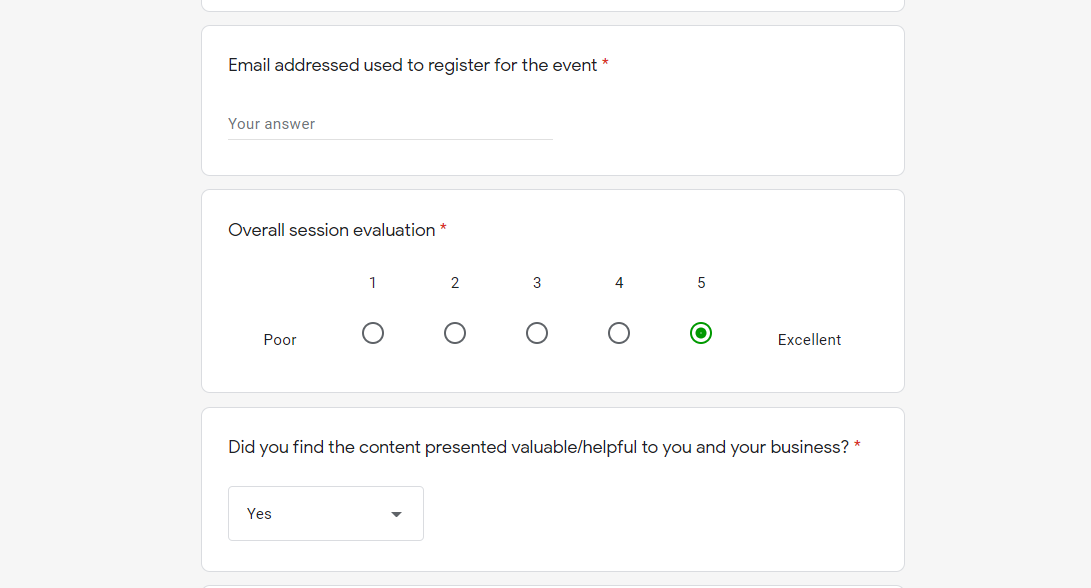 The more responses you get, the more feedback you can use to make your future webinars successful. To obtain a high response, you should focus on a few key aspects.
First, show genuine gratitude and thank people for taking part in the webinar and the survey. State that their feedback is appreciated and will help improve your service and ensure your webinars are as engaging as possible.
People are also more likely to fill out the form if they know it's short and won't take too much of their time.
What time you send the survey also impacts the response rate. Often, if you send out a survey prior to the event to be filled out afterwards, people forget about it. To avoid this, consider sending the survey within two hours of the webinar finishing. This way, the event will still be fresh in their minds, and the information you obtain will be more accurate.
Popular Webinar Survey Making Tools
The thought of creating a webinar survey can be overwhelming. However, there are a range of simple online tools you can utilize to assist the process. Survey making tools are a time-saving and stress-free way to make a questionnaire.
One of the most well-known form builders is SurveyMonkey. This platform is popular for its guided onboarding flow, making it easy to know what you need to do next. While the overall feel is relatively user friendly, the platform also incorporates a few UX features that take some time to navigate properly.
Although SurveyMonkey is a good option, it doesn't have a free trial period, so you'll need to commit before you can try it. It also lacks the ability to customize colors and fonts, so if you are looking for something more personalized, SurveyMonkey might not be for you.
Google Forms is another commonly used survey builder. If you want a simplistic interface, this is a safe choice.
Google Forms has an intuitive design that allows users to add questions and edit settings with just a few clicks. It's great for providing anonymity while collecting a lot of information, which you can then convert easily into a spreadsheet. Take note, though, that it was built for simple data collection, not complex business needs.
Google Forms is free, so it doesn't require any monetary investment. However, if you need more than basic data, this is probably not the best platform.
A great alternative to Google Forms and SurveyMonkey is Paperform. Although this builder is newer than the previous two, that doesn't mean it's less capable. On the contrary, Paperform offers a wide variety of features that not only make it user friendly, but also give you the opportunity to create a questionnaire that's personalized to you and your business.
It has an incredibly intuitive interface that is simple and sleek. It's eliminated clunky menus and lagging interfaces for a drag-and-drop functionality which means you don't need to be tech savvy to use it. Instead, it's as simple as writing a document – but a lot more fun.
Paperform's flexibility extends beyond its User Interface into the advanced customizing capabilities. The versatility of its functions, the custom HTML and CSS capabilities, and its growing 26+ question fields, including rating and ranking features, means it's ideal for various projects. From HR feedback forms to lead generation surveys create solutions tailored to your unique brand.
An interesting feature is their brand new matrix field. Matrix questions are a fancy way of saying "multiple questions presented on a grid". They are great in surveys anytime you want to rate a group of similar items, or scale questions on similar topics under one theme.
Unlike Google Forms, Paperform is not a free platform. However, there is a 14-day free trial that you can take advantage of before committing.
Conclusion
When planning future webinars, having the honest opinions of past attendees can make a huge difference in quality. They provide valuable insights into your webinar's successes and shortcomings so you know what to keep and what to change.
Surveys are a simple, cohesive way to gather this information, as you can easily send one after every event. If utilized correctly, surveys can help improve your webinars continually and take them to the next level.
DOWNLOAD YOUR FREE WEBINAR STRATEGY CHECKLIST BELOW
Use this checklist
to design your very own high-converting webinar marketing strategy from scratch, then automate the process to attract high-quality leads.
We promise to never spam or send emails about cats.
Okay, maybe some cat stuff.