Webinars are an incredibly popular content medium, and essential for many marketing strategies. They leverage live and on-demand videos for every stage of your funnel, and can even boost customer retention.
In addition to building new leads, smart marketers use webinars to cater to their existing customers with product updates, team Q&As, and company announcements. Webinars serve multiple purposes:
Reach new audiences.
Entice your existing customers.
Introduce your company to your desired market.
You can find webinar speakers internally or externally according to your webinar structure and message. They can be your primary presenters, interviewees, consultants, or participate in some other capacity. The right choice depends on your audience, their desired outcomes, your webinar goals, and your webinar format. To find effective webinar speakers, you should look into:
Internal webinar speakers
Company partners
Current and potential customers
Why Inviting Webinar Speakers Is Smart
Most webinars involve one or two speakers presenting live with video and slides. These can also be recorded and made available on demand so people can watch immediately upon registration.
Guests can be one or more speakers either from a different internal team or outside your company. For example, you can partner with an adjacent company and have their team present a keynote-style webinar, or your marketing team can invite your CEO to answer questions.
When you invite a guest speaker onto your webinar, you expand your reach to their audience, improve your content with their knowledge, and add their credibility to your presentation.
1) Widen Your Reach
Sourcing guest speakers from your industry network can help you attain a larger audience. It's crucial these speakers don't work with competitor organizations. However, partnering with companies in your niche or sector can win prospective customers from their existing user base.
It's important to establish ground rules up-front:
Decide on mutual goals.
Agree that both parties must promote the webinar and ask for registrants.
Confirm privacy policies and ensure attendees consent to communication from all webinar partners.
Create CTAs that benefit all partners where possible.
2) Bolster Your Information
Inviting guest speakers leverages their information, expertise, and authority. This is true whether your guest is an internal developer, a customer who found success with your product or service, or another company in the same industry offering a new solution to a problem.
3) Provide New Insights
You can utilize guests' knowledge and expertise by highlighting their ideas, POVs, and insights. It could also be beneficial to review a topic you've previously covered to show your audience an alternative perspective.
4) Build Brand Awareness
Bringing your own employees into the spotlight, showing your team interacting with others, and placing real people in front of the camera can promote your brand.
Customers and prospects enjoy seeing the faces behind your company and getting an inside look at your product. Introducing the people who support and manage the company can help you build relationships with your audience.
5) Showcase Credibility
Whether it's your marketing director, project manager lead, head of engineering, or co-founder, sharing your subject matter expertise on camera establishes credibility and fosters trust with your audience.
Incorporating your subject matter experts into a webinar allows them to:
Share industry insights and thought leadership.
Explain more about your product and the engineering behind it.
Learn more about the audience and their desired outcomes.
A guest speaker adds new people, ideas, and opinions. However, it also introduces greater complexity.
Who To Invite as Webinar Speakers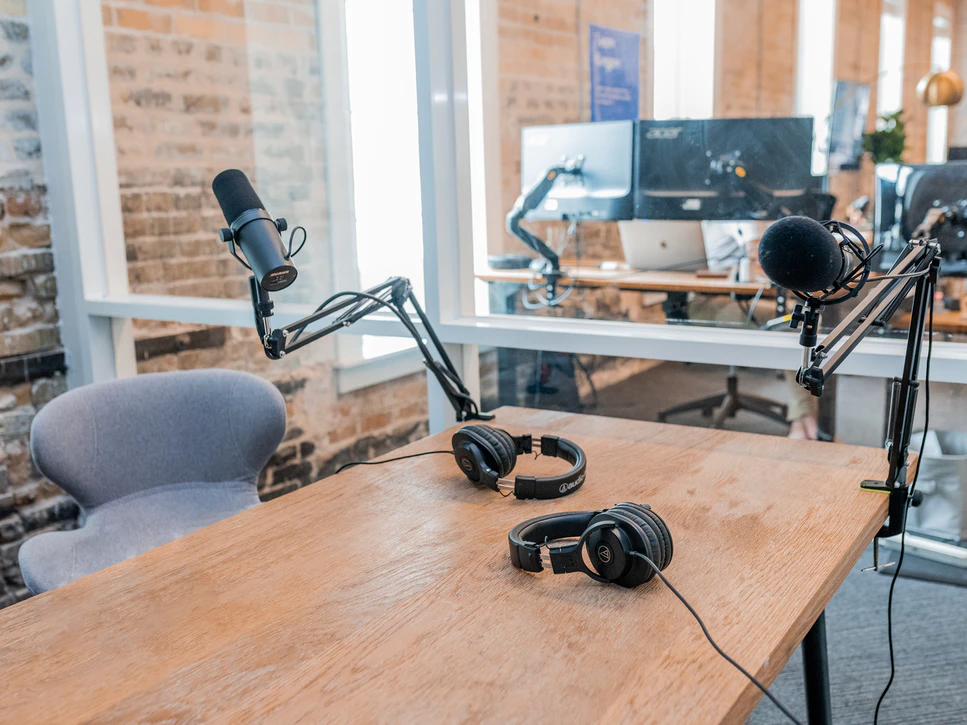 For most webinars, guest speakers fall into three main categories: internal speakers, company partners, and clients or customers.
1) Internal Webinar Speakers
Internal webinar speakers are people within your organization who can bring something new to a webinar, whether that's authority, supplemental information on a topic, or deeper knowledge about your brand.
For example:
C-suite executives who lend authority and can deliver impactful brand and industry insights. This shows your company values its audience, and team members from all levels take time to connect with them.
Internal experts who can discuss a topic in depth, showcase your product in action, and bring a unique perspective. These can include developers, IT security, customer service reps, and more.
If you include a teammate, they should offer credibility and brand knowledge while delivering interesting content that moves your target audience closer to their desired outcome.
As a bonus, since they're part of your organization, it's more cost-effective than employing outside guest speakers.
2) Company Partners
You can also spotlight a company partner, whether you have a co-marketing agreement, integration, or official partnership. These partners can be:
Companies you integrate with or that are in an adjacent industry.
Industry leaders in your vertical who can offer knowledge, authority, and draw their own audience.
Marketing partnerships with key non-competitors in your verticals.
Well-known industry brands that lend their reputation to your event.
Typically, you should look for organizations that have a strong alignment with your brand, vision, values, and audience.
You may also want partners who are the same size — partnering with a smaller company usually means you contribute more registrants, while joining a larger company can reduce your lead quality by virtue of volume.
That's not to say you shouldn't work with companies of different sizes, especially if there's a significant overlap in your audiences.
3) Current and Potential Customers
Your current customers and dream clients can be amazing webinar guests, both for top-of-funnel acquisition and customer retention.
Inviting potential customers to collaborate with you on a webinar gets you an introduction without you ever making a sales pitch.
Alternatively, a current (and happy) customer can sell your business through their authentic experience, something an internal spokesperson can't match.
Some ideas for current and potential customers to invite to your webinar include:
Existing customers who answered a net promoter score survey and gave a 9 or 10, indicating they're satisfied with your product or service.
New customers who are willing to share their journey with your company over a series of webinars.
Managers and other decision-makers from companies in your target verticals.
Existing and prospective customers can illustrate industry problems, solutions, and what your product achieved for them. This can drive value for your webinar and your brand, even if a target doesn't convert or bring a large audience with them.
Once you align on goals, it's time to decide what's the best format for your audience.
The Best Formats To Use Guests as Webinar Speakers
Not all webinar formats work well for guest speakers. Your choice of webinar format requires the information to fit the target audience, consideration of how it will be received, and then aligning these with your webinar goals.
Selecting the right webinar format is important, because it structures how you share information. Additionally, different webinar formats apply to different audience and speaker preferences. Some speakers aren't interested in presenting a topic, but are willing to join a panel.
Below are a few popular webinar formats convenient for guest speakers.
1) Educational Webinars
An educational webinar typically follows a keynote format where one person gives a presentation or multiple speakers collaborate to deliver lessons on a common topic or theme. For these webinars, you should introduce the speaker(s) before the event, and include a Q&A session at the end so presenters can answer audience questions.
2) Product AMAs
This type of webinar is also known as a Q&A webinar, where your audience can ask questions to be answered live. You can also prepare some beforehand to get the ball rolling, and cover the most frequently asked questions at the beginning.
These webinars are usually for internal speakers, such as a co-founder or product manager who answers questions about the brand, product, or new features.
3) Panel Discussions
A panel has multiple speakers discuss topics, answer questions, and cultivate familiarity with the audience. There's usually a moderator who asks questions or provides topic prompts.
Panels are excellent for partnering with industry experts. Your guests can showcase their knowledge and POVs to deliver unique value to your viewers. You can arrange your panel so every speaker is either an expert on the same subject, or on related subjects under an umbrella topic.
For even more engagement, you can end the panel with questions from the audience.
4) Interviews With Customers and Industry Experts
A webinar interview is a great way to highlight your customers' unique journeys, why they love your brand, and how your product or service helped them. You can structure it like a Q&A, but instead of having the audience ask all the questions, someone from your company would have a list of thought-provoking questions prepared.
This is ideal for discovering what your customers struggled with, current industry problems, how your product or service solved relevant issues, and more.
Wrapping Up About Webinar Speakers
Effective webinar speakers add value, interest, and new ideas to your webinar. The longer you run a webinar series, the more important it is to bring in new people, both to keep your webinar fresh and to ensure your audience continues to grow. Hopefully, this article will help you determine the best speakers to invite to your webinar.



DOWNLOAD YOUR FREE WEBINAR STRATEGY CHECKLIST BELOW
Use this checklist
to design your very own high-converting webinar marketing strategy from scratch, then automate the process to attract high-quality leads.
We promise to never spam or send emails about cats.
Okay, maybe some cat stuff.