Naturally, you want to increase your customers and make more profits.
…but are you keeping tabs on your customer retention rate?
According to Fundera, 65% of a company's profits come from its existing customers. In addition, 50% of loyal customers will spend more on their preferred brands.
Sure, getting new customers is important. However, increasing customer loyalty and retention is the secret to success in the long-run. After all, what's the value of converting customers if they only make one-time purchases?
Guiding a new customer along the sales funnel requires more money in your marketing budget.
In fact, it costs 5 times more to get a new customer than it does to retain an existing one. Additionally, launching a long-term business relationship solely based on acquiring new customers will cost 16 times more, than maintaining your current customer base.
These statistics show that businesses must balance their growth with customer retention, which entails investing on customer loyalty strategies.
Now, how can you boost customer loyalty? In this post, I'll show you tips for increasing customer loyalty and customer retention from some of the world's top e-commerce brands.
Let's get started.
1. Launch a customer loyalty program
We can never predict how long customers will stay loyal.
On the bright side, you can make them stay longer by launching a loyalty program. After all, people love to get rewarded for patronizing the brands that they love. An occasional freebie or discount can encourage people to return to your store and make more purchases.
According to G2, you can get started by finding CRM tools equipped with email marketing or get a POS system that uses loyalty programs.
Alternatively, you can rely on Candybar – a digital punch card rewards tool – to set-up your loyalty program fast and easy. It can also notify cashiers about rewards during checkout.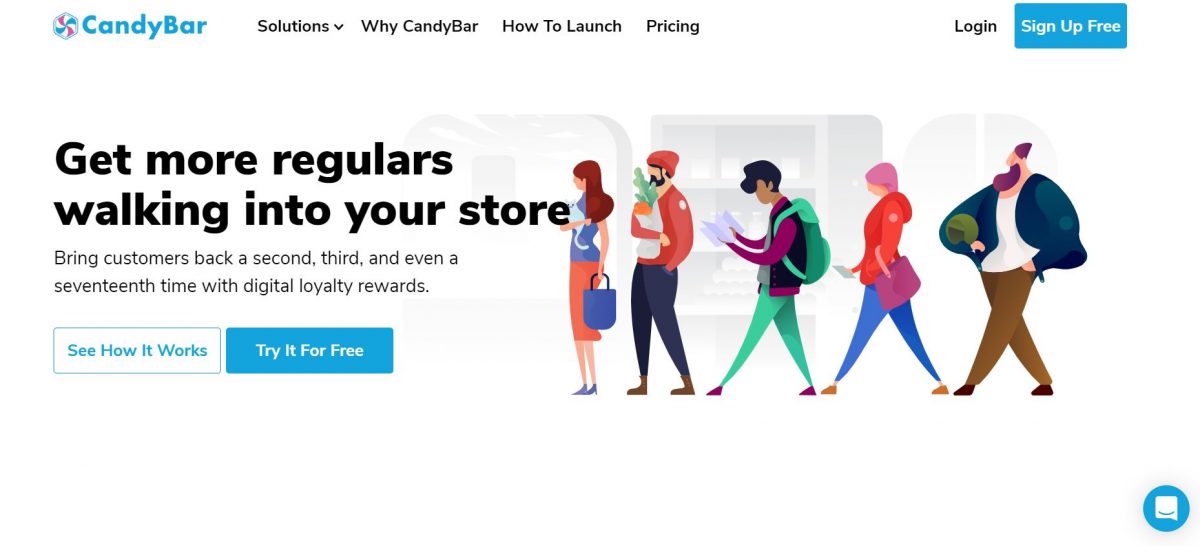 For example, Tarte's rewards program let customers earn points while shopping. In exchange, they get rewarded with free samples, exclusive birthday gifts, welcome gifts and more points.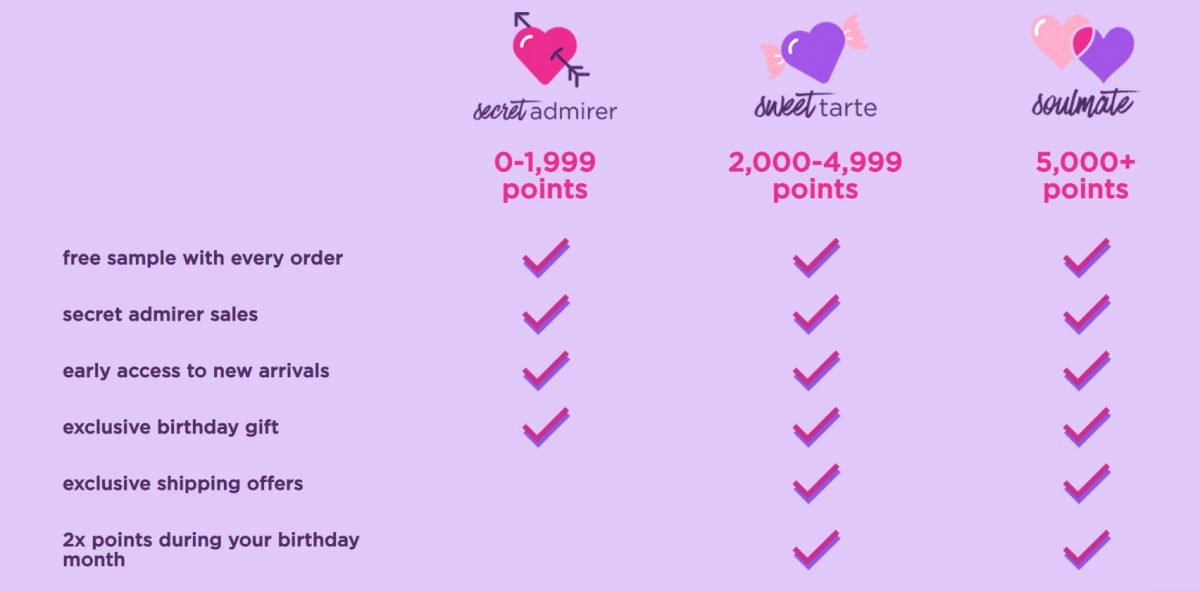 2. Offer rewards and incentives to boost membership
Don't expect hundreds of customers to join your loyalty program immediately. People receive tons of promotional messages per day so it's unlikely that they'll pay attention to yours.
That said, not all loyalty program rewards should be difficult to qualify for. New members must be able to access some perks upon joining so they'll be motivated to earn points. You can provide incentives in the form of discounts and gift cards for sign-ups.
H&M's loyalty program includes a 10% welcome offer, shopping events, birthday offers and an option to pay for items later. This encourages users to download the app to experience the benefits.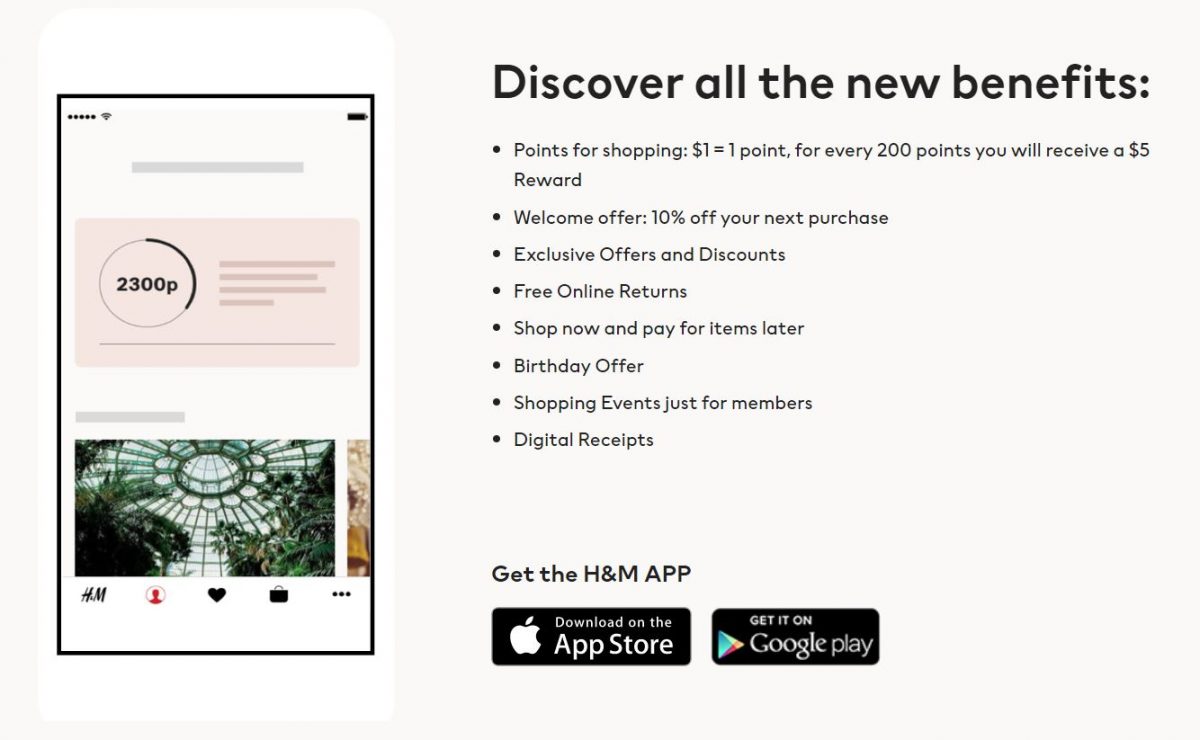 3. Launch a referral program
How often do you give restaurant or store recommendations? How often do you talk about a superb shopping experience or product? When we have a good customer experience, our impulse is to share it with our friends and family.
Besides face-to-face conversations, we also share our experiences in the online realm too. In fact, 70% of U.S. consumers trust brand and product recommendations from friends and family. People are also 4x more likely to buy products recommended by a friend.
This is why it's crucial for businesses to launch a referral program. Customers become more loyal when they can earn rewards in exchange for a successful referral. After all, if you can earn money and rewards in exchange for talking about products you love, then you'll tell as many people as possible.
For example, Leesa's referral program lets customers get $75 cash for referring a friend. Not only will you earn money, but your friends will also hear about their quality mattress. The best part? If you have a lot of friends, you can easily earn quick bucks.

4. Host webinars
In the age of social distancing, every customer experience must be online.
That said, one way you can engage with customers is to host webinars. You can give a webinar about industry updates and expert strategies to generate leads or engage with your consumers.
In fact, 99Firms reports that 60% of webinars are oriented at creating loyal customers. Additionally, one webinar could help you generate 1,000 leads.
A good tip is to host webinars that ensure attendees will learn something relevant. Not only will this help your brand gain visibility, but it also encourages customers to engage more with your content.
For example, Hubspot's webinars help viewers learn more about Microsoft Excel and get updates on the advertising industry.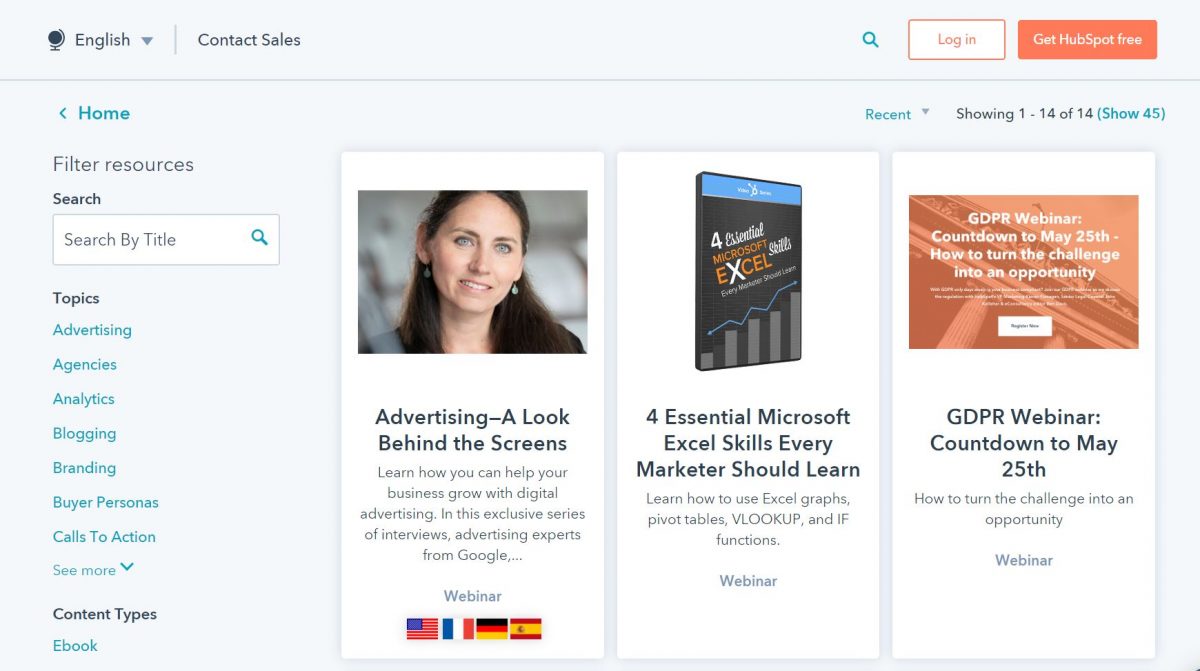 5. Monitor analytics
When you get customers to sign-up on the platform or join a loyalty program, you can gain key insights. You can easily track their purchase history, browsing history and wishlist. This lets you create personalised marketing campaigns that indulge your customers' interests and purchasing habits.
Collect the data every few months, then crunch numbers and make reports. There are different types of charts and graphs that you can use to interpret customer responses.
Bar charts and line charts are used to uncover trends and compare data. Alternatively, a pie chart can help you visualize the composition of responses and make generalizations.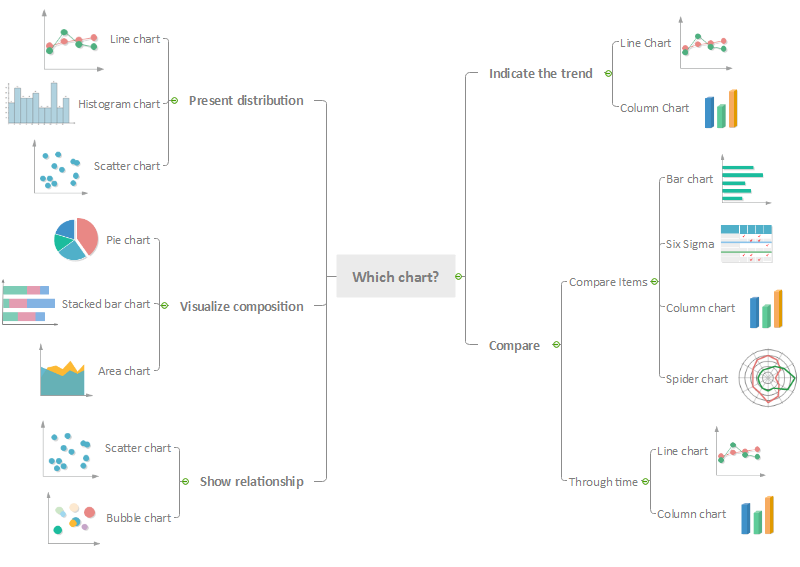 6. Leverage chatbots
These days customers want the sales processes to be fast-paced.
This is why many experts recommend chatbots which enable an "automated, conversation-based experience" on websites, messaging apps or devices. Like a real salesperson, it can mimic human interactions and guide customers through the sales funnel. It can even communicate with users based on their past shopping behavior and answer queries.
Reve Chat believes that 80% of businesses will utilize chatbot in 2020. This may mark the transition to relying more on bots and less on humans in terms of customer service.
Why the reliance on chatbots? Here are some benefits of using chatbots, according to Tidio:
43.18% of shoppers state that chatbots are their preferred channel of communication when making online purchases.
27% of online customers aged 45 to 60 would utilize chatbots to ask questions or seek explanations about a service or product.
Using chatbots is estimated to cut businesses costs by $8 billion in 2022.
For example, brands like Victoria Beckham utilize messengers bots to give customers a one-of-a-kind experience. The Victoria Beckham brand with the Byte agency to launch a digital chatbot. The team worked with Victoria herself, and considered her own words or style of speaking when writing the automated script. This way, customers would feel like they're talking to the celebrity when engaging with the bot.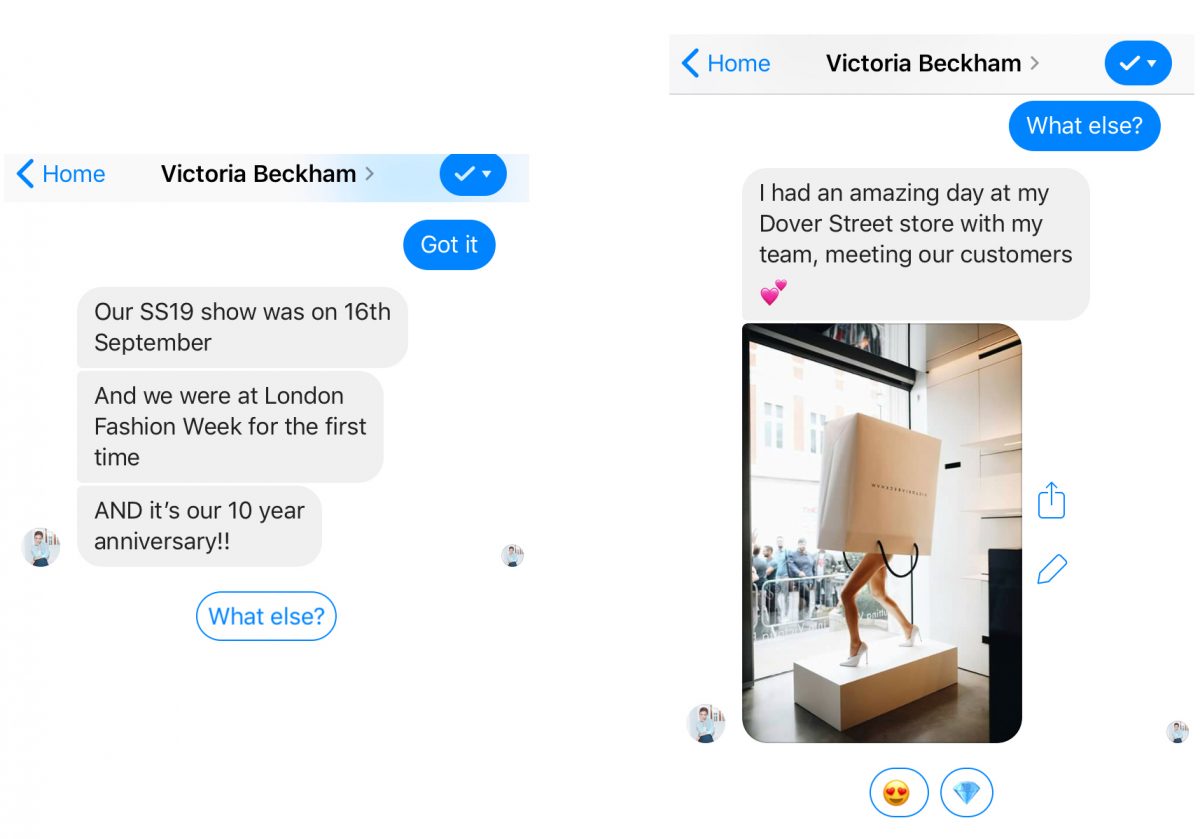 At the beginning of the campaign, the bot communicated with fans through a teaser message that was sent in Messenger. Potential shoppers also got an option to receive more product information.
Next, the bot sent behind-the-scenes videos of Victoria Beckham, an invite to their London Fashion Week show, and provided links to exclusive products so fans can buy from their smartphone.
The initiative led to an 86% average read rate for push messages (4X higher than email) and over 60,000 conversations in 3 weeks.
7. Create compelling content
Entertaining videos, compelling posts and captivating visuals will make your brand memorable. It will also encourage customers to keep returning to your social media profiles to interact with your brand.
Dior has attention-grabbing Instagram posts featuring its models wearing its premium products. Not only do the models showcase the bags, but they also entice customers to keep coming back to their store.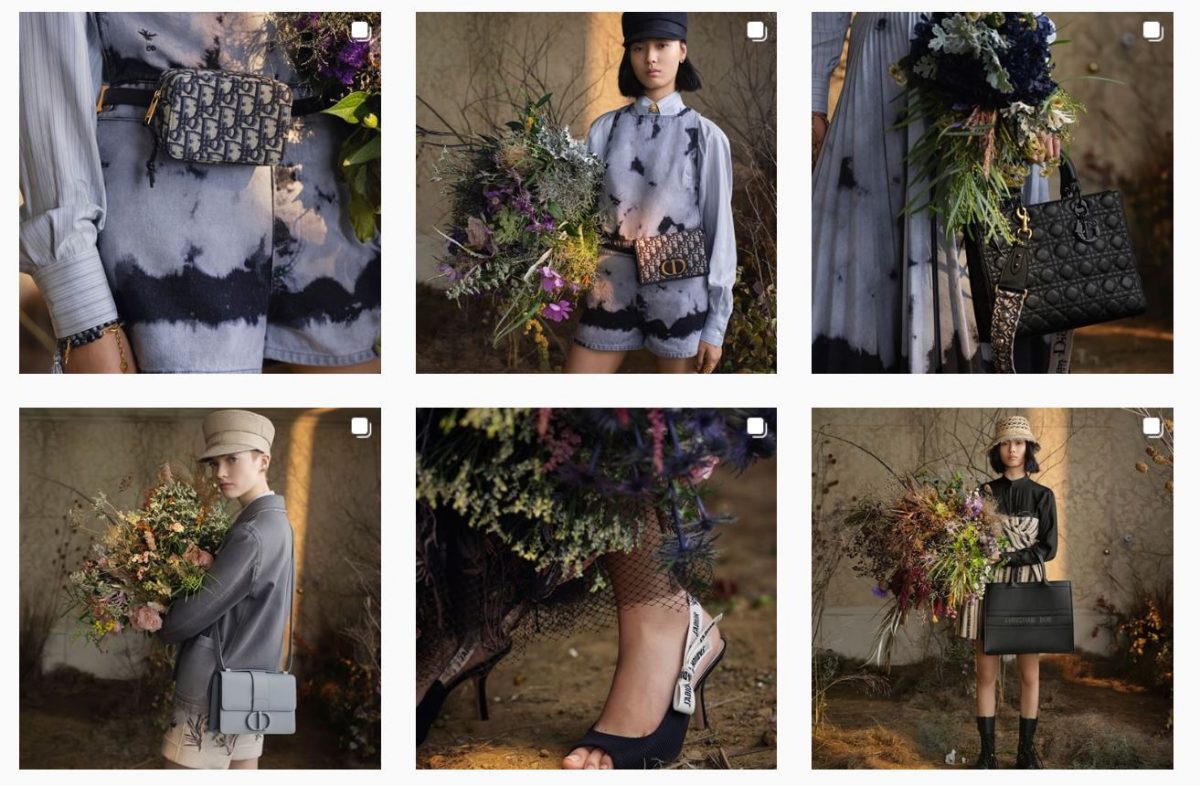 Etsy is an ecommerce marketplace that offers hand-crafted and handmade items from the makers community. Hence, their blog features posts about Mother's Day Gifts and pet presents to entice customers to browse their marketplace.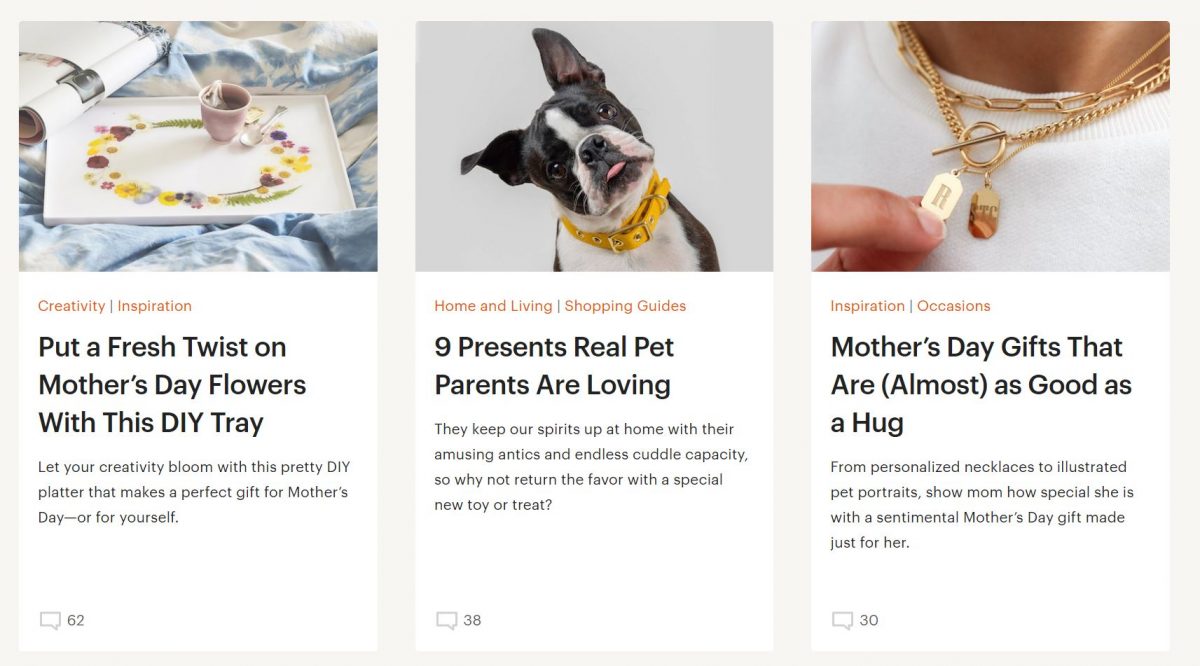 8. Improve customer experience
Obviously, customers are likely loyal if they have a seamless customer experience.
Now, how can you boost customer loyalty? Identify ways to improve the sales journey. Think about how you can make processes more convenient or how you can ease the burden of customers.
Are customer service response times too slow? Invest in chatbots. Are customers not clicking your landing pages? Consider A/B testing and experimenting on web design and copy.
Marina Bay Sands – Singapore's iconic hotel- has utilized AI-powered chatbots to help users automate the process and manage hundreds of guests during peak season.
The hotel's Messenger bot can ability to address inquiries, as well as recommend dining or shopping experiences. Tourists that want to explore Singapore could also receive information on attractions such as their operating hours and locations.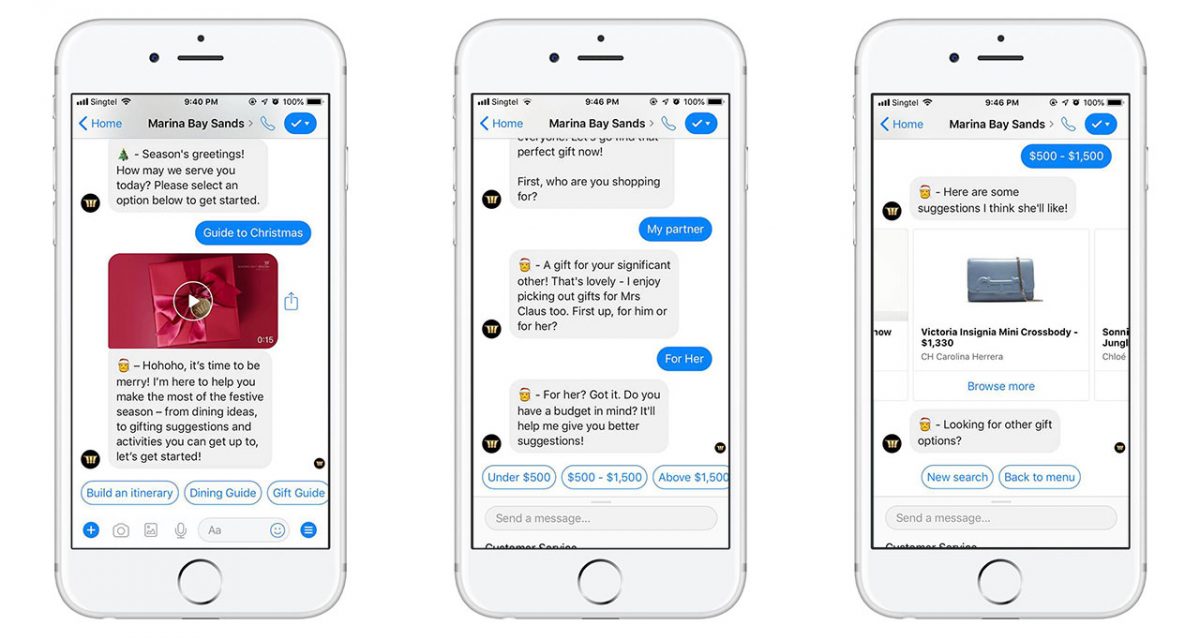 Furthermore, data generated from conversations can be used to create different audience segments and launch effective advertising campaigns.
The result? The company increased new Messenger conversations by 8.3X and boosted views for their shopping and dining website content by 38X.
9. Collect customer feedback
You can't afford to plan your next move purely based on instinct. Expanding your business is like entering uncharted waters and you may struggle to stay afloat.
The good news is you can thrive and figure out your next steps through collecting customer feedback. By asking the right questions, you can determine your customers' behaviour or priorities, and adjust your strategy accordingly.
To get started, identify the overall purpose of your survey. Do you want to gather feedback about your newly-launched products? Are you interested in your consumers' behaviour or planned purchases? You can even launch surveys to measure demand for your brand by assessing consumer satisfaction levels and the likelihood of getting referrals.
A survey must have a clear goal. Every question asked should be related to the overarching objectives. Refrain from asking unnecessary questions. Otherwise, your market researchers will have a hard time making generalizations and analysing the big pile of data.
Next, ask the right questions. There are two main types of survey questions: objective data and subjective data. Objective data primarily focuses on facts such as age, gender and income level. In contrast, subjective data deals with people's attitudes, intentions and behavior.
Here are some example questions that can inspire your next survey:
On a scale of 1 to 10 (10 being the most likely and 1 being not at all likely), rate how you feel about recommending our agency to a friend or colleague?
How likely are you to make a repeat purchase in our online store? Are you planning to buy from our store in the upcoming 6 months?
What type of content or campaigns would you like to see from our brand?
What are the rewards that you'd like to receive from our loyalty program or referral program?
A good tip is to prioritise questions that are related to your main objectives. Focus on understanding the feelings of customers and their current behaviour, and how this will impact your business in the near future.
You should also keep your survey short and simple. If it's too long, respondents are going to abandon the form midway.
10. Show your appreciation
We get that you're running a business and you need to earn money, but don't just ask customers to buy, buy and buy.
This makes your brand seem annoying and not many would want to engage with your business in the long-run. So, consider showing your appreciation to customers.
Send a thank you email each time they make a successful purchase or referral. The idea is to let customers know that you're committed to providing the best products and services. After all, you don't want them to feel like you're taking their loyalty for granted.
Paravel – a subscription-only newsletter – thanks customers during their businesses' anniversary. They send a personalized email containing the time users spent on the platform and their successful referrals to prove their impact on their customer's lives.

At Bombas, for every sock that customers buy, a pair is donated to homeless shelters. With the support of their customers they were able to donate a whopping 3 million socks! To celebrate, they gave customers a 20% off sitewide discount for helping to improve the lives of the less privileged.
How To Boost Your Customer Loyalty?
There are a lot of ways you can boost your customers' loyalty.
Launch a referral program and loyalty program. Reward brand advocates for patronizing your brand and recommending it to their friends. Don't forget to provide incentives so more people will join.
Collect customer feedback to strategically plan the future of your online store. Create compelling content to boost customer engagement and monitor analytics to understand what works and what doesn't.
Leverage chatbots to boost your customer service. Fast and efficient response leads to more conversions in the long-run.
We hope that the tips in this article inspired you to jump in the bandwagon and focus on customer loyalty and building connections online.
How will your business grow and get loyal customers at the same time? Let us know in the comments below.
DOWNLOAD YOUR FREE WEBINAR STRATEGY CHECKLIST BELOW
Use this checklist
to design your very own high-converting webinar marketing strategy from scratch, then automate the process to attract high-quality leads.
We promise to never spam or send emails about cats.
Okay, maybe some cat stuff.