You worked hard, and now you have a great product to put on the market. But, no matter how good the product is, it's not going to sell itself.
That bit of leg work falls to you to complete. To provide some much needed exposure and get people excited about your product, you'll want to organize a sales webinar, teach people something useful, and show them how your product can help them solve their pain points. 
Did you know the secret of a sales webinar lies in the offer? Most people are not fully aware of this. Instead, they focus only on promoting their product, talking about all the benefits, and then state the price at the end. That's it.
That doesn't sound like a very compelling offer. Your product is not your pitch; it is only one part of your offer. The idea is to make your offer so good that people would be crazy not to jump on it right then and there.
Now, you may ask me: How do I make my offer so good that my audience wants to buy it straight away? How do I give them a no-brainer offer?
There are a few things you can do to make the offer irresistible, which I will walk you through in this post.
Here, I will summarize the knowledge about creating compelling webinar offers I've collected in the past decade. My team and I at Data-Driven Marketing have been testing this out with our clients over the years, and we got the best results when we used this approach. 
You don't have to use all of the suggestions, but you should pick the ones that suit your product and business the best.
In this post I explain about the offer for your webinar. To help you to understand how this fits into your overall webinar funnel I've made a video explaining all the steps in an ideal webinar funnel. View the ideal webinar funnel map video.
Now, back to your compelling offer.
DOWNLOAD YOUR FREE WEBINAR STRATEGY CHECKLIST BELOW
Use this checklist
to design your very own high-converting webinar marketing strategy from scratch, then automate the process to attract high-quality leads.
We promise to never spam or send emails about cats.
Okay, maybe some cat stuff.
Let's begin. You have a product and a price, now here's what to do:
Show value, not just price
Price is what people will pay, value is what they will get. Price is fixed, value is perceived. You want to show your audience that they are paying a very small amount compared to what they will get for it. How do you do that?
Show them the benefits they will receive after they purchase your product.
For example, if they can triple their revenue by using your product and they only have to pay $500 to get it, that should definitely be highlighted.
If they can save time by using your product – for example, they can finish their work in half the time for only $100/per month – that's a good deal. That also means they can double their income in double the time or just use it for spending time with their family, which is priceless.
If your product combines different services, you can state the price of each and compare them. They would pay, for example, $50 for service 1, $80 for service 2, and up to $100 for service 3 while they can get everything through your product for only $170.
If including bonuses, state the price of each one individually. Then, state how they will be getting them for free if they buy your product.
Russell Brunson from ClickFunnels explains this really well.
He says: "Make the thing you are offering so much more valuable than the thing you are trying to get in return."
You never sell only the product itself; you are offering a solution for a problem your audience has. That's how you should create the offer. For example, if you are selling organic supplements, you should not offer just the bottle of the supplement. If you do that, people can find a different, cheaper one and they will buy it.
But, if you offer them the organic supplement plus a meal plan that goes with it, that will help them lose weight along with receiving an ebook about other ingredients they can combine and use to be healthier – that's a great offer. You don't want to sell just a bottle, you want to offer your customers a better, healthier life!
This leads us to the next option:
Add bonuses to your offer
Based on what your product or service is, add a few bonuses. People always love to get something extra.
Usually, the main product is what people need, but a bonus is something they really want. Bonuses should be cool, fun, and sexy, something to make people say, "Oh, yes, I want to have that!"
Bonuses can be:
Templates
Case studies
Swipe files
Checklists
A free coaching session or consultation
PDF or ebook
Worksheet
A Facebook group
It has to be related and/or complementary to the product/service you are offering and useful for your audience. Something they would really like to have and benefit from.
If you still have a hard time coming up with something to give away as a bonus, think about what the main objection is for your prospective clients. Then, offer them a solution as a bonus.
For example, if you were selling a Done For You funnel building service, your target group may say, "It sounds great to learn how to build the funnel, but I'm not going to have time to write all the copy." You can address this by offering free email templates as a bonus. They are pre-written, all the customer has to do is fill in the blanks.
They can say: "What if I have questions about this?" As a bonus, the customer will have access to a private Slack group where we'll be answering all the questions along the way.
"I am disorganized and unable to finish everything I start." The bonus in this case is a planner – we have a template which will tell you what to do and when so you don't forget.
Here's a great example from Amy Poterfield's webinar on Facebook Marketing Secrets course. Notice she has four modules and six bonuses, which makes this a compelling offer!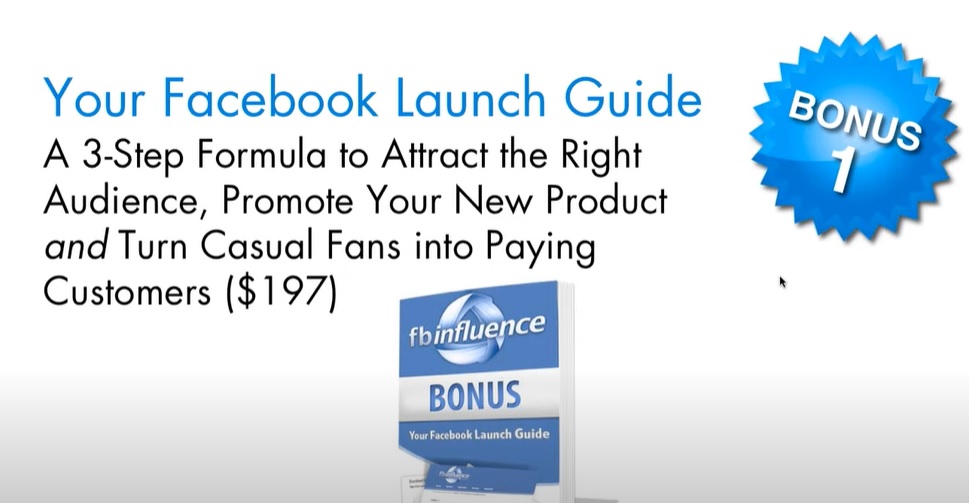 In the end, the offer looks like this and you'll be crazy not to buy it!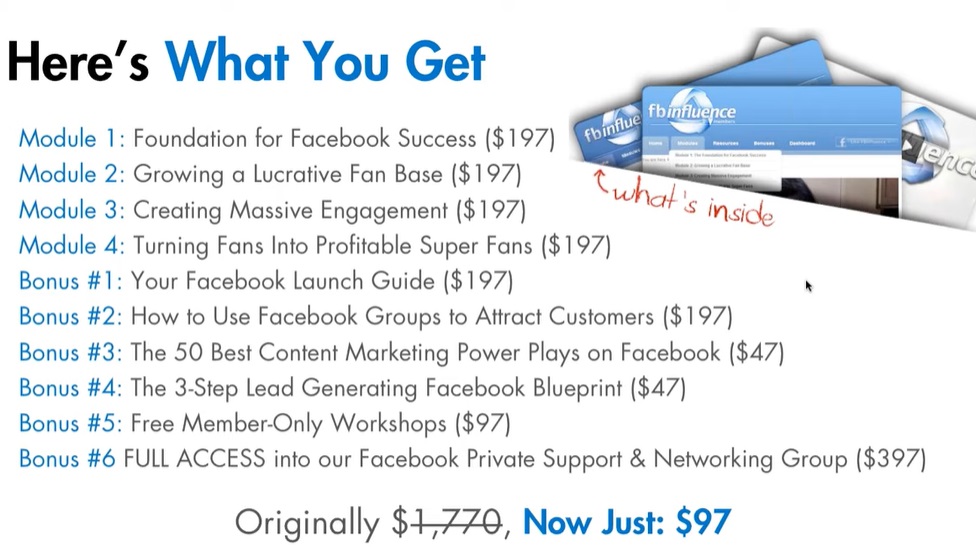 And here is another example from Russell Brunson: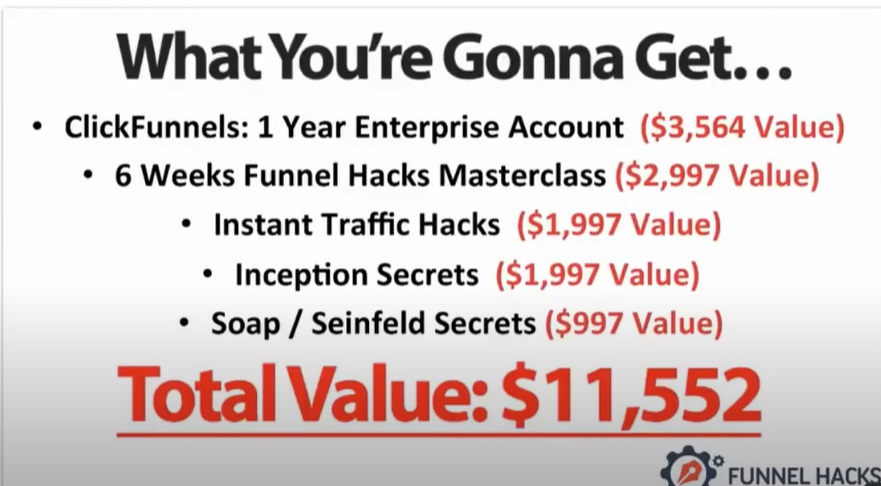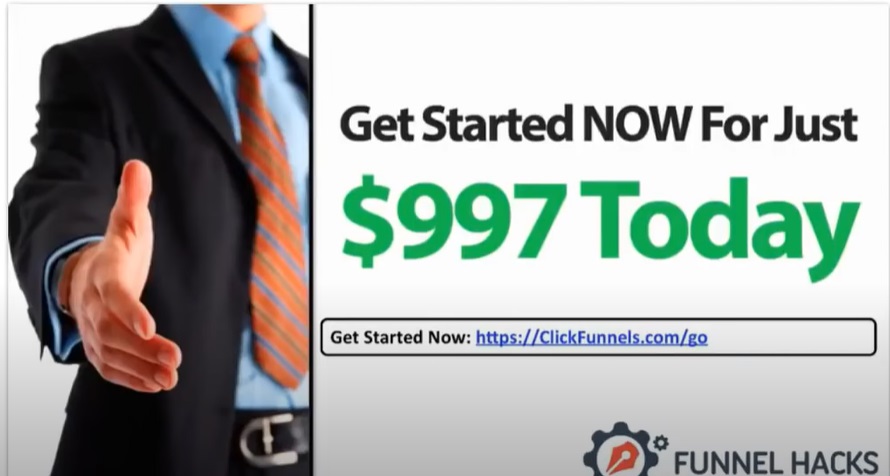 This is the compelling offer we've created for our Funnel Accelerator online course: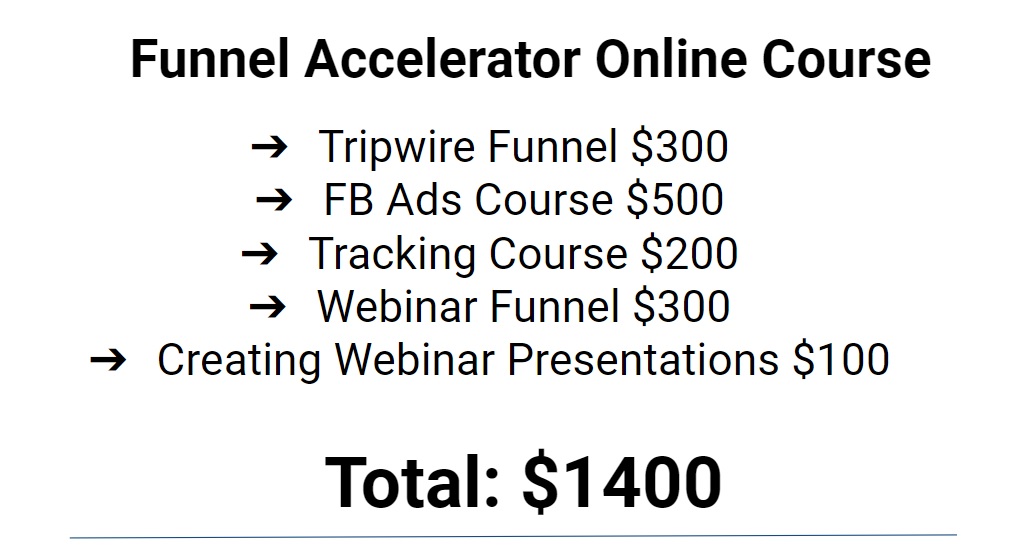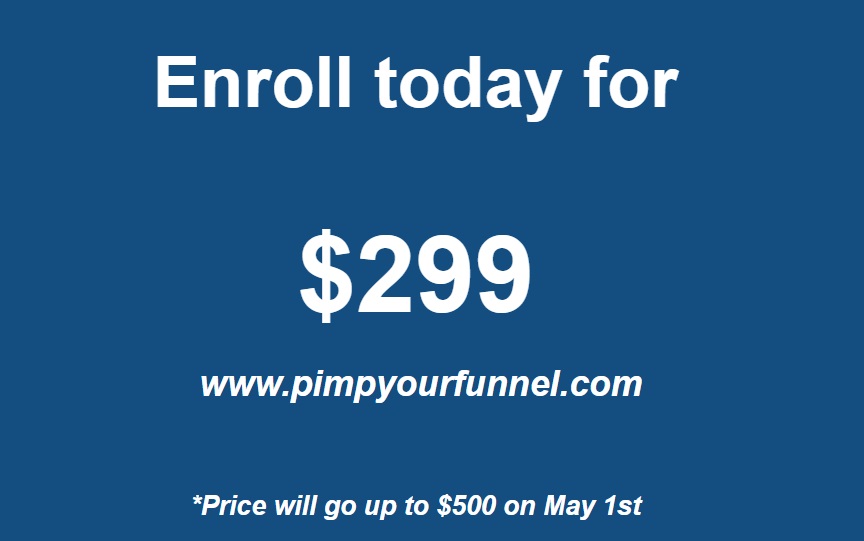 This brings us to my next two suggestions:
Give a discount
This is a very common practice, so I won't explain it in detail. Yes, this means your profit margin will be lower, but you will be able to sell more. That's exactly why discounts work 🙂
The next point deals with a very important component of discounts:
Add scarcity or a time constraint
Customers will get the bonus and the discount only if they buy in the next 24/48/72 hours. Your irresistible offer is not going to last forever, so they better hurry up.
Another option is to add scarcity: Only the first 50 people who buy or sign up will get this deal at this price and with these bonuses. Here's an example of how Russell Brunson utilized this strategy at one of his webinars: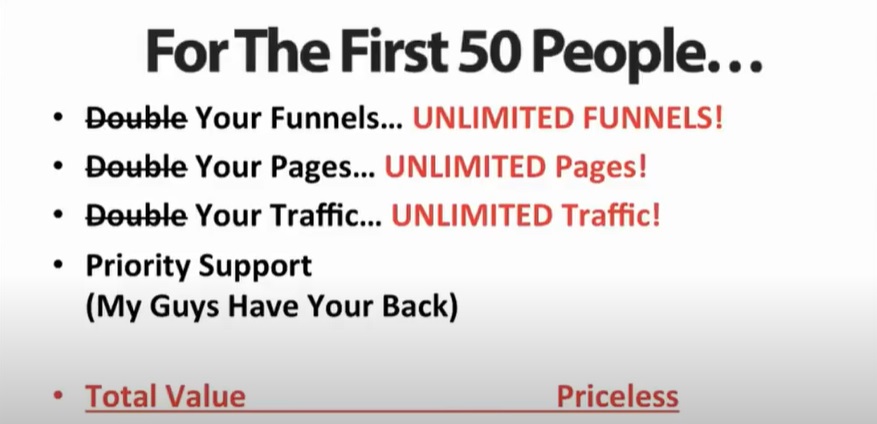 The reason why this works so well is because people tend to procrastinate. They think, "I can do this later," but if the amazing deal is about to expire, then they need to take action NOW. You can put a countdown timer next to your offer as a constant reminder that it will expire soon.
There are four ways you can insert scarcity:
Price goes up
Offer goes away
Bonus goes away
A portion of the offer goes away
Early bird people get all bonuses now and all future bonuses
In Robert Cialdini's book Influence, he showed that urgency and scarcity were two of the most important tactics for increasing sales. All our work at Data-Driven Marketing has shown the same thing. We see huge spikes just before a deadline expires.
We recently helped a client do a $200,000 launch with a webinar as one of the crucial steps, and below is the graph of when the sales came in. We changed the real numbers because those are confidential, but we kept the proportion so you can see the spikes in sales by the end of the 3-day promo period and after the last chance email: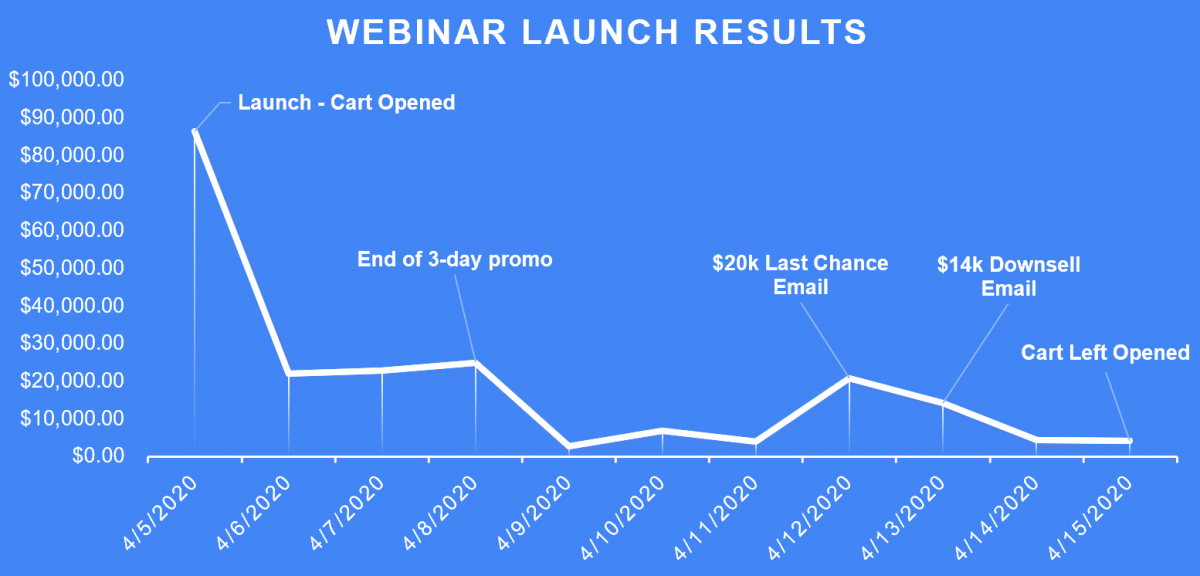 Offer different payment options
There are several ways to offer payment options. For example, the buyer can pay $1400 at once or three installments of $500. The point here is that if they pay all at once, it will be a bit cheaper, but they can split it if that's more convenient.
You can also be nice and just offer to segment the payment in a few monthly installments.
Another option is to combine it with the previous point – time constraint. You can have multiple deadlines – one before you move the price up, and another deadline until they can use the payment plan.
Create a bundle
If you have different products you are selling and it makes sense for your business model, create a bundle. By this, I mean offer an additional two, three, or four smaller products along with the major one for a price that is a bit less than if people would buy them all separately. If people can buy five products for the price of two or three, that's a good deal.
Cell phone companies do this. For an additional $50, they'll offer a phone case, a car charger, and screen protector. People know that a phone case alone is $40, so they want to go for the bundle.
Show before and after
Stories are very powerful and inspiring if told correctly. The simplest before and after story is: "First, I was ______________. Now I'm ___________."
These are stories of transformation, and they work great in any market. For example, in the weight-loss market, you might say, "First, I was fat. Then, I tried Program X. Now I'm skinny."
Afterwards, you give them a choice and tell them what their life will look like with each option. Nobody likes to be told what to do. We always love to have options, right? So, at the end of your webinar, you want to make your audience an offer – let them choose what they want to do.
They are in control. Their options are: keep doing whatever they were doing before and get the same results they've been getting, or they can take your offer and change their lives. It can look like this: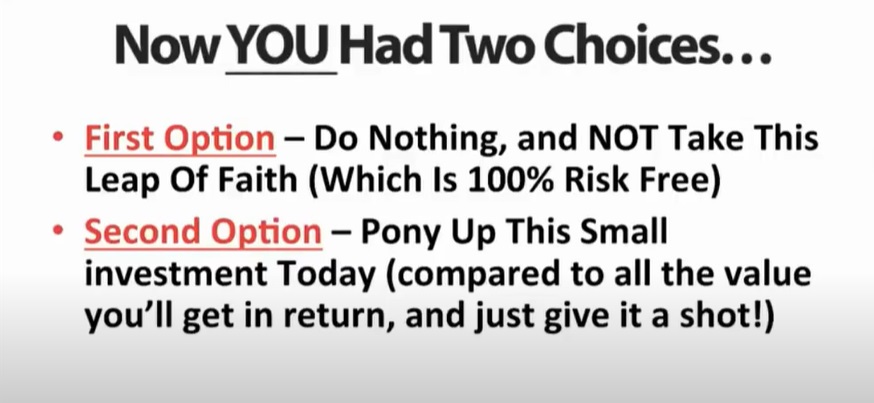 When creating this section, it's good to emphasize their pain points and how they are feeling now. They all showed up to attend your webinar so they can solve a certain problem. Then, you can explain how they would feel after they buy and use your product/service. It's a lifesaver, the irresistible offer they don't want to miss!
When showing before and after, there are different aspects of people's lives you can talk about:
Average day
Emotions
Status
For example, to focus on emotions: You are feeling frustrated and overwhelmed, you are not sure which marketing tactic to use and which one will work. You are worried you will spend time creating funnels that will fail. With our Done For You service, you will be able to focus on what you love and enjoy doing while we take care of your marketing! We will do everything for you and set up your funnels so you can start making money on autopilot! You can feel relieved and relaxed.
To focus on status: You will have more free time you can use to grow along with your business. You will be able to expand your team as well and go from a small to a medium size business. You will have more time and money to attend different events and enjoy life.
To focus on the average day: You won't have to wake up every day confused about what to do or try today. It will be clear what you need to do and you will have more confidence.
Offer a guarantee
You are so confident your product/service will deliver results that you are offering customers a 30- or 60-day money-back guarantee, no questions asked. Remove the risks. Emphasize there is nothing to lose. This makes your offer truly compelling.
The offer is the most important aspect. You don't have to use all of the suggestions I mentioned here, but add in as many points as you can to make the offer unbelievably appealing. It should just be so good people can't believe it.
You can get creative with this. For example, the price of attending a Ryan Deiss live event Traffic & Conversion Summit is $1400. His offer? Pay $700 now to attend and another $700 after you implement what you learn and get results. If you don't make at least $5000 within 90 days of the event, you don't have to pay the remaining $700.
By now, you should know why your product is not your offer. Once you implement suggestions from this post, I'm sure you will notice a huge difference in your conversion rate!
As you know, the offer comes at the end of your webinar. In order to have a successful webinar that converts, make sure you have a good webinar funnel in place.
Let's take a deeper look
In this post I've explained about the offer for your webinar and how critical is for your sales event.

That's only part of your overall webinar funnel, to help you to understand how this fits into overall process. I've made a video here explaining all the steps in an ideal webinar funnel.

I hope you enjoyed these steps and as always, if you have any other questions don't hesitate to leave comments below.
DOWNLOAD YOUR FREE WEBINAR STRATEGY CHECKLIST BELOW
Use this checklist
to design your very own high-converting webinar marketing strategy from scratch, then automate the process to attract high-quality leads.
We promise to never spam or send emails about cats.
Okay, maybe some cat stuff.