Let's kick off this webinar branding article with a cool post I found on Instagram.
Yes, instead of writing this article, I've procrastinated for hours by scrolling through Instagram. Don't judge me.
These are the effects of the quarantine/working-from-home situation. You sit down early in the morning, hopeful that you'll do lots of work, only to realize that it's already 5 p.m. and you didn't even look at your to-do list.
Curse you, internet rabbit hole!
Anyways, so while scrolling through my Instagram feed, I bumped into an interesting carousel post created by Joana Galvão and published by Chris Do.
The post opened up with an invitation to play a game and then followed up with a series of three comparative images:
Cheap shampoo vs expensive shampoo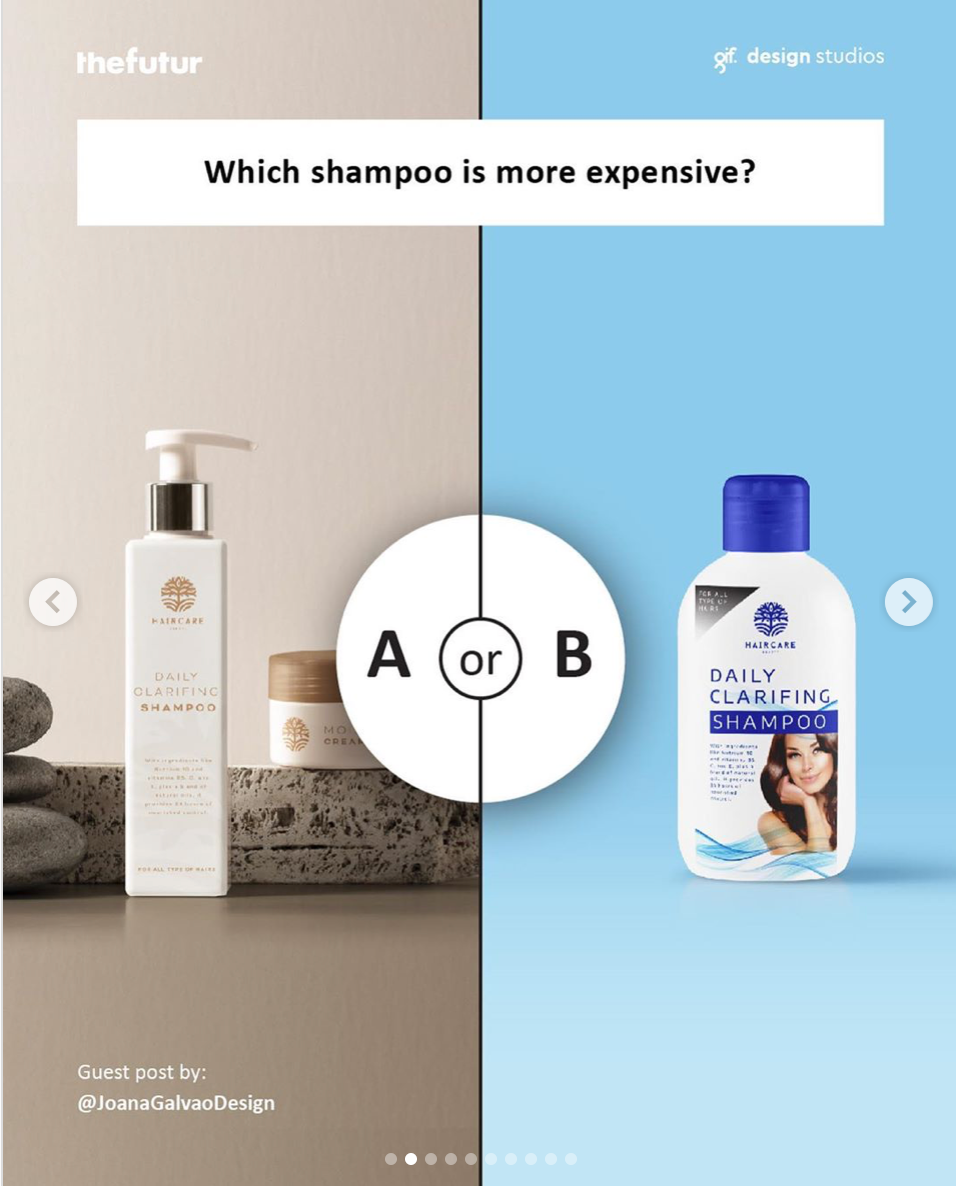 Which coffee is the strongest?
Healthier ingredients?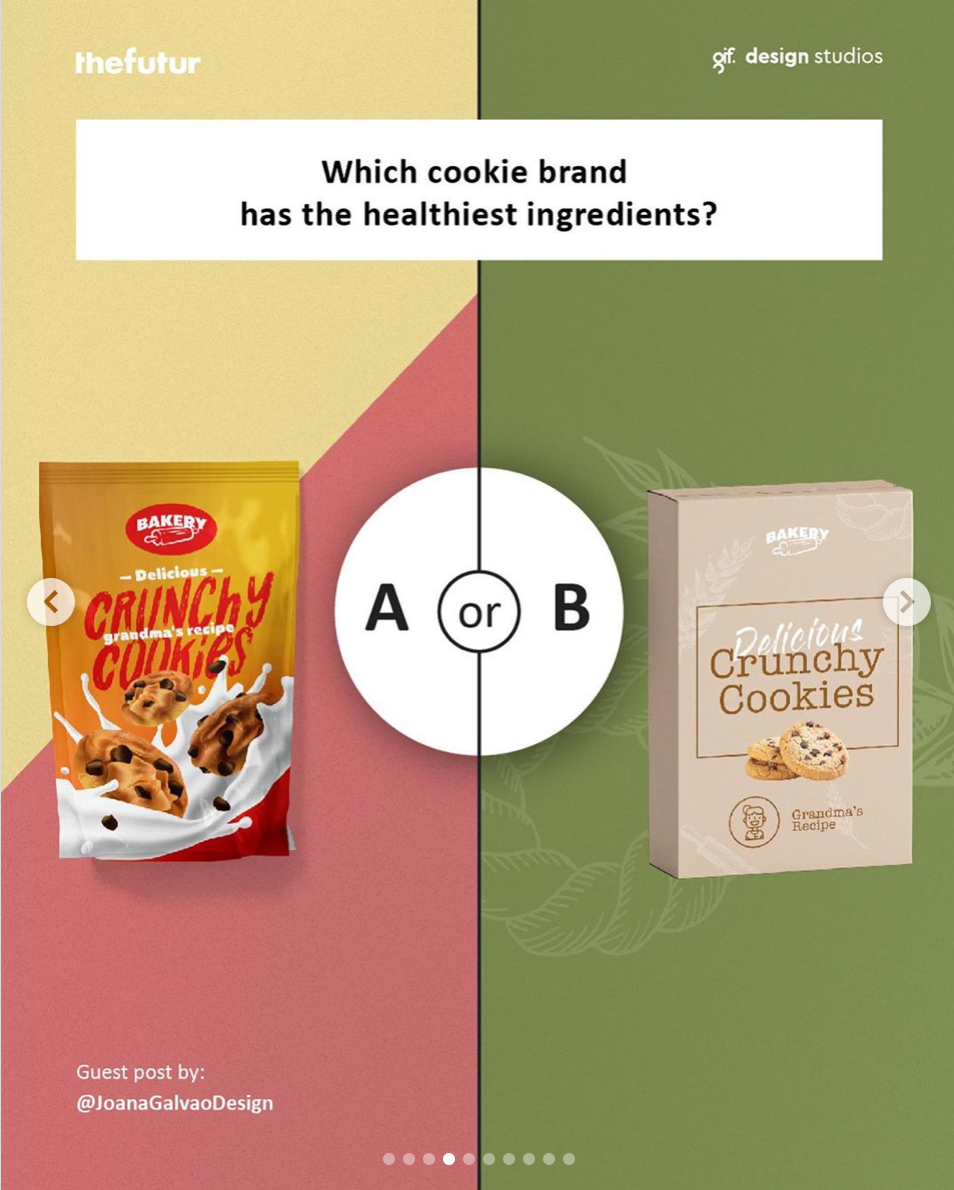 As you can see, we're presented with the option to choose between an average package design and a stunning package design.
And although a product with a plain-looking package is something we encounter most of the time in supermarkets, a well-thought-out and beautiful package always stands out from the rest.
You only have one chance to make a good first impression
That's why, if you're like most people, your answers will be:
Version A looks like the more expensive shampoo.
Option B looks like the stronger coffee.
Option B looks like the healthier cookie brand.
The trick, though, is that regardless of the design, the options had the same logo and the same copy.
Say what?
Yes, the shampoo brands are the same, the coffee brands are the same, and the cookie brands are the same.
The only difference is the design.
Although the product is the same, we may tend to give preference toward those that look better (aka have a branding strategy behind).
That being said, the Instagram post concludes that you only get one shot at making a first impression with your brand, so you better not mess it up.
Why am I telling you this story?
Because branding isn't just for products only—you can also apply it to your webinars.
Webinars in sweatpants versus webinars in suits
I know it sounds weird, but hear me out. Let's say you're walking down the street surrounded by a big crowd. (I know it's difficult to imagine that these days, but let's remember what life used to be like once upon a time).
So, you're walking down Times Square in New York, and you're surrounded by people wearing … sweatpants. Everyone got so used to being in quarantine that they've adopted a new way of dressing, called "stay-at-home" style.
DOWNLOAD YOUR FREE WEBINAR STRATEGY CHECKLIST BELOW
Use this checklist
to design your very own high-converting webinar marketing strategy from scratch, then automate the process to attract high-quality leads.
We promise to never spam or send emails about cats.
Okay, maybe some cat stuff.
Gradually, you get used to the image as you walk around—until one moment, when somebody catches your eye.
It's a young man dressed up in an Italian linen blazer, a washed button-down shirt, stretch chinos, and suede derbies. Notice what you feel? How curious you got?
You're following some random guy around and wondering who he is because he's the only person you've seen so far not wearing sweatpants.
You may even be interested in striking up a conversation, or maybe you're just thinking about ditching your own sweatpants and buying some nice clothes.
In any case, this is what's happening with your webinars.
Your webinars are all basically wearing gray sweatpants. They're just a series of videos your company is recording because all the other brands are doing the same thing. Yet, there's absolutely nothing that makes them different from the rest.
It's the same case study, demo, onboarding, or educational webinar that you rush through, hoping to get a few more leads.
There's nothing extraordinary about these videos that look more like they were filmed in your house rather than professionally executed pieces of content that people will love to consume.
Break through the online clutter during the "new normal"
By ignoring webinar branding, you're missing the opportunity to create something great, increase your brand's awareness, and build a high-quality audience that will eagerly anticipate when your next new video will be launched.
Moreover, without webinar branding, you'll just disappear into the information ocean we're all swimming in.
And this ocean gets bigger with each single day, especially now that we've entered a "new normal."
COVID-19 will have a great impact in terms of online content creation. "How?" I hear you asking.
I also hear you wondering, "So what if people start publishing more videos or writing more blogs? Those have nothing to do with my webinars."
Well, think again.
Indeed, a few more videos and content creators won't threaten your webinars, but there's something much bigger that will soon take over the internet.
An entire industry is moving online.
Which industry? (I'll give you a hint: one of the industries that was hit hardest by the sanitary crisis).
The answer is, of course, the events.
Yes, more and more brands and companies have decided to take their events online, and this won't change once the pandemic is over.
One-session conferences, online networking, digital brand experiences, online events, and festivals—all these dynamics will take over the internet and will overshadow your webinars.
People will have so many things to choose from that they'll skip right over your sweatpants-wearing webinar. To stand out and stay relevant, you'll want to rethink your webinar branding strategy.
What's webinar branding?
Branding itself is less about the actions you take to give your product a look and more about the feeling people get by interacting with it. According to another guest post by Rahul Bhogal, published on Chris Do's Instagram feed,
Branding is at the core of your marketing strategy, so branding comes first. Your marketing tactics will change according to current industry and cultural trends—but branding typically remains the same.
That being said, webinar branding is a prolongation of your company brand that can stand alone.
According to Anna Walsh, Director of Growth Marketing at Narrative Science,
Webinar branding helps with two things: consistency and distinctiveness. You want your audience to recognize your webinar, and you want your branding to stand out next to others in the market. The branding should be similar to your corporate branding, but have a distinctive twist that lets it live on its own. This is a great place to get creative and take risks – have some fun with it! Use webinar branding to show your personality.
In other words, webinar branding is the unique personality and voice you can convey through your webinars that can exist by itself, as well as strengthen your company's overall brand identity.
How to make your webinars stand out in 2020
Remember all the effort you're putting into recording and promoting your webinars.
Finding a strong webinar platform, designing the editorial concept, finding the right hosts, securing high-level guests, and getting people to attend and engage are just some of the things you have to be aware of when launching a new webinar.
Think about the time and resources (*cough* money *cough*) you invest in one webinar only to end up hearing … crickets chirp because no one watched it.
It's definitely not a nice feeling.
So how do you keep this from happening and make sure that your webinars will always stay relevant and stand out in 2020?
The only way to really do that is to take webinar branding seriously and work on it. And to help you with these tasks, we've put together a series of webinar branding steps to consider:
Step 1. Design a webinar branding strategy

Let's start by strategizing. Webinar branding is not about making your webinars look nice and pretty. That's not the goal. Webinar branding is a tool that will help you achieve your marketing and business goals.
These KPIs are different from business to business. For example, you may want to attract top-of-the-funnel leads and secure their first contact with your brand.
Or you may want to engage qualified prospects and convince them to buy your product. Additionally, you may run onboarding webinars as a way of reducing the work of your customer success team, who'd otherwise be on the call all day long showing the platform to new users.
In any case, before you start to design your webinar branding strategy, outline the exact goals you want to achieve and the ways you'll be measuring your success.
Then, you can proceed with a detailed document that includes the webinar format, name, differentiating elements, niche content you'll be presenting, strategic guests you want to invite, and workflow.
You can't have a successful webinar branding strategy without having a clear vision as to what you want to achieve.
Step 2. Define your webinar voice

The same way you have a brand book that outlines your company's character and personality, you'll need a guideline that will help you maintain a consistent webinar voice.
You can convey this through your hosts' personality and the webinar copy itself. And when I say "copy," I think about the webinar landing pages and promotion campaigns.
Yes, even when it comes to webinars, which are recorded forms of content, it's important to work carefully on the copy that presents it.
You can make your webinar stand out by using humor in your copy. PandaDoc is a great example.
Just look at this headline: "6 Ways to Slow Down Your Sales Cycle and Lose Your Deals (Just Kidding)." This headline draws much more attention than something like, "How to Speed Up Your Sales Cycle and Gain More Deals."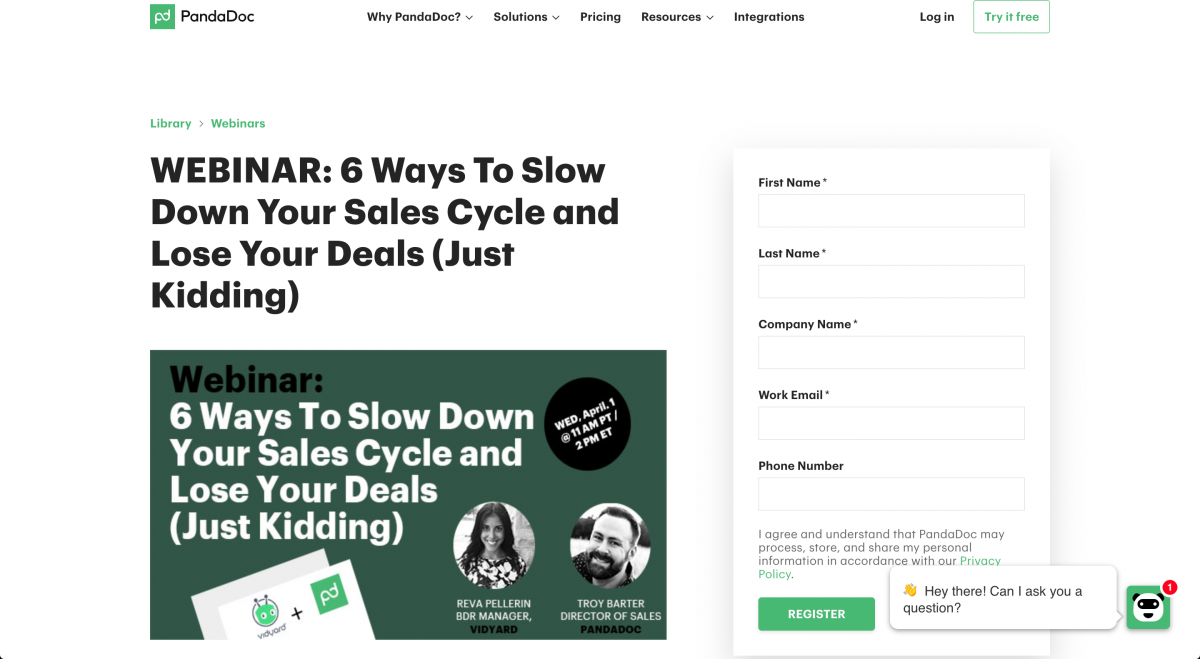 Although the second title seems promising, the industry stakeholders (aka your audience) are already insensitive to generic headlines, and they'll just skip right over your webinar.
But when you provide a headline with a twist, chances are they'll pay more attention to your webinar and maybe decide to attend.
Take a look at Yotpo's webinar copy.
Instead of just presenting the guest under the generic sub-headline "Guest," Yotpo's copywriters decided to add voice and personality by writing, "We sat down with Amy Saunders, Creative Team Leader at Green People, to discuss the New eCommerce Growth Model and tips and tools for cultivating lasting customer relationships."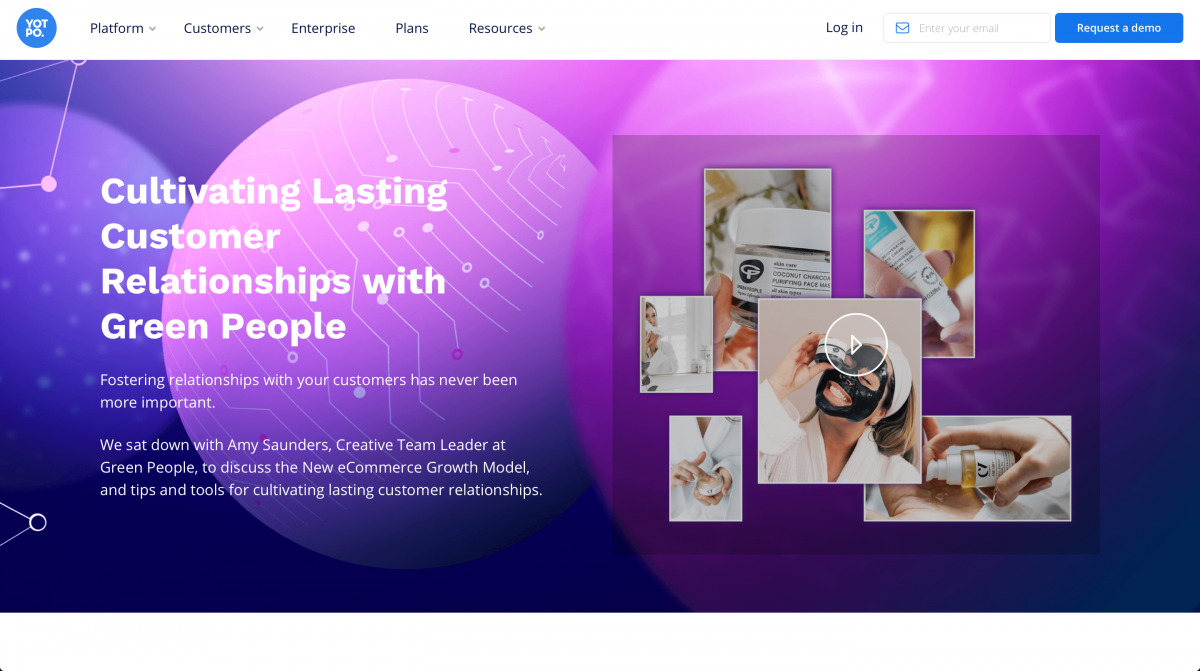 What they're doing is presenting action and displaying their presence, not just going for boring, faceless webinar copy.
Step 3. Create a webinar series

This one's pretty important. The problem with webinars is that you can simply access a library, scroll through the titles, and then just close the page and then forget about it.
Out of all the companies I've studied (and believe me, I've studied a lot of them), I've discovered that only a few actually package their webinars into series.
The rest are just publishing videos on different topics, covering different case studies, and even talking to different audiences.
Their webinars aren't well-articulated under a specific editorial concept. They may just have simple tags such as "Education Webinar," "Demo," or "Success Story," but there's no core, and that's essential if you want a results-driven webinar branding strategy.
Luckily, there are some good examples too.
Just take a look at the companies ActiveCampaign and monday.com. ActiveCampaign has a few webinar series. The first one is called Office Hours, and it encourages open conversation between all levels of users.
Getting Started Part 1 and Getting Started Part 2 series talk about the ActiveCampaign setup. These two series focus mostly on BoFu and beginning customers, and also serve as onboarding documentation.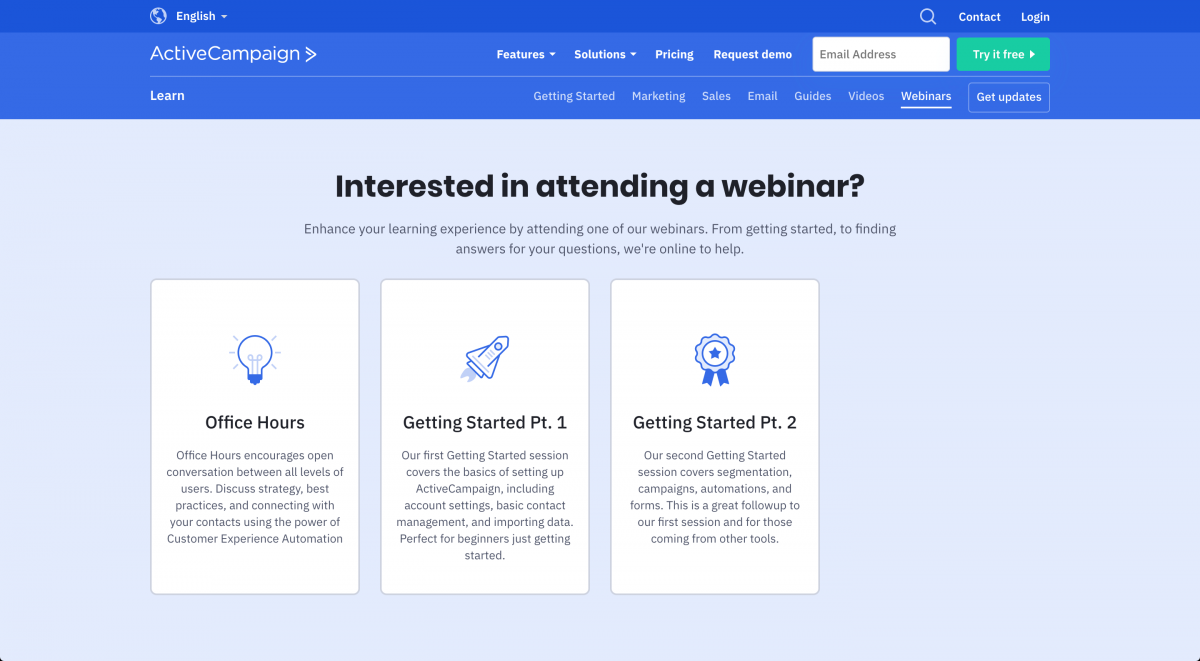 Monday.com, meanwhile, has launched webinar series such as Daily Walkthroughs and Live with our Founders.

Drift is another important example.
Mark Kilens, the vice president of Content and Community at Drift, runs the Drift email webinar and invites different guests to discuss email marketing.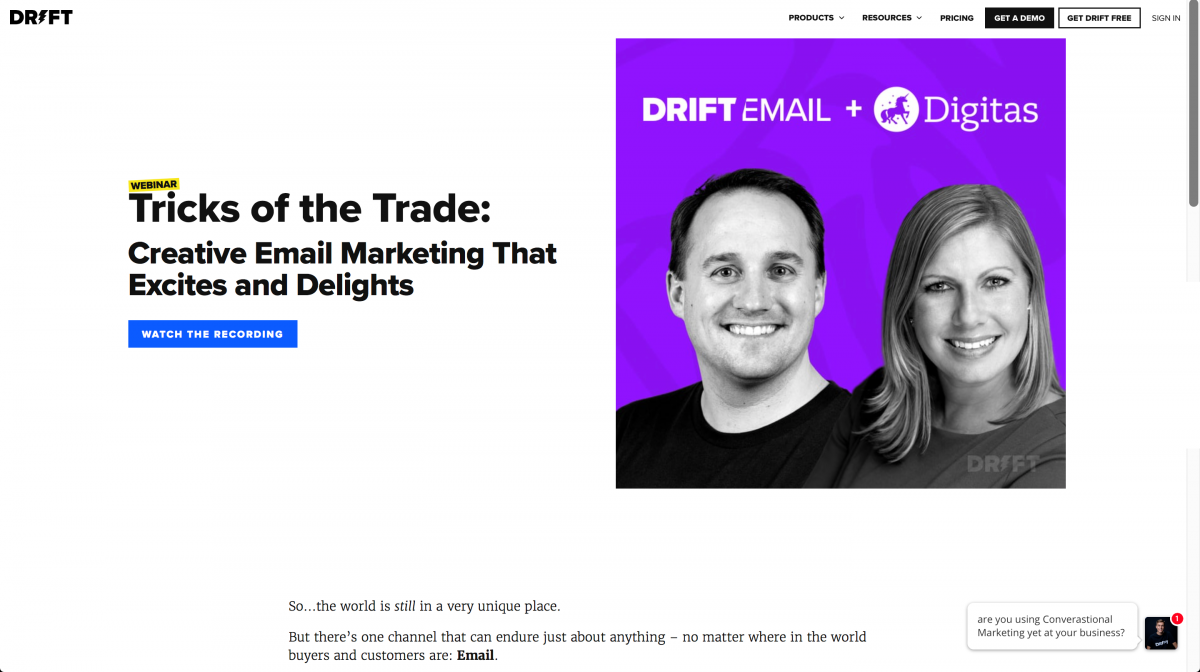 Another Drift webinar series is All About ABM, which is a collection of three virtual sessions from some of the top minds in account-based marketing.
As you can understand, there is some logic behind these series, a foundation that articulates the editorial philosophy behind these webinars. It's the same thing as grouping your YouTube videos, depending on the topic or format.
When I asked Mark about the importance of creating webinar series, he said:
I think it's important because you can go deeper into different topics, you can keep the audience engaged more throughout each webinar and between each webinar, and you can repurpose that webinar series into several different pieces of content afterwards.

It's also about consistency in what your educating people about. It should align to the pains and challenges you help people overcome. We used an integrated campaigns approach to planning our webinars.
So if you want a strong webinar branding strategy, you'll have to come up with a series that will help you articulate and communicate the editorial philosophy behind your webinars.
Step 4. Come up with a strong webinar series name

Creating a webinar series is only half of the challenge—you'll also need to come up with a strong and memorable name for the series. As we mentioned earlier, webinar branding can stand alone and become a first-rate industry series people reference, which is why you'll need to have a name for it.
Scale or Die by Proof is a very good example.
The name of the series is short, memorable, and straight to the point, meaning you can easily understand what the webinar is about.
So before you launch your webinar series, sit down with your marketing team and brainstorm as many names as possible, then choose the one that is most aligned with your editorial concept and the industry you're operating in.
But don't take it lightly.
If you want to build a real webinar branding strategy, you'll want to guarantee that your webinar series can exist by itself, so give it a memorable name.
Step 5. Make your webinar format stand out from the others
These days, we're seeing so many online events popping up and trying to differentiate themselves from regular webinars. But at the moment, there's no real differentiator between these two. Both webinars and online events are streamed live, yet can be recorded and streamed afterward.
They also involve an audience you try to gather through promotion. Plus, both involve engagement through live polls and Q&As, and both can be used as content assets afterward.
Having this in mind, why not diversify and try a new approach to webinar branding by launching a new format?
For example, we at Demio ran a SaaS Breakthrough Virtual Summit. It had the same structure of a webinar, but we packed it as an online event that lasted for a few consecutive hours.
It also had a strong identity that, while aligned with our brand identity of Demio, could also stand alone.
For a better webinar branding strategy, I'd encourage you to search for new formats and package your webinars as online conferences, virtual workshops, or even fireside chats.
This last format is especially interesting, and SproutSocial did a great job in offering its audience a CMO Fireside Chat packed with value and great insights.

All these formats and experiments will help you differentiate your webinars from the rest and build a real media product.
Step 6. Power up your webinar with branded visual assets

Another way in which you can build and communicate the brand identity of your webinars is by using different visual elements, such as with the design of your landing page.
Leadpages has a beautiful webinar landing page with branded colors, typography, and elements.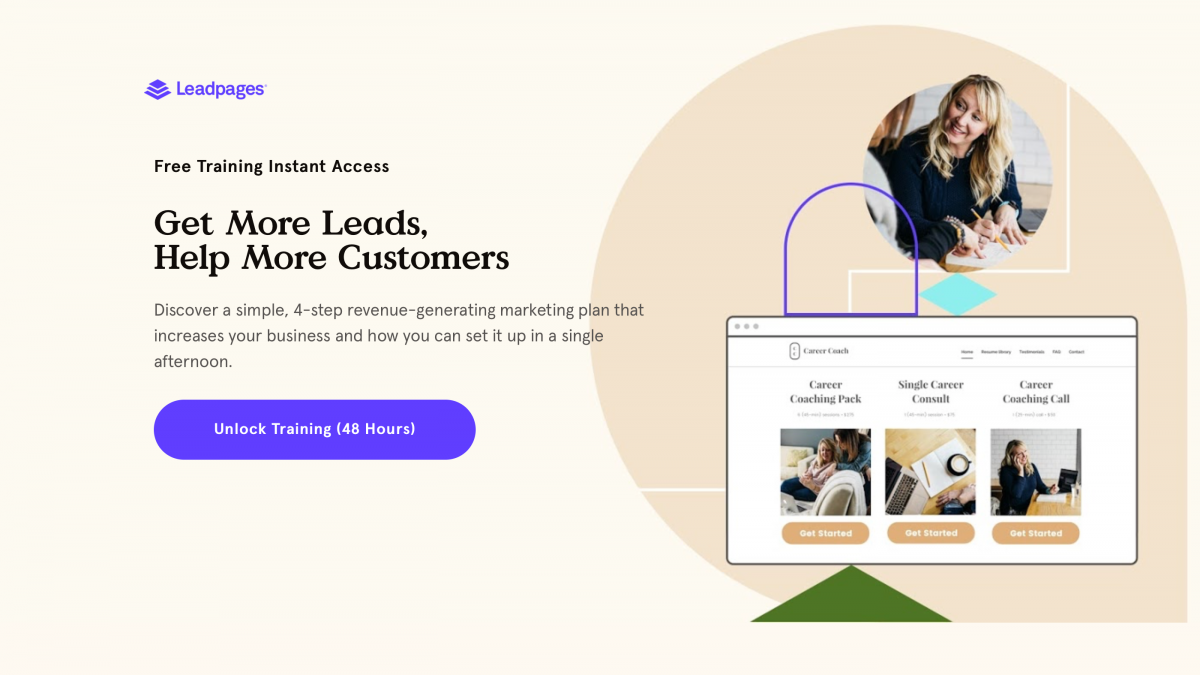 Or maybe it could be the featured images you're using for your webinar. In this case, I'd like to highlight the awesome webinar branding work Intercom and Yotpo are doing.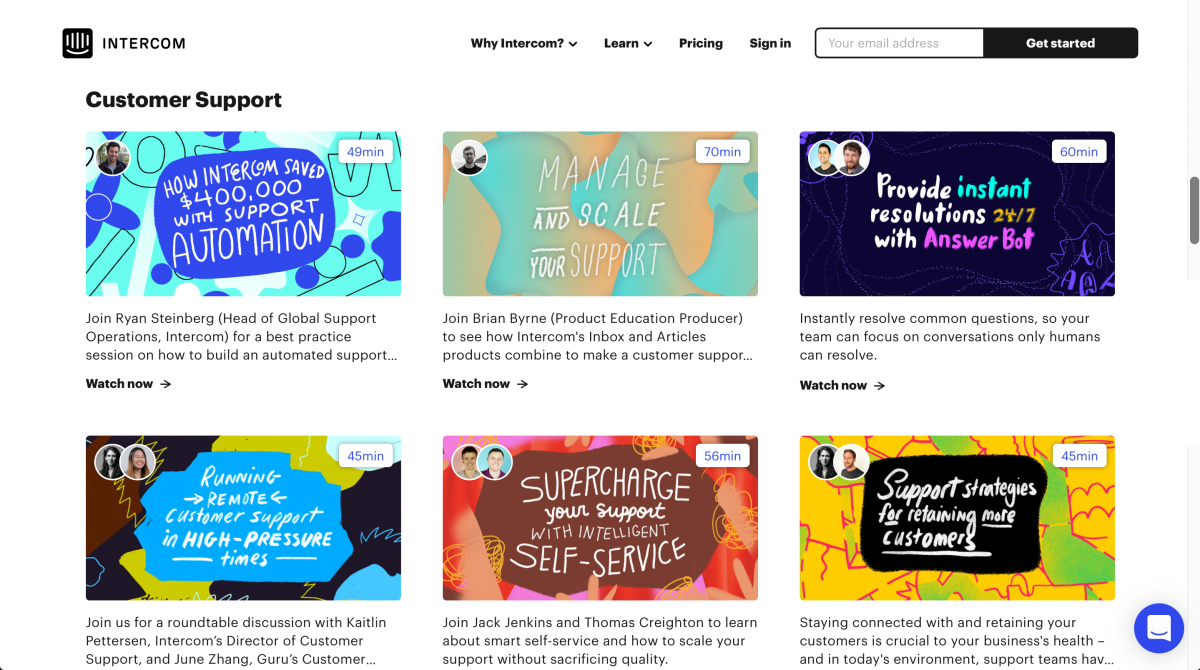 In both examples, you can see and feel their webinars' brand identities.
All the colors and visual elements they're using are reinforcing the personality of their brand and essence of their webinar editorial concept.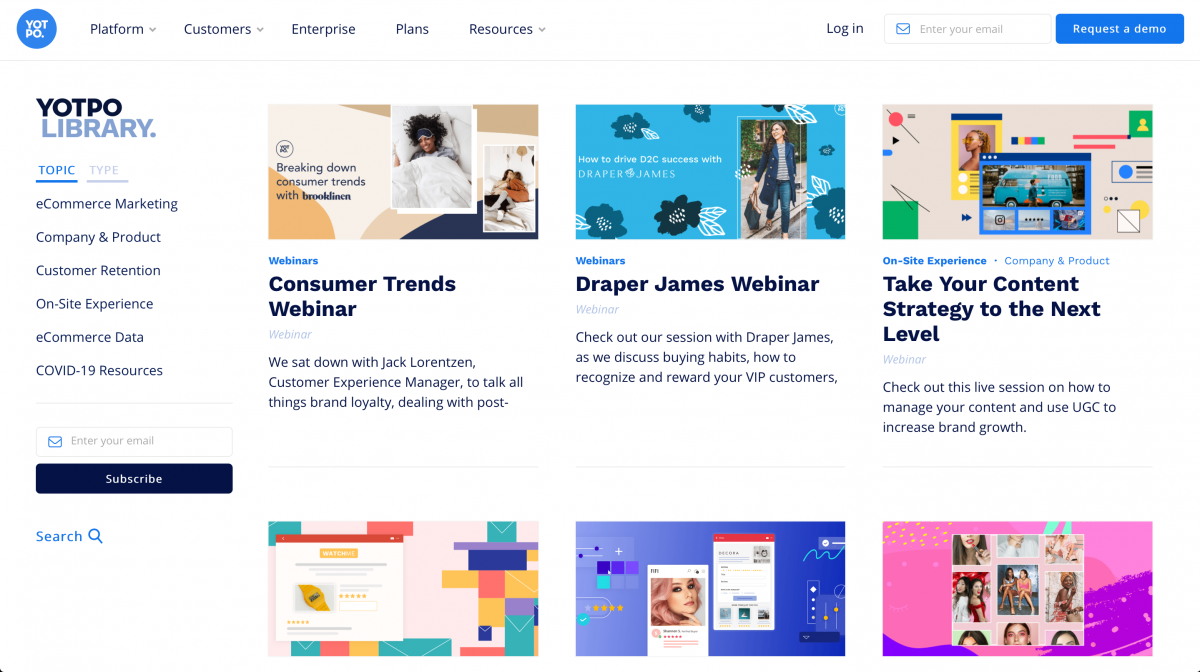 Another important visual asset can be the design of your webinar studio. Let's take a look at Proof, which has a well-designed studio for its guests.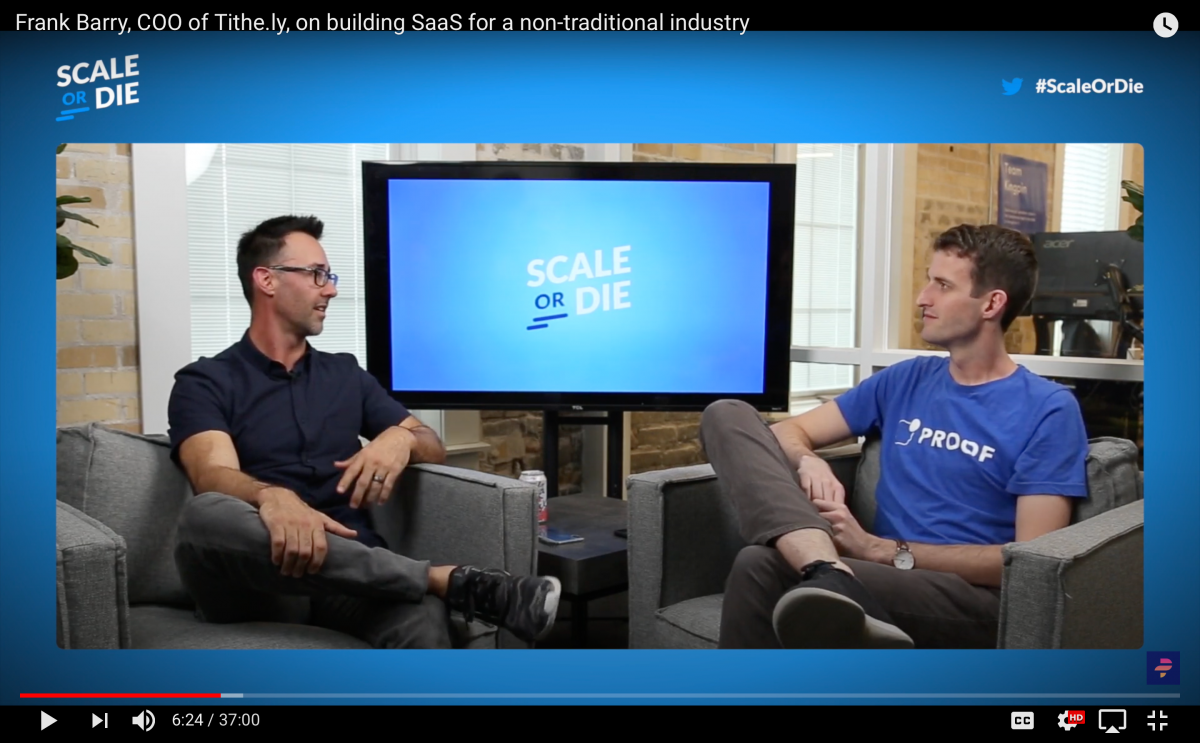 The design of your studio will add to your webinar branding, strengthen your strategy, and highlight the essence of your recordings.
Another visual asset can be the design of the webinar presentation slides.
Miro does a fantastic job in terms of overall company branding, which is easily apparent in its webinar presentation slides.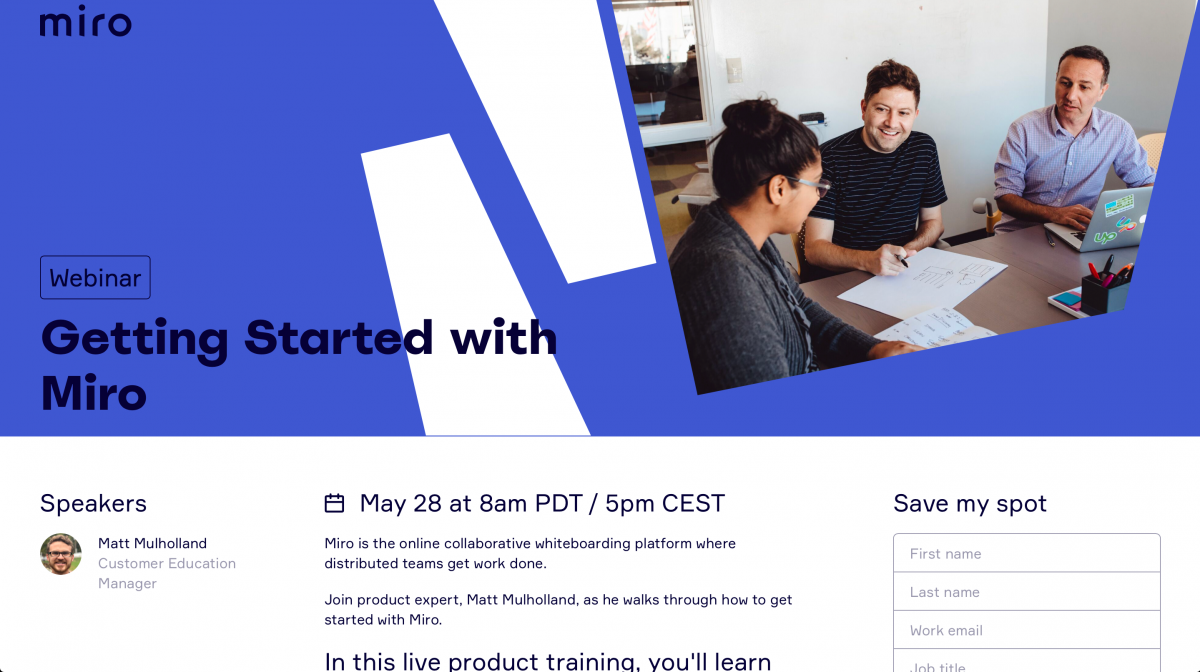 According to Matt Mulholland, Customer Education Manager at Miro …
We have a really strong brand identity and we have the added benefit of presenting from within our own product. We are sure to use assets provided by the brand team to make sure that our presentations are visually appealing and adhering to our brand.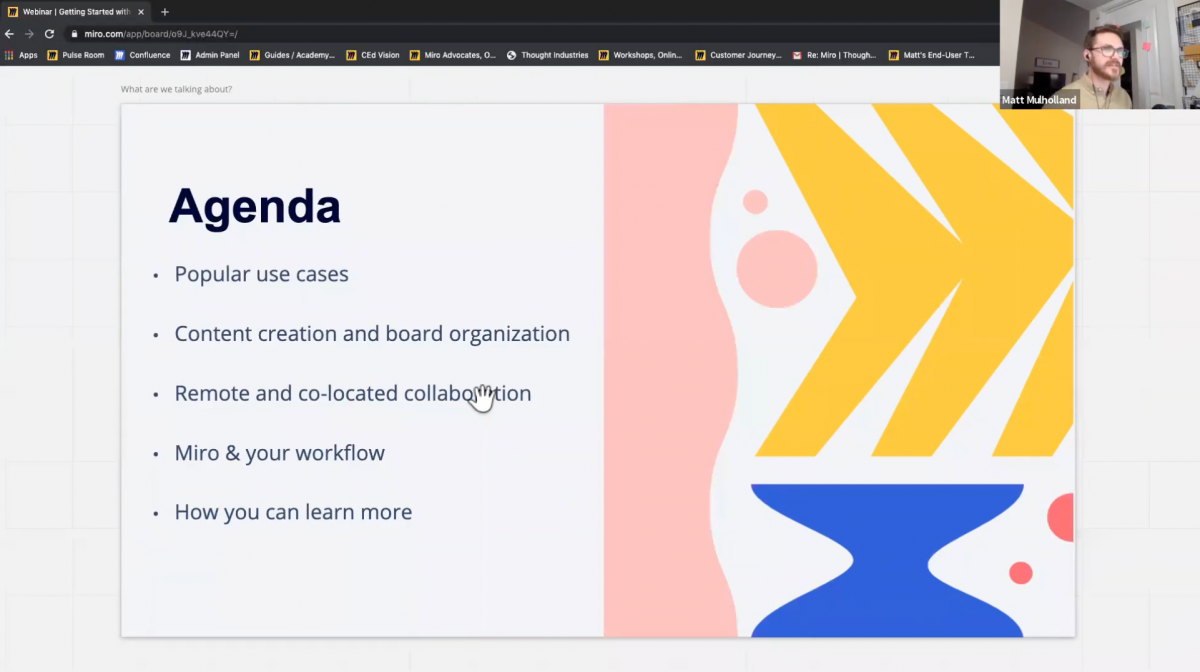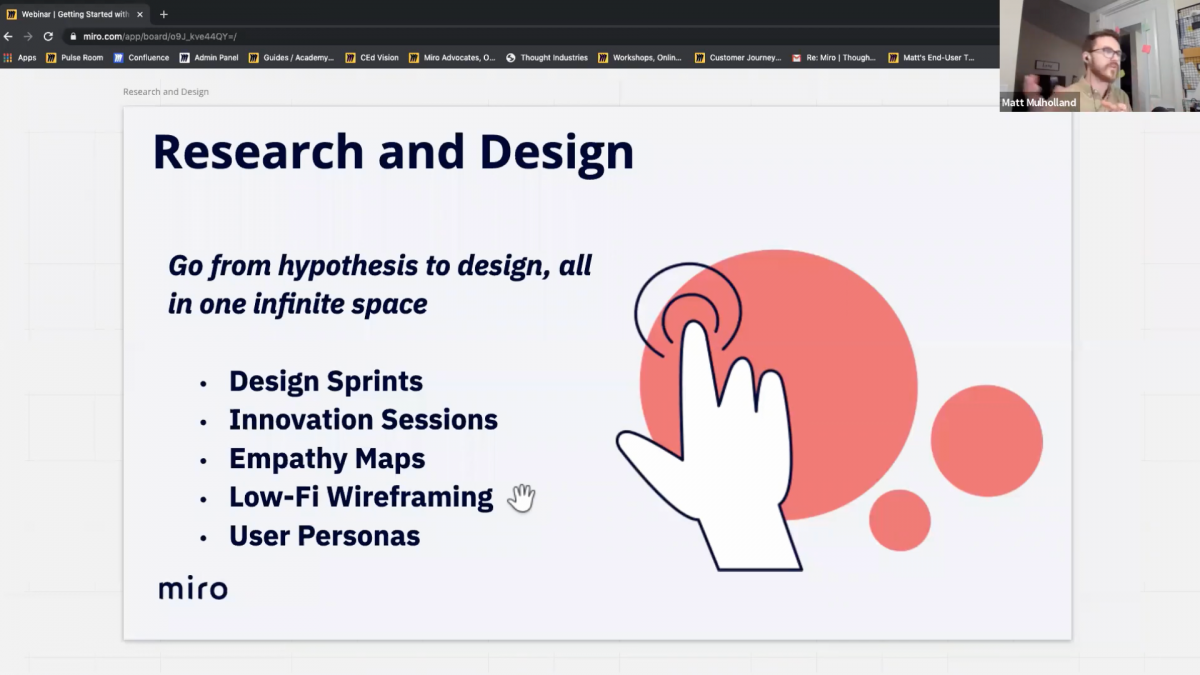 But Matt also reminds us that webinar branding is nothing without high-quality content:
The biggest thing you can do for your brand is to make sure you're not wasting your participants' time with your content. Having someone join a webinar live is a lot to ask and should be treated with a certain amount of reverence.

When creating and improving our content, we might cut something because it takes 10 seconds and we would rather use it to explore something else. That is the level of detail we're at right now. So just like anything else, don't produce a piece of content just to have it.

Work back from a customer problem and determine if a webinar is the right solution and then do your best to produce the move valuable webinar you can! That's more important to your brand that pretty slides.
Step 7. Build a team of charismatic hosts

I can't stress this one enough.
You may have the perfect settings, a strong webinar platform, cool guests, and awesome topics, but if your host is not charismatic or you're just randomly changing hosts for every webinar, chances are people won't remember or be able to connect with you.
Put a face on your webinars and be consistent about it. Build a team of charming hosts and make sure people will be able to connect with them and like them.
There are some prominent examples I want to share with you. The first one is Patrick Reinhart from Conductor.
He's the vice president of Digital Strategies and also the host of the 30/30 webinar series.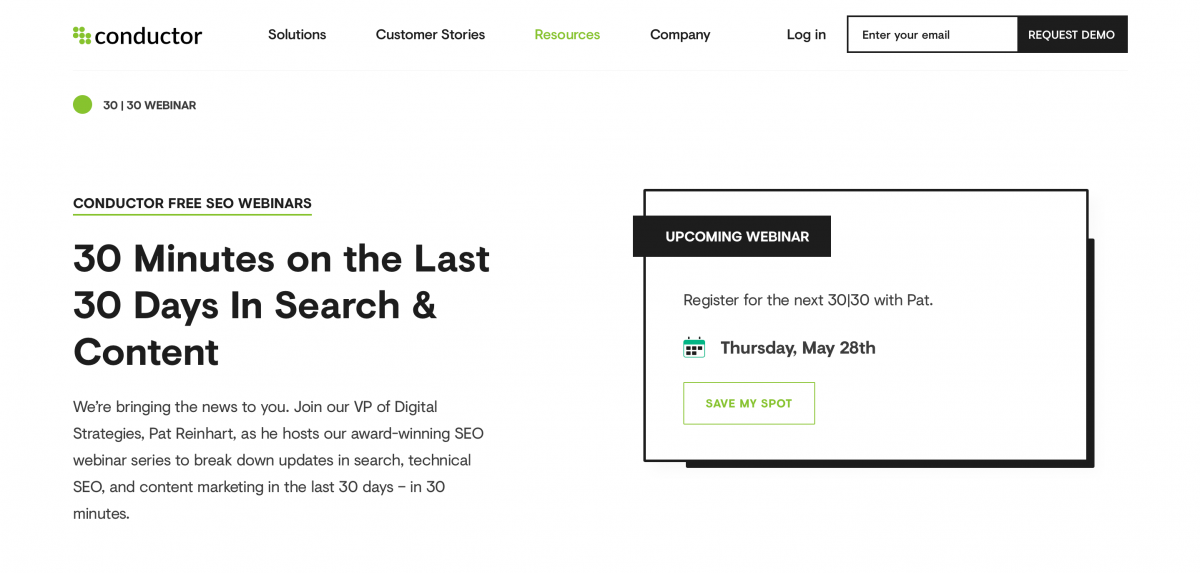 It's his personality that makes the webinars so interesting to follow. Plus, when you say "Conductor," you immediately think about him and his 30/30 webinar series, which is an awesome example of a webinar series.
The host is the centerpiece of your show
As Patrick notes,
The way I look at it is the host is the centerpiece of the show and drives the tone both visually and sonically. If you are trying to run a serious show, then the host needs to have a serious tone and demeanor to make it believable.

If the show is meant to be more lighthearted, then you need a host that doesn't take themselves too seriously and creates a fun environment for the listener. Or, if folks are expecting a serious tone and then they sign on and the host starts cracking jokes, that show is toast.

The other piece is consistency. Whatever the tone of your program, the host needs to be consistent from episode to episode (and even outside of the program) to build credibility with their audience.
Buffer is another example. Instead of just having a different host for each webinar, Buffer built a real team of charismatic people— Darcy, Katie, and Heather-Mae—who make its webinars more interesting and engaging.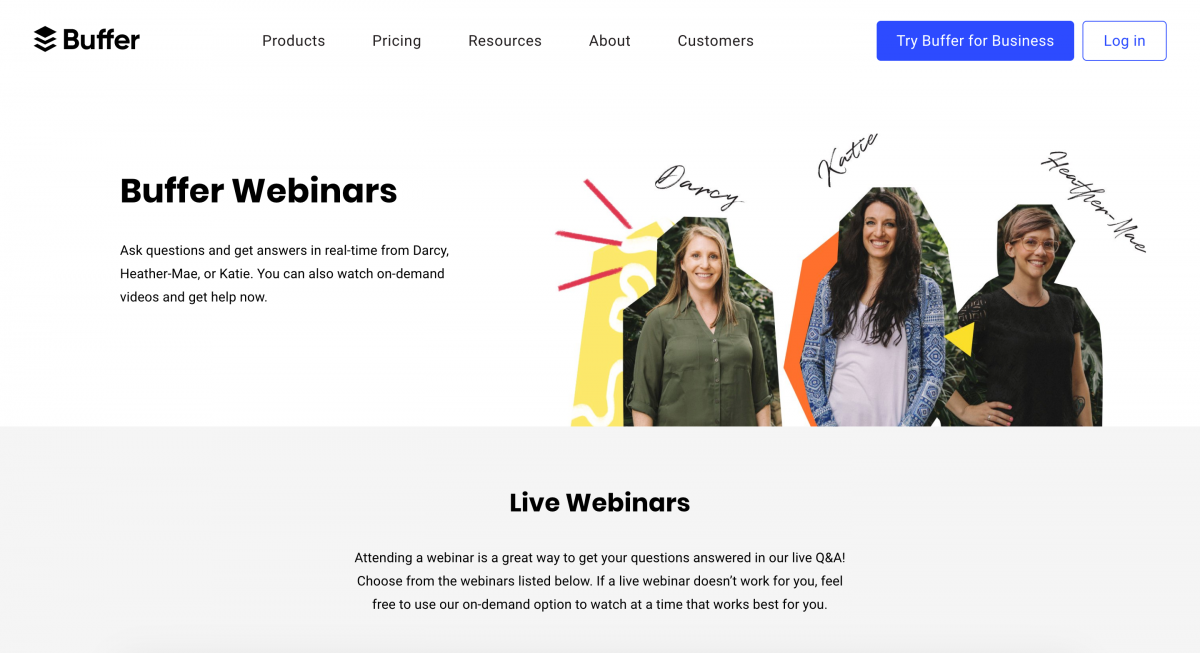 These captivating hosts make sure people remember the content, which ensures the consistency of Buffer's webinar branding strategy.
And don't forget that you can use webinars to deepen the relationship between your audience and the company's C-suite executives.
For example, although Help Scout has an awesome team of hosts, the company also runs webinars presented by Nick Francis, the CEO, and Adam Goyette, vice president of Marketing.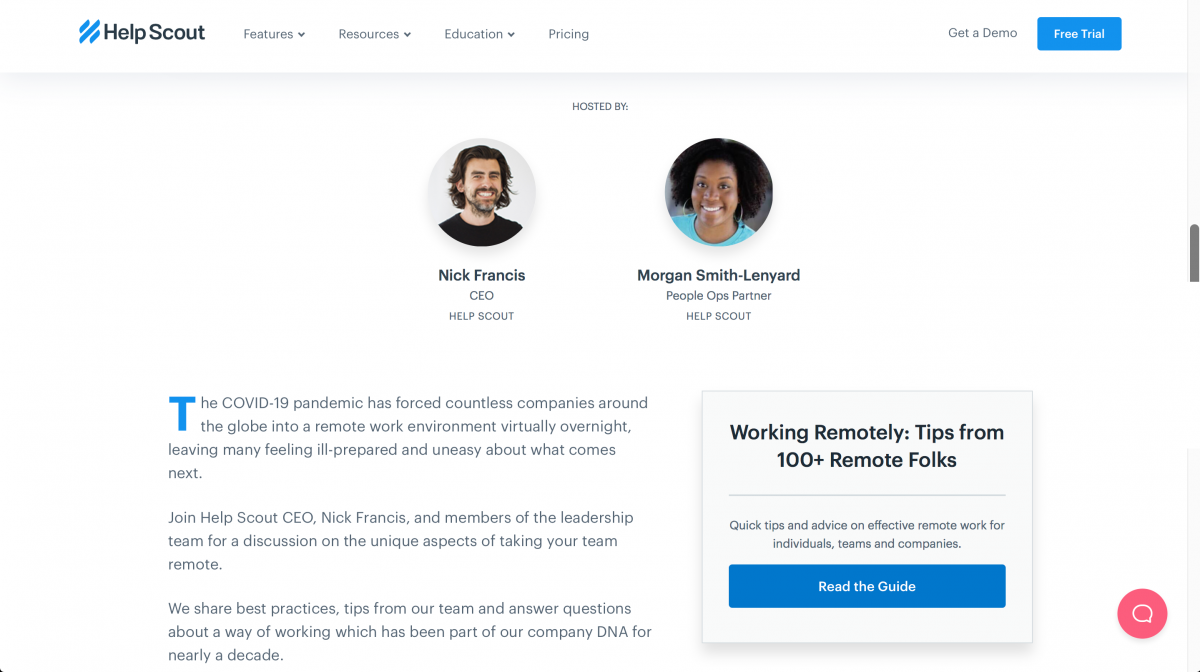 That's a great way of humanizing the webinars and bridging the gap between the audience and high-level executives.
Bonus Tip. Webinar branding and multiple languages

Chances are you're running webinars in multiple languages. However, this comes with a set of webinar branding-related challenges.
The question is how do you ensure a strong webinar branding strategy when running them in multiple languages?
Nadine Isatitsch, Digital Marketing Specialist and Daily Product Walkthroughs manager at Rydoo will help us answer this question:
Having a cultural fit for everything is the essence to a strong branding strategy. A brand that can adapt to the language of it's target audience, meaning to not only translate content but to actually speak the language. However, the brand (fonts, color etc.) and tone of voice stays the same throughout the different countries.

The cultural fit is important when addressing a topic for the specific region as different countries are going to have different necessities. It's important to bring value to the specific region. Always consider that the geographical distance is not equal to the cultural distance as for example Sweden and Russia are way closer in their geographical distance than Sweden and Canada. However, in terms of the cultural distance Sweden and Canada are more alike than Sweden and Russia.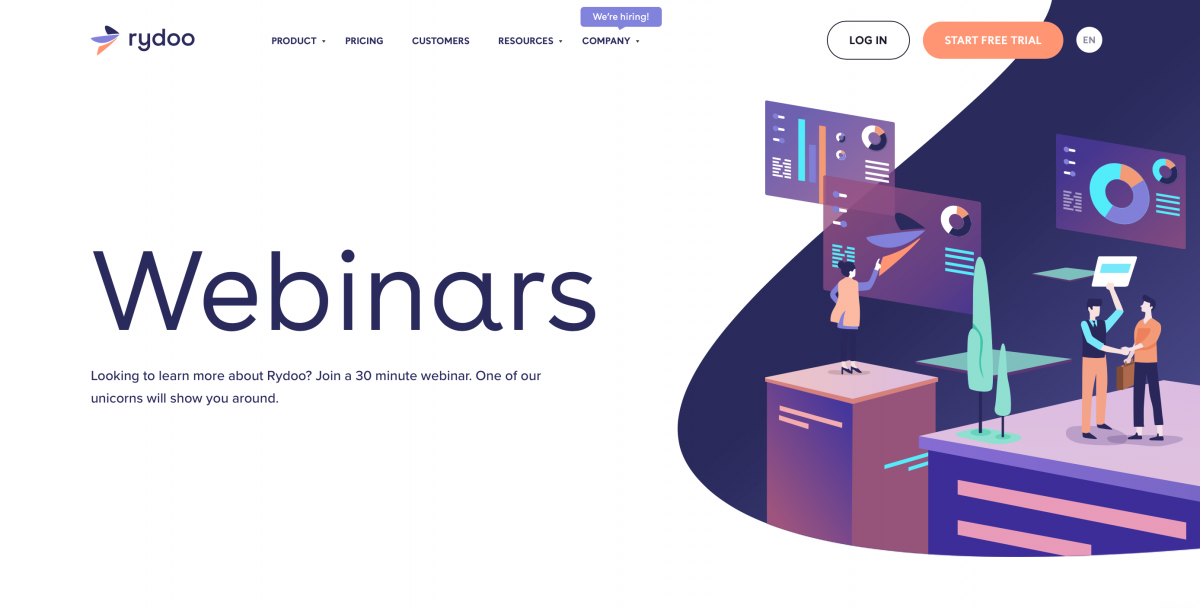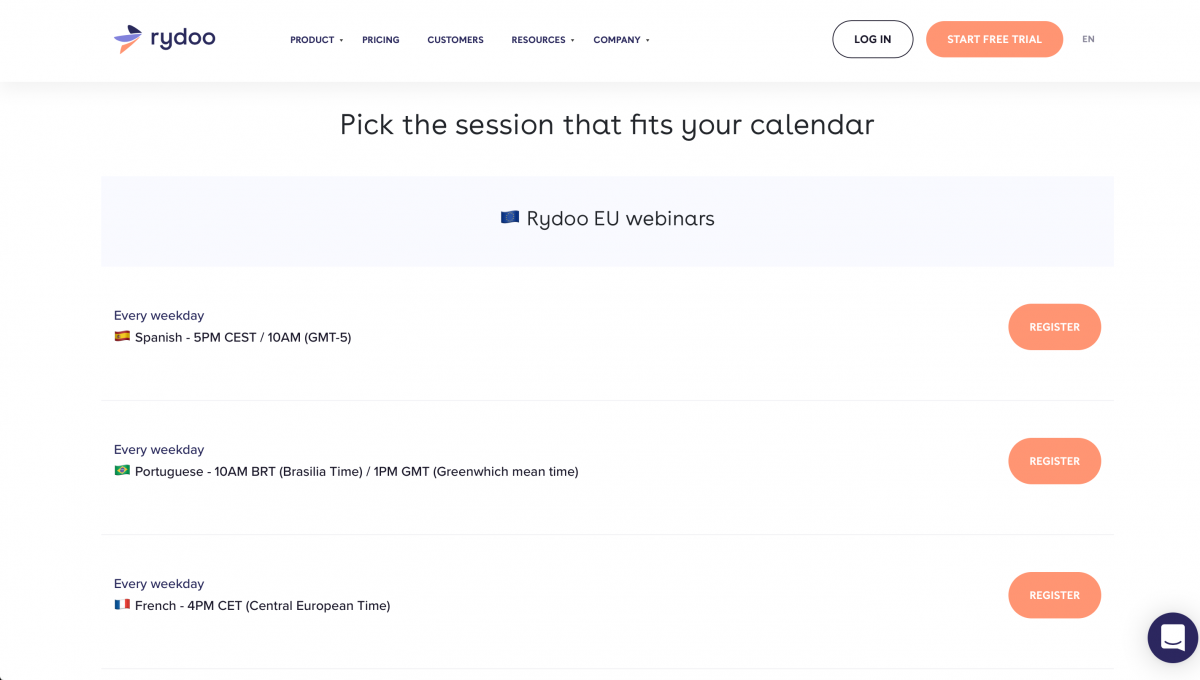 Final takeaways
Wow, I didn't think I'd ever actually get around to writing this article! And if you managed to read the whole thing without stopping to check your Facebook feed or watch a webinar, I'm impressed!
I hope I convinced you about the importance of developing a strong webinar branding approach. And in case you want to start thinking about it, let's recap.
First, think about the overall strategy.
What topics will you cover?
Who is your audience?
What format will you be using?
Then, instead of just publishing random webinars, create a real series and come up with a catchy name. Use something that is relevant to your industry.
Also, don't forget to experiment and pack your webinars differently, using concepts such as virtual summits, online conferences, or remote workshops.
Next, make sure to develop a series of visual assets that will strengthen your webinar branding strategy and establish a specific look and feel.
Finally, always put a face on your webinars and build a real team of charismatic hosts. Now you're perfectly equipped to build an awesome webinar branding strategy, and I can go back to my Instagram feed.
Until next time! ✨
DOWNLOAD YOUR FREE WEBINAR STRATEGY CHECKLIST BELOW
Use this checklist
to design your very own high-converting webinar marketing strategy from scratch, then automate the process to attract high-quality leads.
We promise to never spam or send emails about cats.
Okay, maybe some cat stuff.