While webinars initially can be time consuming to plan and organize, making the effort to perfect your webinar funnel will pay off in the long run. Optimizing your processes is a key component of a seamless webinar strategy.
There are three main elements you need to test before every webinar:
Your webinar funnel — Including landing pages and how registrants sign up.
Your webinar setup — Including your hardware and software (for all speakers).
Your webinar content — Including your presentation and engagement tactics.
Let's jump in!
1) Test Your Webinar Funnel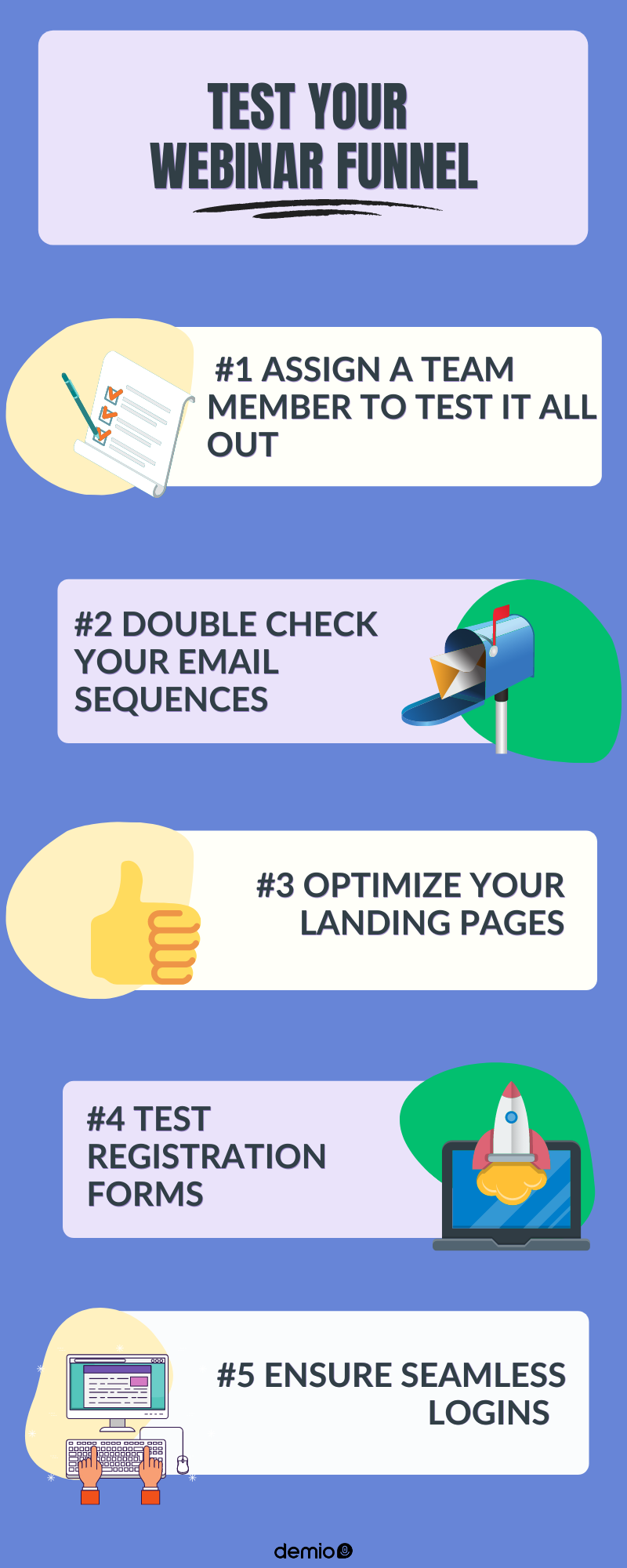 The first step is to test the audience experience. This should involve an end-to-end assessment as a registrant and attendee. Assign a team member to complete the full process to gauge user experience, identify bottlenecks, and determine whether everything works as planned.
Double Check Email Sequences
Do emails show up in your inbox or go to the spam filter? Do they display well on different devices, including mobile and desktop? Do they share enough information to add webinars to a calendar? Do the links inside your emails work? What does the recipient see in the subject line, "from" field, and preview text?
Refining your emails is mission-critical in preparation of your event.

Tip: Consider signing up with a non-company email to check the full process.
Optimize Your Landing Pages
Take a look at your registration pages. Are they informative? How quickly do they load? What links do you feature in key areas? What CTA are you highlighting? Can viewers register easily for the webinar? Do they need to click through more than one page to sign up? Any other bottlenecks in the registration flow?
Review your analytics to improve your landing pages with each event. For example, if your landing page has a high pageview count, but low sign-up rate, something's amiss.
Keep an eye out for poor CTAs, lengthy registration forms, and complicated sign-up instructions. As a benchmark, most webinar landing pages have a conversion rate of 25%–33%.
Use heat map tools to see where users drop off if you have low conversion rates. Test the full registration process to make sure forms fill correctly, emails are sent properly, and other errors are removed.
Ensure Seamless Logins
It's also important to ensure the login process functions well. This means setting up a trial webinar, pushing data, and emailing links to testers. If your testers can't click into the webinar easily, potential attendees won't be able to, either.
These technical details can make or break your webinar because they impact your attendee experience. It doesn't matter how great your webinar is if you have technical issues that affect signing on.
It's good to check this process for every webinar because you generate new links, build new forms, and set up new emails for each event.
2) Test Your Webinar Setup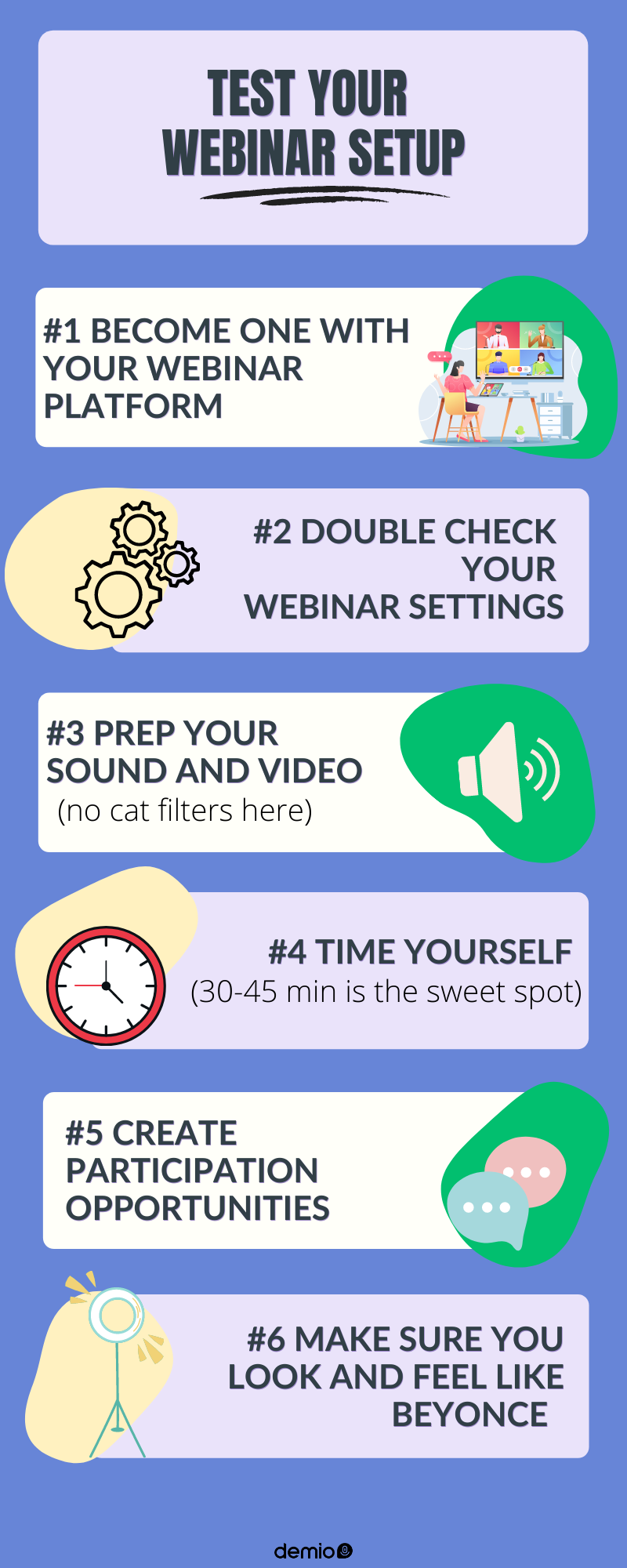 After you've tested your funnel to confirm everything in the registration process is running smoothly, schedule a rehearsal to check your webinar setup. During the rehearsal, take a close look at your software and hardware to ensure everything is on track for a clear, crisp webinar experience.
You should do this a day or two before the live event to leave time for any needed adjustments, but we recommend a week in advance if you can swing it.
Software
Analyze the software involved in your webinar. Is everything configured correctly in your webinar platform? Could it be optimized, upgraded, or adjusted for a better user experience?
Three things to inspect are:
Sound – If you have speakers joining remotely, test how they'll join, and then check settings to configure their audio.
Timing – Does the software support the estimated duration of the webinar?
Interactivity – Do Q&As, comments, and other key features work? Is the UI easy for attendees to understand? What's your plan to insert downloadable content and CTAs during the webinar?
Hardware
Testing hardware is a complex, multi-step process. It normally requires someone sitting in another room or building to watch the test stream and assess factors like:
Sound quality – How do the speakers sound? Is there background noise? Move equipment around to optimize your setup for the best possible sound.
Video quality – Are speakers visible? Does the camera sit at a good angle, not too close or far from the speakers? Is the camera lens clean?
Lighting – Are the speakers well lit, or are there shadows across their faces? Is the camera too bright? Are there reflective surfaces distracting the audience?
Internet – How fast is the internet connection? How reliable is it? Will a speaker need a backup option?
This type of test informs you of your software and hardware configurations, whether there are any quality issues, and what to fix before the event.
A full technical test before a webinar is beneficial to remove the kinks. However, if you stream once a week, you likely can skip this and opt for a lighter system check to affirm everything still runs smoothly. If you change format, add more speakers, or make other, larger alterations, you can repeat the full technical test.
Tip: Check out our admin checklist for running smooth webinars.
3) Test Your Webinar Content
Finally, it's time to run through your content. During your rehearsal and after doing your software and hardware checks, complete a full webinar run-through, including slides, polls, Q&A, and any other engagement tactics.
It can be difficult if you're incorporating speakers who have limited time. However, a rehearsal will always produce a smoother, more polished webinar.
Be sure to:
Recap your outline — Go through the outline with speakers and technical staff. Reviewing the webinar outline with your speakers will give them a good idea of what to expect and when. They'll be more prepared as topics come up, more comfortable with the webinar timeline, and able to provide a superior presentation.
Confirm the schedule — Communicate expectations up front in your prep and marketing materials. Everyone involved should know the progression, including the estimated time and length of the webinar.
Practice the full presentation — Practice the webinar, including navigating slides and videos. Rehearsing what you're going to say builds confidence for all speakers and helps eliminate hiccups during the live event. This is especially important if you have multiple speakers with handoffs and time limits, so everyone has a good handle on content, pace, and flow.
You can use webinar rehearsals to improve marketing materials, adjust time to better suit the webinar topic, and plan CTAs and handouts. For example, if you know when speakers will bring up specific subjects, you can provide downloadables when most appropriate.
When there is more than one speaker for a webinar, you should always do at least one rehearsal. That might involve going through the outline with the speaker, or a full run where all the speakers present their information as if it was the day of the event. How much time you dedicate will depend on speaker familiarity with webinars, the complexity of the topic, and your webinar software's ease of use.
Wrapping Up
If you've never run a webinar before, a complete technical test and rehearsal is the best move you can make. Running a full technical test and rehearsal helps you streamline the event process, eliminate and avoid common issues, and improve every webinar.
As you move forward, you should continue to test your webinar workflow. Consider creating a checklist to review before launching each event. You might also want to establish a policy to run a full technical test anytime you introduce more speakers, cameras, microphones, or other elements.
Eventually, you'll optimize your webinar workflow into a seamless process.
DOWNLOAD YOUR FREE WEBINAR STRATEGY CHECKLIST BELOW
Use this checklist
to design your very own high-converting webinar marketing strategy from scratch, then automate the process to attract high-quality leads.
We promise to never spam or send emails about cats.
Okay, maybe some cat stuff.