You can count on just 25% of people who signed up for your webinar to actually show up.
If that sounds a bit low… you're right. But the good news is EVERYONE deals with attention-span challenges, even the "big names" in your industry.
Here are some quick tips to make sure you're using Twitter to grab attention and get more sign-ups!
(Don't use Twitter? No worries! We've got TONS more tips for Facebook, Instagram, LinkedIn, and more in an exclusive and totally free webinar — just scroll down to reserve your spot!)
Schedule your webinar for Wednesday or Thursday
Ideal time varies for everyone, but studies show that Wednesday and Thursday are the best days of the week to host.
Okay, you're probably thinking, how do I really know when my particular followers are online?
There are a few tools out there, and Tweriod is probably our favorite. It's an online tool that will analyze a sample of your Twitter followers to determine what times they're online, broken down by day of the week. Oh, and it's 100% free to use.
DOWNLOAD YOUR FREE WEBINAR STRATEGY CHECKLIST BELOW
Use this checklist
to design your very own high-converting webinar marketing strategy from scratch, then automate the process to attract high-quality leads.
We promise to never spam or send emails about cats.
Okay, maybe some cat stuff.
Once you've determined when your followers are online, it's a great idea to occasionally check out your Twitter Analytics for an even more nitty-gritty breakdown of your audience demographics AND your most important Twitter stats — profile visits, impressions, and more — to validate the effectiveness of your content.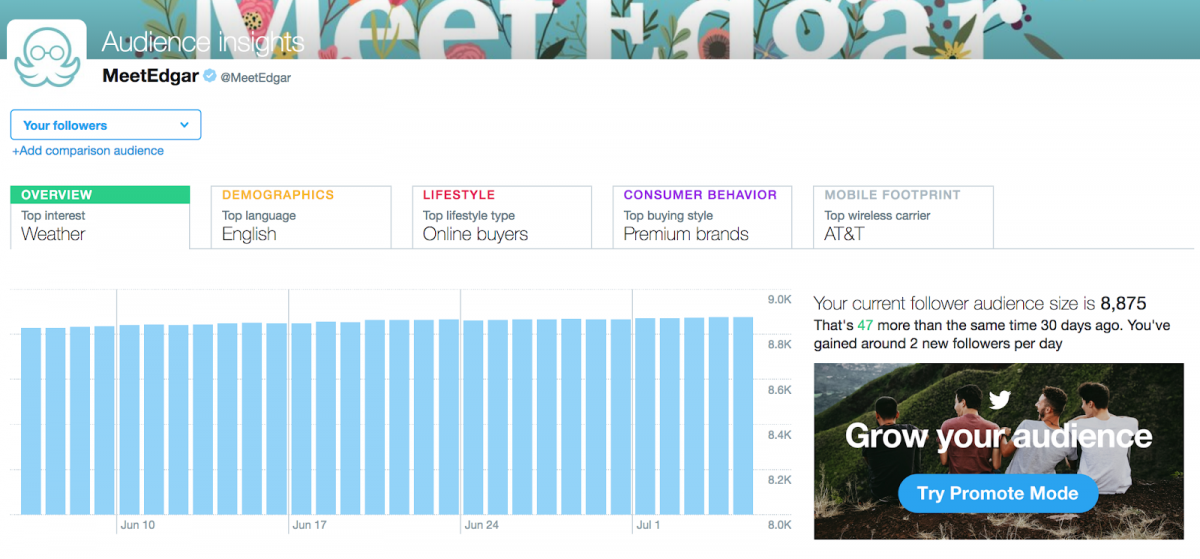 What MeetEdgar's Twitter Analytics Overview looks like
Twitter Analytics can also help you figure out a webinar topic that will resonate best with your audience. (For example, if the people in your Twitter audience are overwhelmingly AT&T wireless users, you probably don't want to launch a webinar on the topic of, say, "Why AT&T Is for Jerks.")
Host a "Twitter chat" during your webinar
Twitter is a great way to promote your webinar because it's designed to allow you to build highly visible relationships with customers and prospects.
Hosting a Twitter chat while your webinar is live serves two functions:
It creates a public, real-time conversation that can be accessed and archived
It ups your Twitter activity, which increases the chances of people finding and interacting with your tweets
Before you start your Twitter chat, you might want to Tweet out a hashtag for you and your audience to use to share content about your webinar. Keep it simple and relevant — like this hashtag for our founder's "Less Work, More Traffic" webinar:

Your webinar = the gift that keeps on giving
Most webinar software allows you to record your live webinar so you can save, post, and repost it as often as you like. The best way to take advantage of this feature? Make sure your webinar content is shareable (people really want to share content online) and evergreen.
Evergreen content is a lot like any other content you create… except it's much more valuable once you actually create it. If you choose a webinar topic that will be just as relevant today as it will in a year or two (or longer!), you're creating content that you can share on Twitter over and over.
An important caveat: "Evergreen" definitely does NOT mean "boring" or a rehash of a tired trope. It just means content that isn't necessarily tied to a specific fad or trend.
People are always going to be new to your company or brand, and will appreciate a fresh take even on an old chestnut. After all, nobody has your unique perspective or the same exact take on a topic — especially topics that address consistent needs and known pain points.
And because you share it on social over and over, you'll keep getting new pageviews, new fans, and new customers, all the time!
Promote the HECK out of your webinar, without spamming
Increasing the "know, like, and trust" factor for your business can be tricky business!
But it's the "KLT" factor that gets people interested in what you have to say online and, to take things a step further, sign up for a webinar to hear your talk at length.
Think about it: do you want to hear even more from someone — or potentially be subject to a sales pitch — if you don't at least like, know, and trust them?
Building up your credibility can take some time, and so it's tempting to put your followers on "blast" to get the word out about your webinar — even taking shortcuts to save time, like using the same exact content for your Tweets. (After all, what are the odds anyone is seeing your tweets more than once?)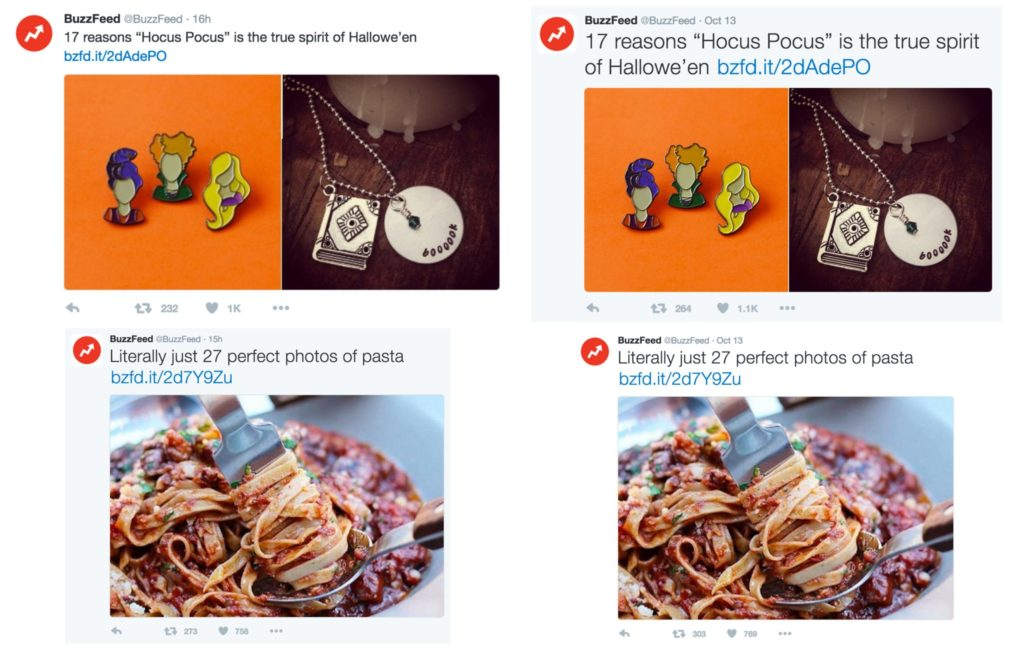 This was once fine, but definitely don't do this today…
Repeating the same Tweet over and over again is very against Twitter's rules. In March 2018, Twitter made it extremely clear that duplicative content is no longer welcome on their network… at all. Ever.
So what's a time-strapped entrepreneur with an awesome new webinar to do?
The most important thing to know is Twitter's new rule doesn't mean you can only Tweet out a webinar promo once and hope for the best.
All you've got to do is vary your Tweets a little bit. This way, your followers don't feel like they're being spammed, Twitter doesn't kick you off their platform, and you STILL get the word out about your webinar.
(Stuck for inspiration? Here are five easy ways to change up your Tweet content.)
You can also create quick variations for your Tweets using Edgar's newest hassle-free feature that automates the whole process. You can add a whole stack of variations on a single update right inside Edgar, so you're always sharing that perfect balance of content automatically!
—
Promoting your webinar successfully means capturing people's attention, and Twitter is an amazing avenue for that. That's why it's important to create not only a compelling webinar, but also to put a little bit of extra time promoting it. With these tips, you're well on your way to getting people excited about what you have to say — and keeping them coming back for more!
DOWNLOAD YOUR FREE WEBINAR STRATEGY CHECKLIST BELOW
Use this checklist
to design your very own high-converting webinar marketing strategy from scratch, then automate the process to attract high-quality leads.
We promise to never spam or send emails about cats.
Okay, maybe some cat stuff.