Regardless of the hard times and the lockdown, this article will help you boost your brand and reach out to a wider audience. And while the whole world has temporarily stopped, this is the time to double down on your webinar campaigns and use webinars to deliver great content and attract high-quality leads.

Oh, boy, who'd have thought that self-isolating would be so hard? Have you counted how many trips you've taken daily from your improvised "office" on the couch to the fridge? I stopped counting.
In fact, I'm even considering moving my "work couch" into the kitchen. Why bother getting up when you can just reach the fridge from your couch? After so many days spent in our pajamas, we're all like Tom Hanks—not knowing how buttons work anymore.
DOWNLOAD YOUR FREE WEBINAR STRATEGY CHECKLIST BELOW
Use this checklist
to design your very own high-converting webinar marketing strategy from scratch, then automate the process to attract high-quality leads.
We promise to never spam or send emails about cats.
Okay, maybe some cat stuff.
And we've already watched all the good Netflix shows and all the cute animal videos on YouTube and TikTok; after all, isn't that what "working from home" is supposed to look like?
But if you feel guilty for procrastinating, we have something to help you catch up with the world and work a bit on improving your business.
Stop waiting and double down on your webinar campaigns today
The world is changing. More and more companies are starting to understand the real potential virtual events have. And by "virtual," I don't just mean webinars campaigns, but also masterclasses, online summits, and conferences, etc.
Apart from connecting through Zoom while wearing sweatpants, this epidemic also taught us that we can replace the in-person engagement with webinars and online events.
What does this mean for your business? There are two outcomes: a positive and a negative one.
I'll start with the positive outcome: You have everything you need to run webinar campaigns right now, and you can definitely incorporate them into your marketing strategy. The negative outcome, however, is that more and more companies will start producing video content, shadowing your brand.
In other words, there will be more competition, more webinar campaigns, more online events, and more marketing professionals trying to grab and capture the attention of the same audience you're trying to retain.
So there's no time to wait.
If you don't have a webinar strategy, think about designing one. And if you do have a webinar strategy, it's time to double down and make an effort to improve it. To help you with that, we've analyzed the key practices other SaaS companies use to run exceptional webinar campaigns. Do you want to discover more? Then keep reading [screenshots added].
Try these practices and rock your webinar campaigns
We selected a few SaaS companies that we absolutely love and analyzed the practices that make their webinar campaigns truly memorable and powerful.
We kept it to just three best practices per company; otherwise, you'd be reading Moby Dick, not an average-length article.
Ready? Let's do it!

Intercom is a SaaS company based on developing a suite of messaging-first products for businesses to accelerate growth across the customer lifecycle.
Packaging is everything 🔔
Who said copy isn't important when presenting your webinars? The truth of the matter is that it can make or break your webinar campaigns. It's one thing to just describe your webinars section with a generic description; it's another thing altogether to promise your audience the best.
This is what Intercom did.
Instead of just saying, "Here's our webinars section," Intercom's website reads, "Join Intercom experts for industry insights and best practice advice. Live and on-demand."

It seems like a minor detail, but think of it this way: Will people be interested in watching average-ranked webinars with people they've never heard of, or will they go for the videos that feature industry experts?
Most watched webinars 🔔
I bet you do the same thing I do before watching a movie or deciding to purchase a book—check the ratings. If the movie is below 6 or 5 on IMDb or the book is below 4 stars on Amazon, chances are you won't be interested in it.
Why?
Because we trust crowd wisdom. We know that in most cases, we can trust people's tastes and know if something is good or not by checking its popularity.
The same thing is true for your webinars. If you want to get your audience interested in some of your on-demand or older webinars, all you have to do is create a "Most Watched" category for your webinars, as Intercom did.
Most people will be interested in seeing what other webinars others watched and then register to watch those same webinars. Again, it's a simple trick that may do miracles.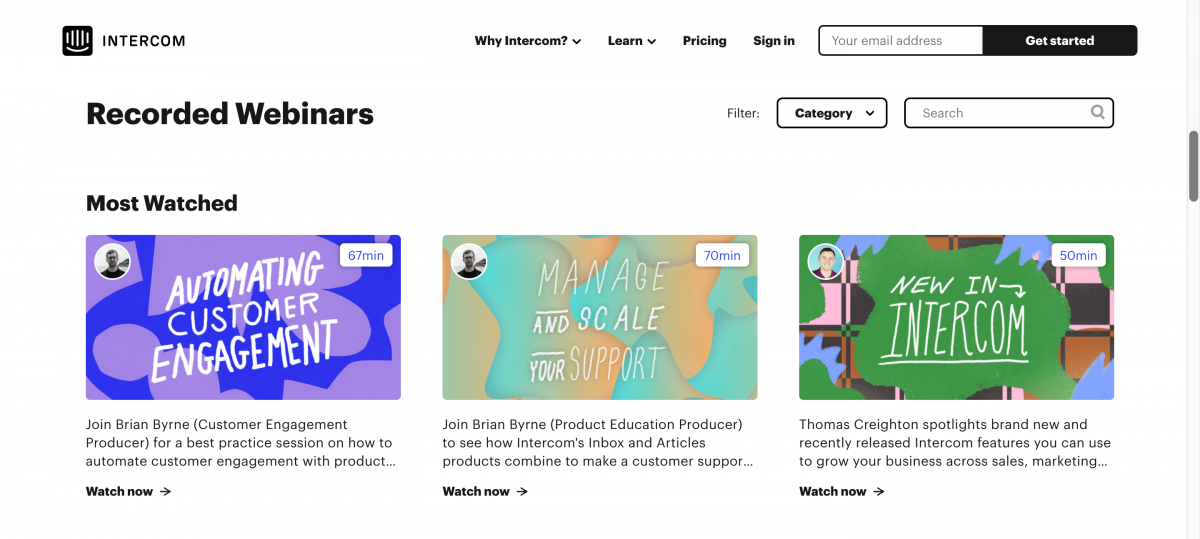 Solution-oriented webinar campaigns 🔔
Usually, the headline of most webinars will contain the name of the guest and generic topic that will be discussed. Don't make this mistake. Do what Intercom does. Instead of using generic headlines, it provides solution-oriented webinars, indicating the results viewers will get by registering for and watching the video.
For example, Intercom offers webinars such as …
How to Close More Deals with Real-Time Sales
Crush Your Numbers with Chat Bots
How to Increase Sales Through Live Chat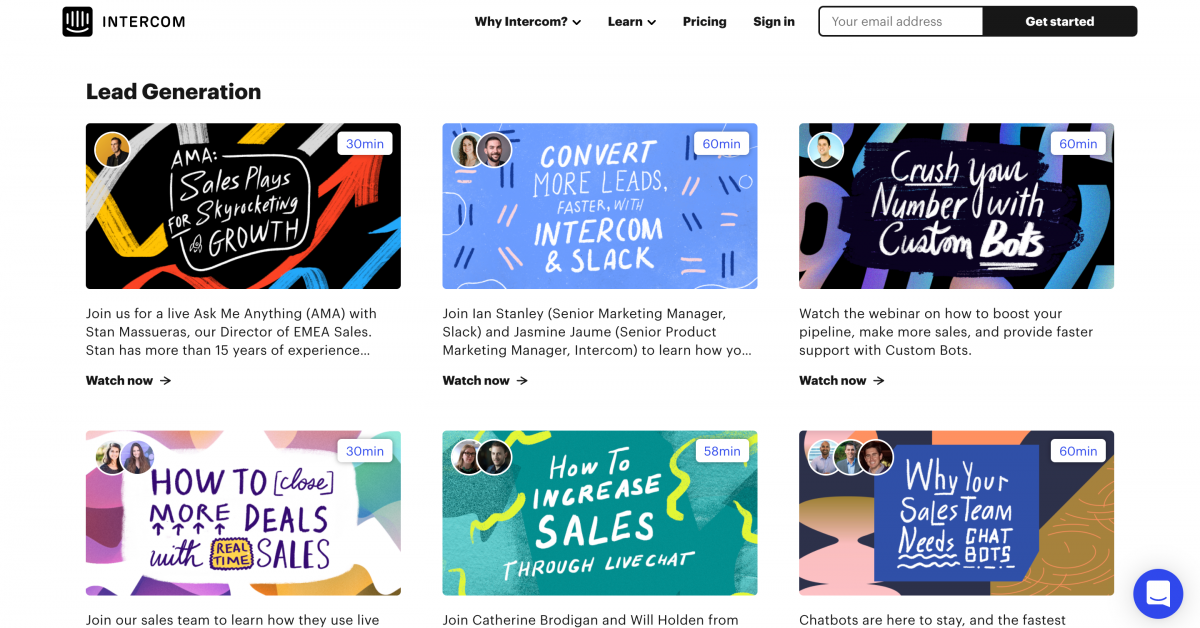 As you can see, Intercom typically offers a solutions-oriented webinar campaigns and captures the outcome in the headline. Try and do the same. Instead of a generic promise, analyze the added value of your webinars, and change your headlines according to the big wins viewers will get.
Useproof is a SaaS company, focused on developing website personalization software tools.
Webinar series 🔔
"Scale or Die" became a powerful media brand Useproof uses to increase brand awareness, connect with industry leaders, and attract more leads. Instead of just publishing random webinars on different topics, Useproof decided to launch branded webinar campaigns.

This simple branding idea that gives its webinars a clear identity makes its entire webinar campaigns more powerful and results-oriented. After all, it's much more attractive and interesting to register for a well-designed webinar series than just to register and watch a random video.
The only thing you'll want to remember is that these webinars must have something in common, whether it's the theme or the format. A certain consistency is needed if you want to launch branded webinar campaigns.
A featured episode of the week 🔔
One of the first things you see on Useproof's webinars page is its weekly proposition. In other words, you're not just left by yourself to choose from a multitude of on-demand videos; there's a featured episode of the week in the main page. People usually just click on the featured episode and continue watching if the webinar's value is truly on point.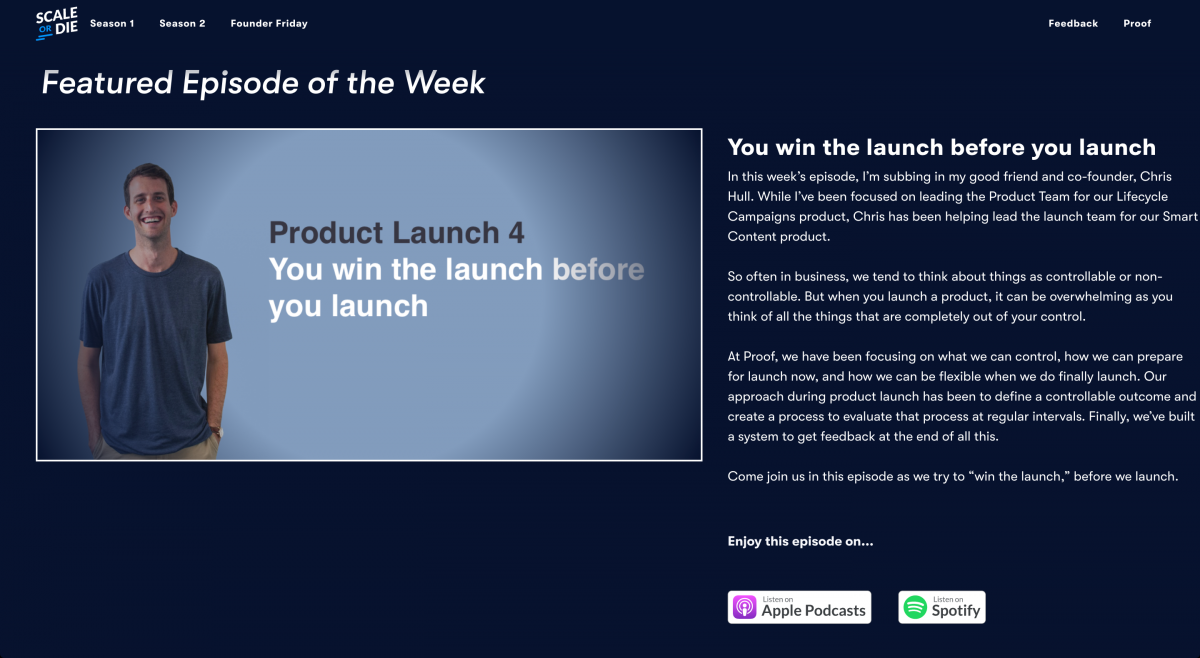 Repurposing the content of your webinar campaigns 🔔
This is not something not many SaaS companies do, and it's a pity. After all, webinars can later become podcasts, short videos, or even interview-like articles.
Useproof professionals know this very well, and they've managed to repurpose their webinar content and publish the interviews as written content. This practice helps them cover multiple content formats and rank better in terms of SEO.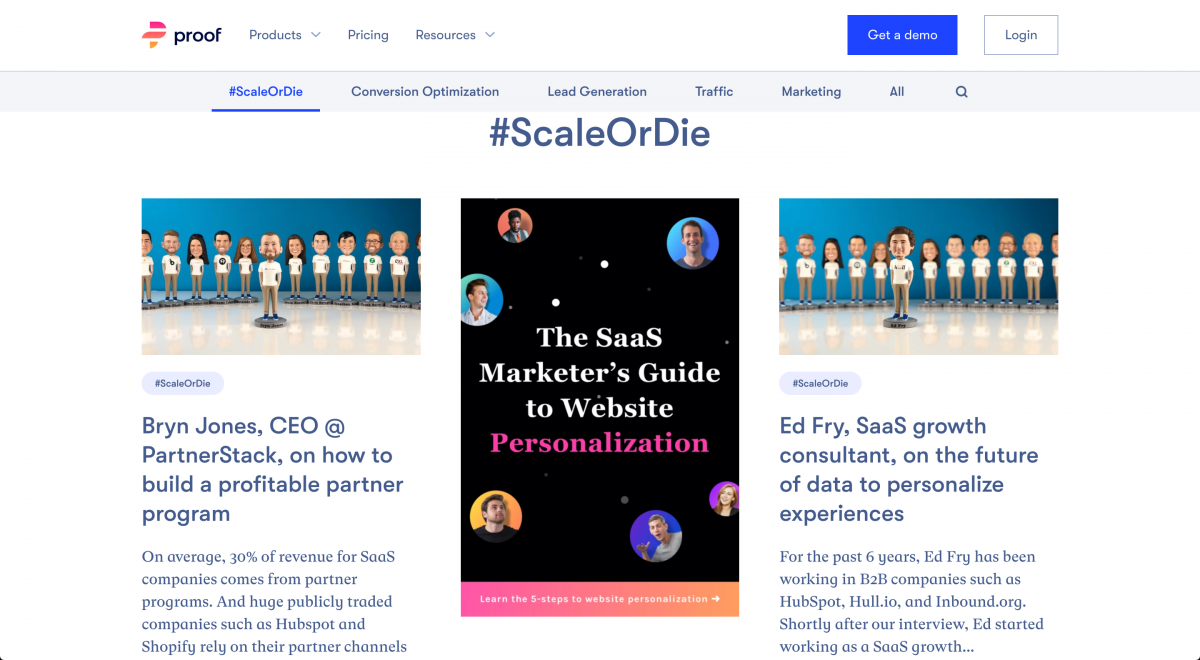 If you decide to do the same, you'll discover that it's not so difficult to repurpose webinar content. You just need to have the transcript and then decide how to use it. You can even take it one step further and create social media content that coaxes your audience into taking action and watching the actual webinar.

GatherContent is a SaaS company focused on helping teams and companies to produce and organize content.
Webinars or masterclasses? 🔔
Why not both? GatherContent does. After all, webinars and masterclasses are similar in terms of format but are seen differently by the audience. Although both are educational types of content, masterclasses are usually based on guiding people step by step and helping them achieve very specific goals.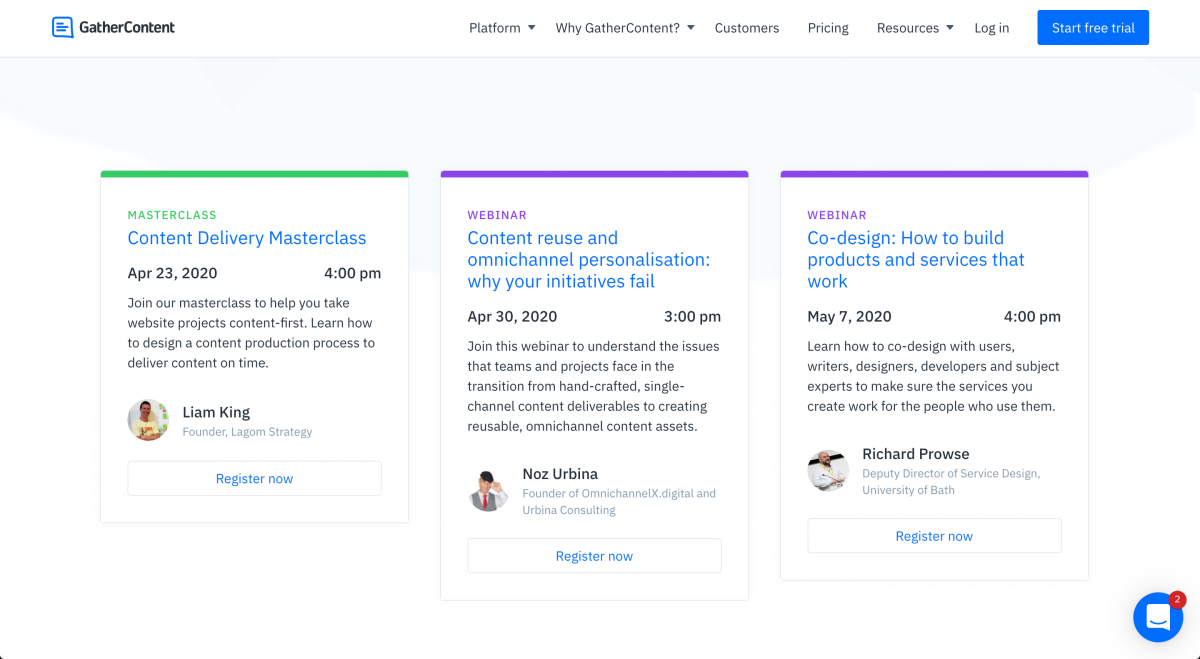 GatherContent has managed to capitalize on both webinars and masterclasses to cover different needs. For example, during its masterclasses, GatherContent provides live tasks and exercises by supplementing additional materials, such as spreadsheets. So don't limit your options—think about different webinar approaches.
How long is the webinar? 🔔
Here's another very simple technique that will help people to decide if they're ready to commit and watch your webinar. Apart from the general description of an on-demand webinar, GatherContent also displays the duration of each video. People can see it while browsing through the list of webinars. This gives them an idea of how much time they'll have to invest in watching a specific video.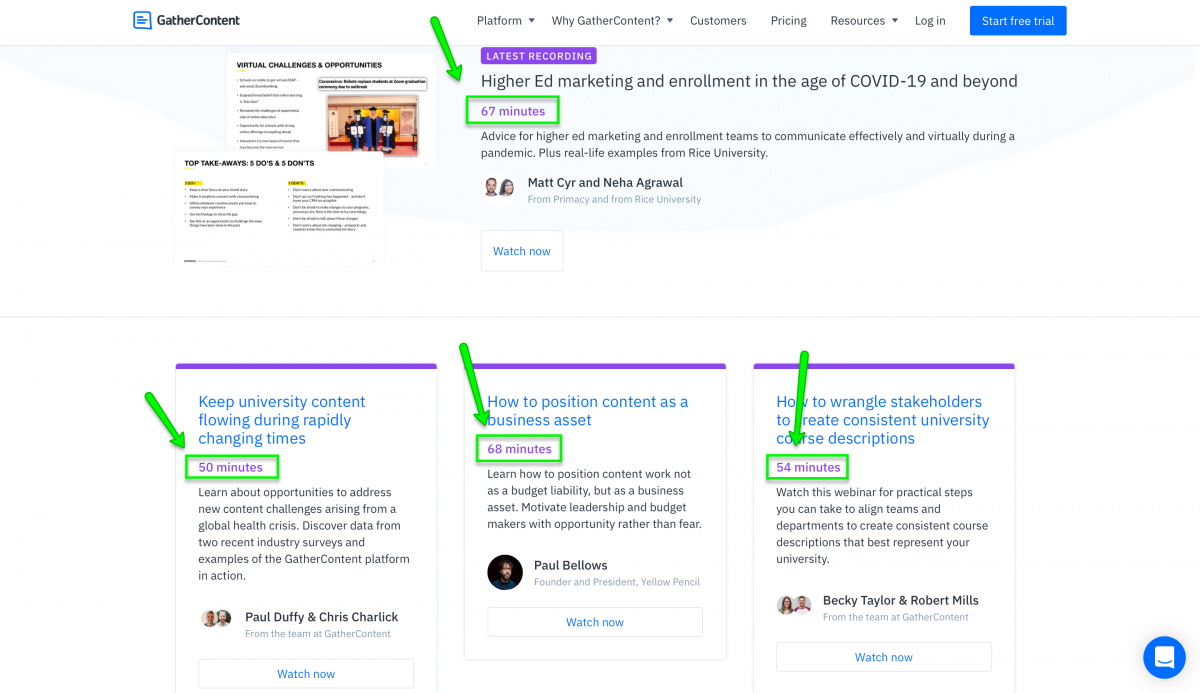 Emotional headlines 🔔
As we mentioned before, copy is everything. A few people will want to watch a webinar called "The Use of Clear Language." However, many more viewers will be interested in a webinar titled, "The Real Cost of Not Using Clear Language."
If you check GatherContent's webinars page, you'll notice that it's nailed down the copy, providing emotional headlines that hook people's interest. Having this in mind, make sure your webinar headlines are appealing and attention-grabbing.

Onfido is the new identity standard for the internet. Their AI-based technology assesses whether a user's government-issued ID is genuine or fraudulent, and then compares it against their facial biometrics.
Coffee with Clients 🔔
Webinar campaigns may have multiple purposes. Some are educational, some are used for onboarding, others are plain demos, etc. In some cases, companies will run webinars as case studies.
Onfido did the same thing, but decided to brand the case studies series and call it "Coffee with Clients." That's a smart move. After all, we're all tired of case studies. Instead, we're much more interested in hearing about the human side of a success story, especially when it's packaged in such a nice way.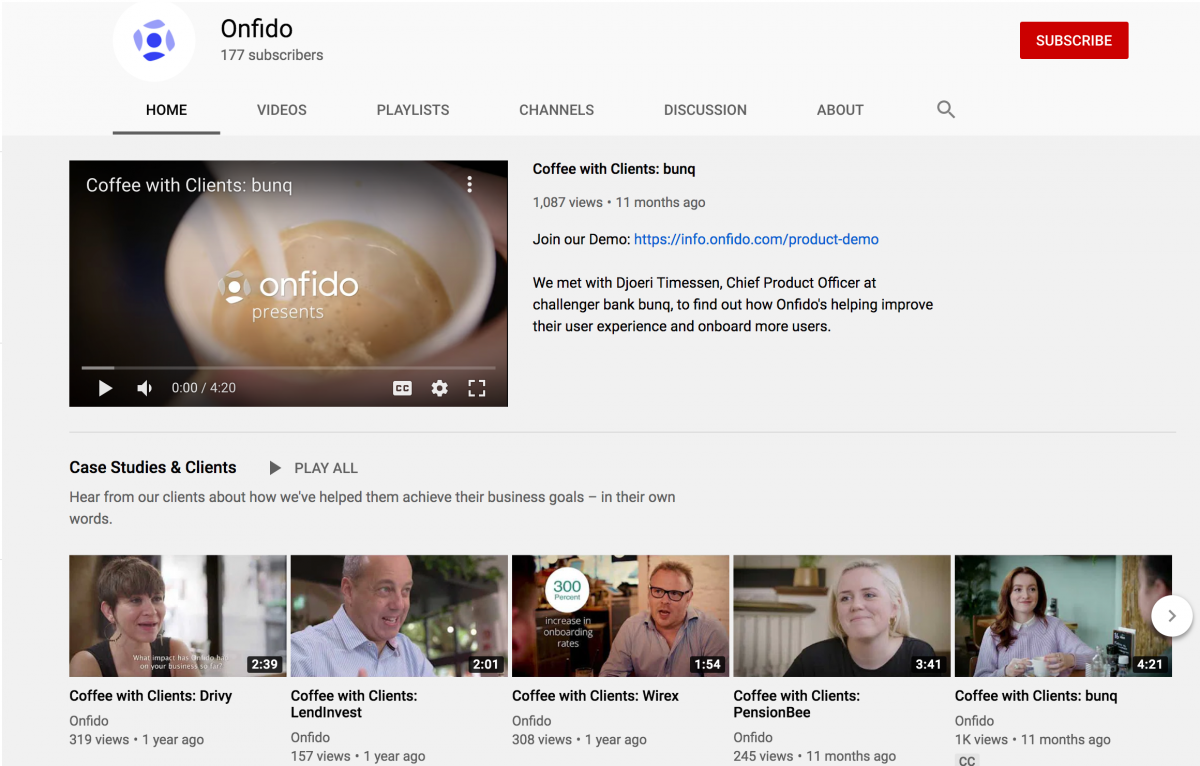 Attractive presentations 🔔
Unfortunately, not many companies put thought and effort into designing attractive slides for webinars. Obviously, you don't have much control over your guests' slides and presentations. All you can really do is try and guide them in the right direction in terms of designing an attractive presentation and hope for the best.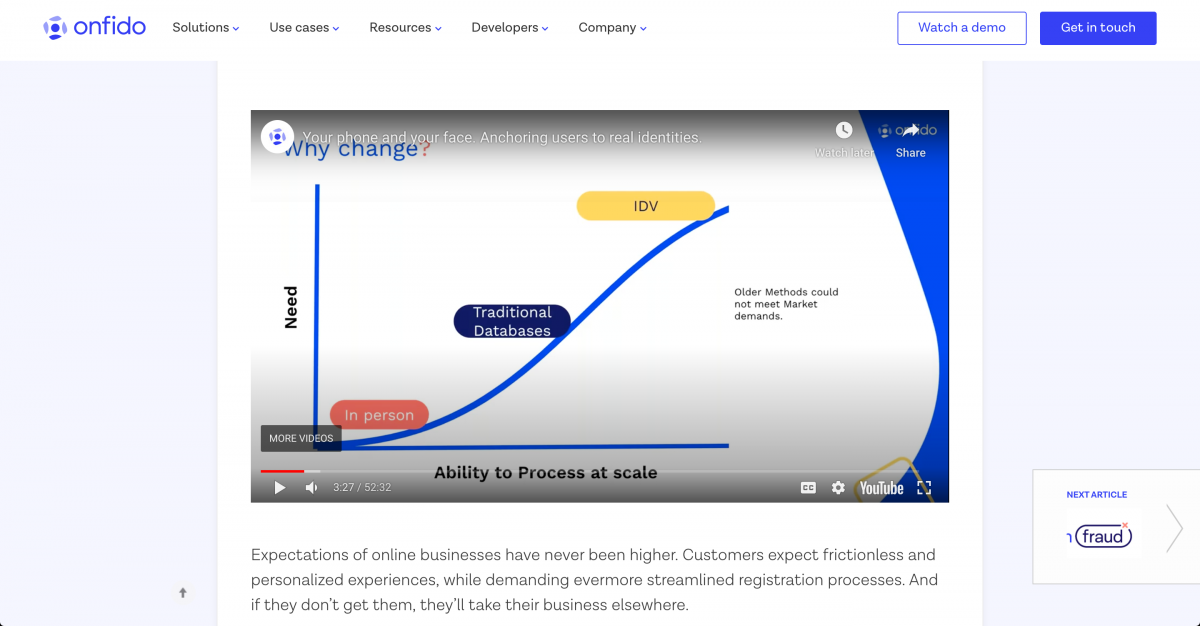 But you should absolutely take full control over the company slides you'll be presenting during the webinars. This is something Onfido is doing well—making sure that its design and branding are on point.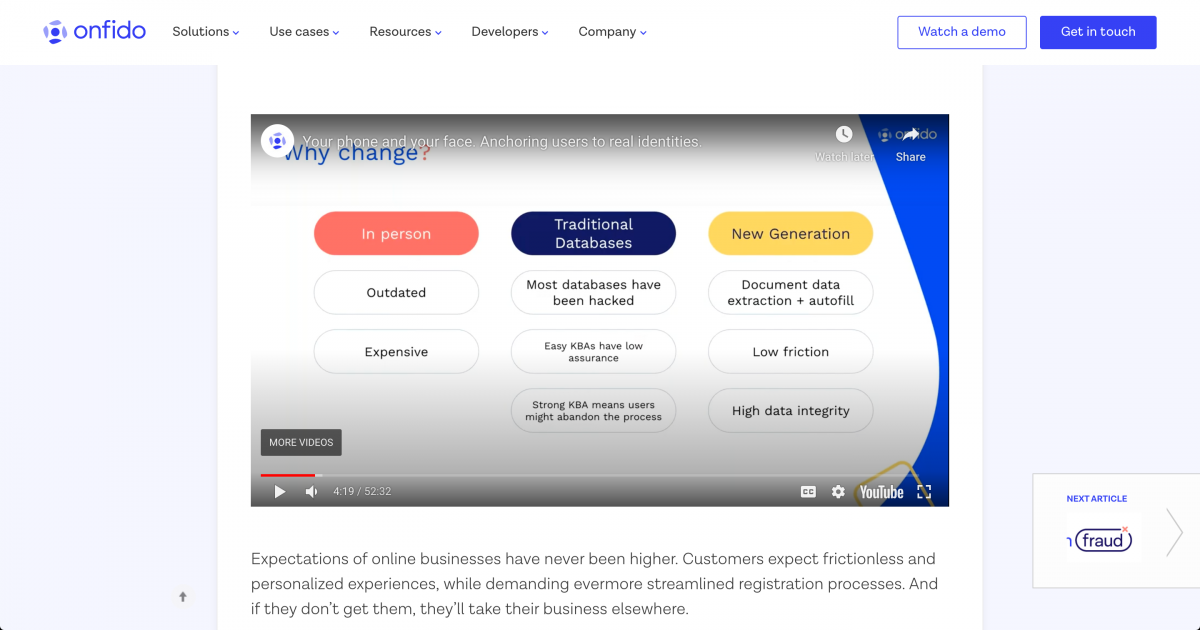 The "Watch Next" CTA 🔔
What's the next action a viewer should take after watching a live or on-demand webinar? No, it's not emailing the webinar host or the selling team. Very few will do that. But how about those top- and middle-of-the-funnel viewers who aren't sure yet about the problem they have or the solution they're searching for?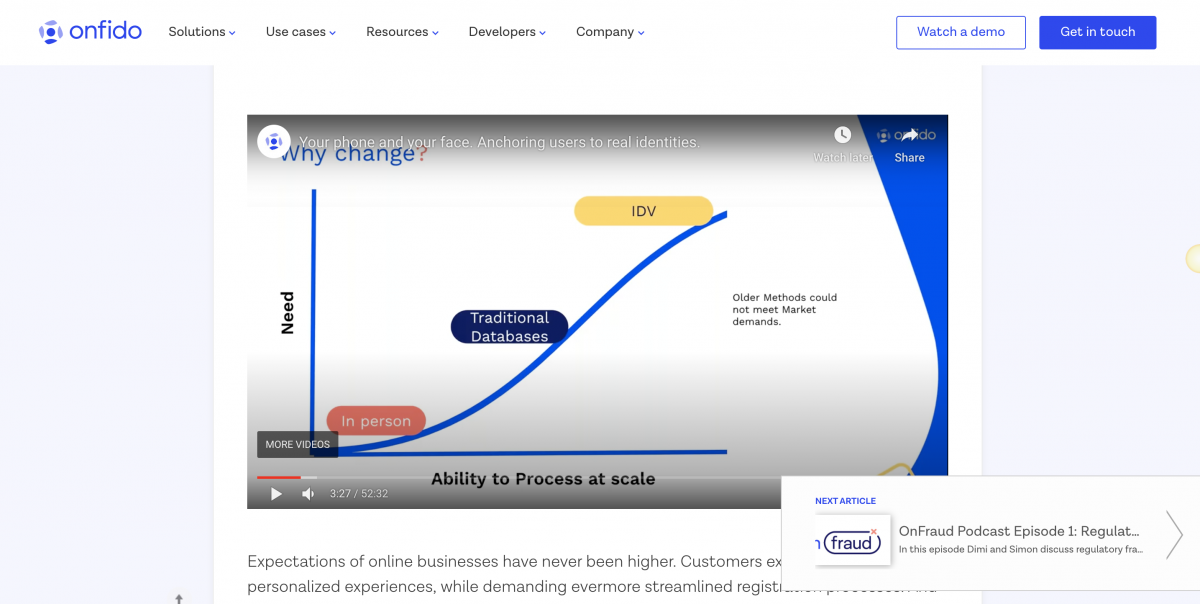 How about them? Will you just let them go after watching the webinar? Definitely not.
Instead, you'll want to follow Onfido's example and make sure you're providing your audience with a clear CTA, persuading them to register for a second webinar or read an article that is related to the one they've finished watching.

ConvertKit is a SaaS company that developed an email marketing automation tool for blogs and companies.
One use case 🔔
You can run multiple types of webinars—educational, onboarding, demos, success stories, etc. But if you don't have plenty of resources or want to focus on something specific, you can always follow ConvertKit's lead to use webinars as a way of introducing its tool and helping its users to get the most out of it.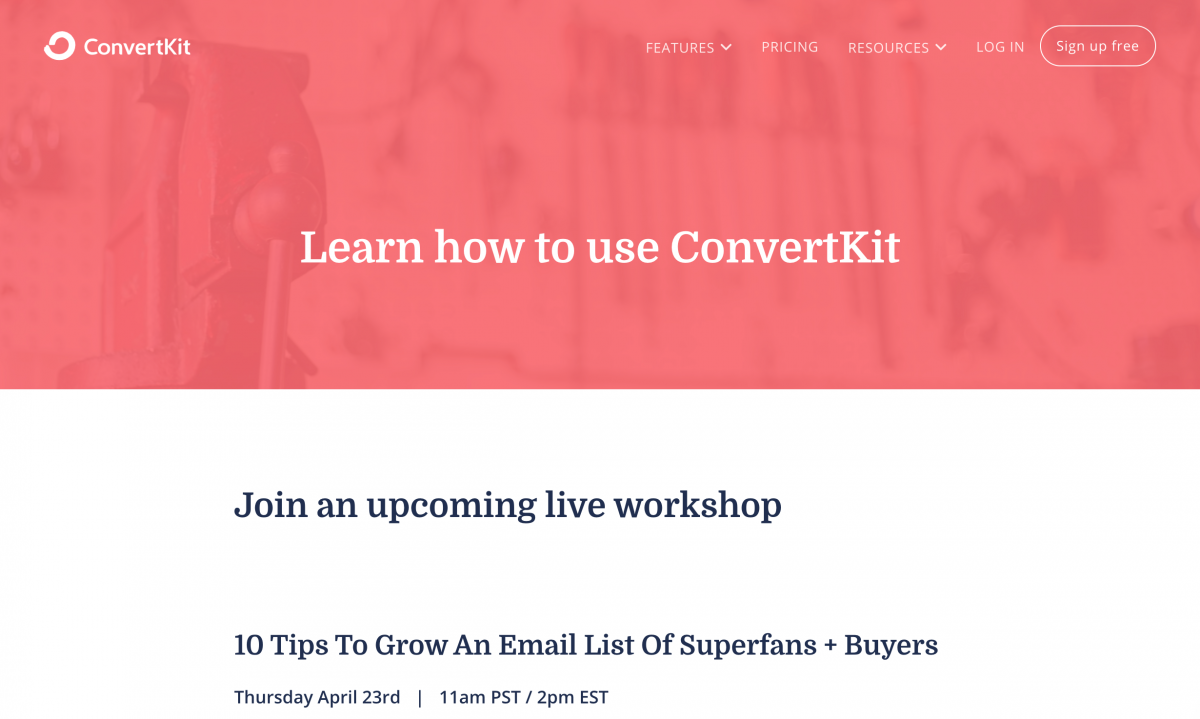 ConvertKit calls its webinars "Learn How to Use ConvertKit Workshops," and runs them with a clear end goal and end audience in mind.
Is this webinar for you? 🔔
ConvertKit offers us another great example of excellent copy. This is something only few companies are doing. Apart from the webinar description, ConvertKit also lets viewers know if a particular webinar is for them or not.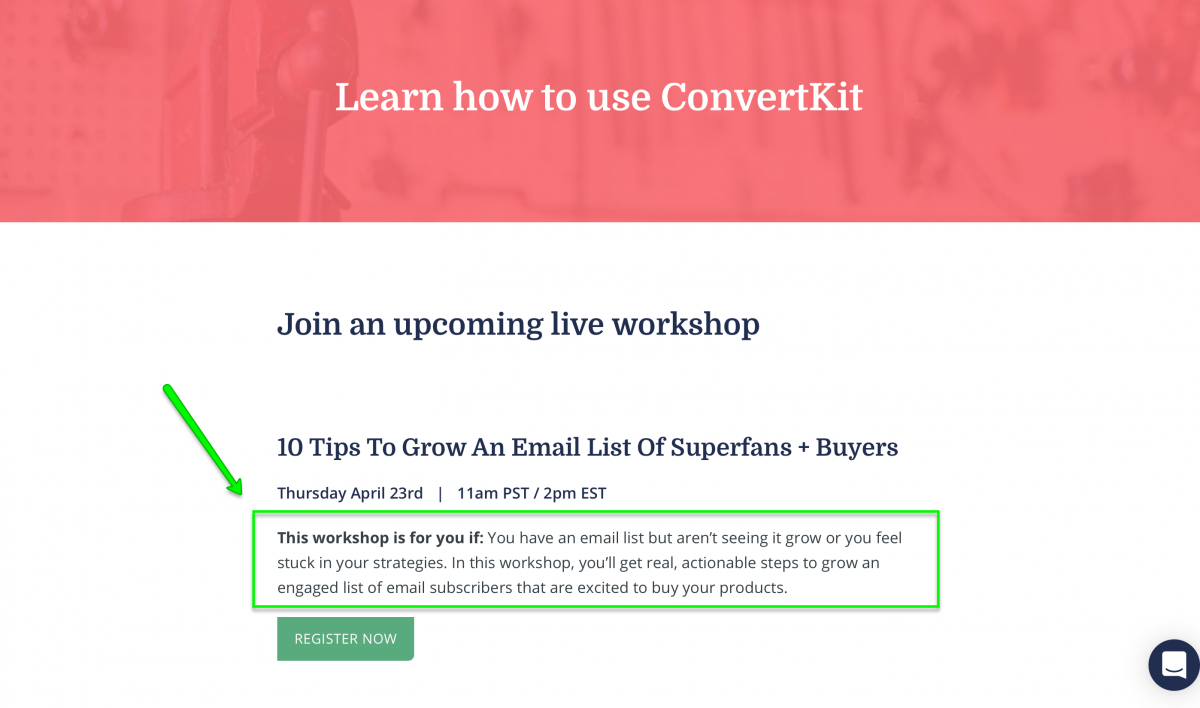 The company states very clearly which viewers they want to engage with and which webinars will be of help to those viewers. Again, it's a small tweak, but it can save your audience a lot of time. It'll also reduce the number of low-quality leads and clear the marketing pipeline.
A countdown timer on the registration page 🔔
Let me ask you a quick question: How many times have you looked at something time-sensitive and thought that you'd get to it later, and then you forgot all about it?
This happens all the time with live webinars—someone may see an upcoming webinar and hold off on registering, thinking that he or she will do it later (then, forget about it).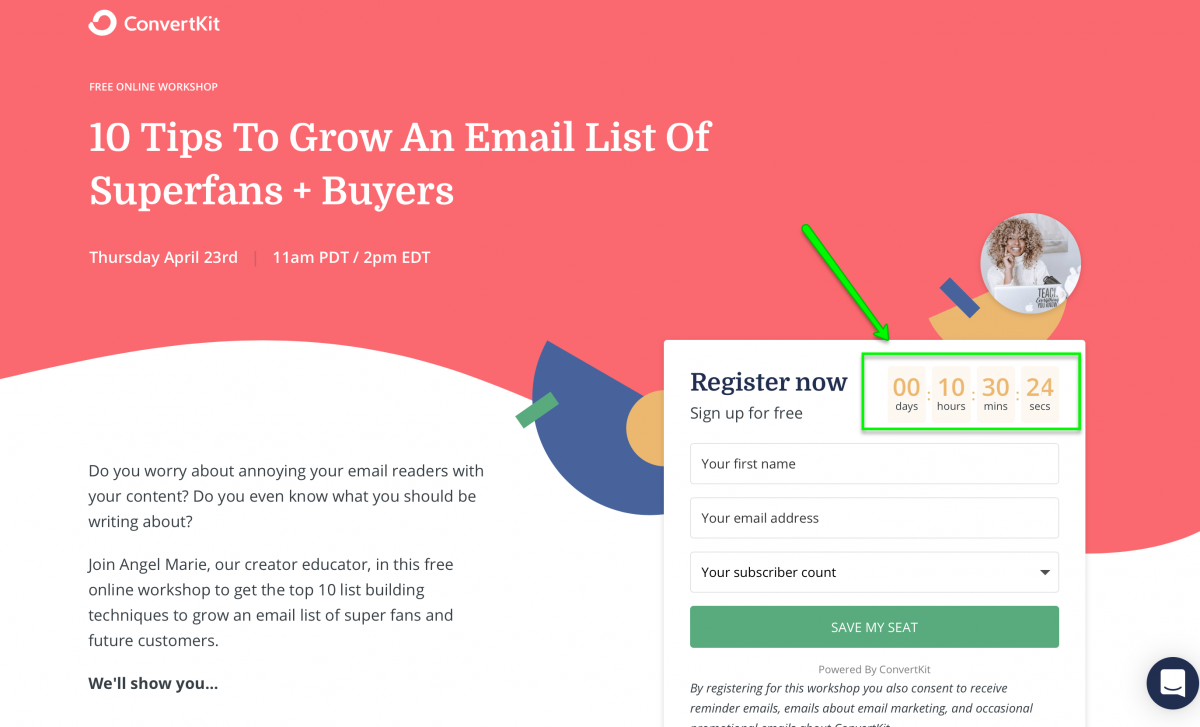 To keep this from happening, you can always do what ConvertKit does and add a countdown timer on the registration page. The sense of urgency will motivate people to register immediately.

ActiveCampaign is a cloud software platform that offers software for customer experience automation, which combines email marketing, marketing automation, sales automation, and CRM categories.
Easy access 🔔
Most webinars are gated content. After all, most of us run webinar campaigns to generate high-qualified leads. However, viewers may feel that having to register and fill out a form to watch an on-demand webinar is annoying and time-consuming and may decide not to watch the webinar at all.
This means fewer viewers, in addition to not increasing brand awareness as much as you wanted. To keep this from happening, offer some on-demand webinars as ungated webinars that people can access easily, like ActiveCampaign did.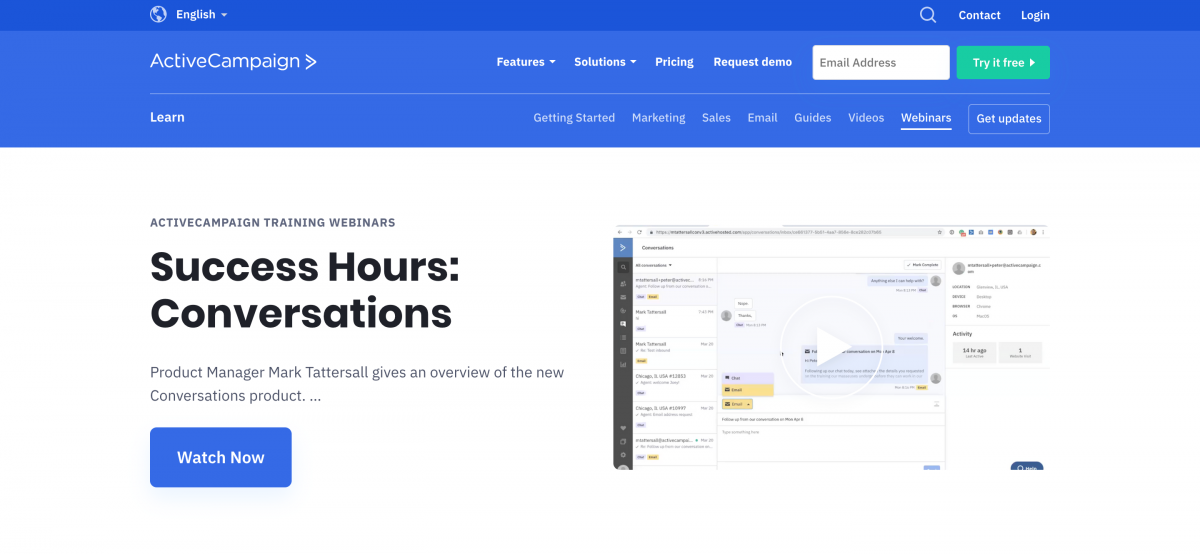 Specific categories 🔔
Usually, webinars are classified depending on their topic, use case, or format. ActiveCampaign, instead, created a different type of categories using branding and creating specific series.
For example, it has an "Office Hours" category, which discusses strategy and best practices. It also has "Getting Started Pt. 1" and "Getting Started Pt. 2," which are dedicated to teaching users how to navigate the platform.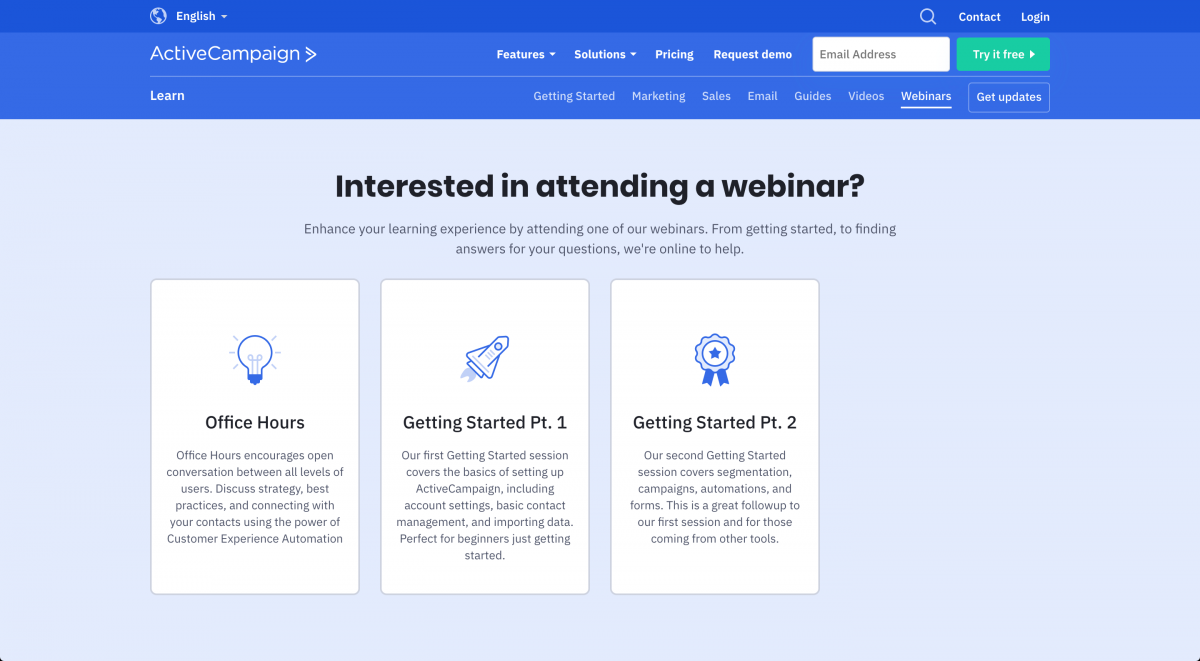 These very specific categories, based on the level of interest users may have, have made the entire webinar experience more comprehensive and results-oriented.
Related videos 🔔
A small but very important practice is to add related videos on the same page as your webinars. Obviously, it's always good to try and get your viewers to continue spending time on your website watching a second webinar through a specific CTA.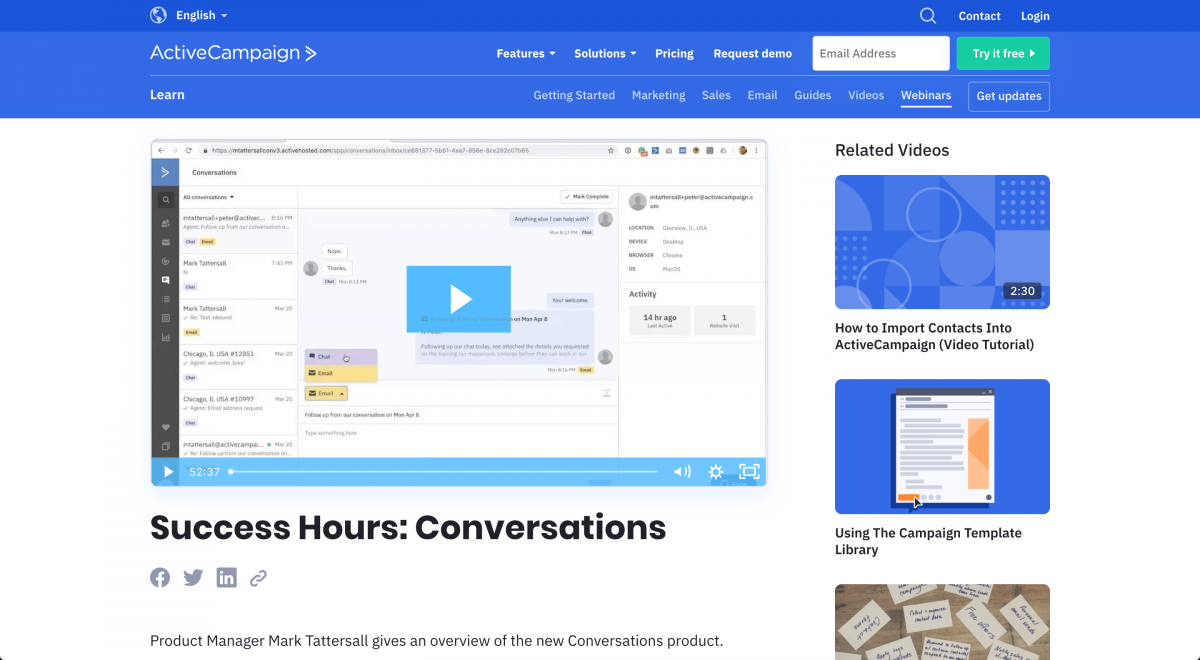 But if you don't have that, at least offer them a menu with related videos so they can choose the content they want to consume next.

SplashThat is an event marketing platform that helps companies to market and measure their live, virtual, and hybrid event programs.
Clear branding 🔔
Although branding is a separate topic altogether we'll discuss in another article, it's important to note that this is what makes your webinars truly attractive and memorable.
SplashThat is a fantastic example of content branding. This is something you should always take into consideration, even if you're short on resources.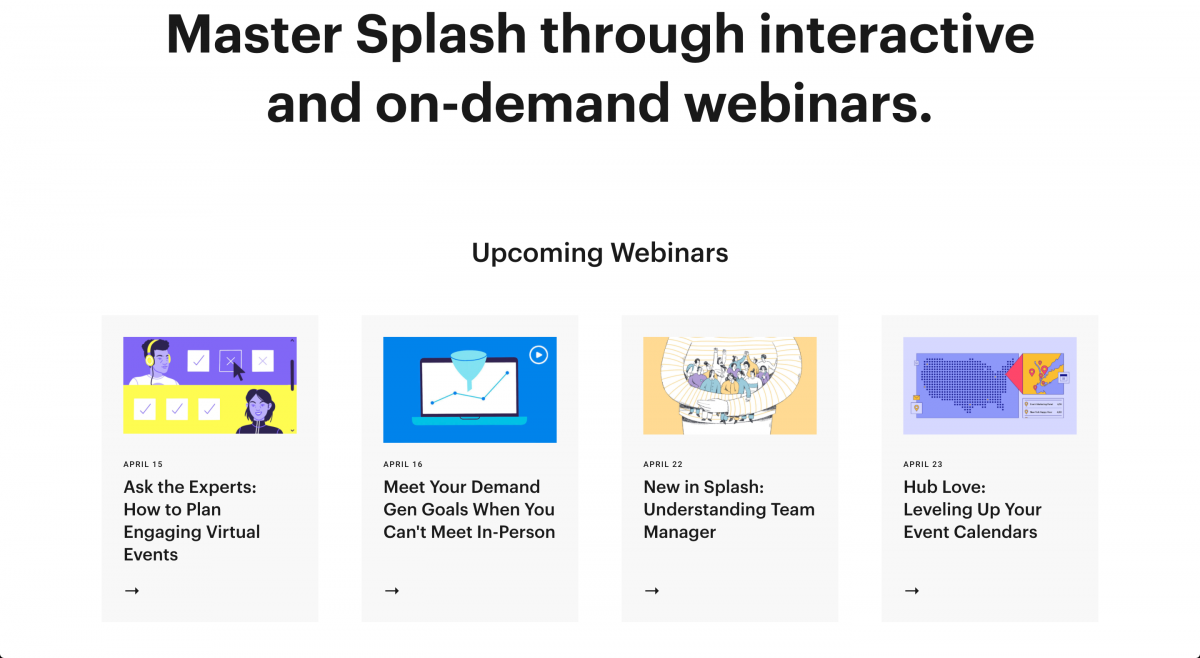 For example, you can agree upon one type of color and illustrations used in the featured images or specific webinar format. You can also work on creating branded webinar slides that people will recognize.
The number of views 🔔
Showing the number of views is another way to show how popular a webinar is. SplashThat displays it right on the registration landing page. Knowing how popular a video is will compel more users to register and watch it.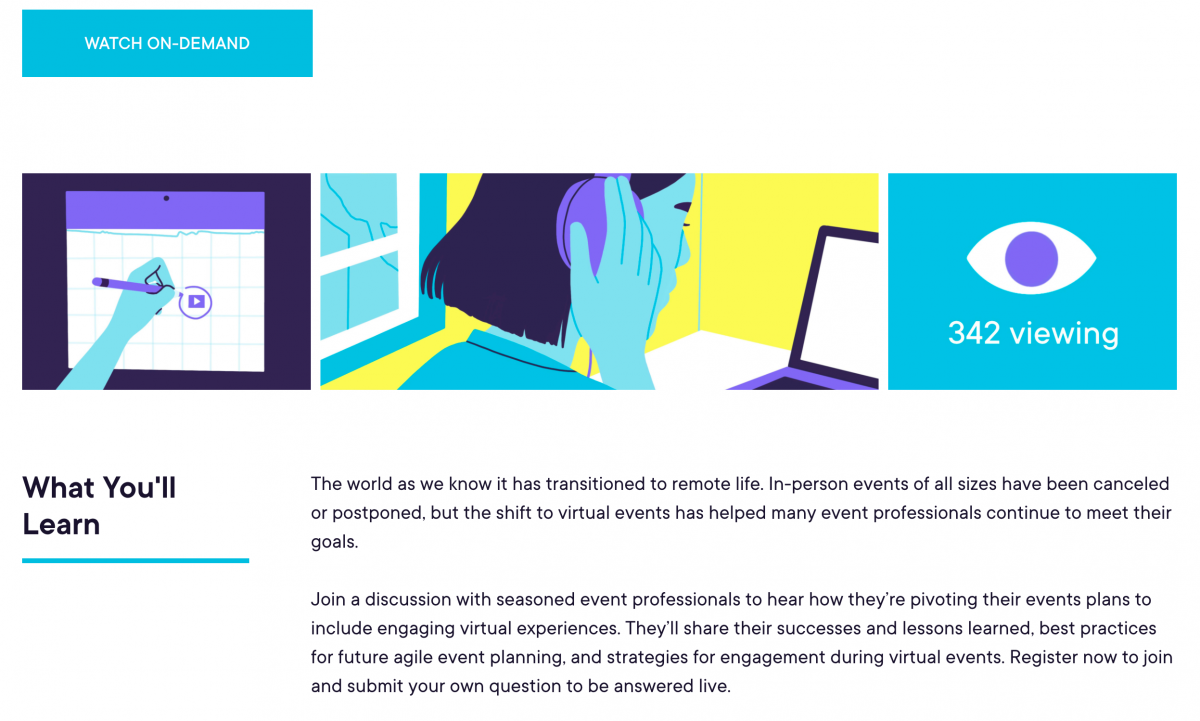 However, you may only want to do this if a webinar has a lot of views. After all, you don't want your potential audience to see that one of your webinars had zero or only three views.
The presentation of the speakers' biographies 🔔
Most companies don't provide a more detailed biography of their webinar speakers, and that's not always good. People usually want to know if they're listening to and taking advice from an expert.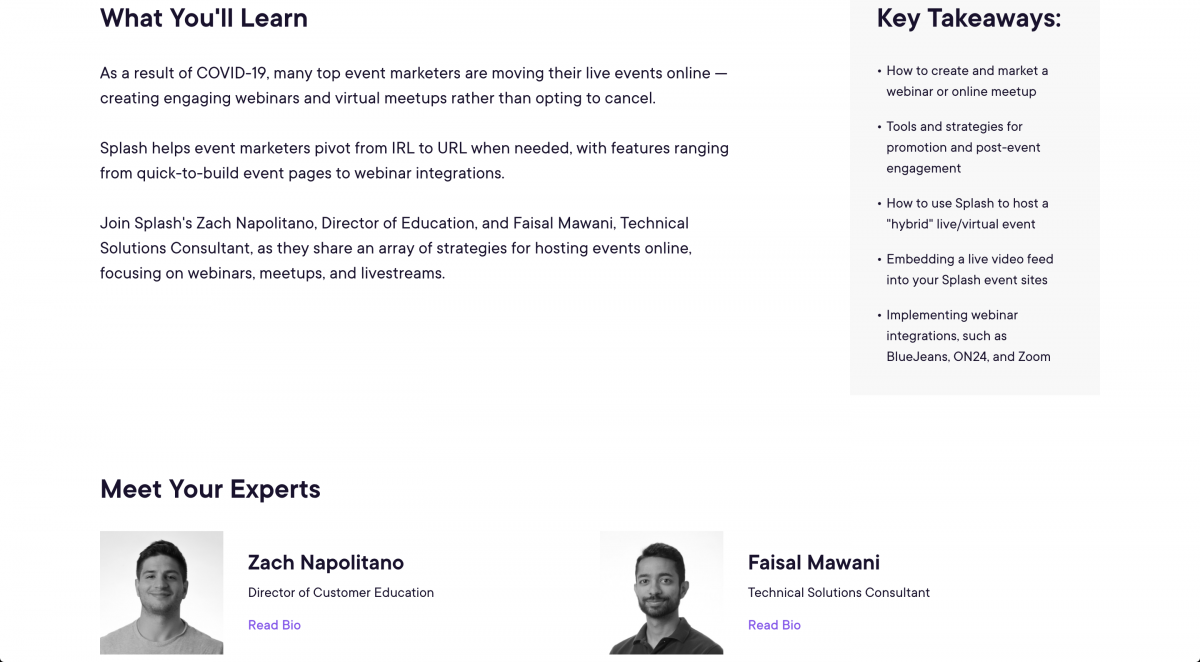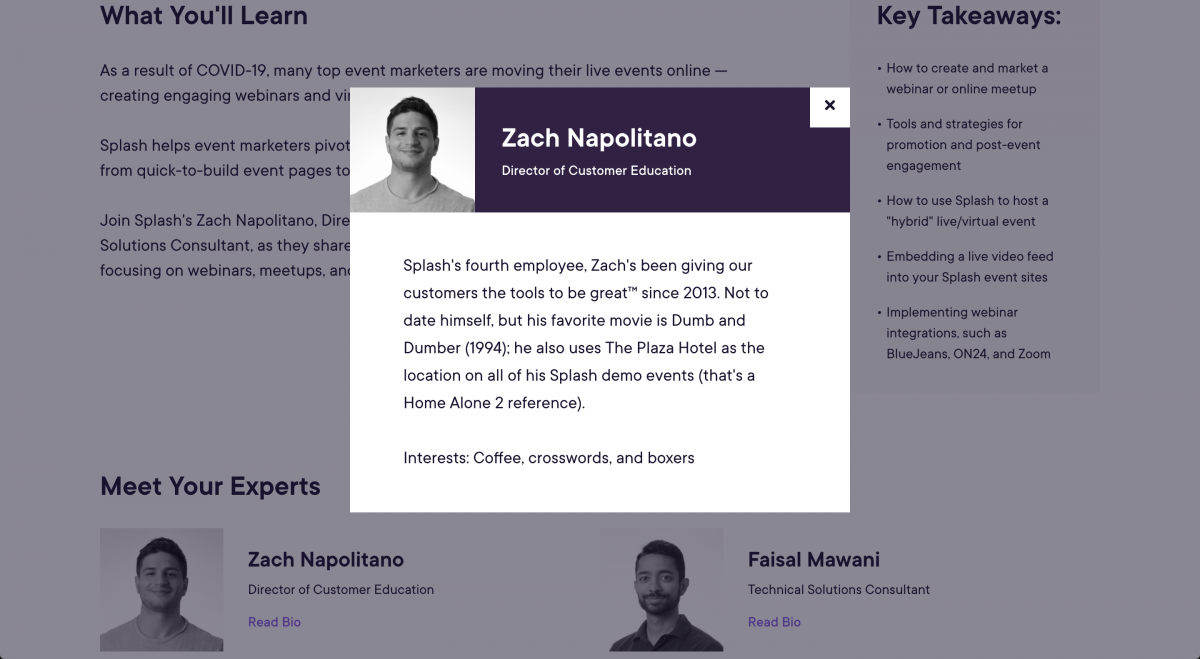 SplashThat displays in-depth biographies of the speakers on their webinar site.

ProfitWell developed a subscription platform that helps companies to achieve faster recurring revenue growth.
Teardown series and time stamps 🔔
As you already know, there are multiple use cases you can cover by running webinar campaigns. However, teardown is not a frequent one. So if you have this possibility and can add value to your audience by tearing down a business model, a pricing strategy, or a website design, you can always follow the example of ProfitWell.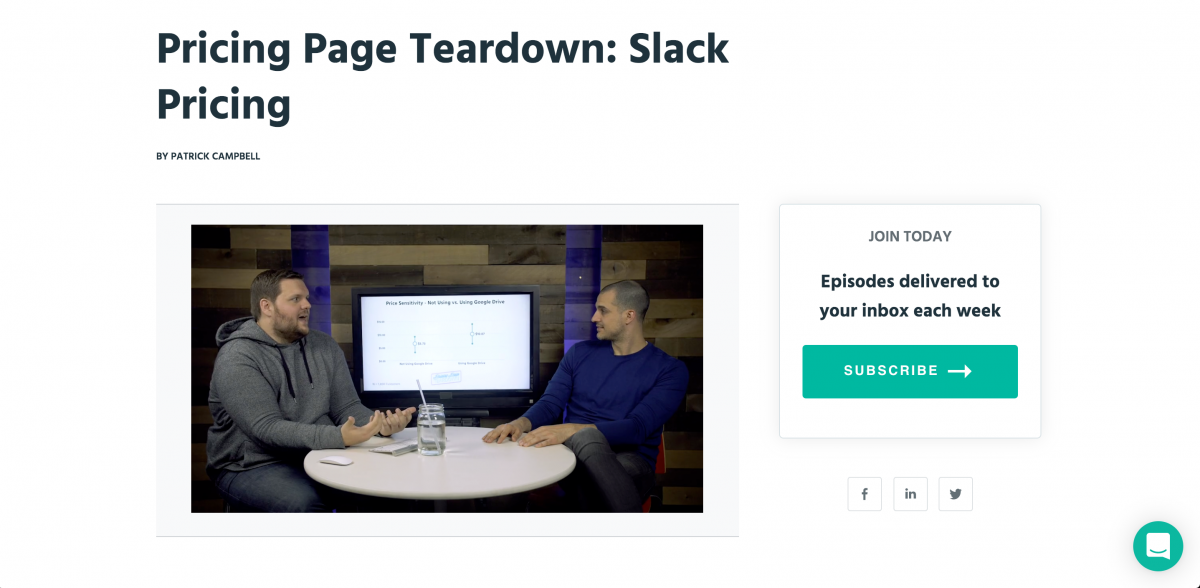 It has a well-branded Teardown series people watch and love. And as a bonus tip, you can also follow ProfitWell's lead and display time stamps for your webinars, so that people can skip certain parts and go directly to the parts that interest them the most.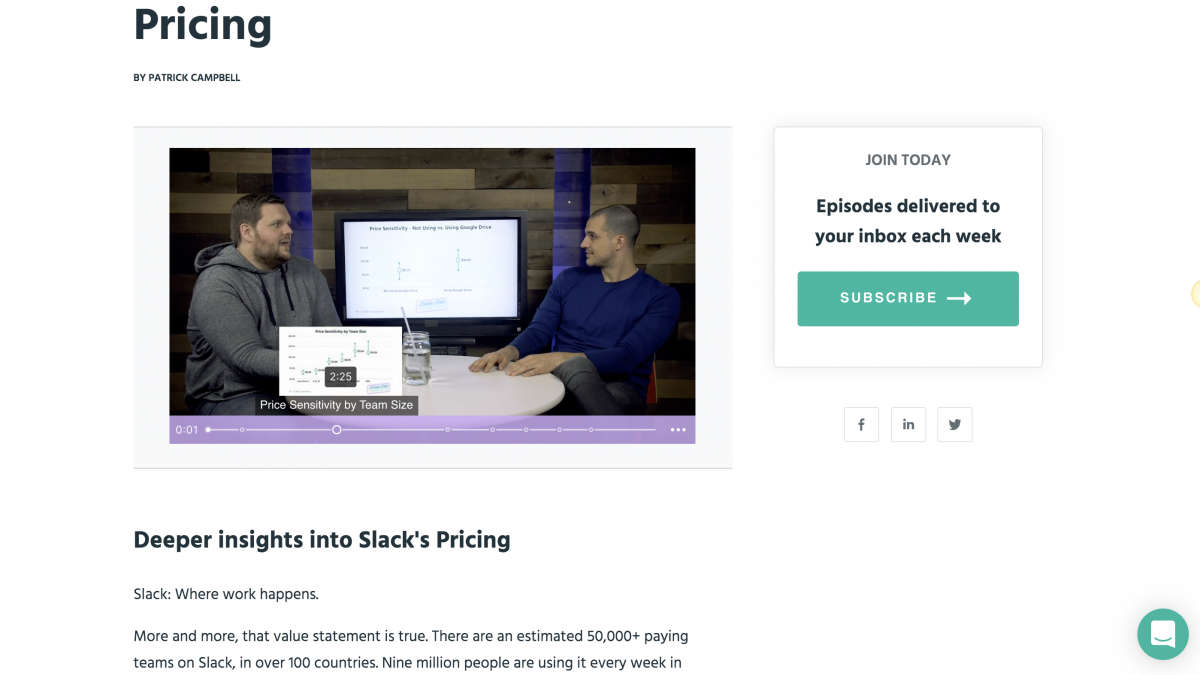 Media network 🔔
In case you didn't notice, more and more SaaS companies are starting to operate as media producers. Yes, the majority of brands will still use words such as "webinars" and "masterclasses" in their copy and their content strategy, but few successful companies will take it one step further.
ProfitWell is one of those successful companies. It abandoned the webinar format and created an entire Recur Network, which stands for "The first media network dedicated to the subscription and SaaS economy." Obviously, this move requires a large number of resources, but it's all about playing the long-term game. 
Webinar trailers 🔔
Again, this is not something most SaaS companies do, but providing a webinar trailer can be an engaging way of getting people interested in your videos. Plus, it doesn't require too much effort or too many resources.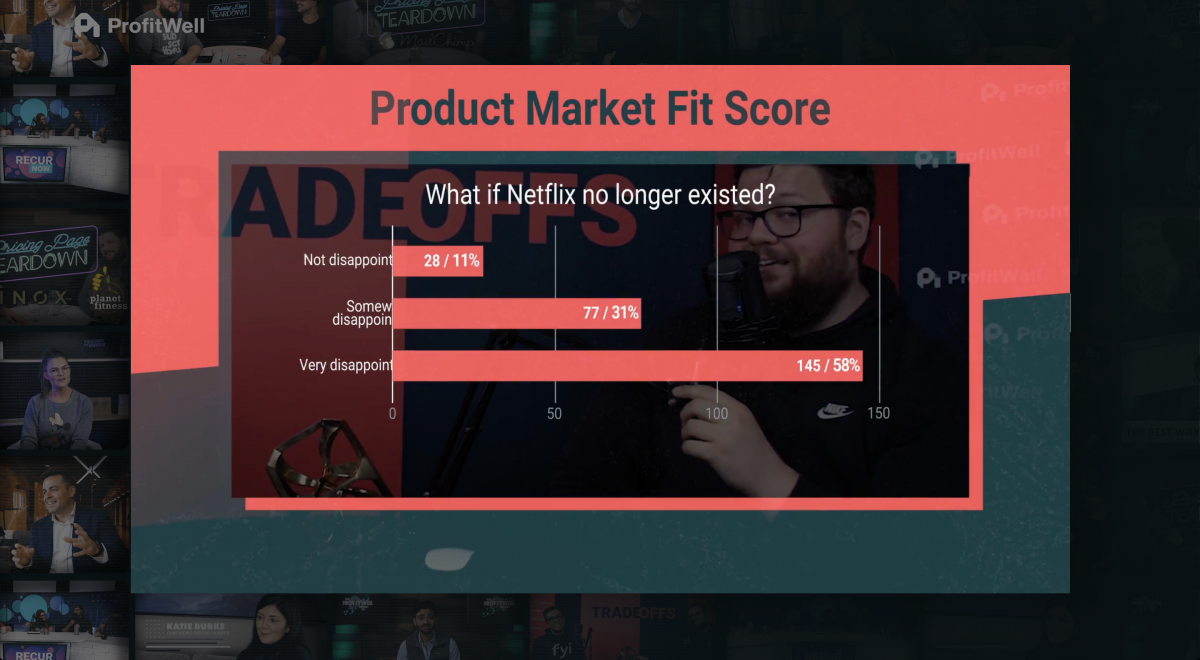 You just have to highlight the webinar topics, add some music, create an attractive copy, and launch it for your audience to see. Subsequently, you can use this trailer for both your webinars page and social media to direct people to register and watch the video. 

Drift is focused on developing conversational marketing and sales tools designed to make buying easier today.
Special events: RevGrowth Virtual Summit and All About ABM 🔔
Along with ProfitWell, Drift is an excellent example of repackaging webinars into well-thought-out and branded media products. For example, Drift launched its RevGrowth Virtual Summit (speaking of online events, "thanks" to Coronavirus). Drift also has the All About ABM series, a beautifully packaged video library anyone can access.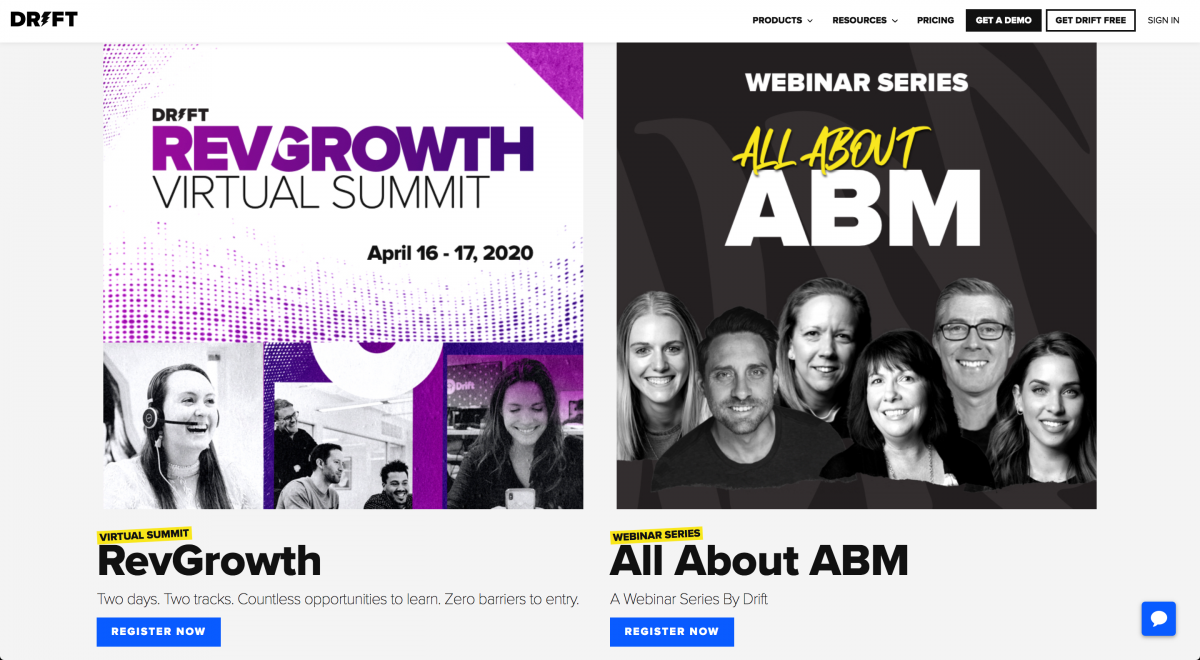 Covering all the funnel stages 🔔
What's impressive about Drift is that it's covering all the funnel stages with its webinar campaigns. Drift has webinars for those who are at the top of the funnel, high-quality leads, prospects, and paying clients. That's a very clever strategy if you want to tap into the full potential of your webinar strategy and pursue different goals with it.
Drift Insider 🔔
Drift didn't stop at launching different webinar series—it created an entire media network called Drift Insider, which is free for both leads and clients.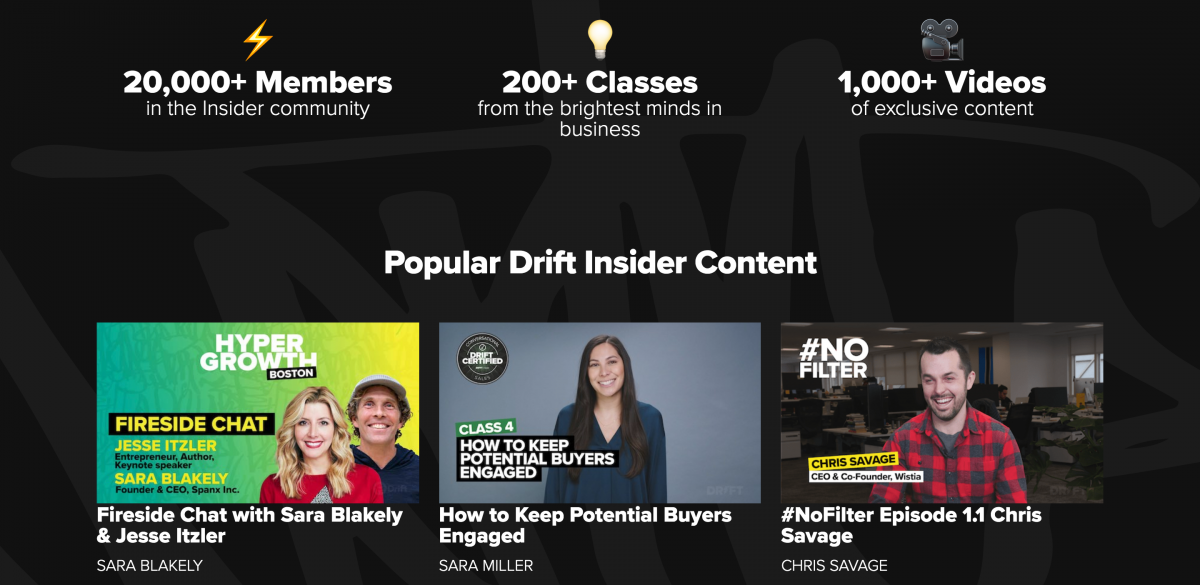 This is a great way to raise brand awareness, deliver constant value, evangelize the idea of conversational marketing and conversational selling, and entice leads to become clients.

Buffer is a SaaS company focused on helping its users and companies to manage their accounts in social networks, as well as analyze their results and engage with their community.
Focused on attracting high-quality leads 🔔
The awesome thing about analyzing the webinar campaigns of multiple SaaS companies is discovering how each company uses webinars differently to grow its business.
For example, Buffer is focused on people who are at the bottom of the funnel. In other words, its interest is in connecting with high-quality leads, which it does by running demos.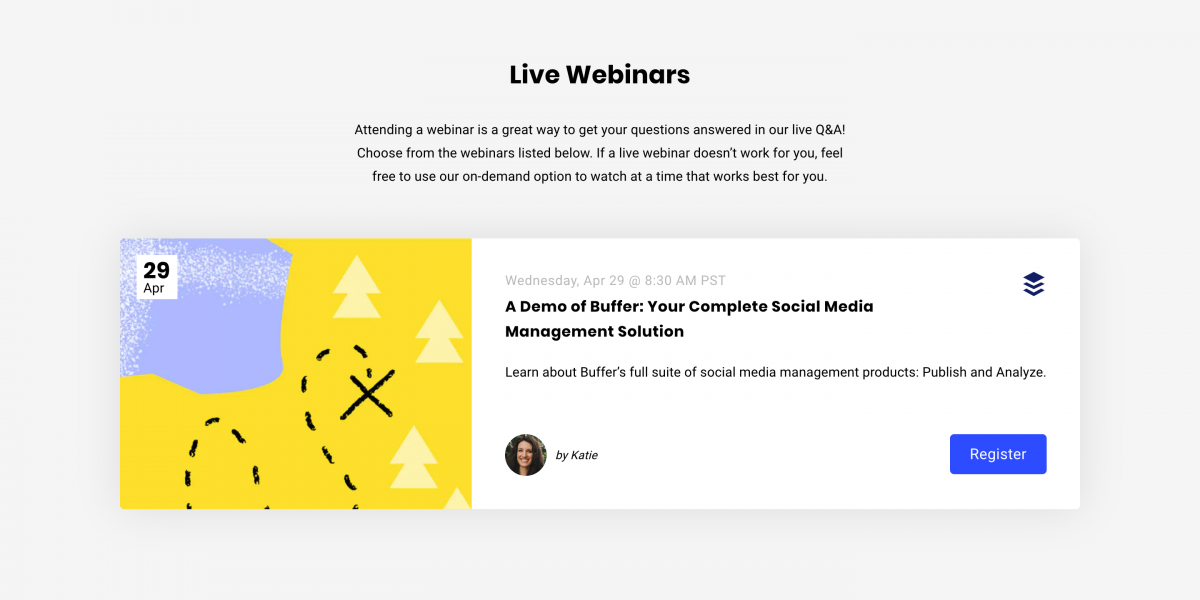 After all, only those people who are seriously considering purchasing its product will want to register for the webinar, so the company isn't spending resources on trying to appeal to absolutely everyone. This is an approach you can definitely try.
Onboarding webinars 🔔
Buffer also produces webinars for its users, which is a great way to save the onboarding team some time and group new users around live sessions. Instead of one-on-one onboarding calls, Buffer can engage a big number of people with just one webinar. This is a very clever practice, especially when you have a lot of new users you need to onboard.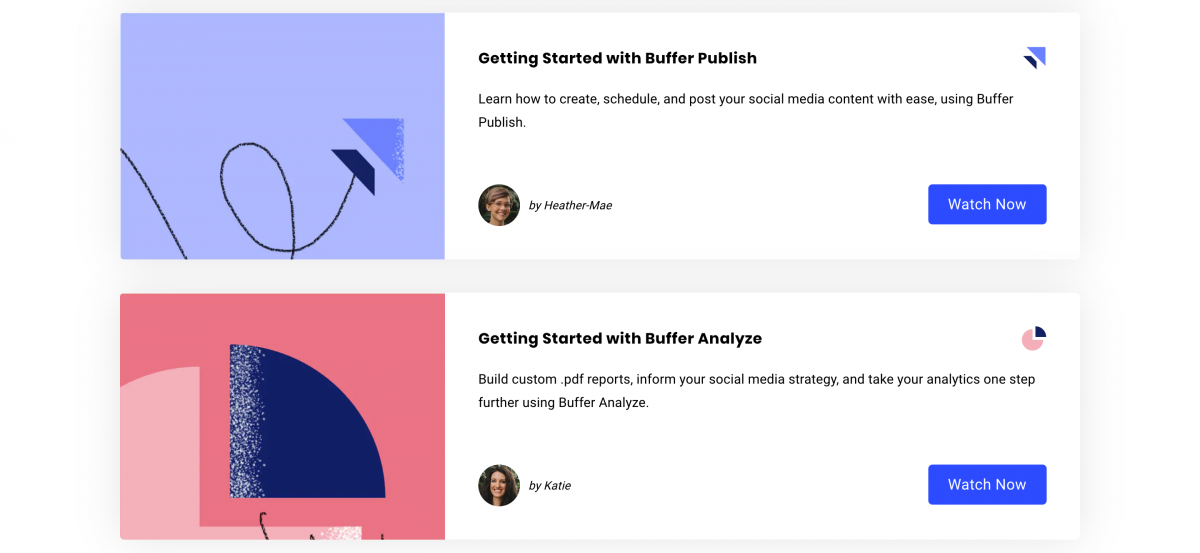 A prompt to attend live webinars 🔔
As you already know, most SaaS companies provide both live and on-demand webinars. Both formats are good for attracting leads. However, if you want to know your audience better and increase your engagement rate, you'll want to convince people to attend your live events instead of just waiting for the recording. How can you do that? By doing what Buffer does: writing good copy.

The company's marketers aren't just inviting people to register and attend live events; they're also highlighting that attending live webinars is a great way of getting questions answered, thanks to the live Q&A.

Hootsuite developed a social media and management platform, helping its users to manage and track their social media accounts.
Qualifying registration forms 🔔
Another way of attracting high-quality leads is by asking people to complete lengthy webinar registration forms. If people aren't serious about attending the webinar or watching the video recording, they won't take the time to provide the information you've requested. They'll only do it if they're truly interested in what you have to offer.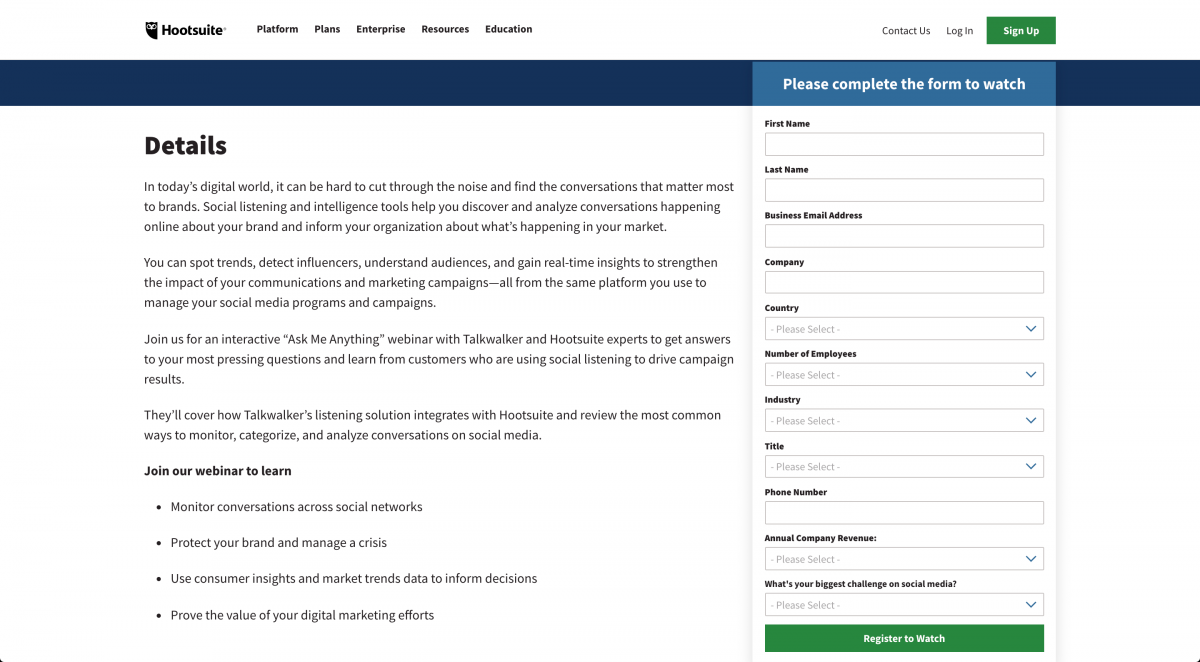 This is a very smart practice Hootsuite is utilizing. Moreover, these forms help the company qualify its leads and know all the necessary data that will help move the leads through the funnel easier.
Clear webinar topics 🔔
You're probably familiar with the different tags on SaaS blogs. However, this is not something we usually see on a webinars page. As you can see, Hootsuite decided to add specific tags to its webinars page so that people know what topics the webinars are covering. This is an easy and simple tactic. It gives people a theme filter and helps the webinar creators stick to specific topics.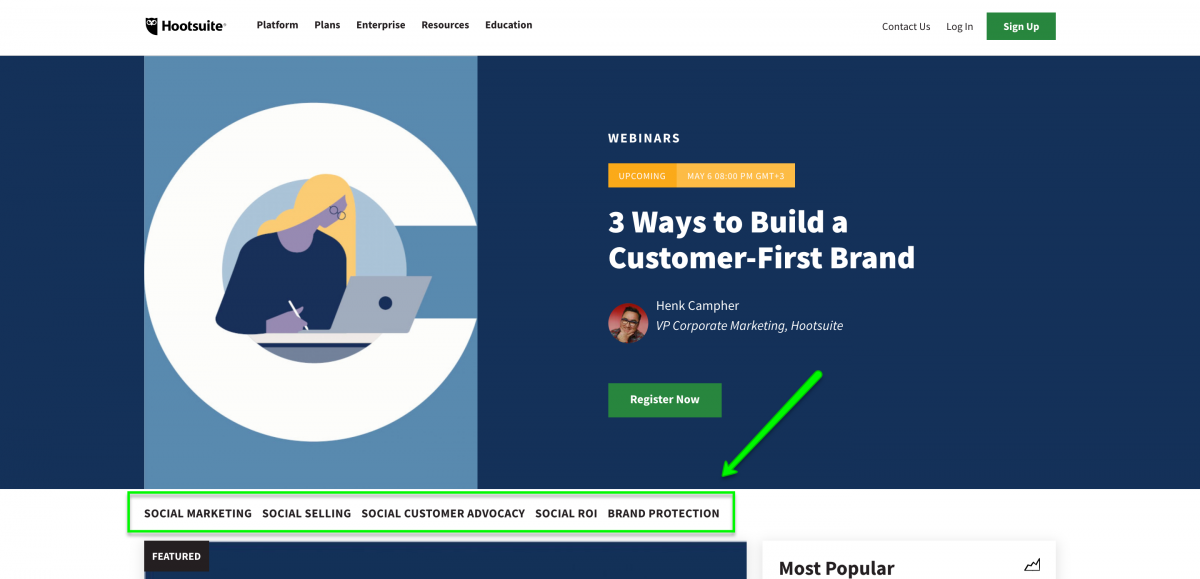 A digital summit with an agenda 🔔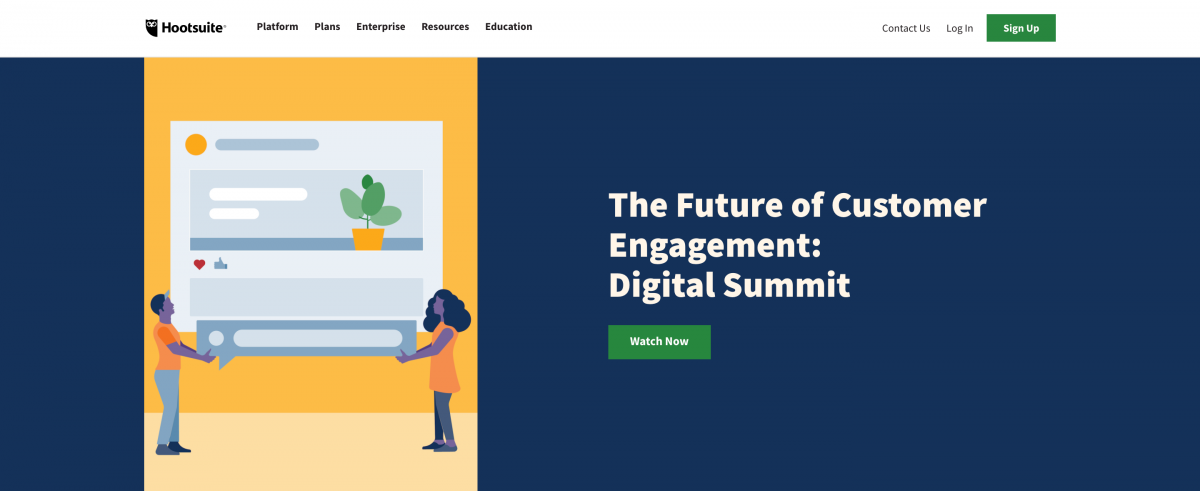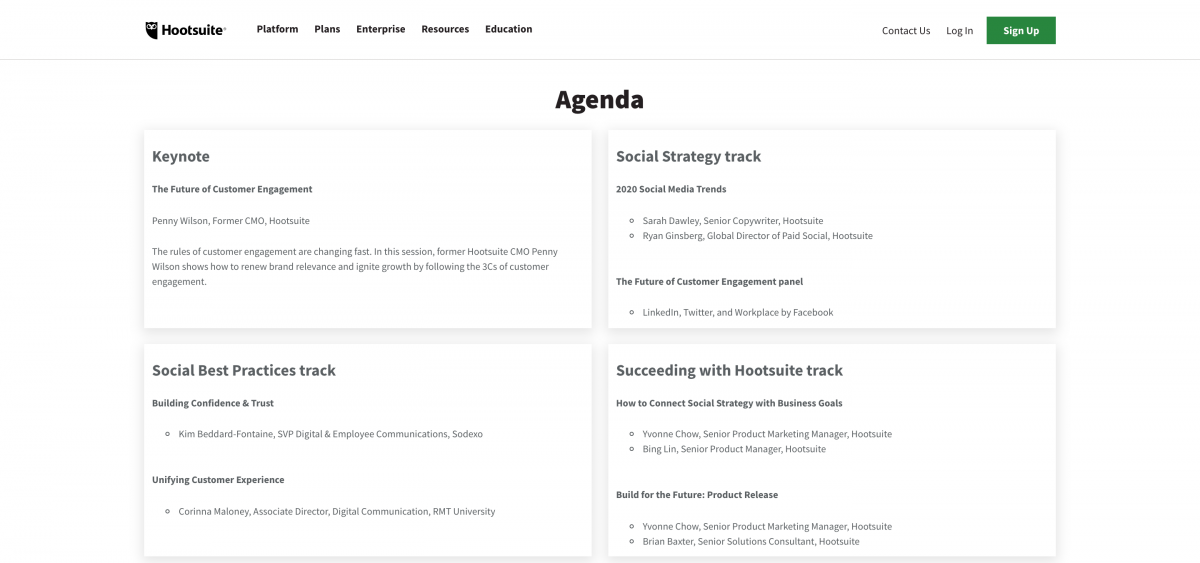 In the future, we'll continue to see how webinars are taking different formats. Hootsuite's Digital Summit is a perfect example of repurposing and rebranding webinars. In addition, organizers also have an agenda that provides a full-fledged online event experience to its audience.

PandaDoc is a SaaS company focused on empowering sellers to easily transact with customers through personalized documents that can be created in minutes, build meaningful relationships, and win more deals.
Marketing new webinars 🔔
Here's a very clever move from PandaDoc. Instead of just adding new webinars to the general library, the company decided to highlight its new videos. This simple tweak draws people's attention to the fresh videos, which increases their views.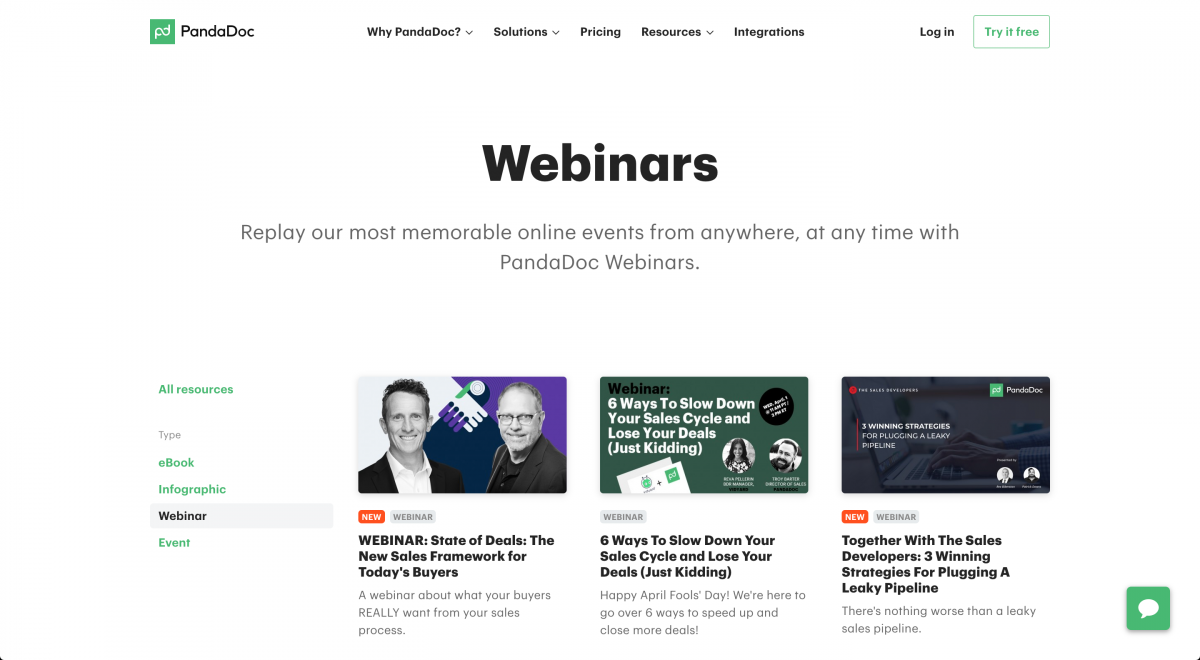 Using humor in the headlines 🔔
We've already talked about emotional headlines that hook people. PandaDoc, however, offers a different approach to copy by adding humor.
A headline such as "6 Ways to Slow Down Your Sales Cycle and Lose Your Deals (Just Kidding)" may draw your attention and pique your interest enough to read the article.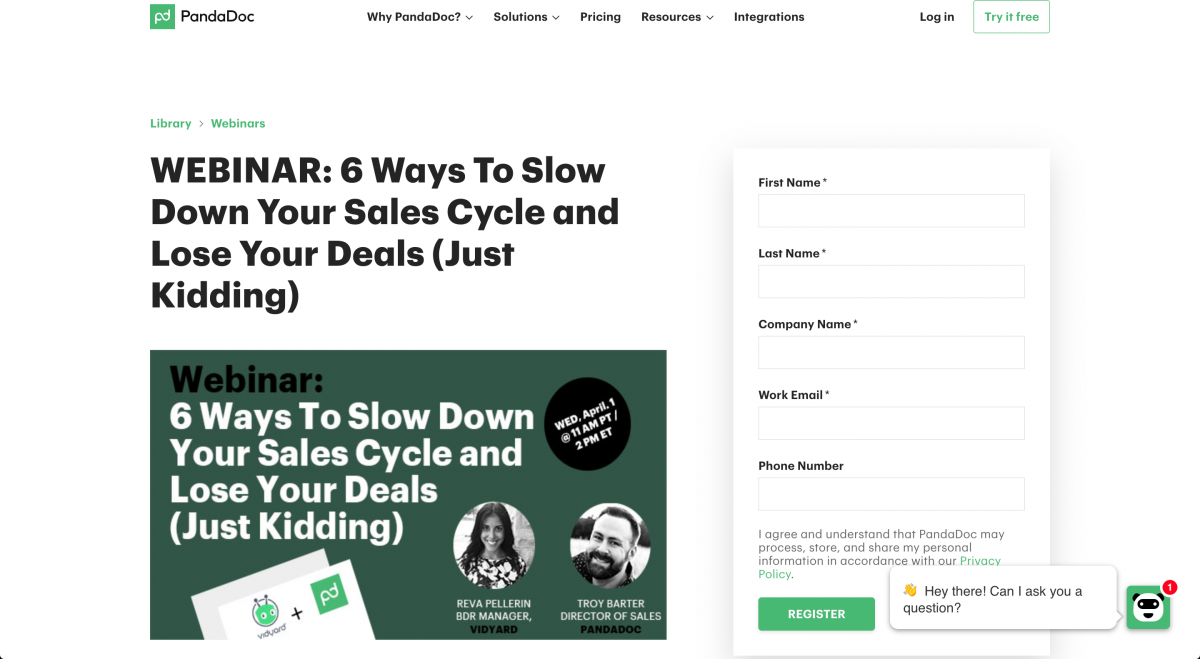 So if your branding voice allows it, experiment with funny headlines and see how your audience reacts to them.
Displaying a thank-you message after registering 🔔
Usually, to watch an on-demand webinar, people have to fill out a form first, and then they can immediately access the video landing page. But what if you could be a little bit more personal and actually thank people for their time and registration?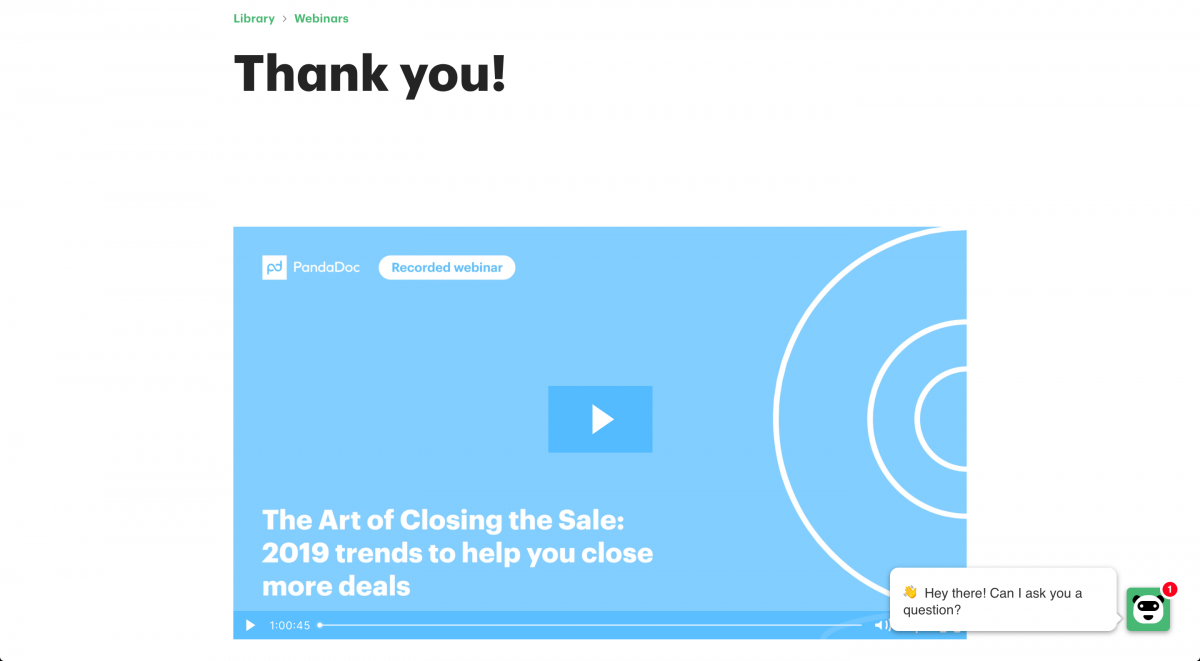 That's what PandaDoc does. That little gesture can go a long way in making your viewers feel appreciated.

Help Scout provides an email-based customer support platform, a knowledge base tool, and an embeddable search/contact widget for customer service professionals.
Presenting the webinar team 🔔
Help Scout has a smart way of drawing people's attention to its webinar campaigns. Instead of just describing the page, it sets expectations by mentioning that all the webinars are educational and delivered by the HelpScout team.

Plus, it adds the HelpScout's webinars team photo. This puts a face on the HelpScout webinar campaigns and makes the company more relatable.
Removing friction 🔔
Usually, to watch a webinar, you have to go to the content library, choose a webinar, and then go to its landing page and register. HelpScout decided to skip that step and put the registration form on the same page as the webinar library.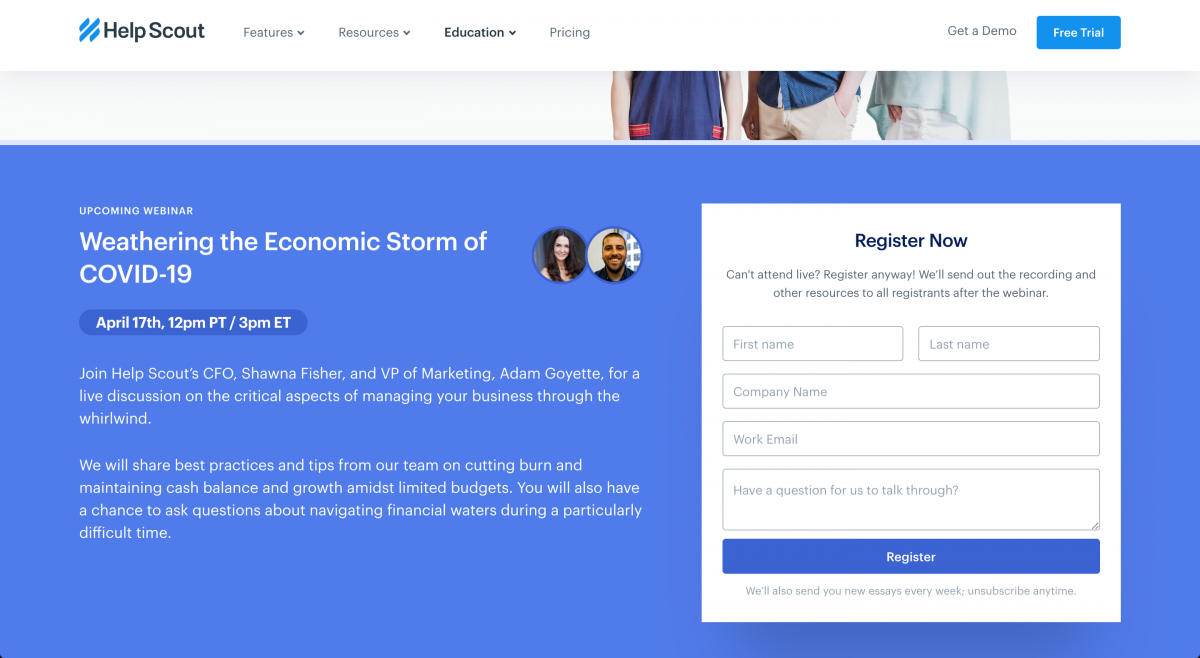 Note, though, that this form is available for the upcoming webinar exclusively. By doing this, you may increase the webinar's attendance rate. Hey, it's worth a shot, isn't it?
Humanizing the webinars list 🔔
HelpScout has a thing for humanizing the experience of its audience. So apart from introducing the webinars team on the landing page, the team also adds the photos of the webinar guests as part of the video list people can scroll through.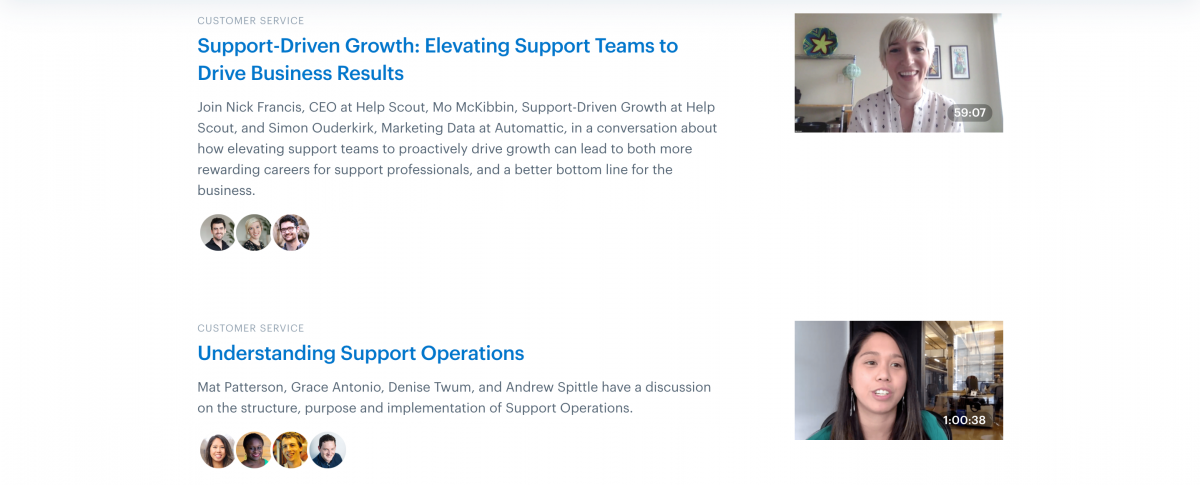 This simple tactic makes webinars more appealing. After all, we tend to give more attention and become more focused when we see human faces.

Segment presents itself as a customer data platform that helps professionals collect, clean, and control their customer data.
Adding tags 🔔
If your webinars are covering different topics, you may want to follow the example of Segment and add tags to your webinars. This way, your audience will know what each video is about and decide which one best suits their interests and needs. Again, as you can see, this is a very small practice than can greatly improve your viewers' experience.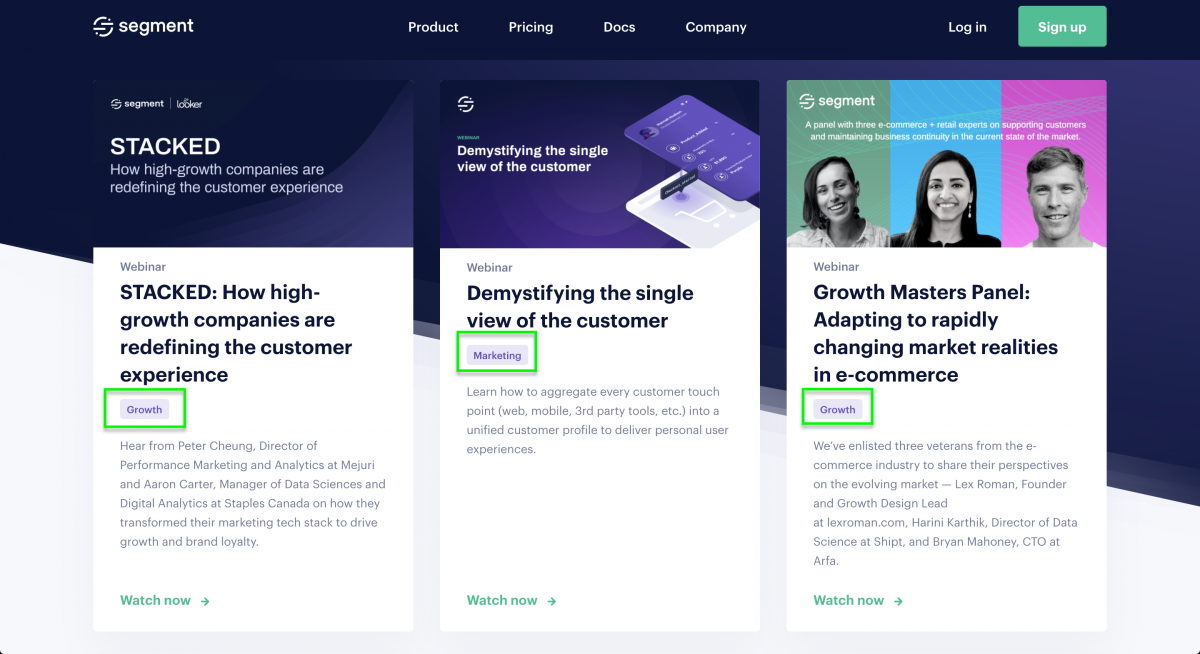 Hassle-free registration form 🔔
We've already mentioned extensive registration forms and how they can keep unwanted leads at bay. Answering too many questions can be time-consuming and annoy your potential viewers.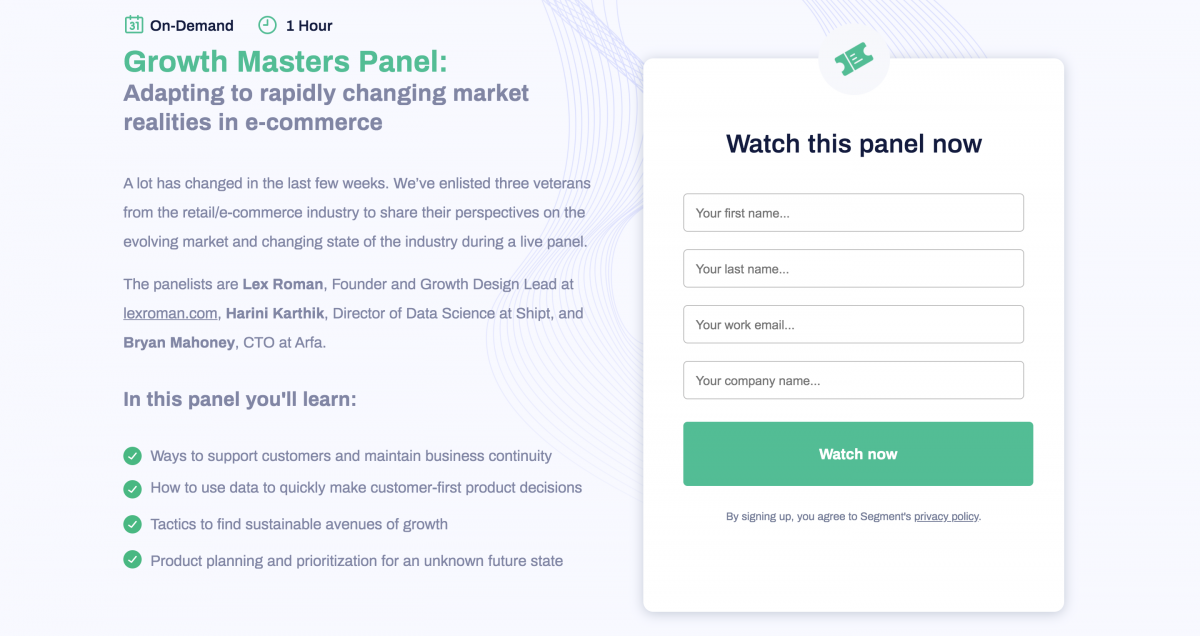 If you want to attract a larger audience, you can do what Segment and other SaaS companies do and go for smaller registration forms that usually only have about four or five questions. Your viewers will appreciate it.
Setting expectations 🔔
What's interesting about Segment is the copy it has on its webinar landing page.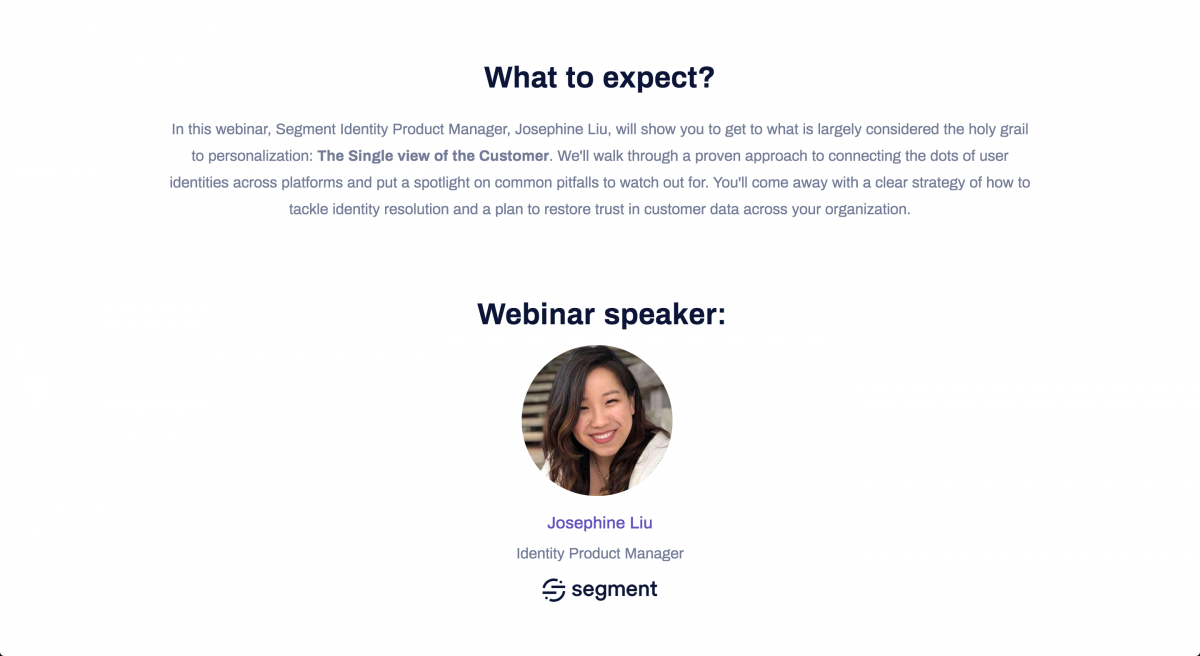 Instead of just presenting the webinar and outlining what people will learn, Segment also describes what viewers should expect from the webinar. The copy provides a clear understanding of the wins people will get by attending the webinar.

Optimizely is a SaaS company that makes customer experience optimization software for other companies, providing A/B testing tools.
Savvy branding 🔔
Creating series and branding your webinars is just half of the endeavor. The other half should be coming up with witty names and media brands that will resonate with your audience.

Optimizely did a great job of naming two of its webinars series: "Under the Hood Webinar Series" and "Product Experimentation Breakfast." Clever branding will increase your viewers' interest.

List upcoming webinars 🔔
We're used to seeing some sort of board view of the webinars, which sometimes can be difficult to process and scroll through. Take a page from Optimizely's book and display your upcoming webinars as a list. It lets your audience quickly find what webinar suits them best.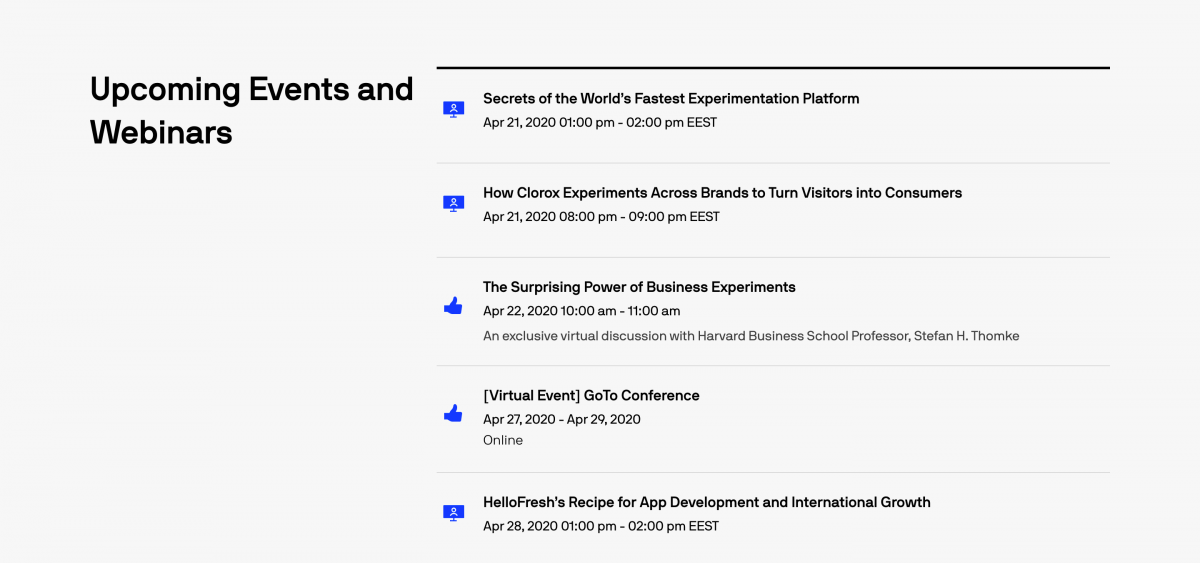 Different icons 🔔
As we've previously discussed, webinars may take different forms (masterclasses, workshops, virtual summits, even quick online events).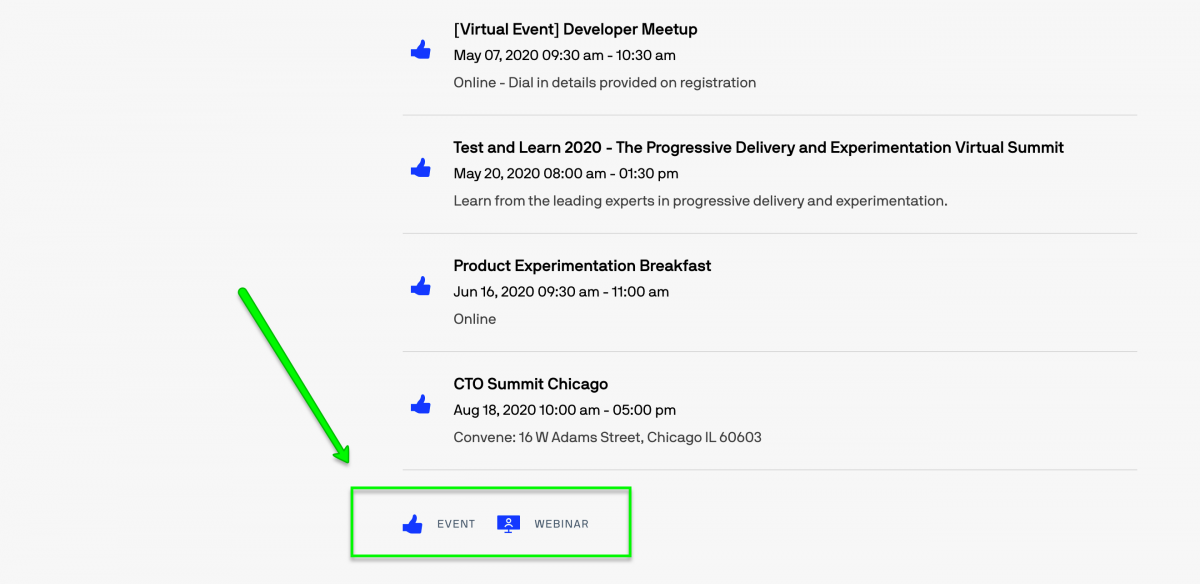 But when presenting these options to your audience, you may want to add an element that will help them see the different formats. Optimizely does that by using icons.

Amplitude is a SaaS company that works on developing a comprehensive product analytics platform for web and mobile.
Give viewers an incentive 🔔
Amplitude has an interesting webinar collaboration that reflects in its masterclass branding. The company has partnered up with Calm, a mental fitness app.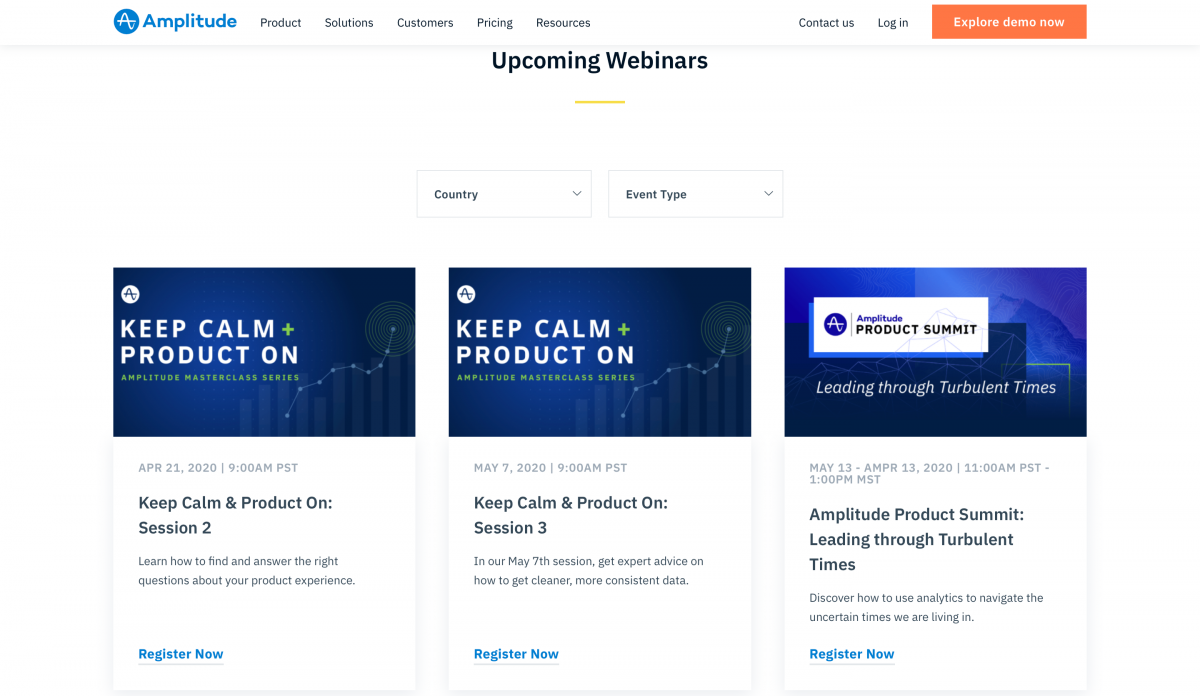 And although there's no obvious connection between the webinar content and the Calm app, Amplitude managed to integrate this collaboration harmoniously and even incentivize its viewers with a 40% discount if they want to access Calm's premium content.
Series with multiple episodes 🔔
Amplitude's "Keep Calm and Product On" brand has three series and multiple episodes. When people register, they can choose the series and episodes they want to watch or attend.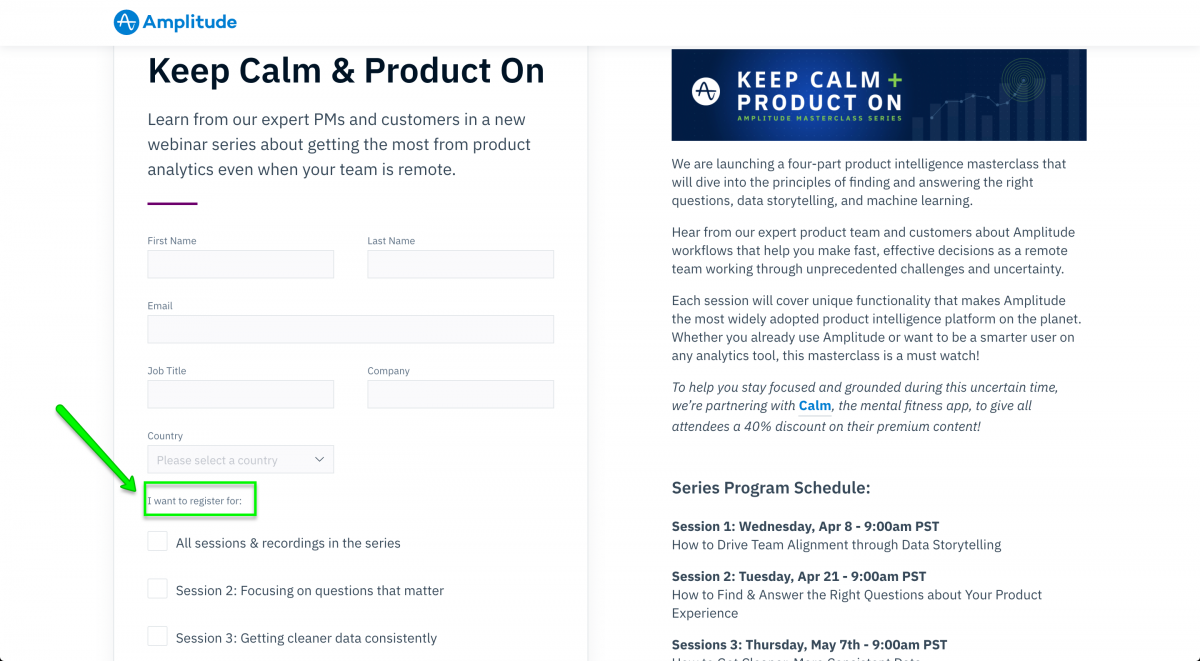 That's a great way of letting viewers see their options and gives them the ability to choose what interests them the most.
Product Summit 2020 🔔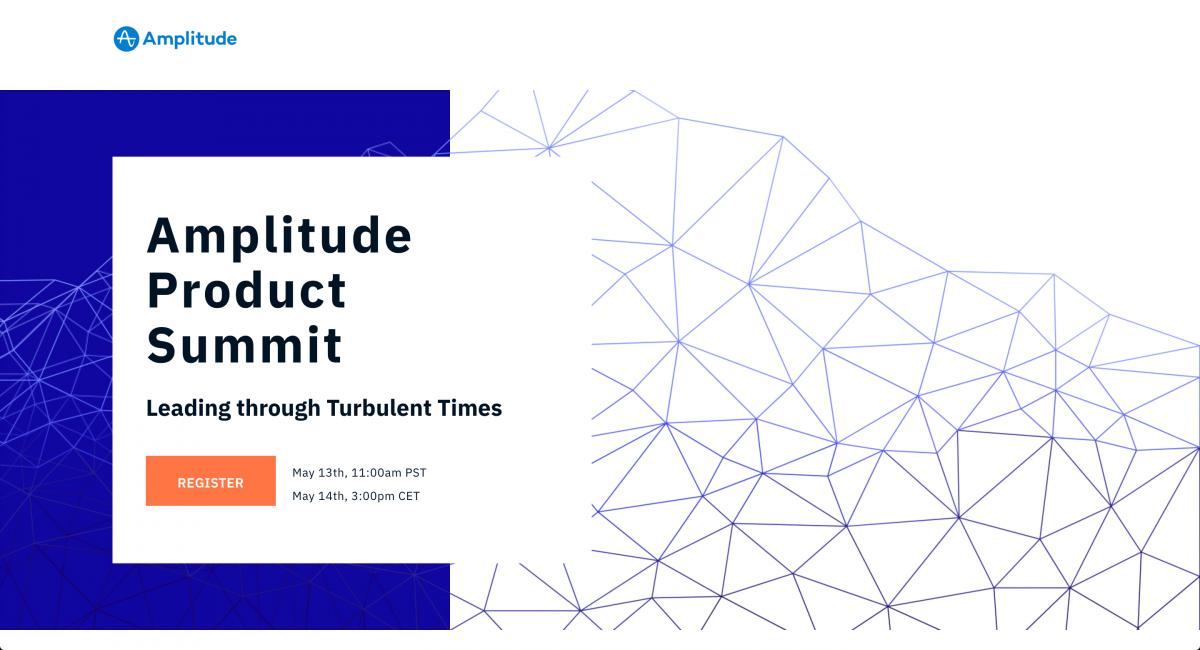 Why stick to just running webinars if you could use the same format to run a full-fledged summit? After all, Amplitude does. It takes different formats and markets the content slightly differently.

Proposify is a SaaS company that works on developing proposal software for sales teams, helping them to create, send, and track proposals and contracts.
Register for a second webinar using the same form 🔔
What if you could get your viewers to register for two webinars using just one form? That's what Proposify does. That's a surefire way to get more views.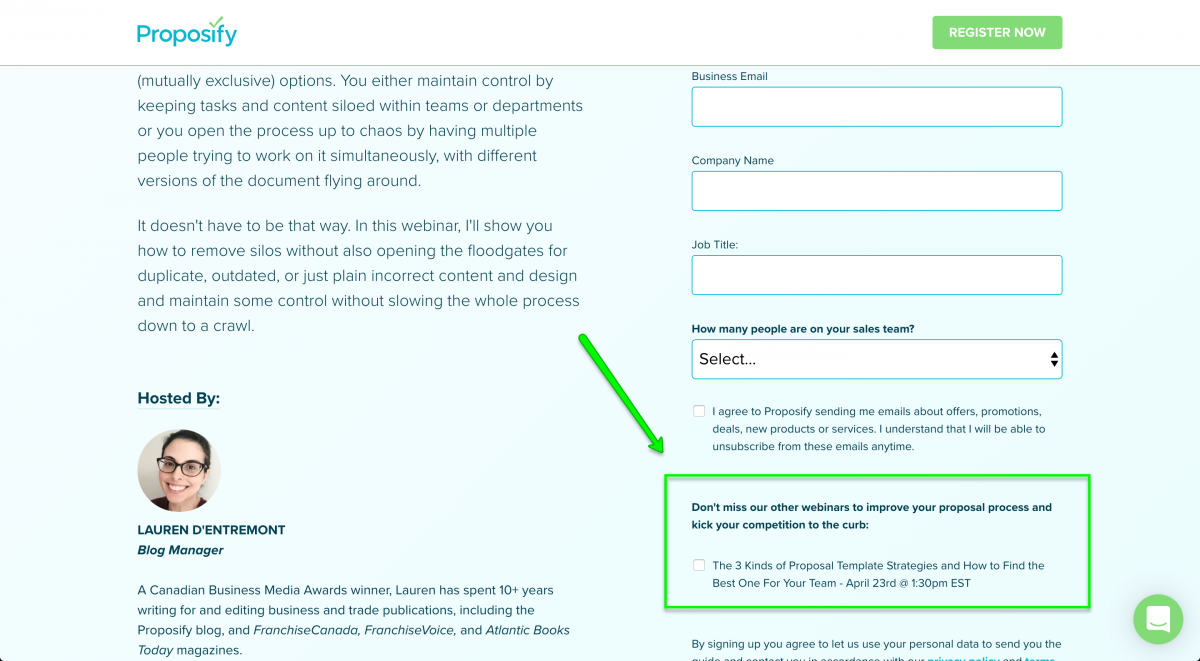 Training webinars 🔔
Proposify branded its onboarding sessions with a Proposify 101 Training Webinar. In other words, don't just brand your educational webinars; brand your other types of webinars, too.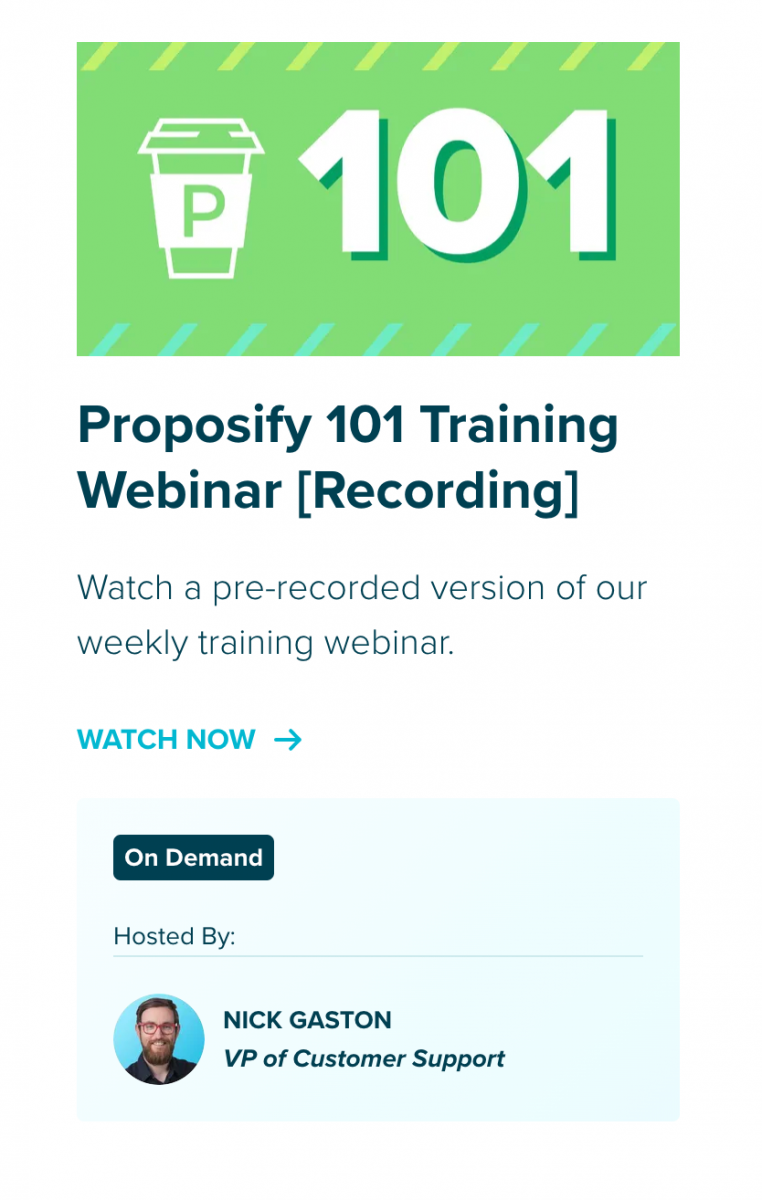 Plus, Proposify made its webinars series easy to access with no registration required—people can just click and watch any webinar they want. That's a nice way to increase brand awareness and get people more familiar with your platform.
Option to download the video 🔔
Not too many SaaS companies allow people to download their webinars. Proposify does, though.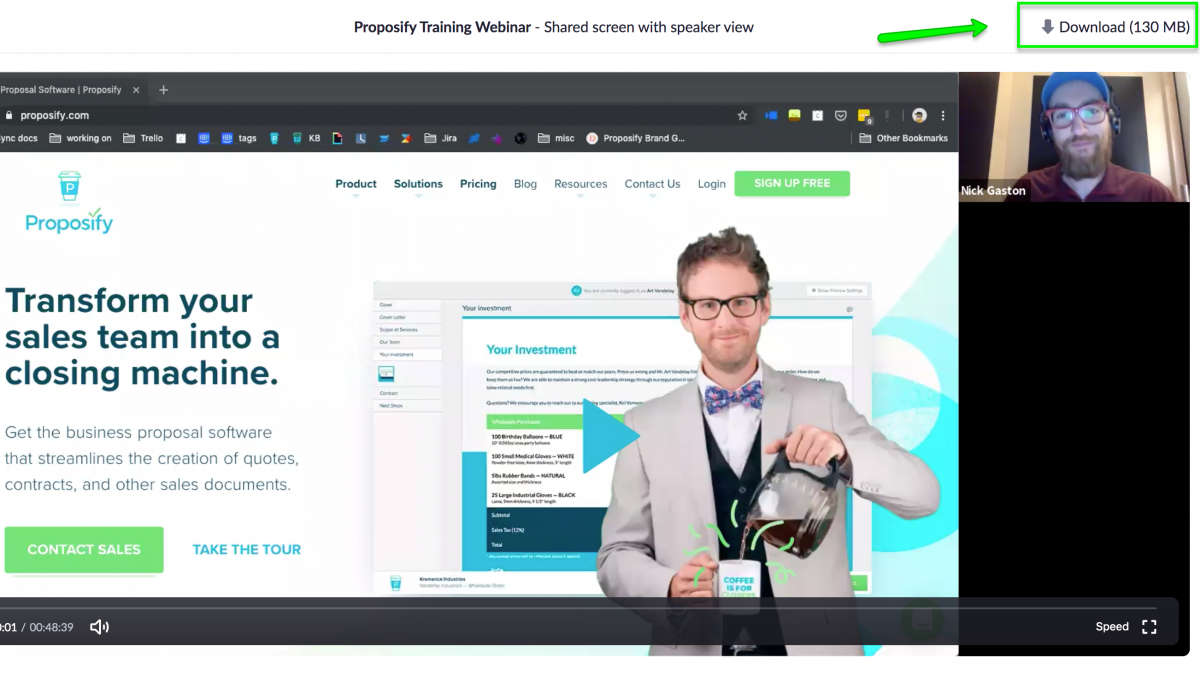 Although this may not seem like an obvious stellar practice, think about all those people who may watch webinars while offline.

Monday.com developed a workplace environment based on transparency, ownership, and accountability, helping teams to automate their workflow.
Daily webinars 🔔
Frequency is everything, especially when you have the ability to run webinars every day. Monday.com connects with its audience on a daily basis. This practice may be difficult to maintain, though, especially if you don't have the necessary resources.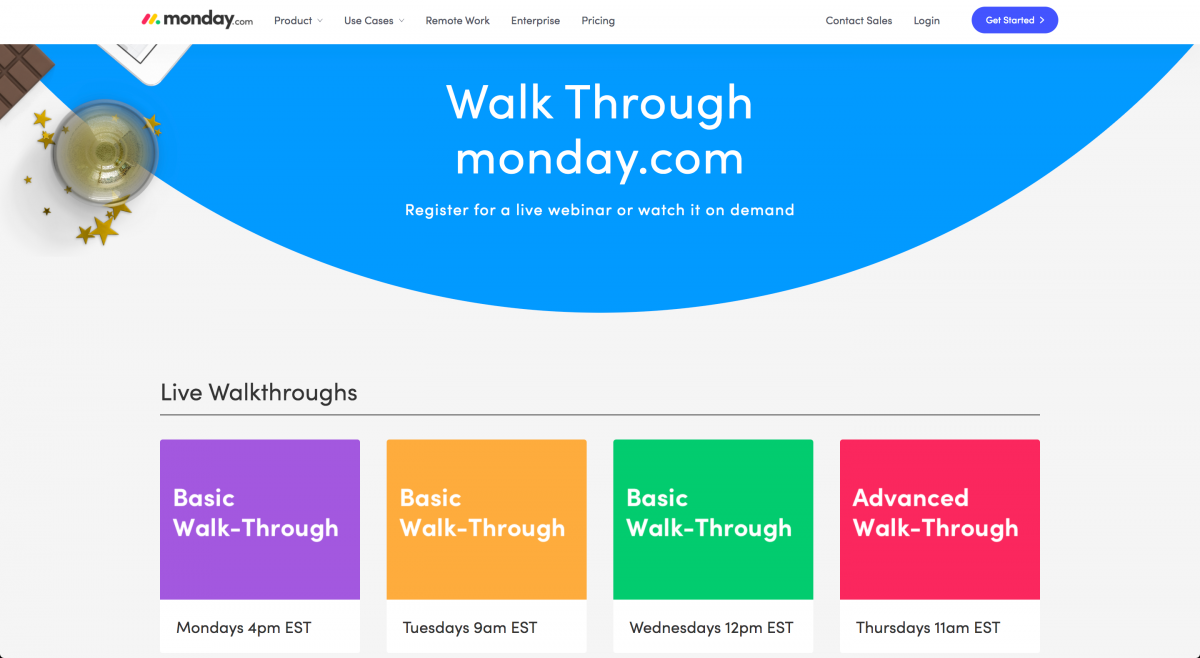 Difficulty levels 🔔
Monday.com's webinars are a great example of demo and onboarding use cases. It categorizes its webinars from beginner to advanced. These different categories highlight the expertise level of its users and its interest in helping people at different platform use stages.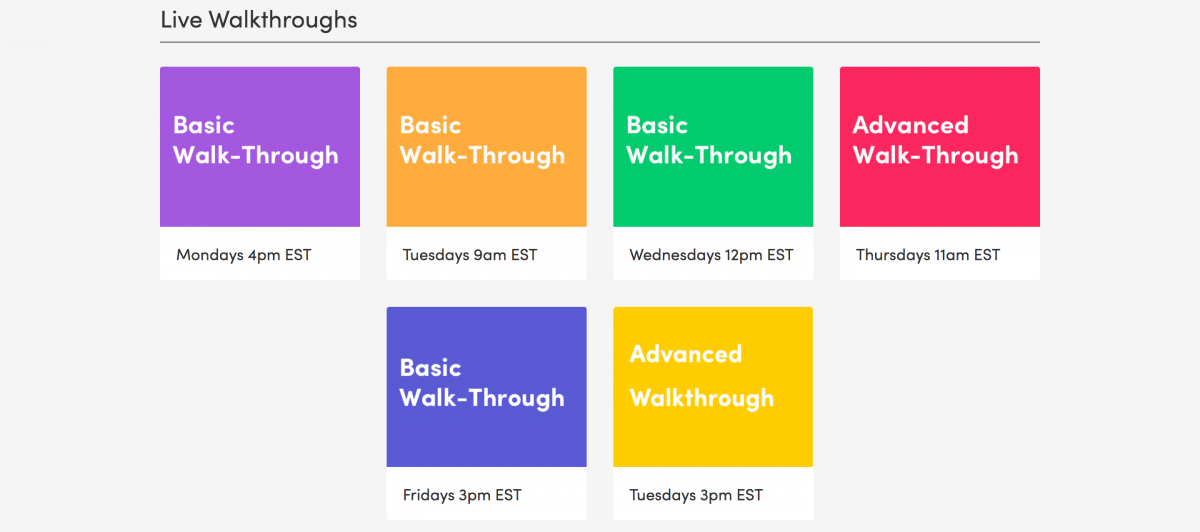 Live with founders 🔔
Running webinars with company founders is an amazing practice you may want to copy from Monday.com. Your leads and users can get familiar with the brand's philosophy and values, and also gives them the opportunity to interact with the founders.

Back to you
OMG, you're my hero! If you managed to read through all these key practices instead of watching another productivity and time management video on YouTube, you absolutely rock!
Plus, you'll more than well-equipped to make the right decisions to design a strong webinar campaigns strategy or double down on the strategy you already have.
The only thing you'll want to remember is that these adjustments and practices aren't radical or big; in most cases, they're just tiny tweaks here and there. But these adjustments may result in impressive results in terms of webinar attendance and lead quality. So get out of those pajamas and get to work!
DOWNLOAD YOUR FREE WEBINAR STRATEGY CHECKLIST BELOW
Use this checklist
to design your very own high-converting webinar marketing strategy from scratch, then automate the process to attract high-quality leads.
We promise to never spam or send emails about cats.
Okay, maybe some cat stuff.