People are starting to get a little tired of me. You know why? Because I'm always dropping examples from Drift ⚡ whenever I talk about webinar marketing or content marketing.
Imagine how these conversations sound:
Person A: "How can we get more leads?" ?
Me: "Hey, did you see the newsletter launched by Tricia Gellman? She's the CMO at Drift, and she's gathering a community with her The Path to CMO 3.0 newsletter. She's providing handpicked headlines and the latest insights to her subscribers. I think we should try to do that to attract more subscribers." ?
Person B: "Maybe we should launch an Academy and offer certification."
Me: "That's a great idea! Drift launched its conversational marketing certification. Everyone's posting their Drift certification on LinkedIn."
Person C: "What should we include in our case studies?"
Me: "Numbers! Include the numbers that show the real ROI of using your product. At least, that's what Drift is doing. Look at its headlines. Drift usually writes case studies based on the real results its clients achieved."
My mom: "I'm wondering how I should cook this fish …"
Me: "Let's see what Drift is doing … I bet we can find some great recipes!"
My mom: "Huh?"
You get the idea.
Obviously, I'm a huge fan of everything Drift is doing. And the funniest part is that I'm not even using their product.
Even David, our CEO, has gotten tired of listening to me talking about Drift. That's why he agreed when I offered to write a Drift webinar marketing case study.
(Actually, he probably only agreed to it to get rid of me and hoping it would make me stop talking about Drift so much. Good luck with that, David!)
DOWNLOAD YOUR FREE WEBINAR STRATEGY CHECKLIST BELOW
Use this checklist
to design your very own high-converting webinar marketing strategy from scratch, then automate the process to attract high-quality leads.
We promise to never spam or send emails about cats.
Okay, maybe some cat stuff.
What makes Drift so great
All jokes aside, when it comes to content marketing and webinar marketing, Drift is a great case study. This is something I realized when I saw a LinkedIn post by Mark Kilens, VP of Content and Community at Drift.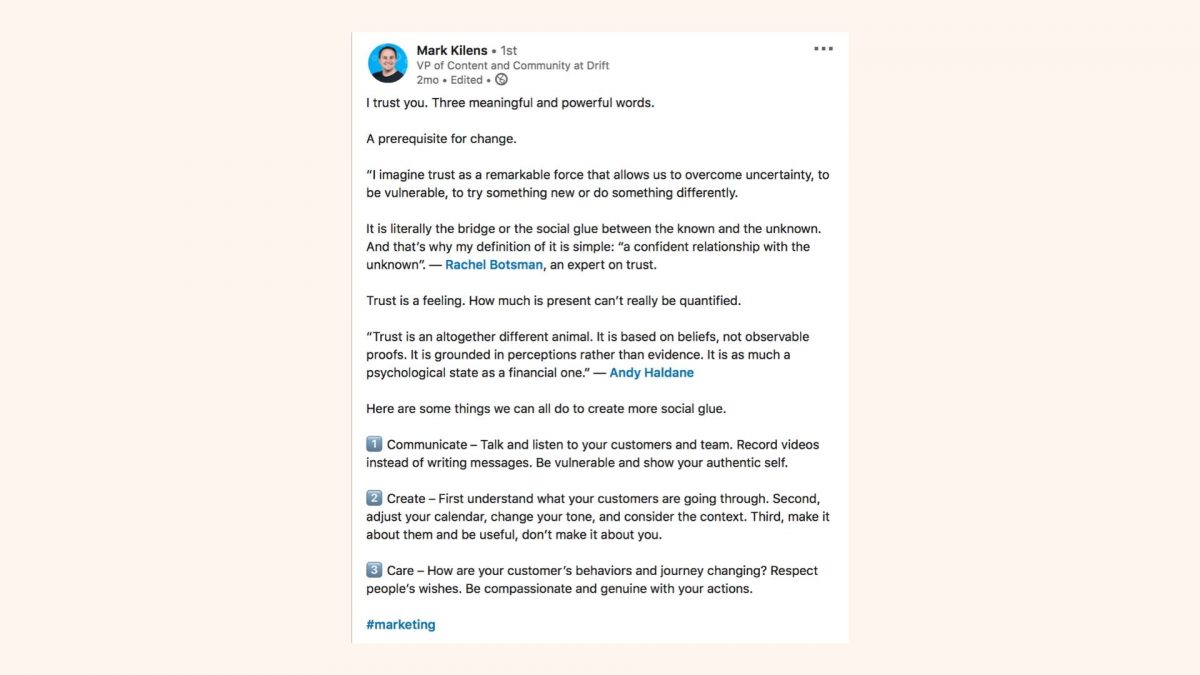 As you can see, Mark is a defender of social glue, and he is resting the entire content marketing strategy at Drift on three main principles:
This philosophy is what makes Drift so great because, at the end of the day, you can't build an audience or a community without building trust through your content.
The entire content marketing strategy at Drift is built on connecting with people, generating conversations, providing massive value, and fostering long-term relationships with leads and customers.
In other words, the Drift team is not treating content marketing as a quick hack they can apply for immediate results; rather, they view it as a long-term strategy based on serving instead of selling.
One quick example showing how great Drift is
What do you do when you have a lot of competition? I mean, Drift could have easily become just another chatbot software, yet it managed to distinguish itself by creating an entirely new category.
Instead of promoting itself as a chatbot solution, Drift came up with the idea of conversational marketing and built its entire promotion and value proposition based on this new philosophy.
What's conversational marketing?
According to Drift …
"Conversational marketing is the fastest way to move buyers through your marketing and sales funnels through the power of real-time conversations. It builds relationships and creates authentic experiences with customers and buyers. Instead of forcing people to go through lead capture forms and wait days for a response, conversational marketing uses targeted messaging and intelligent chatbots to engage with people when they're on your website."
?Fun fact: David Cancel (otherwise known as "DC"), CEO at Drift, didn't even like the term "conversational marketing," but he had a very stubborn marketing team, so he had to go along with it.
I bet he's not regretting it!
Why should you care?
Well, if you want to grow your business and get people excited about your brand, there's no other way around that than investing in building real connections and providing a platform for conversations.
Think about it: You're not just racing against your industry competitors, you're also competing against social media, Netflix, YouTube videos, Spotify, and so many other distractions.
All these mediums are hijacking people's attention, people who may very well become your customers. How do you provide something unique that has the power of redirecting and maintaining their attention?
By being genuine, providing value, and focusing on building long-term relationships through a great content marketing and webinar marketing approach. So instead of searching for the next quick marketing hack, I encourage you to put everything aside and read this article.
You'll find some great lessons and real-life practices you can use today to strengthen your content by developing a unique webinar marketing strategy—a strategy not based on simply capturing as many leads as possible, but on delivering real value and growing along with nurturing a strong community.
Drift's webinar marketing strategy: an overall look
If you go on Drift's website, you'll find webinars under the category Resources. When you click on the category, you're taken to a simple landing page that showcases the upcoming webinar as well as webinars you can find on demand. After analyzing Drift's webinar marketing strategy a bit, I understood that the company focused on creating different series.
As Mark Kilens previously mentioned, categorizing webinars into series is a great way to provide consistency regarding the topics you're educating your audience on, while also allowing them to explore some topics deeper.
Here are some of Drift's webinar series:
Drift Email. Shares the latest insights on email marketing.
Drift+ Based on inviting professionals from different brands and talking about the latest practices regarding marketing and sales.
All About ABM. A three-month webinar series that focuses on building a conversation with account-based marketing experts.
Personalized Experience Series. A three-month webinar series that talks about using personalization to move leads through the pipeline.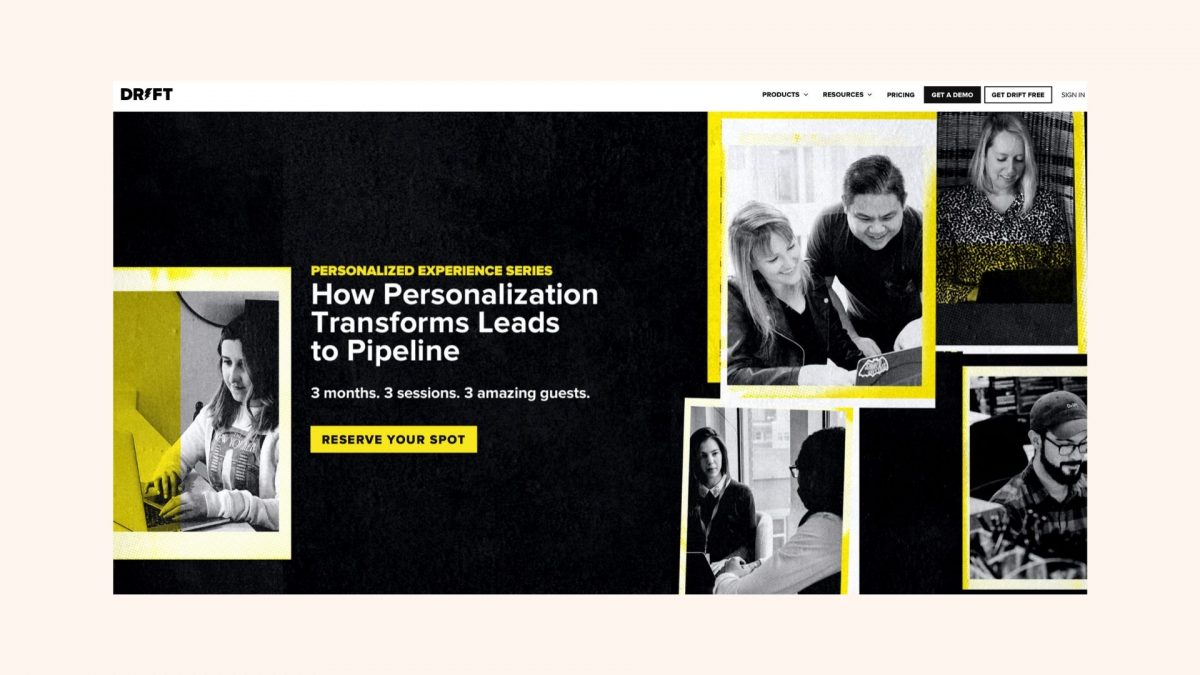 Creating conversational webinars
Drift's entire webinar marketing strategy has a conversational approach. Mark Kilens notes in one of his articles,
"Not all webinars are created equal. Look, we've all been there. You're sitting on a webinar. The speakers aren't engaging and the content isn't what you thought it would be. And it just drags on and on. Or maybe you thought you'd get some real learnings out of it, but the whole thing just turns out to be a sales pitch. Either way, it's not a good experience."
He adds,
"There's never been a better time for webinars. We know customers want to engage with us over these platforms, but we need to make sure we're delivering on their expectations. We need to make sure they're worth our customers' time. And instead of talking at our customers on webinars, we need to talk with them."
And today, I'll show you exactly how Drift transformed its entire webinar marketing strategy into a conversational tool to connect with its audience and deepen its connection with its growing community.
Step 1: Finding relevant topics for your webinars

I'll start with a subject we often ignore. Whether it's about creating blog posts, a podcast series, or webinar episodes, most of the time, we tend to neglect our content and spend all of our time and energy on the format, the keywords, the guests, etc.
But finding relevant topics for your content is just as important as remembering to take your house key with you before locking the door (been there … twice).
If you take a look at Drift's webinar list, you can easily tell they know its audience and field of expertise.
Let's take two examples
The first one is a recent Drift webinar called "Creative Email Marketing that Excites and Delights."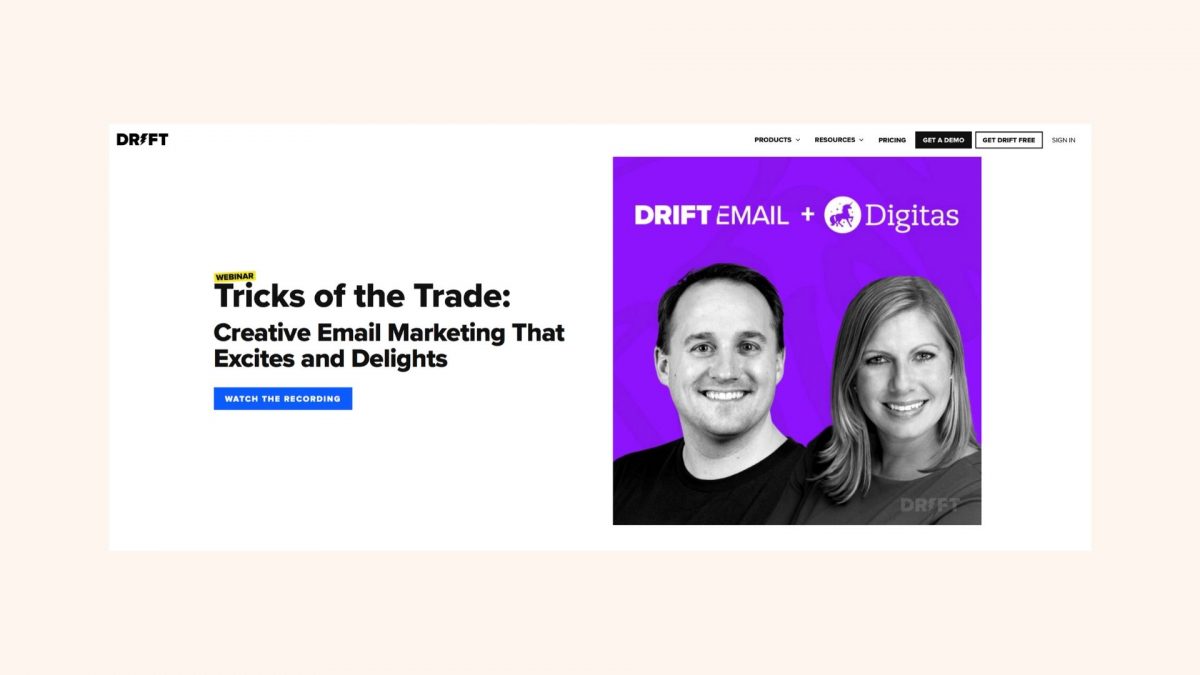 We're all running email marketing campaigns. And most of them are boring and annoying. Let's just own it. That's the reality.
Unfortunately, this leads to a higher unsubscribe rate or even angry reply emails from your subscribers.
I'm guilty of writing a few of those emails myself.
At the polar opposite, we have emails that excite and delight people—emails that people are eager to open, read, and who knows, maybe click on. I bet that's something you're also dreaming about: how to make your emails more creative and exciting to increase your KPIs.
That's a highly relevant topic. Plus, Drift's webinar headline is very well formulated, compared to a boring headline, such as "Improve your Email Marketing Campaigns."
The second example is the webinar "Unifying Your Sales and Marketing Teams With a Revenue Engine That Prints Money."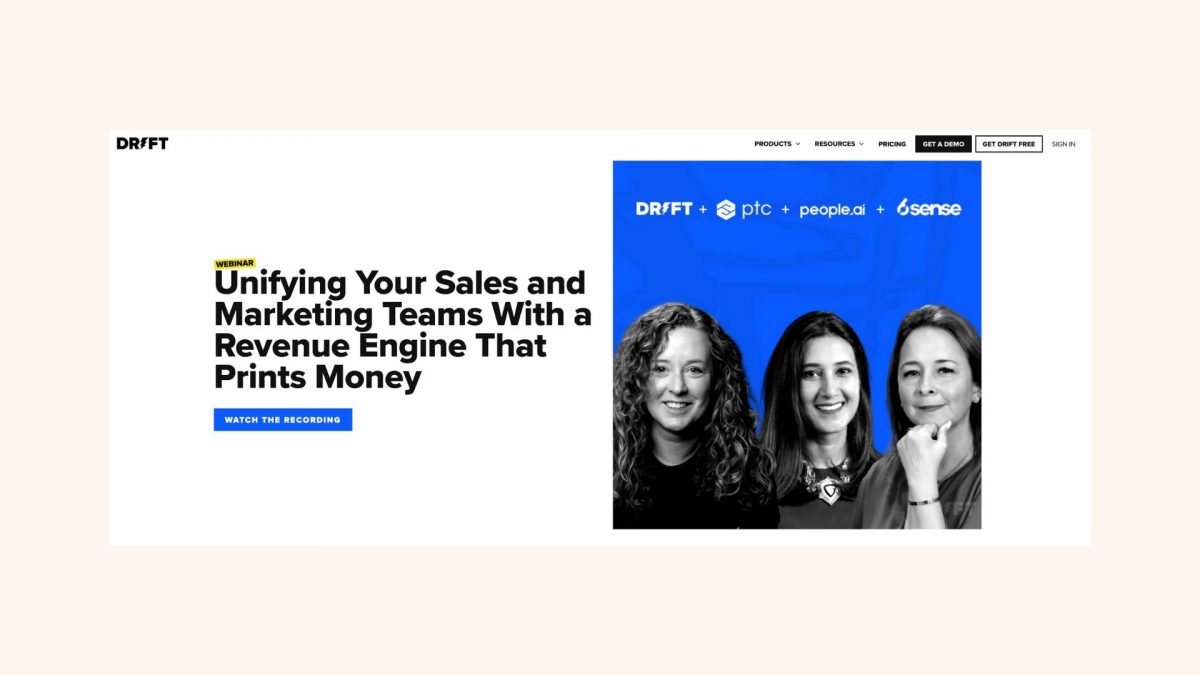 I don't know how about you, but when I read this title, I imagined this:
Ignoring the fact that we all want to transform our companies into printing money machines (always while keeping it legal!), this webinar's topic is extremely relevant because it provides a new approach to the entire marketing and sales strategies.
And that's something you see people talking about more and more these days. Why separate your sales and marketing teams when you could have them work together? That's a webinar most will want to attend.
The next question, though, is how to come up with relevant topics to power-up your webinar marketing strategy?
? Here's what you can do today:
Conduct social listening. Go on social media or other platforms where your main audience is hanging out and read people's posts and comments. Take note of what they're talking about. Also, write down the questions people are asking in the comments. These little gold nuggets will help you come up with the right topics and the right angle for your webinars.
If social media or social platforms aren't enough or you can't find any relevant questions your audience may have, search for popular blogs or YouTube videos in your industry and read the comments people leave under the articles. You'll be surprised by what you'll discover.
When you're not sure what topics to tackle during your webinars, you can always rely on crowd wisdom. Run a poll on social media, highlight a few topics, and ask people to vote which subjects they want to discuss during the webinar.
Step 2: Create engaging copy when promoting your webinars on social media

Another thing I love about Drift is how vocal and present its employees and teams are on LinkedIn. I remember publishing a post about the newsletter Drift's CMO launched, and in just one day I gathered plenty of reactions for Drift employees.
Moreover, the CMO herself was present in the comments, actively participating in the conversations below my post.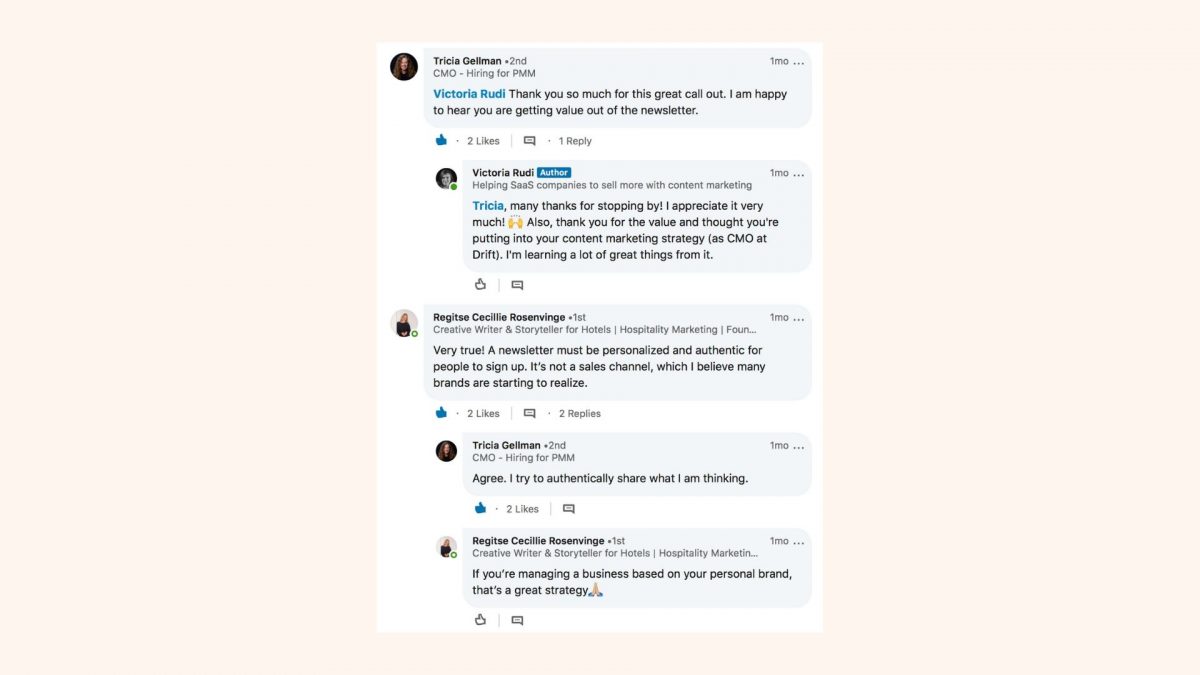 That's an incredible example of involvement and social presence.
So whenever Drift is about to launch a new webinar, it promotes it successfully on LinkedIn.
Here's an example …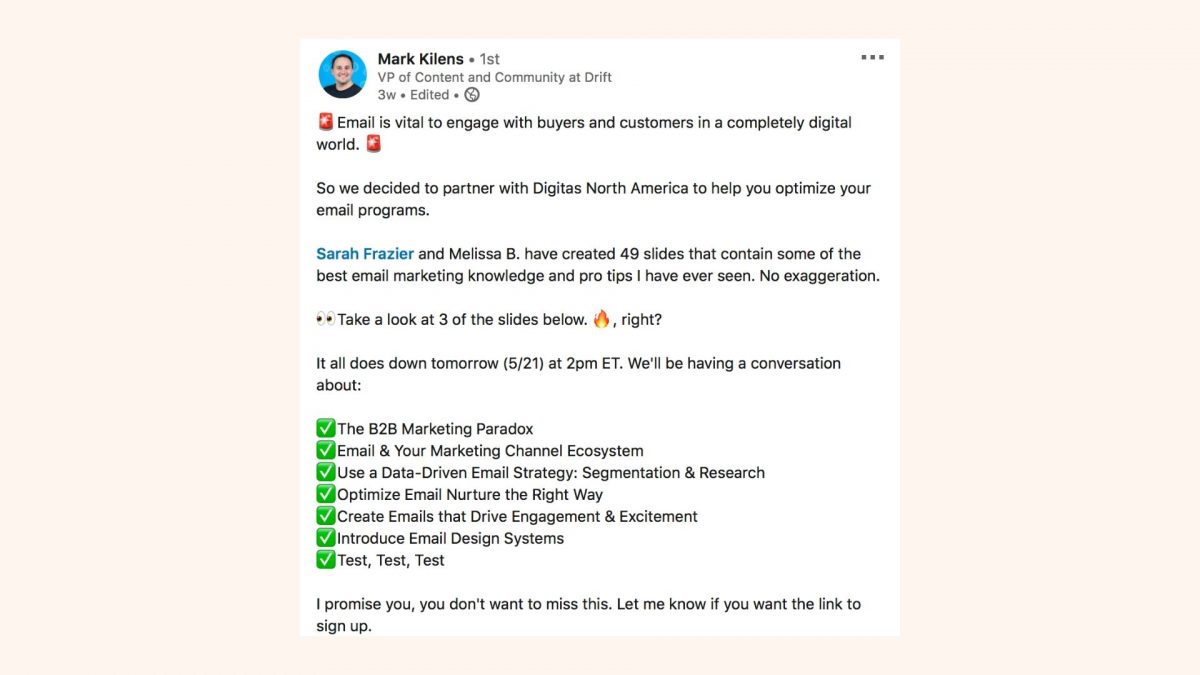 Let's take a closer look at this post. As you can see, Mark Kilens has a dynamic, friendly narrative. He starts with a statement that indicates how vital email is for buyer and customer engagement. Then, he talks about the goal of the webinar, which in this case is focused on helping people optimize their email programs.
That's when he introduces the speakers, and sets the expectations high, saying that the speakers have prepared 49 slides of professional email marketing tips.
That's a skillful way to ignite people's curiosity. After all, who doesn't want some email marketing tips from professionals?
Moreover, Mark added a few slides to his post to showcase the high-quality level of the content Drift prepared for the webinar.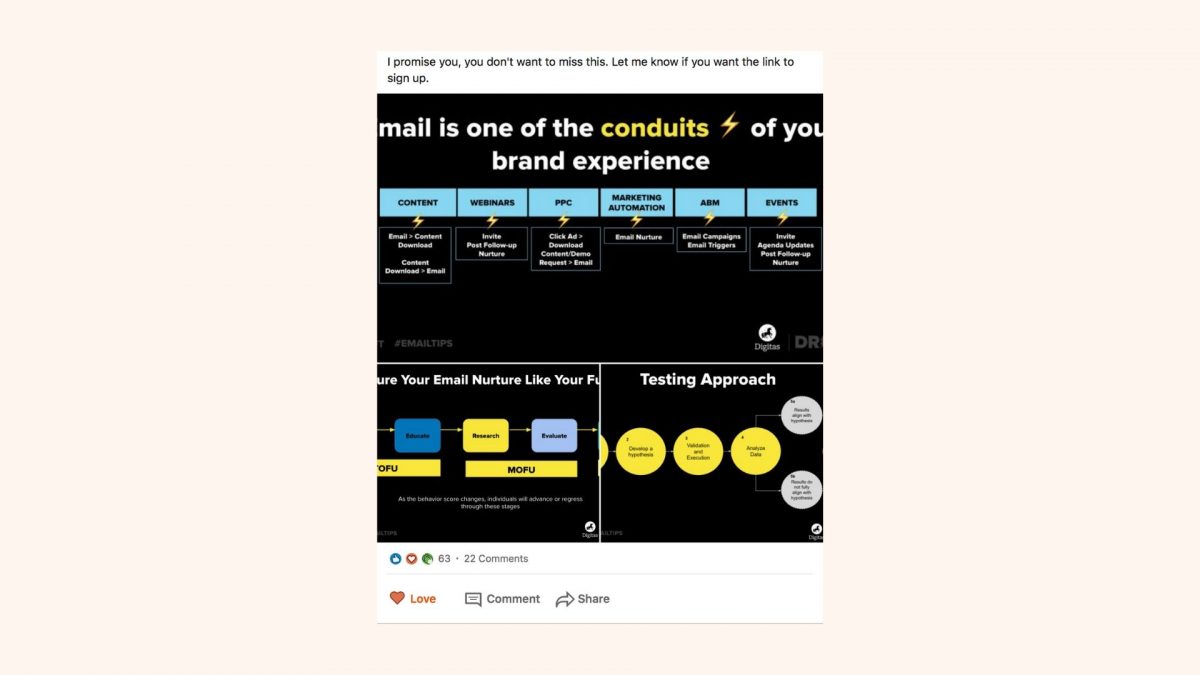 Mark then goes on to let people know when the webinar is and what topics the webinar will cover. Basically, he's presenting the conversation points and highlighting what people will learn by attending the webinar.
Finally, he's not simply mentioning the webinar's link at the end of the post. You may not know this, but LinkedIn doesn't like it when you just add a link in a post because LinkedIn wants to keep you on the platform as long as possible.
That's why Mark decided to provide the link in the comments. But he didn't just post it—he got people to take action, show their interest, and request the link.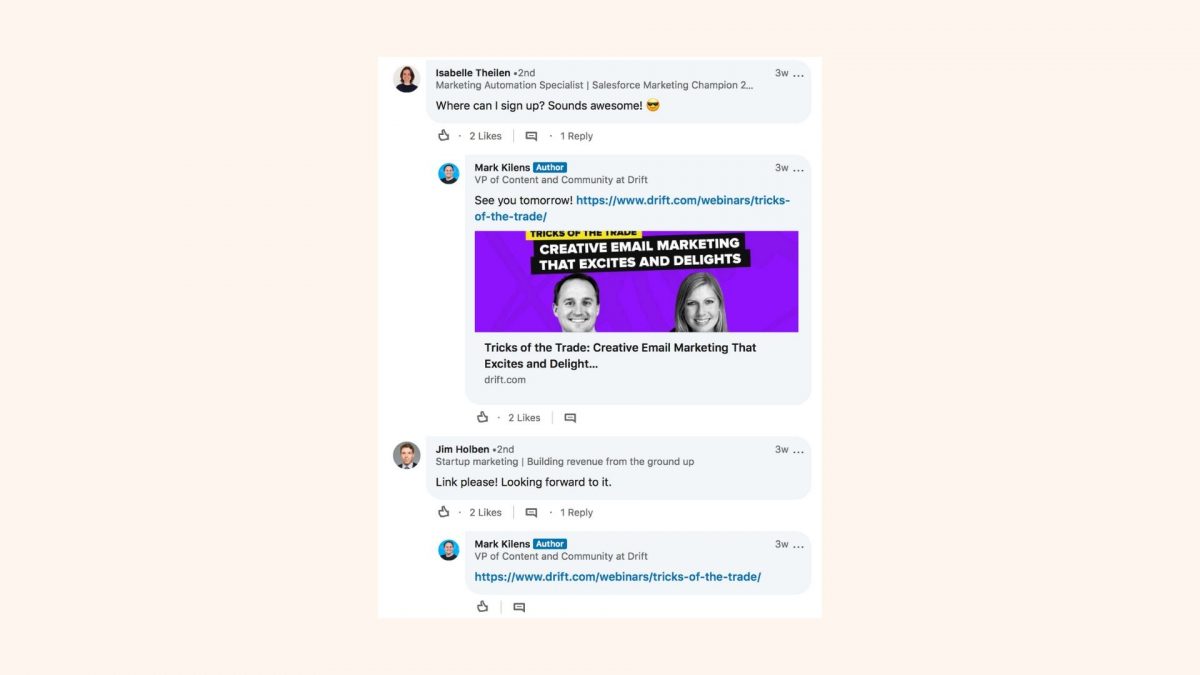 This simple call to action sparks engagement and increases the chances that those who receive the link will register for the webinar. The entire webinar promotion post was well thought out.
Let's see what you can do to replicate this structure and get more webinar subscriptions from promoting your webinar on social media.
? Here's what you can do today:
Avoid stiff language. People aren't interested in reading a textbook, so adopt a conversational tone.
Keep your promotional social media posts as short and straight to the point as possible.
Ignite people's curiosity by showcasing what your speakers have prepared for the webinar (for example, a 50-page slide deck with valuable, easy-to-apply tips).
Emphasize all the things people will learn by attending your webinar.
Instead of just publishing the link to the webinar, add a call to action in the comments section that will motivate people to contact you and ask for the webinar link. This will create more engagement and increase the chances of people registering for your webinar.
Step 3: Design an attractive and clean webinar landing page

Lately, I've analyzed multiple webinar marketing strategies and seen hundreds of webinar landing pages, and I won't lie—the structure of Drift's webinar landing page isn't different from the rest, apart from a few small, yet very important details.
Let's take a look.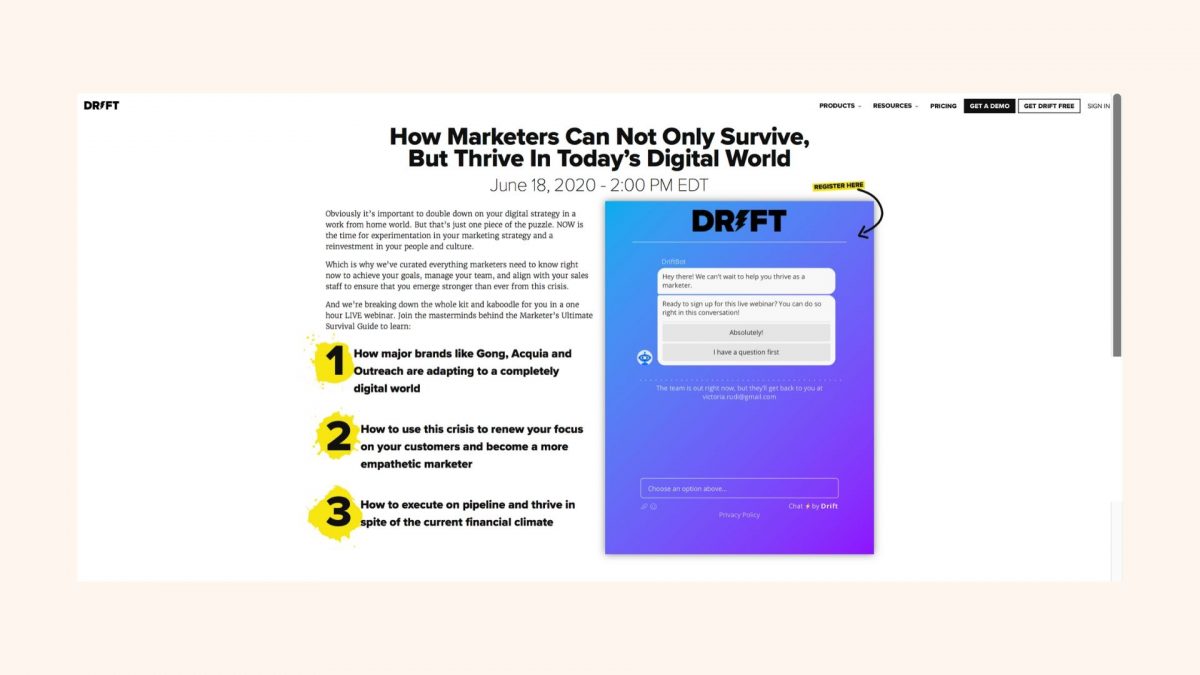 The thing that caught my attention first was the verbiage. As you can see, those who created the landing page are first acknowledging the difficult situation in which we all found ourselves in 2020.
They're also stating that there wasn't a better time for marketing experimentation than today. Next, they're mentioning that the webinar will showcase the curated content that every marketer needs to know right now to achieve their goals.
Then, they break down the webinar into three major takeaways that attendees will get if they'll attend. The first one revolves around case studies and how major companies managed to pivot and adapt in the last few months.
The second one concentrates on helping marketers successfully navigate the crisis. And the third one is centered on practical advice and recommendations.
Apart from that, as you may know, Drift ditched its lead capture forms long ago and replaced them with chatbots that assist with registration. But more about that in the next step.
Finally, you see the speakers with a countdown block that reads: "Hurry! This webinar goes live in …" to create a sense of urgency.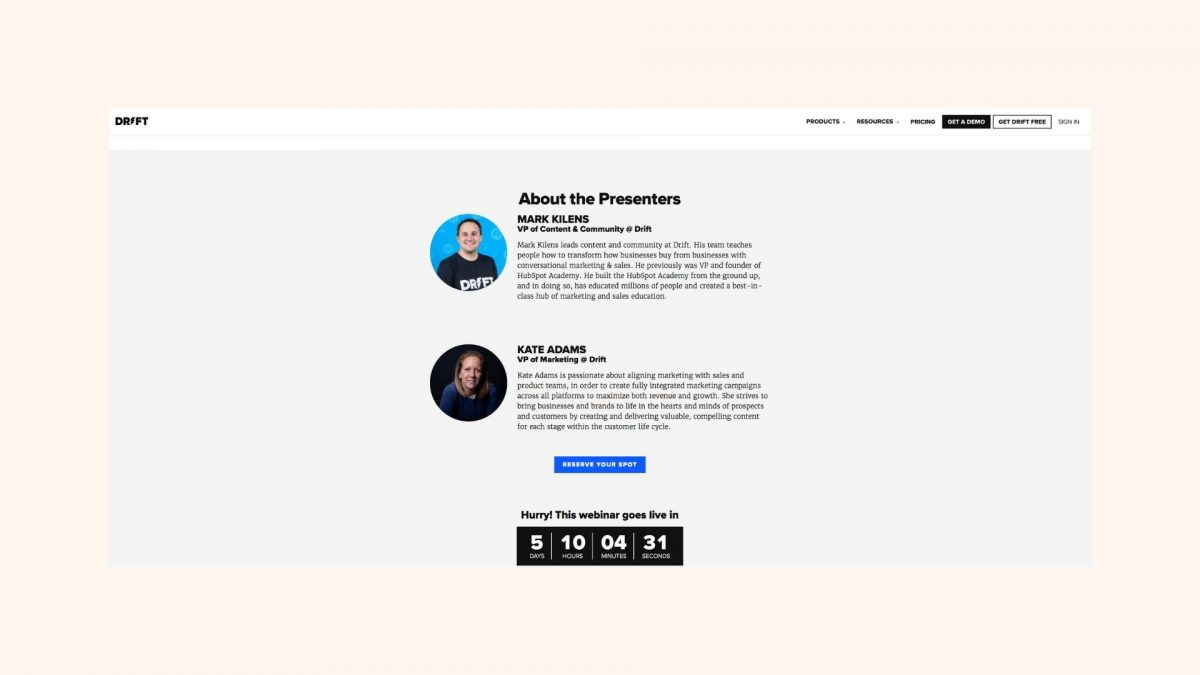 Everything is clear and simple. No additional clutter or irrelevant information. How can you design a similar landing page for your webinar marketing strategy? Let's find out.
? Here's what you can do today:
Remember to use a conversational tone. Imagine you're telling a friend what your webinar is about. Avoid sophisticated terminology and passive sentences.
Structure your entire webinar in three parts, focused on main industry case studies, quick insights, and practical recommendations.
Keep the text simple and short. Don't write an entire manifesto on why people should attend the webinar. They barely have the time to read the headline, so reduce the number of words you're using.
Add a quick description of your speakers, not their entire biography. Publish just a few pieces of information about them that will state their expertise and relevance to the webinar's topic.
Finally, add a countdown to create a sense of urgency.
Step 4: Make the webinar registration hassle-free and enjoyable

I'm not sure about you, but when I see those long webinar registration forms, asking me all those annoying questions (sometimes I expect that they'll also ask the name of my cat), I just close the browser and dismiss the webinar altogether.
I understand why people do it—webinars are great for lead capturing, and you want to make sure that people who register for the webinar are qualified to attend.
But adding friction to the registration process won't help you.
You may turn away people who really wanted to attend your webinar. That's why I love the solution Drift came up with of using its product to make the registration as simple as possible.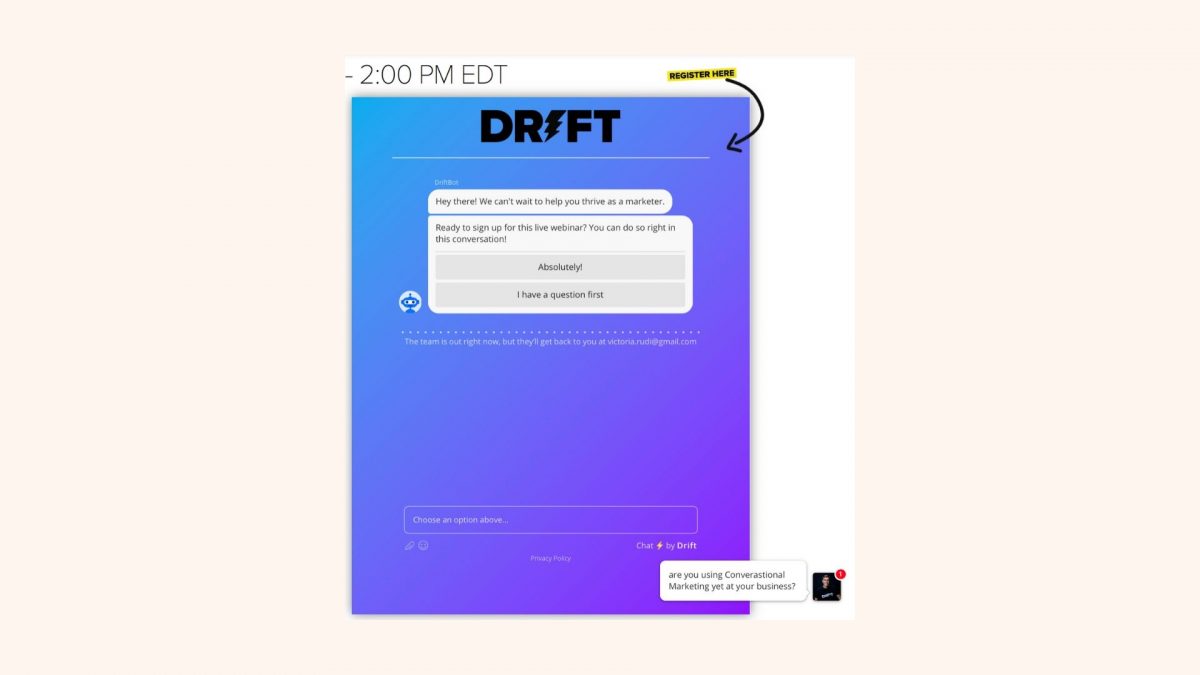 As you can see from the screenshot, Drift replaced the registration form with a chatbot. Let's look at this a bit more in depth.
Again, we're quickly engaged by the conversational tone of the copy. Instead of "Register now" or "Enter your email address," we're welcomed by "Hey there! We can't wait to help you thrive as a marketer. Ready to sign up for this live webinar? You can do so right in this conversation!"
You're also given two options: register or ask a question first. Let's see what happens when we click on "Absolutely!"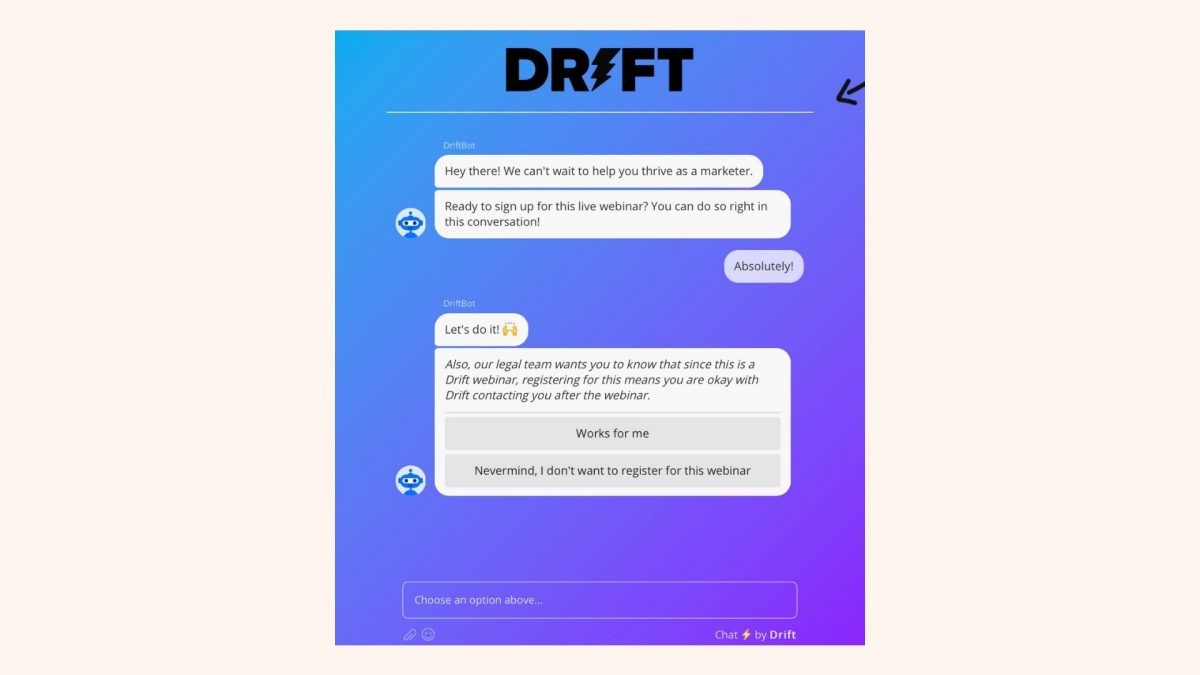 GDPR is a big thing, so Drift wants to make sure that you're okay with being contacted by its teams after the webinar.
It works for me, so let's continue.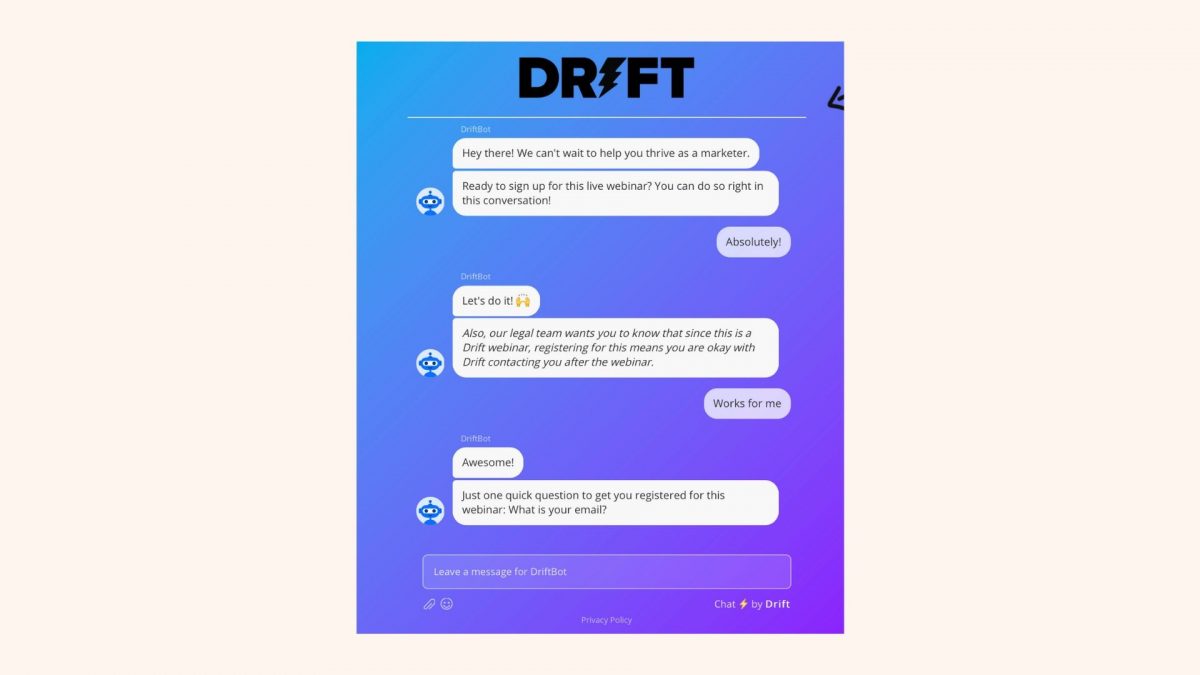 Drift isn't asking for my name, my company, my title, my industry, and my blood type—just my email address.
No problem; I'll give them my email address (and hey, don't spam me!). And here's when the miracle happens: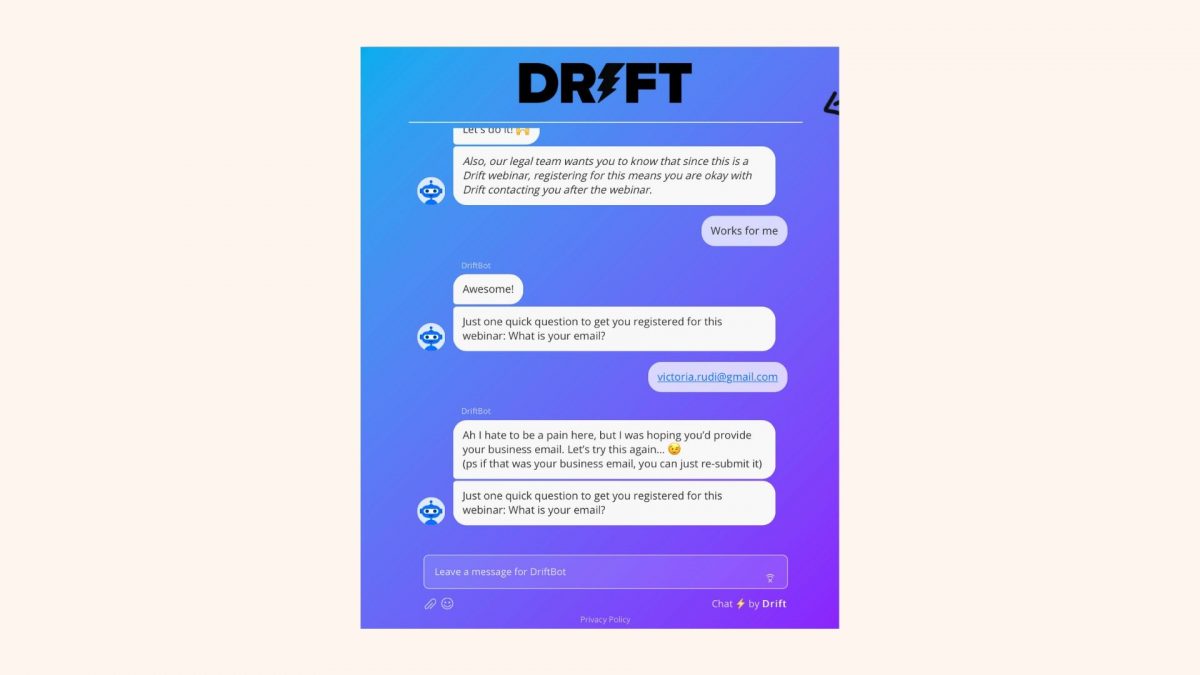 Like many other companies, Drift wants your business email; however, you also have the option to supply your personal email instead. You can just resubmit the info as I did. And … voila!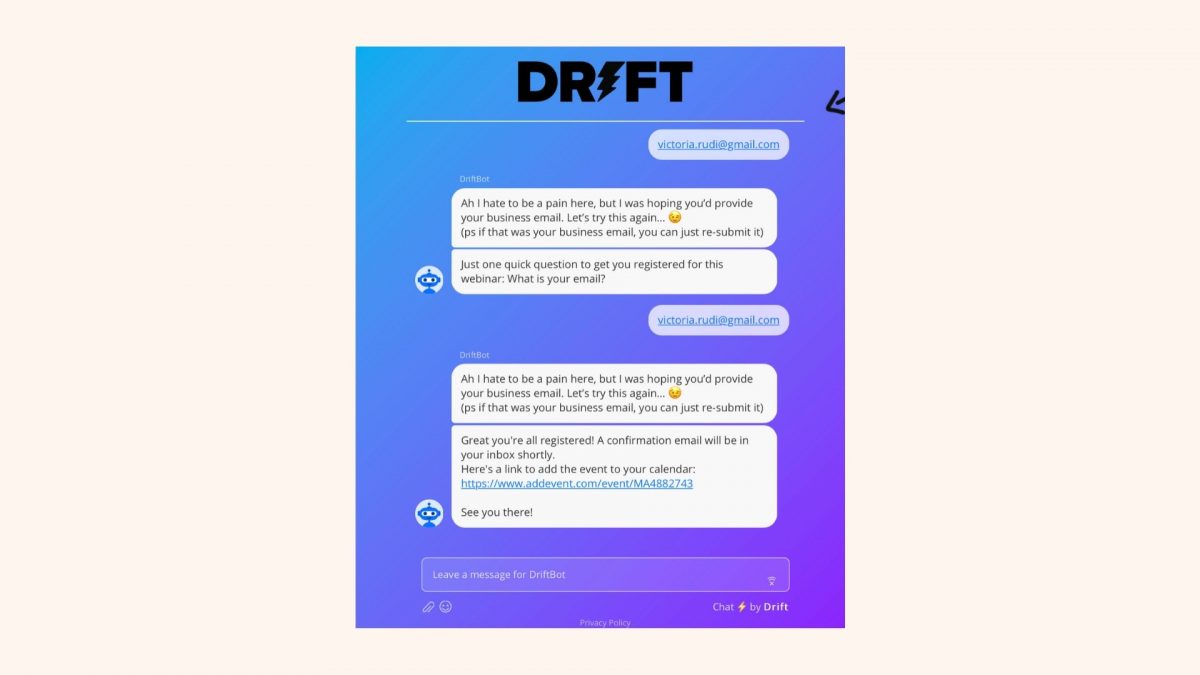 A confirmation email is on its way!
But what can you do if you don't have a cool chatbot and you're still using lead forms? How can you improve your audience's registration experience?
? Here's what you can do today:
Keep your registration form short. Ask for just an email address, if possible. You can also ask for the person's name, but don't go overboard with sections such as company, address, phone number, etc. This will only turn people away and you'll get much fewer attendees.
Always ask people's permission to send them emails after the webinar. GDPR is a huge thing in Europe. Apart from that, you'll want to make sure that people are okay with receiving emails from you. After all, you don't want to be perceived as some sort of clingy ex-lover who wants to get attention at all costs.
Make sure to tell people what they should do or expect after registering. For example, you can give them the link of the webinar, the option to add the event to their calendar, or inform them that you've sent them a message with all the necessary information.
Step 5: Create a fun and memorable webinar registration email

I bet you've registered for tons of webinars. So let me ask you a quick question: Do you ever read the registration email?
I don't … except for the registration confirmation emails I receive from Drift.
Here's why: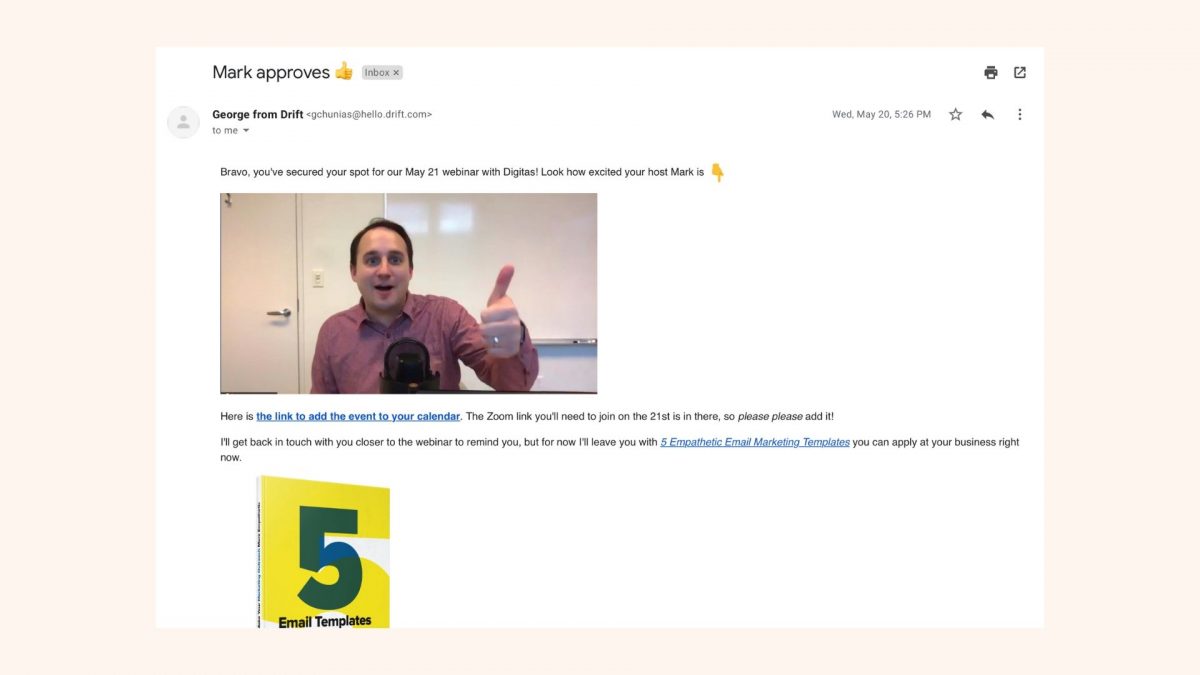 Mark approves! ?
Isn't this hilarious and memorable at the same time? When was the last time you tried to have fun with your emails and used memes or team photos? By adding Mark's photo as the opening of the email, the Drift team is building a real, human connection with its audience. I bet plenty of people smiled when opening this email.
But apart from the photo showing how excited the host is, you can also find three calls to action links.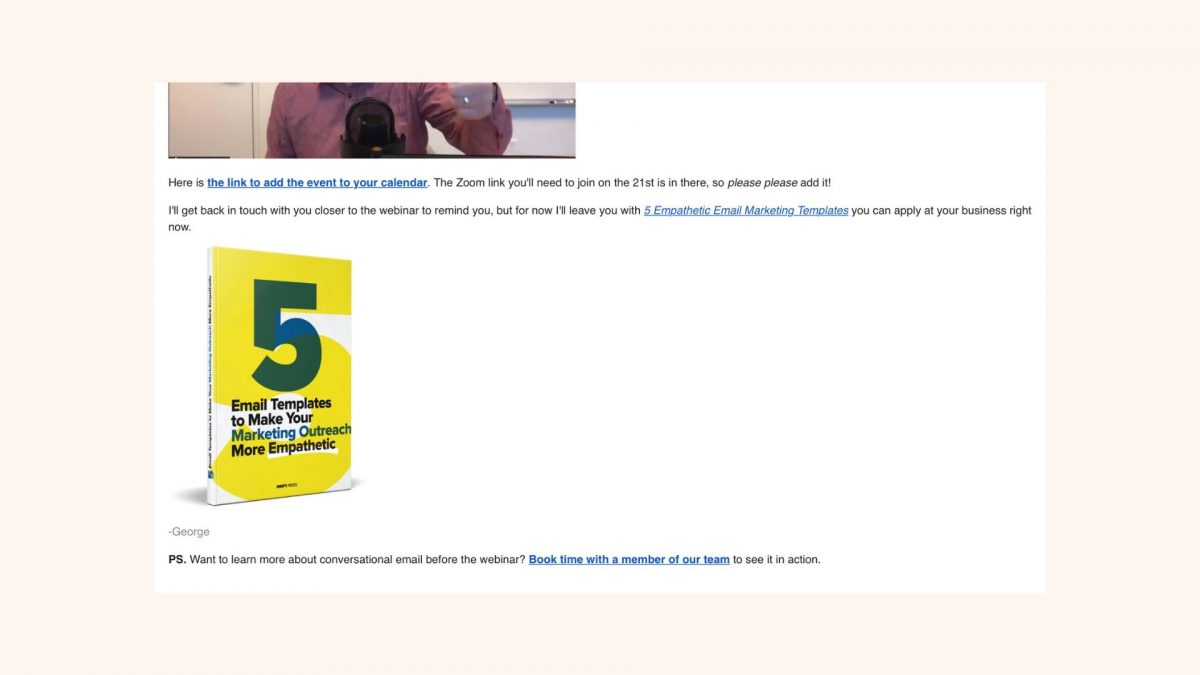 The first one is encouraging people to add the event to their calendar to make sure they don't forget about it. The second call to action is the possibility to download a relevant piece of content.
Finally, for those who are the bottom of the funnel, the third call to action urges people to register for a demo. Drift manages to do all of this in just a few lines.
The email is fun, easy to read, and informative, and it provides additional resources you can access immediately.
Having this example, let's talk about how you can change your approach to email registration copy and format.
? Here's what you can do today:
Have some fun and try to use memes or team photos showing the excitement of getting a new webinar subscriber. 
Offer people the option to add the event to their calendar. 
Provide additional resources related to the webinar topic, such as an eBook, template, or downloadable checklist. 
To move people further into the pipeline, add the last call to action inviting people to request a demo. 
Step 6: Send a pre-webinar email

What do you do after someone registers for the webinar? Do you wait for them to simply connect? Or are you making sure that they didn't forget about the event by sending them a pre-webinar email?
That's what Drift is doing: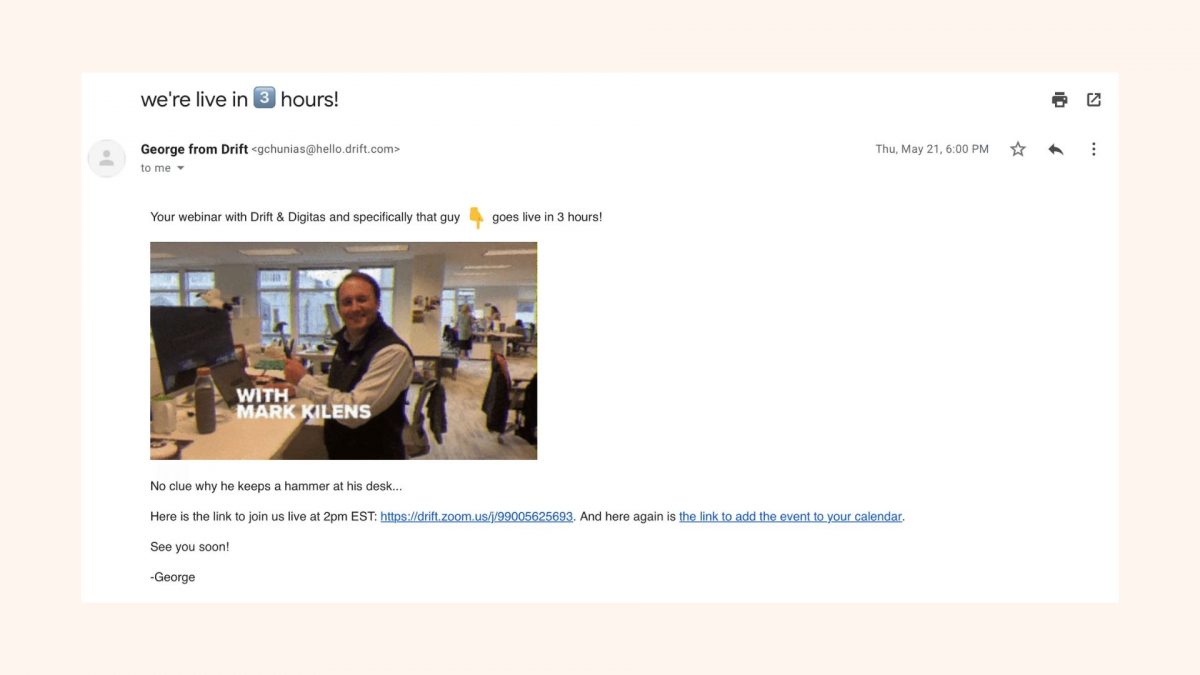 Again, we can see a funny meme with the host preparing for the webinar. The email is very short, informing people how much time is left until the speakers go live.
It also provides the link to the event and, again, the option to add it to the calendar. However, they've again managed to add a fun element to it by not only showing Mark with a hammer meme, but also by including the comment: No clue why he keeps a hammer at his desk.
These small details keep the email conversational, as if just talking to a friend. There's no better way to build an emotional connection with people than by sending this type of message.
Let's find out now how you can improve your communication with your webinar subscribers.
? Here's what you can do today:
Send a pre-webinar email a few hours before the event starts.
Again, you can make this email fun by adding a meme or a funny photo of the host.
Always add the link to the event to make it easy for your attendees to access it.
Step 7: Make your webinars fun and cool to watch

A few years ago, we analyzed Drift's webinar structure. But we're taking another look at the way the company structures its events and engages with its audiences.
Let's see what changed.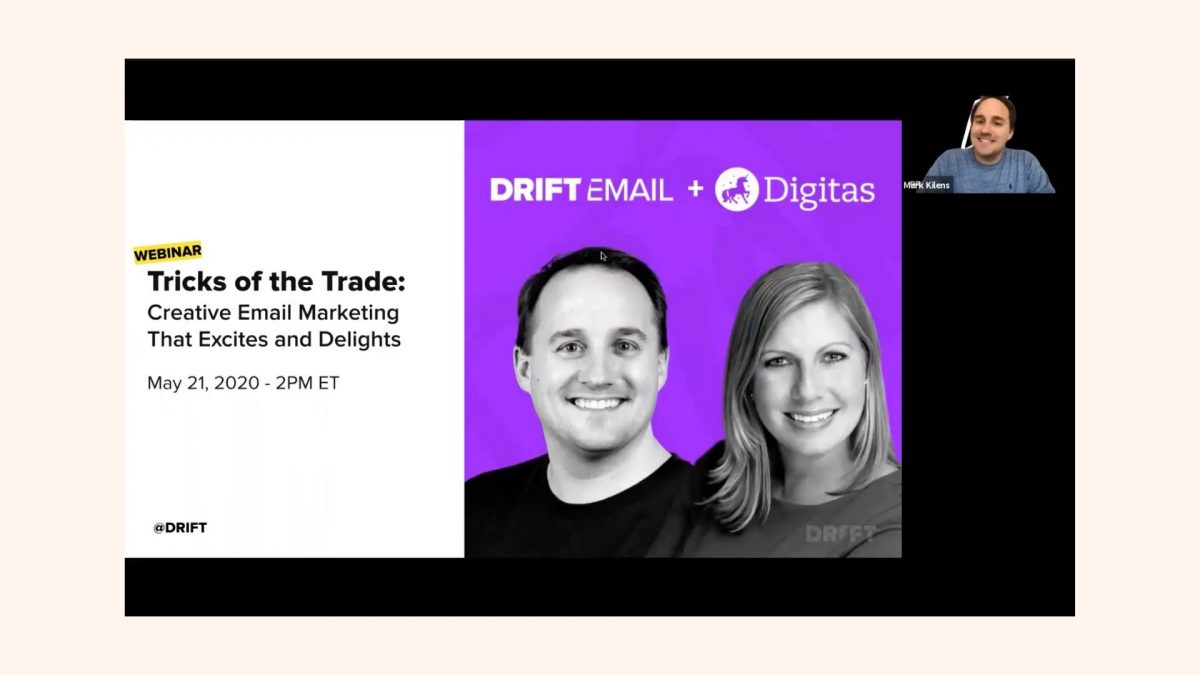 The webinar starts with Mark welcoming everyone and introducing the guest.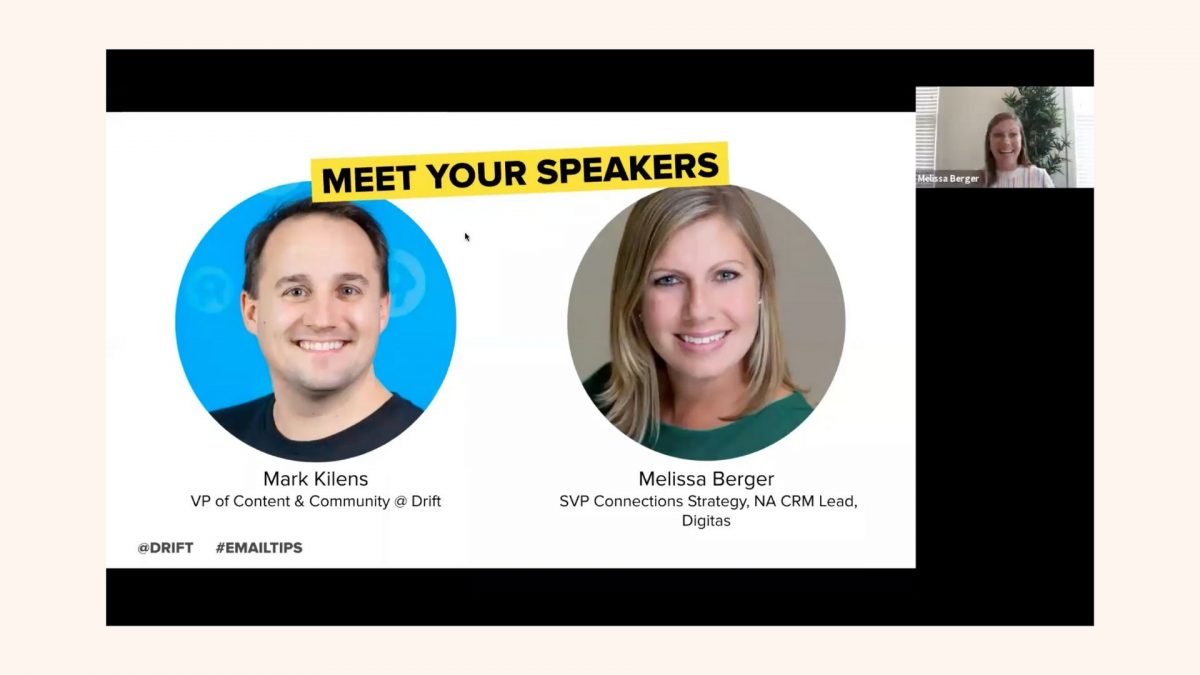 He then presents the webinar agenda, emphasizing the main topics that will be discussed.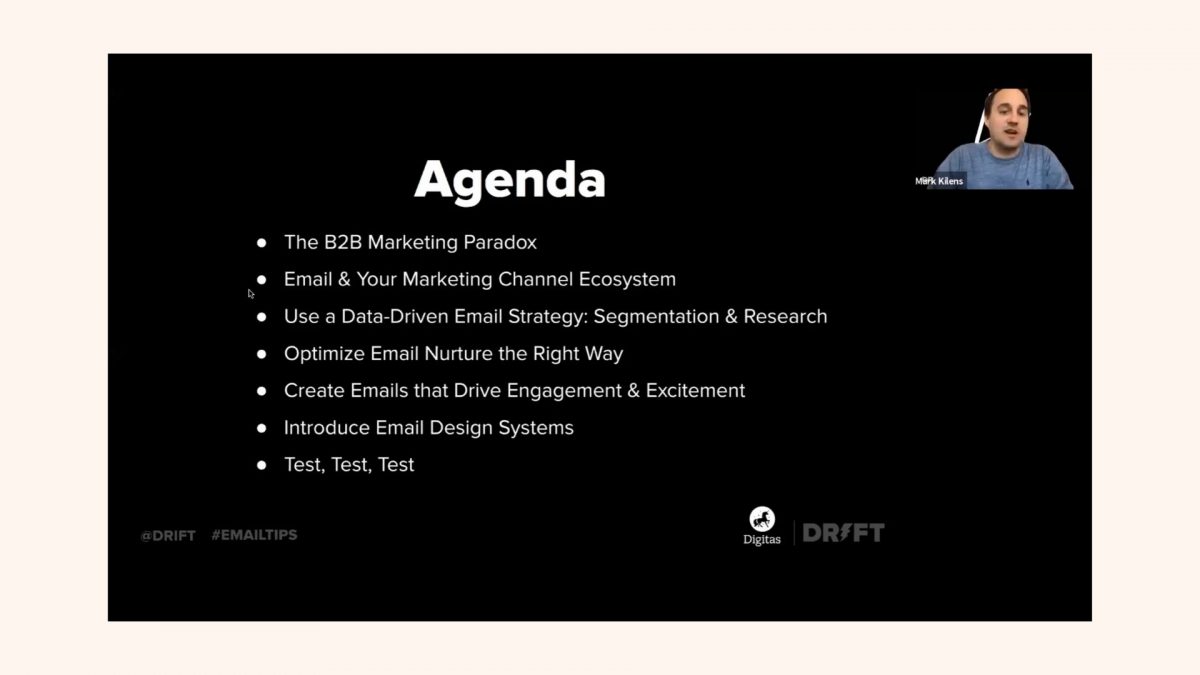 Once the presentation starts, it's obvious that both Drift and its guests aren't afraid of emojis. They're using emojis quite often to add a conversational tone to the presentation.
The fun part about Drift webinars is its structure.
Usually, people invite guests to their webinars, let them present uninterrupted for 20 or 30 minutes, and then proceed with questions.
With Drift's webinars, though, the entire presentation is based on the conversation between the speaker and the host.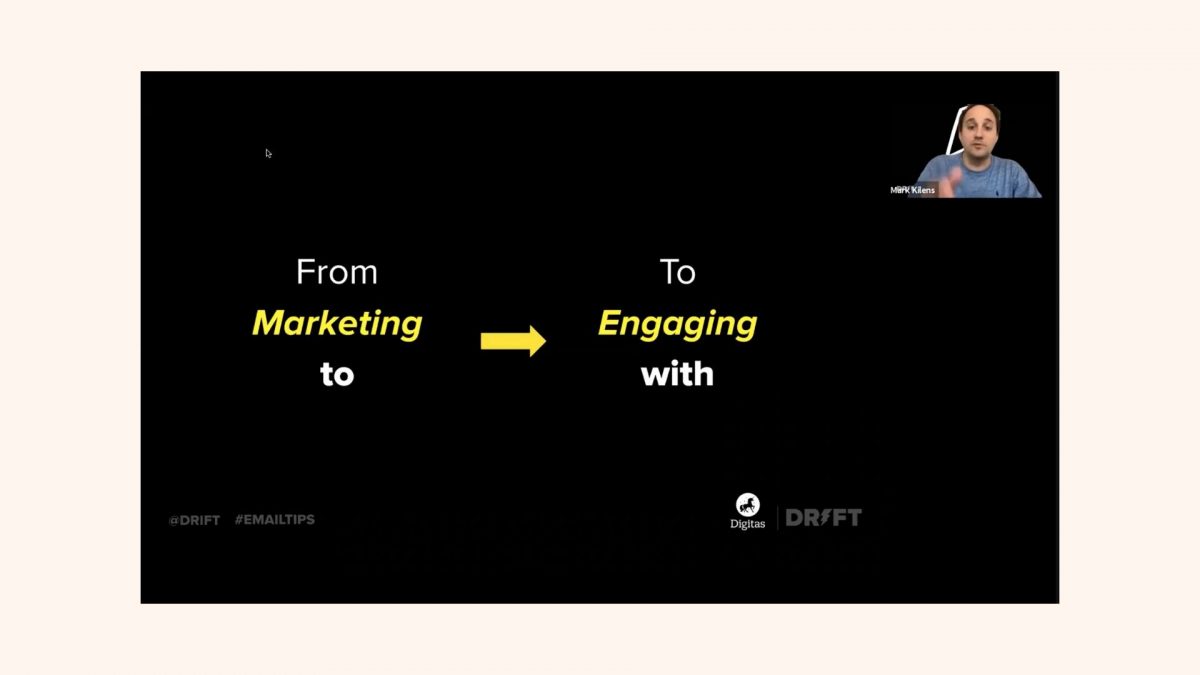 The host will intervene whenever he or she sees fit to add more insights and make the entire experience more enjoyable for the viewers. In many interventions Mark had, he shared the Drift experience and best practices related to email marketing.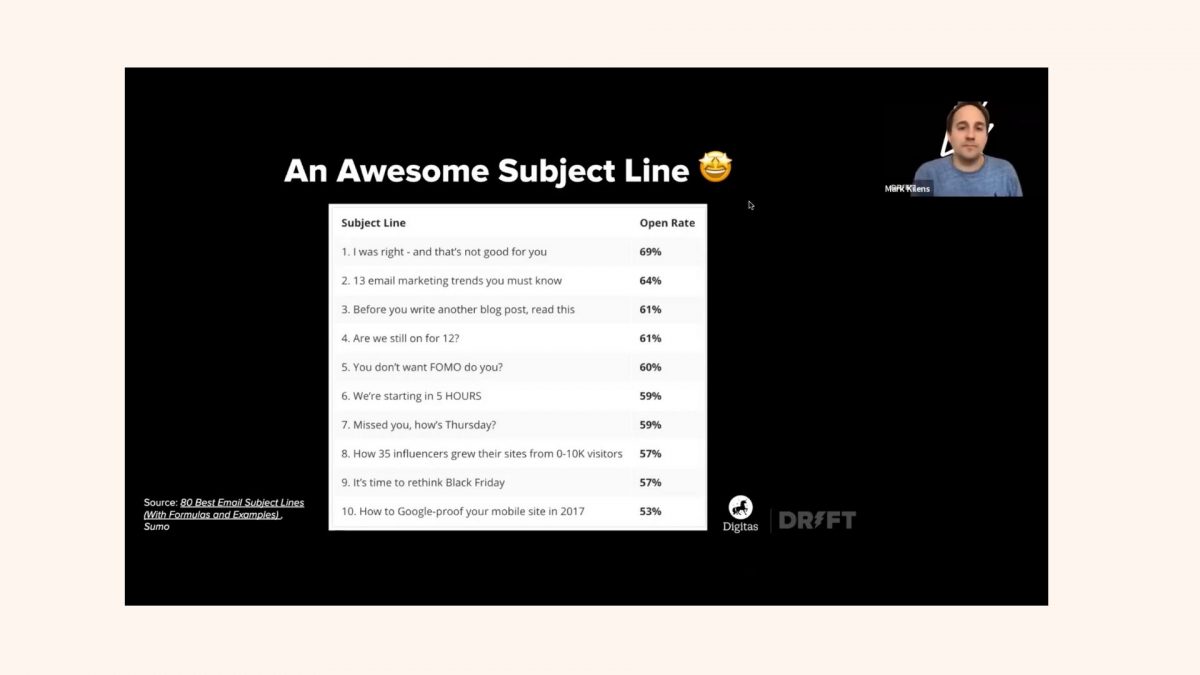 Another great Drift webinar practice is its focus on real-life examples and practices. In other words, Drift packs its webinars with highly valuable content so that the audience really gets something useful out of it.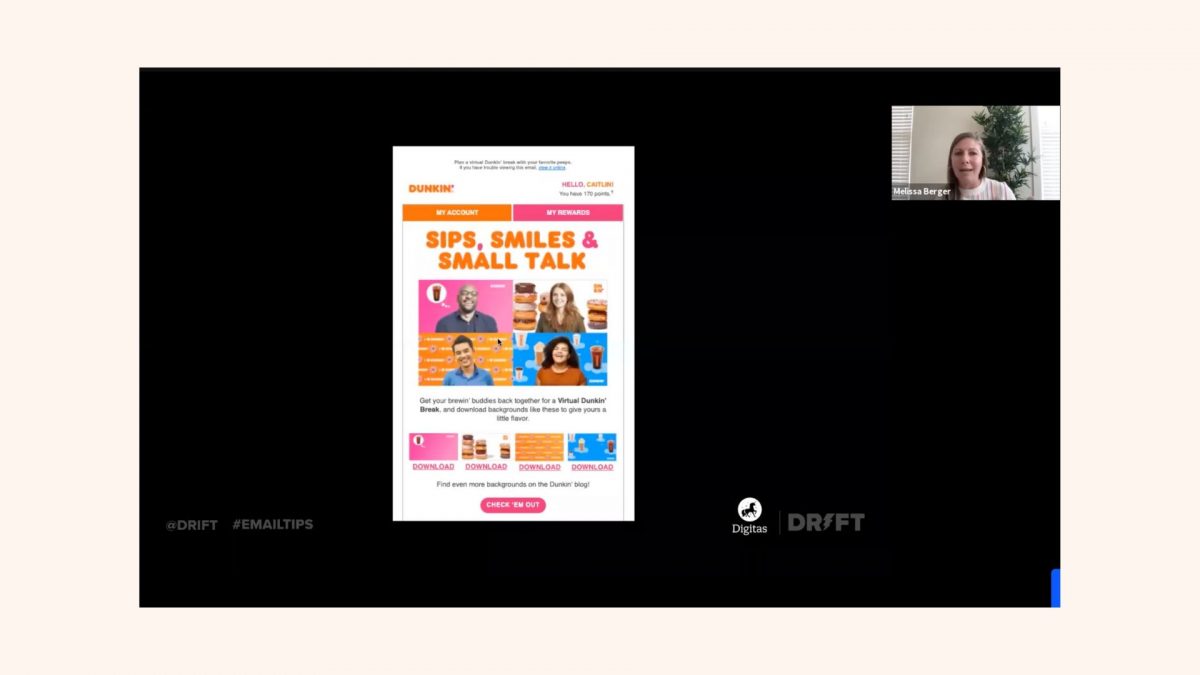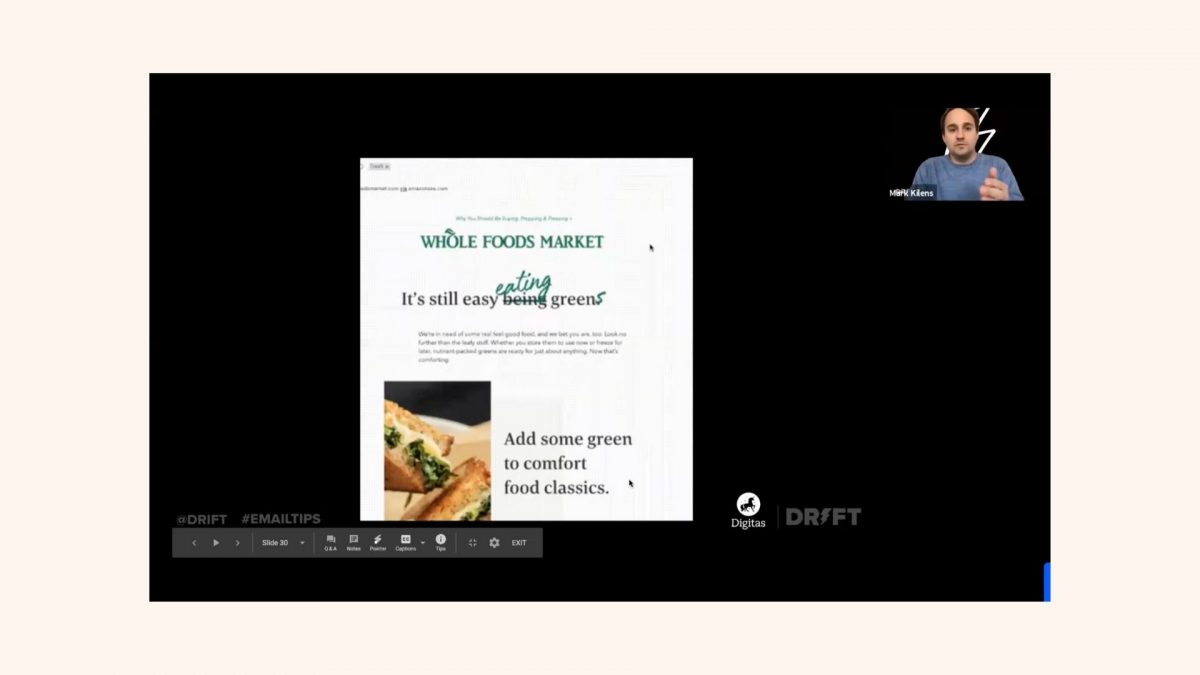 Finally, at the end of the webinar, both the host and the speaker are presenting their personalized offers. Drift offers guests access to five free email templates.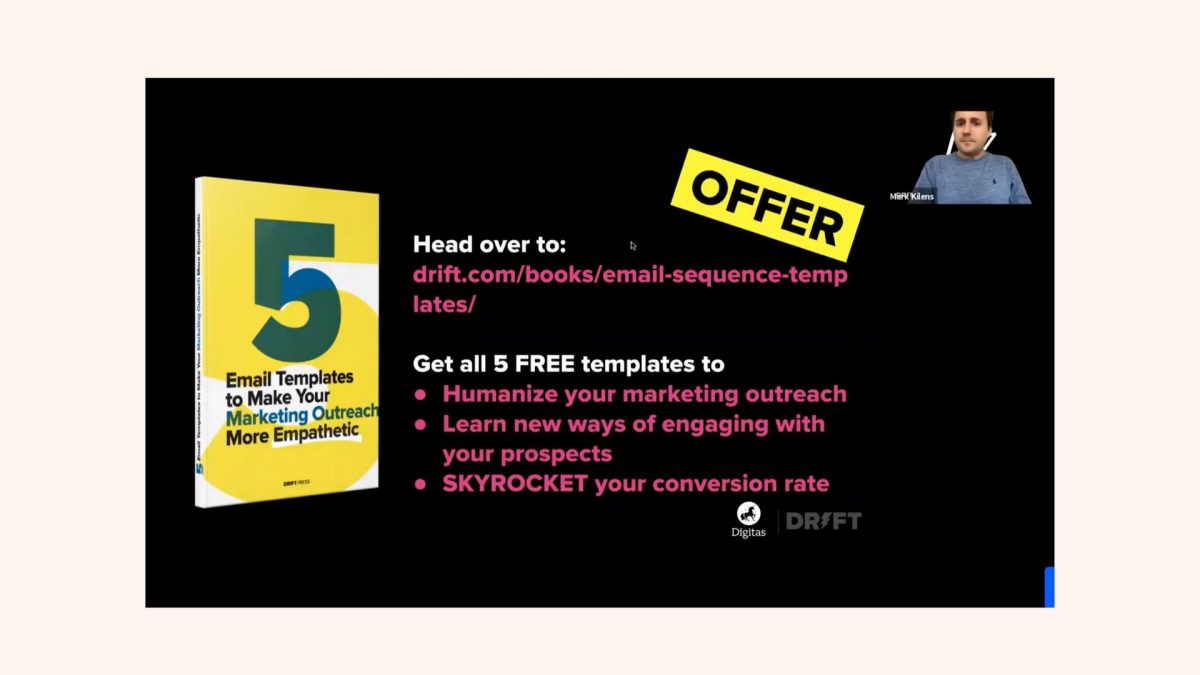 As for the guest, she's offering a free 30-minute consultation to the first 10 webinar attendees who reach out.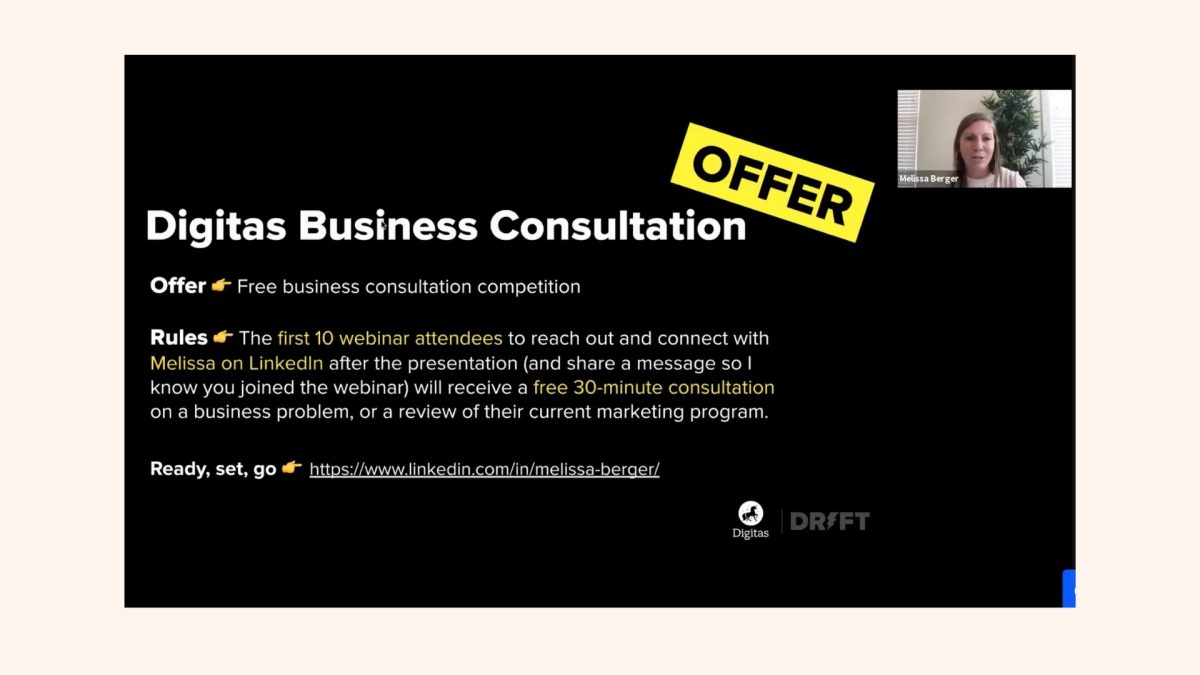 That's a great way to end the webinar and build a deeper relationship with the attendees.
Another important element you've maybe not noticed from the screenshots is Mark's background.
Although it's black, you can still see Drift's sign behind him. Adding company elements is a great way of branding webinars. You can easily apply Drift's best webinar practices to your business.
? Here's what you can do today:
Don't just invite a guest and let him or her talk during the entire webinar. Partner up with your guest and co-create the presentation, and make sure that the entire webinar will be interactive and conversational.
Use emojis in your presentation to add a fun and informal tone to your event.
Provide some branding elements to your webinar by adding the logo or company colors in your background.
Always end your webinar by presenting the next call to action your audience can take to move people further through the pipeline.
Step 8: Run a post-webinar communication campaign

What should you do after the webinar ends? Should you take the time to continue nurturing the relationship with your attendees? Following Drift's example, my answer is a strong "Yes!"
Your webinar shouldn't end with a "Goodbye, see you next time"; on the contrary, your webinar should be the beginning of the long-term nurturing of your leads by offering them even more value and actions to take.
For example, here's the post-webinar email I received from Drift: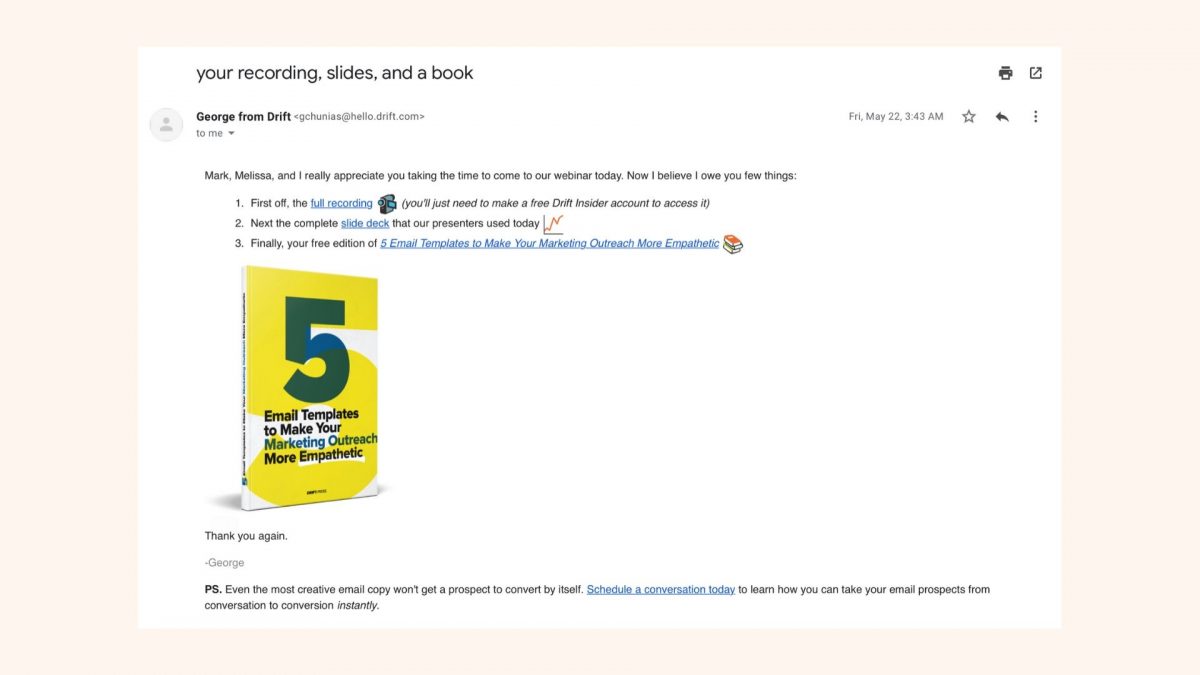 Titled "Your recording, slides, and a book," the email caught my attention immediately. I was eager to discover that there were some goodies inside.
So, as you can see, with its post-webinar email, the Drift team sent the webinar video, the slides the speakers presented during the event, and the five email templates Mark presented in the end.
Webinar goodies
By clicking on the deck link for the slides, you're taken immediately to the presentation. The content is not gated, making it even more awesome.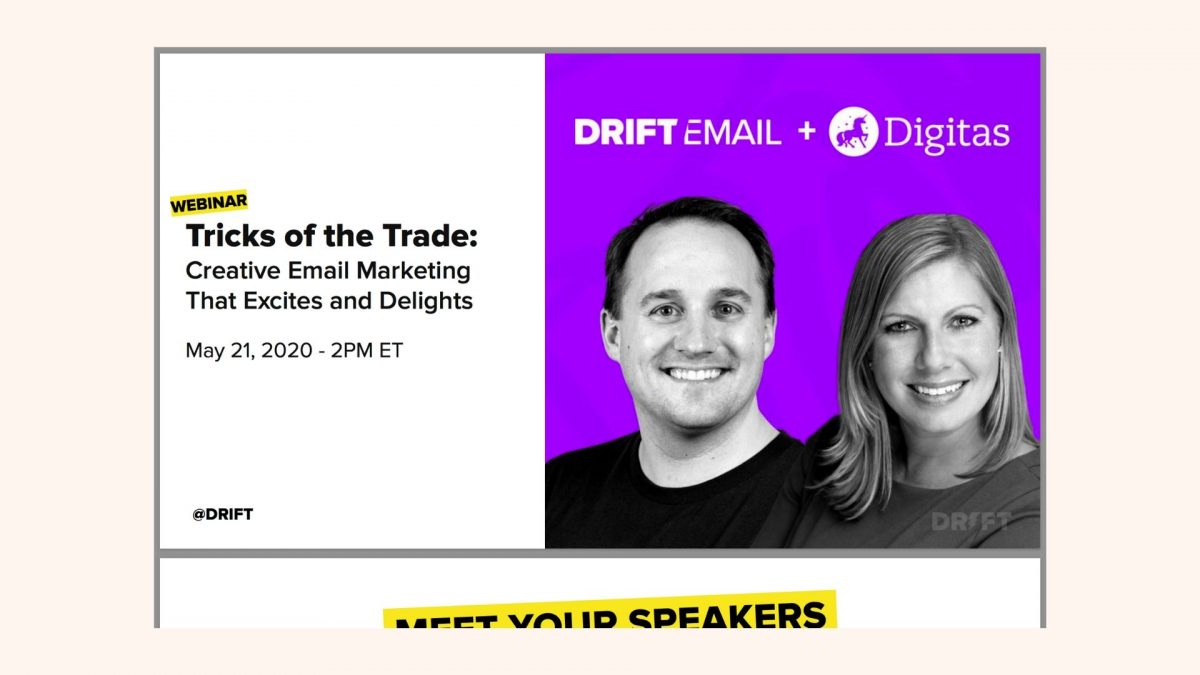 As for the record, however, things are a bit different. Once you click on the full recording link, you're taken to the Drift Insider landing page.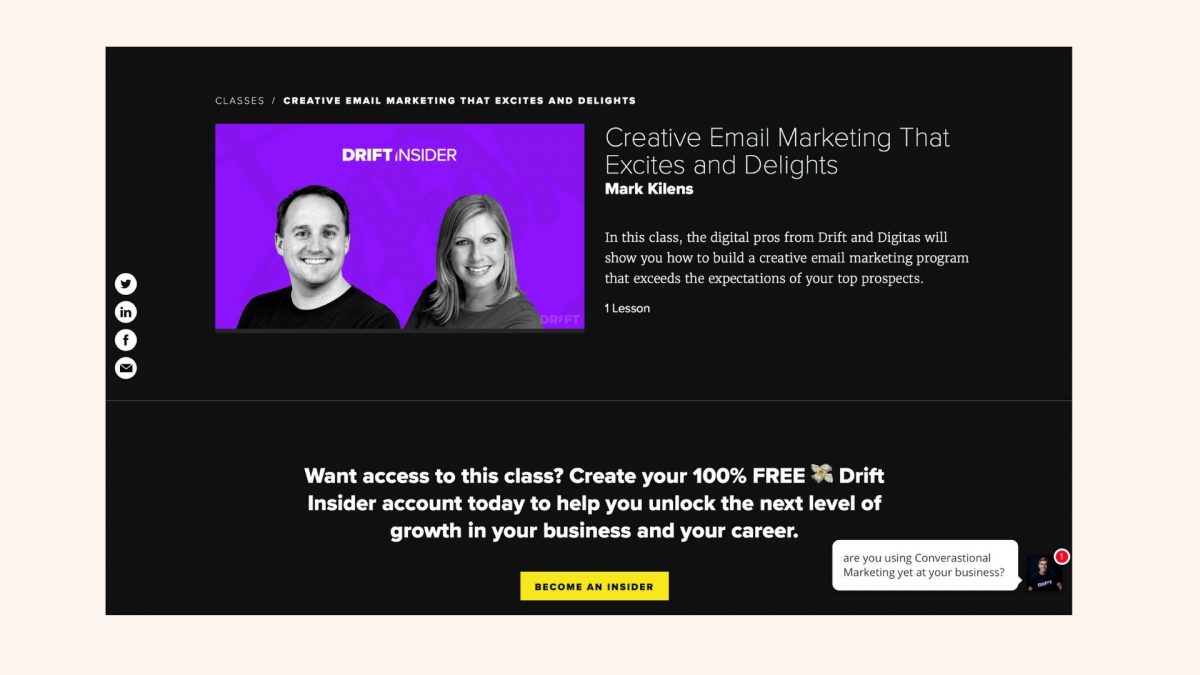 In case you're not familiar with it, Drift Insider is a free collection of extremely valuable content, classes, and community teaching people about conversational marketing and sales. And that's also where Drift publishes its webinars. So to access the recording, you need to subscribe to Drift Insider.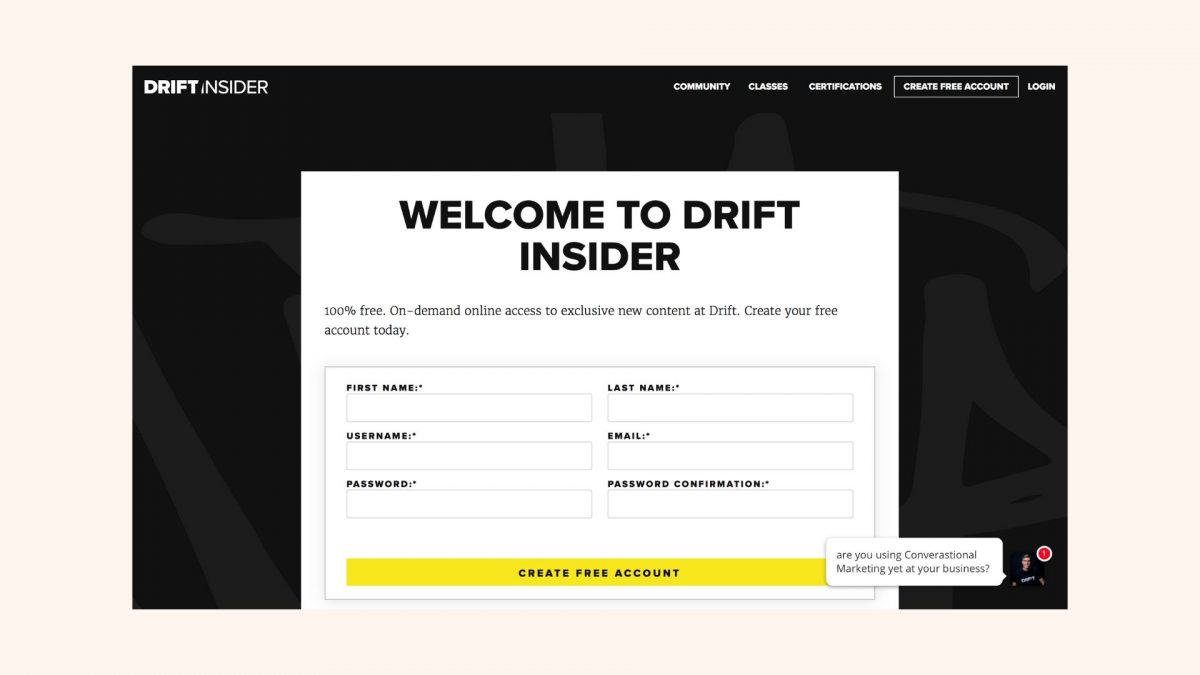 This is a very interesting way of collecting leads and redirecting them to more educational content to build trust.
Moreover, if you registered and you watched the webinar, you'll receive this email: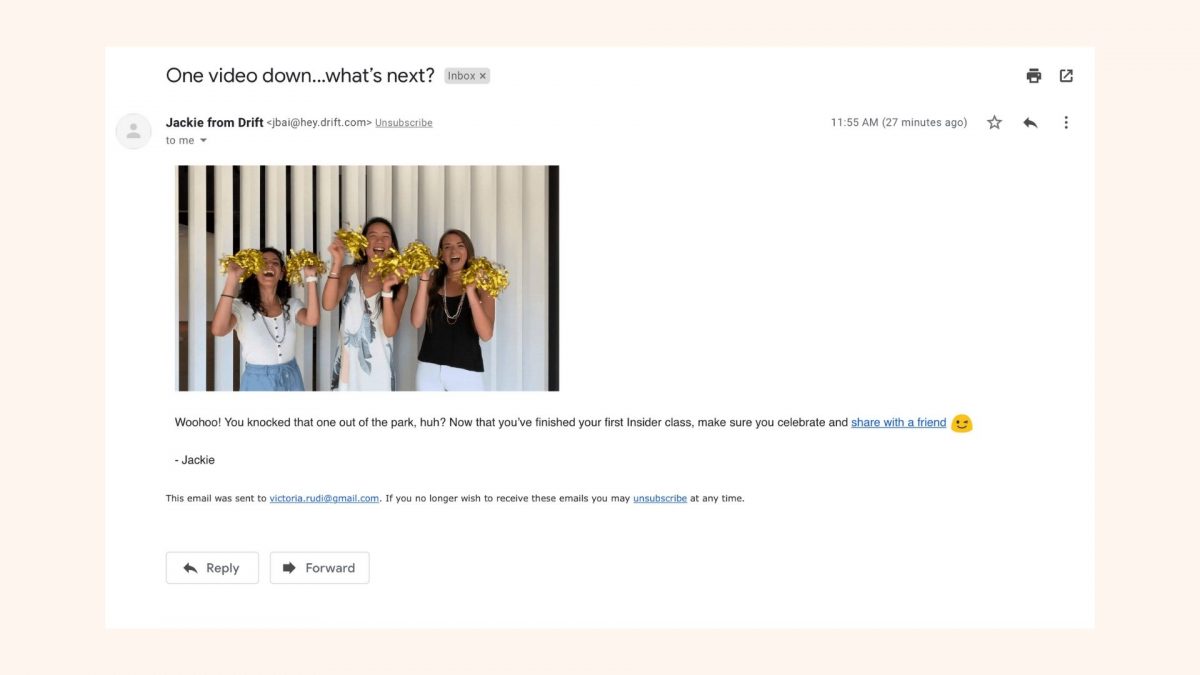 You're presented again with a team meme and the message, "Woohoo! You knocked that one out of the park, huh? Now that you've finished your first Insider class, make sure you celebrate and share with a friend."
That's a great call to action, don't you think?
So now that we've seen how complex Drift's post-webinar communication is, let's list the actions you can take to improve your connection with your webinar attendees.
? Here's what you can do today:
Don't end your communication with your leads after the webinar ends—follow up with a post-webinar email.
In your post-webinar email, apart from recording links, always add the ungated presentation and a downloadable freebie, such as an eBook, templates, or checklists.
Make your post-webinar email fun and short with a clear call to action.
Are you ready to change your webinar marketing strategy?
Wow, this was a massive post. But hey, Drift deserves it! It's the best in its field, and we can learn plenty of things from its examples.
That's why I hope that you've resisted the temptation to scroll through TikTok videos and read this post all the way through.
So let's recap ?
If you want to fuel your growth with webinar marketing and become a thought leader in your industry, you'll want to consider the following:
Don't just launch a bunch of webinars—search for great topics and categorize them into series. That's a good way to present an in-depth overlook of the topic and segment your webinars.
Promote your webinars on social media the right way. Don't just write a quick post about the webinar and throw the link in somewhere—take your time, come up with fun and conversational text, highlight the wins people will get by attending your webinar, and add a call to action by encouraging people to request the link to your webinar registration landing page. 
Keep your landing page clutter-free. Add only the essential elements, such as the webinar's main topic, the structure, the registration form, a short bio of each speaker, and a countdown to add a sense of urgency. 
Make the webinar registration as simple and clear as possible. Keep your registration forms short. Otherwise, you may turn people away. 
Be fun with your emails. When sending the registration confirmation, add a silly meme that shows the webinar host's excitement. Also, provide the option for attendees to add the event to their calendar. 
Always send a reminder a few hours before the event. 
When registering the webinar, don't be just the host—talk to your speaker(s) and work on co-creating the event together. Make the webinar conversational and practical. Also, don't forget to add a clear call to action after the webinar. 
Finally, run a post-webinar communication campaign by sending goodies to your attendees and providing more call to actions. 
Think you'll remember all of this? Good! Now it's time to apply all these webinar marketing practices and make your competitors jealous.
DOWNLOAD YOUR FREE WEBINAR STRATEGY CHECKLIST BELOW
Use this checklist
to design your very own high-converting webinar marketing strategy from scratch, then automate the process to attract high-quality leads.
We promise to never spam or send emails about cats.
Okay, maybe some cat stuff.