Wow, what a journey it's been already. With only 1.5 Months of Beta in the books, we've learned an insane amount about what our users are looking for and needing in their webinar platform.
With nearly a month until launch, we are all preparing by aligning our Marketing plan, creating our strategic sales copy, and organizing them with the last features that we'll be implementing for launch.
As we look forward here's where we are going after Beta:
Zapier Integration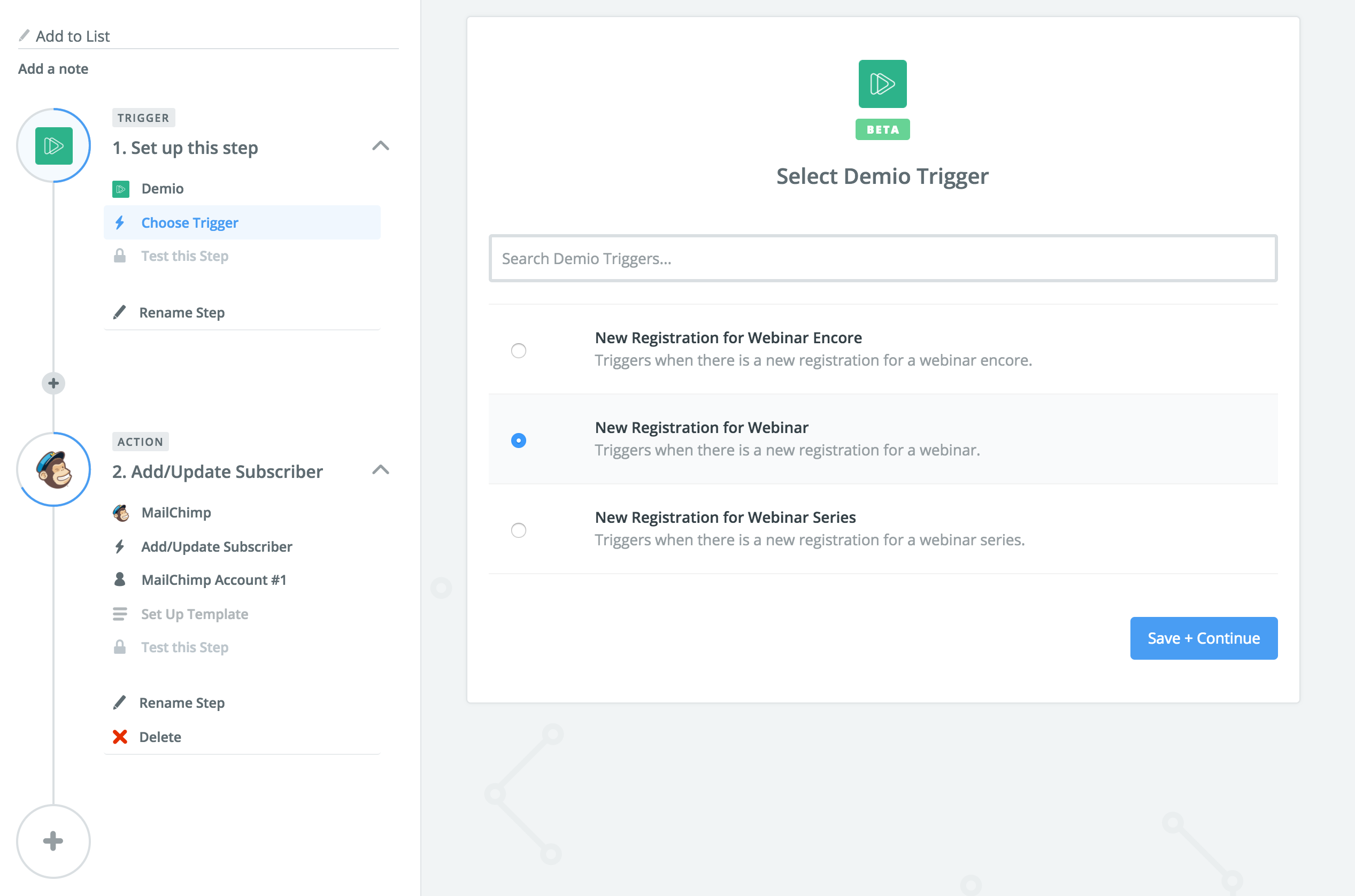 With only a quick nod from the Zapier team left, we are looking to get our Zapier integration live the first week in October. Which for you, means a great deal of new automation out of the box with Demio.
With Triggers based on an Attendees registering for a webinar or Actions allowing you to register contacts for webinars, your automation controls are pretty endless.
Create paid webinars with Stripe and Paypal integrations, add a registrant to over 200+ CRM's in Zapier, or have registrants become auto-registered with 1 click of a link WHILE saving their unique join link… all with one simple zap.
(if you're not familiar with Zapier, definitely need to check out how this platform is connecting everything online – http://zapier.com)
Down the road after Beta, we'll also be adding in additional API functionality like Creating a Webinar, Adding a Coordinator, or possibly even Completed and Skipped webinar.
Browser and Mobile Attendee Support
One of major focal points after beta is expanding out of our current "Chrome Only" version of Demio. We'll be working hard to make sure Demio is able to handle and support a variety of browsers at launch including Mobile Browsers.
This will ALWAYS be a major focus of ours at Demio – creating an amazing Attendee experience while on your webinar and that starts with being able to access the platform with ease.
Looking forward past our grand opening, Demio has it's eyes set on Native mobile applications to make that webinar experience even simpler for your attendees.
My Channel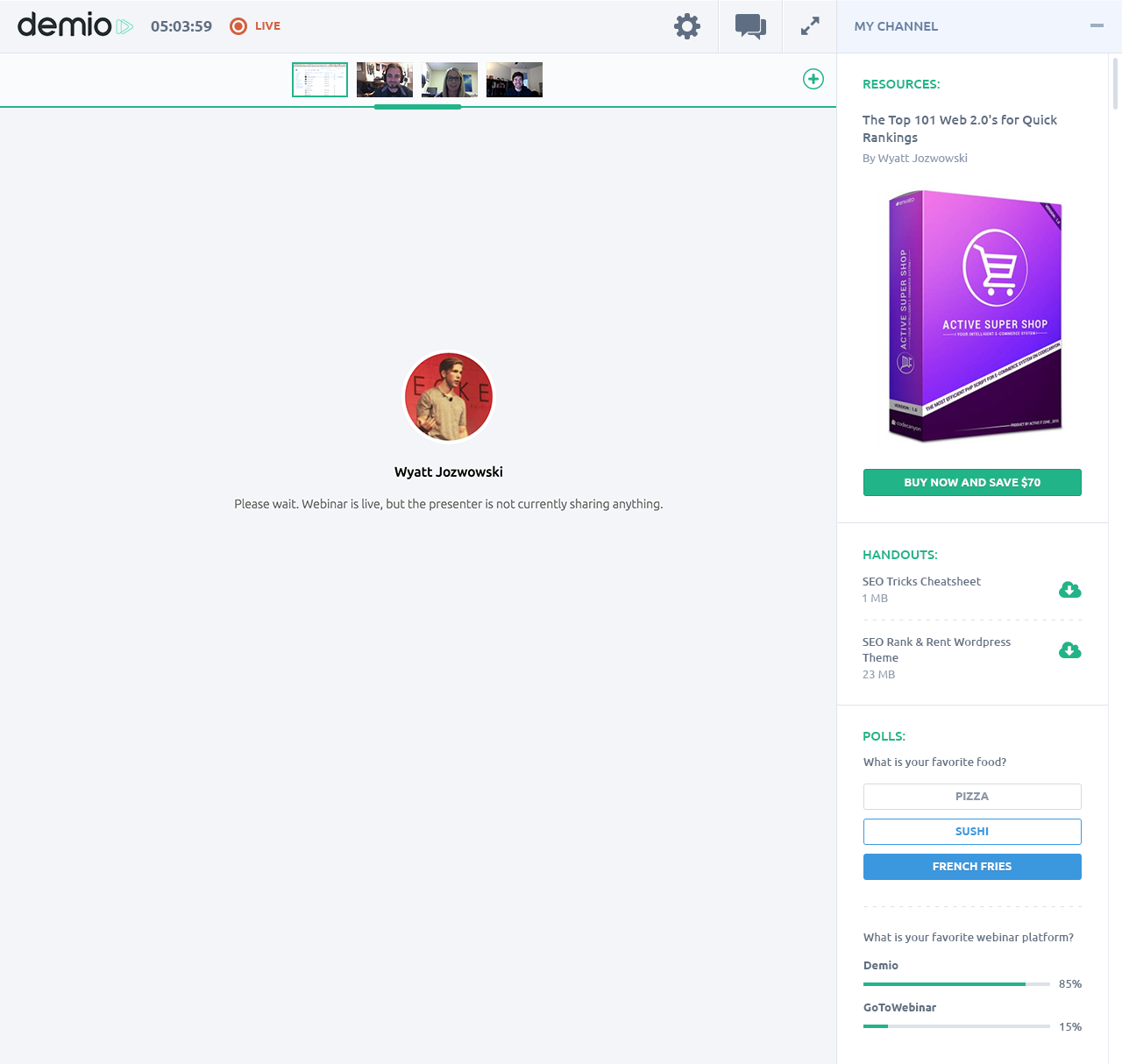 The "My Channel" portion of the webinar will be an integral and engagement based section of webinars for attendees. In the new and improved, "My Channel" section attendees will find newly posted Polls, Handouts, and Calls to Action. Notifications will alert users when new items appear, but can also be hidden during the presentation so Attendees don't miss a minute of the action.
For Hosts and Coordinators, this means the opening of Resources (Polls, Handouts, and Calls to Action) which will all be found in the updated backstage.  This initial functionality will allow you add in that extra level of engagement and interactivity which is crucial to keep attendees excited and participating.
As we move forward after the launch, new poll types, lock/unlocked handouts, and new resources will also appear here.
Now that we've got your attention 🙂
Are You Ready to Experience Webinar Software from the Future?
No Credit Card Required - Get Started in Seconds.
Automated Rules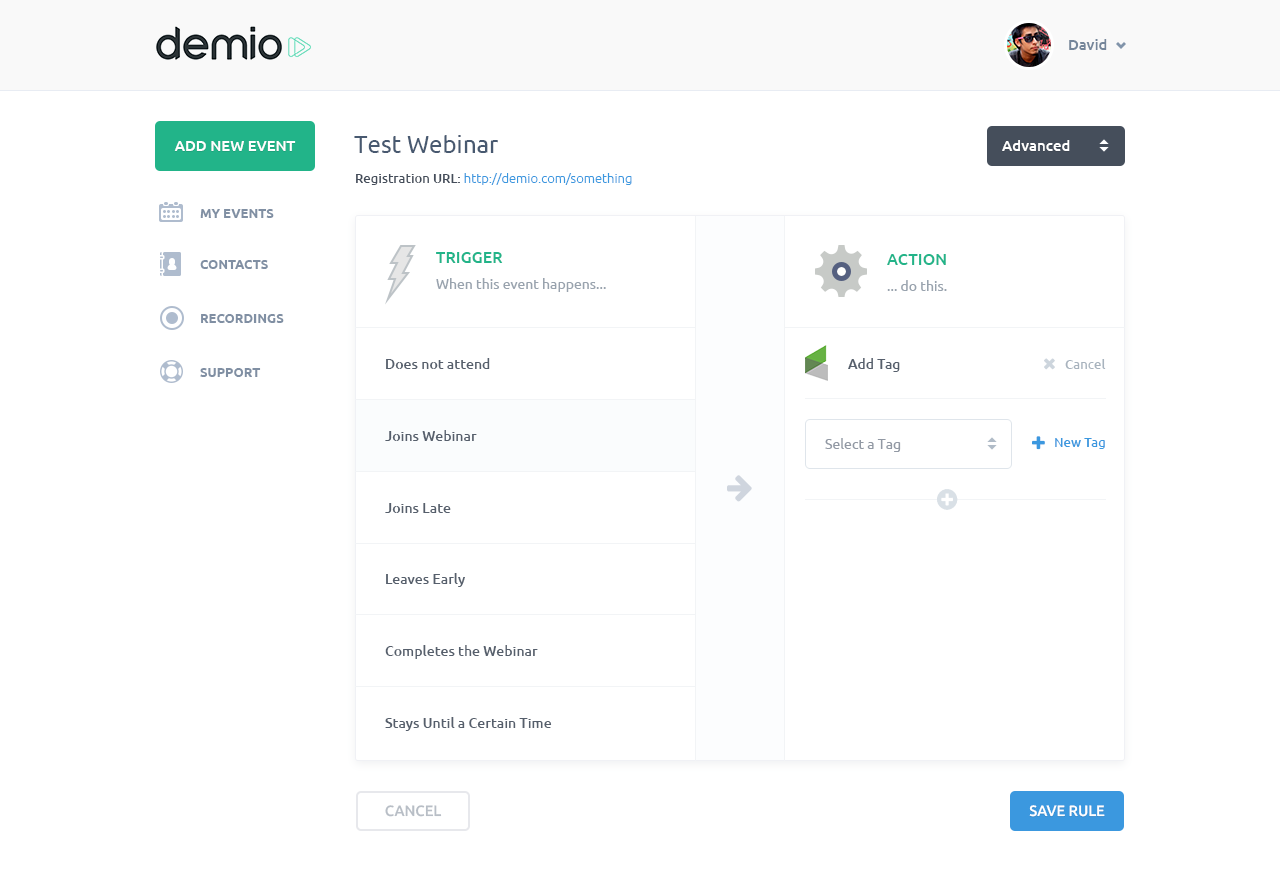 Previously considered our "Triggers", updated "Automated Rules" are the automation bread and butter of Demio.  The smart webinar technology allows you to easily integrate with one of our 7 native integrations to determine what actions you want to fire based on what your attendees are doing.
Whether missing the webinar, joining the webinar, joining late, leaving early, completing the webinar, or staying until a certain time with Demio, you'll be able to completely automate the process of segmenting and communicating with your prospects the RIGHT way.
All with a simple and intuitive control panel for EACH webinar.
This will just be the start of automation that makes Demio perfectly suited for your marketing and sales process.
Popover Embed Registration Options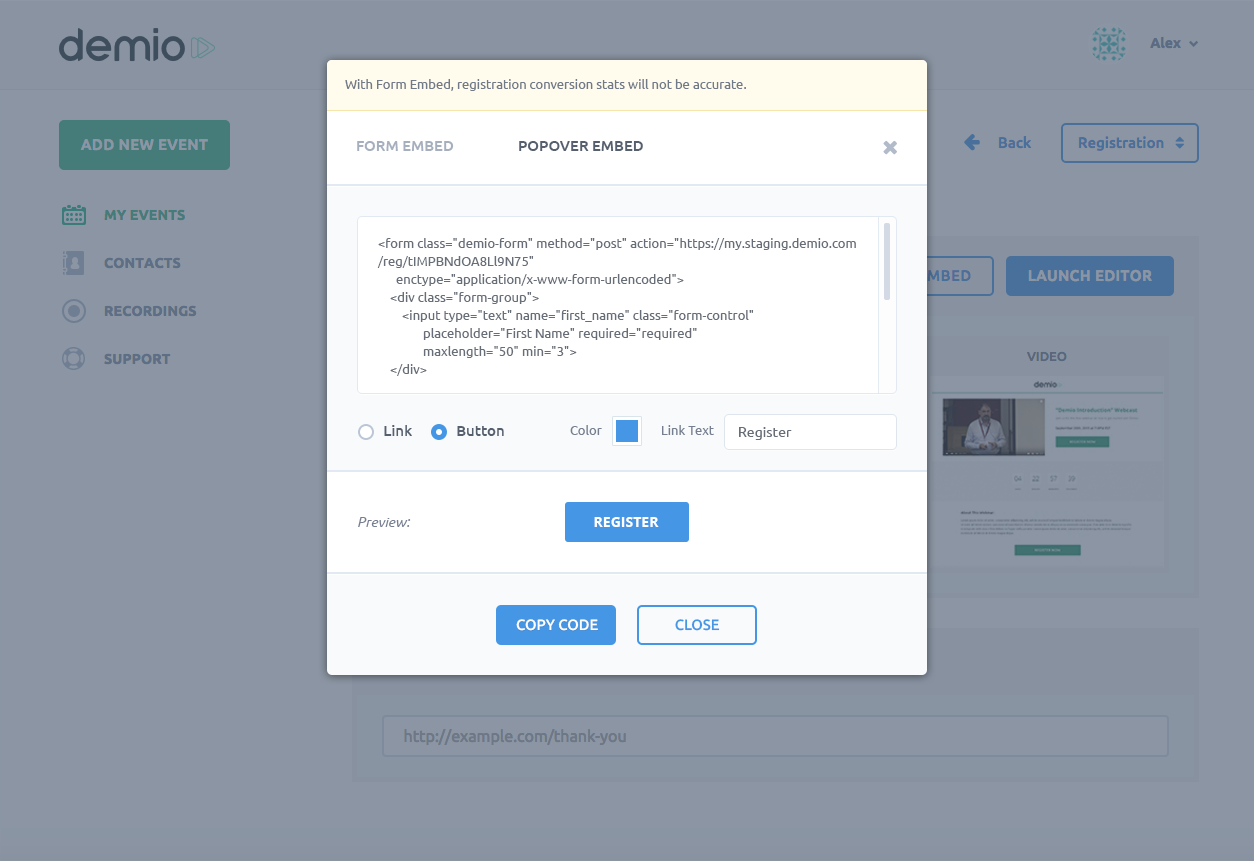 New embed options means an easier way to add the Demio registration process to your website, marketing funnel, or membership site. With the newly designed Popover Embed Registration option you can design a button or link to pop up a beautifully designed Popup form to enroll registrants to your specific webinar or webinar series.
So that means, you'll have the freedom to use our Styled or Unstyled form embed codes, Pre-built Registration pages, registration via API in Zapier, or our popover embeddable forms all with 1 click of the button on our Registration section.
We'll continue to put a concerted effort on making registration and the registration process as simple as possible for your webinars!
Plus… we'll be adding back in:
 More Registration Page Editing Options – Add in images, videos, bullet or numbered lists onto your registration page with deeper and advanced editing areas.
Registration and Thank you Page Head Code Tracking – Add retargeting pixels, conversion pixels, or your own analytics to both the Demio registration pages AND the thank you pages.
Replay Pages – Our editable replay pages with your recordings are super easy to use and will actually keep your registration page branding and color changes to make sending quick replays out a breeze.
Chat Reporting – See the entire chat stored and saved in our reporting analytics section of Demio in addition to the overall reporting and individual attendee reporting sections.
Webinar Room Tracking Pixels – Want to track and create retargeting lists of all your webinar attendees? Easy :D. With Demio webinar room tracking pixels allow you to place your codes directly into your unique webinar rooms.
And that's just the start…
Our roadmap is packed with some amazing new Feature Requests from our beta members that will be incredible additions to Demio moving forward.
We're consistently focused on balancing "features" with our core pillars of reliability, scalability, and crating an amazing webinar experience so we'll take our times to choose priority items as we go, but feedback from users (like you?) will continue help us build the best platform possible.
As excited as we are, we know it's just the start for Demio.
If you haven't joined us yet or if you're interested in running your next webinar on Demio, you can learn more about Demio here. We'd really enjoy hearing your thoughts in the comments below. Or say hey on Twitter. We'd love to know how your first experience was on Demio.
Now that we've got your attention 🙂
Are You Ready to Experience Webinar Software from the Future?
No Credit Card Required - Get Started in Seconds.