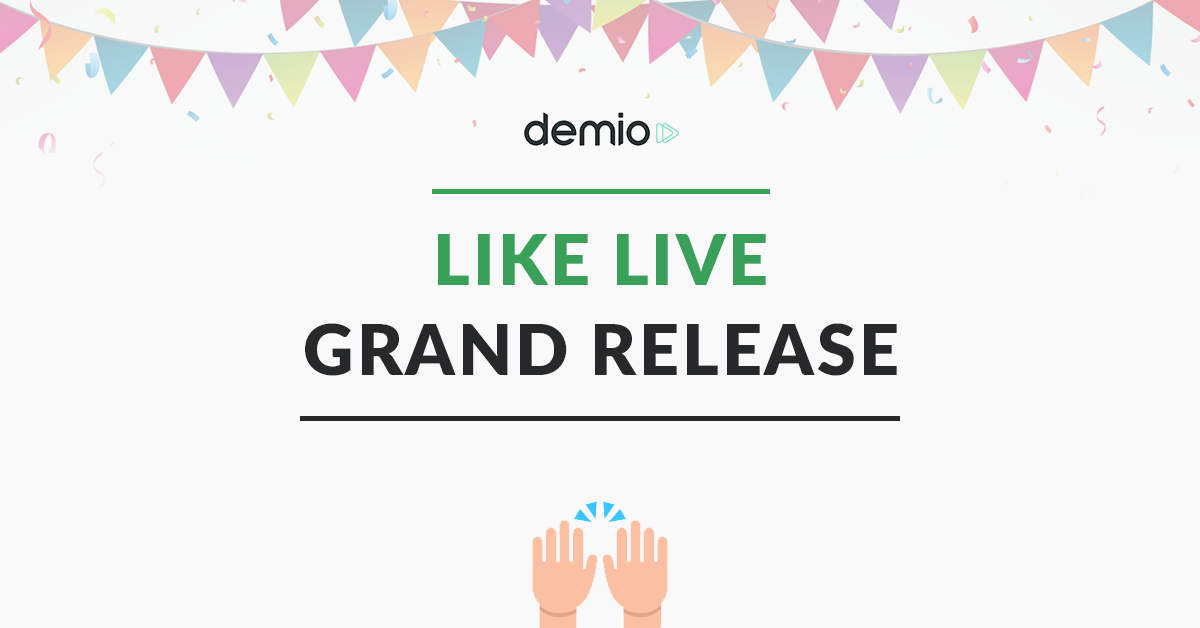 The time has come. After a great deal of requests for this, we've just completed the first version of our brand new Demio Evergreen ability.
We call them "Like Live" replays and you'll absolutely love them.
Instead of a cumbersome creation process needed in most evergreen platforms, we've made it so simple to launch an On-Demand webinar that runs day after day.
And that's always going to be our mission… to make a webinar platform that's simple to use, offering a great experience, and all the power you need to connect with your audience.
Want to see them in action? Click here to watch a live simulation.
---
Like Live Replays Grand Release
On your first glance, it may seem like nothing is new. But go to your Past Events section on the "My Events" page and you'll notice some new User Interface changes.
With these changes, you'll notice a new button on any past event with a Replay connected to your account. This is where you will find your initial step to launching an evergreen webinar.
​
If you hit "Launch Replay," we'll create your entire replay based on your webinar interactions (please note: you can launch a replay on any past webinar, but only webinars after this release date will contain webinar actions).
We'll save the chat messages, handouts, and calls to actions on your webinar to create a Demio webinar experience exactly like your live webinar.
Once your webinar is launched, you'll find your webinar options listed on the Like Live events page.
Clicking into the Webinar, you'll see your entire Webinar options and statistics over time.
You'll be able to change Registration Integrations, Registration page editing, Custom Fields, Automation Rule integrations, and any tracking pixels.
All previous edits will be saved and you still have access to 1-Click email links, embed forms, and all the integration changes you may want/need.
As attendees join and watch, you'll be able to add an Auto-Response message or even redirects after the webinar.
​
​
As the chats come in, you can also instantly follow up with them in your Demio account with an email message (we'll expand this later with live chat).
Finally, here's a quick view of a Demio Like Live replay which you can preview at any time.
​
The Like Live Replays are also 100% mobile responsive, mobile compatible, cross-browser compatible and entirely active in your accounts.
There's no limits on them and we'll host your replay for you, as well.
Join before Sunday, March 19th at 11:59pm EST and access LIKE LIVE REPLAYS on ANY Package size. 
After our grand release period, you will ONLY get access to Like Live Replays  on our 500 and 1000 Attendee packages.
—-
Over the next few weeks, we'll be revamping a few parts of Demio to upgrade your Demio experience and will be actively listening to all the feedback for Like Live Replays.
As we get your amazing feedback, we'll be adding in new updates and versions to it to continue to make a stronger and stronger experience for you and your attendees.
We're REALLY excited about this one.
Let me know in the chat if you have any questions/suggestions 🙂
Talk soon,
David Abrams
P.S. – The Demio iOS Application is getting closer and closer. We'll have some teaser footage out soon to show you what it looks/feels like. But it's going to be a big addition to Demio!
Now that we've got your attention 🙂
Are You Ready to Experience Webinar Software from the Future?
No Credit Card Required - Get Started in Seconds.