The integration of Demio and HubSpot allows marketing, sales, and customer success teams of all sizes to run webinars and easily map their impact through the marketing and sales pipeline.
Webinars skyrocketed in popularity during the height of the pandemic when in-person events were completely off the table. And in that time, marketing and sales teams across the world realized that webinars are a great standalone tool that help increase trust in a company and generate high ROI. Many marketing teams have continued using webinars as part of their sales and marketing functions, and after a couple of years of running webinars, they've learned a thing or two about managing these virtual events.
Webinars take careful planning, and having a great webinar platform is essential because they're a lot more elaborate than they seem — it's not just livestreaming a Zoom call. How will you field questions from the audience? How will you set up registration emails, reminder emails, and post-webinar emails? How will you categorize prospects that watched the webinar in your lead scoring system?
Even with all the time and effort it takes to run a flawless webinar, they remain very cost-effective compared to many other marketing channels. They're also great at getting your audience to feel connected to your team and your product. That's why it's worth adding a great webinar platform and a powerful CRM to your tech stack in order to help you run engaging webinars every time.
Demio is an engagement marketing webinar platform that provides a simple, no-download webinar experience for your audience, as well as all the marketing tools you need to generate better results.

HubSpot is an easy-to-use CRM system that enables and connects sales, marketing, and customer care teams to attract new customers and keep existing ones happy and engaged.
With Demio and HubSpot, webinars are infinitely more trackable and powerful. Through this integration, marketing teams gain the ability to track ROI on webinars inside of HubSpot. They can automate communication with internal teams and external prospects both pre- and- post webinar. And this integration helps to validate and qualify webinar leads based on ICP criteria and lead scoring opportunities.
Any marketing, sales or customer success department using both Demio and HubSpot would benefit from the ability to seamlessly track their Demio webinar sessions and watch the impact ripple through the entire buyer's journey — and all those insights are available within HubSpot.
4 Ways to Use the HubSpot and Demio Integration to Maximize the Value of Webinars
1. Log webinar attendees in HubSpot and score leads accordingly
Webinar sessions are a key behavioral action that represent a prospect's high intent — if they're willing to spend an hour of their busy day learning from your company's webinar, it can indicate they're open to learn more about your product and team.
The ability to easily add your webinar attendees into your CRM, and then into your lead scoring, allows you to track this pivotal behavior when qualifying and validating leads for sales. As attending webinars represents high engagement, it's one of the best items you can add into your lead scoring, and it's a simple way to show the ROI of your webinar efforts.
By connecting Demio and HubSpot, you can automatically send attendees/registrants' data from Demio to HubSpot via Lists and use this data to segment based on the leads who are most likely to convert into customers.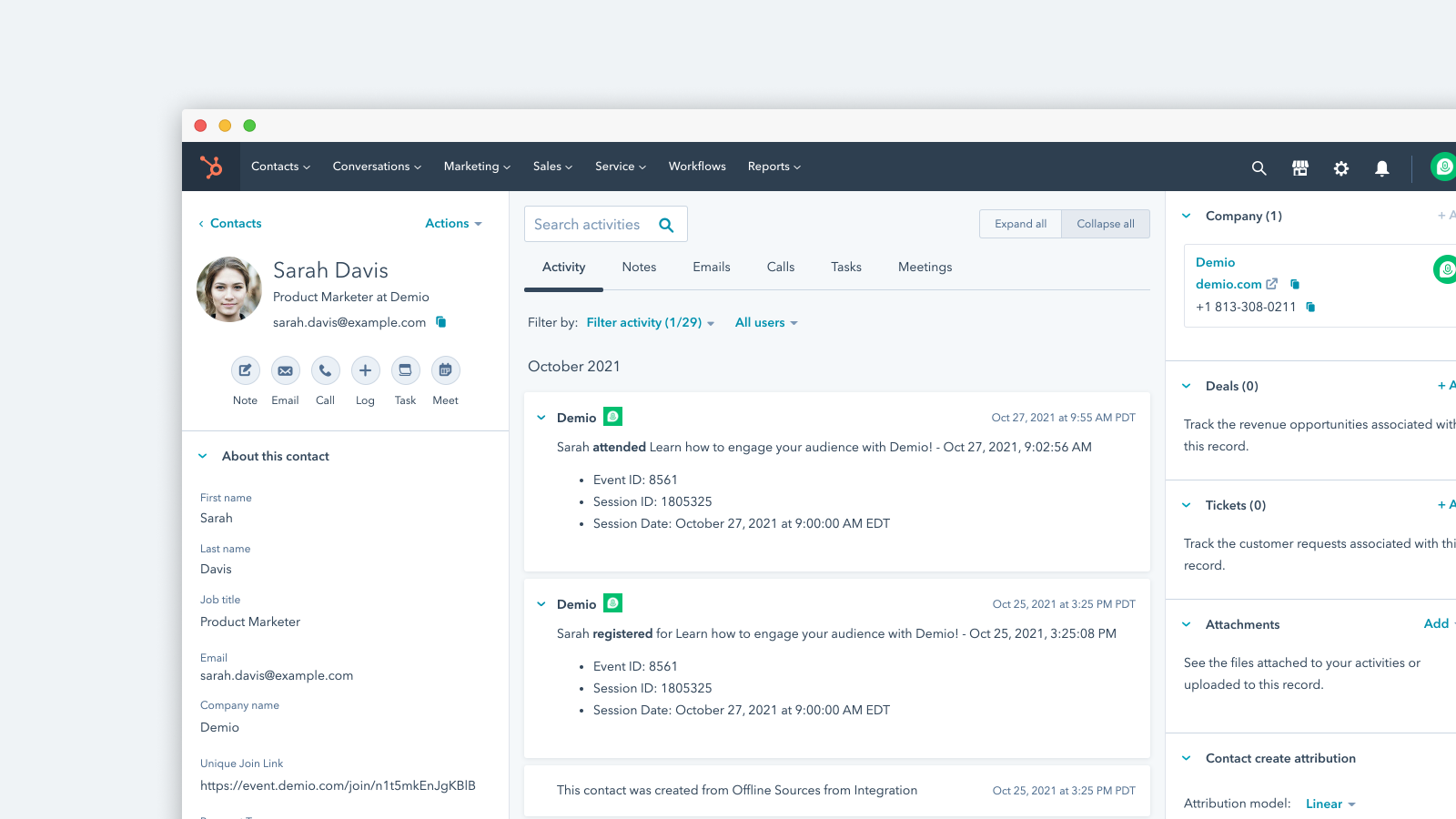 Example: If a prospect registers for a Demio webinar offered by your company, their information will be automatically sent to HubSpot. If they're a known contact, they'll be tagged as a registrant for this particular webinar, and if they're new, a new contact will be automatically created. Then, if they attend the webinar, their status in HubSpot will change to "attendee", and you can set up your lead scoring to change accordingly and signal that they're a high-intent prospect.
2. Automate webinar communications and set up post-webinar nurtures
Webinar hosts, marketers, and marketing ops professionals can use the Demio and HubSpot integration to set up an automated post webinar workflow – not just for one session, but for all Demio webinar sessions.
Using an automated post-webinar workflow that triggers anytime a contact has attended a Demio session, you can send internal notifications to sales, and set up post webinar nurture sequences to arrive at the best time in your attendees' email inboxes.
Having webinar registrant and attendee data available for sales allows them to help target and prioritize key contacts who are most engaged and ready for conversations —- in real time.
Send post webinar nurtures that map to a specific session or to the whole webinar series to nurture contacts along the buyer's journey until they are ready to talk to sales or take the next step. Webinars are highly engaging —- the ability to act on that engagement in real time can be very beneficial for your sales pipeline.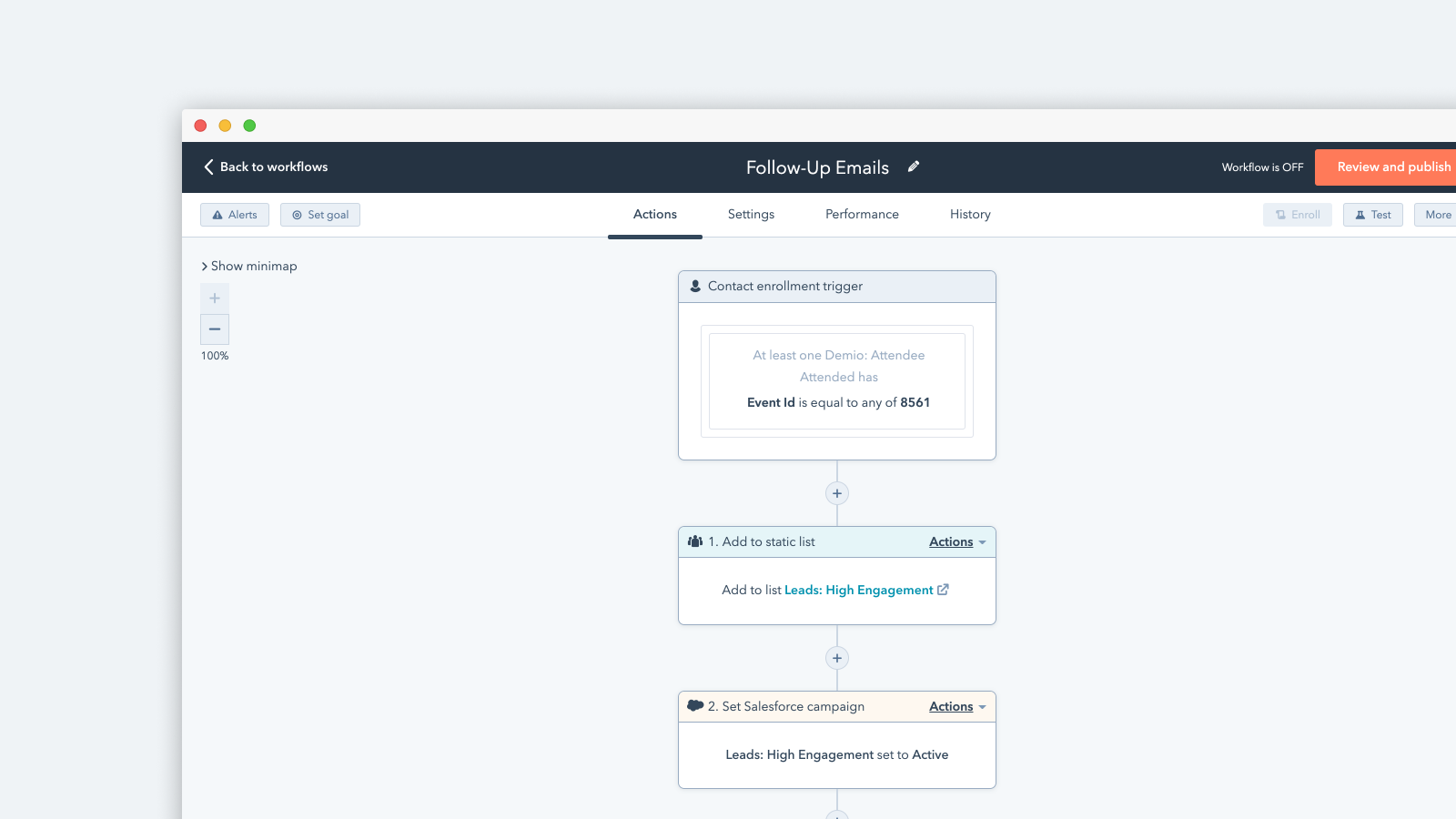 Example: There are a lot of emails to create when running a webinar. When a prospect registers for a webinar, they provide their email in order to get access to the link to attend. Demio and HubSpot can ensure they get a confirmation email with their unique attendee link, as well as ensuring they get a reminder email the day before and the hour before the webinar begins.
After the webinar, all registrants, whether they attended or not, receive a thank you email including the replay so everyone can watch it at any time. And while all of those emails are happening, Demio and HubSpot can also trigger internal messages to your sales team as a prospect in their territory takes an action like registering for a webinar or attending it.
3. Create reports on webinar attendees and find out what's working
By connecting HubSpot and Demio, you can easily build reports off of registrant and attendee data. Who stayed through the whole session? Who signed up for three more after attending one? These kinds of questions contain valuable lead scoring information.
Dig deep into your registrant and attendee demographics by running reports on the key fields that matter most to your business. Segment attendees and registrants by revenue size, industry, location, and any other factor that can influence their interest in your services.
These reports then provide immediate feedback to the marketing team on whether their webinar strategy, promotion, and content are serving the intended target audience.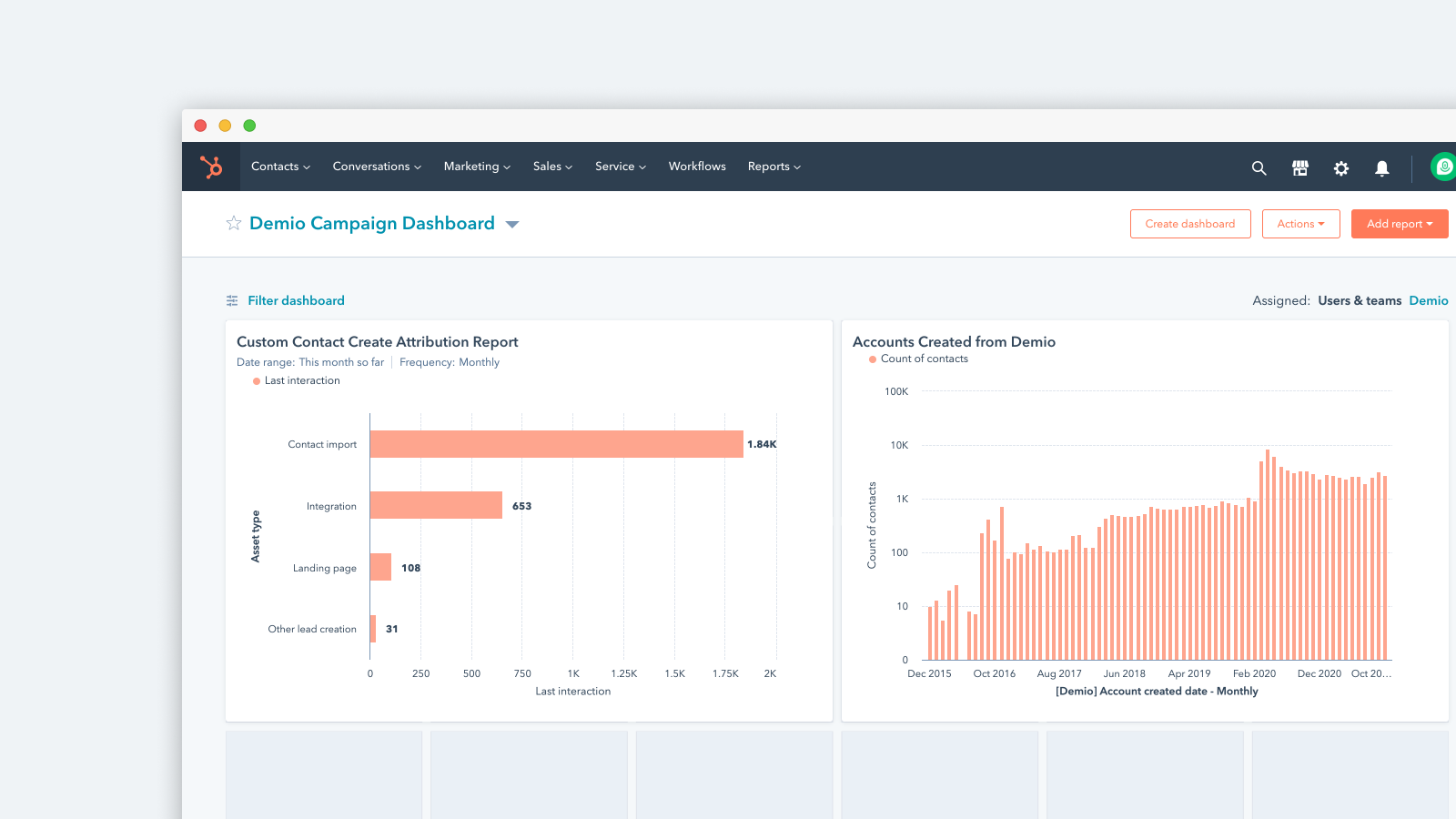 Example: A marketing team runs a webinar about managing small business payroll. After the event, they can dive into the data collected by Demio and fed into HubSpot and find out everything they need to know about the pool of attendees, including information like if small business owners who attended watched all the way through, or if the message and takeaways from the webinar resonated most with viewers of a certain generation.
4. Turn automated webinars into lead generation opportunities with landing pages
After a successful live webinar, turn the recording into an on-demand webinar, adding it to a landing page and generate even more new leads. Using high-performing content as a sales and marketing tool saves time and resources, improves conversions, and extends the life of live virtual events. With Demio's automated events, you can swap out videos for more up-to-date marketing content, or host on-demand training and onboarding, or sales demos. Then, track the performance in HubSpot and optimize based on the analytics.
Example: Host a live product demo, then turn it into an on-demand demo that provides value to your prospects while you sleep. This one to many automated webinar saves sales teams' time and resources, while providing the value to your prospects right when they are looking for it.
Supercharge your webinars with HubSpot and Demio
Putting on an effective, memorable, and enjoyable webinar is no small feat. But with the right tools to help you plan, prep, execute, and tally up the success of your webinar, your team will be able to reach new audiences and engage your existing customers. Connect Demio and HubSpot today.