Founded in 2012, Mention is a comprehensive media monitoring tool that helps leading brands track the most important conversations about their brand, competitors, and industry online.
In March 2013, Mention raised $800k from Point Nine Capital, Alven Capital, and eFounders. Shortly after in June 2013 they reached 100,000 users. Fast forward to today, where Mention has over 700,000 customers and 50 employees, with locations in Paris and New York City.
Four years ago, Mention started running product education and co-marketing partner webinars to generate leads and help their current and potential customers get the most out of their platform (did I mention they also made over $10,000 in two hours after their first webinar?). They also wanted an easy way to partner with influencers and other marketing departments in similar companies of size and audience. They've accomplished this and much more, partnering with big names such as Neil Patel and Hubspot.
I was curious to know more about how they run their webinars, so I spoke with Patrick Whatman, Head of Content at Mention, to get an inside look at their highly scalable process.
We talked about:
Webinars for Partnerships and Product
Mention's webinars are split into two types, partner and product. Each of these are run by different people, with different goals and topics.
Co-Marketing Partner Webinars
Mention often runs co-marketing webinars with big influencers and similar companies in their industry to teach their audience high-value lessons, mainly concerning social media marketing strategies. Sometimes guests will also share things they're working on such as tools or case studies, but only if the Mention team feels it will provide value to their audience.
Patrick said Mention's goals with partner webinars are mainly aimed at lead generation, as they often generate hundreds and thousands of leads per webinar, depending on the topic and guest. Their most popular webinar topics typically involve building high-level social media marketing strategies, as opposed to general lecture-like topics. Their audience (and most audiences, I assume) want to walk away with actionable things they can implement right away to improve their business.
The team takes care to find guests who will attract the right kind of leads, but lately, they've been focused on partnering with other companies rather than influencers. Patrick says this wasn't a sudden decision, but rather a direction they've been moving in over the past few months.
Big influencers often have a large number of followers who just want free tips and tools –– which is completely fine, but doesn't align as well with Mention's target audience and customer persona. Early on, the large volume influencers brought with them was huge for the small company, but they've found the conversion rates to paying customers to be much lower than when they partner with other companies.
When partnering with other companies, it's usually easier to find a good fit, as they can look at their price point and the type of targeting they use in their content to make sure it's effective. When unsure, they simply ask the potential partner company about their audience. Mention's pickiness has been essential to their success with partner webinars.
Product Education Webinars
Along with their partner webinars, Mention also runs frequent product education webinars, built to push attendees to get a demo of their platform. Regardless of whether attendees get a demo, Patrick says they always ensure the webinars are still informative and helpful.
Typically, the webinars will start with some general training in a topic relating to social media marketing –– such as increasing engagement or properly tracking campaigns –– and transitions into how they can use the Mention platform to help them implement that knowledge more efficiently.
Their goal with these webinars is to take people who are already familiar with Mention and show them why it's a great tool and push them towards signing up for an account.
Patrick says their most popular topics for their product education webinars are anything that involves "how to" and social media. Most of their users have come to Mention because they care about social media, so this makes complete sense: Who doesn't want to increase their engagement or track their brand on social media? And that's exactly what Mention does. Talk about great targeting!
Now that we've got your attention 🙂
Are You Ready to Experience Webinar Software from the Future?
No Credit Card Required - Get Started in Seconds.
Lead Gen, Content Creation, Product Feedback, And More?!
Mention loves connecting to their audience on a personal level, but there are more benefits to their webinars than that, so let's take a look at them.
Lead Generation
Lead generation was the reason Mention started doing webinars in the first place, and it's still the main reason they run them today.
Patrick says they've found that, as a method of nurturing leads, webinars are definitely more effective than other strategies or mediums. He thinks this is most likely due to the fact they can talk to their audience directly in real time, whereas an ebook or video is limited in its engagement.
Real-Time Product Feedback
Another benefit of talking to their audience directly is they can get to know them and truly understand their wants and needs when it comes to their platform.
Instead of guessing what features they should build or improve, Patrick says they just need to take note of the questions and suggestions that pop up on during each webinar. If something is really important to their users, they'll keep hearing about it in every webinar. If they have ideas for improvements to the platform, they can tell their users in a live environment and get feedback in real-time.
So, while Mention doesn't run webinars specifically for product development, it's been incredibly useful for it and has even helped to reduce churn in a roundabout way by allowing the team to make fast and accurate improvements to the platform.
Scalable
Patrick has run many webinars for Mention, but he now helps their sales team run webinars by setting up marketing campaigns for them. This allows them to scale their webinars effectively without relying on any one person.
Strategic Partnerships
One of the main reasons Mention started running partner webinars was to create strategic partnerships with influencers and similar companies in their space. As mentioned before, they've worked with big names such as Neil Patel, HubSpot, Kissmetrics, and more.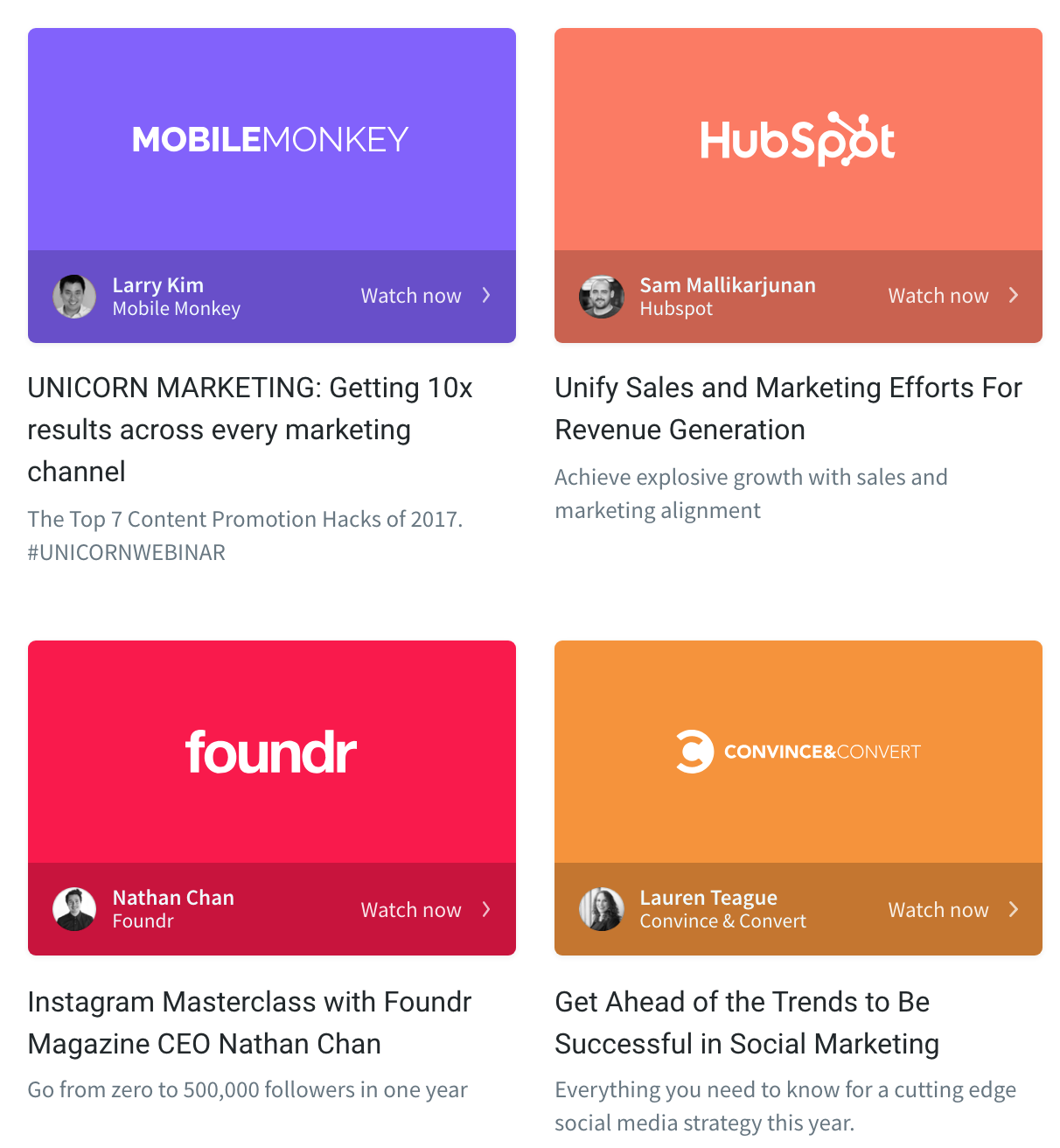 These connections, which they might not have otherwise made, open up many opportunities for Mention, not to mention they start their relationship off with a win-win situation where both companies get tons of exposure and leads via their partner webinars.
Content Marketing
Mention has always had a B2B content marketing focus, and webinars allow them to create different types of content with both live and on-demand video. This means they can reach a whole new audience that prefers video content over other forms. This also gives their current audience more choices, which likely increases the time spent consuming their content.
Now that we've got your attention 🙂
Are You Ready to Experience Webinar Software from the Future?
No Credit Card Required - Get Started in Seconds.
Mention's Targeted Traffic Sources
When it comes to driving traffic to their webinars, Mention mainly uses email for the bulk of their marketing.
For their product education webinars, they exclusively use email to promote the events. They gather emails through various marketing materials, such as their newsletter, ebooks, and webinars.
Email is the most effective method of marketing for their partner webinars as well, but they also advertise via Twitter and Facebook.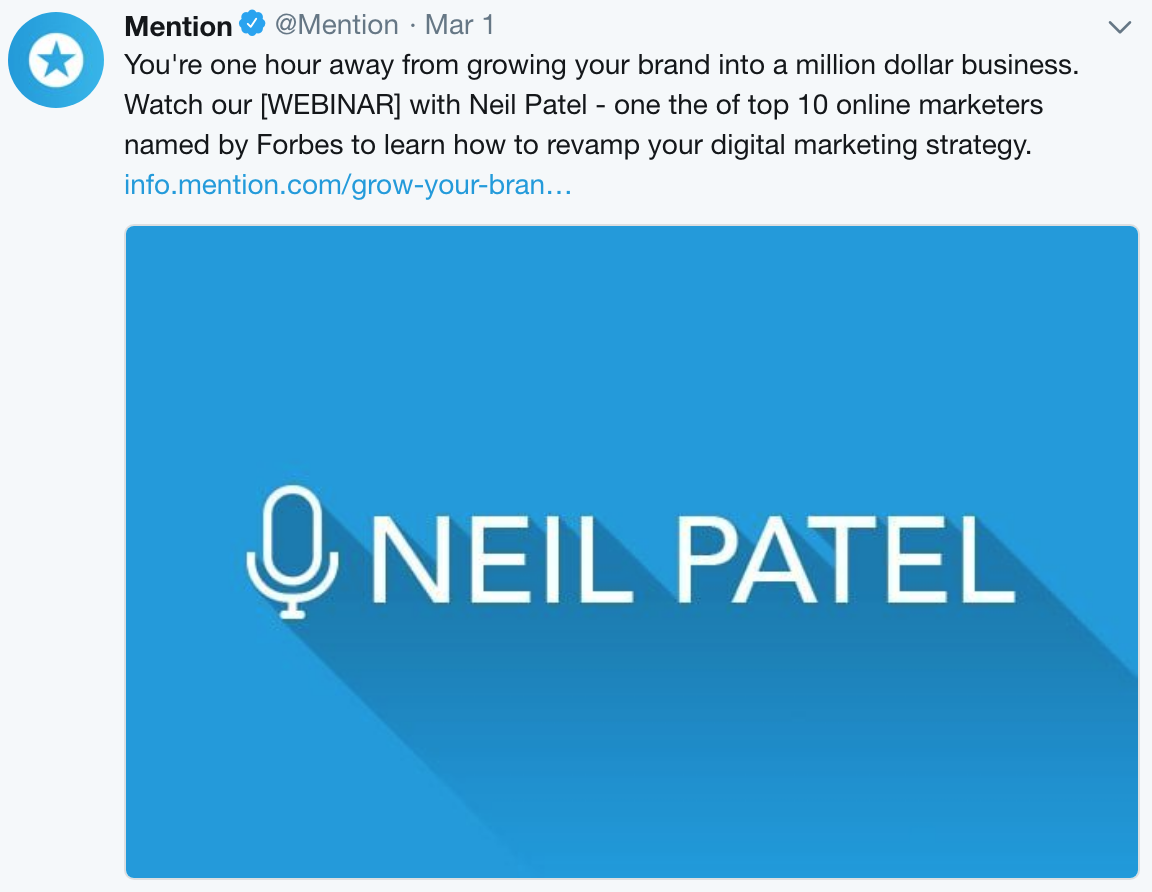 Since most of their target audience cares about social media, this is likely a more effective strategy for them than other industries.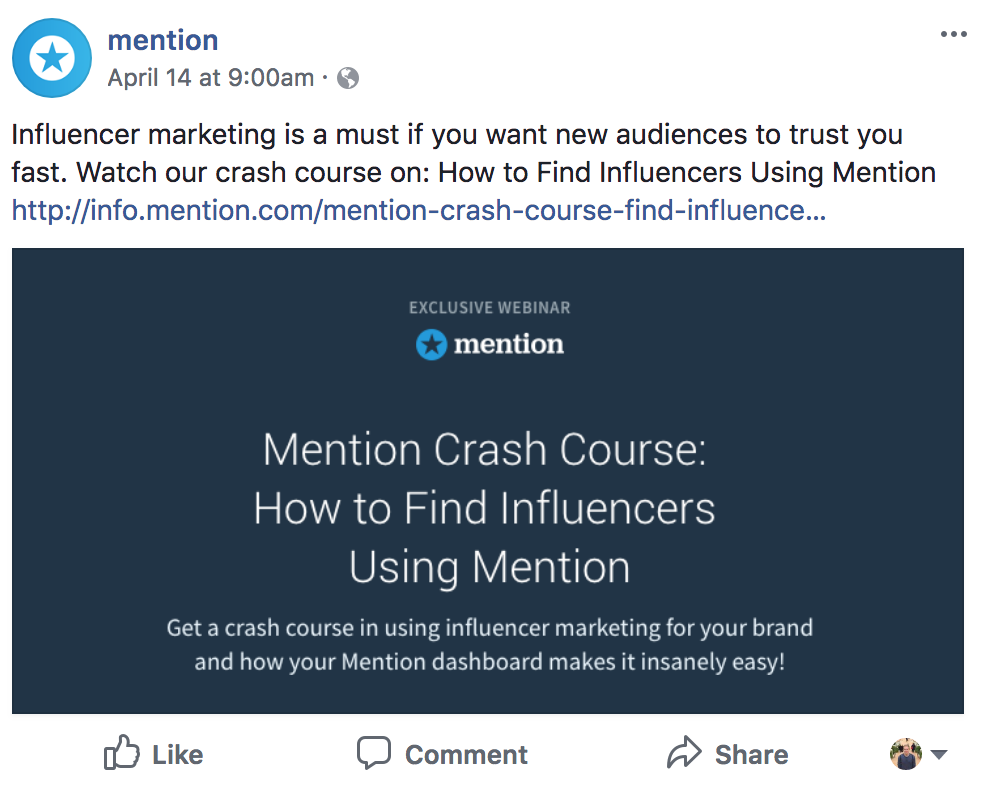 For partner webinars, Mention usually has some sort of agreement where they will both send a certain number of emails and promote the webinar on social media a certain number of times on each of their channels.
Simple and Sweet Registration
When it comes to Mention's webinar registration pages, they keep it simple and sweet.
On the left side, they have the webinar title front and center, along with a short tagline and the featured presenter.
On the right side is a simple sign-up form, followed by a longer description of the webinar. In this case, the description is mainly about their guest, Neil Patel. Below it, they also put a few key things attendees will learn during the webinar.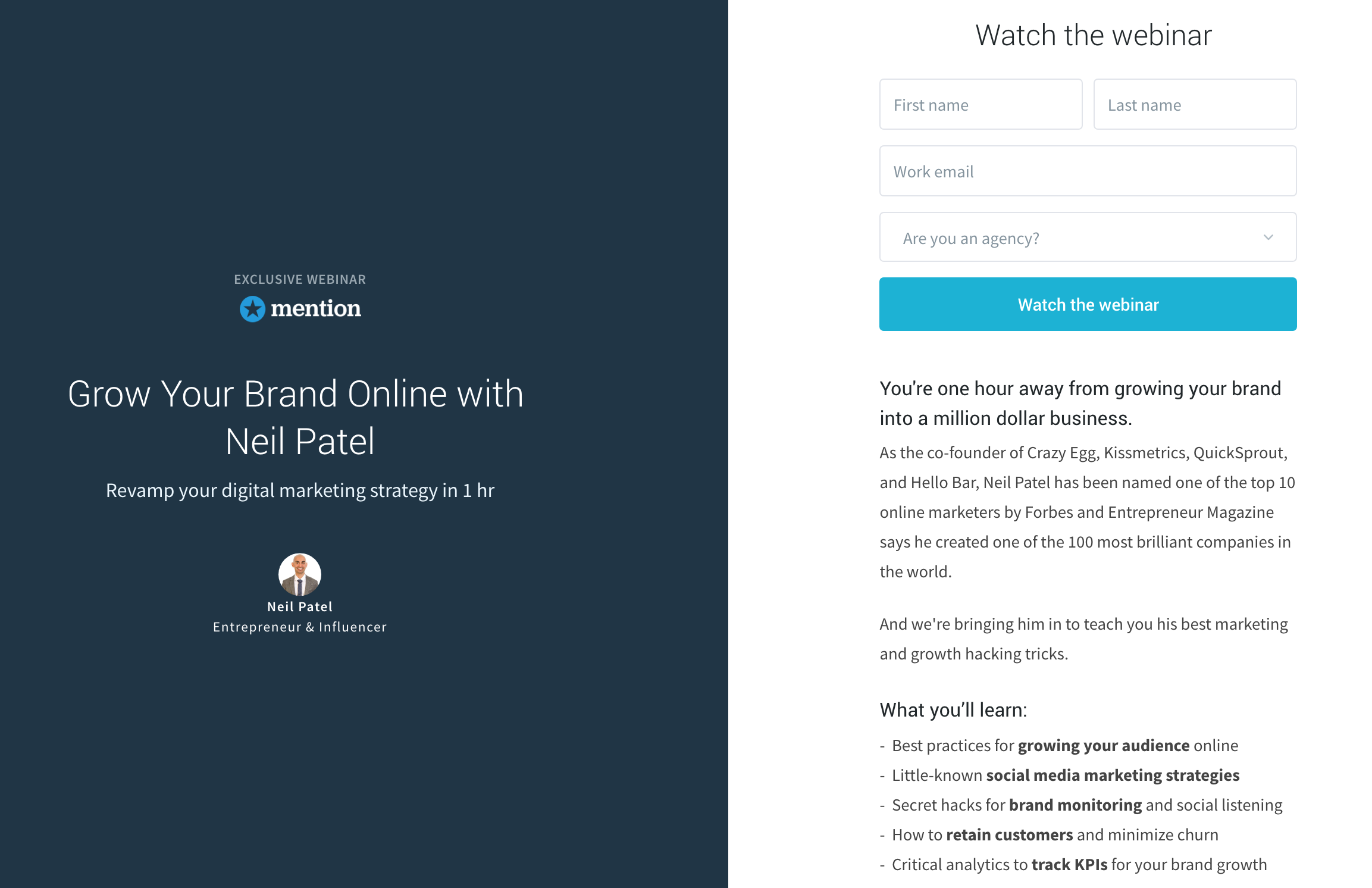 After registering, you're sent to a page with the webinar recording, along with a call to action to sign up for a demo of Mention. If the webinar is upcoming, you'll be taken to a similar page where the recording is replaced with another video about Mention so you can get to know the company and product better before the webinar starts.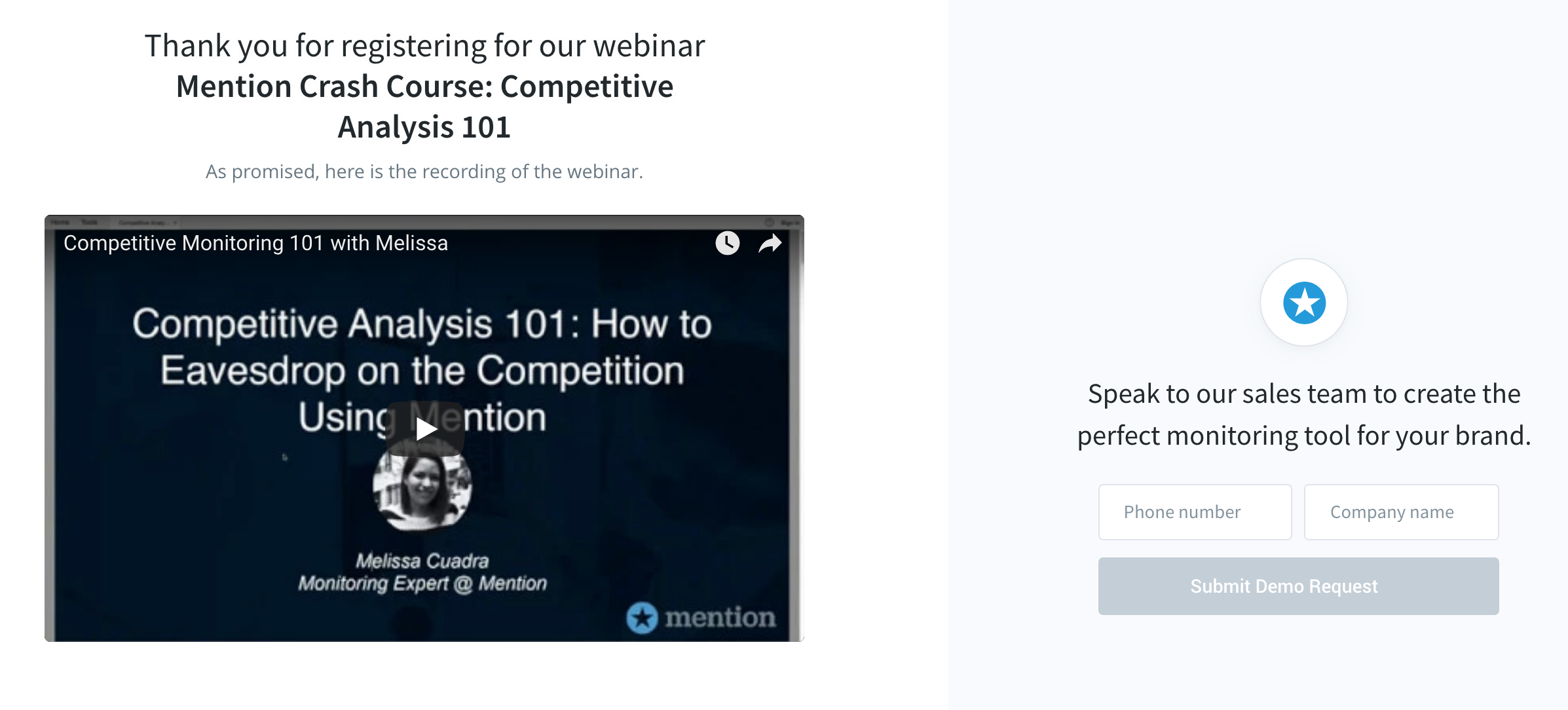 After registering, you're sent a simple confirmation email, detailing all you need to know about the webinar.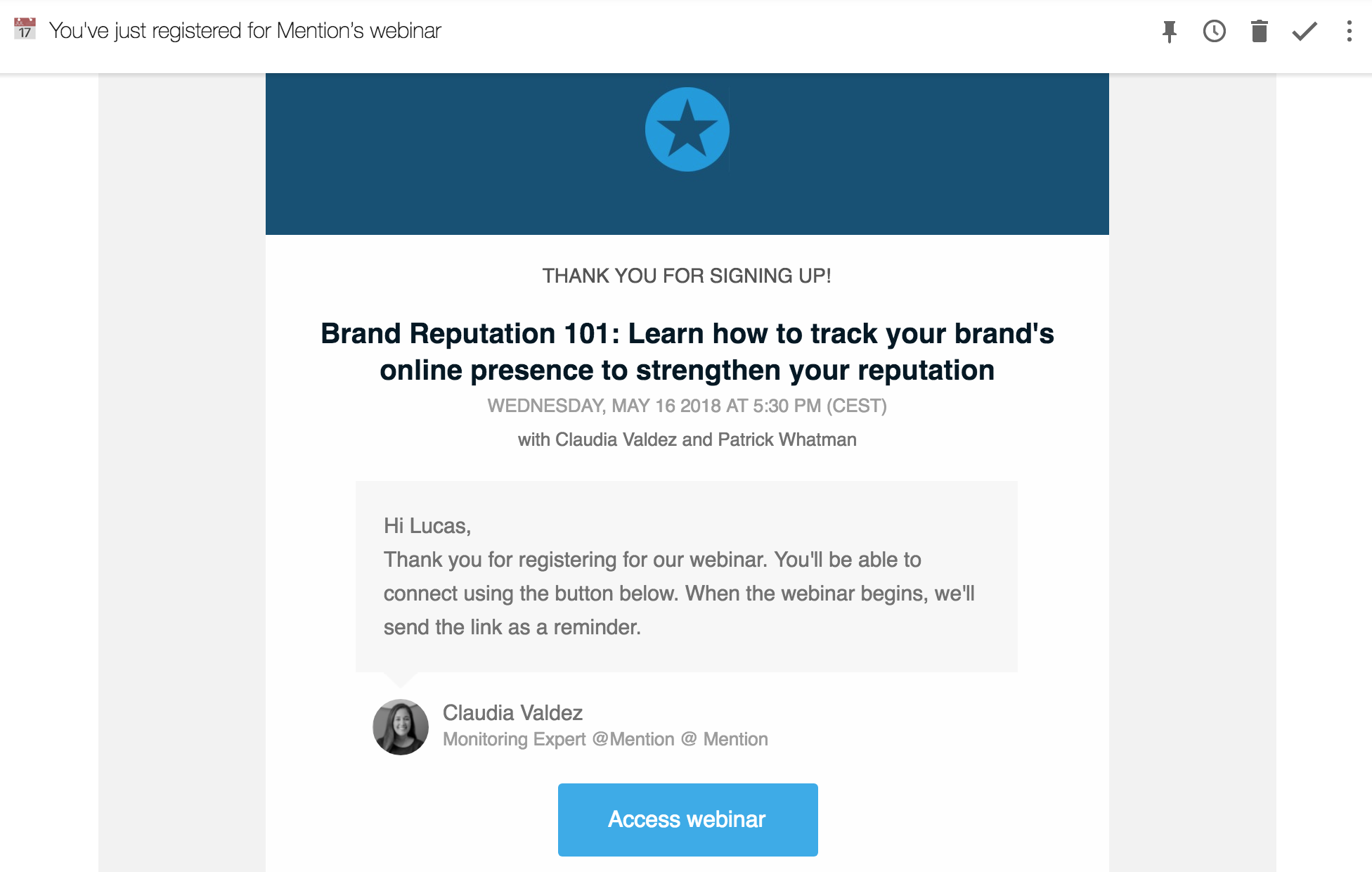 Along with the confirmation, you will also receive reminder emails one hour before and right when the webinar starts.
Now that we've got your attention 🙂
Are You Ready to Experience Webinar Software from the Future?
No Credit Card Required - Get Started in Seconds.
Webinar Breakdown
Now that we've covered the types of webinars Mention runs, where they get their traffic, and what happens before the webinar, let's jump into a popular product education webinar of theirs and see why they're so effective.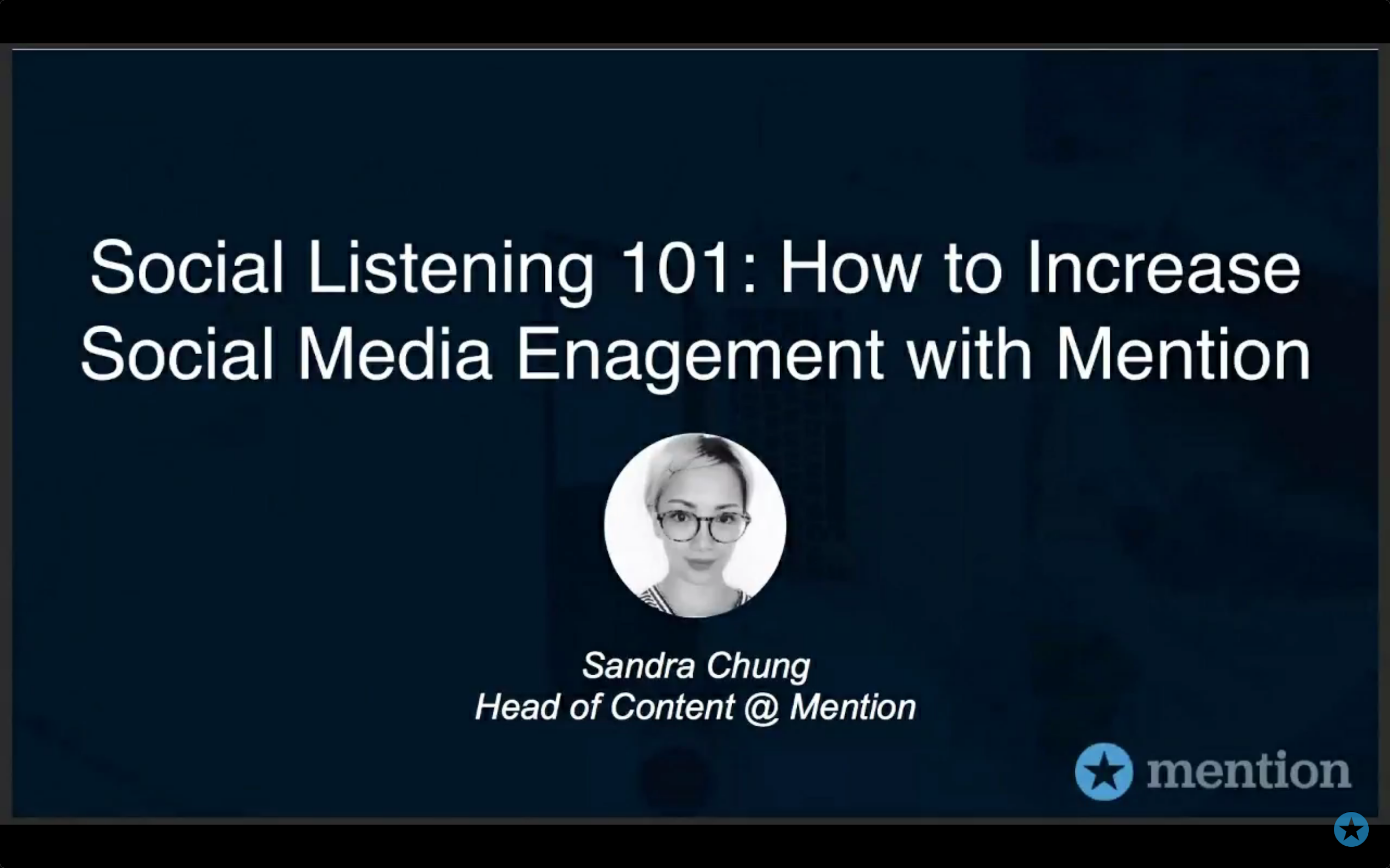 As usual, the opening slide is a simple introduction to the webinar, and Sandra, the webinar host, starts off by asking where everyone is from and then reads off a few of the responses, sometimes along with the person's name and company, if they provided that information. She then introduces herself and Mention, giving a quick sentence explanation of what Mention is and what it does.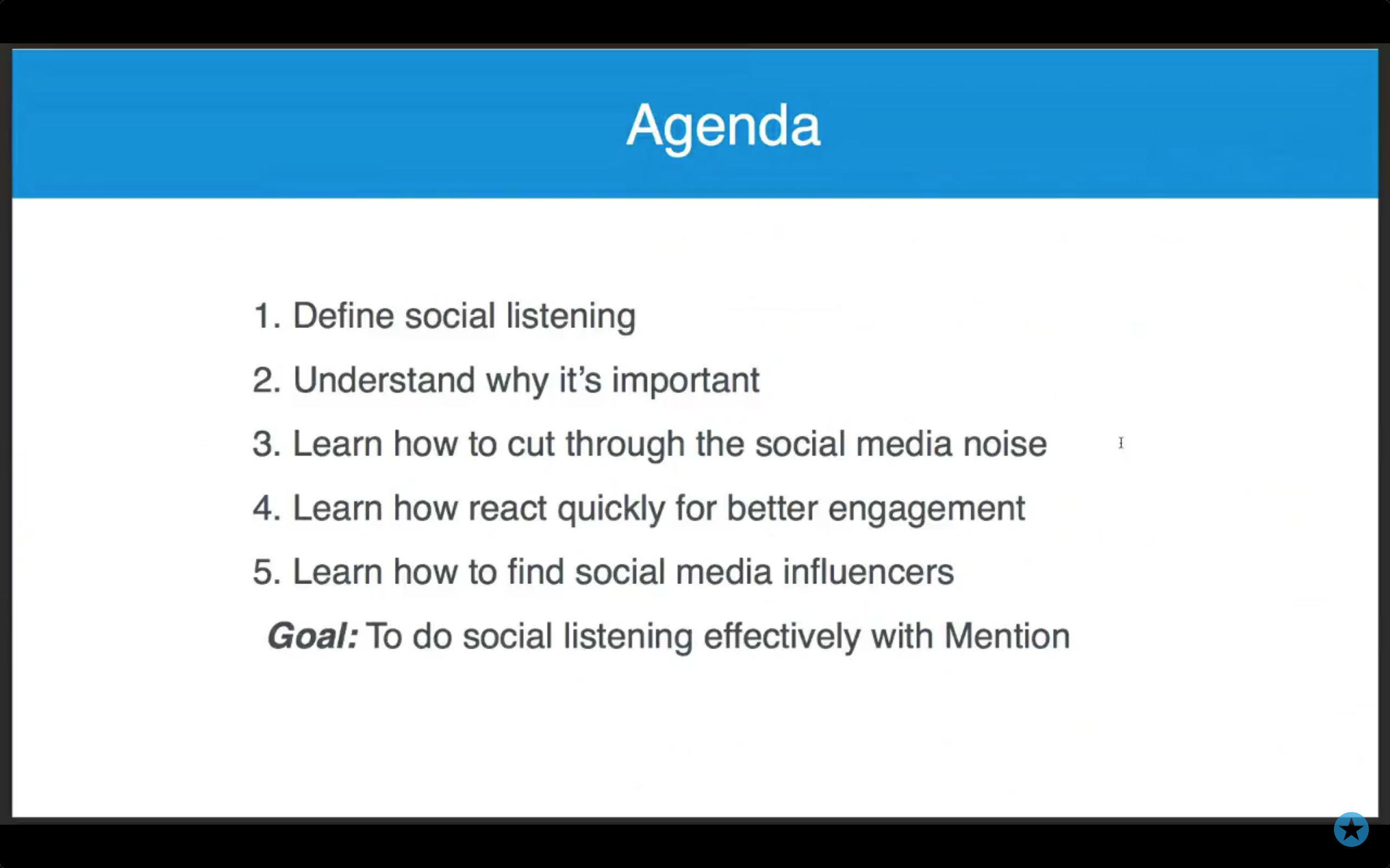 After the intro, Sandra goes over the agenda of the webinar and even highlights their goal, which I absolutely love. This gives the webinar a clear direction and tells the attendees exactly what they're going to learn.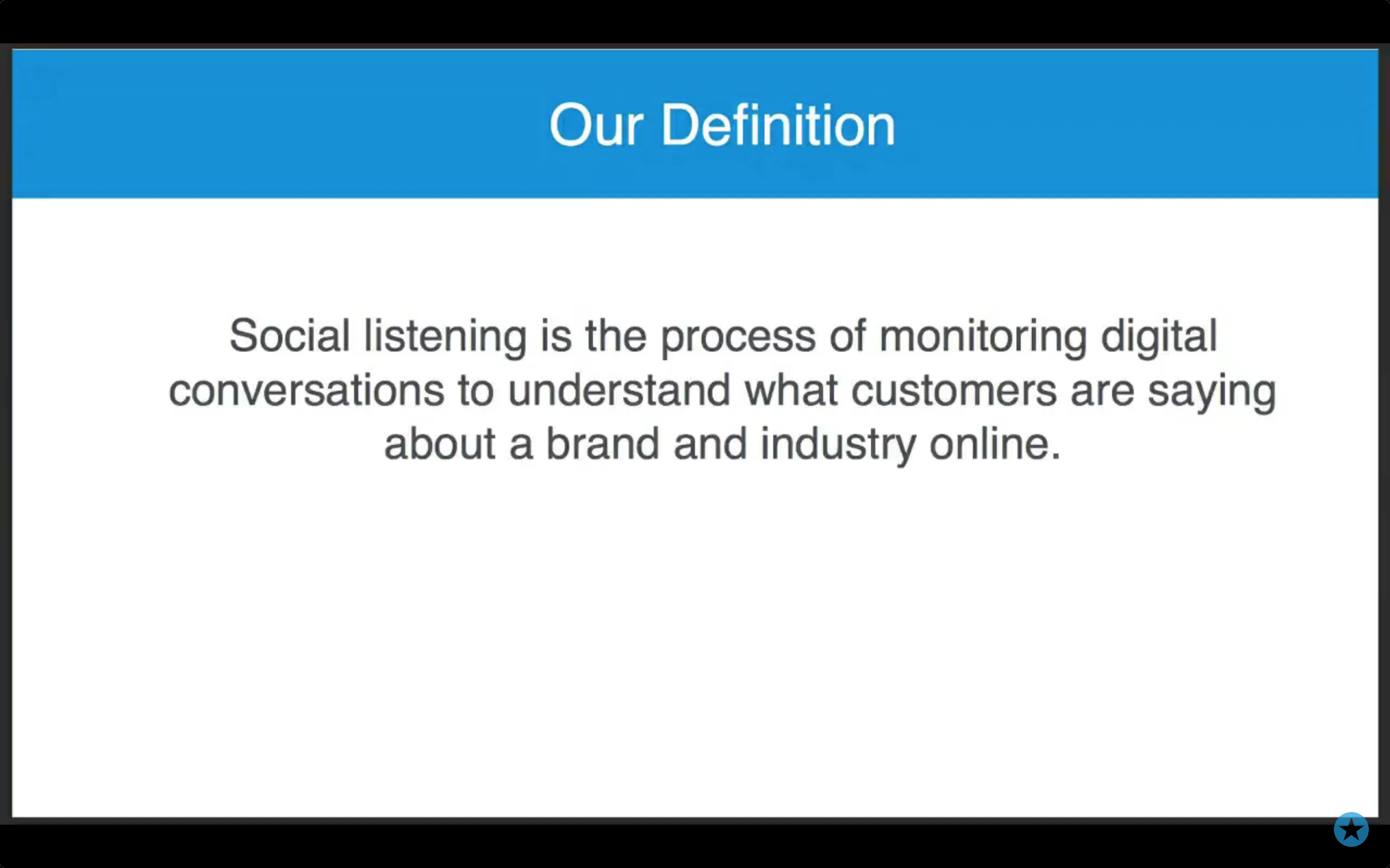 Since "Social Listening" might not be a term everyone has heard before, Sandra first lays out their definition so everyone is on the same page.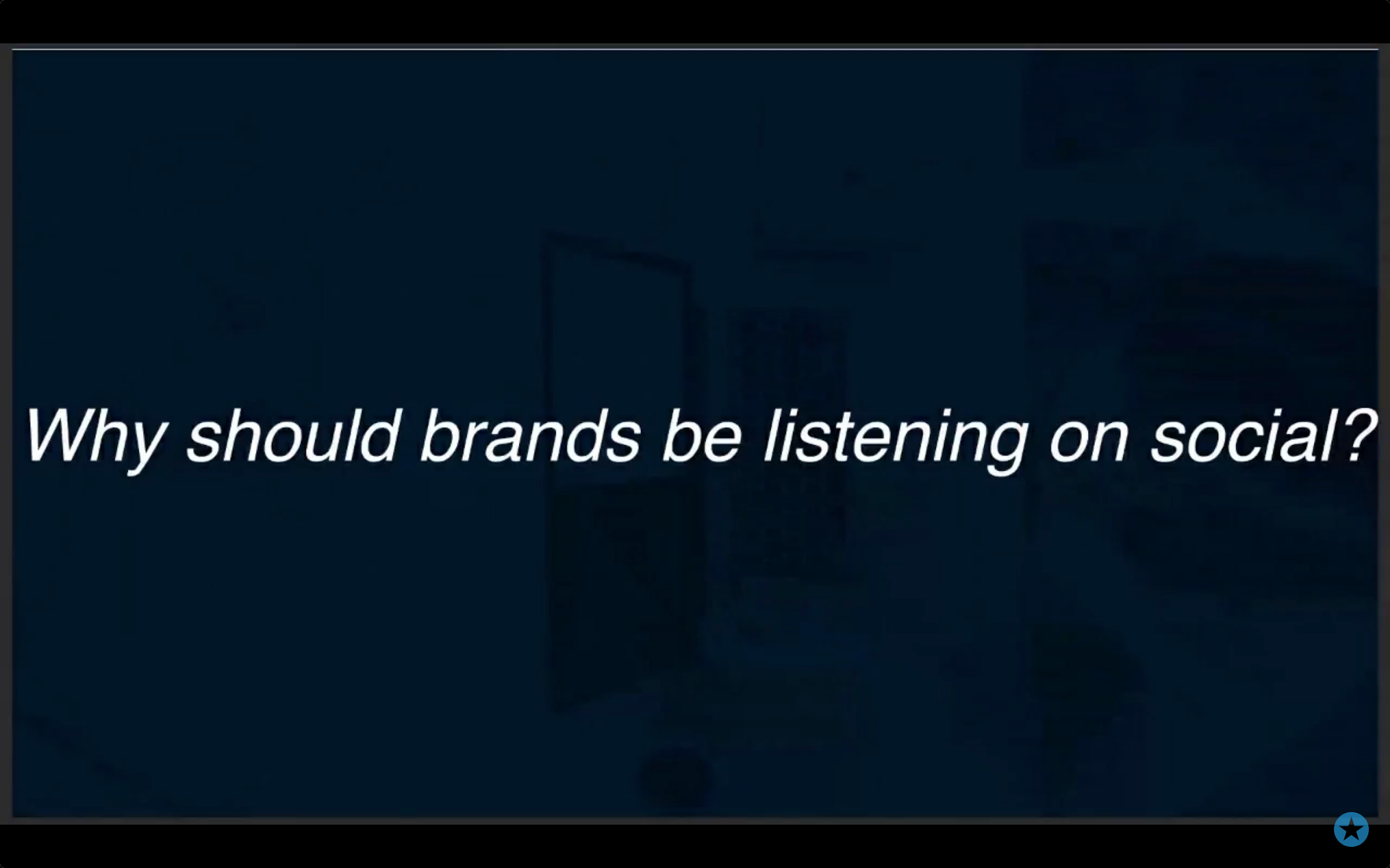 She then goes over the three main reasons why brands should be "listening" on social media. This is a great primer for the webinar, and it teaches people why this topic is so important (and also why Mention is so useful!).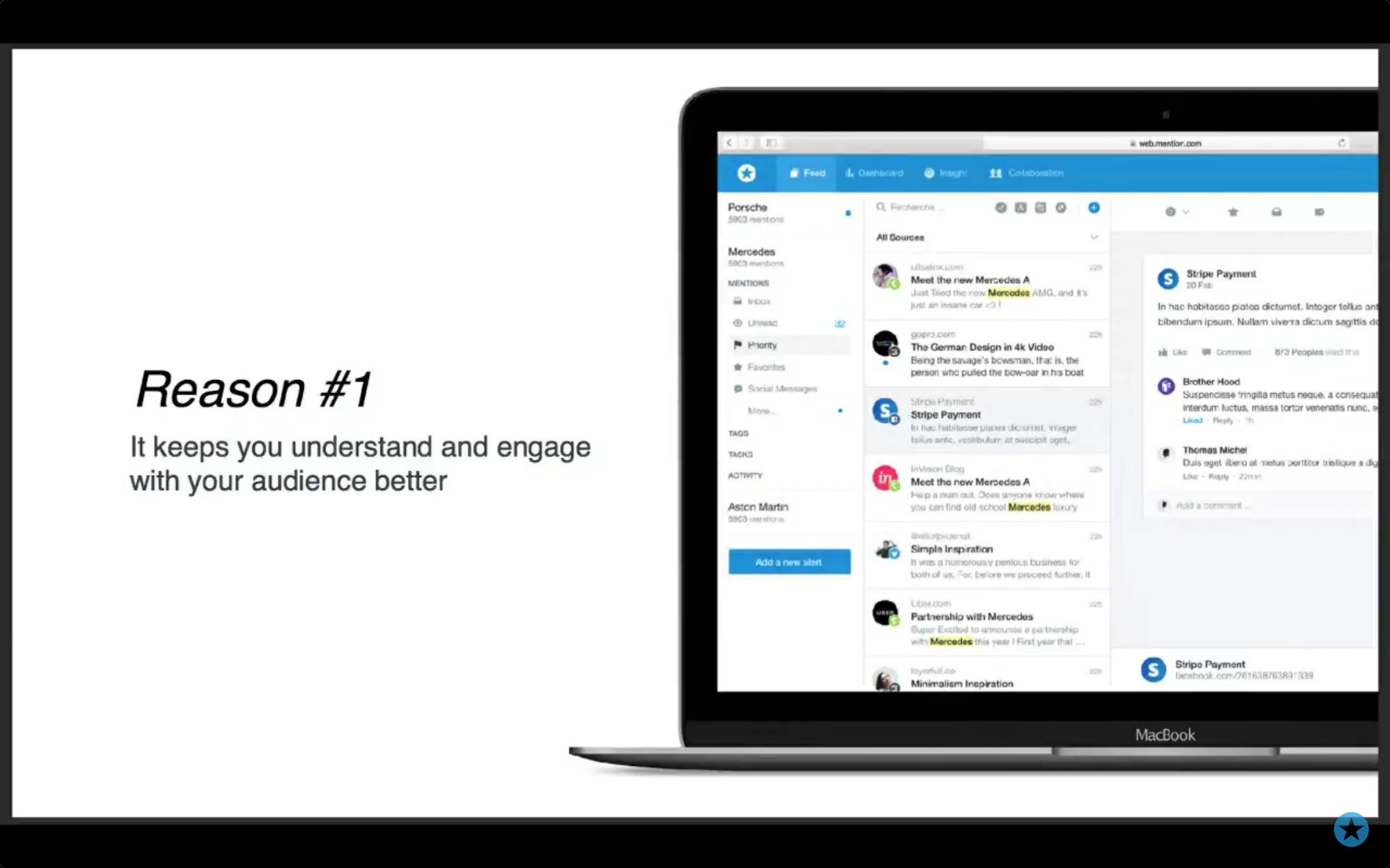 The slides for each reason are short and simplistic, but Sandra elaborates on each and drives home the importance of listening on social media (which is exactly what Mention does, go figure!).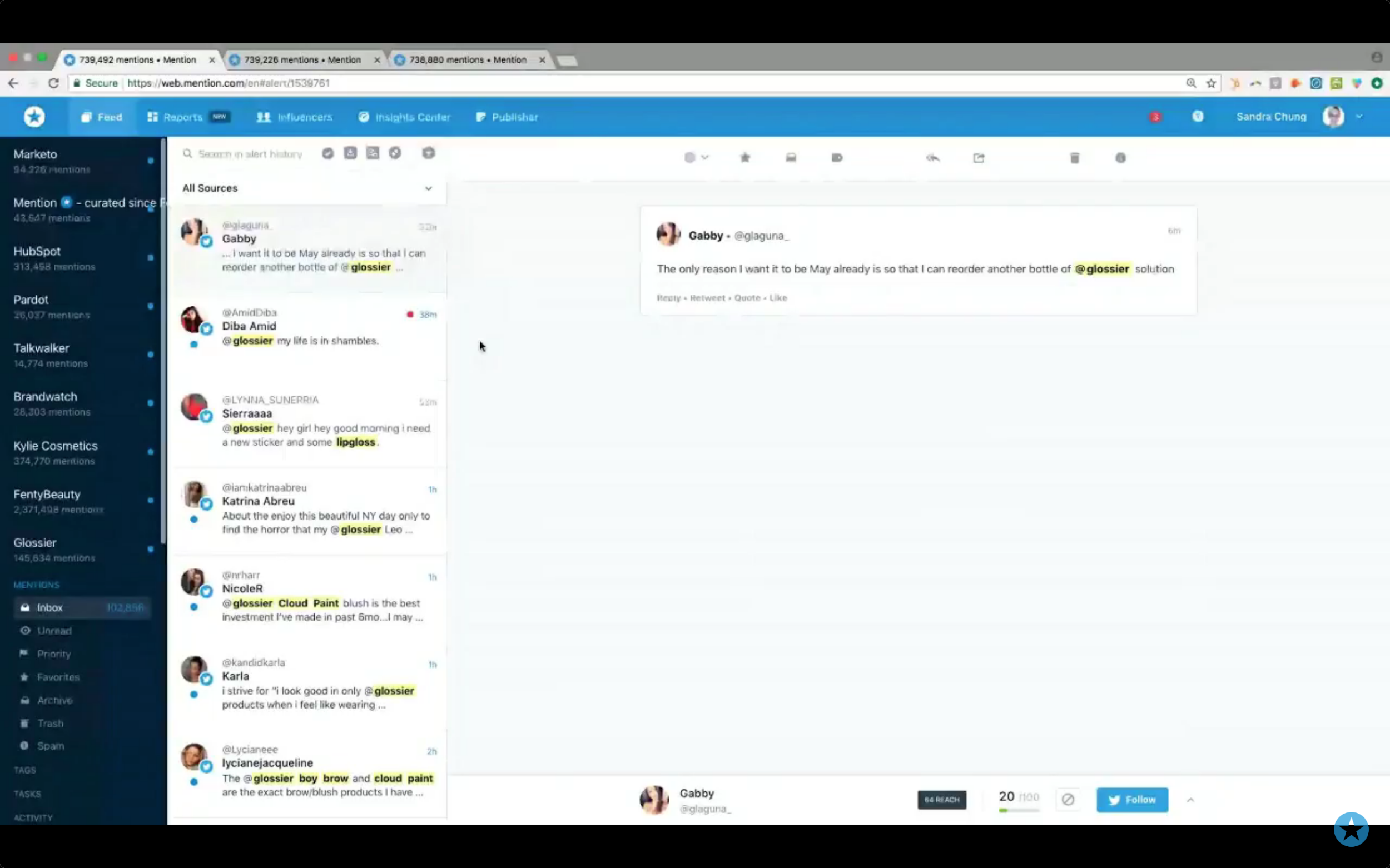 After the quick slides, Sandra dives straight into an overview of Mention.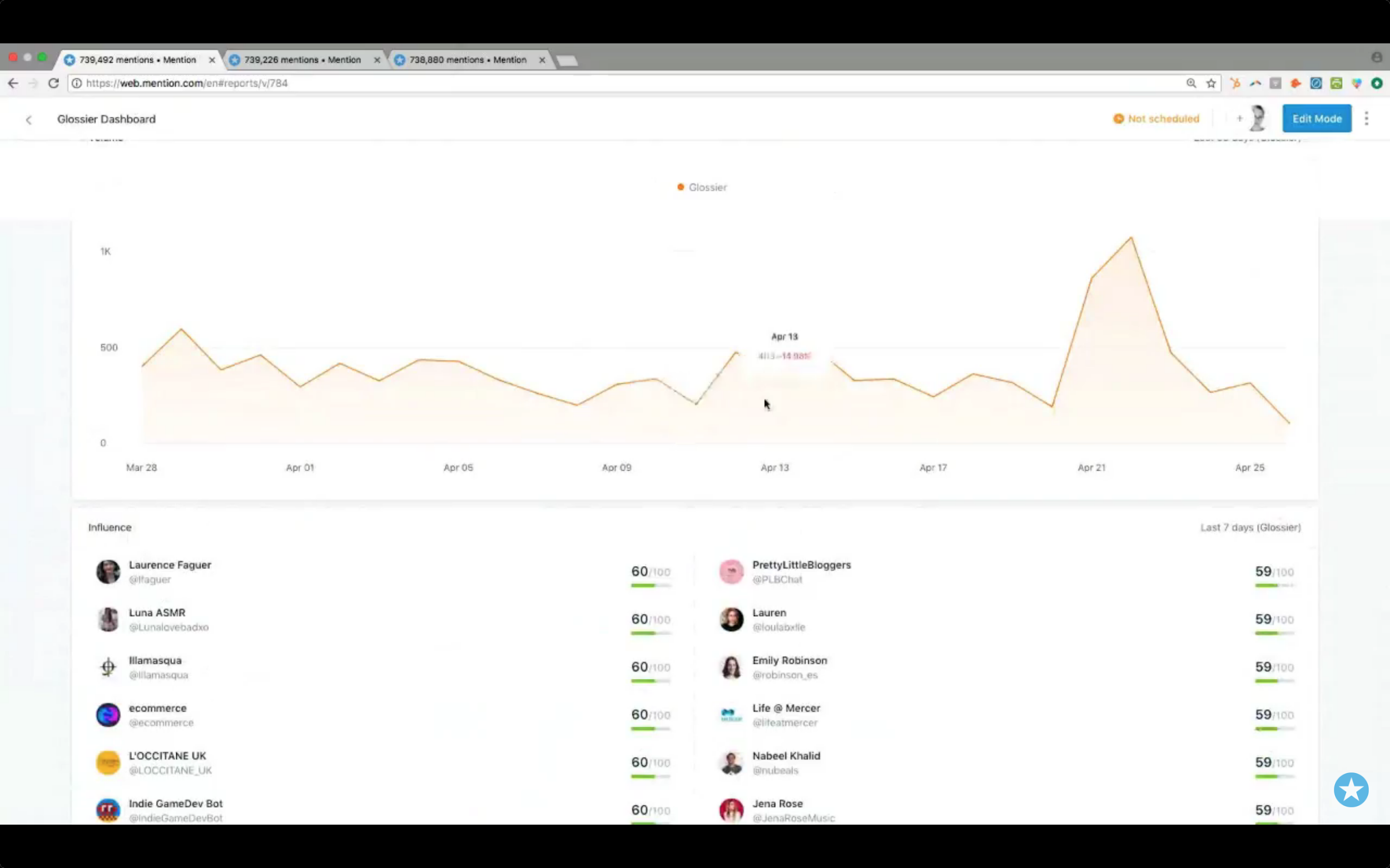 She shows the different sections of Mention that will help users "listen" on social media, including their in-depth analytics sections.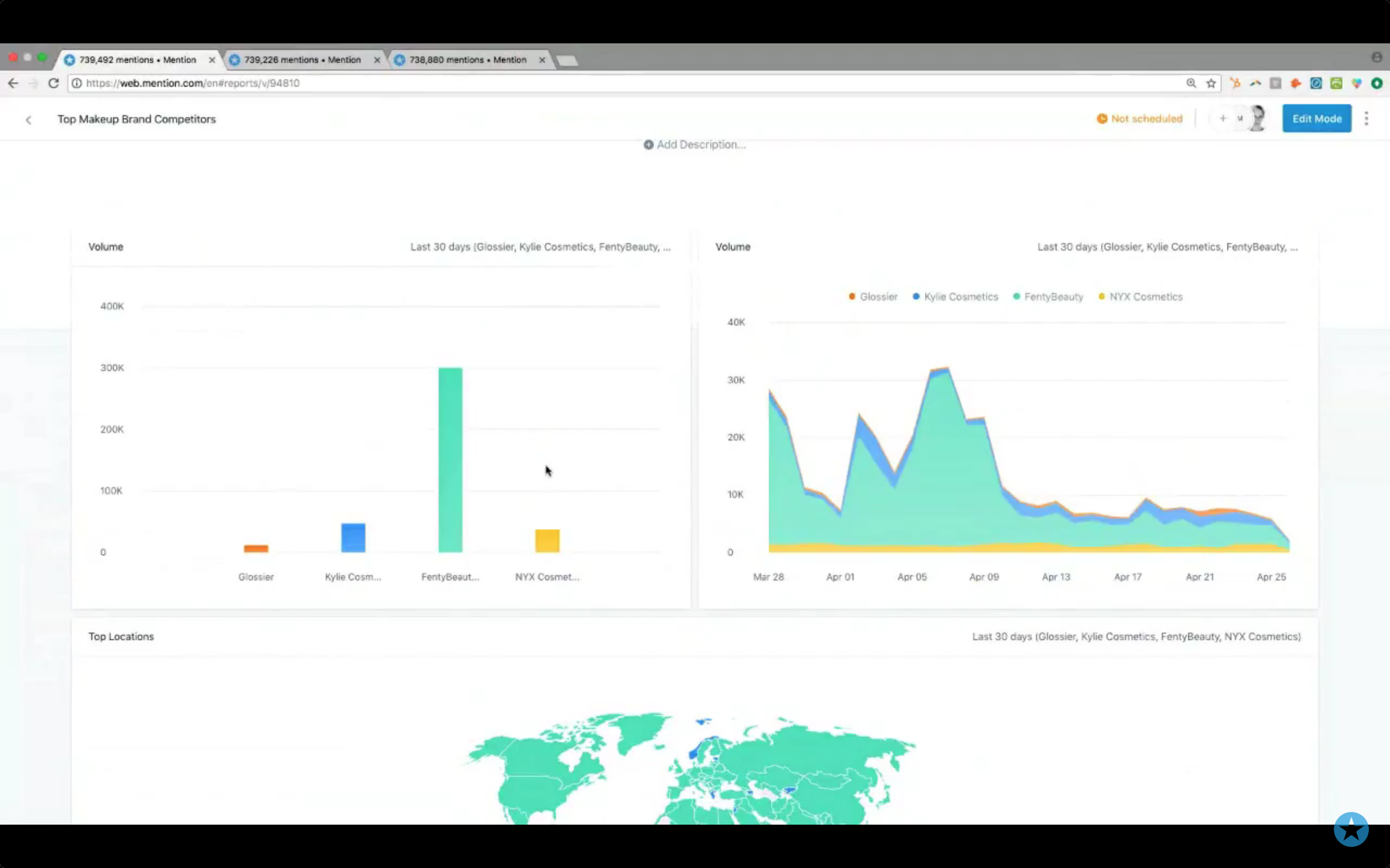 At the end of the webinar, Sandra answers all questions posed by attendees and directs them to their specialists (via demos) if they have further questions. She also reminds them that they run webinars often and to check their webinar page to find out when the next one is.
After the webinar, the replay is often added to their webinar page, where you can simply enter your email and watch any of the replays available, as well as see any upcoming webinars they have listed.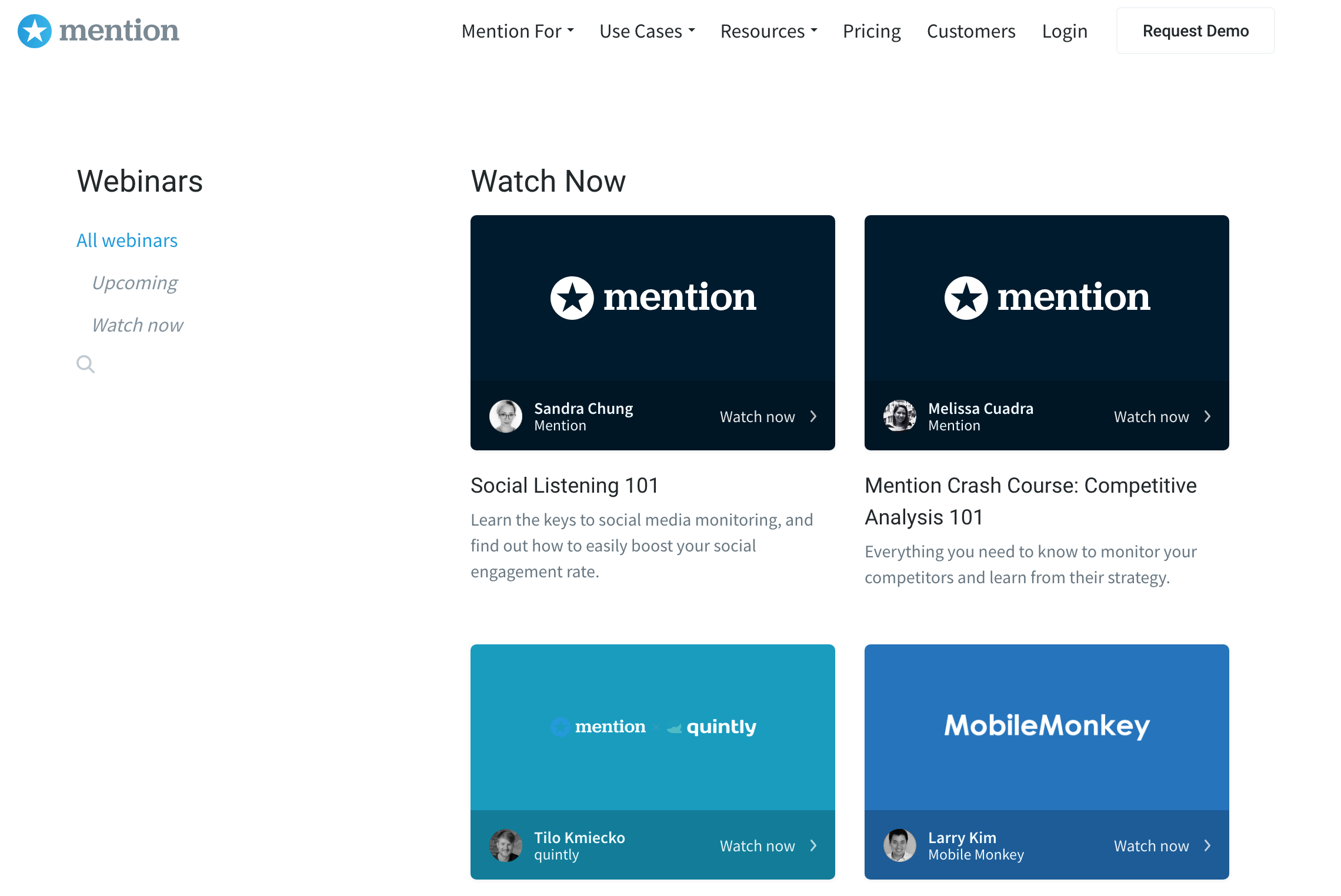 An Overview of Mention's Webinar Process
For product education webinars, Mention starts by choosing a relevant topic that they know their target audience wants to learn about.
When it comes to partner webinars, Mention will find an influencer or company in their space with a similar size and audience, and find a mutually beneficial topic that will interest both of their audiences.
After choosing the topic, they create a registration page on their webinar page and send out a few emails to their list promoting the event. With partner webinars, they mail out the promo and often post on social media as well.
After registering, users are sent to a page with either a video of their last webinar replay or a video talking more about Mention and their product. This is accompanied by a simple Call to Action to sign up for a demo of Mention.
An email confirmation is then sent out with all the details of the webinar. An hour before, a reminder email is sent, as well as another one when the webinar starts.
The content of each webinar can vary, depending on the topic and whether it's a partner webinar or not, but at the end of the webinar, attendees' questions are answered, and they're typically recommended to sign up for a demo of Mention if they have more questions about the platform.
After the webinar, the replay is typically hosted on their webinar page, where anyone can watch it by simply entering their email.
What We Learned
Mention started running webinars for lead generation, and while it's still their main reason for running them today, they've seen many other benefits, such as getting real-time product feedback, building strategic partnerships, and a whole new medium for their content marketing, all in a highly scalable system.
I asked Patrick for any tips on running a great webinar, and he shared some of what he has learned and what Mention is focusing on to create better ones.
He says lately, they've been trying to interact with their attendees as much as possible. This could include anything from asking questions at the beginning of the webinar about where the attendees are located or some fun facts about them, to simply stopping every once in a while during the talk to ask relevant questions and respond to what the attendees say.
Patrick isn't big on scripting webinars either. He thinks it's best to prepare and know the topic and presentation beforehand so he can have a natural and relaxed tone as he elaborates on each slide. This also allows him to make the webinar more fun, as well as pay more attention to the audience's questions.
Speaking of the audience's questions, he doesn't like leaving them until the end. Answering questions during the webinar not only engages the audience, but also allows him to elaborate on things the attendees might not fully understand, giving them a more personal experience. He says it also encourages attendees to become more active in the chat and makes them more comfortable engaging in the future.
Patrick says they want their attendees to be focused on the webinar, as opposed to having it open in another tab. Keeping that in mind has undoubtedly helped them maintain the high quality in all their webinars.
Speaking of Patrick, I want to thank him so much for taking the time to give me some great insight and help me understand Mention's webinar process. This article wouldn't have been possible without him.
Thanks for reading! And while I have you, I have a quick question for you: What was your motivation to start running webinars? Mention's was lead gen, so I'm curious to hear yours! As always, we would love to hear your thoughts in the comments 🙂
Now that we've got your attention 🙂
Are You Ready to Experience Webinar Software from the Future?
No Credit Card Required - Get Started in Seconds.