I was stumped.
I sat there at my desk with head down and tried to think about where I failed…
I had spent weeks writing a course, shooting videos, putting together a big webinar deck, creating the opt-in pages, and sign up sales page… only to get a tiny show up rate and zero sales.
Ouch.
I felt like a failure, but then I realized that with just a few tweaks I could keep at it and learn from the analytics to make the proper fixes.
I started to realize that the webinar itself was not just a singular event, but an organic marketing channel that needed to grow and evolve with me.
I could use it for like events, replays, like live replays, quotes, content pieces, and a multitude of other areas. The idea blossomed in my head and I FINALLY realized the power of the "Multi-Purpose webinar."
In fact, Mathew Sweezey, Principal of Marketing Insights at Salesforce, quoted a study that polled users and found that only 16% of webinar registrants actually liked to attend the webinar live.
That meant that on average your 40% show up rate is containing over 50% of people who don't even ENJOY attending live. They are just doing it from the scarcity of the event.
Add on that, that 60% of them (on average) are missing the webinar event.
The powerful part of Webinars is in the MARKETING automation that's available around it.
Let's think of other ways we can utilize a webinar in a critical step of Marketing.
Step 1: Live Webinar
You may have a live webinar event that goes on a date and time. Here's an example of a powerful registration page from Leadpages.net using video (this is a weekly webinar registration page template that is updated each week with a new date and time).
They've really understood both the power of the live event and the templatization of running these (by doing only slight changes in the edits).
Registration Page:

The Live event itself has a number of areas to start building your relationship with your lead and bridging trust.
The Pre-Webinar campaign itself can contain video introductions, welcome messages, explain and market the webinar more (working to increase your show up rate), and of course offer any initial free trials.
The Goal of which is simply to drive the registrant's to the webinar excited and understanding exactly what they will gain (benefit driven webinars) from showing up.
The numbers game happens live…
40% on Average Show up
53 Minutes is the Average Viewership
5-20% on Average Check Out on a Webinar
So what about those who didn't show up (leads who've requested the webinar), those who left early (leads who are warm enough to show up), and those who completed and didn't buy (objections stopped the purchase)?…
Well Marketing Automation, of course 😀
This is what Demio does, ohhhh so very well.
Example of our Automation Triggers: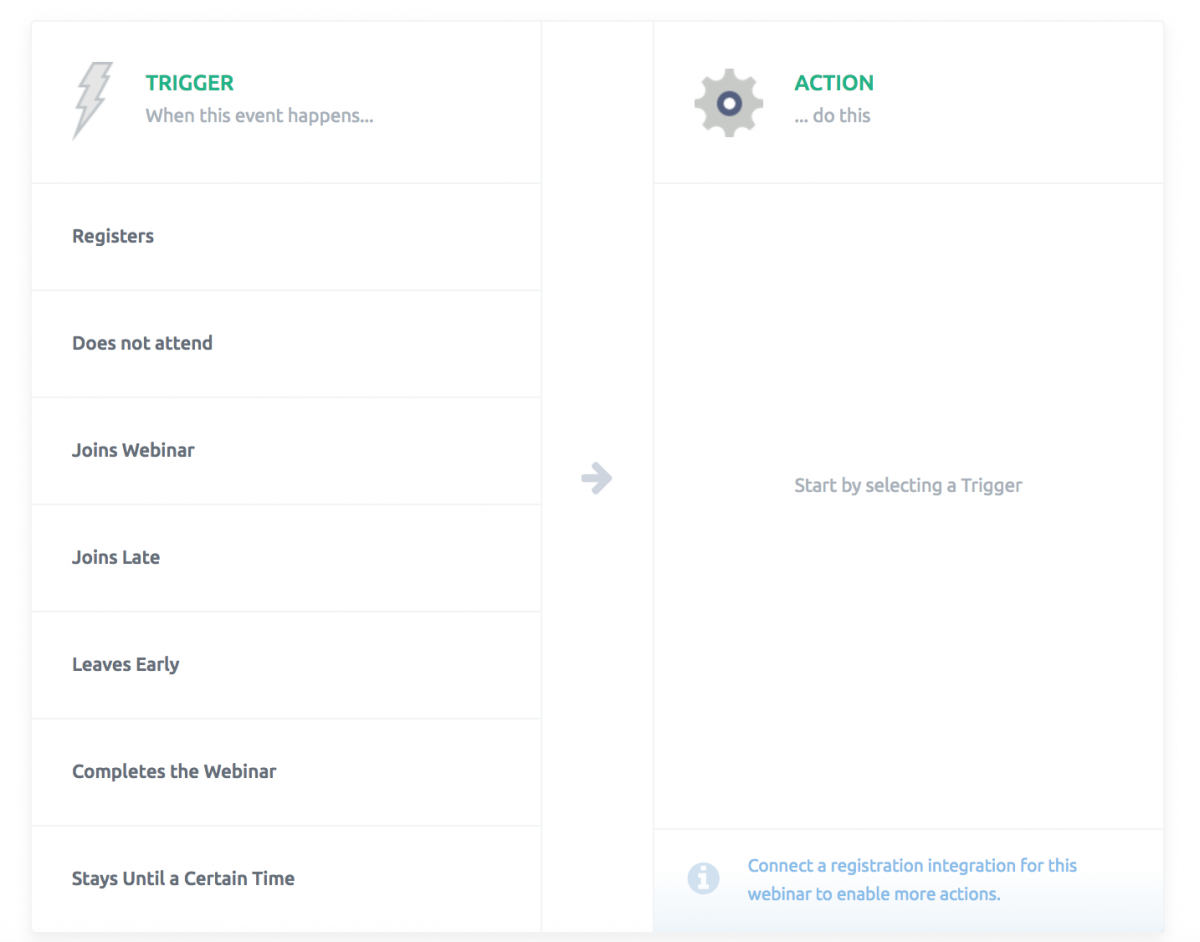 So we can now send out follow up campaigns WITH segmented responses to each of those groups.
For those who completed and didn't purchase, this is objection overcome time…
We're going to want to recap the event (with a brief link to a replay, in case they want to review anything from it) and really dig into the user stories or success stories.
Typical objections are:

– Pricing (discounts or trials help to showcase benefit vs. pricing)
– Not the right time (not enough pain felt)
– Too much work (haven't explained it enough – reduced the work)
– Don't Trust you (not enough testimonials / success stories)
– It won't work for me (not enough relatability to them)
– Not enough scarcity (no need to purchase right then)
I typically go with a story based sequence that outlines wins from typical avatars or customer types with a scarcity driven trial.
This way I can try to get as many people off the fence as I can.
Remember, it's still a numbers game and just because they don't buy NOW, doesn't mean they won't. Make sure to keep them in a nurture sequence and also send retargeting so you can stay in front of them.
For those who left early, we'll want to make sure they get a replay with the ability to scroll through, they want to get back into what they missed. A follow up campaign that gives them a video replay + examples and testimonials / customer success stories will work best here.
They are taking the time to review and without you there live, so will need the added social proof.
For those who did not show up, we'll want to use the replay. But, for this case… we may want them to experience the webinar as if it was LIVE.
So they can get the same experience.
DOWNLOAD YOUR FREE WEBINAR STRATEGY CHECKLIST BELOW
Use this checklist
to design your very own high-converting webinar marketing strategy from scratch, then automate the process to attract high-quality leads.
We promise to never spam or send emails about cats.
Okay, maybe some cat stuff.
Step 2: Using Like Live Replays
For this reason we created what's called the "Like Live" replay. This allows you to turn those past events to an ON-Demand event that people can sign up for when THEY are ready.
You'll have the ability to still do all the Marketing Automation you want, but you'll be able to see who did what.
Here's some examples:
Launch it Like Live:

What it looks like inside of the webinar room: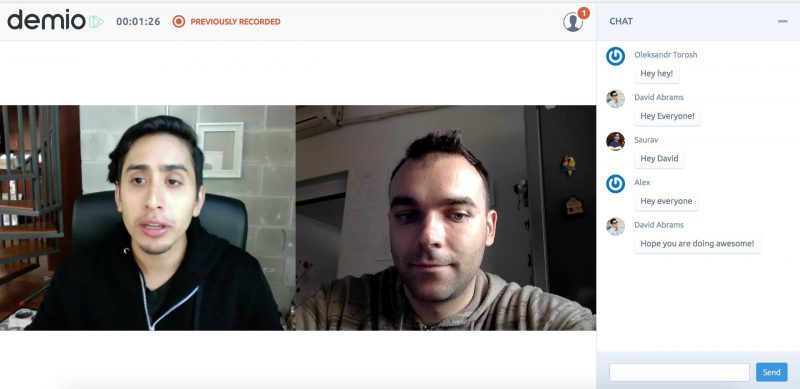 What the Attendee Analytics Look Like:

In this case, we've created a mini-campaign around the webinar even after it's over. We can then even use this in our email campaign as an evergreen event.
This is a great way to repurpose an event using the live data to help simulate what the objections are and learning during your email campaign.
Step 3: Repurpose the Webinar
You have a multitude of ways to reuse the content even after the campaign.
From quotes made from attendees on the live event (as testimonials of content or product), to quotes made on the live event, to user stories from attendees, and even using their questions/objections as moments to specifically add in your marketing – you have a variety of ways to upgrade your marketing.
You can add the Webinar Replays to your website on Content Articles and cut out any call to actions to give you free content posts with a blog article.
You can chop those up and add them into social media to give yourself sound bites and new free content without having to remake anything else.
ALL this from ONE single webinar.
The key is making sure the content you give is actionable and digestible.
Remember that each webinar (every event) is a great learning experience you can use to upgrade your pitch and your marketing to connect better with your audience.
DOWNLOAD YOUR FREE WEBINAR STRATEGY CHECKLIST BELOW
Use this checklist
to design your very own high-converting webinar marketing strategy from scratch, then automate the process to attract high-quality leads.
We promise to never spam or send emails about cats.
Okay, maybe some cat stuff.