Background
As customer engagement continues to thrive in the digital world, leading organizations are finding new ways to connect with their audiences.
Nutshell is an industry leading growth platform for CRM & Email Marketing, catering to scaling SMBs. We sat down with former Customer Success Manager Kristen Gray Psychas to learn about how they've used Demio to engage their target audience and drive revenue.
Problem
Before finding Demio, Nutshell "tried almost everything" to increase engagement. Despite being a 15-year-old company, Nutshell treats itself like a start-up that is constantly experimenting. They needed a way for their "small and mighty" marketing team to engage new and old contacts alike.
An easy-to-use engagement platform doesn't mean much if attendees aren't interested, and as Nutshell looked to "scale the fun," keeping attendees plugged-in was paramount to their success.
Solution
After trying Zoom, GoToMeeting, and similar solutions, they found that nothing quite aligned with the Nutshell brand. They needed a way to scale the fun, and Demio was that solution.
"Inviting more people to engage with our brand–but mostly the humans behind it–was going to be a challenge. You're able to get in front of people and show them that you're not robots. You're humans that ardently care for people's businesses and success, because their success is our success."
So what made Demio the right platform for Nutshell? With interactive Polls, CTAs, Live Chats, and more, Demio makes attendees feel like participants.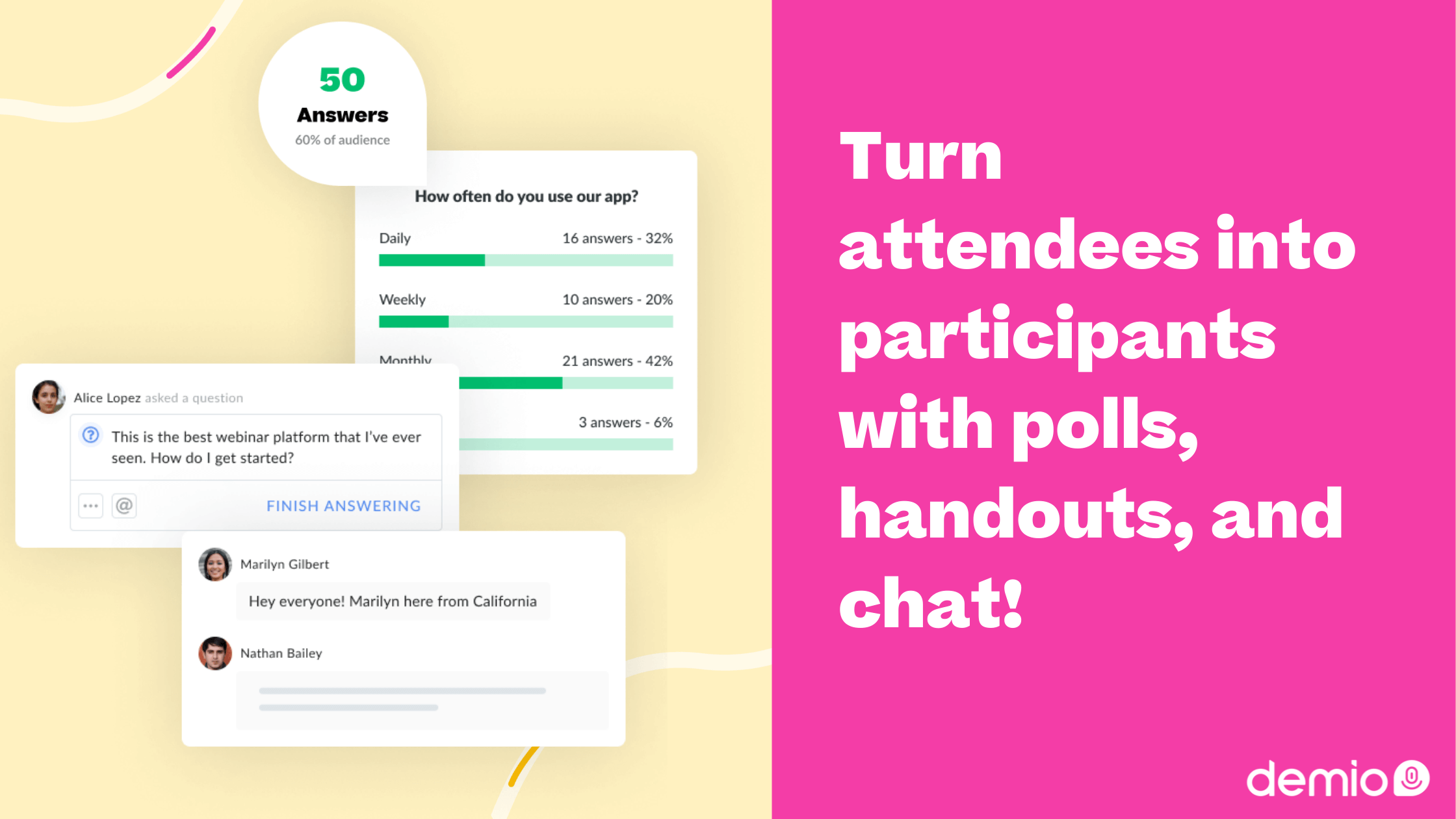 "It's a lot of fun and that's what we were looking for. At the end of the day, we're humans working with humans. Finding something a little less techy–and more focused on engagement–was super important."
The platform also provides a smooth engagement process for marketers. The user-friendly interface makes scheduling a breeze, while customizable landing pages enable easy expectation-setting, and Reminder Emails boost live attendance. All these features work together to help Nutshell engage with their audience at scale.
"A spare 45 minutes in your workday is a game changer, and if people are coming to spend that time with us, we want it to be exciting and engaging. We want them to get what they're coming for. Being able to have this conversation with each other, but also with me, is how we make it worth their time."

Results
Automated webinars have particularly helped Nutshell scale their message. It's too much for one person to host an event while monitoring the chat, but with Demio, Kristen has been able to use a pre-recorded video to present the content while she hangs out in the chat to answer questions and keep the audience engaged.
Nutshell also found success using Demio's platform to share various one-to-many resources, such as sales demos. Running one-to-many demos several times a week allows Nutshell to routinely engage with their customers at all stages of the funnel.
After teaming up with Demio, Nutshell realized a 5x conversion rate from 12% to 60% via their weekly lunch-and-learns.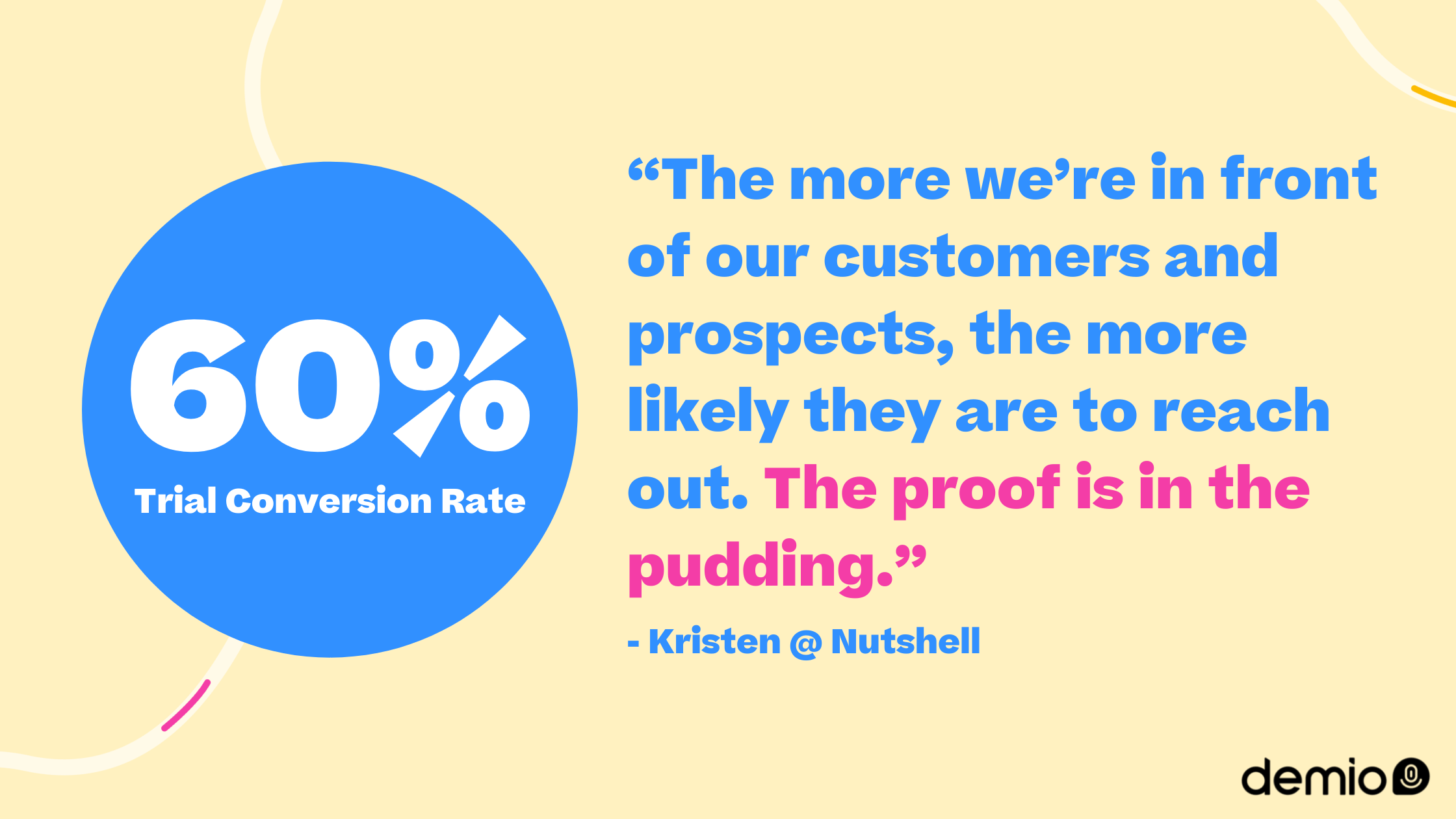 They've even had success using Demio to train new users. With the platform's various interactive features, Nutshell experts can develop unique strategies to educate both purchased and trial users.
"The more we're in front of our customers and prospects, the more likely they are to reach out. The proof is in the pudding."
Attendees have loved using the emoji-friendly live chat to engage with presenters and each other, creating a real dialogue and making it incredibly easy to collect feedback in real-time.
Nutshell chose Demio because they needed a new, fun way to engage their audience in a one-to-many conversation at scale. Whether putting on strategic events to retain at-risk leads, or hosting broad conversations to understand pain points, Demio helps Nutshell scale their message and their culture.
"The big goal is to be more human in front of our customers. I think you can really do that when we're face-to-face."