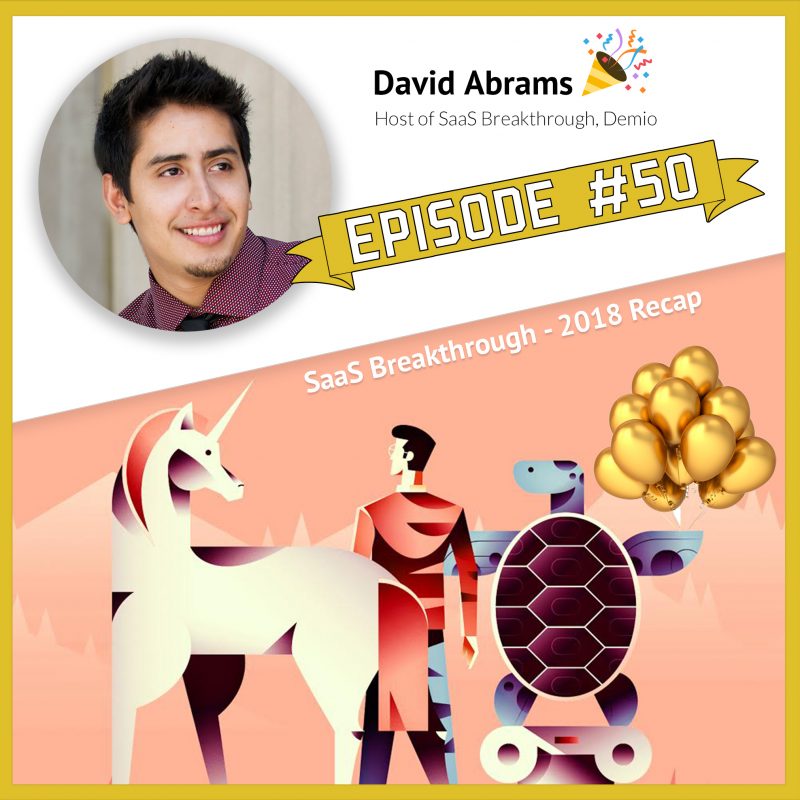 Welcome to this special SaaS Breakthrough 50th episode with our host, David Abrams, covering the 2019 SaaS Marketing Trends and Top Marketer Skills learned from our guests in the past episodes. 
Another great milestone!
Learn from top SaaS marketers inside of the new SaaS Breakthrough Community​​​​ Facebook Group. Join today:
I want to start by saying THANK YOU to you as a viewer.
Thank you so much for listening, thank you for subscribing, commenting, and for being a part of this amazing journey.
2018 was a big year for Demio with a big revamp on our product, team and systems. We also as co-founders fine tuned our Vision for Demio and shared that vision in the events we attended and/or sponsored, like SaaStr and SaaStock Dublin 2018. It was a growth year and we couldn't be more excited about what 2019 will bring on.
As we get to the 50th Episode of this podcast, we felt it was a good time to collect the insights we have been getting from our amazing guests and reflect on what are the SaaS Marketing Trends for 2019.
Personalization is one trend that several guest mentioned as something that will be strong in 2019. As more and more tools and features get launched, we should expect to be able to scale personalization like never before. It all starts of course with understanding and refining who your customer is, getting deeper on understanding your personas and perfecting the messages to those personas to get hyper personalized.
There's been this movement for Transparency, demanded from consumers and it's now arriving to the B2B world. Businesses won't be able to be a faceless brand anymore, people want to know who you are, what you stand for, what are your values. This is not easy to implement or embrace in all businesses, as it will require a culture change in many teams and leaderships.
Another big key in 2019 is the Creator economy, which is booming. Whether as part-time or full-time, there's more and more creators jumping online and the opportunities both for them and the companies that serve them keep growing.
Every year brings on the next "new marketing tool" or "new marketing opportunity" but one that seems to be here to stay is SEO. Several of our guests continue to believe in the power of using SEO to grow your business and like them, we at Demio are doubling down our resources on this this year.
Bottom line, every SaaS and SaaS marketer will be using 2019 to focus on their weaknesses, get better scale of the things that are working, from honing competitive advantages to look at easier onboarding and ways to make the product better, to team and positioning to amplify thought leadership and penetrating different markets across the board with localized webinars or translations, moving their company to a more international market, adding education, growth, social proof…
What are YOU going to be working on in 2019 to scale or grow your marketing? Let me know in the comments!
In every podcast we ask our guest what is the top skill a SaaS marketer should have and develop and in this episode we also reflect on the Top Five Skills for SaaS Marketers for 2019. The number one skill for a SaaS marketer seems to be writing, we had more than 15 different podcast guests answer writing, copywriting or storytelling, a real commitment to understanding how to write, engage and capture interest with language. Listen to the episode to find out what are the other skills you should focus on 🙂
We have amazing things coming up in 2019 at Demio! Things like premium integrations, deeper integration at different higher end CRM, autoresponders, deeper engagement, analytics and insights, more of the functions and features that you need, and of course doubling down on this podcast, doubling down on great content that you absolutely love to digest, so we hope to hear from you in the future.
I would love to hear your questions, your thoughts on what's happening in 2019 in the state of SaaS. Let me know in the comments, I read them all.