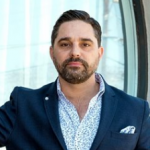 About Matt Stefanik:
Matt Stefanik, aka "The Lifestyle Architect," is a marketing expert, consultant, speaker, and lifelong entrepreneur. He has spoken at various marketing events around the world including in Atlanta, Cozumel, Tokyo, Las Vegas, Montreal, and London. Matt is the CEO of Ecomisoft – an ecommerce software start-up, and Co-creator of GYMRATED™ – an ecommerce fitness brand.
In 2002, Matt dropped out of college, started his own real estate business, and 15 years later is still successfully self-employed. Matt is a husband, father of three, serial entrepreneur, and lover of comedy, craft beer, and The Ohio State Buckeyes.