I know we've been quiet, but trust me, we haven't gone anywhere.
At our Grand Opening launch last year, Wyatt, my co-founder, and I organized our major objectives for what we wanted to accomplish with Demio, and at the very top of the list was an easy-to-use platform with a simple way for attendees to join events in any browser.

Over the past six months, we've been dedicated to finally releasing the update that will unlock just this.
In July, I released a post that explained everything we've been working on behind the scenes for Demio on our next streaming engine upgrade. This upgrade includes Browser Compatibility to Firefox, Internet Explorer, and, then ultimately into Safari and Edge. It also upgrades our existing infrastructure with a more solid streaming architecture, larger streaming networks, adaptive bandwidth, and firewall traversal (if you want to read the entire update we released in July, you can
read it here
).
Even before this release, we have been deep in the Demio Labs working on solving and organizing our plans for this release, but to do this big push, we've had to backseat some items. We had to de-prioritize some newer features, the newer integrations we wanted, and a few other items (including Like Live Replays 2.0 and Facebook Live integrations).
But, it's all going to be WORTH the wait. The new Demio experience is going to be awwwwwesome.
And while we've been building this, we've still been focused on you,

our users

. We have an amazingly talented engineering team who has been tinkering away here day in and day out to work with our customers to solve any and all issues that have surfaced.
We've been monitoring the system as a whole and making technical updates behind the scenes to our architecture, communications, user interface, and server infrastructure to make things more streamlined for you.
As we've grown, we've hosted larger and larger events, and on some days, we've hosted so many simultaneous webinars that our dashboards got full to the brim and recording queues were loaded to the max.
This is an amazing sign for Demio. We're growing as a platform and on our end, we're working quickly to keep up with the scale.

Earlier this week, we released a state-of-the-art, cloud-based network that will be handling all Demio communications (chats, handouts, calls to action, login sessions, presenting, tracking attendees, etc.) for every single webinar. We've scrapped our original architecture and made something stronger, faster, and smarter. We'll now scale with the usage, and your webinars will dictate the ebb and flow of our server strength.

I know, I know. It's a lot of technical mumbo jumbo, but it's a HUGE win for you guys and for us!

Now we're working on the final stages of our streaming update. It hasn't been easy. We've hit roadblock after roadblock, but our talented team has found a way through each one. Although we are a little behind our initial rough estimated launch date, we're so happy to announce we're not too far away from release.

On October 15th, 2017, Demio will be unveiling our brand new streaming engine equipped with a more robust, smarter technology to run your events.

We can't wait. It's extremely exciting to know that we'll be continuing to create great experiences for you and your users.

That said, with the update, a few key things will change in Demio.

Pricing for new users will be increasing with this update. Don't worry, if you are already a Demio customer, you can continue on your current packages at a grandfathered rate without any issue or change to your pricing. We are absolutely committed to continuing to give you a great experience at a great price.

However, we will be releasing new "PRO" plans on every package size. This means three new package levels. Each of these PRO plans will be unlocking certain features like Like Live Replays, Webinar Room and Email branding, 3 Sub-users, and upgraded Recording Limits (recording limits will be added on top of any existing recording space you've already used).

And if you are on a 500- or 1000-Attendee account, you'll automatically be upgraded to these PRO plans, on the house 😉

If you are on a 100-Attendee Plan, you can choose to stay on your current lite plan and nothing will change. Or, if you want to upgrade to a PRO plan, you can upgrade to the 100-Attendee Pro Plan for only a $10 upgrade cost ($57/month instead of $47/month).

If you are on an Annual Account, don't worry, you'll keep your amazing savings and be grandfathered into the Pro plans, too.

As we move closer to the launch, it might be a great time to lock in those savings before pricing goes up! We won't ever be going back to our old prices again.

Here's a quick peek at our new pricing:

100-Attendee Lite – $57
100-Attendee Pro – $87
500-Attendee Lite – $147
500-Attendee Pro – $197
1000-Attendee Lite – $297
1000-Attendee Pro – $367
Our new Annual Pricing will also include three months for free.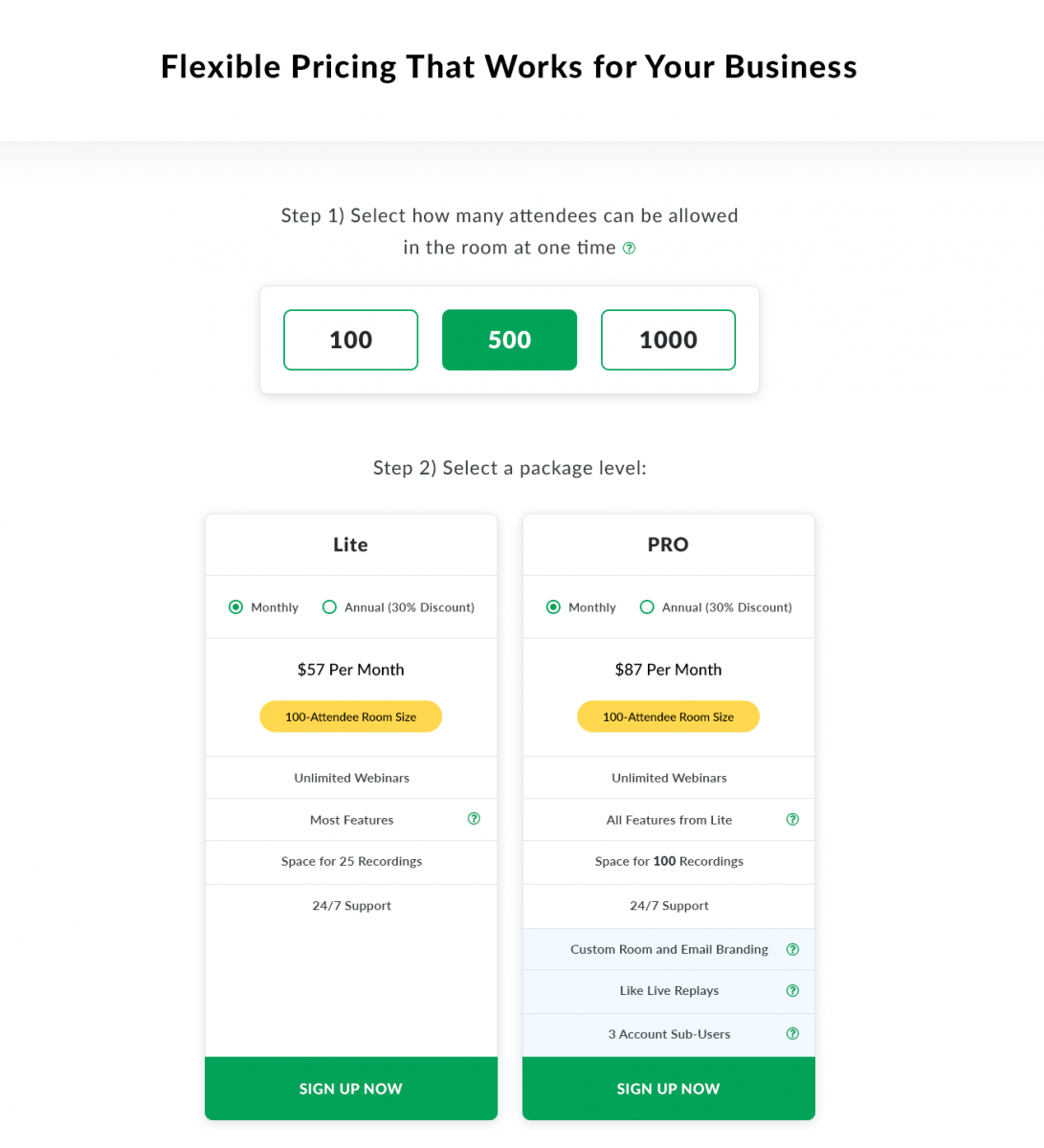 As a current user now, you won't have to pay these prices, but any new users who come in after our short promotional period (lasting about two weeks after launch) will have to grab Demio accounts at this price.

If you have any questions about this, I'm very happy to answer in the comments below.

To say this is just the start is still an understatement. A beautiful, powerful, but simple automated webinar update is coming soon after for our Like Live Replays, planned Automation upgrades, simpler User Interfaces, new resource notifications, social integrations with Facebook Live, and so much more — you'll be thrilled to be an early Demio user!

If there's anything else we can do, don't hesitate to reach out. We're always here for you.
Now that we've got your attention 🙂
Are You Ready to Experience Webinar Software from the Future?
No Credit Card Required - Get Started in Seconds.