Your webinar communications shouldn't stop once someone registers. In fact, one of the best tools in your webinar marketing arsenal is a post-registration thank you page.
When someone signs up for a webinar, it indicates they're interested in your brand and what you have to say. That means it's the perfect time to deliver a stronger CTA on your registration confirmation page.
Not only is a post-registration thank you page polite (showing appreciation for their time and information), it's also premium screen real estate you can use to deliver value, encourage next steps, and start conversations.
Here's how to create a webinar post-registration page to boost your attendance rate and drive your bottom line.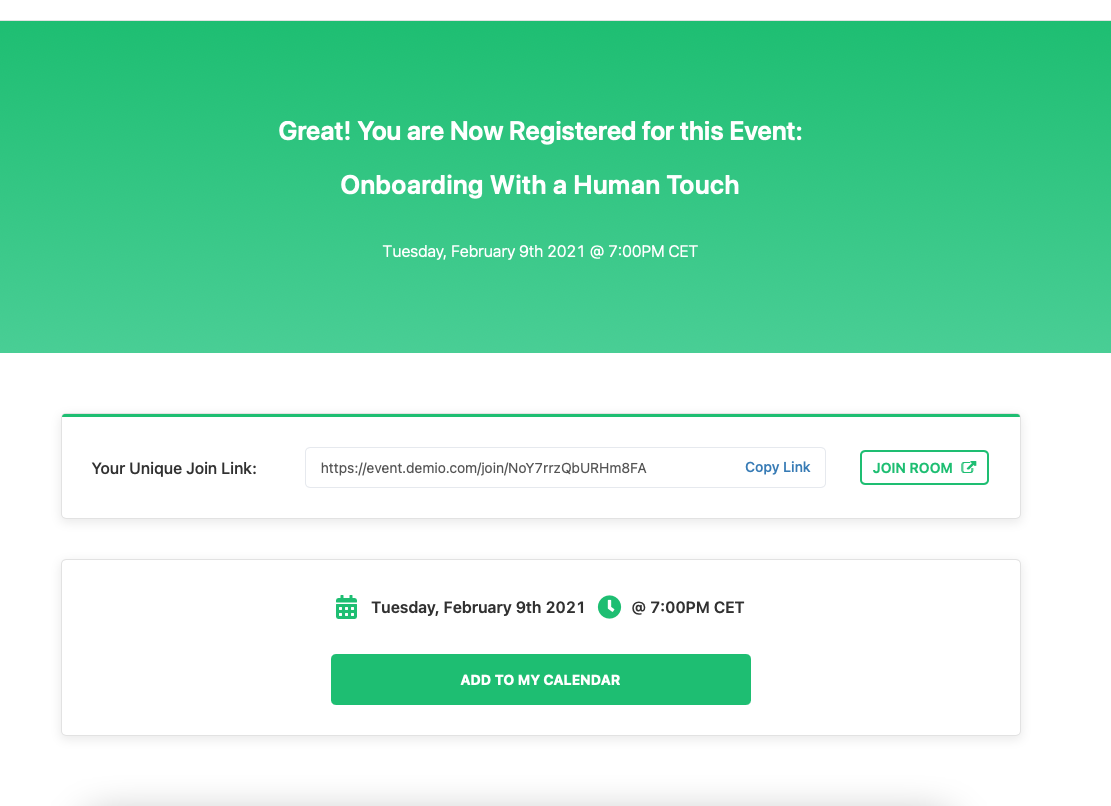 What To Include On The Webinar Thank You Page
Most inbound marketing platforms make it relatively simple to redirect any form to a thank you page automatically. For example, with Demio, you can link to a custom thank you page upon registration. Just go to your event page, visit the Customize section, and navigate to Customize Registration.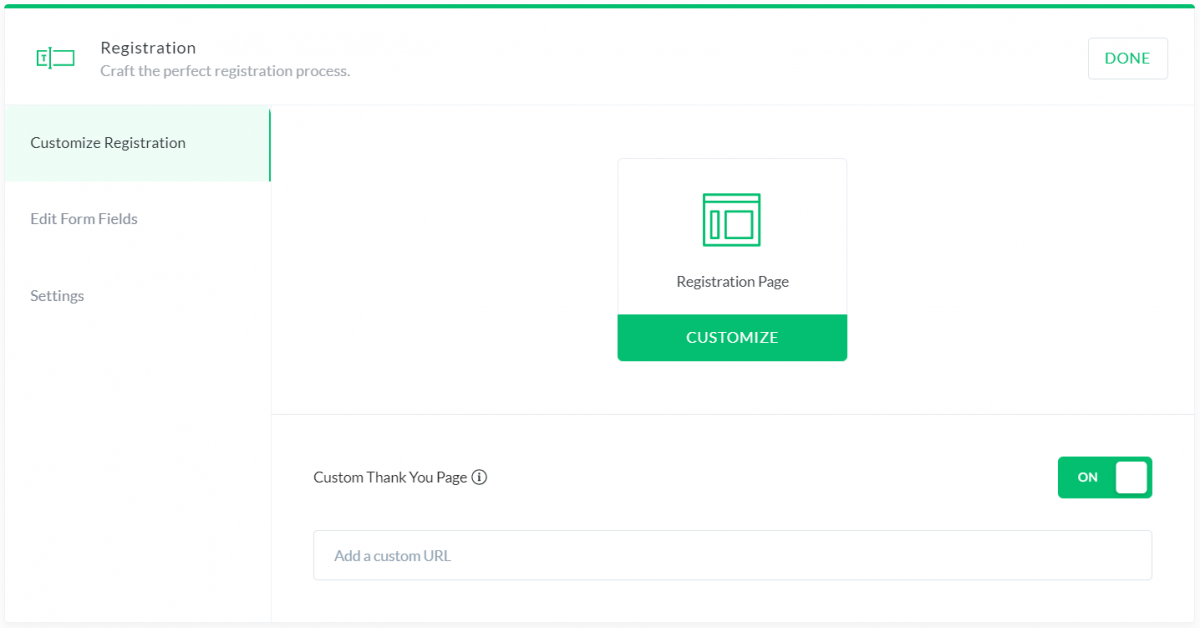 When you build your post-registration thank you page, create content and structure that encourage conversions. At the minimum, you want to highlight three points on that page: appreciation for registering, instructions to join the webinar, and a prompt to add the webinar to the registrant's calendar.
1) Thank you
Lead with a quick thank you message, including a confirmation that the registration has gone through. Alert users if you're sending a separate email confirmation (or not). Feel free to add some pizzazz so your brand's voice can shine through.
Here are some examples:
"Thank you for registering! We look forward to seeing you on X date."
"You've registered! What now? Keep reading to find out how to join Wednesday's webinar."
"Thanks for registering! We've reserved your space — see you there."
2) How To Join the Webinar
Next, explain how your registrant can join the webinar. This section should include:
A link to the webinar itself
Date and time (adjusted to the viewer's local time)
The steps needed to join

Will they get an email with a unique link?
Do they need to visit a certain URL and enter their registered email?
Is the event invite only?
If you use tools like Demio, this information is already included in the auto generated thank you page. You'll just have to tweak it to add any other details you want.
Generally, you should also follow up with an email that contains this information closer to the date of the webinar.
3) Add to Calendar
Asking registrants to add your event to their calendar right away can help reduce missed attendance. Doing so normally means creating links that work with popular calendars.
For example, Google Calendar is one of the most common digital calendars, so you could prompt registrants to add the webinar to their Google Calendar. You can always include more depending on your user base, their devices, and their technology. Since you (ideally) already track visitors to your website, you likely have a good idea of what that device distribution is and where you should direct your focus.
Adding a Call to Action to the Thank You Page
Now, onto the business-savvy section of your webinar post-registration page. Everyone who signs up for your webinar will see this page, which makes it prime viewing space to capture warm leads with targeted CTAs.
These CTAs can help you keep leads engaged, further qualify them, or even increase webinar registrants.
Plus, the perfect time to make a second ask is after customer registration. Research shows that if people commit to a brand once, they're likely to do so more easily a second time. This is known as a "Foot in the Door."
Tip: Remember to position your call to action above the fold. If the reader doesn't see it at a glance, they're likely to miss it.
Other places you can position a CTA include:
Watch a Demo
If your webinar doesn't involve an introduction to your product or service, a product demo can be an excellent way to qualify leads. Here, you can offer a free demo, a custom sales call/video call, or a strategy session.
This type of content draws prospects further into the sales funnel while qualifying leads. Prospects who exhibit interest in product demos and strategy calls clearly define what they are interested in and why.
Depending on how big of an investment your product or service requires, you may have to consider if pitching after registration makes sense, or if you need to nurture the lead further.
For example, if your SaaS is $100 or less, you could convince someone to sign up for a demo after they register. However, if your SaaS starts at $1,000/month at minimum, you may need to wait until they've seen your webinar or signed up for your email newsletter before making the pitch.
Sign Up for a Trial
If your webinar is targeted toward people in the awareness stage of your funnel — which means they know both the problem they need to solve and the solution they're looking for — you can offer a free trial on your thank you page.
For example, if your SaaS is a listing tool that syncs inventory across different eCommerce selling channels, you might host a webinar on How to use a listing tool to ensure your inventory never goes missing. The sellers who register for this webinar already know they have a problem, and that a listing tool will help. It's a perfect opportunity to encourage them to test out your solution, instead of a competitor's.

Learn More
If your webinar is designed to offer in-depth information on a specific topic, it's always a good idea to direct viewers to reference material. This might be a series of articles or videos on the same topic that deliver high-level knowledge.
You might also use gated content to further qualify prospects. A willingness to give you more details (such as company size and job title) in exchange for more content shows they're interested. This information will help you segment your leads and increase commitment.
Often, a simple link to a blog category or an eBook landing page will see traction. Since your registrant has already shown interest in what you do, you're more likely to get an additional conversion thanks to that "foot in the door" technique we mentioned earlier.
Keep in mind that any content presented as a CTA, should be relevant to the webinar. You can customize links to your top articles based on the webinar topic, and the gated content will also further qualify leads (as long as it's in the same vein as your webinar).
Share This Webinar
Referrals are one of your most valuable tools for increasing viewership and sales. A study by Amplifinity shows that direct URL shares have a 4% conversion rate, social media shares have a 1% conversion rate, and direct email has a 17% conversion rate.
Those numbers are based on sales, not watching a webinar, but that data supports the knowledge that people trust their friends and acquaintances. So, putting social media and sharing links on your thank you page can drive conversions.
Here, you likely want social media buttons and a direct invite or referral link. Some tips:
Write sample text for social media sharing. Most users won't.
Be sure to phrase the share request as a CTA (for example, "Share this webinar with your colleagues," "Know someone who'll benefit? Invite them now").
Consider using incentives to share, like a free prize if your social share is liked a certain number of times.
Get a Coupon/Free Sample
Depending on your webinar topic, your post-registration thank you page might be the ideal time to attempt to convert your lead. A simple call to action for a coupon, free sample, or other freebie, either immediately or in exchange for a quick sales call (to qualify the lead), can drive considerable value.
For example, SnackNation offers viewers a free box of snacks on its thank you page. All viewers have to do is agree to a quick call to determine if their office could benefit from using snacks for employee engagement.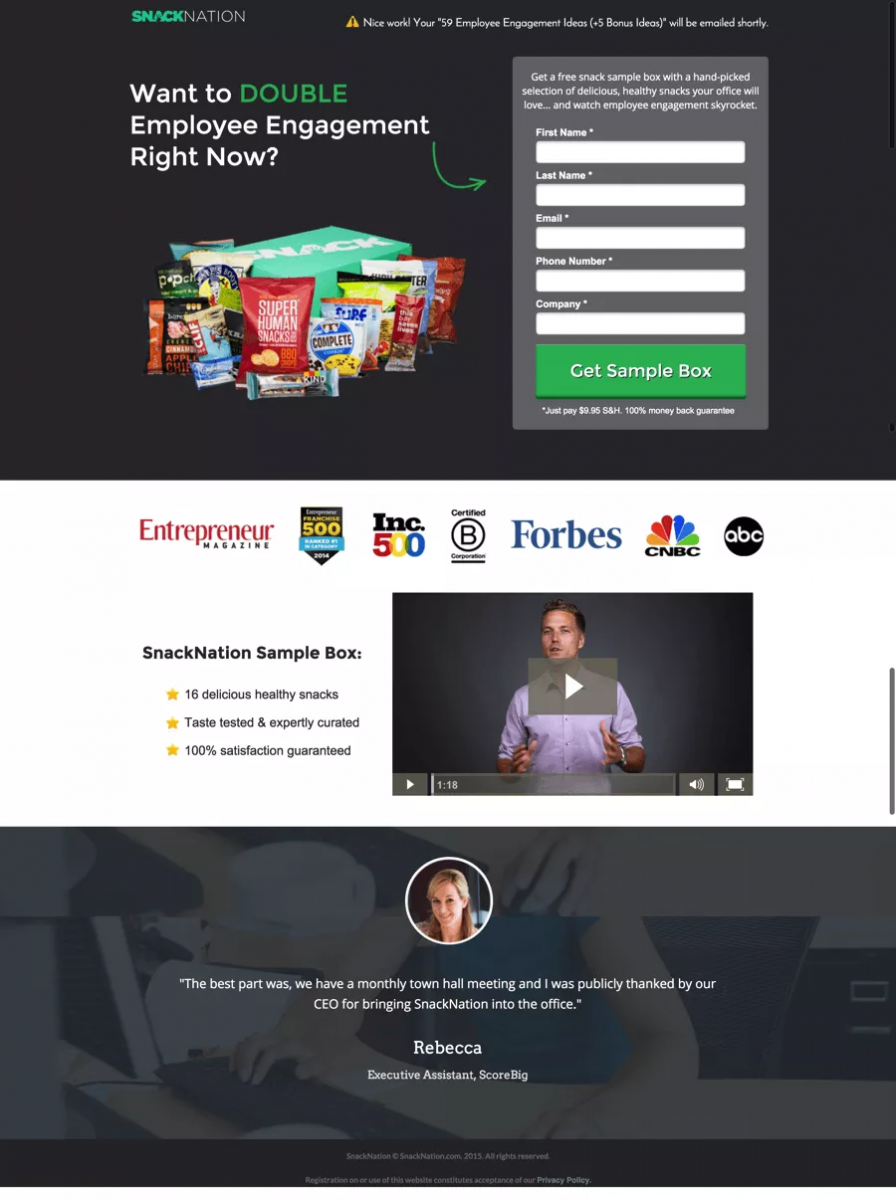 That call has a 10.52% conversion rate, and, more impressively, 73% of participants remained email subscribers, with a 2.2% conversion rate. While not everyone has a free offering as tempting as snacks, this can be a valuable tactic for many types of businesses.
There are plenty of strategies you can use to add value to your thank you page. Surveys, questionnaires, social media feeds, and references can increase profitability.
Other Tips For Thank You Pages
Once you have the basics down, it's easy to add more content. These tips should help you get started.
Put the most important information above the fold. Your CTA, social sharing buttons, and link to schedule the webinar in Google Calendar should be visible right away (both on desktop and mobile views).
Make your webinar thank you page short and simple. Distinguish the most important information on your post-registration page as much as possible and keep that section minimalistic, with plenty of white space. Underneath that, you can include a section for those who want more information.
Provide more information. At the bottom of your thank you page, you can reiterate information about speakers, guests, or other items your visitors might find useful for the webinar. Just don't give away so much that your registrant no longer has to attend the event.
Basic Outline For a Thank You Page
What to include on the webinar thank you page:
A note to thank viewers for registering.
Instructions on how to join the webinar.
A link to add the webinar to their calendar.
Your call to action, such as signing up for a free trial.
Prompt to share with friends/colleagues.
Thank you pages can be extremely powerful marketing tools, because they allow you to qualify leads, gauge interest level, and request direct shares from viewers. Everyone who visits a webinar's post-registration page has already supplied their email address and possibly more, which means asking for next steps is relatively easy.
Hopefully, these tips help you take full advantage of your webinar thank you pages.


DOWNLOAD YOUR FREE WEBINAR STRATEGY CHECKLIST BELOW
Use this checklist
to design your very own high-converting webinar marketing strategy from scratch, then automate the process to attract high-quality leads.
We promise to never spam or send emails about cats.
Okay, maybe some cat stuff.