Webinars are awesome in general for any type of company. They're fantastic for creating a buzz around your brand and generating leads.
For SaaS companies, they're an especially useful weapon in your marketing armory because they allow you the chance to demonstrate how your service is used, or train your customers so they get more out of your service. This boosts usage and retention, and reduces churn. Pretty neat, huh?
However, we get it. You want to run a webinar, but you're not sure how to do it as a SaaS company. Join us, then, as we take a look at the anatomy of a successful webinar for SaaS companies.
Why a SaaS Company Should Host a Webinar
Slack is the fastest growing SaaS of all time. But a lesser known company called Intercom is catching up to them. And one thing Intercom has frequently been doing recently is running weekly webinar sessions. Their webinars are focused on product education, which boosts:
Customer lifetime value – By educating your customers about your service via a webinar, they're far more likely to keep using it. Then, they might even be inclined to use your next products, too.
Trial-to-paid conversions – If a customer who is still using the trial version of your service checks out your webinar, they might get so much value that they upgrade to the premium version.
Product expansion – Your webinars can offer huge insights into what it is your customers like and don't like about your services. They can also uncover features that your customers want you to introduce.
Let's say I have a social media marketing platform. I decide to use my next webinar to educate my customers on how they can use my service, as well as other key social media topics. These might include:
Show ROI from social media
Show how to tie social media marketing programs to the sales process and lead generation
Discover if the customers' time spent on Facebook, Instagram, and LinkedIn are actually bringing in sales
Or, if I happened to be in charge at Slack, I might run a webinar all about the possible Slack integrations customers can try.
And what I'm doing is boosting all three points mentioned above.
Start with an Informative Landing Page
A webinar all starts with a landing page. If your landing page is informative enough, you'll have a solid number of attendees. If it isn't, your webinar might not even be worth hosting because you won't have much of an audience. Here's what can make a solid landing page:
Copy
Your body copy needs to get specific and explain the topic you'll be covering. This is what Microsoft Azure did well with their use of bullets: the bullets help to break up the text so the visitor doesn't feel overwhelmed by large blocks of text. Notice how they wrote "what you'll learn in this webinar," and bolded it, too: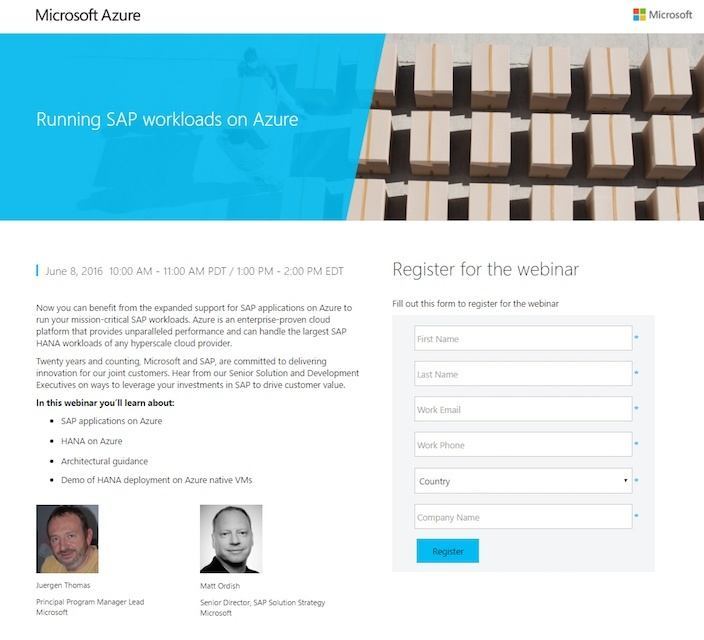 CTA
Your CTA can make or break your landing page, as this is the point where folks will either sign up or bail out. We like how Kapost presented their CTA by writing it in the first person. "Save My Spot" (as opposed to "Save Your Spot") creates a sense of ownership that encourages sign-ups.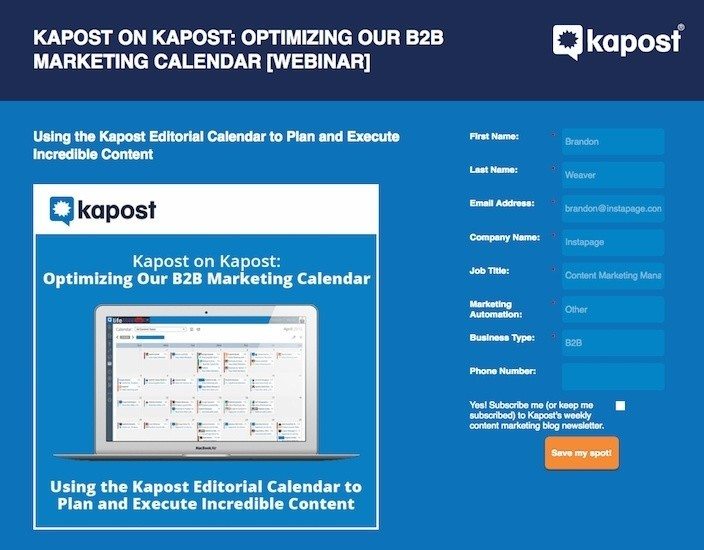 IBM Watson, meanwhile, created a contrasting color CTA that makes it unmissable: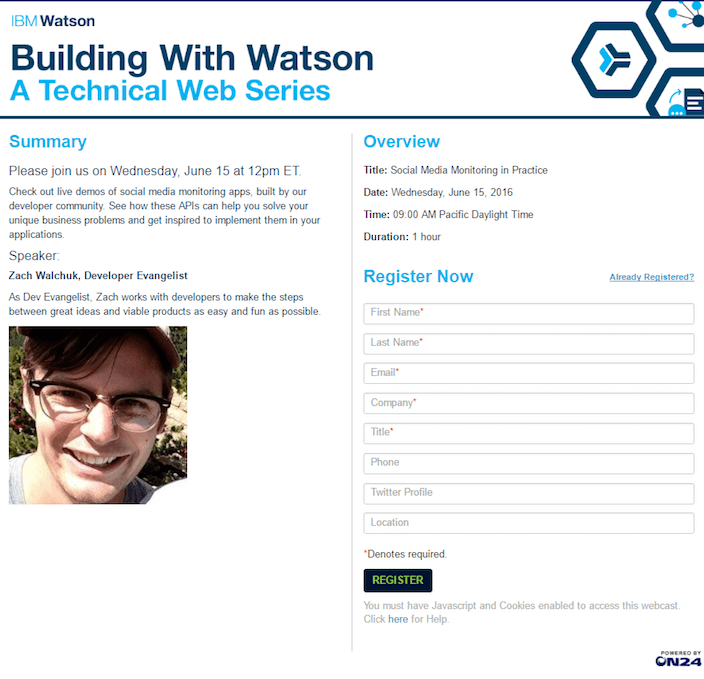 Visuals
IBM also used an image of the person who'll be hosting the webinar. His name is Zach, and his friendly face helps to create an early connection between him and those who'll be attending the webinar.

While it's always a good idea to add an image of the host(s), you also need to be careful where you place it. We're not so sure IBM's placement works super well here, as it interrupts the flow of the copy. This is something you'll need to A/B test.
The Headline
The headline has to be simple and direct. It needs to highlight a concern the site visitor has in just a few words, as well as how this webinar will help them.
Check what Kissmetrics did with their headline below. We really like this one because it conveys a benefit to the visitor in a concise manner.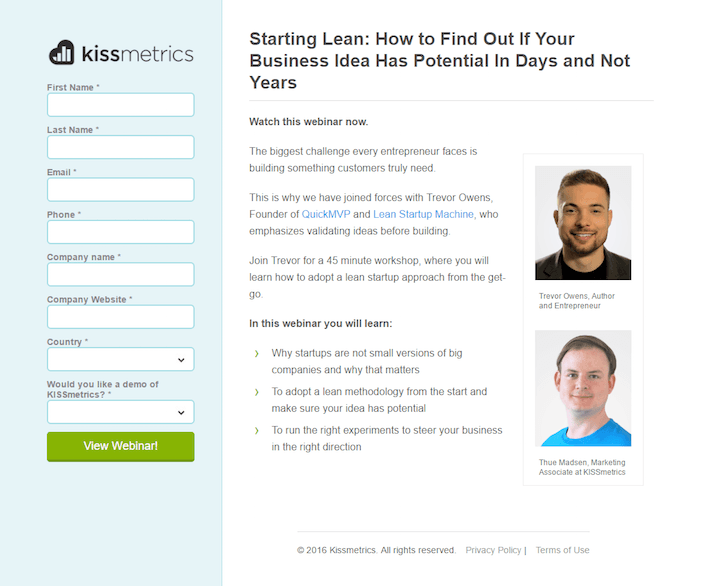 Choose a Webinar Type
Host a Masterclass
Masterclass webinars are pretty straightforward, and you should think of them as a workshop of sorts — because that's pretty much what they are. They're designed to educate your audience and help them get the most out of your service.
Essentially, with a masterclass webinar, you take your customer base's major pain points and break them down into 3–5 lessons. In these lessons, you'll assess their pain points and solve them by showing what actions they need to take.
In essence, you'll use the webinar to lead them away from their problem towards the solution. This improves your user onboarding process and increases retention.
For example, let's assume I have an app designed to help people improve their social media marketing. After a bit of customer research, I find that one area my current users are struggling with is growing their number of followers on Instagram. So, I host a masterclass webinar that shows them how to use the app to boost their followers. Once the webinar is over, they can use the knowledge they've learned instantly.
You can also invite guest speakers onto your masterclass webinar.
Host a Demo Webinar
One of the major reasons SaaS companies struggle with high churn rates is because their users simply don't know how to use their services. If a service is too complicated, users will quit using it for good.
That is, unless you can bring them back into the game by showing them exactly how to use your service and its features.
This is what a demo webinar sets out to achieve. It teaches your customers how to get the most out of your service by providing them with a tutorial or walkthrough.
Throughout the webinar, it's really important to keep reminding them how your service solves their problems. Educate them on how it will take them from point A (pain) to point B (desired state).
A demo webinar is especially useful if your customer base is struggling with the onboarding process. It's not one or two features they're stuck with — it's the whole thing. Venngage is just one example of a SaaS company that relies on demo webinars because they know their customers would otherwise struggle to get a handle on their service. It's kinda complex.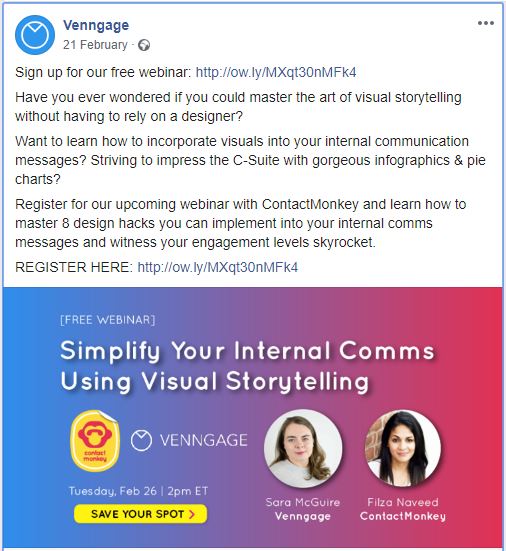 Remember, your customers need to be excited about your service in order to use it, and your demo can generate excitement. But it shouldn't stop there. Be specific and demonstrate the kind of results they can expect to achieve once they better understand your service.
The benefit of a demo webinar for SaaS companies is that anyone in attendance is a warm lead. They've already downloaded your service and are clearly interested in it, they just need a bit of help using it. So, be a personable, friendly host who's here to walk them through things while overcoming objections.
DOWNLOAD YOUR FREE WEBINAR STRATEGY CHECKLIST BELOW
Use this checklist
to design your very own high-converting webinar marketing strategy from scratch, then automate the process to attract high-quality leads.
We promise to never spam or send emails about cats.
Okay, maybe some cat stuff.
The Announcement Webinar
With this type of webinar, you're doing what it says on the label — you're announcing new features, such as a product feature or a new integration.
Such a webinar is typically marketed toward existing customers, but you can also market it to new prospects from your lead generation channels.
The Q&A Webinar
If you're unsure about what type of webinar to run, it's always a smart idea to fall back on a live Q&A session. It's simple, it's fun, and it's a fab way to warm up leads. All you need to do is drum up a buzz around your webinar, get yourself online, and start answering questions about a specific topic related to your service and/or niche.
Attendees will find this kind of webinar really helpful because it allows them to get direct access to you and your service. If they've got a burning question that has so far prevented them from really getting a grip on your service, now's their chance to pitch it to you.
For you, this gives your company the chance to find out more about the problems your users are having with your service, as well as any concerns they've got. Moreover, a live Q&A also allows you to interact with your customers and build rapport with them while being transparent. This is great for establishing trust, long-term relationships, and ensuring that your clients will stick with you longer.
Make sure to note each question down in a Google doc so you can return to them later and perhaps turn the whole thing into a blog post or a Q&A section on your website.
Some Final Tips
For your webinar to be successful, you need to make it:
Educational
Education is the prime reason people sign up for a SaaS webinar. There's something about your service they want to learn so they can keep using it with greater confidence. Make sure the focus of your content is education and not 40 minutes of spammy material with a sales pitch at the end. That's not what a SaaS webinar should be about. Give away as much knowledge as possible.
Well Communicated
People like to know who is behind a company. Transparency is key. Communicate your message clearly so nothing gets lost, but make sure to be personable and friendly throughout.
Entertaining
Yup, you can't be boring. Even though education is the name of the game here, no one wants to sit through 40 minutes of lecture that are duller than ditch water. Let your personality shine. Be fun, talkative, and entertaining. (Just be careful not to crack too many jokes.)
Conclusion
To sum up, your webinar should be centred around a specific topic that appeals to your target audience. Perhaps you can solve a big problem for them, answer some questions on the fly, or walk them through some of your key features.
Whatever you decide to do, just make sure you come across as a good, honest communicator who's friendly, personable, and who's got their best interests at heart. And remember — it's all about value, value, and more value.
DOWNLOAD YOUR FREE WEBINAR STRATEGY CHECKLIST BELOW
Use this checklist
to design your very own high-converting webinar marketing strategy from scratch, then automate the process to attract high-quality leads.
We promise to never spam or send emails about cats.
Okay, maybe some cat stuff.