Virtual events are a popular way to interact with your audience at every stage of the buyer's journey. They're difficult to start but, with some optimization and the right platform, they can become an integral part of your marketing strategy.
Virtual event platforms are diverse tools that offer maximum functionality for all kinds of events, ranging from trade shows, conferences, webinars, and seminars to workshops, expos, and summits, both virtual and hybrid.
Many offer the features you need to kick off a serious engagement marketing campaign, but before you get started, you need to know:
The key features of virtual event platforms
The elements you need for your event marketing
Which platforms offer the best solution for your needs
We'll go over these topics in this guide, looking at the benefits of adopting a platform, the strengths and weaknesses of specific options, and then help you decide if your business even needs a virtual event tool.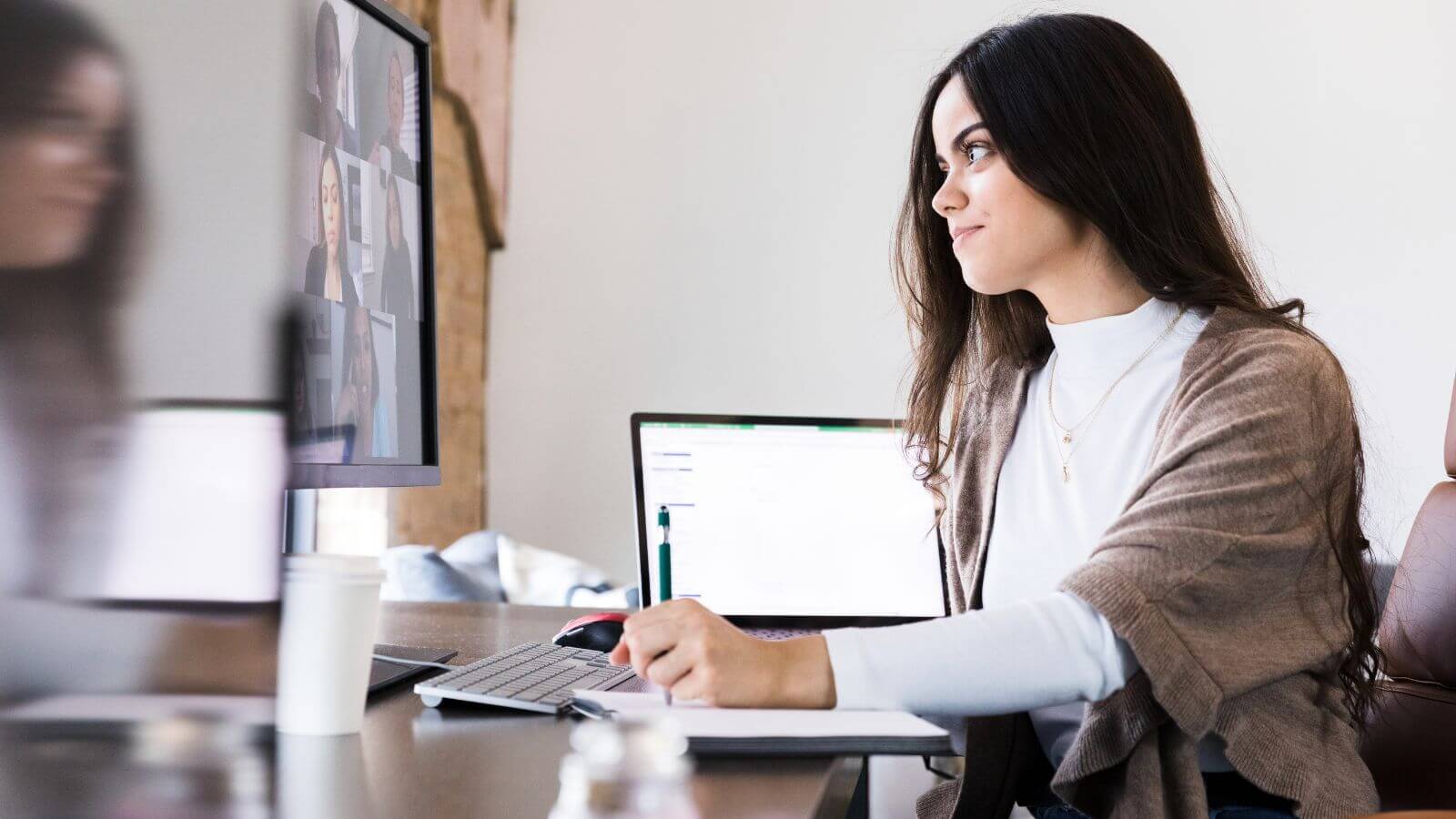 What Are the Key Features of a Virtual Event Platform?
The key features of virtual event platforms address audience engagement, branding, marketing research, and technical support. They're the cornerstone of running fluid, well-planned events.
Quality Live-Streaming
High-quality live streaming provides crisp, clear video for your audience and ensures zero interruptions during your event.
A good virtual event platform should allow both speakers and attendees to participate while being seen and understood clearly, with minimal interference.
This same technical infrastructure offers seamless video chat and fulfills other video needs. A positive attendee experience starts with reliable video quality.
Customizable Interfaces
Customizable interfaces significantly influence event experiences. This is why a platform must have features for designing a unique and user-friendly interface that represents your brand.
Virtual event software solutions normally offer interface branding, color schemes, and other easily customizable design elements. Additionally, they often include templates you can tailor to your brand imagery so it stays at the forefront of attendees' minds.
Interactive Features
This broad category encompasses many engagement tools designed to captivate event attendees. They give attendees enticing opportunities to interact with the event interfaces and feel more involved in the session.
Interactive features vary by engagement type and level of impact. Immersive elements, for instance, include live chat, polls and surveys, Q&A sessions, emojis, and more. Further, the best platforms apply gamification so that event planners can craft experiences that are as enjoyable as they are educational and productive.
Analytics and Reports
Like other forms of marketing, event marketing demands data to obtain the best possible results.
Reliable virtual event platforms come with built-in analytics for a variety of important indicators, which they then present in clean, easily understandable reports. They often include CRM and other integrations to facilitate even wider data collection.
Analytics should focus on audience count history (when audience members joined and when they left). Other useful information sources are attendee engagement metrics, satisfaction reports, and chat box activity.
Organizers can leverage this data to optimize their online events. For example, if one part of the presentation sees 10% of the audience leaving the session, you can remove, revise, or replace that segment for future events.
Networking Features
Networking is a key aspect of event marketing. Various features can promote and facilitate networking, such as:
One-on-one conversations
Chat boxes
Breakout rooms
Shareable content with contact information
Social media tools
Support
Event marketing can be technically and mentally challenging. No matter how comprehensive the software is or how thorough your preparations are, management obstacles will arise. In other cases, you may simply need extra support to gain the most from your features.
Check each platform's technical and customer support reviews and services. Regardless of how well the platform was designed, it can't compensate for poor customer assistance; strong support makes any issue easier and less stressful to handle.
Look for positive reviews concerning the support team's mentality. Also, consider the quality of the ticketing system, where you can contact them, and any other related factors.

Top 5 Best Virtual Event Platforms in 2023
1. Demio
Demio is the #1 virtual event platform in 2023. It enables you to set up and easily improve virtual event marketing activities. You can use it for webinars, virtual seminars, networking events, or any other type of event.
Top Uses
Demio is the all-round best option for virtual events. It excels at webinars, but any type of virtual event in need of greater engagement can benefit from the platform.
Overall, there is a great user experience with Demio. The live chat features and interactive elements like polls and Q&A tools are the most highly rated, but all other elements receive top marks as well.
If you're thinking of launching on-demand webinars, look no further: Users rave on Capterra and other platforms that Demio is the best option for this format. When you look at the features offered, it's easy to understand this outpouring of appreciation.
Pricing Options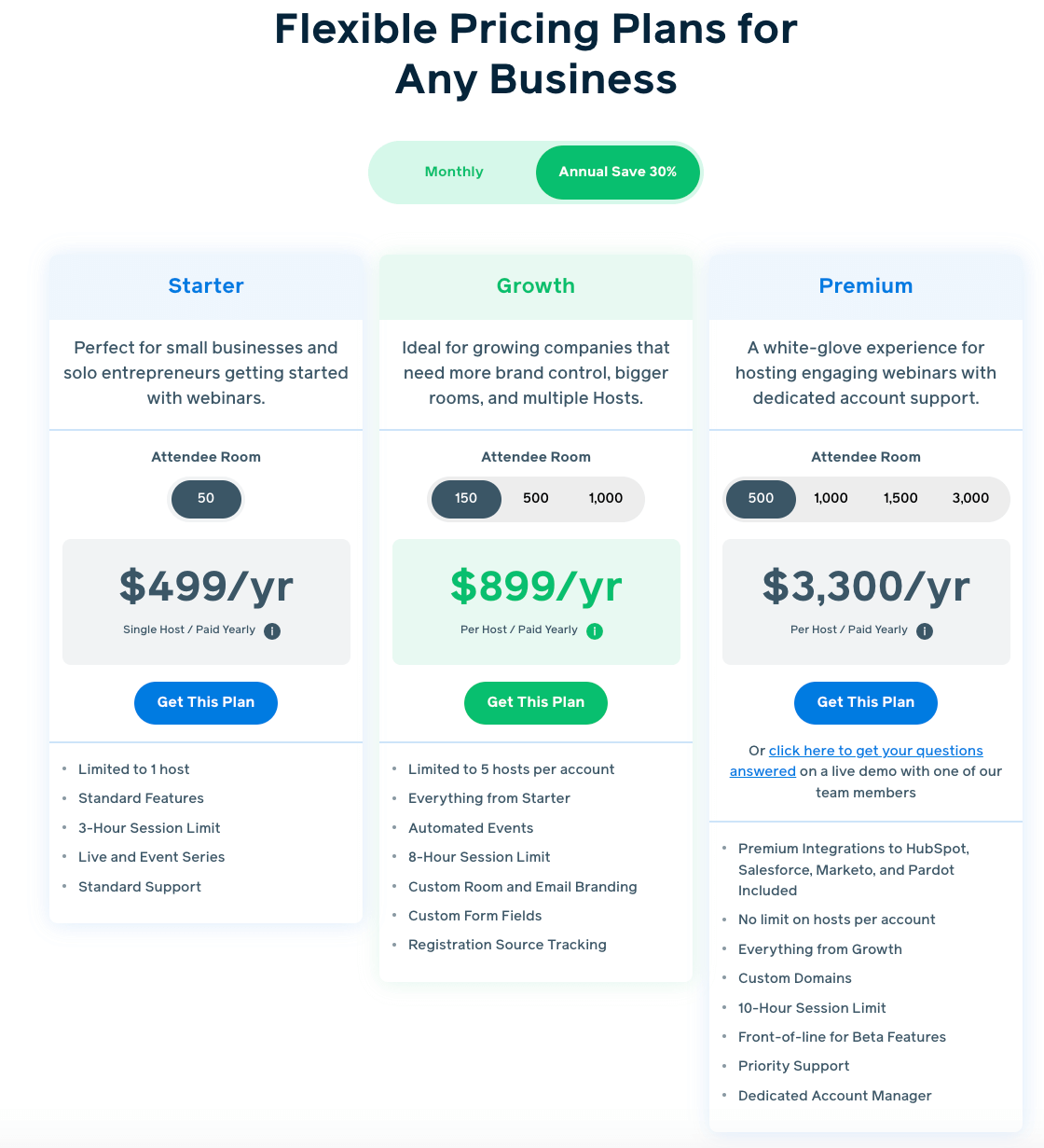 2. BigMarker
BigMarker is another contender among virtual event platforms. It comes with all the bells and whistles, and customers highly rate its key features.
Top Uses
Its ease of use receives passionate praise, but where the platform truly shines is its marketing tools and integrations. Users can create automatic reminders, simple invitations, and everything else needed for a successful event. All of these features appear in crisp interfaces, which makes training easy, and in-event features like screen sharing are equally straightforward to implement.
Pricing Options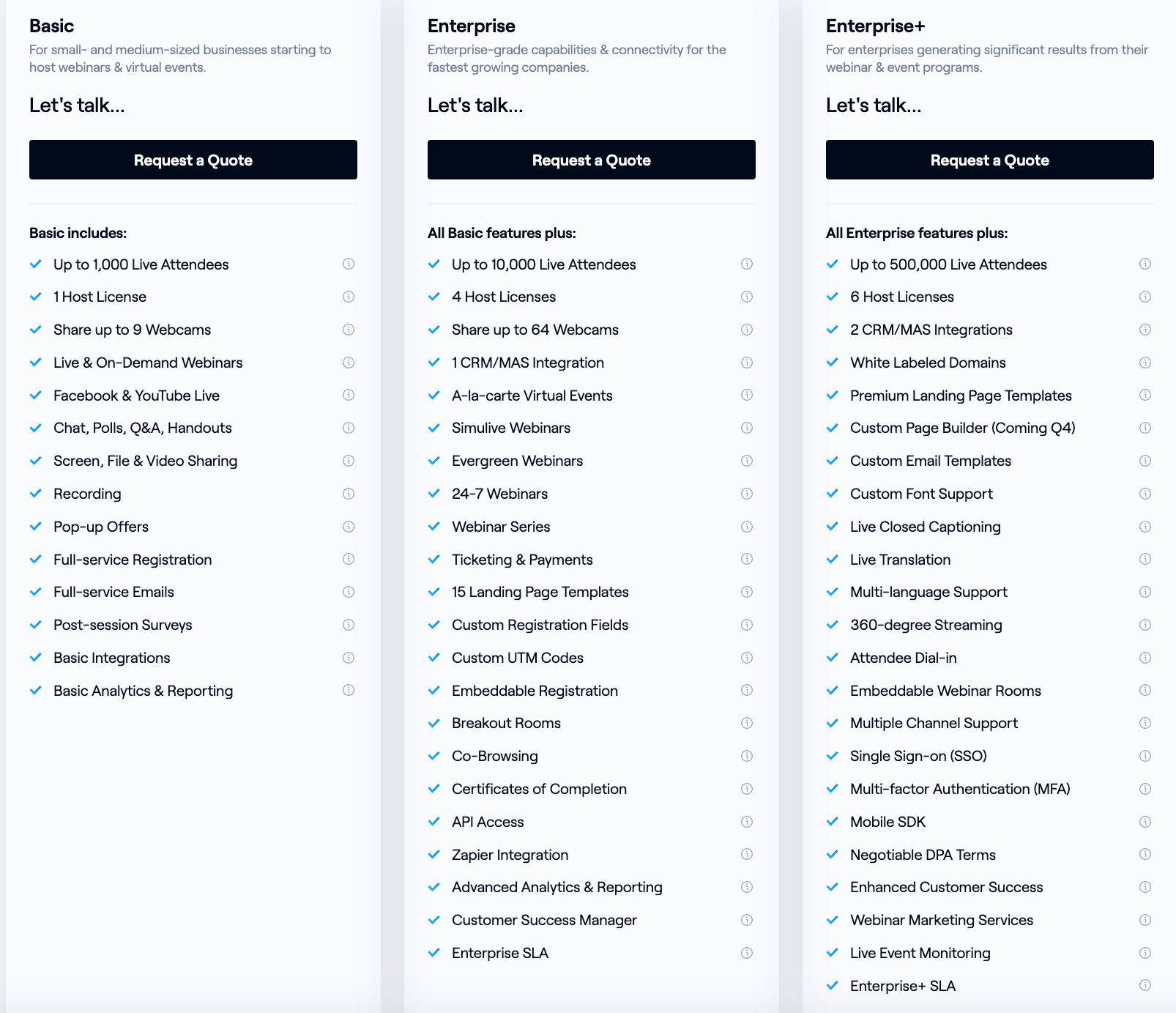 You need to contact BigMarker for a quote regardless of which service package you want.
3. Hubilo
Hubilo is a comprehensive and highly customizable virtual event platform. It boasts features such as unique themes and helps facilitate networking with matchmaking abilities, virtual booths, and one-on-one video meetings.
Top Uses
Hubilo stands out for its ability to host and oversee large events with ease. Customers rave about its simplicity and virtual waiting rooms. It also offers branding abilities to make memorable event experiences for your audiences. Hubilo also receives praise for its characteristic networking features, which enable additional customizable fields to connect attendees with each other, speakers, and virtual booth members.
The only area where Hubilo falls short is its analytics. However, it's still more than capable of gathering data to help you improve your event marketing.
Pricing Options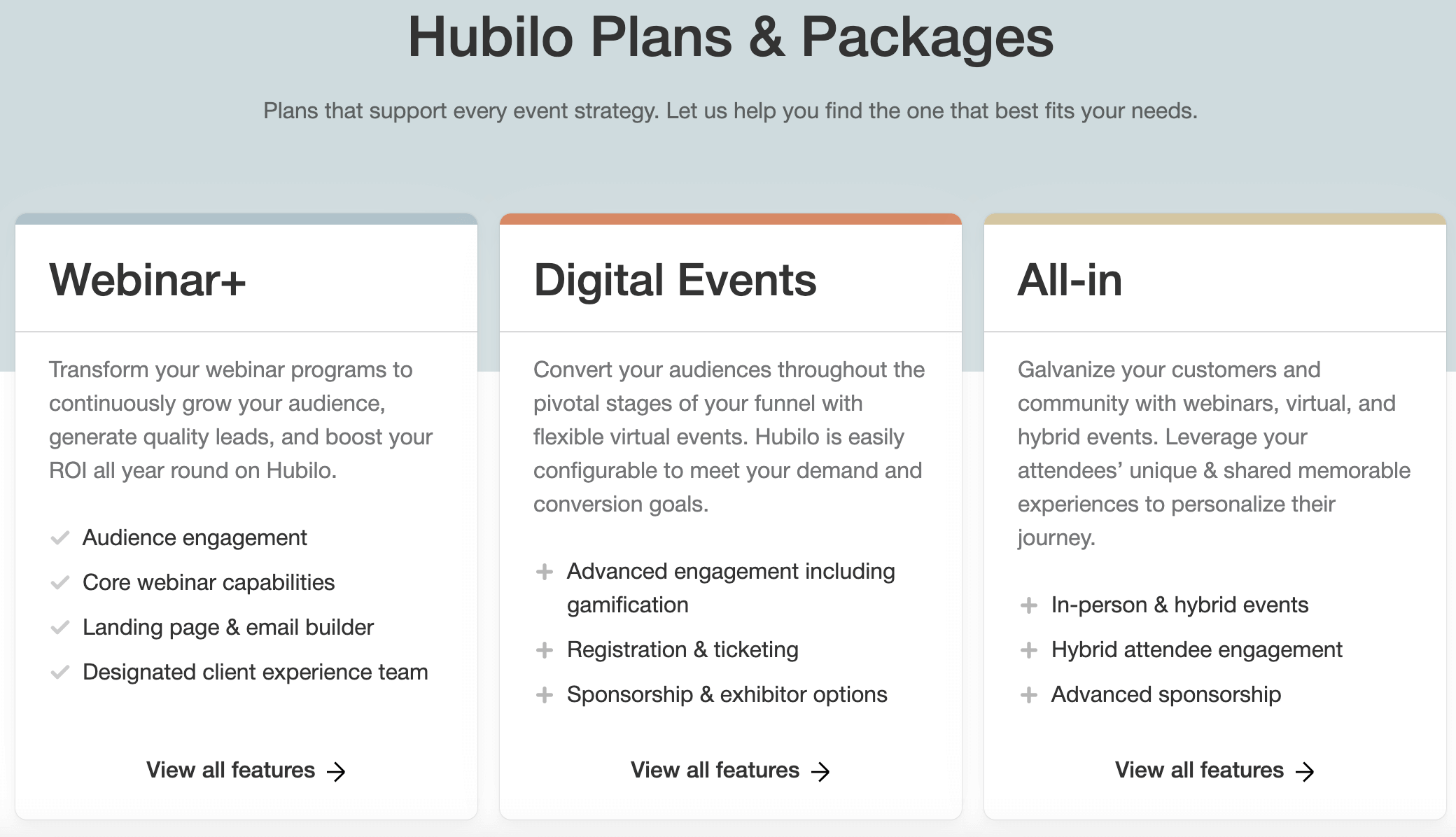 4. GoTo Webinar
GoTo Webinar is a video conferencing service. It aptly includes "webinar" in the name, as it's especially well suited for these events. However, it's equally applicable to other formats, particularly video conferences or meetings.
Top Uses
While it accommodates many digital events, GoTo Webinar was designed for webinars. Within that sphere, it excels at formal sessions like informational webinars and "town hall" formats. Nevertheless, you'll find GoTo Webinar excellent for all kinds of formal and informative virtual meetings. Alternatives to GoTo Webinar may be less expensive, but they often lack certain aspects of webinar hosting.
Pricing Options

5. Vimeo
Vimeo is a video hosting and sharing platform. Its comprehensive service packages include all kinds of streaming and virtual events.
Top Uses
Vimeo is great for live streaming and creating on-demand virtual content. Having most of the top features you'd expect, it's a great B2B option enabling you to better represent your brand at every event.
Pricing Options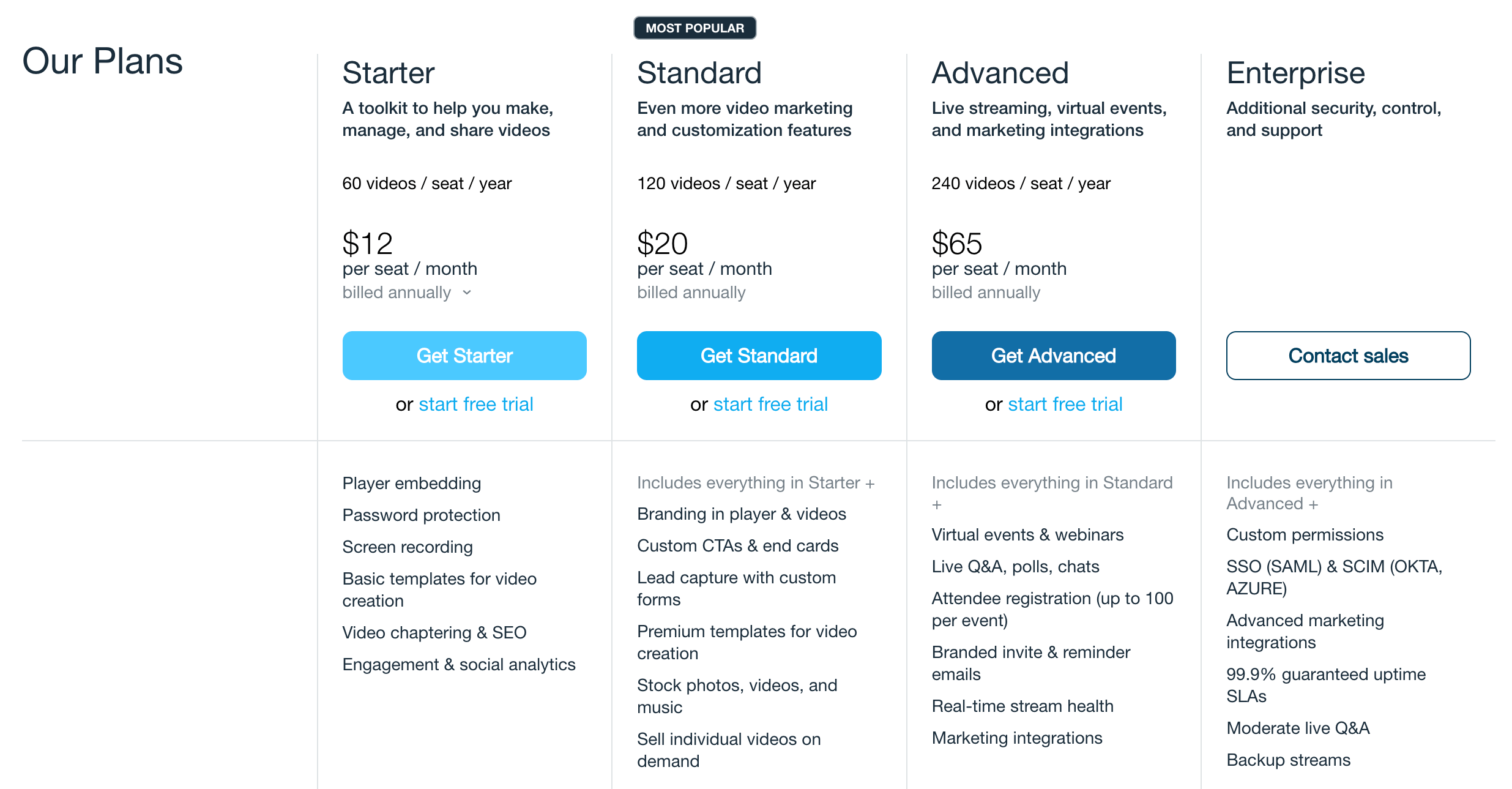 Do You Need a Virtual Event Tool?
Virtual event tools are necessary to be competitive with your event marketing. You should consider the following factors when deciding on whether or not to embrace a tool.
Can you hold in-person events?
If in-person events are feasible and have a higher potential return on investment compared to virtual events, you may not need a virtual event tool.
However, in the current post-pandemic world, fewer scenarios exist where in-person events are the better option. But in cases where a business's target segment is localized, virtual events would be more challenging. This is simply a question of your business model and customer base.
If you can't hold in-person events due to travel restrictions, financial restraints, or any other roadblock, virtual event tools can salvage the situation and unrestrict your event marketing location.
Do you need better intelligence gathering?
If your goal is to learn as much about your audiences as possible, virtual event platforms are your best bet.
The platforms we've covered and others come with analytics and reporting out of the box. As a result, you don't need to engage in complex, demanding, in-person surveying or other methods. Some input is required, but virtual event platforms largely put these analyses on autopilot.
Event marketing is a long-term process. If you want to hone your efforts while feeding your marketing team fresh, comprehensive, and high-quality data, you need a virtual event tool.
Do you need a larger audience?
If you want to maximize your audience in the most financially efficient way, you need a virtual event tool.
Live events are incredible for many reasons, but the cap on your potential event audience size is much lower.
With virtual event platforms, you don't have the same geographic and logistical restrictions. Built-in marketing tools and integrations give you a global reach to help you maximize your audience size. For example, email and social media marketing integrations and online marketing efforts provide access to a much larger market.

What Are the Benefits of Using a Virtual Event Tool?
If you're not sold on virtual event platforms yet, consider these important benefits. It's easy to see why more and more companies are embracing these avenues to enjoy highly effective event marketing.
Accessibility and Increased Reach
Anyone in the world with an accessible device and internet connection can attend a virtual event. Most platforms don't require much from would-be attendees beyond opening a mobile app (or web browser); they don't even need to download anything most of the time.
Convenience is another key aspect of virtual events. Attendees can join from the comfort of their own homes since logistical constraints are largely removed.
Consider features like notifications, registration forms, and check-in processes as well. Their designs must be good enough for customers to be able to sign up and check in seamlessly. The best platforms hit all the right notes for these processes.
Cost Savings
In-person events are expensive and logistically demanding. They have their benefits; even well-planned virtual events can't match the personal feel of an in-person gathering. But the cost-benefit analysis is beginning to favor virtual event platforms as time goes on.
Virtual events are significantly less expensive both to host and attend, as registrants don't need to travel to a physical location. Additional costs that come with in-person events include:
Venue rent/fees
Catering costs
Employee travel expenses
Although you can create a more personal experience, you in turn drive up your expenses substantially while alienating many of your customers due to limited accessibility.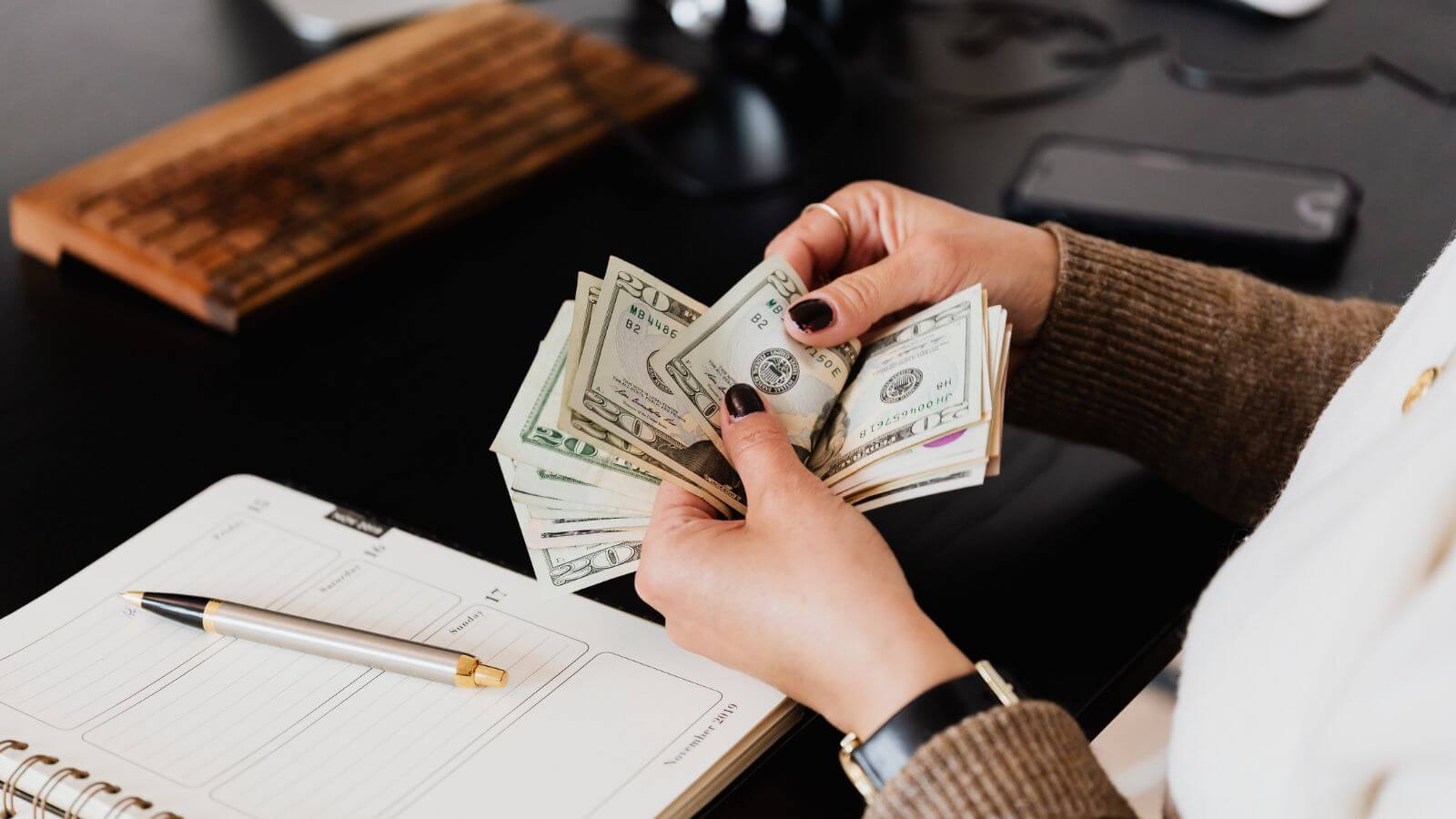 Flexibility
Virtual event platforms facilitate more flexible scheduling and timing, meaning events can accommodate attendees. You can choose the most widely available time for your audience or pre-record on-demand content.
Ultimately, the lack of logistical, financial, physical, and other challenges makes the event planning stages much easier and more flexible. Post-event follow-ups also expand your reach, as you can distribute materials digitally to all attendees, no matter where they are in the world.
Customer Research
Although you can distribute surveys and collect information from attendees in person, gathering customer data is seamless with on-demand webinar platforms.
Many virtual event platforms have tools to collect and report customer information built in — and they're customizable. You can automatically track engagement, count the number of attendees, establish success metrics, and more.
Doing this in-person takes more time and planning and is more difficult to execute.
Customer research with these platforms is therefore more accessible and comprehensive. You're handed everything you need to improve and create memorable virtual experiences over time.
To supplement their built-in features, platforms normally come with powerful integrations. Email marketing integrations are common and help drive your message home and gather more information from your follow-ups.
How To Get Started With Virtual Event Platforms
You can start taking advantage of virtual event platforms easily. First, determine your needs and budget, then narrow your options according to these parameters.For best results, we recommend using Demio, which was designed by marketers for marketers. If you're curious about how Demio's virtual event features can put your event marketing into hyperdrive, book a demo to learn more.