Running webinars… How difficult can it really be?
You just have to come up with a topic, find a host, send a few invitations, design a marketing campaign, and record the webinar. Then, you just upload the video as a lead magnet and reap the rewards (aka new email addresses). ?
Many people actually believe that this is all you need to do to run webinars and don't realize the incredible amount of details they should consider and articulate as part of a results-driven strategy.
"Huh? Webinar strategy?" we hear you saying.
Yes, if you really want to succeed and drive real results, you'll need a strong webinar strategy.
Otherwise, you'll be wasting your time and resources on publishing random videos that aren't aligned with your business goals.
But how do you design an efficient webinar strategy?
"The Cloud 100" by Forbes
To help you answer this question, we decided to study the best examples and share with you what we learned from them.
And by "the best," we mean the Top 100 SaaS companies as nominated by Forbes via its The Cloud 100 2019 list. ?
As Gail Axelrod, Director of Brand Marketing at Drift, notes in one of her articles …
"Collectively, the companies on the 2019 Forbes Cloud 100 have raised more than $25 billion (yes, billion with a 'b') in funding. It's safe to say, then, that this group knows a thing or two about growth."
So as you can understand, we're talking about BIG names and thriving SaaS stories. We analyzed the webinar strategies of these top Cloud 100 companies and understand their approach to it. 
Our goal was to identify how many SaaS brands have a webinar strategy and how they're managing it successfully.
We decided to focus on criteria like…
Webinar types
Use cases
Branding
Format
Access
Additional content
Language
Registration forms
We've analyzed the 100 top companies, and now we're ready to share this valuable information with you.
Summary of our key findings
The majority of these SaaS companies have a well-established webinars strategy. Only 22 of The Cloud 100 brands don't run webinars. Having this in mind, the entire study is based on the other 78 of SaaS companies that have a webinar strategy in place.
7.69% of companies that run webinars don't have a webinar library or use webinars as content assets.
When it comes to the type of webinars, 44.8% of companies don't offer upcoming or live webinars. Meanwhile, only 7.69% don't offer on-demand webinars.
92.31% of these brands are using the recorded videos as lead magnets.
In terms of use case, 93.5% of SaaS companies offer educational webinars, 85.8% use webinars as demos, 74.3% communicate their features via webinars, and only 17.9% use them for onboarding their customers.
On the other hand, only 3.84% of companies record webinars as part of their Academy, and 47.4% present different case studies via webinars.
In terms of format, 75.6% focus on running interviews, while 91.02% of brands are recording conversational videos with more than two speakers. 65.3% are running webinars that have just one speaker.
Only 21.7% of the companies have a branding strategy when it comes to their webinars.
37.1% of brands offer un-gated webinars, while 87.1% ask for the viewers data before giving him or her access to the webinars. Note that in this case, we have 26.9% of companies offering both gated and un-gated webinar content.
Only 21.7% of SaaS brands are providing additional webinar content, such as slides, scripts, or material.
Apart from English, 17.9% run webinars in other languages, too.
Finally, when it comes to accessing webinars, 11.5% offer their webinars without requiring people to register. Meanwhile, 56.5% get people to complete long registration forms with more than five questions.
Let's take a look at these criteria and see how you can follow the leads of these successful brands to create your own webinar strategy.
To webinar or not to webinar
That's the question you may ask yourself. After all, running webinars consistently takes time, effort, and money.
Designing a strong strategy, thinking of topic ideas, sending emails to possible speakers, finding a reliable SaaS webinar tool, gathering enough people to attend online … all these things are the result of arduous work that can take weeks, if not months.
So it's totally understandable why you might be debating whether or not it's even worth having webinars in the first place.
But as the data shows, the majority of top SaaS companies have a webinar strategy in place.
Seventy-eight of the 100 top companies run webinars for their audiences, whether we're talking about customers, prospects, leads, or the overall public.
And if this isn't enough to convince you how useful webinars can be for the growth of your SaaS company, let's add these undeniable benefits:
Benefit #1. Increase brand awareness
The more valuable content you put out there, the more possibilities you'll create for people to find you and pay attention to your brand. And webinars are a great combination of content both in terms of quality and format, considering how popular videos are.
Benefit #2. Work with key industry stakeholders
Having guests and interviewing them during your webinars will help you develop relationships with industry stakeholders who'll not only get to know your brand, but also maybe take an interest in it and promote the content to their audiences.
Benefit #3. Connect with your audience
Quality content will always help you build valuable relationships with your customers, prospects, or leads. And webinars can help you with that.
Benefit #4. Build your content assets
As the famous author and content marketer Joe Pulizzi said, "if you want to build a brand, regardless of your industry, you have to become a media producer." What better to help you diversify your content assets and increase your brand outreach than webinars?
Benefit #5. Generate more leads
Both your upcoming webinars and video recordings can be great lead magnets. Simply publish them as gated content and persuade people to share their information in exchange for access to your great webinar library.
Benefit #6. Present the real benefits of your product
Webinars can be great case studies during which you can take your time and walk your leads through the wins your customers achieved by using your product.
Benefit #7. Engage with your audience and conduct social listening
Q&As can become the greatest part of your webinars. This format will help you solve any doubts your audience may have. Moreover, it can help you gain a better understanding of the questions and challenges they encounter, which can lead to a more efficient copy, value proposition, or brand narrative.
Having this in mind, let's continue by analyzing the overall practices The Cloud 100 companies apply to run successful webinars.
DOWNLOAD YOUR FREE WEBINAR STRATEGY CHECKLIST BELOW
Use this checklist
to design your very own high-converting webinar marketing strategy from scratch, then automate the process to attract high-quality leads.
We promise to never spam or send emails about cats.
Okay, maybe some cat stuff.
Webinar library

One of the things we looked at when studying these companies is if they had a webinar library. We discovered that 92.3% of brands had enriched content libraries that contained both upcoming and recorded webinars.
In addition, some of these webinar libraries have different filter criteria to help people find relevant webinars depending on their industry or the topics that interested them the most.
Here's an example: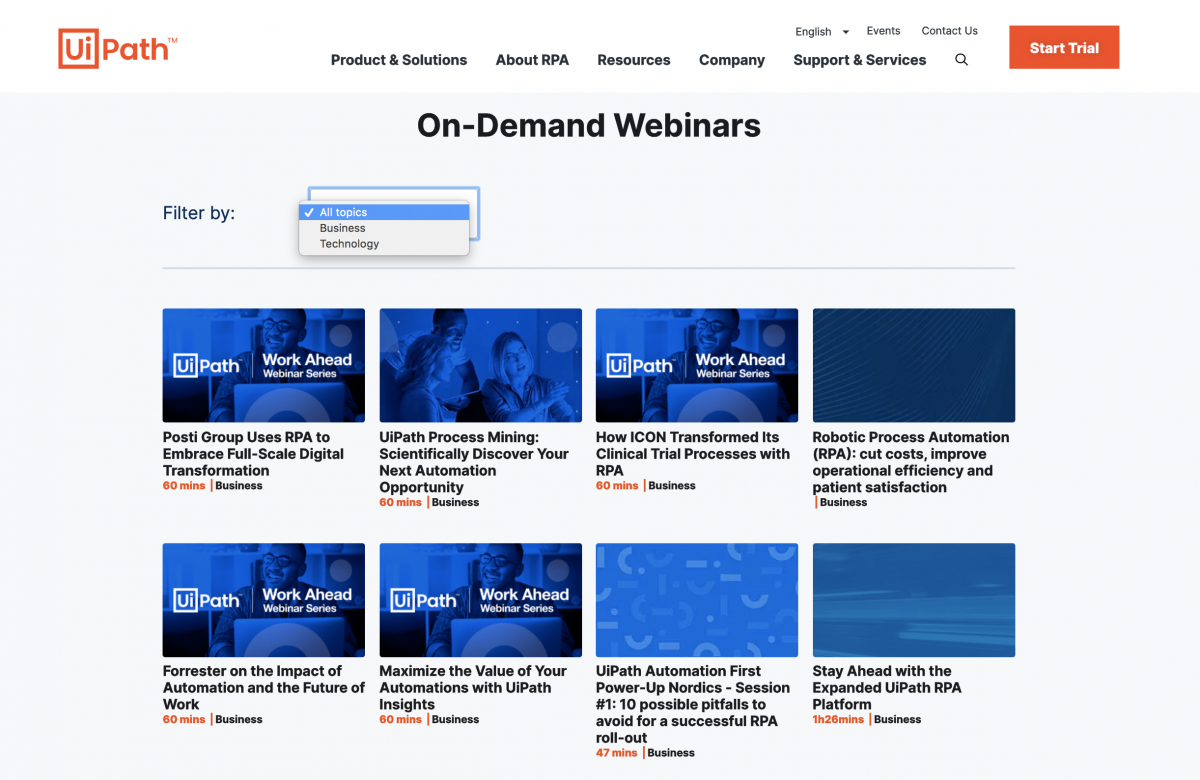 As you can see, UiPath decided to categorize its webinars on two topics: business and technology. That way, its audience can find the videos easily and choose the subject that is best aligned with their interests.
Not having a webinar library, on the other hand, will reduce your chances of generating new content assets, positioning yourself as an industry leader, and attracting more leads.
🖊️ Take note
Having this in mind, make sure to always offer your audience a webinar library and filter it accordingly, depending on the video format, topics, industry, target group, etc.
Type of webinars

We looked at two particular webinar types: upcoming or live webinars and recorded webinars. Most of the companies on The Cloud 100 list provide both types of webinars, ensuring they have a webinar library and fresh content that continues to attract new leads.
As a matter of fact, 48.7% of these companies offer both upcoming and recorded webinars.
Let's take the example of Turbonomic.
Turbonomic Upcoming Webinars: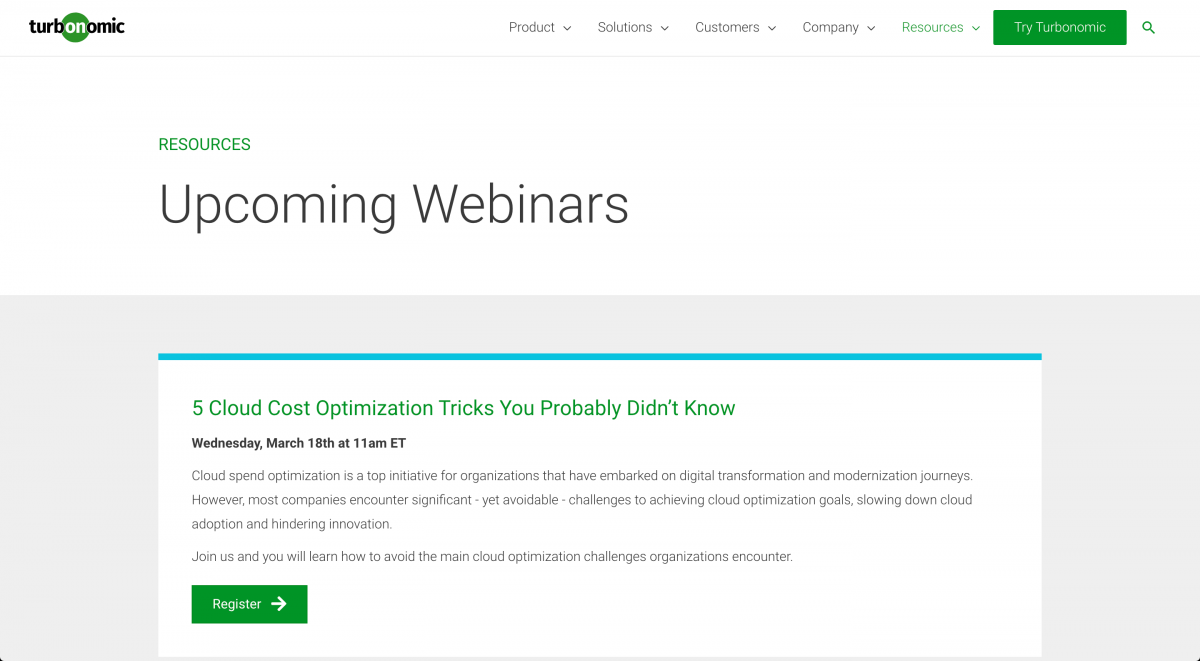 Turbonomic On-Demand Webinars: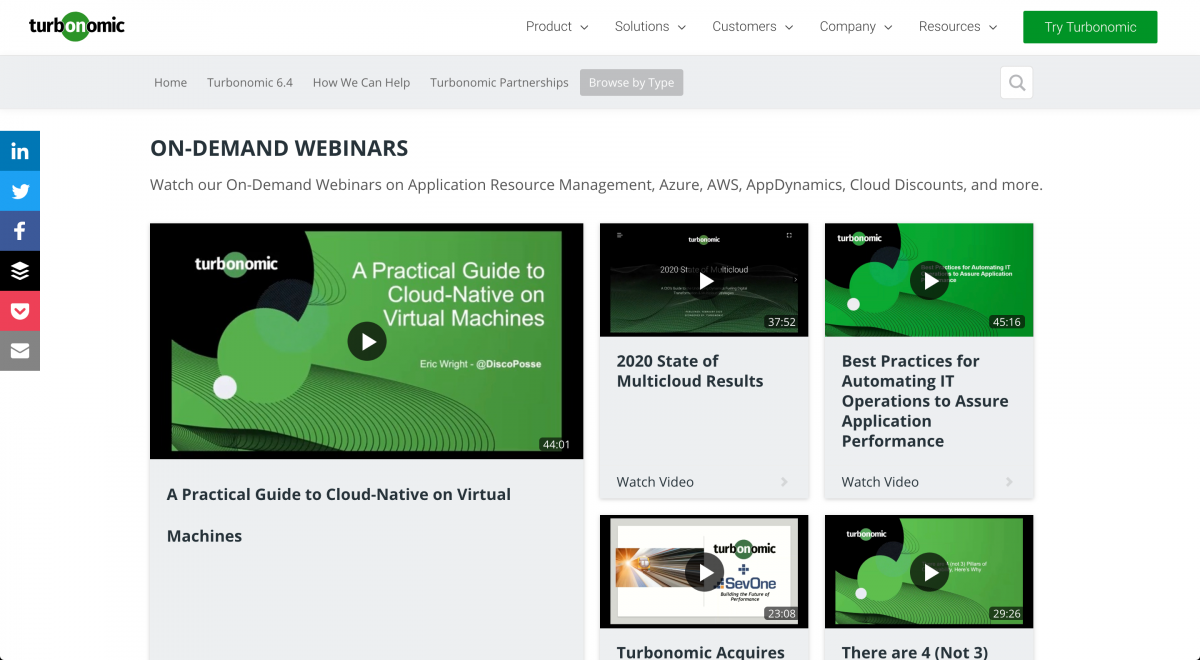 When accessing the Webinar section, you'll find the list of upcoming webinars. To find the recordings, though, you have to go to the Resource Center and sort the content by type by selecting the webinars. Then you can access the entire list of recordings.
🖊️ Take note:
Our suggestion is to always have a webinar library where you're stocking your recorded videos and also keeping people engaged by creating new content.
Webinars and use cases

The great thing about webinars is that you can actually use them for different purposes.
From Demos to Case Studies, and from introducing new features to onboarding, you can choose from a great variety of options.
As a matter of fact, 93.5% of SaaS companies offer educational webinars. This means that these brands have a great interest in educating their audiences and positioning themselves as industry leaders.
Example of Educational Webinar from Stripe
On the other hand, most companies are also using webinars to introduce their leads or prospects to the product.
85.8% use webinars as demos and 74.3% use this content format to introduce new features.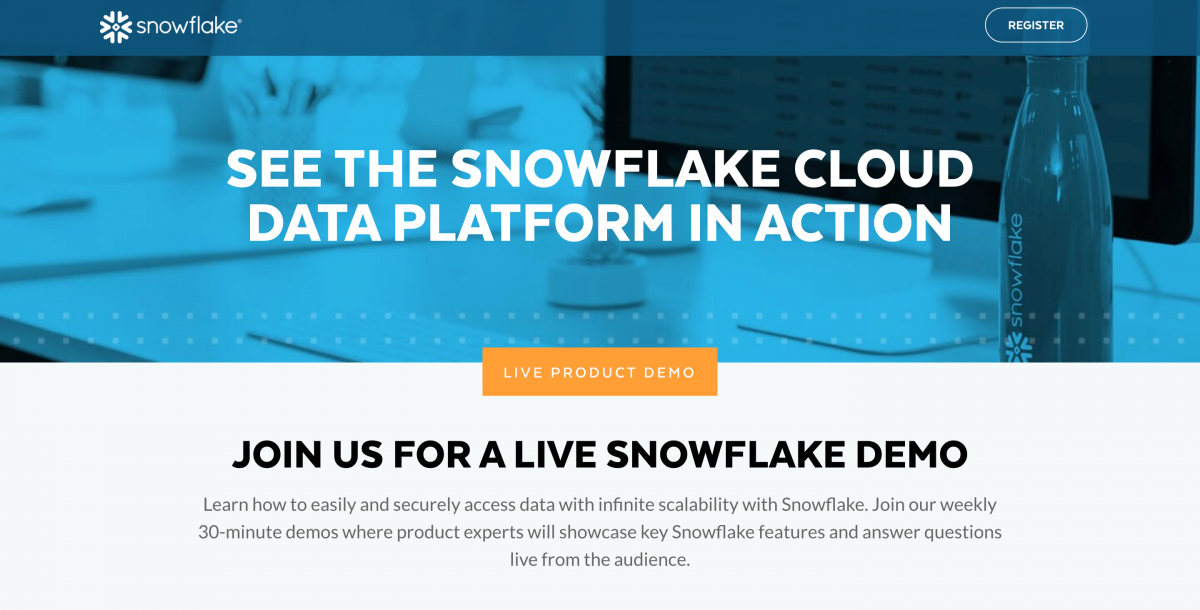 Introducing a New Feature Webinar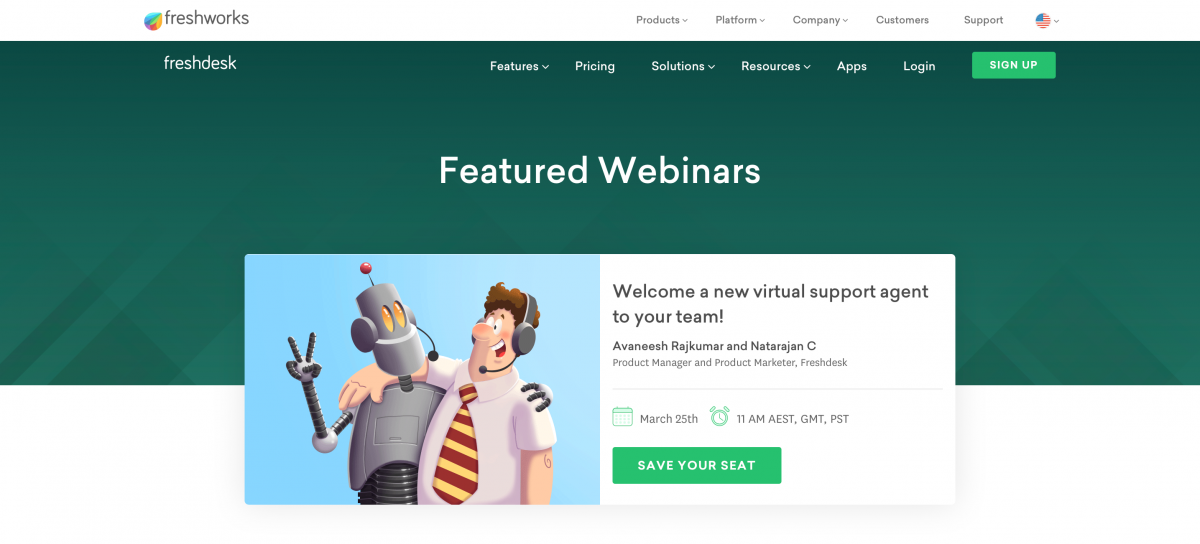 On the other hand, only 17.9% are using webinars for onboarding their paying customers. Most of the brands are leaving this task to their customer teams, keeping the product demos to their paying users exclusively.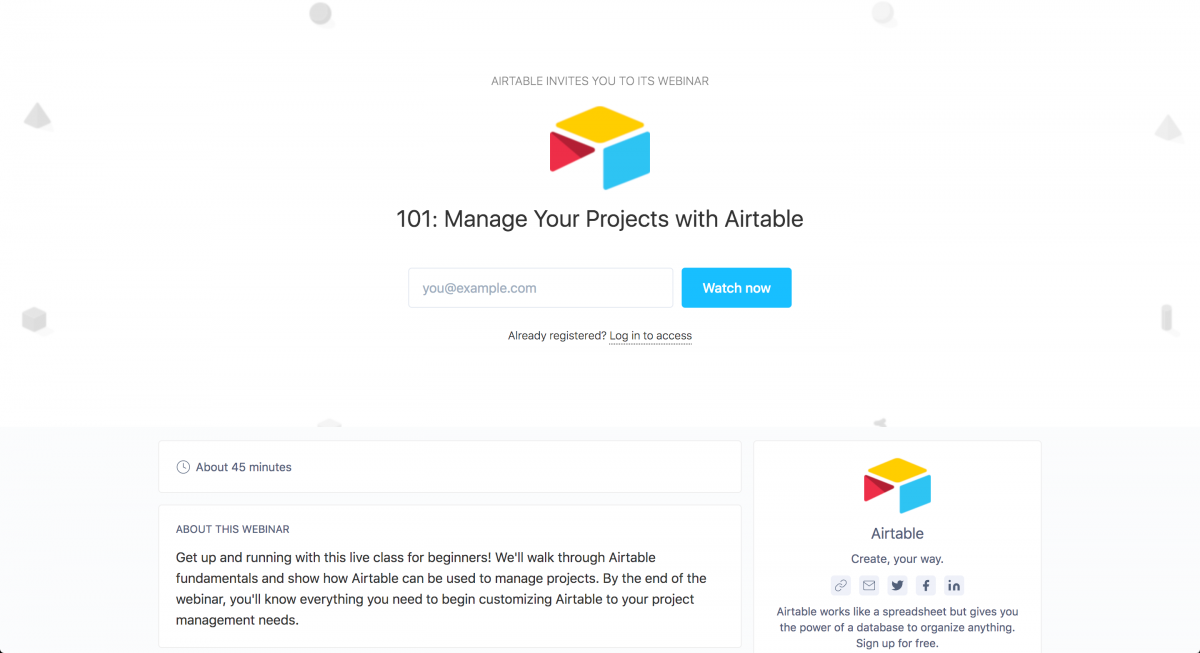 Finally, 47.4% use webinars to introduce different case studies and invite their customers to be speakers.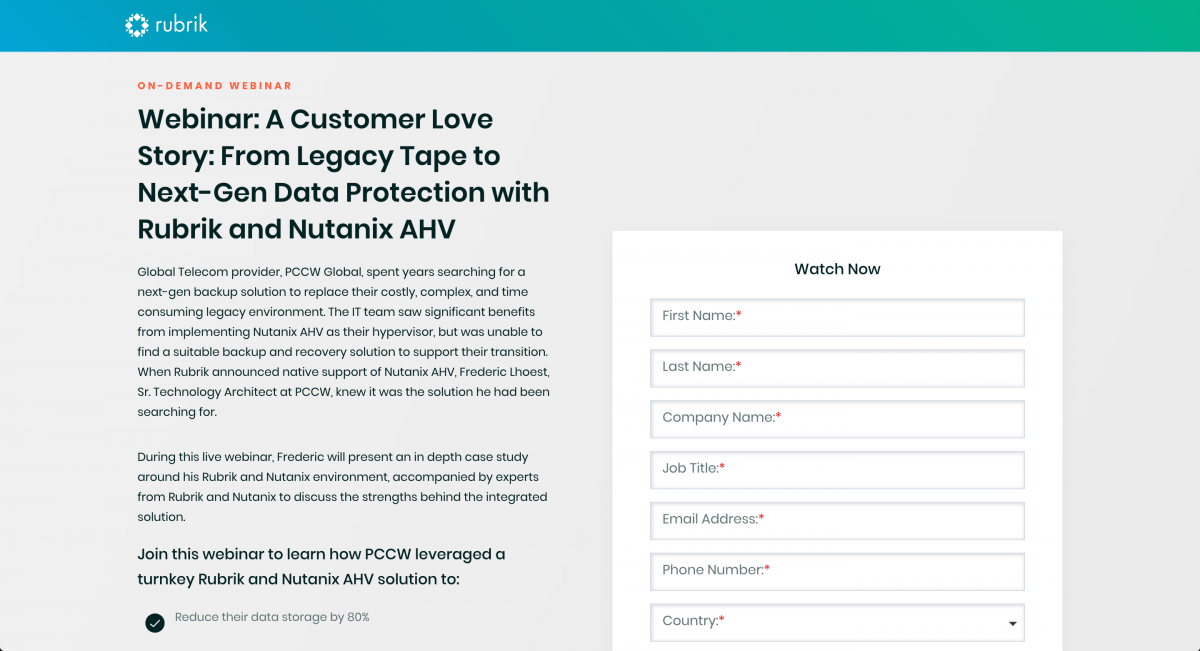 This is a great opportunity to show your leads or prospects how your users or customers are overcoming different challenges and achieving their first success.
🖊️ Take note:
When designing your webinar strategy, you can always pursue different goals. In other words, you can run webinars to showcase different success stories, educate your audience on industry-related topics and trends, run demos, or introduce new features (or all of these at the same time).
Webinar branding

This is a big one.
Usually, companies will just create content categories such as live or upcoming webinars and recorded webinars.
Yet, they won't spend too much time on branding their content.
Not branding their content, however, strips them from the opportunity to showcase their brand and make their webinar series truly memorable.
Moreover, when you're running a branded webinar series, you'll gain more leverage when reaching out to potential speakers.
Unfortunately, only 21.7% of SaaS companies are branding their webinars, although they are all doing it very well. Let's look at some of them:
Snowflake Branded Webinars: Talk to a Customer Live, Virtual Hands-on Lab, and Snowflake Live Demo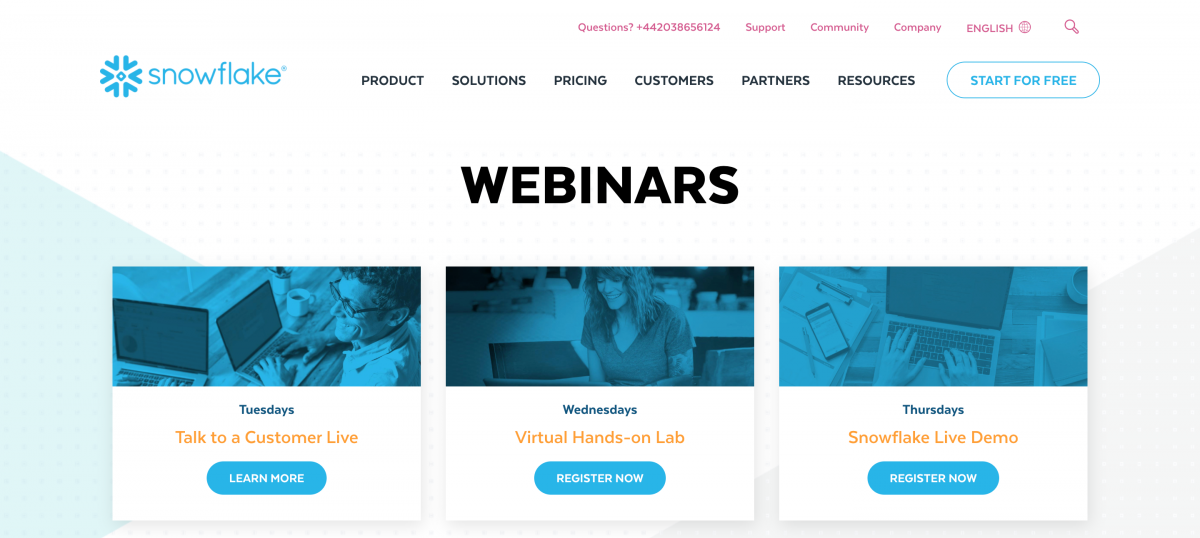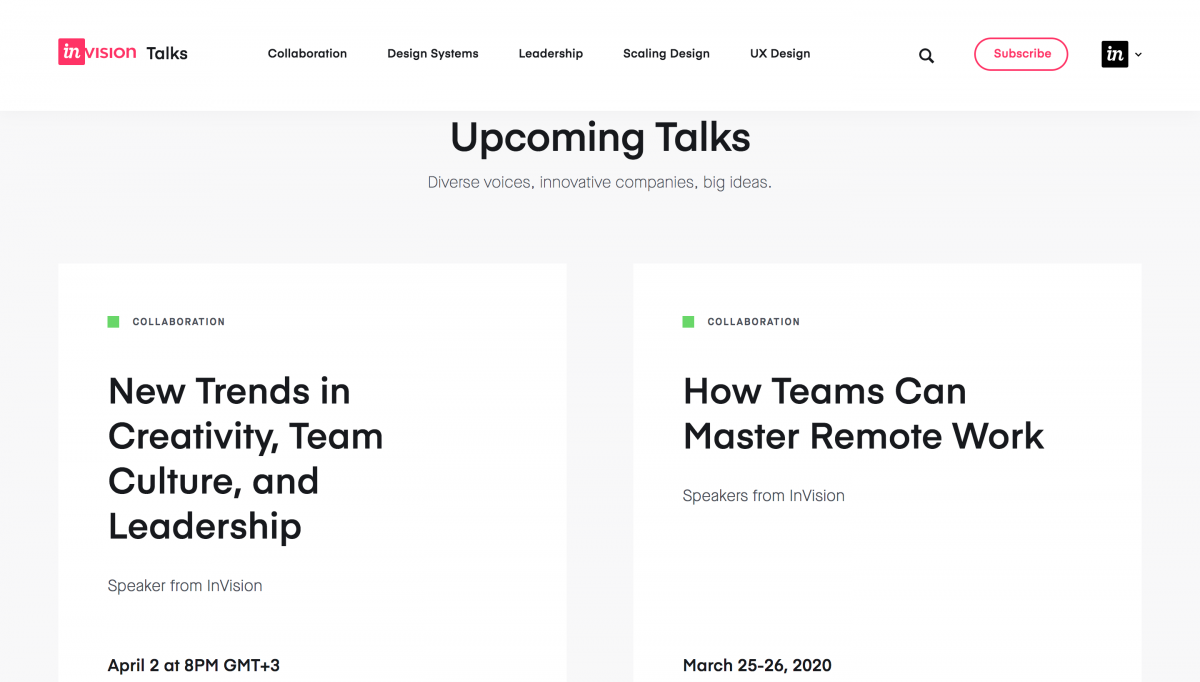 Walk-Through Webinars from Monday.com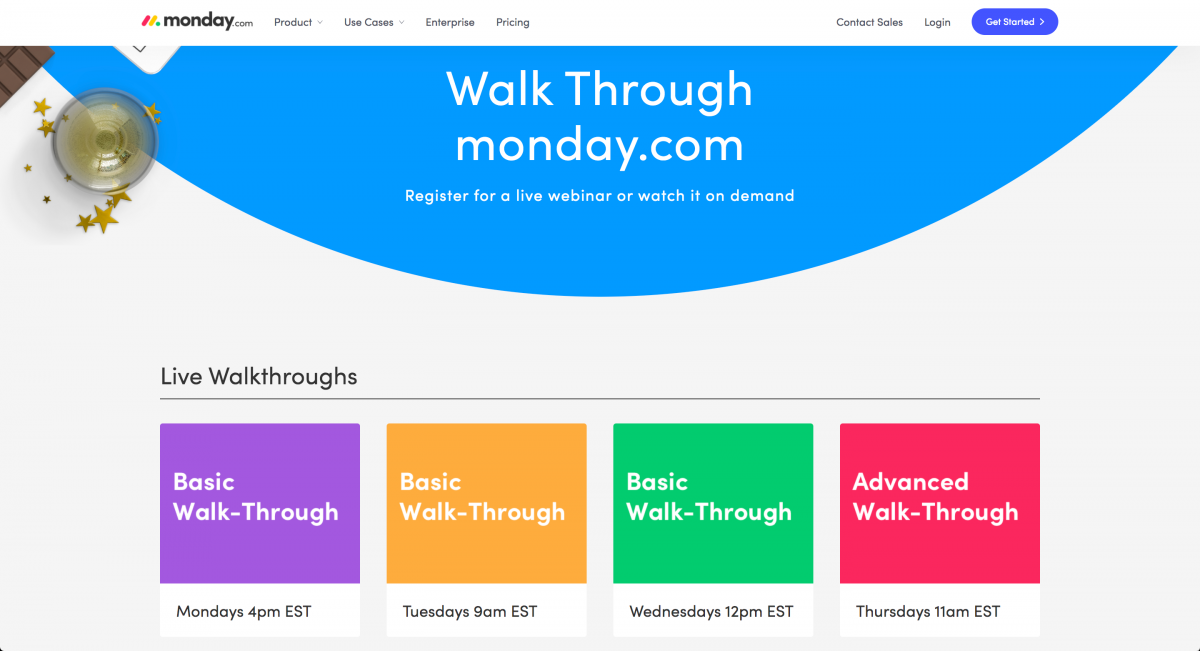 Ecommerce Fraud Webinars from Riskified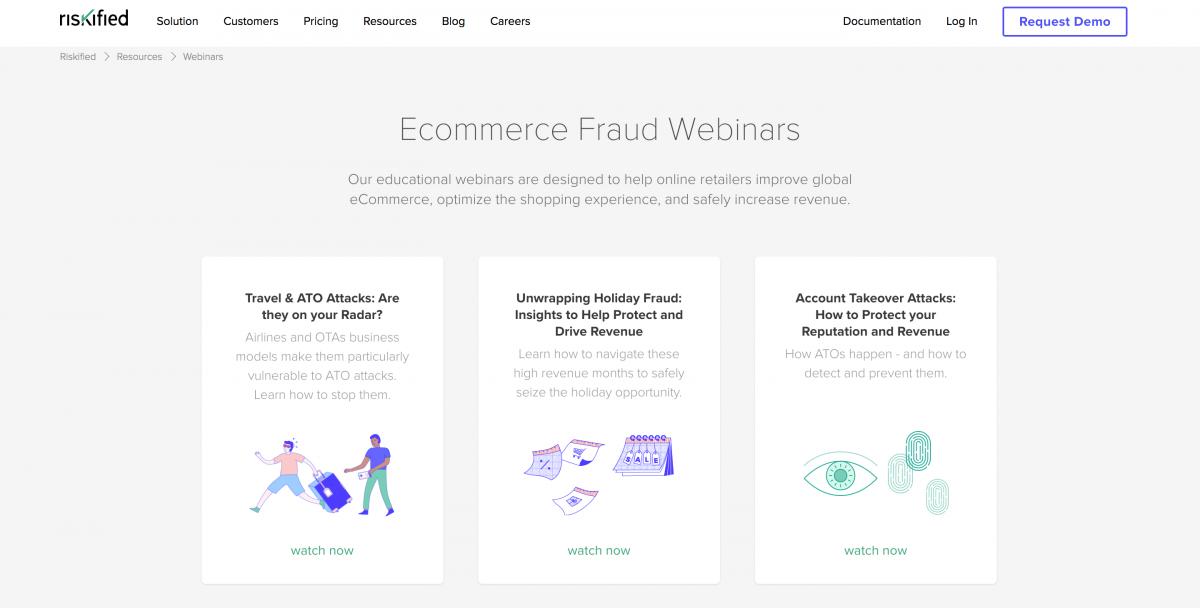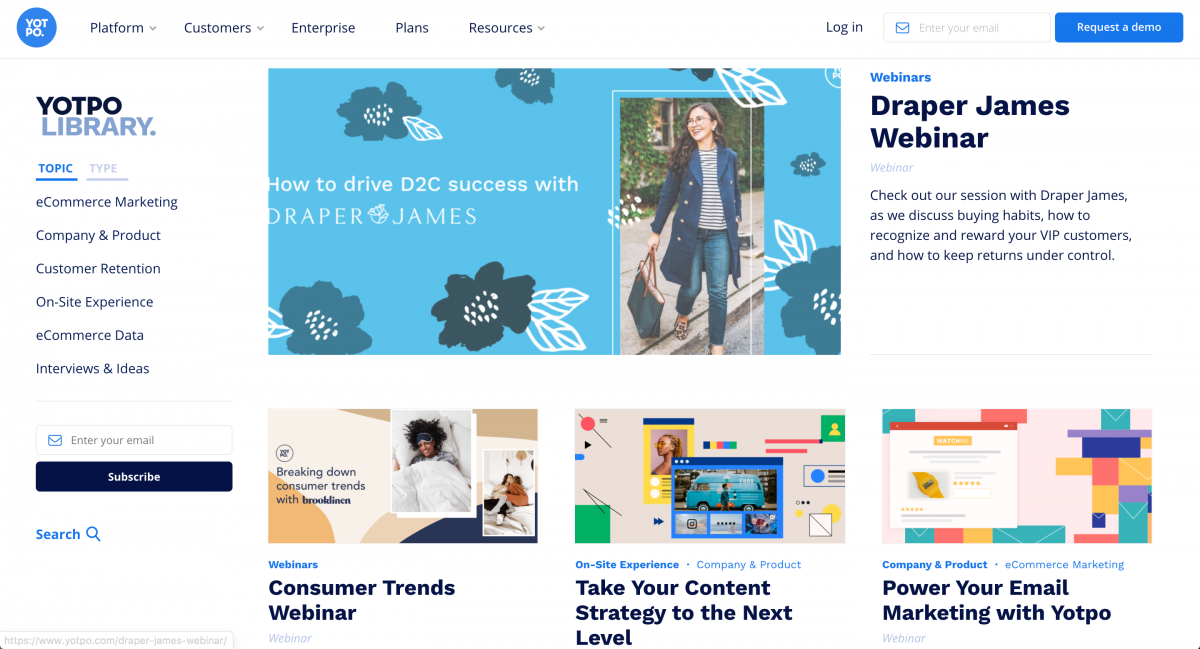 🖊️ Take note:
Webinar branding is essential, especially when promoting your content. People will be able to identify your webinars easier and associate them with your brand or company. And in most cases, webinar branding doesn't require much. On the contrary, it's just two simple steps: 
Create a webinar series and come up with an attractive name for it
Design webinar featured images that are aligned with your brand

When it comes to the webinar formats, there's not a great variety. We focused on webinar interviews, conversational webinars , and one-person webinars. 
Interviews and conversations were prevalent. Many of top SaaS companies invite industry stakeholders to interview them as part of their educational webinar content.
Example of Conversational Webinar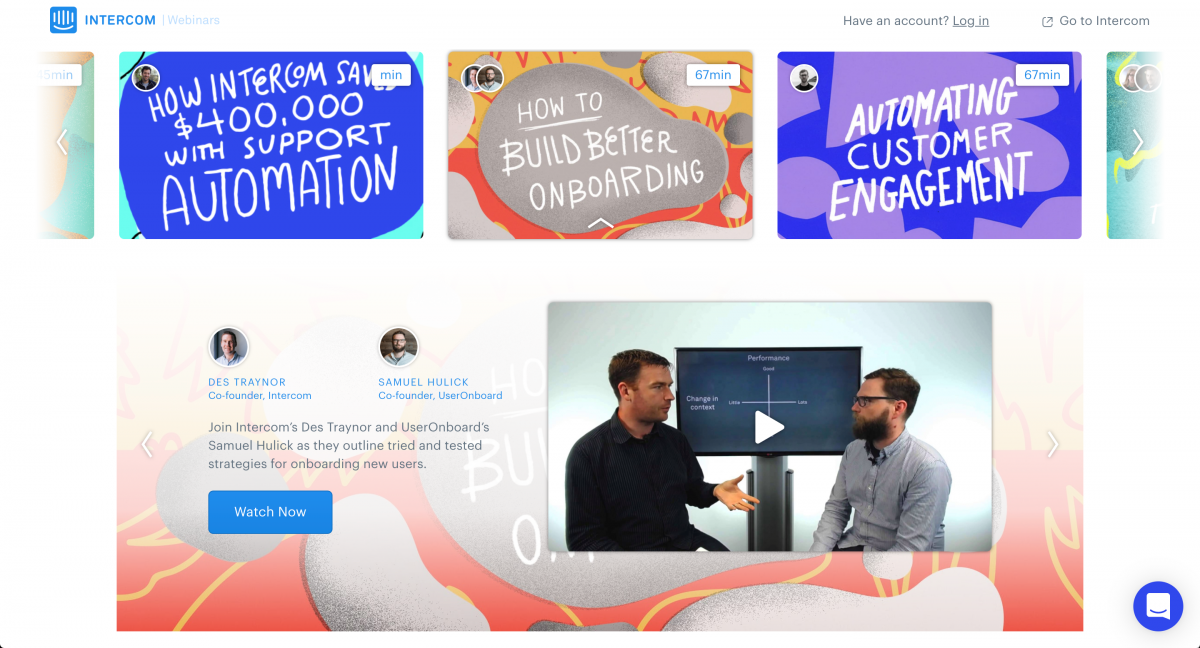 75.6% of brands run interviews with different experts, C-level executives, and professionals on topics related to trends, best practices, and strategy.
You can definitely take advantage of this format and enhance your relationships with industry stakeholders by inviting them as webinar speakers.
Plus, you'll gain access to their audience, too, as most of the time, these people will share the webinars.
Next, the majority of SaaS brands hold conversational webinars.
For example, there are cases in which two company professionals are discussing an industry-related topic or a new product feature. 91.02% of companies have two or more people running the webinar.
Finally, 65.3% of brands will run webinars with just one person. These recordings are typically accompanied by a slide deck. Usually, when it comes to one host or person only, the webinars are more product-oriented (such as demos or feature videos).
🖊️ Take note:
We recommend you diversify your webinar offer. Apart from running one-person webinars, focus on making a list of industry stakeholders and email them to ask them to be speakers for your webinar series.

Highlight the topic and questions you'd like to discuss with them. Having more than one person running the webinar will make your video more dynamic, as well as ensure a higher degree of knowledge transfer.
Additional webinar content

Sustaining your webinars with additional content is a great way of keeping your audience educated or even qualifying your leads.
Whether you're offering webinar slides or a topic-related eBook, it shows your viewers that your connection to them doesn't end once the webinar is over. 
Unfortunately, only 21.7% of SaaS brands are providing additional webinar content, such as slides, scripts, or material.
Webinar slides from Veeam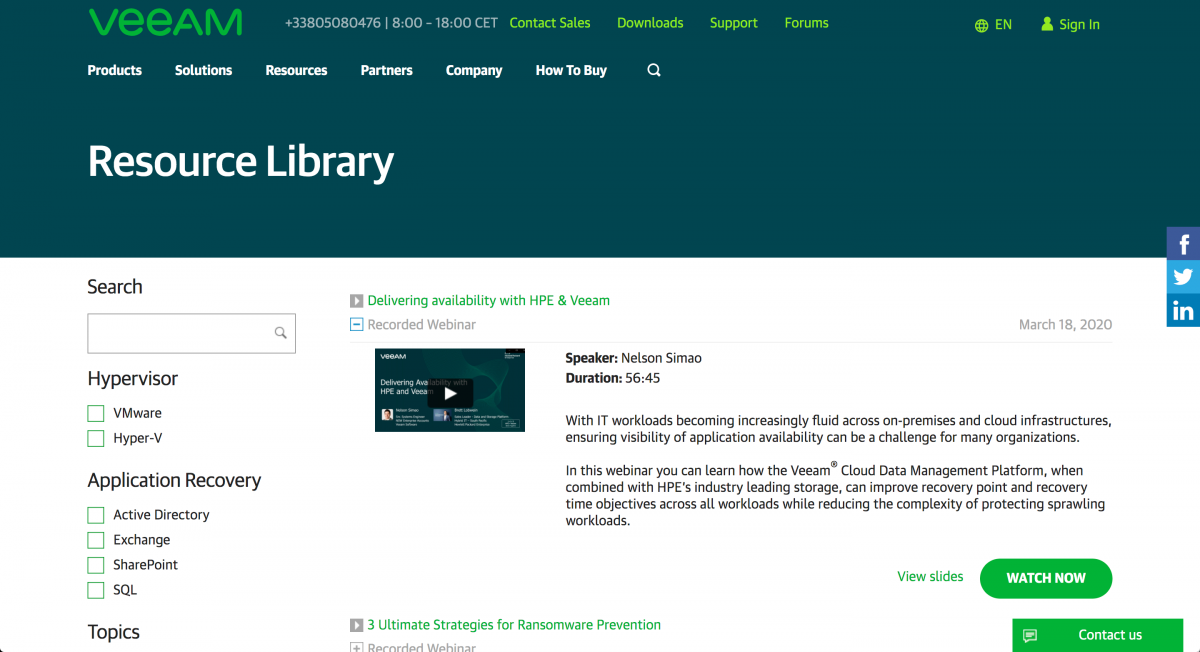 Webinar Highlights from Blend
🖊️ Take note:
If you want to deepen your connection with the audience even further, don't limit yourself to just webinars. Try to offer additional webinar materials, such as the …
Speakers' slides
eBooks
Checklists
Playbooks
Podcast links
Webinar scripts
etc.
Your viewers will appreciate it.
You can also gate some of this content and expand the qualification of your leads with a different content download form.
Language options

If you have an international audience, it's always good to offer your content in several languages. Furthermore, you may want to generate authentic webinar content between each language so that it's specifically aligned with the needs or particularities of that audience.
We discovered that only 17.9% of the Saas companies run webinars in other languages.
Some of these brands run webinars in English and a second language, such as Spanish or German.
Other companies publish webinar content in more than two languages.
Cloudfare Multilingual Webinars



Monday.com Multilingual Webinars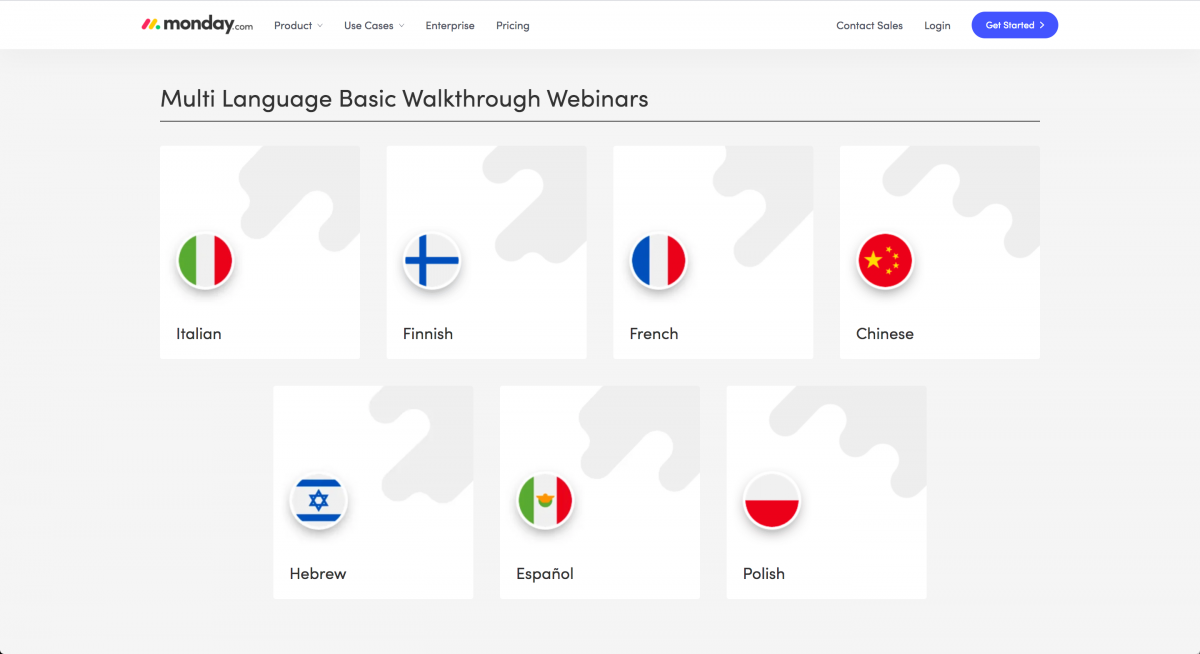 🖊️ Take note:
If you have the possibility to do so and are running an international SaaS company, it's definitely a smart idea to publish your webinars in several languages. This will help you better connect with your foreign audiences and tackle their specific challenges.
Gated or ungated webinars

What should you do with your webinars? Should you share your content for free, or should you gate it?
We learned that some companies offer both free and gated content.
For example, they provide free access to the video recordings, but gate all upcoming webinars.
To be more specific, 26.9% of companies offer both gated and ungated webinar content. Meanwhile, only 12.8% of share ungated webinars exclusively.
🖊️ Take note:
We advise doing both.

For example, your new features-related webinar can be un-gated. This way, your audience will get more familiar with your product.

Some companies will also offer un-gated demo webinars. You can do the same. However, we think that gated demo webinars are a great opportunity of capturing those leads who are at the bottom of the funnel and are ready to invest in a solution that will help them overcome a challenge they have.

On the other hand, with gated educational webinars, you can capture those leads who are at the top and the middle of the funnel and continue nurturing them via newsletters and more valuable content, building a strong connection. 
Registration form

We also decided to analyze the webinar access forms, evaluating their length. To clarify our criteria, we considered short those registration forms that have less than five questions.
Subsequently, we considered long those registration forms that have more than five questions.
We discovered that more than half of the SaaS companies will require people to fill out long registration forms that contain more than five questions.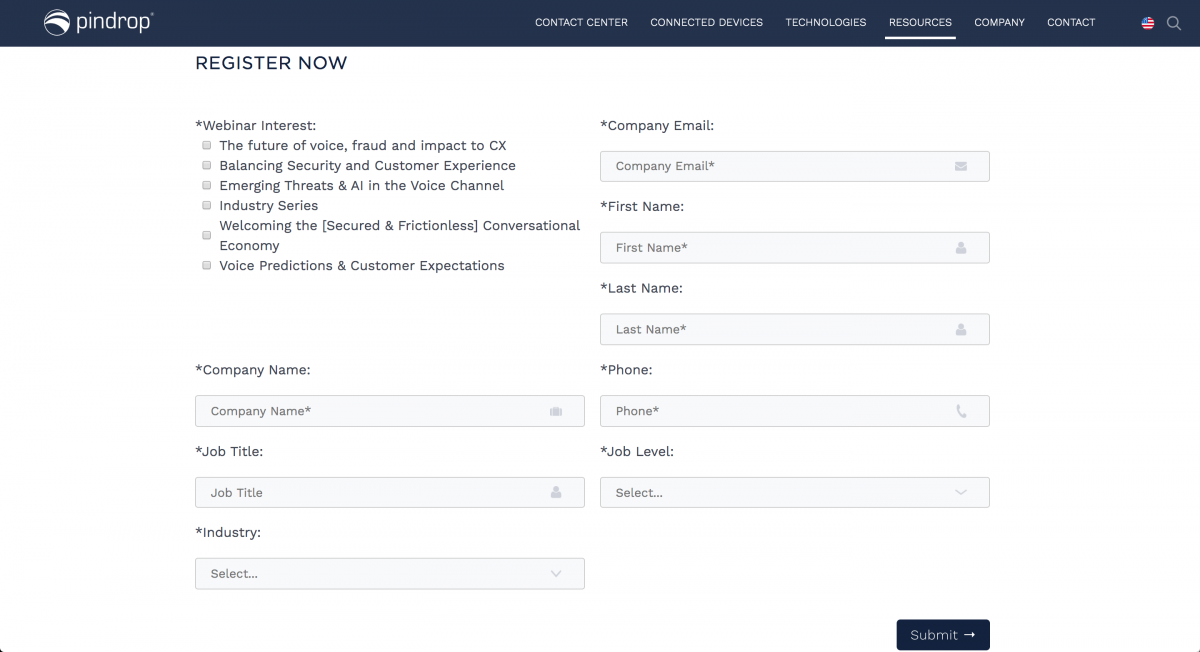 What's surprising though is that 11.5% of brands experiment with both types of registration forms, depending on the type of content and the lead qualification stage.
🖊️ Take note:
Our advice is to attract your leads and get them to register using shorter registration forms, but always using their business address (if you're running a B2B company, obviously).

And then, if your leads are interested in accessing a second webinar or a content asset, you have them complete a different registration form (which can also be a small one) providing more information about their profile.
Your webinar strategy
Although we've uncovered plenty of data and this article is packed with information, there's one conclusion we'd like to highlight.
We've analyzed the crème-de-la-crème SaaS brand companies, and what we discovered is that 78% of them have an active webinar strategy and run webinars for their customers, prospects, and overall audience.
This fact alone shows the marketing and sales impact webinars have in along with their contribution to company growth. So if you're still not sure whether to set up a webinar strategy and start running webinars, remember these highly successful companies.
DOWNLOAD YOUR FREE WEBINAR STRATEGY CHECKLIST BELOW
Use this checklist
to design your very own high-converting webinar marketing strategy from scratch, then automate the process to attract high-quality leads.
We promise to never spam or send emails about cats.
Okay, maybe some cat stuff.