In 2021, more than half a million webinars were hosted on Demio. 🤯 Thousands of leaders ranging from tech marketers to health and wellness marketers embraced online events to engage prospects and delight customers.
What does this mean for you? Over 500,000 webinars generated a TON of data and course, we couldn't let all that data go to waste…
So here it comes: the ultimate webinar benchmarks report that will help you set goals and measure success based on the most important attendance and engagement metrics. Let's dive in!
1. How long can webinar attendees stay focused?
2021 was a great year for experimenting with engagement marketing practices at webinars. The 77% focus rate proved audiences are paying attention.
Demio's focus rate tracker looks at whether or not an attendee has the webinar open as their main tab or they multitask on several tabs during the event. We also measure focus time based on activity on the webinar tab. So if the attendee has their eyeballs on the virtual event screen instead of mousing over other windows, you have their attention.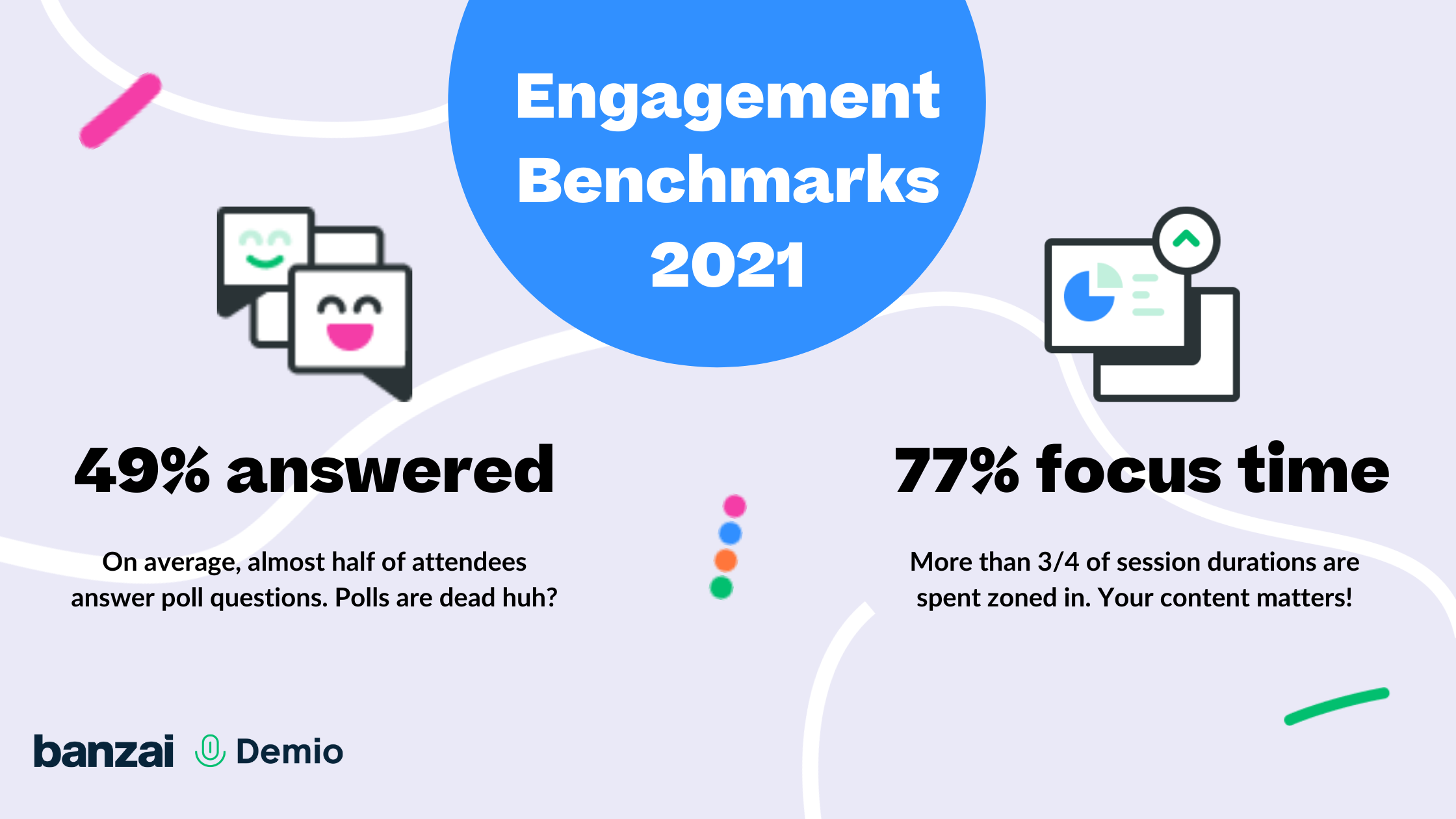 2. What is a good poll response rate?
Using polls as part of your webinar content can be nerve-racking. What if no one responds? Fear not! Demio webinars with polls had an average 49% participation rate.
So, ask those questions! Polls are a great way to make your webinars interactive, solicit audience feedback, keep your attendees engaged, and drive relevant conversations.
3. Should you use handouts?
In 2021, users took advantage of Demio's handout feature to provide their attendees with additional resources and content throughout their webinars.
This can be a workshop sheet to fill during the event, a coupon to encourage purchases, a case study to read after the webinar, or a useful toolkit or checklist.
This powerful feature didn't disappoint: Demio saw more than 800,000 downloads during webinars hosted on the platform.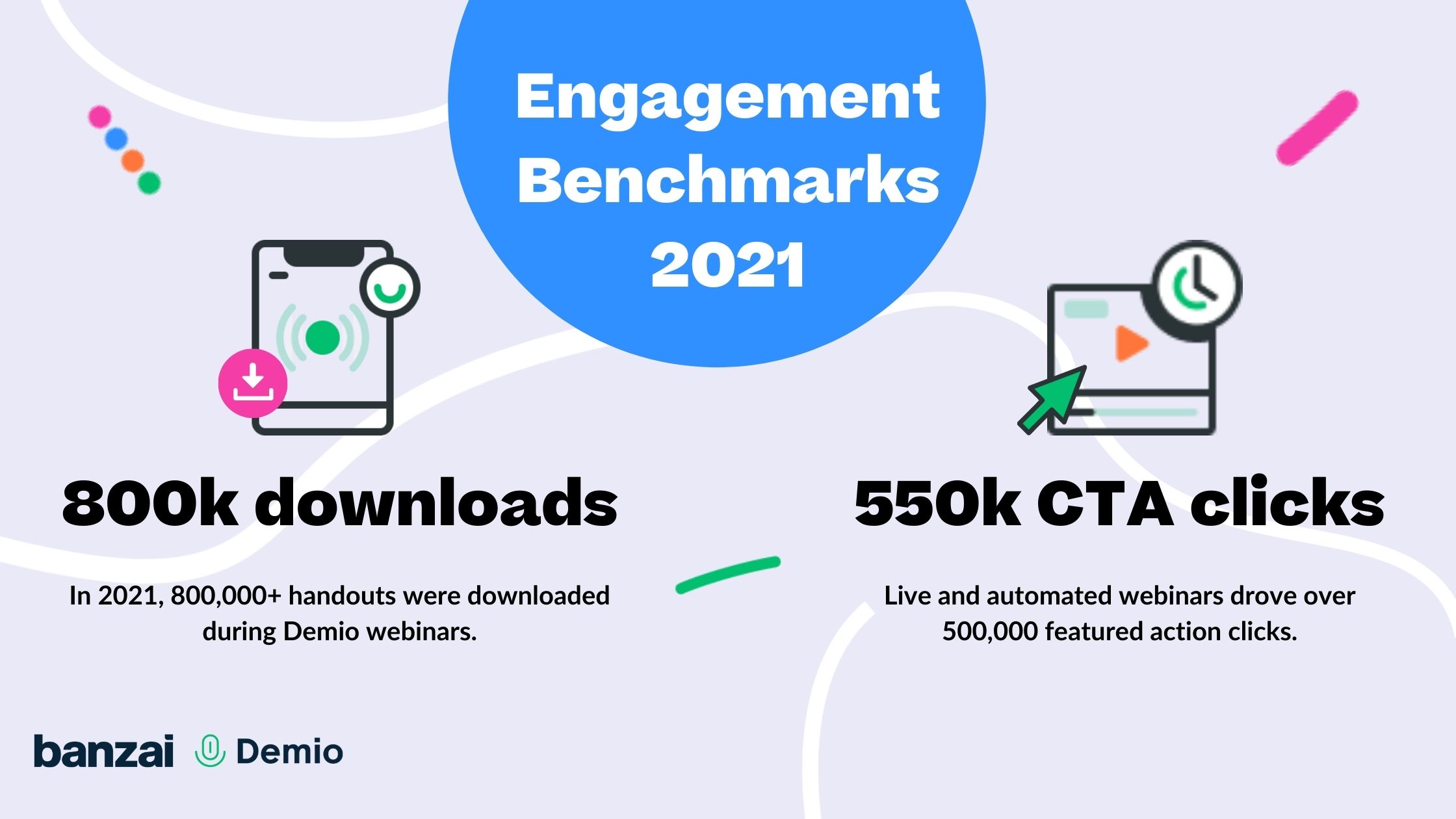 4. Do people click on CTAs during virtual events?
Webinars hosted on Demio can launch a CTA or featured action for their audience to pursue. This might be a specific promotion, a 'Book a demo' link, or anything that drives an audience to take action.
Throughout 2021, there were more than 550,000 featured action clicks across all events run on Demio. So next time you're debating whether you should add a call-to-action to your virtual room, just go for it!
5. What's the best time to host a webinar?
Our data shows there's no time of day when a webinar isn't running. 🎉 Isn't that amazing to think about? You could tune into a Demio webinar while drinking your morning coffee, letting some steam off during happy hour, or battling insomnia at 3:30 am.
However, the best time to run a webinar is 11:00 am EST/8:00 am PST.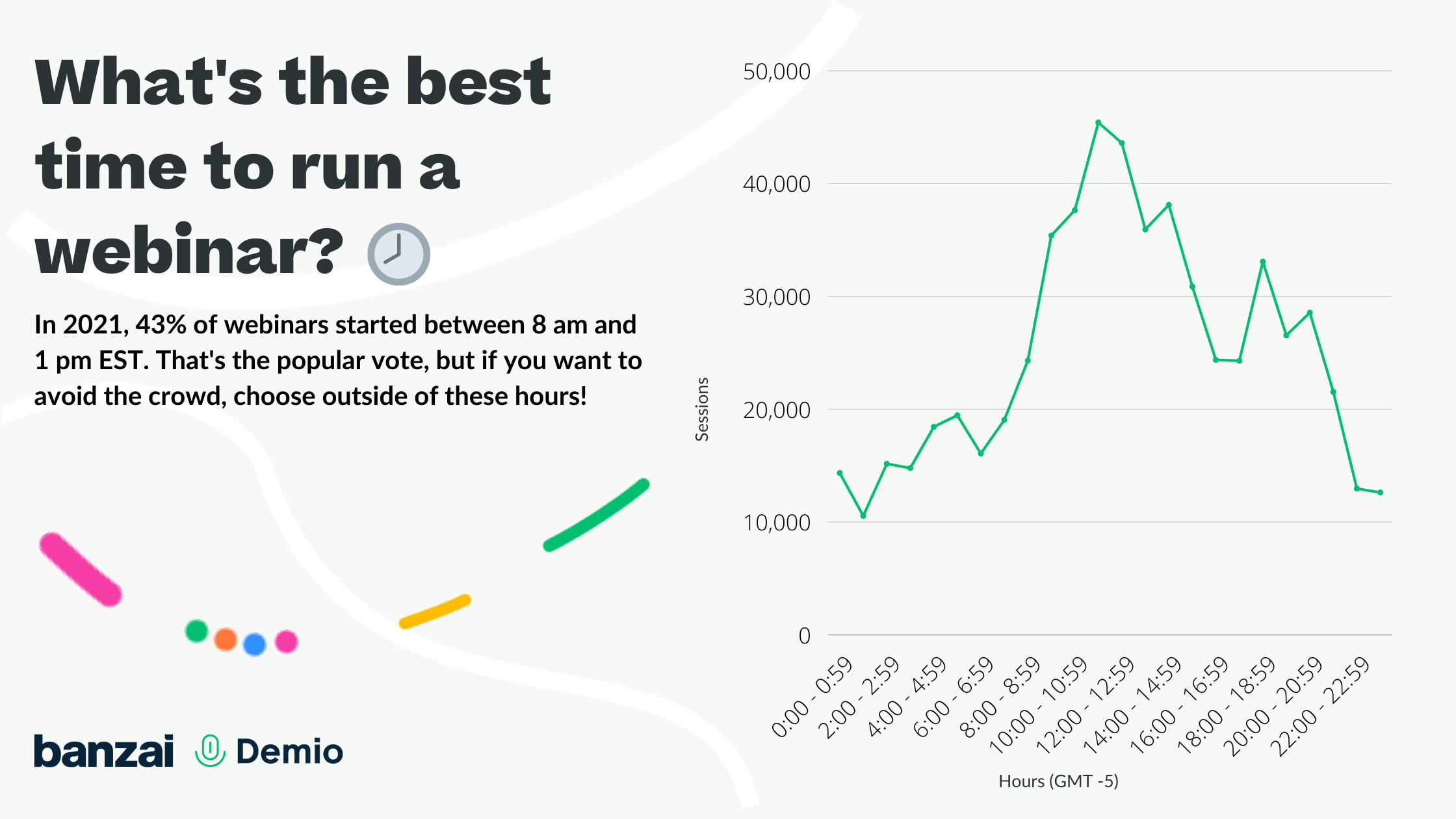 43% of standard webinars in 2021 started between 8:00 am and 1:00 pm EST.
You can use this information in a couple of ways:
1. Try hosting your webinars during this time. See if it increases registration and/or attendance rate.
OR
2. Try hosting your webinar outside this time to see if you can break through the webinar noise. A lot of competition is vying for your audience's attention from 8:00 am-1:00 pm EST (and not just webinars), so running your event during a less popular time might be just what you need to get in front of your target market.
6. What's a good webinar show-up rate? [Live]
Great news! Demio's virtual attendance statistics show that people want to attend live webinars. Demio customers saw an average live attendance rate of 52%.
So there. Use this benchmark to forecast attendance for your first webinar or to beat during the next one!
People are busy, and attending webinars live is tough. BUT when the content is engaging and helps people be great at their jobs, they'll make the effort to attend live. Knowing half your registrants attend in real-time can help you create webinars that engage your live audience and provide value to anyone who watches on demand.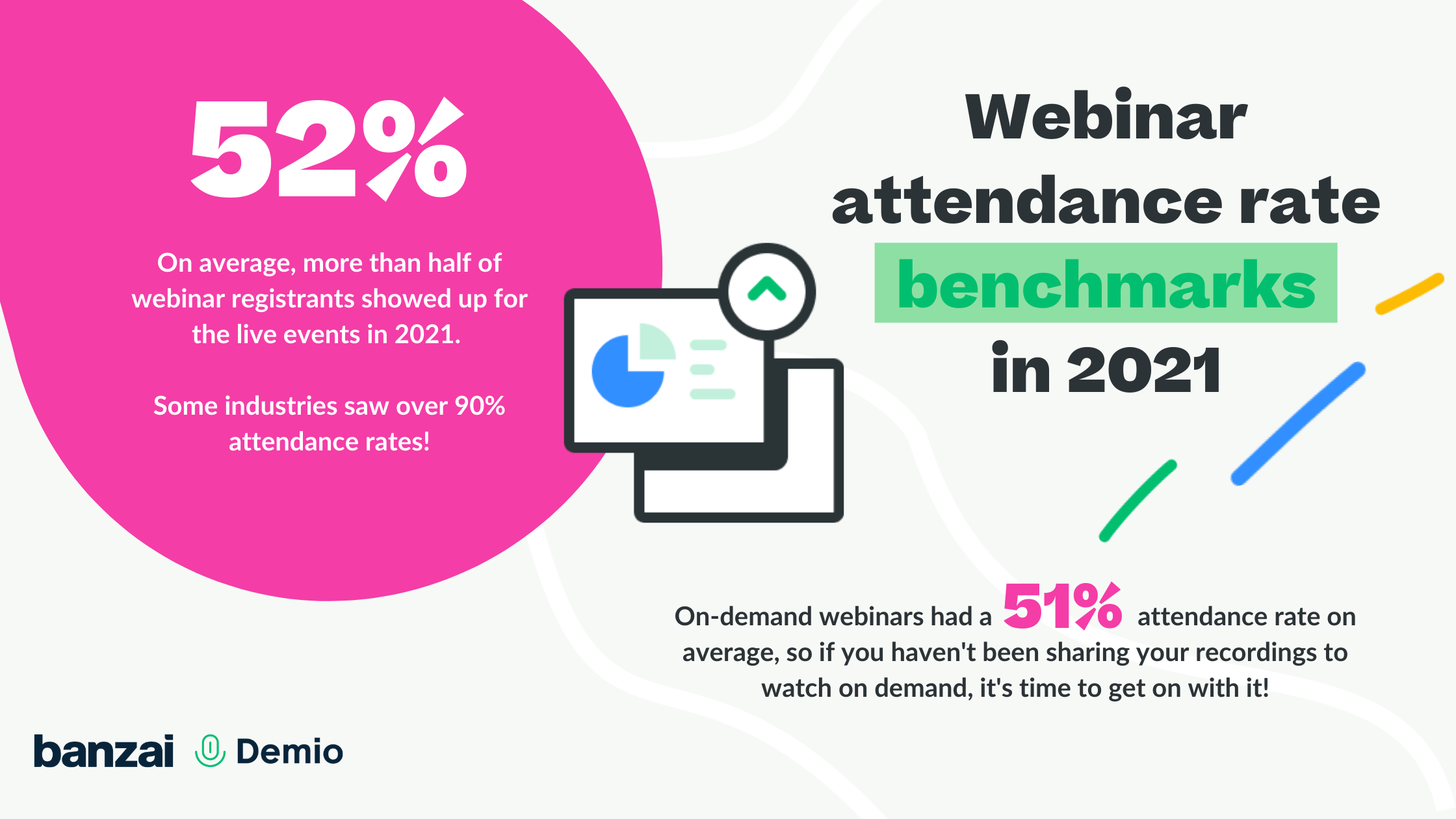 7. What's the usual webinar attendance rate for on-demand events?
It can be tempting to not have an on-demand strategy and just let your webinar recording exist as is after your event. Based on Demio's attendance numbers, you might want to rethink that plan. Creating on-demand webinars is a great way to connect with your audience on their schedule.
Demio saw an average on-demand attendance rate of 51% — only 1% lower than live events.
Knowing people not only register for but also attend on-demand webinars shows that optimizing your on-demand viewing experience can help you hit your webinar goals.
8. Are on-demand webinars popular?
The unofficial theme for 2021 was all about embracing on-demand webinars. Demio saw a huge, 156% increase in the number of on-demand events hosted on the platform.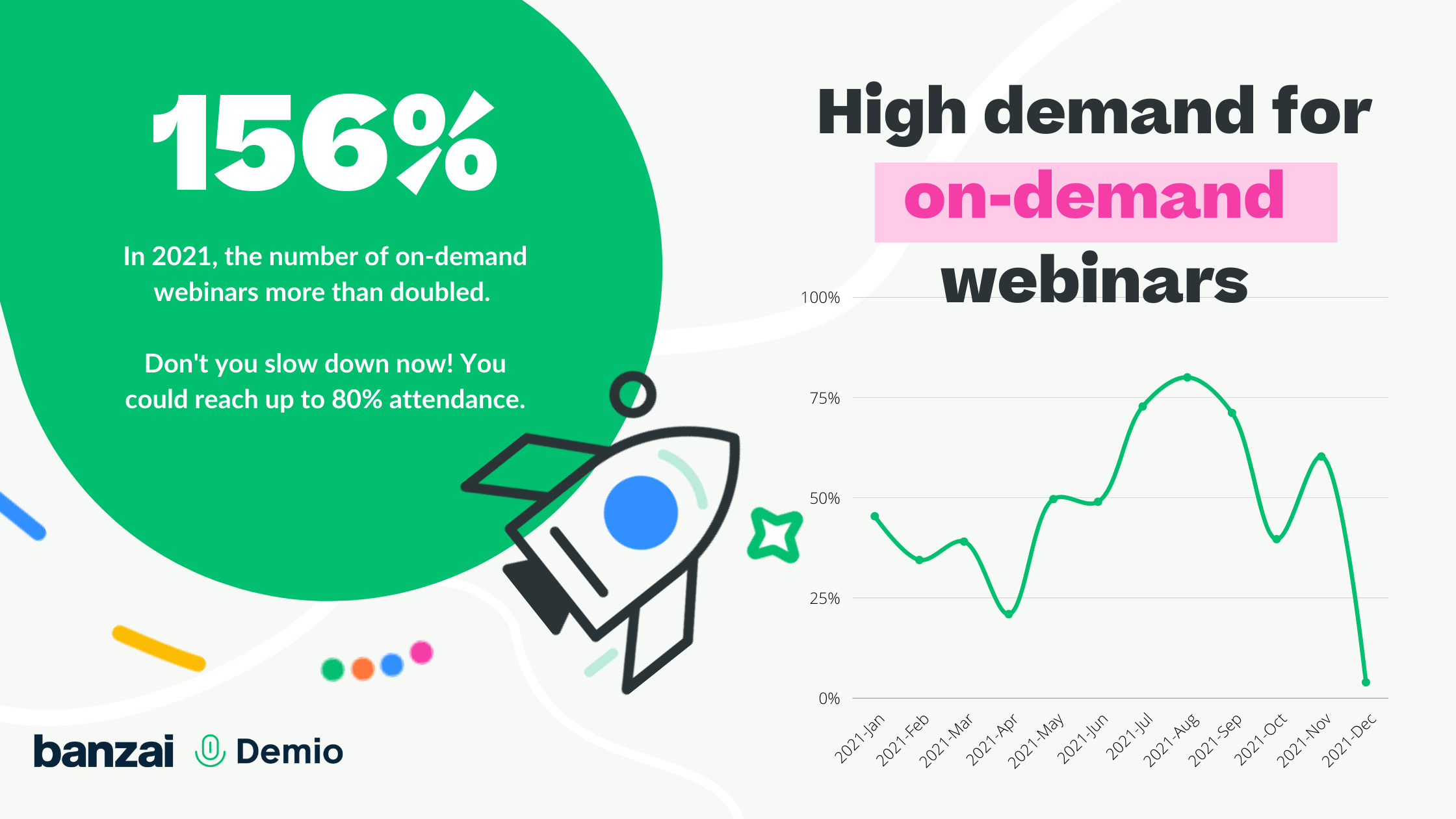 Marketers worked hard to meet their audiences where they were, which meant crafting webinar content guests could consume on their own schedule.
If you thought live events are the only way to go, it was time to jump on the bandwagon because…
9. Which industry has the highest webinar attendance rate?
The top-performing industries are those that ran the most webinars on Demio in 2021. Out of these groups, finance, entertainment, and the healthcare industry saw sky-high webinar attendance rates of 90% or more. The finance industry had the highest webinar attendance rate at an average of 98%, with webinars averaging 83 minutes. Other industries that saw excellent attendance rates include: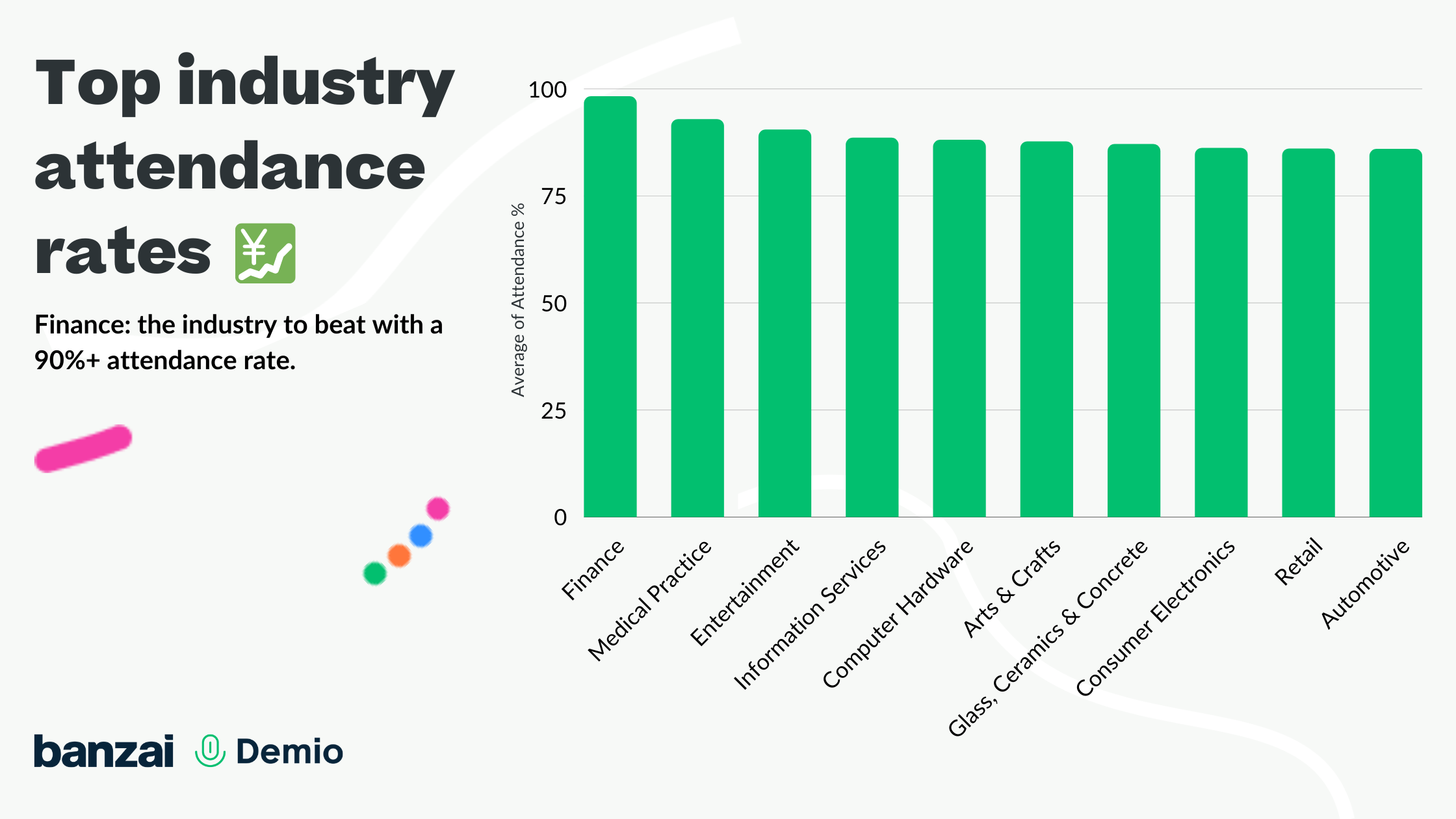 Information Services – 89% average attendance
Computer Hardware – 88% average attendance
Arts and Crafts – 88% average attendance
Glass, Ceramics, and Concrete – 87% average attendance
Consumer Electronics – 86% average attendance
Retail – 86% average attendance
Automotive – 86% average attendance
These numbers show high attendance rates are attainable. Attendees are willing to take time out of their day when the content is right.
10. What businesses run webinars?
Everybody's doing webinars! It's exciting to see how webinars impact organizations across a variety of industries. Computer software led the pack by hosting 20% of all of last year's webinars on Demio.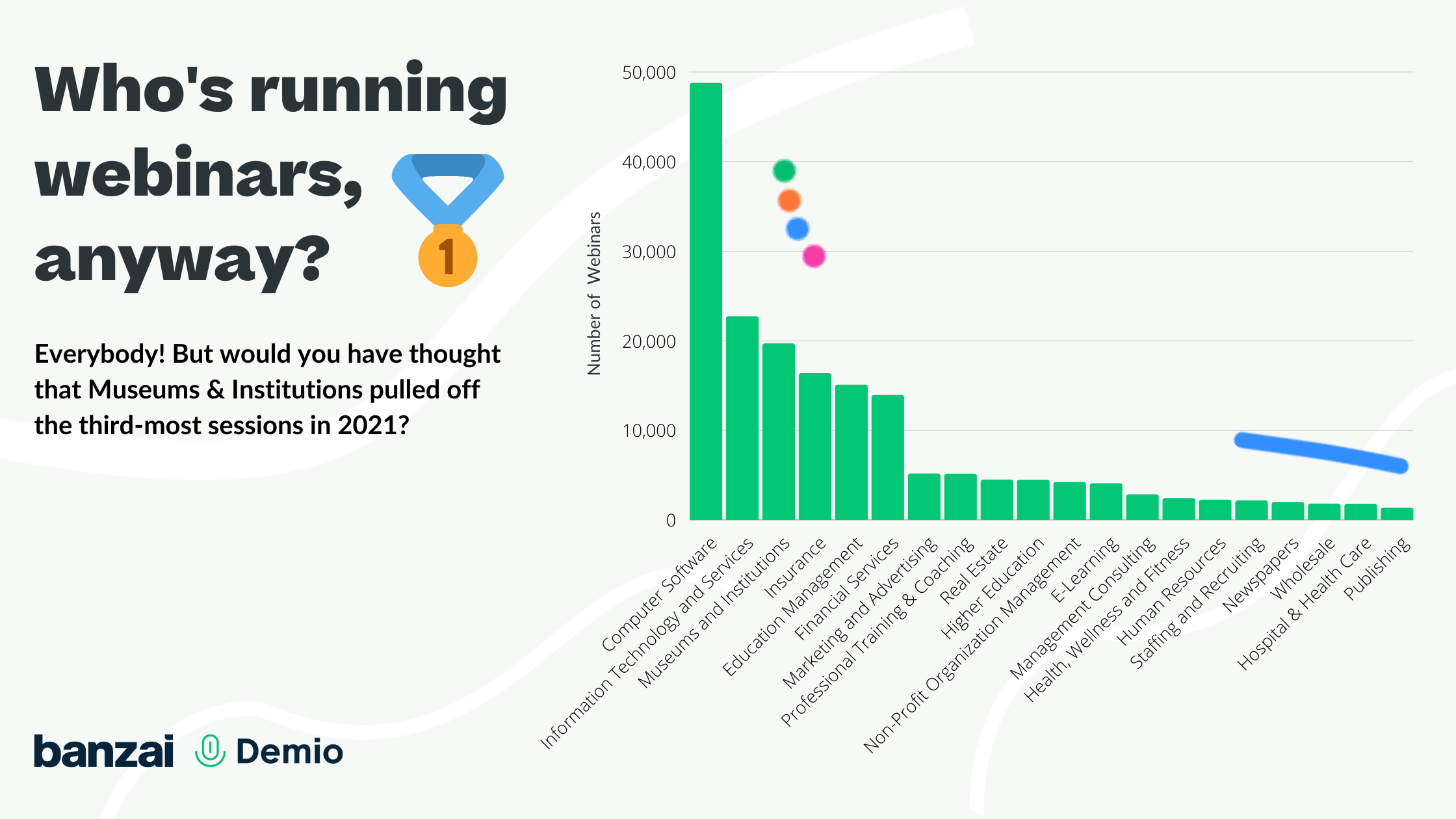 B2B and tech companies weren't the only ones hosting standard, automated, and on-demand webinars; we also saw hospitals, real estate companies, museums, and more, run engaging webinars to reach their audiences.
Can you imagine all those sorts of webinars?
11. Which industries run the most virtual events?
Computer software and financial companies run the majority of their webinars as standard events (not automated or part of a series). Out of the events run by computer software companies (20% of all webinars last year), 84% were standard webinars.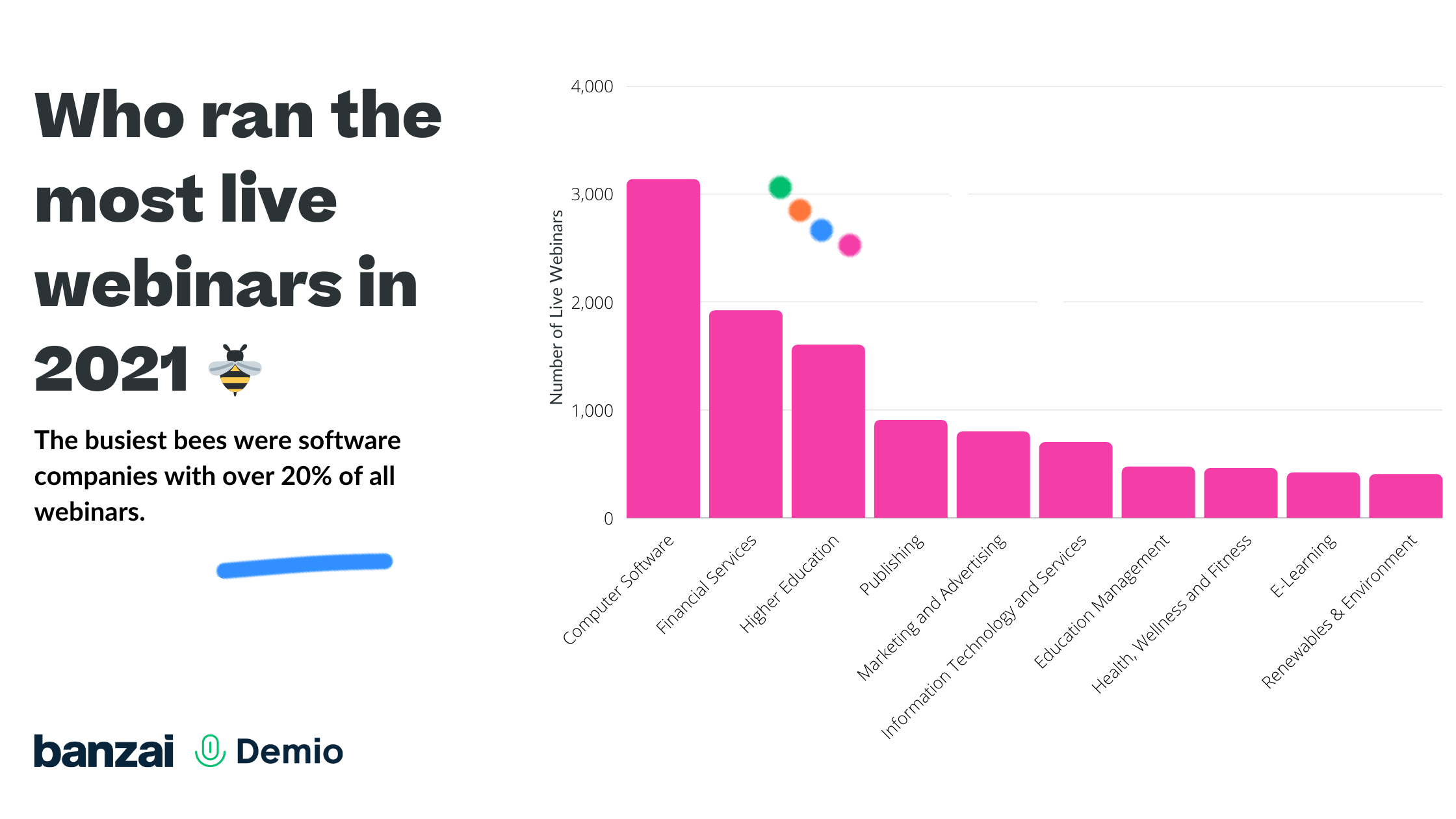 If you are in these niches, it could be a good idea to get ahead of the curve and get a head start on your automated and event series webinar strategy. 
12. Are automated webinars popular?
Automated webinars are an effective way to scale producing and hosting great webinars. In 2021, 51% of the webinars run on Demio were automated.
The professional training and coaching industry embraced automated events, with almost 90% of their webinars being automated.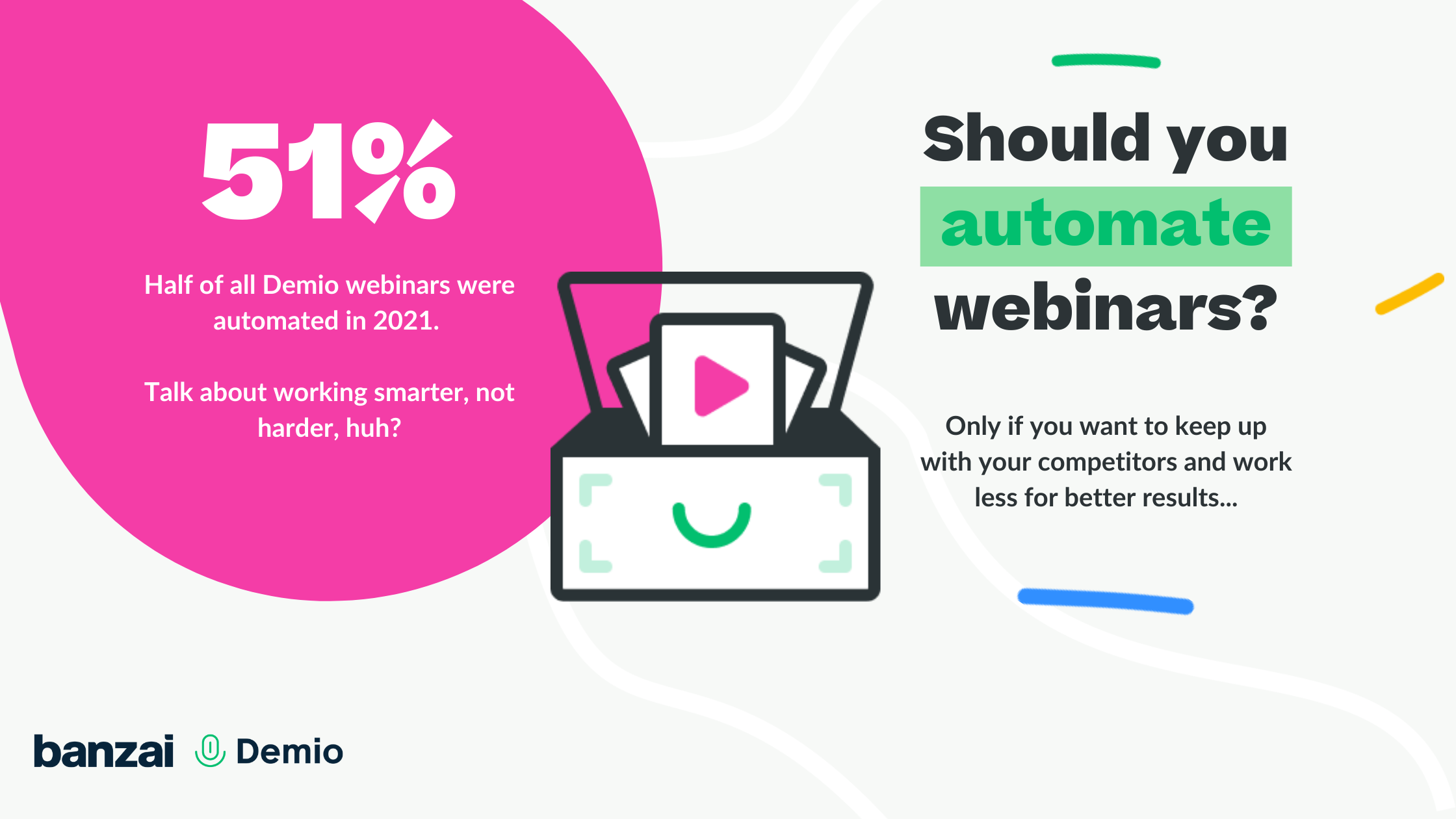 If you thought automated webinars are dull, think again! Let us show you how cool and engaging they can be: join our automated weekly Game Show!
13. How long should a webinar be? [Live]
How long should a webinar be? Well, that depends on how much content you want to share and how long you think you can keep your audience engaged.
The top 10 industries that produced standard webinars in 2021 saw an average webinar length of 64 minutes.
Medical practices kept their webinars under an hour, with an average length of 44 minutes while other industries such as education management found value in longer events, with an average webinar length of 93 minutes.
So why not test different webinar lengths for your business to see what sticks? Simply look at your post-event analytics and make decisions based on the average view time and focus time date.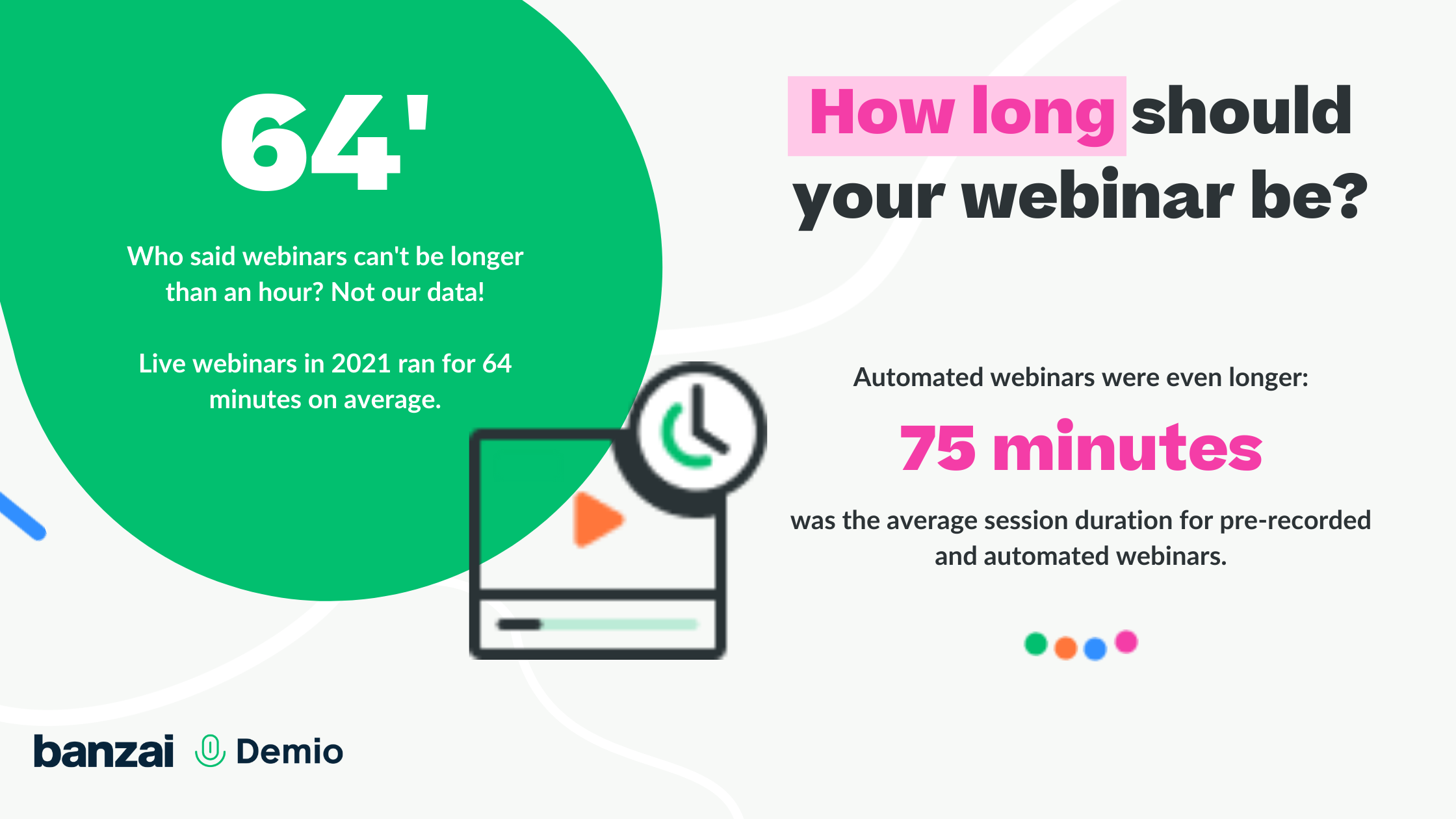 14. How long is too long for a webinar? [Automated]
In 2021, automated webinars lasted longer than standard events: The top 10 industries that produced automated webinars saw an average webinar length of 75 minutes.
Let's bring some of the data together! If the average standard webinar length is 64 minutes and for automated events, this is 75 minutes that using the avg focus time rate of 77%, then you just won 9 minutes of extra focus time!
So if you tweaked and repurposed standard webinars into automated sessions you might just overdeliver your webinar goals — especially awesome if you have a small team!
Both the newspaper and the higher education industries ran webinars that averaged over 2 hours. The computer software industry ran the most automated webinars but kept them at an average of 40 minutes. So the real question is how long is too long for your audience?
15. Does session length impact attendance rate?
The short answer is no.
Webinars of all lengths saw great attendance rates. The finance industry's webinars averaged 83 minutes, with a mean attendance rate of 98%. Meanwhile, the consumer electronics industry kept its webinars shorter at about 38 minutes per session, but it still saw strong attendance averaging 86%.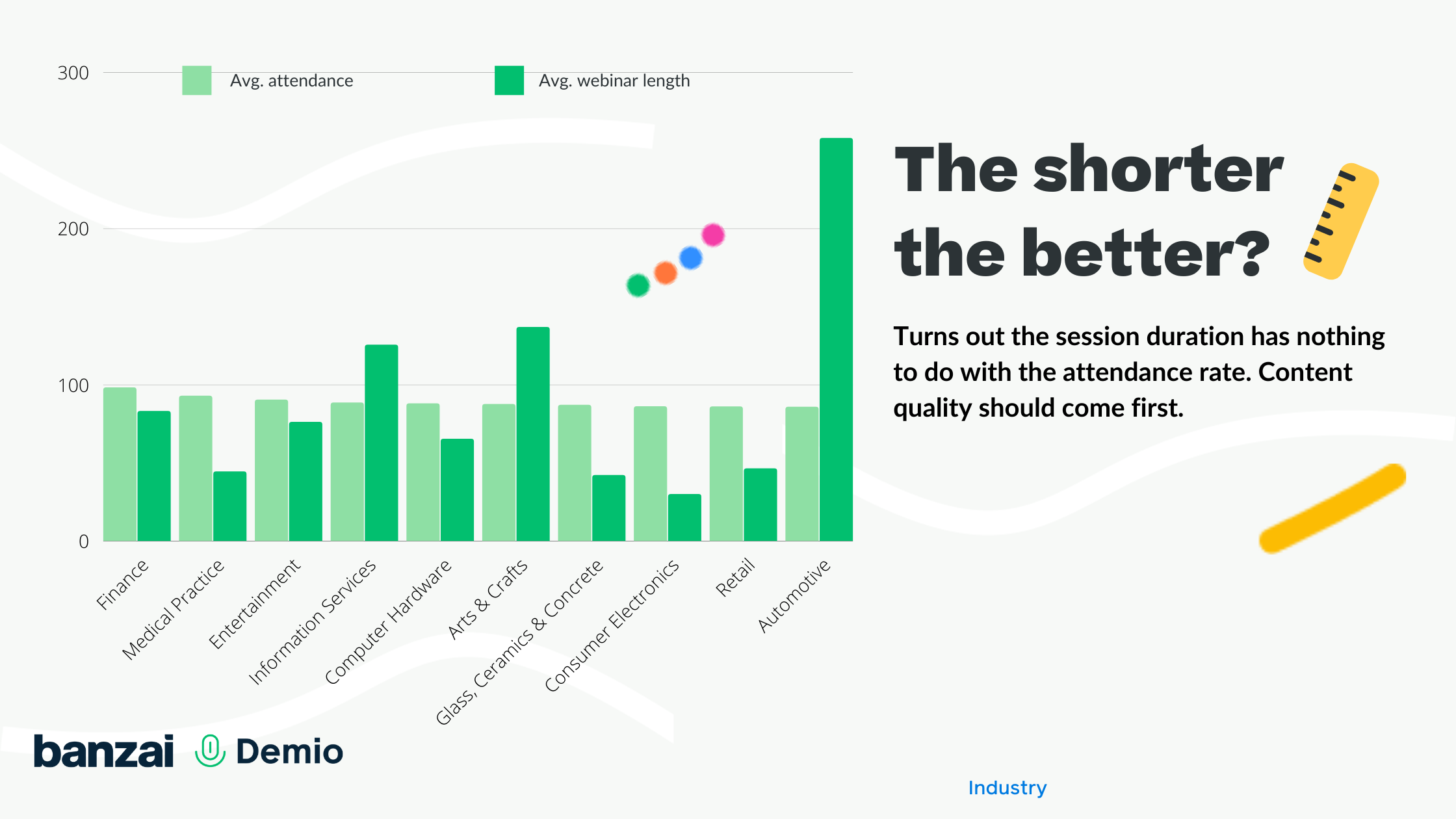 👆 Just another reason to test what works best for you.
Although you read earlier in this post that the best webinar length is 64 minutes and you can expect a 53% attendance rate on average, these are just benchmarks to hit and left behind. You can do it! 💪
16. Does team size matter?
It has been proven: size doesn't matter!
You can be a team of 20 or a team of one and still drive the same ROI from your virtual events. For example, Demio found industries like financial services and computer software have fewer employees but ran the most webinars last year.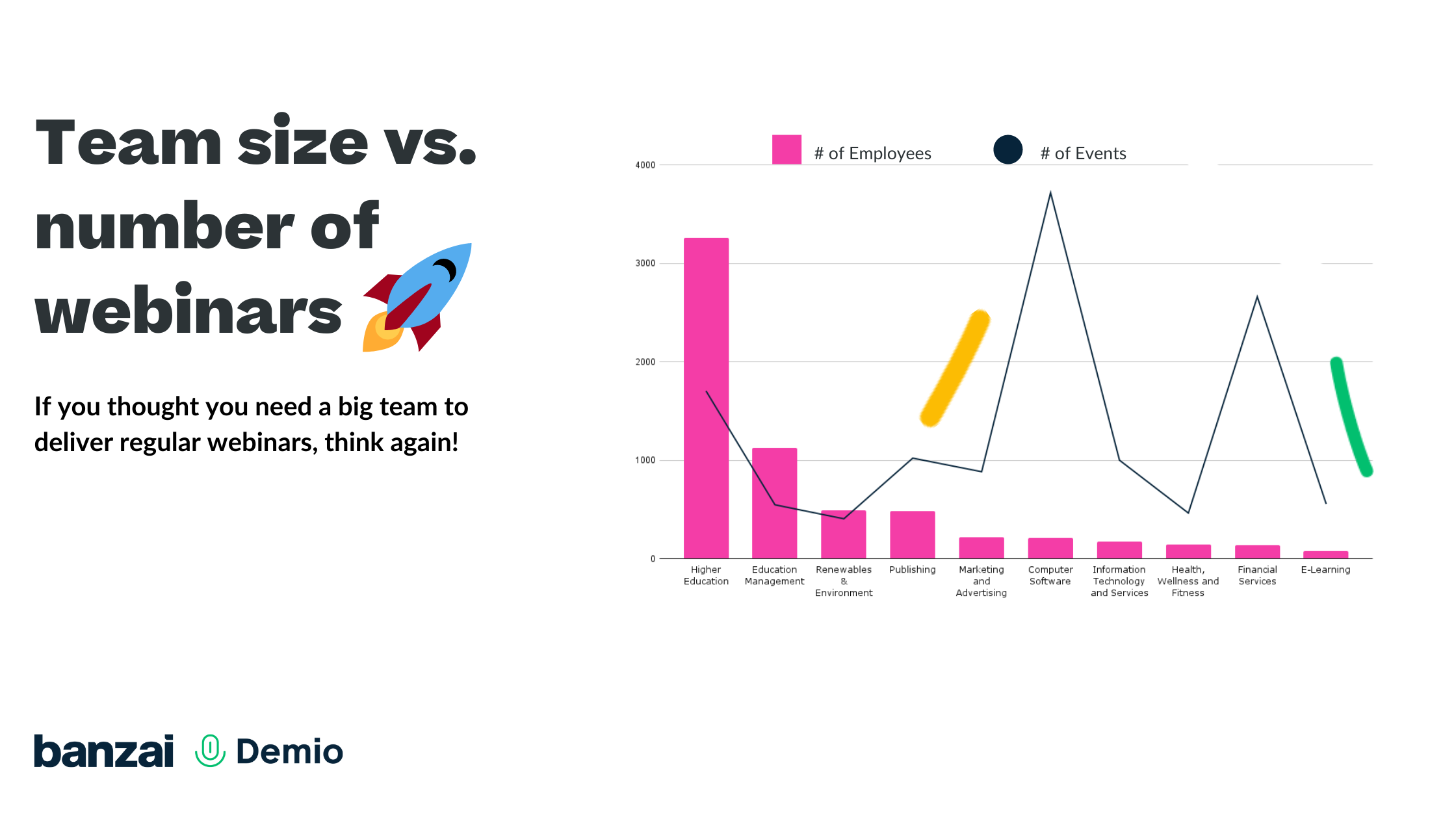 Webinars are here to stay, and we, for one, are thrilled. 🥳 Hopefully, these webinar facts will help you set expectations and achieve your goals.
And you know what? If your results are better than the average, brag away in the comment section — and share this webinar benchmark report with your colleagues to show off your over-benchmark stats!