"Good evening everyone, and welcome to our webinar!"

crickets chirping

Ah, no — wait.

You look at the chatroom—

A few people greet you back. One of them is Roy from the Sales Team who popped in to support you, so that doesn't count…

No doubt your webinar is super informative and helpful, but the effort is pretty much wasted if it doesn't attract a large enough audience to make it worthwhile.
DOWNLOAD YOUR FREE WEBINAR STRATEGY CHECKLIST BELOW
Use this checklist
to design your very own high-converting webinar marketing strategy from scratch, then automate the process to attract high-quality leads.
We promise to never spam or send emails about cats.
Okay, maybe some cat stuff.
Who's the culprit? Your webinar landing page. Yes, the page that was supposed to "sell" your
webinar
and collect registrations from your prospects. Looks like it needs some serious improvements.
What went wrong? You have a compelling headline; you followed the latest
graphic design trends
; there's a clear call-to-action. That's great. I mean it. These are undoubtedly essential and great to keep in mind, but still…pretty basic
If you choose to hook your prospects instead of losing them, go ahead and look at 10 webinar landing page best practices.
But Before You Jump Into Optimizing Your Webinar Landing Page…
…identify the possible problems. Designing according to best practices is one thing; figuring out why your current or previous landing page didn't work is another pair of shoes.

If you know something doesn't work, changing everything on your page is not the best approach. So, identify the main elements sabotaging your registrations before you fire up your landing page builder and start from scratch.

There are some great tools that'll help you analyze your webinar landing page (or any others, even thank you pages).
Heat Maps
A heat map allows you to track your visitor on your landing page (similar to how Google Analytics tracks your landing page traffic, only visually) and shows you what they click the most.

Do they skip the CTA button? Are they focused on some petty elements? Do they try to click a component that is not clickable?

Heat mapping tools will help you get into your customers' shoes and follow their steps. If you notice hot areas on your page that were not supposed to be that important (or no activity around key areas), it's a valuable clue telling you they do not work as planned.
Scroll Maps
Scroll maps show you how far (or how deeply) your visitors scroll on your page. The deeper they go, the better. But if they drop out too fast, it might be a warning sign that you have not managed to hook them with your above-the-fold part, or they did not find your USP (unique selling proposition) worth their time.
Webinar Landing Page Best Practices
What makes a landing page effective? The same principles that apply to any other product, be it digital or physical. Landing pages must appeal to your target audience, compel them to act, and meet their expectations.

And here's how you can make it happen.
Focus on Your Target Audience
Long descriptions and rich details can be tempting. After all, the more details you reveal, the more probable you'll hit the "Oh, that sounds like something for me" tune in somebody's mind. Right?

Well, not quite.

First, landing page descriptions are not essay competitions. If your prospects cannot scan your content and find "what's in it for me" in a few seconds, they're gone.

Here's a real-life example of Tidio's webinar conversational landing page. It's simple and straight to the point. If anyone needs to ask clarifying questions, they can do so using a built-in chat on the right side.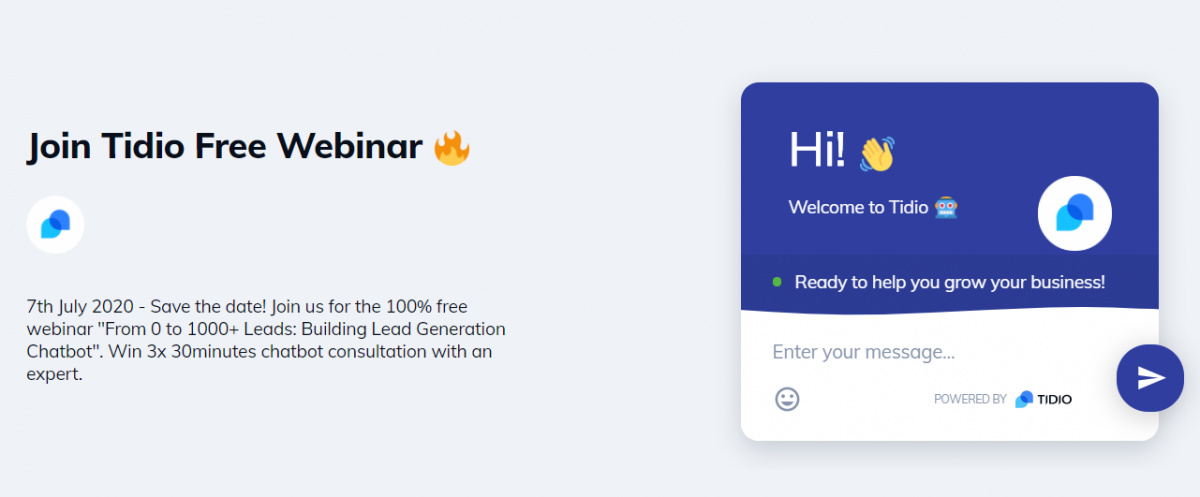 Don't over complicate your copy, as too much text causes confusion. Your prospects might start to doubt whether your webinar is really for them. Not to mention that getting unqualified leads is nearly as bad as no leads at all.

So always keep your ideal customer (customer persona) from your respective market segments in mind. They are your best bet for qualified leads.
Highlight USP
Show your audience explicitly why your webinar is worth their time and what they will gain from watching it. Hit on all their pain points and let your landing page scream, "We've got the solution!"
Not literally, of course…
There are thousands of other pages your prospects can browse and search for the information they need. So, why would they bother watching you? You can promise them a solution they really need and are unlikely to find anywhere else.
You can tune up your value and throw in some leading marketing experts into the game. For example, they could be world-class speakers at top digital marketing conferences all over the world.
Explain who these people are and why your audience should be thrilled to listen to them.
Add a Quick Webinar Teaser
People are consuming all sorts of digital content. But it is the video that hooks the most effectively and for the longest period of time.
So, instead of presenting your webinar values in plain ol' text, create a video that will sell your event to your potential webinar viewers. Best part? Videos are faster and more convenient to watch (or just listen to) on even small mobile devices compared to reading a wall of text.
Stress That the Seats Are Limited
Oh, limiting the number of available places or seats to an event. One of the oldest (and, to some extent, dirtiest) tricks in the book. (Your prospects do not need to know your counter is fake and the seats are not really limited.)
Classic, but it still works. If you manage to execute this trick properly, the "exclusivity and urgency" will push the hesitating prospects to register.
As a side note, if the seats are indeed limited, you may consider reserving the last remaining spots to keep as a reward in a Facebook giveaway contest.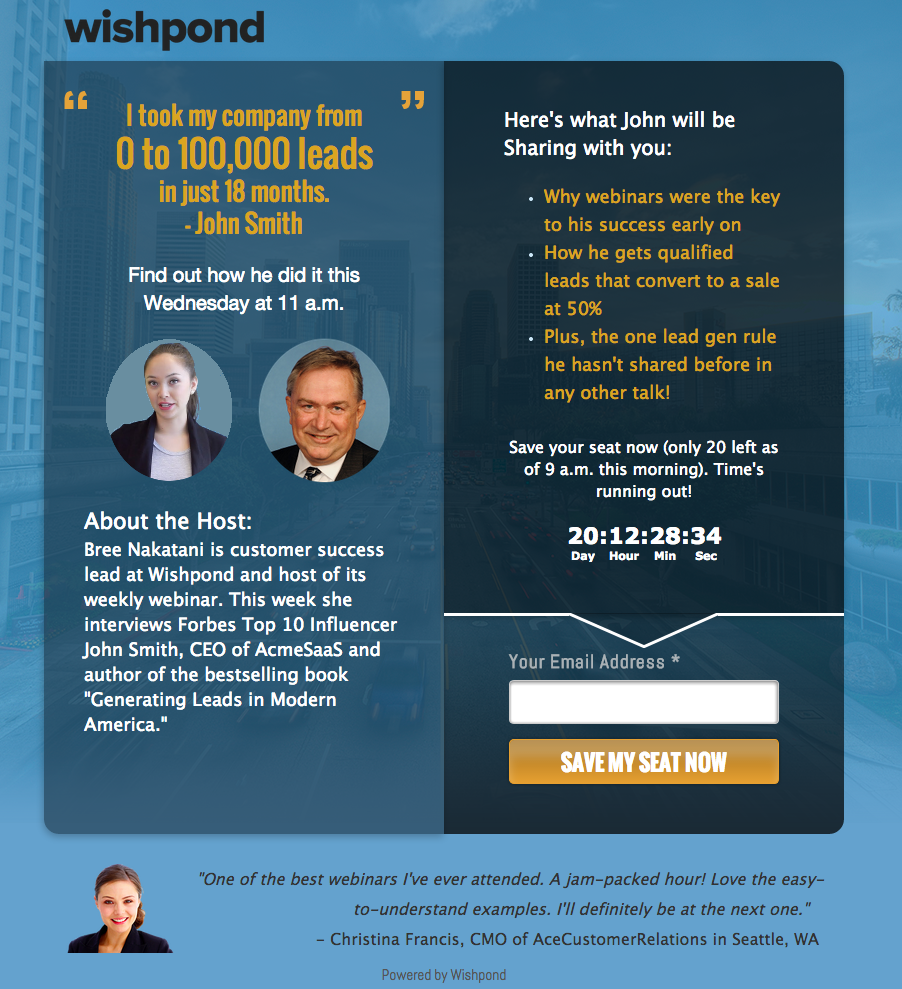 Don't Ask for Too Many Personal Details
Oftentimes, when you look at a webinar landing page, you'll notice the registration form asks for a lot of details. It's true that to qualify leads, you need to get as much information on them as you can, but when it comes to landing pages — keep things short.
Ideally, ask only for their name and email. This will be more than enough for the first welcome email. There's no point in asking them for more as they will quickly decide it's more about you and sales than them and their needs.
Also, make sure the registration form is easy to fill out on mobile devices and allows them to add the date and time to their calendars. Easy mobile navigation is paramount for a great user experience.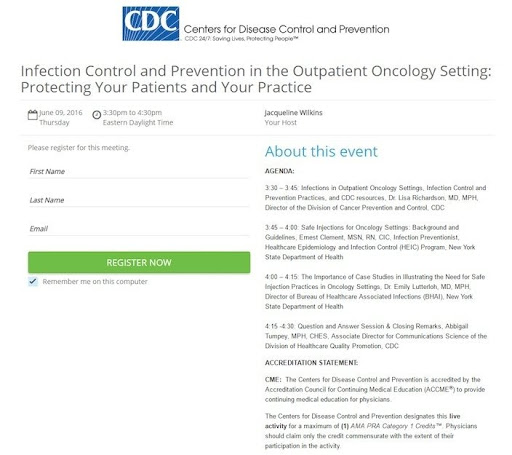 Remove Navigation On The Webinar Page
Visitors land on your page and notice a pretty link. They click it and it takes them to some other page. Yep, they've already forgotten about registering for your webinar.
Your landing page serves one purpose: to keep your visitors until they register. If you offer them a backdoor, they might get distracted and start following a different flow of thoughts.
And forget to come back.
Try Contrasting Colors
Your landing page design can benefit greatly from using contrasting colors.
Color contrast helps organize your design and establish a hierarchy. That basically means your prospects will exert less effort to figure out which parts of your landing page are most important (and thus where to turn their focus).
The well-balanced contrast of colors makes important elements clearer and more visually pronounced. This is especially true for CTA buttons or links.
Additionally, contrast is very important for web accessibility analysis. You might never know how many people bounced off your landing page because they found it hard to follow.
Keep the Key Information Above the Fold
The term "above the fold" used to refer to the newspaper back in the "Extra, extra, read all about it…!" days. The top stories were placed on the first page above the real newspaper fold so the readers could see them and feel tempted to buy the paper.
The same principle applies to the content on a digital page. In this case, however, "above the fold" refers to the point at which the user must scroll down to get more information.
Nowadays, it's difficult to nail the exact fold point as people are using devices with different screen sizes.
Fortunately, you can use a scroll map to identify the average fold on various devices. This will help you design your landing page around that upper area and properly insert your headline, a brief copy, and CTA.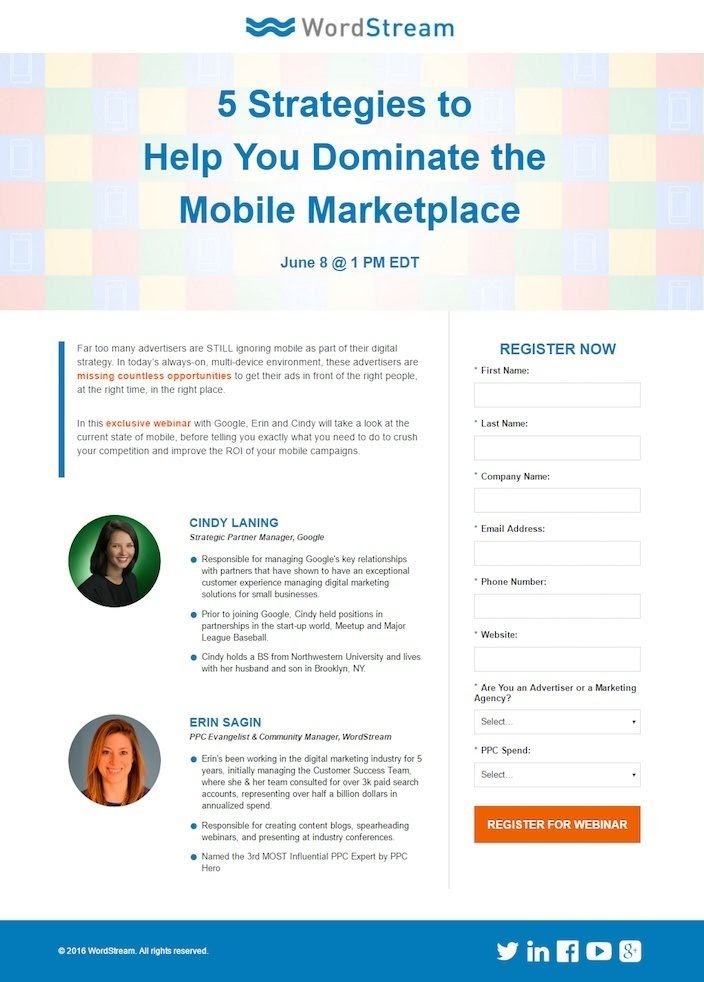 Add Contact Information
You can allow your prospects to contact you in several different ways. The best ones for webinar landing pages are those channels that don't let the prospect leave the page.
What are your options? Classic phone number and email address. If you would like to go for a real-time and almost instantaneous channel, you can add a free live chat to your landing page. This way, your customers will be able to get in touch with you without switching to another page or device (contrary to email or phone number).

Additionally, you can add a chatbot that answers FAQs around the clock. One important thing to remember here, though: let the chatbot trigger at the bottom of your landing page. You don't want it to steal your visitors' attention or start asking questions before they read your whole page.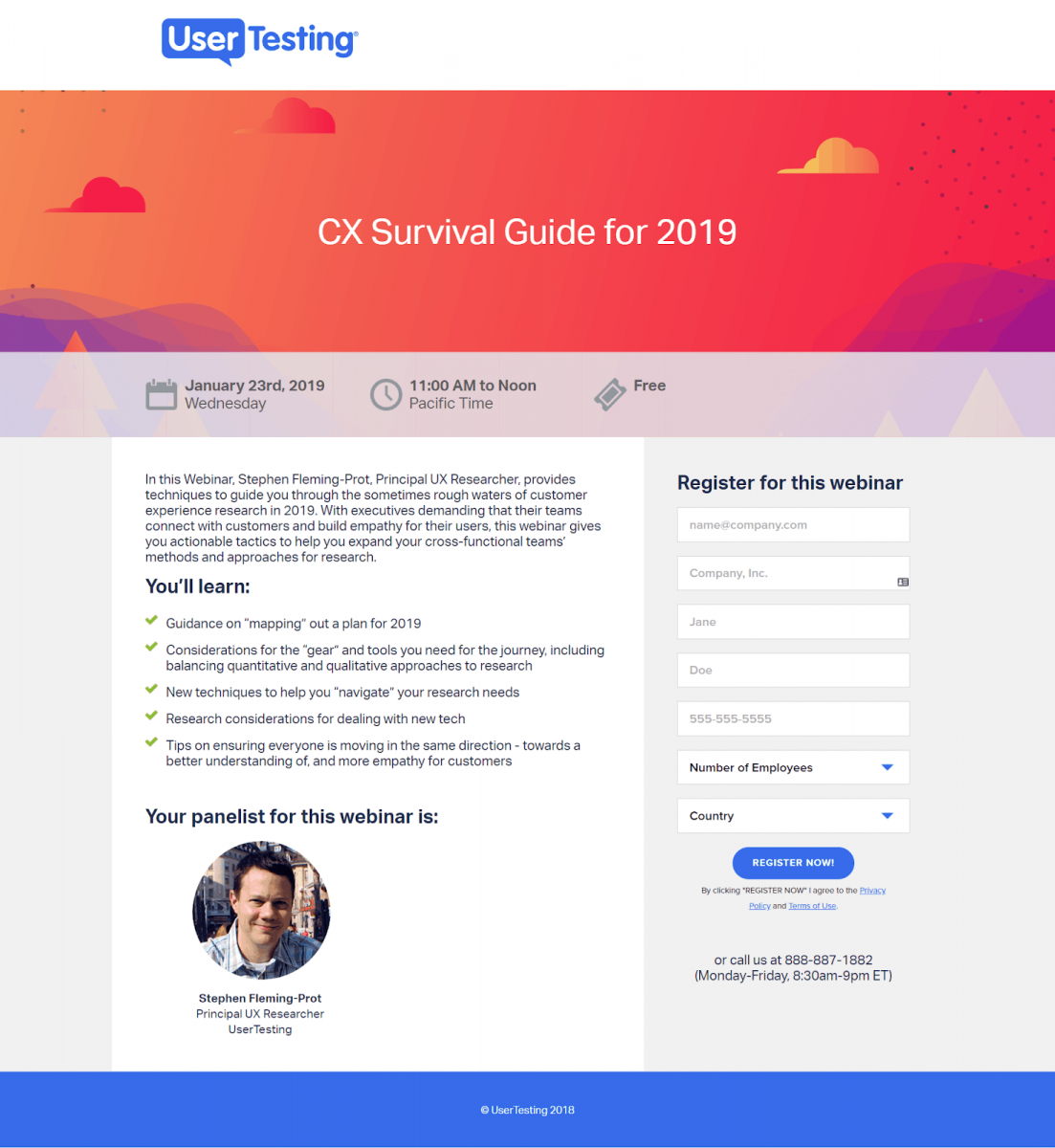 Optimize Your Webinar Landing Page for SEO
Your landing page copy can impact how highly it will rank on SERPs (Search Engine Result Pages). Because SEO takes time to have any effect, the optimization for search engines makes the most sense for landing pages selling an event that is going to take place in the future.
You can add keywords in several strategic places on your landing page (e.g., title, headlines, body text, alt texts, CTA) if you would like to drive some organic traffic to it.
Give a Personalized Experience
It's a good idea to personalize a landing page based on where your landing page visitors are coming from. For instance, if you have a YouTube channel and a call to action leading your viewers to a landing page in your video description, you can customize the text on the landing page to acknowledge they are from YouTube and offer an "exclusive" item or service to them.
This personalization will not only make the visitor feel more important, but the exclusivity of your offer will help you push your prospects down the sales funnel.
I personally see YouTube channels as a great place to drive webinar signups because your viewers go from watching videos on YouTube, to watching an exclusive webinar video on your own platform.
Webinar Landing Page Optimization Wrap Up
How your webinar landing page looks and how it interacts with your visitors can make or break your webinar sign-up stats. It could determine whether the webinar room is packed with keen prospects, or Roy and crickets.
We've listed several good practices that can help you amend your landing page. If you haven't applied them yet, you may consider trying them out. They are simple and can make a huge difference in your future webinar success.


DOWNLOAD YOUR FREE WEBINAR STRATEGY CHECKLIST BELOW
Use this checklist
to design your very own high-converting webinar marketing strategy from scratch, then automate the process to attract high-quality leads.
We promise to never spam or send emails about cats.
Okay, maybe some cat stuff.