You've done it!
You've designed the perfect webinar, practiced incessantly, and made what has seemingly felt like thousands of micro-edits throughout the process.
You also made sure to review advice from industry experts on running a successful webinar (if not, then I'd suggest doing so now).
Now the only thing left to do is to get people aware of your webinar so that you can ensure you actually have an audience to speak to.
While you may know to attack traditional avenues such as email marketing or social media, you probably never even considered running PPC (pay-per-click) campaigns to drive signups.
More specifically, Google AdWords Display campaigns are great for this because they allow you to tackle three fundamental challenges in webinar marketing: volume, reach, and targeting.
So, today, I'm taking a quick break from my over-three-year love affair with E-Commerce and Google Shopping to help you find and convert more viewers with some pro-level PPC campaign management advice.
Why Display Campaigns?
Google's Display Network itself consists of over two million websites, which all allow for various ad formats such as image (banner) ads to display on webpages.
We aren't just talking random blogs or news sites here. Major brands such as ESPN allow display advertising on their webpages.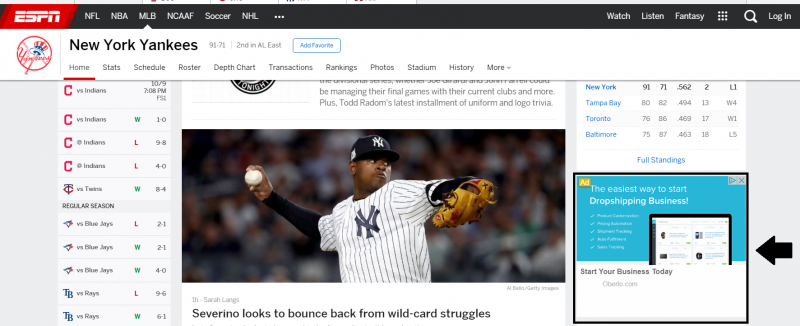 The Display Network also happens to be ideal for getting traffic to your webinar landing pages:
It has the

volume

in being the largest online display advertising network, serving over 180 billion impressions each month.

It has the

reach

with Google, stating that ads are served to over 90% of people surfing on the internet.

It has both the

targeting and exclusion

capabilities you need to ensure you are hitting the right people in the right places, at the right time.
Knowing is only part of the battle, though. You still need to set up, structure, and manage an excellent PPC campaign.
I'm going to show you just how to do that, and if you're not familiar with AdWords, then consider this a crash course in running ads on the Google Display Network, or GDN.
Landing Page & Ad Copy
Before you touch AdWords, have your landing page or "signup page" and all your desired ad copy set and ready to go.
Here's my formula for a kickass webinar landing page all about simplicity:
Obviously, you'll need to include a

form on the page

with the valuable fields you want to capture and have stored in your CRM.

You'll also want to have a brief description (one or two small paragraphs should do it) of the webinar with compelling language, even bolding or italicizing key words or phrases that stress the

importance or immediacy

in signing up.

I also believe in having

photos of the webinar presenter(s) with a short bio,

which supports their expertise in the topic.
You may also want to consider implementing a "freebie" (a common tactic for webinar marketing) and highlight that in the copy as well. For example, you can give attendees access to an e-book or special promo gift.
Below is an example from SEJ (Search Engine Journal) that follows my formula to a T:
With your landing page set, it's time to create ads so you can drive traffic and get signups.
Sticking with the theme of "simplicity," as we did above for landing pages, I recommend only running image ads.
Of the many dimensions/sizes of image ads you can opt for, findings by Google have shown that there are 5 sizes that perform best:
336×280 Large Rectangle

300×250 Medium Rectangle

728×90 Leaderboard

300×600 Half Page

320×100 Large Mobile Banner
There's no real reason I can give notto use all of them. However, in my experience, it has been the 336×280, 300×250, and 300×600 formats that have performed best.
The 728×90 Leaderboard banner is worth a mention, but it can also be the hardest to design due to its size and limited space for text.
Here's a 300×250 example we designed specifically to help you get started, and please feel free to use, change, and redesign it to your heart's content: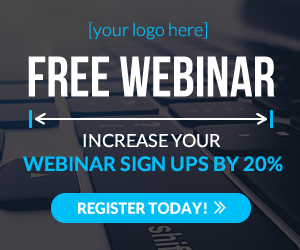 Now, with a great landing page and artfully-designed ad copy, you can finally start building your campaign(s).
Almost.
Conversion Tracking
Sorry about getting your hopes up there for a moment, but this step of your PPC campaign management cannot be skipped! You're going to want to be able to track those signups based on the ad spend it took to get them.
That's where Conversion Tracking comes in. The concept is simple: add a snippet of code to the "confirmation" page after someone signs up so that you know they came from your Display campaign.
While getting that code onto your site is the "difficult" part, setting up a conversion itself is super easy.
In the upper main navigation of AdWords, click on "Tools"

Select "Conversions" from the dropdown

Click the

red +CONVERSION

button

Click "Select" in the website box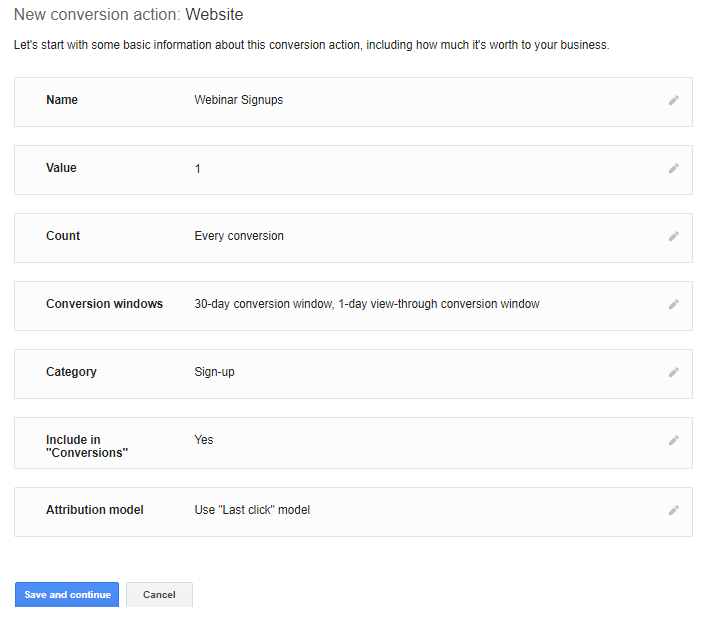 You can leave a few configurations on their default setting such as count, conversion window, Include in, and attribution model.
Aside from naming your conversion, the only one's you should need to adjust are:
Value

: The actual value of a lead whether it be monetary or not. To avoid currency, use the dropdown here to find the "no currency" option.

Category:

The type of conversion it is, such as a sale on an online store. For this, though, I'd suggest either "Sign-up" or "Lead."
The more important aspect of this is getting the code itself to put on your website. You may also want to set the "Value" to 1, as in every signup counts only as 1 and does not have a monetary value assigned.
When you're satisfied, click "Save and continue."
The new page will display your tracking code. All that's left is to install it.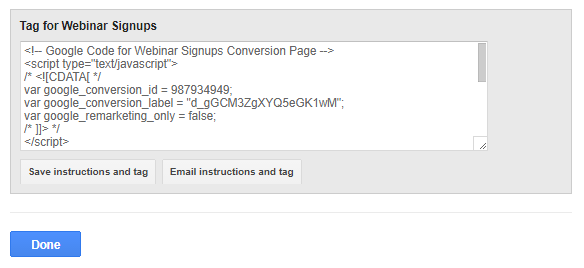 Follow Google's instructions for installing, which you can have emailed to you just in case.
PRO TIP: If you have Google Analytics, you can also use "Goals" to do the same as Conversion Tracking in AdWords. You can then import Analytics Goals into AdWords to track conversions. Since you already have your Universal Analytics Tracking code installed on your site, you won't need to add any additional tracking. Simply set the Goal to the URL of the confirmation page.
NOW we can get into building your campaign.
DOWNLOAD YOUR FREE WEBINAR STRATEGY CHECKLIST BELOW
Use this checklist
to design your very own high-converting webinar marketing strategy from scratch, then automate the process to attract high-quality leads.
We promise to never spam or send emails about cats.
Okay, maybe some cat stuff.
Campaign Creation & Structure
Before we continue, I did want to take a moment to ask: do you know your audience?
My guess (my hope) would be that you do, and therefore you can use the following as a literal, step-by-step guide for creating and structuring an awesome Display campaign for driving more webinar signups.
Start out in your AdWords account in the Campaigns tab and use the red +CAMPAIGN button to open the dropdown and select "Display Network only"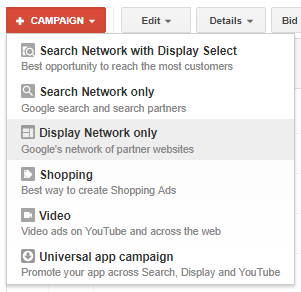 The following section may seem overwhelming, but it doesn't have to be. This is where you'll name your campaign, which is literally the only required step here.
Not too long ago, AdWords added an additional option in the step for defining your Marketing Objective. All this does, though, is later AdWords will provide some suggestions on how to set up your campaign and/or ad copy. Not necessary at all, especially with this crash course. Skip it and just opt for "No marketing objective."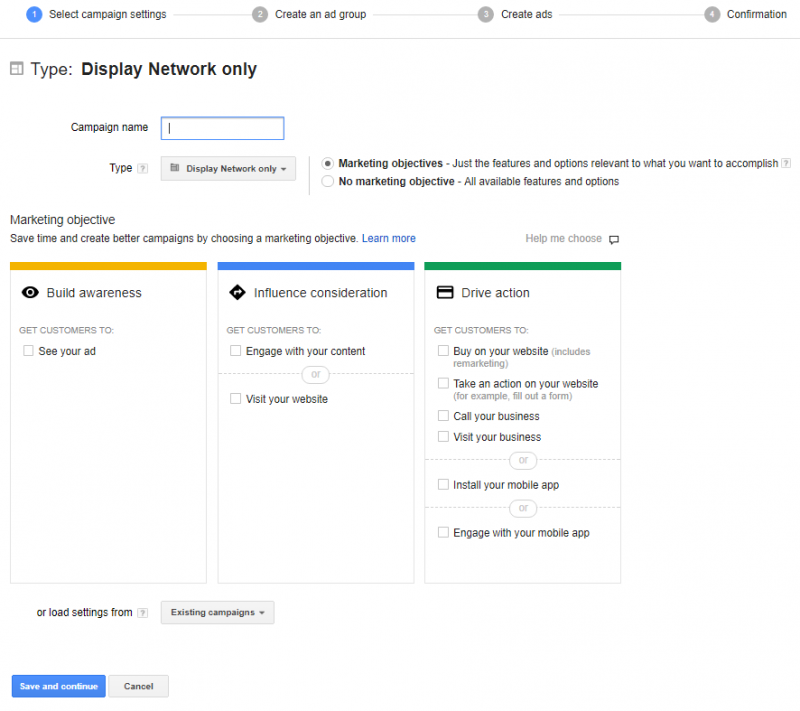 Once selected, the page will expand and you'll need to apply basic campaign settings, including:

Location Targeting:

Choose specific or broad targeting criteria, such as by an entire country or specific state. Additionally, you may choose to exclude locations and make sure your ads don't show in those territories.

Bid & Budget:

Bidding refers to your Maximum Cost-Per-Click or the maximum you wish to spend for a click on your ad. You can also have AdWords automate bids for you using features like Enhanced CPC. Your budget is the daily allotted spend you wish to pay for your campaigns to run.

Delivery Method:

I always recommend setting this to "Accelerated," which essentially makes sure your ads show as often as possible throughout the day.
While there are a few other, more advanced settings to consider, there's no need for them just yet.
Once finished here, though, click "Save and continue" at the bottom.
Now we have to build, or at least we are prompted to build, an ad group.
Ad Groups & Targeting
Ad groups are literally what they sound like: groupings of your ads.
They are used to separating not only different ad copy, but different targeting criteria as well.
I find that the targeting capabilities of Display campaigns are bar none the best around. If you are at all familiar with Facebook ad targeting, just multiply that by some ridiculous number and you get what AdWords is capable of.
Right now, we are prompted to set up our first ad group. This will be one of four.
Why four? Analyzing performance. With four separate ad groups with different (yet synergistic) targeting, we will be able to get granular to understand what is driving performance and what is not.
The four ad groups will be:
Keywords:

Upload a list of keywords related to your topic and AdWords will work to display ads on sites related to them.

Let's set up a Topics ad group first, then we'll go through setting up the other three.
Start out first by naming your ad group and setting your desired Max CPC bid. I recommend naming an ad group based on its targeting criteria (i.e., "Topics").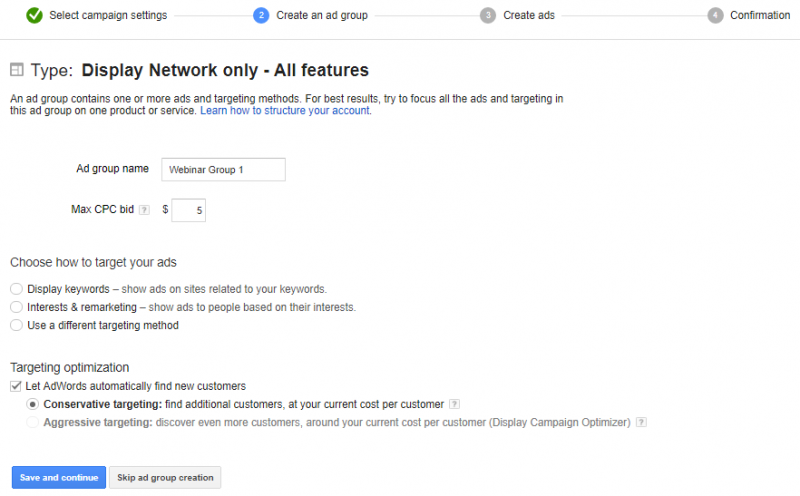 As seen in the image above, select the option for "Use a different targeting method":
Select Topics

Use the new menu to either select broad topics or expand them using the "+" icon to find sub-topics to get more specific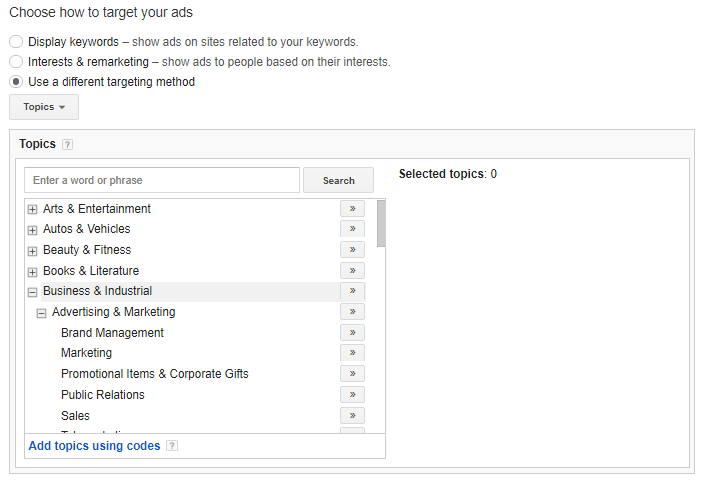 Based on your desired targeting, simply click on the double carrot (">>") icon to select them as a topic.

AdWords automatically provides some potential reach metrics for your chosen topic: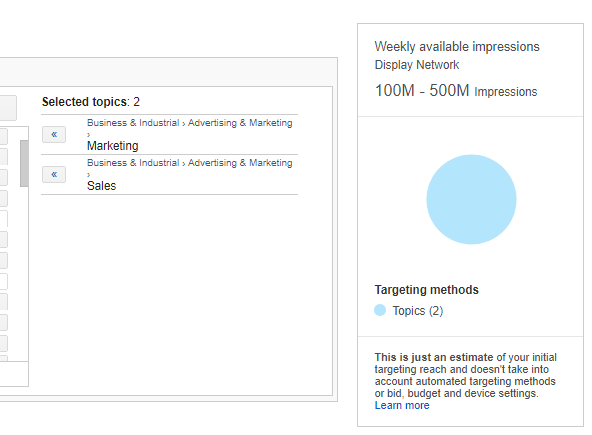 I just want to note the option for "Narrow your targeting further." Expanding this would allow you to add other targeting criteria if you wanted to mix them.
However, for our purposes, I just want to touch on Demographics. With this, you can either include or exclude specific segments by gender, age, and/or parental status.

This is important, because your webinar may not be targeted towards certain demographics. If that isn't the case, then you can just skip ahead.
If it does apply to your webinar, make some selections now and you'll want to mimic this across the other three ad groups.
Also note "Targeting optimization," which you may opt for or opt out of using. I normally do not use them, but I wouldn't say not to if you would like to test out either option. (Conservative or Aggressive)
All set? Click "Save and continue."
DOWNLOAD YOUR FREE WEBINAR STRATEGY CHECKLIST BELOW
Use this checklist
to design your very own high-converting webinar marketing strategy from scratch, then automate the process to attract high-quality leads.
We promise to never spam or send emails about cats.
Okay, maybe some cat stuff.
Setting Up Your Ads
So, AdWords wants you to create some ads, but you don't have to because you should already have your ad copy.
I did want to give this next part a mention, as you can use this section to set up some Responsive Ads or drag and drop to create your image ads as well.
It's a lot easier, though, to upload your banner ads in bulk, which we will cover in a moment.
However, Responsive ads can be very helpful for those without Photoshop or Illustrator prowess. You don't have to be a graphic designer to be good at PPC campaign management 🙂
Instead of having to design custom artwork for your image ads, you can use stock photos of your own or use this tool to search for stock photos online which are closely related to your (or someone else's) website.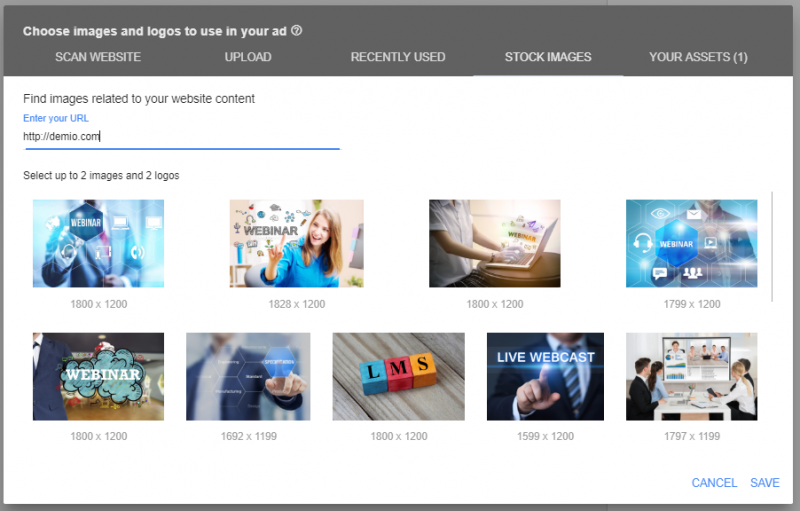 All you need to do is provide a logo and fill in the required fields. You can even customize the CTA button and colors.
For now, click "Skip ad creation" and let's get those ads uploaded:
From here, you can click on the

red +AD

button

Select "Image ad" from the dropdown

Click "Upload an ad"
If you have all your image ads ready and in a folder on your computer, open up the file explorer, navigate to the folder, use a Ctrl + A or Ctrl + Click function to grab all your files, and drag and drop into the field provided by AdWords.

Finish up by:
Setting your display URL (ex: SalesAndOrders.com)

Entering your Final URL (Webinar Landing Page). I recommend opening the page in your browser, copying, and then pasting it into the field.

Click "Save"
You'll be taken back to your ad group with your ads marked "Under review." This is normal, and it can take up to one business day for Google to approve your ads.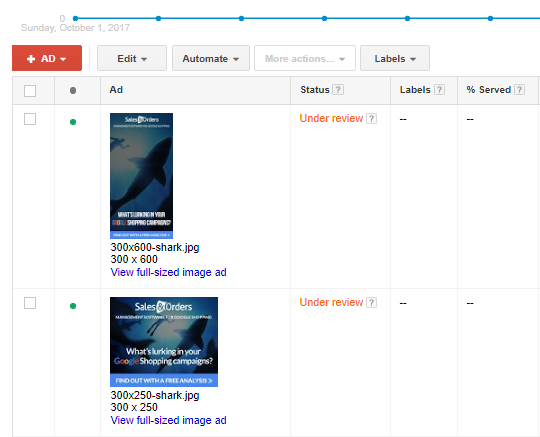 It's time to do a little celebration, though! You've now setup your first ad group: Topics.
Only 3 More To Go!
You should be able to do this with your eyes closed at this point, since it's essentially just a "rinse and repeat."
Even then, here's a quick guide:
Ensure you're in the display campaign you created and now click the

red + AD GROUP

button

Follow the basic steps from above, but this time choose either "Display keywords" or "Interests & remarketing" as your targeting option
If you chose keywords:
Have a list of relevant keywords to your topic, copy/paste, and then click "Add keywords" and keep your Keyword setting to

Audience

for better results.

Mimic your Demographics targeting from before

Uncheck "Targeting optimization" if desired

Click "Save and continue"

Repeat the steps we outlined above for uploading ads in bulk
If you chose Interests & Remarketing:
One ad group for

Affinity

and another for

In-market

, however, the steps are essentially the same as we did in creating the

Topics

ad group

Choose either an entire audience or expand any audience to find subclasses

Rinse and repeat as from what we have already covered
Remember to name your ad groups based on your targeting criteria so you can easily identify them when managing your campaigns.
This is a guide on PPC campaign management, after all. That's it, though, as far as setting up your campaign and your ad groups with segmented targeting.
And yes, it does take quite a bit of work, but the more effort you put into setting up your campaign, the better your chances of generating quality traffic and conversions.
The LAST thing you should consider, however, is Site category options as exclusionary optimization. With this, you can make sure your ads don't appear on sites with content you may not want associated with your efforts.
While in your campaign, click the

red + TARGETING

button

Select "Site category options" from the Campaign exclusions dropdown

Find your desired exclusions and set them

ALWAYS EXCLUDE GMob mobile app non-interstitial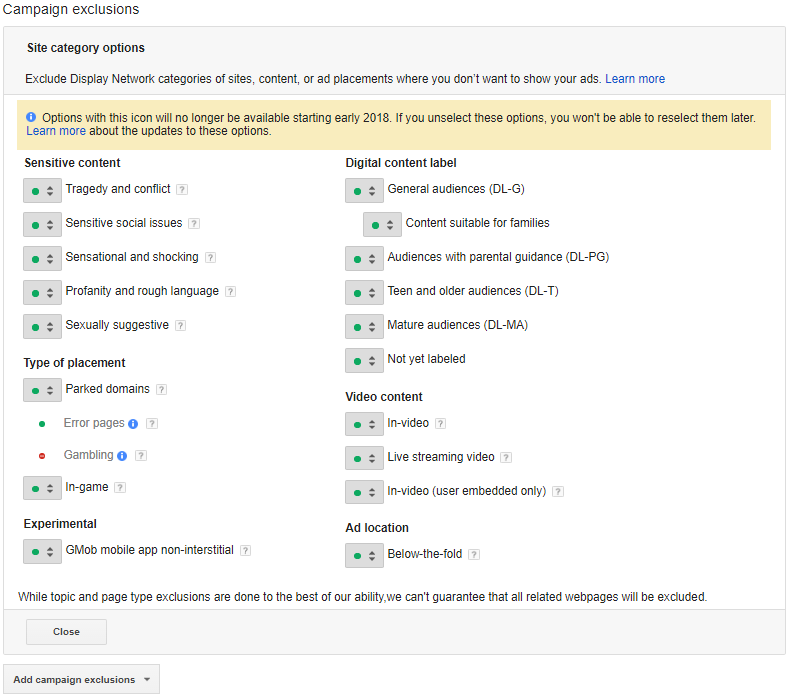 Click "Save" when you're all done
This will set every ad group in your campaign with these exclusions, so there's no need for any more rinsing and repeating.
Staying Connected: Performance & Analysis
Once ads have been approved, you're off to the races. From here on out, it's about watching and analyzing performance trends.
The nice thing about Display campaigns in AdWords is that, while you can review top-level data in the main part of the AdWords interface, they also have their own dedicated reporting in the "Display Network" tab.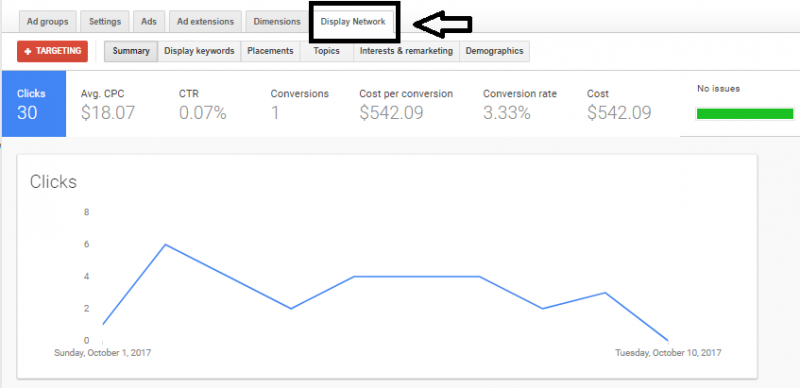 As far as optimization techniques go, there isn't too much you should worry about. Chances are you're only running this campaign for a significantly shorter span of time, or in "run/pause" cycles, depending on when you schedule subsequent webinars.
I'm not going to leave you hanging, though. Here's a couple of easy things you can do to manage your ad spend and keep your budget from going crazy:
Keywords Ad Group:

Every week, take some time to review the performance stats for individual keywords. I recommend looking at keywords with

high cost and zero conversions

(this can be done using Filters). Any keywords that spend money without converting are worth pausing.

Placements:

We did not opt for "managed placements," (manually choosing sites to display ads) and with good reason, because it can limit your reach and volume. So, instead, either at the campaign level or ad group level, review the

Placements

tab and use the same Filter for the Keywords ad group and remove/exclude costly sites that haven't converted over time.
Aside from that, you should be able to let your new PPC campaign run and start driving traffic to your webinar landing page.
I would recommend checking in on your campaign daily, but only make changes on a weekly basis or maybe twice a week, such as on Mondays and Fridays because they are tied to the weekend.
What's great is that you now have the ideal PPC campaign setup to reuse over and over for any of your future webinars.
You can copy this entire campaign and set up a new one with identical settings with AdWords Editor if you don't want the data shared between different run cycles.
If you're at all familiar with Remarketing in AdWords, you can even create ad groups solely targeting previous visitors to your site or specific pages on your site.
Don't forget about industry standard best practices for webinar hosting though, like making sure to set up email sequences and reminders once you've captured your leads!
DOWNLOAD YOUR FREE WEBINAR STRATEGY CHECKLIST BELOW
Use this checklist
to design your very own high-converting webinar marketing strategy from scratch, then automate the process to attract high-quality leads.
We promise to never spam or send emails about cats.
Okay, maybe some cat stuff.