Webinars are excellent ways to market your brand, connect with your audience, and keep track of how they respond to your social media efforts. Recording webinars is crucial to repurpose that rich content and maximize their impact.
You can save them for later review and future reference or share them across social media and other platforms. Recording is also a great way to build a library of webinars that attendees can refer to whenever they wish, especially if they're informative guides rather than one-time interactions.
With the market expanding your options, you should explore and compare the top webinar recording software and other strong potential picks to determine the best fit for your needs. Examine their features, pricing, and specific benefits that'll improve your webinars to produce top-notch events.

Key Features of Webinar Recording Software
Every robust evergreen webinar platform possesses certain critical features. Keep an eye out for the following elements to make it easier to select a webinar recording option that fits your company.
User-Friendly Interface
Webinar recording software needs to be easy to navigate and create crisp, clear recordings you can save for later use. You should be able to produce full recordings with just a click of a button and save them instantly in various formats.
Customizable Recordings
The ability to capture specific parts of your webinar at high speed or with greater resolution maintains the professional appearance of archived events. In addition, zooming in on certain instructions or performing a 360-degree scan of the hosts also increases the webinar's value and dimension.
Types of Webinar Recording Tools
Webinar recording tools improve the recording process and result in crisper imagery and a smoothly flowing session. Below are a few essential additions for your toolkit.
Webinar Software With Recording Abilities
Webinar software with recording abilities allows you to create on-demand webinar links from your live events. Record webinars rich in evergreen content that you can reuse to attract a wider audience.
This type of software should be your top choice because not all attendees can attend live sessions and may need archived options for later viewing. Also, they might want copies of educational sessions, such as instructional content, how-tos, lectures, or conferences, for their own reference.
Key Features
Automatic recording when you press "Start"
Quality playback and ability to record whole sessions at once
No file size limit, plus automatic caching of footage
High-quality audio and video
Screen Recording Software
Screen recording software easily captures real-time events for later playback. You can record short segments of an entire webinar for marketing or promotional purposes or to use as introductions for future sessions.
Keep in mind not all options in this category offer unlimited recording sessions or high resolution and quality. When selecting screen recording software, consider file size limits, storage allowances, and editing features.
Key Features
Flexible storage allowances (or ability to purchase additional storage)
Ability to record at any time during a live event
Accommodation of large video file sizes without loss of picture quality
Editing features for customized footage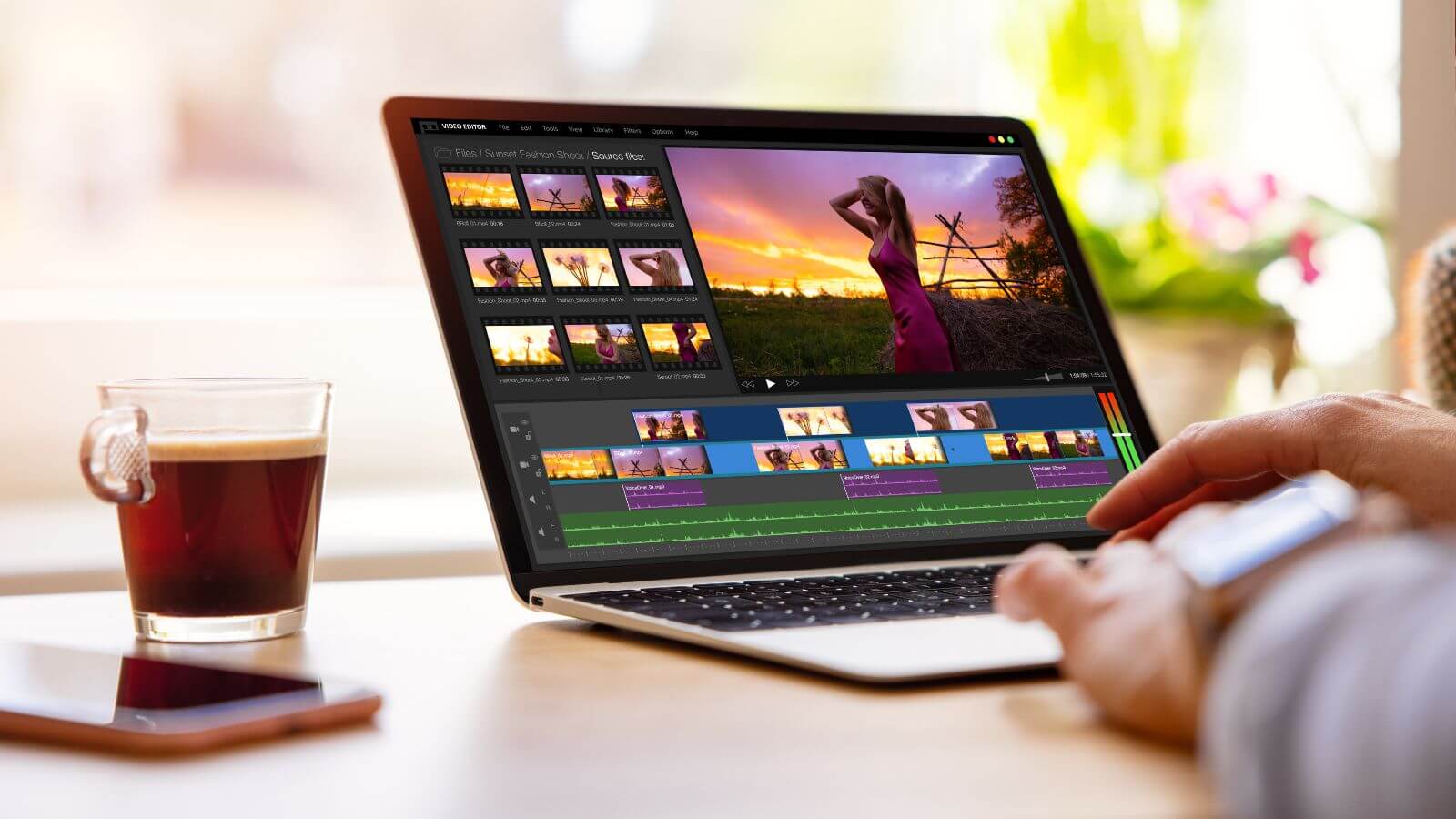 Video Editing Tools
Video editing makes your webinar recordings more professional and engaging. You can remove unnecessary filler footage, enhance audio or visual clarity, and cut webinars into chapters or smaller segments for easier uploading and more views.
Key Features
Easily trim and clip video and audio
Ability to cut audio and background feedback out of frame
Customization functions for unique slides and pop-up videos
Easy saving and re-editing as needed
Webinar Software With Built-in Recording
When choosing a webinar platform, look at its software to see if it possesses built-in recording capabilities. This provides you an all-in-one solution for creating both live and automated events.
1. Demio
Demio is a user-friendly webinar software with robust video recording abilities built into it. Easy for both webinar hosts and attendees to use, Demio's interface simplifies the creation of quality, professional online events.
With unlimited sessions and storage, you can easily record every webinar and live event you host for marketing and sharing. Your session will start recording as soon as you begin the event. In addition, customizable email features allow you to personalize every attendee invite so you reach your intended demographic and achieve higher registration and attendance rates.
Key Features
No download required
Easily share recorded materials
High audio and visual quality
Ability to view webinars and recorded footage from multiple devices with ease
Ability to make evergreen webinars interactive
Engagement data and analytics
Integrations with your marketing tech stack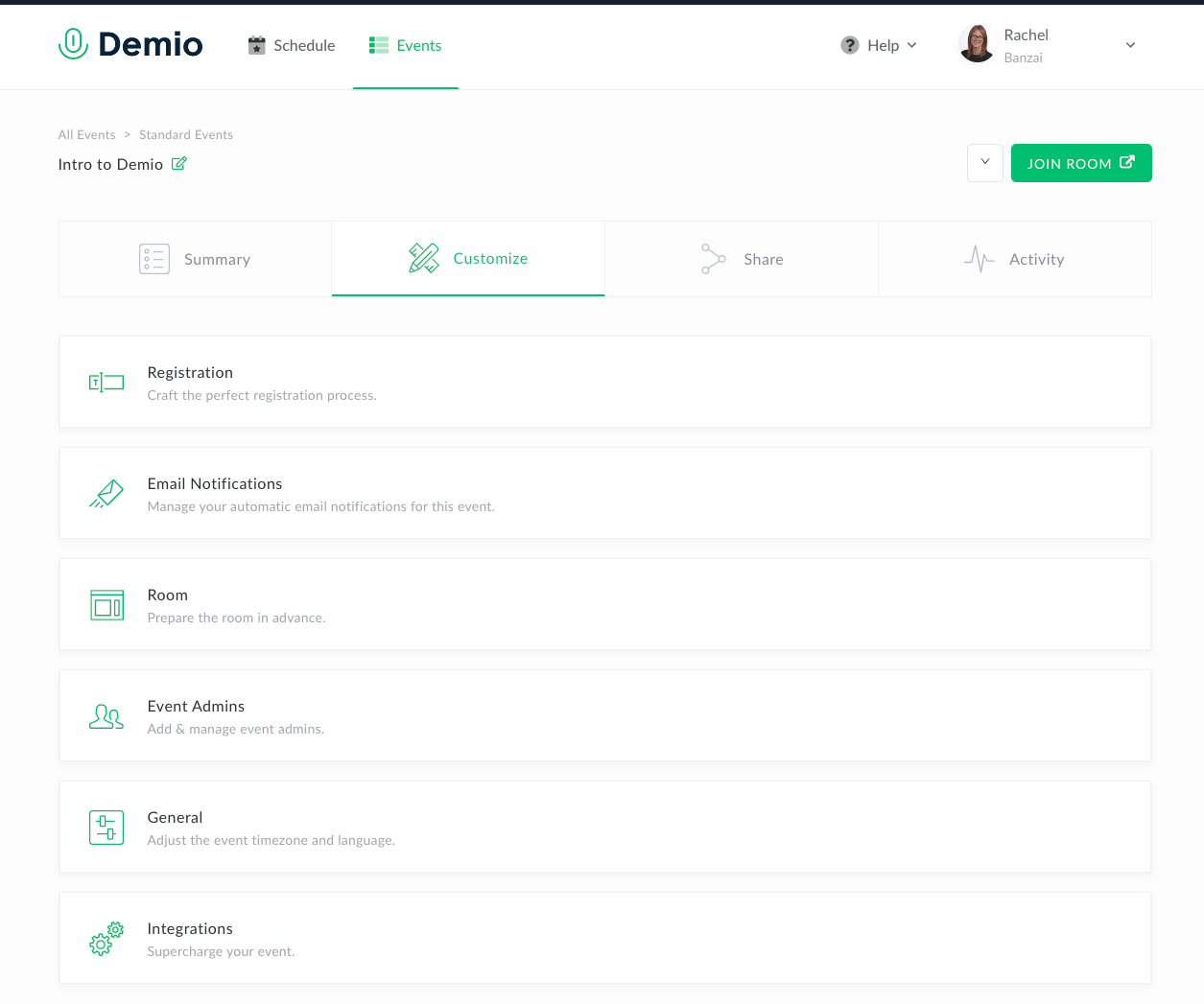 2. Vimeo
Vimeo is an all-in-one webinar platform that makes hosting and recording live events a breeze. With its crisp live stream option, you can easily combine live and pre-recorded videos to produce enticing evergreen content that grabs your audience's attention.
Build your event in advance and feel confident that viewers can watch the footage anywhere, on virtually any device.
Key Features
Custom layouts to merge recordings with live sessions easily
High resolution streaming and recording
Ability to record and customize video content right from your browser
3. ezTalks Webinar
ezTalks Webinar is a simple platform you can download and launch in minutes. It allows you to capture live sessions and share them with new prospects as marketing materials to increase exposure. Explore automated email features as well as whiteboard, SMS messaging, and more to communicate with your attendees.
You also gain access to 24/7 customer care to help you set up a live webinar and then record it for future use.
Key Features
Screen sharing and the ability to upload premade videos
Two-way audio and video for greater clarity
Easy to use on most desktop and mobile devices, including Mac, Windows, Android, and IOS systems

Screen Recording Features
Screen recording tools ensure professional results for both live and pre-recorded webinars. They're also simple to incorporate to break events into segments for simple and enjoyable consumption.
Unlimited Recording and Storage
Choose a screen recording tool that has unlimited recording and storage. This way, you can capture an entire webinar in one loop and break it up with editing tools later on without having to worry about bumping into a digital ceiling.
Easy, One-Click Recording
To ensure you don't miss a single minute of your webinar and capture valuable feedback, look for recording tools that are easy to download, navigate, and run with just a click of the "Record" button. Simple operating systems contribute to smooth recording workflows.
Video Editing Features
The editing process is where the fun begins. From blocking out background noise to adding titles and zooming in on key points in the presentation, editing is your opportunity to make your webinars stand out.
👉 Video and Audio Clarity 
The ability to adjust the audio and video quality of your webinars makes it easier for your audience to view and hear. It also avoids having to re-record or dub any segments.
👉 Background and Noise Control
A good editing tool lets you effortlessly eliminate background noise, such as traffic or audience feedback. You should also choose a background that limits distractions and makes the webinar pop.
👉 Video Cutting
You need to be able to cut dead air and redundant segments from your webinar as well as trim longer portions into snippets for pre-recorded uploads. This way, your videos are both easier to upload and view and more relevant to your audience.
👉 Editing and Playback
Look for editing features designed to produce various types of marketing content from a single webinar. The value of live versus automated webinars can fluctuate for your business, so you need versatile editing abilities to enhance your webinars, whether pre-recorded or captured live.
👉 Storage and Recording Allowances
Webinar recording software should be simple to operate so every recording is consistent and professional. In addition, unlimited storage capacities allow you to save edited versions of recorded webinars easily for future alterations or merging with live sessions.
Storage or interface constraints shouldn't limit your recordings. In addition to full events, you need space to upload recorded audio and video and include closed-captioning as needed.
👉 Accessibility on Various Devices
Can you only record audio and video from a desktop, or can you record and edit events from nearly any device? Does the software have to be downloaded, or is it ready to use in a matter of minutes? Keep these questions in mind to ensure you choose the correct webinar recording software for your needs.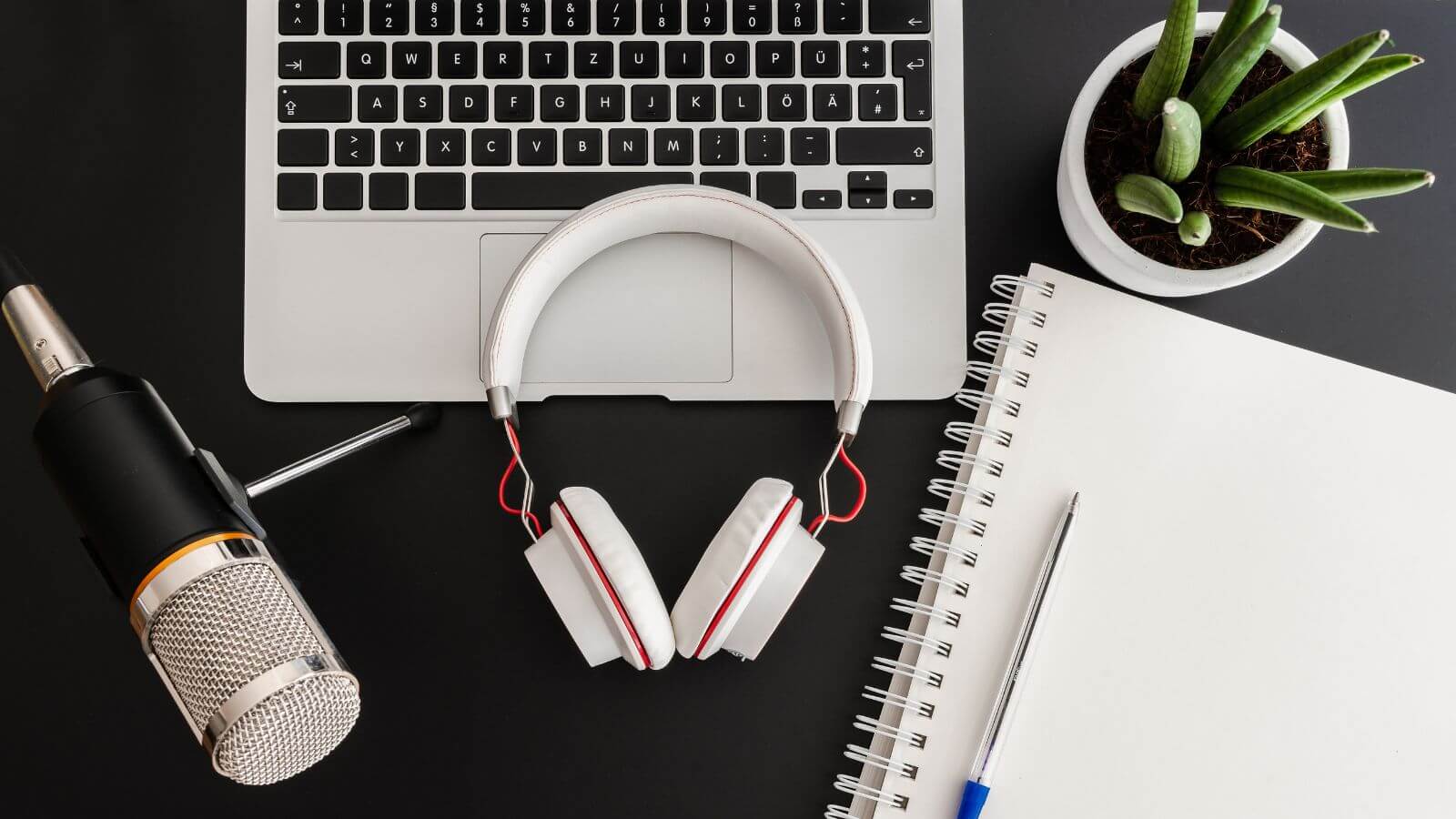 How Do You Choose the Right Webinar Recording Software?
There are several factors to consider when selecting webinar recording software, although your marketing needs should heavily influence your decision. Consider the following while during your search.
Conduct an Internal Analysis to Define What You Need
The best way to know which webinar recording software is best for you is to conduct your own internal analysis on what you're currently lacking. What features do you need in recording software most to achieve your goals and objectives in hosting webinars?
Choose the webinar recording software that best matches your feature needs while also offering quality audio and video services.
Do a Cost Comparison
Gather your marketing team together and work out a budget for webinar recording software. Use this budget to narrow down your options for webinar recording software. Some webinar software companies charge an annual fee for services and may offer a discount in committing to longer-term contracts, so keep this in mind.
Compare Customer Ratings
Sometimes the best way to know if a webinar recording software company is right for you is to explore what other buyers are using. High ratings (especially for ease of use and quality features) from current users can go a long way in telling you if you're on the right path when choosing your own recording software.
Tips for Recording a Successful Webinar
A successful webinar doesn't happen on the fly; it requires a thorough plan. Professional audio and video are imperative, but they're only the first details you need to solidify for a successful, expertly crafted webinar. To get you started, here are some tips for recording a top-notch webinar that converts.
👉 Make a Plan
What do you want your webinar to cover? What subject matter will you discuss? Pick a topic and stick to it, then select a webinar format. Consider your audience to determine if a Q&A session, product demo, or other type of format will work best for your event execution. Plan how you'll run your webinar so you stay focused and on task.
👉 Check Audio and Video Quality
Run through your webinar to check for echoing feedback and that the video and audio are crisp and clear. It's critical to eliminate background noise and, for video, ensure there's no lag and the recording is at a proper angle.
Hosts and speakers can wear a mic or headset, but remember to mute audience members and hosts when they're not speaking.
👉 Make It Interactive
Don't speak to your audience — speak with them. Hold a Q&A session, engage attendees with a live viewer poll, actively ask for feedback, and bring your audience center stage to maintain their active interest.
The more questions you receive throughout the webinar, the more the event feels and sounds like a conversation among peers rather than a lecture or presentation. Break up the webinar into segments and open a live chat to keep the audience interacting with you.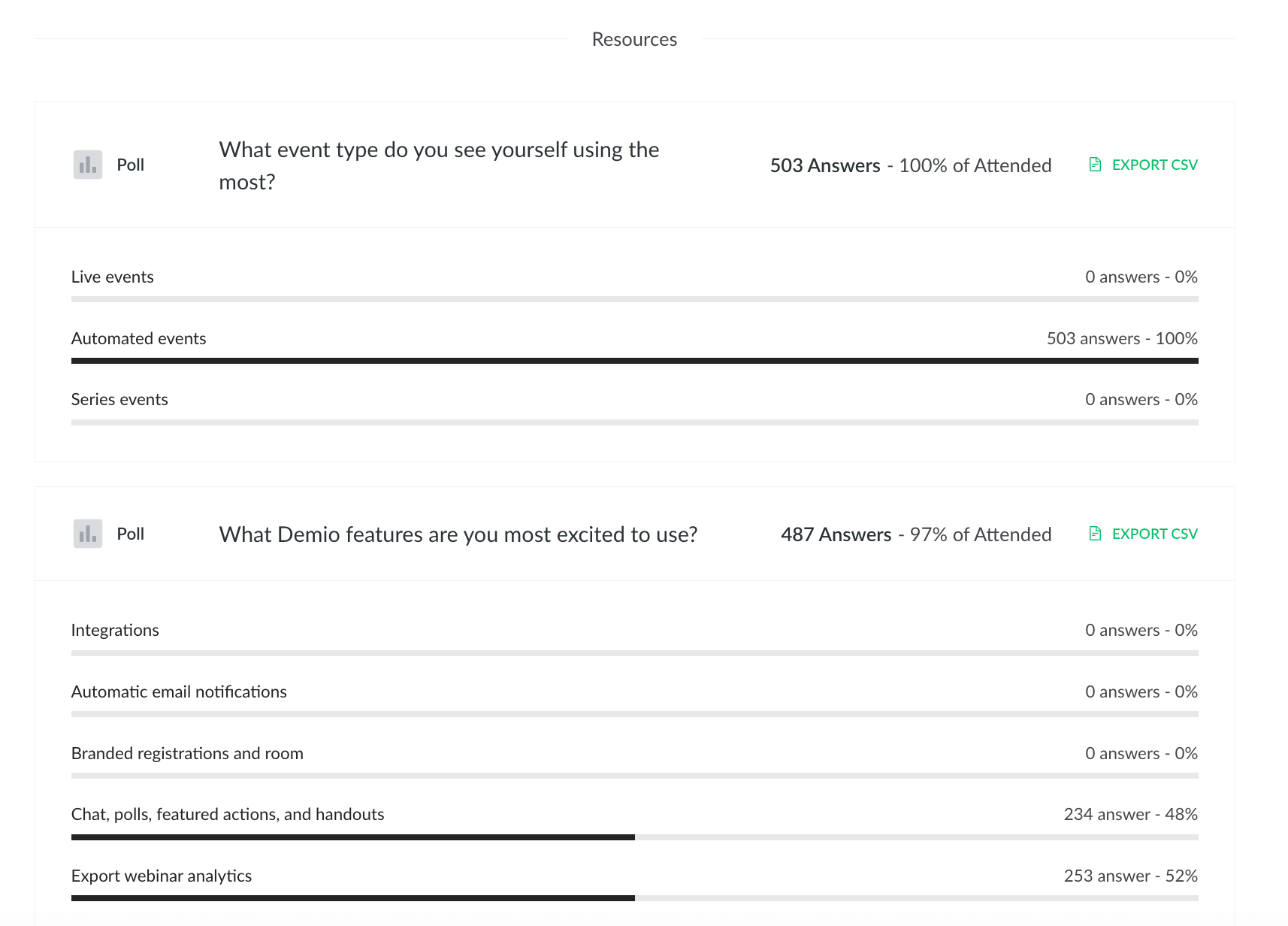 👉 Use Engaging Techniques
The host controls the webinar, so ensure they use techniques that keep the audience engaged, including recognizing when to give an attendee the spotlight, phrasing questions to encourage participation, and knowing when to move on to the next topic.
Your host should employ an uplifting and confident tone when speaking with audience members and be able to read the room effectively.
👉 Run Through the Event
Outline your webinar's focus. Prepare a script and read it aloud to see how it flows. Insert interactive features and segments at appropriate intervals, then run through the entire webinar to be sure it transitions smoothly. (This is also your opportunity to check audio and video one final time.)
Only record a live webinar if you've completed a successful run-through and removed all the kinks.
Ready to Discover New Webinar Recording Software?
Explore the best webinar recording software options to find one that suits your needs and takes your marketing efforts to the next level. The right one will extend your audience reach and increase your conversion rates without having to create new content every time.
Adopting new software can be daunting, but we're here to help. With Demio, our team of specialists can help you easily make the switch while keeping your existing contact information for a seamless transition. Ready to give Demio a try? Get started with a free version today! Or, if you want to know more, book a demo to see what makes Demio different from other webinar platforms.