What is a webinar? Google defines a webinar as "a seminar conducted over the Internet."
That may be the most boring definition I've ever heard.
My grandma could come up with a better definition!
"A thingy on the line where people can learn stuff" – My Grandma (probably)
Google isn't wrong, but that barely explains what webinars actually are.
They're so much more.
Let me explain.
What Is a Webinar and Why Should I Care?
A webinar isn't just an online seminar (or a thingy on the line) … A webinar is a tool that brings people together and builds relationships. These types of relationship can vary greatly, depending on the webinar. Most often, webinars are for business purposes, whether it be direct sales and marketing, or just internal team meetings and training. But they don't have to be business-related at all; some organizations and clubs use webinars as well for online group meetings and events.
Webinars Are Interactive
Unlike some in-person seminars, webinars are a place where the presenter (host/coordinator/etc.) can engage their audience. I don't just mean by sharing their screen or turning on their webcam. Attendees can interact with the presenter by sending chat messages to him/her, as well as each other. The presenter and co-presenters can then chat back with the attendees, whether through their mic or the chat box. This keeps attendees engaged, and also gives the presenter instant feedback, allowing them to answer any questions and improve the webinar as they go. This is huge for building relationships.
No Travel Needed
The option to attend a big event while sitting at home in your underwear is something that attracts a lot of people. In-person events and seminars can be cool, but you might get some weird looks if you show up in your pajamas … Also, there's usually a lack of cats at in-person events, but I won't get into that here.
Travel is a big problem for a lot of people. In-person events can be pricey when you add in all the travel costs. Not everyone can afford to fly across the country for a weekend, but most people can click one button to join a webinar.
One-on-One or One to Ten Thousand
Want to get personal? You can run one-on-one webinars to do demos, like we do with Demio. Want to present to everyone in the Worldwide Cat Enthusiast Club? You can do that, too, but it will have to be a BYOC webinar (Bring Your Own Cat). Each has its own benefits.
Look Professional
It can be expensive to set up a professional in-person seminar. It usually takes multiple people, thousands of dollars, and many days of planning. You need to rent a professional space, get a nice suit, create banners and signs, and that's just the tip of the expensive iceberg. With a webinar, it takes about 27 seconds to set up a webinar with the same (or higher) level of professionality; suit optional.
---
The Uses for Webinars Are Endless
Webinars are incredibly useful in every business. They allow you to position yourself as an expert in your industry, reach hundreds of potential customers, speed up your sales process to get a faster ROI, and much more. You can run a webinar for practically anything. I'm not going to go into every single thing you could use them for, but I'll list the most popular ones.
By far, the largest majority of webinars are used for marketing and sales. The coolest part about this, in my opinion, is that it's not only large companies running webinars; it's just as simple for solo entrepreneurs and small companies to run them. Many entrepreneurs have built their businesses purely using webinars, and some companies use webinars as their biggest lead generation source.
Now that we've got your attention 🙂
Are You Ready to Experience Webinar Software from the Future?
No Credit Card Required - Get Started in Seconds.
Free Content Webinars for Lead Generation
This is more your typical Marketing/Sales webinar, using the webinar as an actual lead generation source.
HOWEVER, you can also offer an alternative to this, doing a free content show or webinar that offers nothing except hot topical content, guest speakers, or edutainment.
You might often see these as FB Live, Periscope, or Instagram Live streams giving pure free content on a live show.
The only difference by doing a webinar is that you'd be able to capture those leads instantly into your CRM / Autoresponder and continue to nurture them.
These are typically colder leads and if you decide to do a pitch, expect a lower conversion rate on any product sales (unless you've really dialed in on a solid sales presentation + avatar that you are marketing to).
Mostly you'll be looking at ways to just cut through the clutter and get people interested in joining you live, cracking the door and getting attention.
When you are in Lead generation mode, your only obligation is to find and qualify leads who would be primed to purchase your product. Cold leads (once captured) need to be moved through a long process of "Know, Like, Trust" to warm them up to your marketing message and brand.
The goal is to get the relationship built on a solid foundation, so that when they face the pain or you remind them of the pain, your brand/business becomes the one they go to for help.
Running a weekly webinar giving free content to your LEADS can be a powerful way to start building that relationship. You can offer free gifts (or discounts?) just for coming on live and then use the time to have conversations.
I'm not just saying running a scripted presentation. Bring the content that's going to help your prospects, but take the time to ask questions, learn where they are in the process, and do your best to help them live.
Giving personalized information will trump any canned content and will build a relationship faster than ever.
I love this method. No pitch, pure content, and conversation.
Do a few of these and you'll find you've created raving fans who (even if not buying now) will be truly brand evangelists and go out of their way to help you and your business.
Live Q&A Sessions
Get a lot of questions about your product/book/movie/cat/etc.? You can answer them live on a webinar! Not only does this help you improve, but it also provides tons of value to your audience, while also allowing them to interact with you and help you build a relationship with them.
These webinars are key for keeping monthly churn down, user engagement high, and are often even better for moving users into your next programs.
Why? Again, because you are deepening your relationships with your customers and removing objections.
The easiest way to get people into your higher end programs and sales is to simply get them using your product.
Any results they get will help move them forward in your pipeline, so your mission needs to be aimed at getting them to take action.
This also gives you a great real time feedback understanding of what needs to be worked on in your product (no product is ever *perfect*) or how you can onboard/train users better from the beginning.
Use these webinars as great feedback channels for your business and marketing. (Any objections listed and overcome here can be used in Marketing later to better talk to your prospective leads).
Live Training
Have a remote team, or want to teach people how to do something? You can host your next employee training session on a webinar, and even if someone can't make it, you can just send them the replay! This can also work really well for customer product training as well; the more they know how to use your product, the more likely they are to continue using it.
Interviews
You can provide massive value by conducting live interviews on webinars. For example, we have a webinar series called Demio Discover, where we frequently host interviews with top experts in the SaaS industry. This not only provides a ton of value for attendees (both our audience and our guest's audience), but also for our guests; we promote them to our audience, allowing them to reach more people and build their audience. It's a win-win situation for everyone.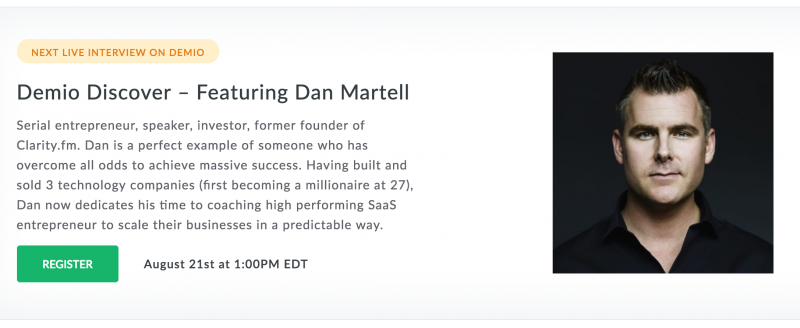 Customer Onboarding
If you want to onboard your customers live, webinars can be your secret weapon to get happier customers and higher conversions. We've found that onboarding through webinars allows us to build strong relationships with current and potential customers, allowing us to increase our conversion rates and reduce churn with those customers.
But, a scalable way to do this would be through a scheduled weekly onboarding call to get everyone together. If you are in a coaching or product business where building a community is a big piece of your marketing, than this is an easy way to get everyone together, on the same path and have a group working together to help each other.
---
What Makes Webinars Special?
The features of each webinar platform vary, but below are some awesome things you can expect to see on most platforms. These features aren't unique to only webinars, but the amount of value and flexibility they give you is unparalleled by traditional marketing methods.
Live
What better way to build a relationship with your audience than to interact with them live? With the exception of things such as Like Live Replays, all webinars are live.
Voice
This probably goes without saying, but all webinar platforms allow you to talk to your attendees. What you may not have known, however, is that your cat can also talk to your attendees. But I digress … Let's move on!
Webcam
Not only can your cat talk to your attendees, but they can also turn on the webcam (or maybe you'll have to do that) so everyone can see them! Sadly, no webinar platforms currently have a petting feature (I started working on it but had to put it on paws).
Screen Sharing
Need to show your attendees something on your computer screen? Most webinar platforms allow you to share your entire screen, or just a single window. This is great for product demos, live training, and a host of other things.
Presentations
If you have a slideshow presentation, it's incredibly simple to show it to your attendees during a webinar. Depending on the webinar platform, you can simply upload your slides and present directly from the webinar room without any delay to your attendees.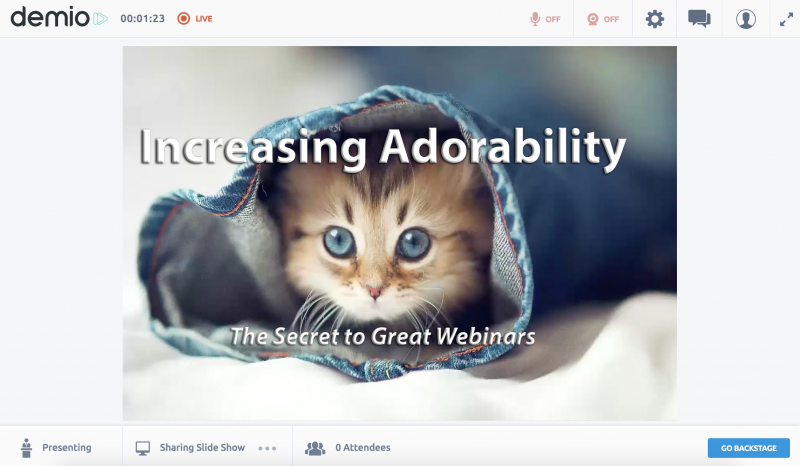 Text Chat
While typically, only coordinators can speak during webinars, attendees can interact with the coordinators and each other using the built-in chat. You also have the ability to make the chat room private if you don't want the attendees to be able to talk to each other. You can also go back through the chats after the webinar and respond to the ones you weren't able to get to during the webinar.
Share Files and Handouts
If you have any files, such as PDFs of important things or cute pictures of your cats (which is also very important), you can share them with attendees directly on your webinar. This is great for giving out free bonuses to attendees for attending the webinar.
Track Attendance and Interaction
While running a webinar, you can get a good feel for the interaction between you and the attendees, but what about when the webinar is done? That's where analytics come into play. After your webinar, you can see exactly how the attendees interacted with your webinar. You'll know how many people showed up compared to how many registered, what chats they sent, and even exactly when they were paying attention to the webinar (were they in a different tab the whole time or did they focus on the webinar?). This data is incredibly helpful and allows you to tweak your webinars and perfect them over time.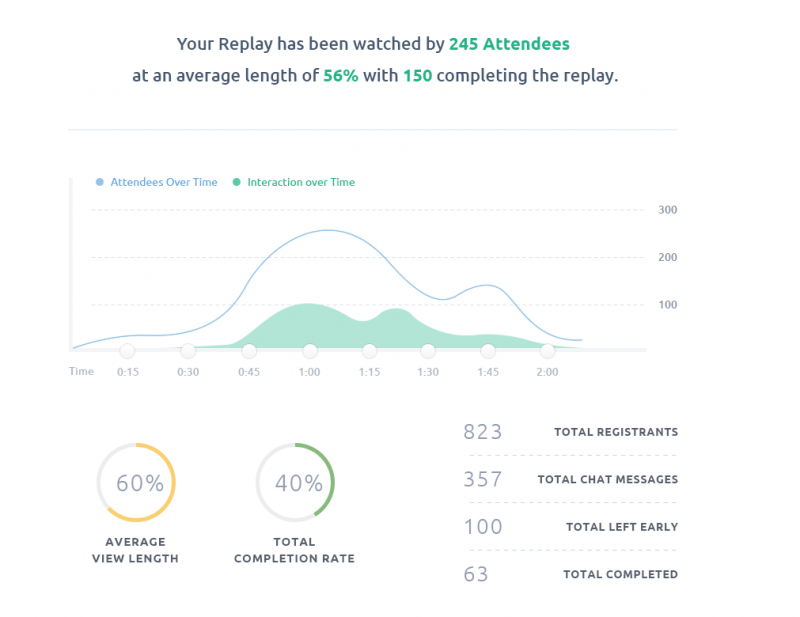 Recordable
If someone was unable to attend your webinar, you can always send them the replay or host it on your own website for visitors to see. Some companies even do free webinars, then put them in their members area so that only members can see the replays. This lets them build up their content over time (providing more value to members), while also bringing in a steady stream of new members; all with no added effort on their part.
Are Webinars Right for Your Business?
Virtually every business can use and benefit from webinars, but if you're not sure if you're ready to use them with your business, let me know in the comments, or schedule a 1-on-1 Demo on Demio, and we can talk about it and figure out the best option for you. 🙂
Now that we've got your attention 🙂
Are You Ready to Experience Webinar Software from the Future?
No Credit Card Required - Get Started in Seconds.