You're using Zoom for your webinars and, for the most part, you enjoy the service. Zoom has several enjoyable benefits: It's easy to use, and many of your attendees already have the software, so they don't have to learn a new platform.
Still, you want to create a more interactive experience for them; it's essential your audience feels engaged and can offer input during your sessions, especially when building brand awareness to grow your sales funnel. After all, the goal of a webinar is to reach your audience in an authentic way so you gain their loyalty.
An open and inviting communication approach shows your audience their time is valued and their input is important. If you fail to create brand loyalty through interactions on Zoom, you need a new platform to assist you. The right one allows you to increase your conversion rate using webinars, so it's imperative to choose a platform that meets your needs.

Zoom Meeting or Zoom Webinar: What's the Difference?
Zoom developed two platforms for video conferences, live streaming, and other online events: Zoom Meeting versus Zoom Webinar. Although they share similar features, each solution is designed for a specific purpose. Zoom Meeting gives you the ability to be more interactive with your attendees and allows greater participation from those who join your event. Zoom Webinar is less interactive but lets you reach a larger public audience. Both options can accommodate high attendance, whether you use them for online meetings with remote teams or stream a virtual event globally.
Why Consider an Alternative for Webinar Creation?
Zoom offers several benefits and is a great resource for hosting large video meetings, but the platform lacks the functionality necessary to produce high-converting webinars.
Check out our webinar software comparison for a more detailed look at how your options stack up.
Zoom Requires a Download
Users have to download the Zoom software to use it. This can be a detriment to people who aren't technologically savvy or who want a more convenient and user-friendly way to attend meetings and webinars.
Zoom Is Missing Many Necessary Features
A good webinar requires customizable registration pages, automatic recording and sharing (so you don't have to remember to record your sessions), and simulated live events. Unfortunately, Zoom lacks these must-have elements.
Best Zoom Alternatives for Hosting Interactive Webinars
To help you begin your search, we've compiled a list of the top five Zoom alternatives for hosting interactive webinars.
1. Demio
Best for: User-friendly interaction for entrepreneurs and small to medium businesses
If you prefer straightforward technology that's easy to set up with robust analytics, then Demio is the webinar platform for you. Build your first webinar live in minutes and start boosting audience engagement in new and enjoyable ways. Best of all, it requires no software downloads for you or your audience.
Demio has a 4.7 out of 5 star rating on Capterra.
Pros
Polls, featured actions (CTAs), and handouts for audience engagement
Email notifications that can be automated, customized, and branded to increase attendance
Ability to run live, automated, and on-demand webinars
Real-time chat features and question tagging to encourage conversation
Analytics to measure webinar performance and track attendee engagement
Integration into your CRM system and/or Marketing TechStack
Customizable webinar rooms, emails, and registration pages with your logo and color scheme to increase brand awareness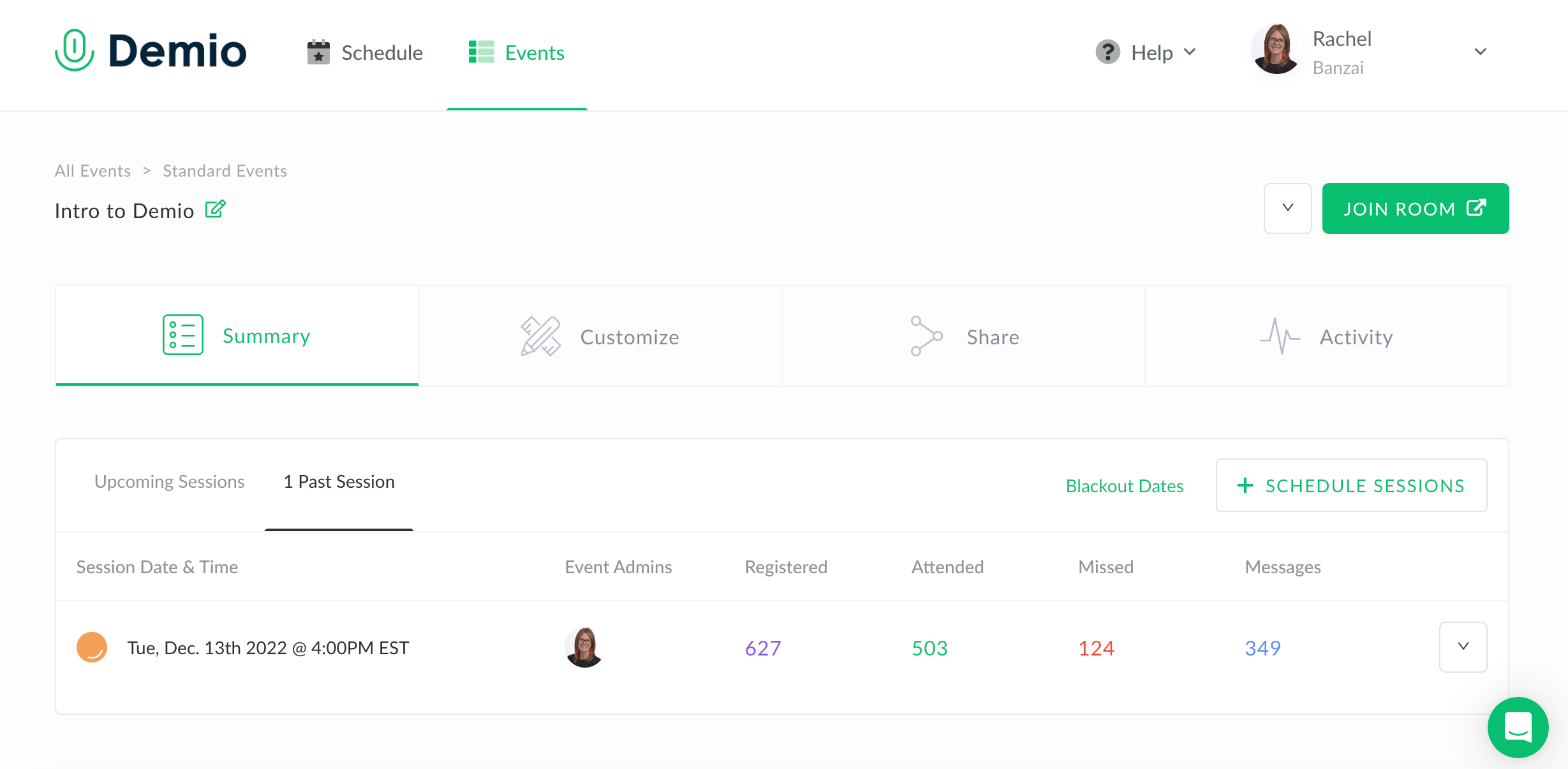 Cons
May be pricier than other webinar platforms
Less equipped to handle meetings
Limited customization features for emails
No whiteboard presentation transitions
Pricing
Demio offers a free trial so you can try it with no obligation. After that, pricing is as follows:
Starter: $499 a year for 50 attendees (monthly options available)
Growth: $899+ a year for 150-1,000 attendees (monthly options available)
Premium: $3,300+ a year for 500-3,000 attendees
Demio vs. Zoom Webinars
Demio compared to Zoom is noticeably more robust. The platform features tools designed to create better, more engaging webinars and may be the more cost-effective option for larger audiences. Zoom has the advantage in that many people are familiar with or have previously used it. However, Demio provides more advanced tools that you can customize for better engagement with your attendees without the burden of an additional software download.

2. ON24
Best for: Marketers and creating brand awareness
If marketing your brand is the most critical part of your webinar journey, then ON24 may be the best Zoom alternative for you. Featuring customizable branding and event management, it makes your webinars stand out with ease.
ON24 has a 4.3 out of 5 star rating on Capterra.
Pros
Tracking and integration data so you know how your webinars perform
Forums for running live roundtables and audience discussion
Hybrid webinar tools for event marketing
Personalized landing pages for maximum brand awareness
Breakout rooms to engage with your most interested audience members
Cons
More template-based than customizable
Blurry video quality and uploads
Unintuitive user interface
Random removal of updates or features without notice
Pricing
ON24 offers pricing plans on request. However, you can book a demo on their website to see what their service has to offer.
ON24 vs. Zoom Webinars
ON24 provides an easier user experience, especially when using webinars fofr marketing purposes. Live breakout room chats and other communication features set ON24 apart, even for those who find Zoom generally easier to navigate.
3. GoTo Webinar
Best for: Hosting virtual conferences and similar events
GoTo Webinar is an ideal video conferencing solution excellent for hosting informative webinars or large-scale events. When choosing among its paid plans, look at how many attendees you can have at one time.
GoTo Webinar has a 4.5 out of 5 star rating on Capterra.
Pros
Customizable webinar pages with white pages
Analytics to track webinar success
Customizable registration
Easily integrates with email and more
Accommodations for smartphones (android, ios, etc.), tablets, and desktops (e.g., Mac, PC)
More affordable compared to other platforms
Cons
Not ideal for smaller events
Little flexibility regarding price plans
Confusion about features included in service plans
Not beginner-friendly
Pricing
After a free trial, GoTo Webinar offers a pricing structure based on how many participants you want per webinar:
Lite: $49 per year for up to 250 attendees
Standard: $99 per year for up to 500 attendees
Pro: $199 per year for up to 500 attendees
Enterprise: $399 per year for up to 3,000 attendees
GoTo Webinar vs. Zoom
With GoToWebinar, it's easy to host large events with multiple attendees on a budget. Achieve the same, if not better, results you would with Zoom while enjoying more features to make your event stick in attendees' minds.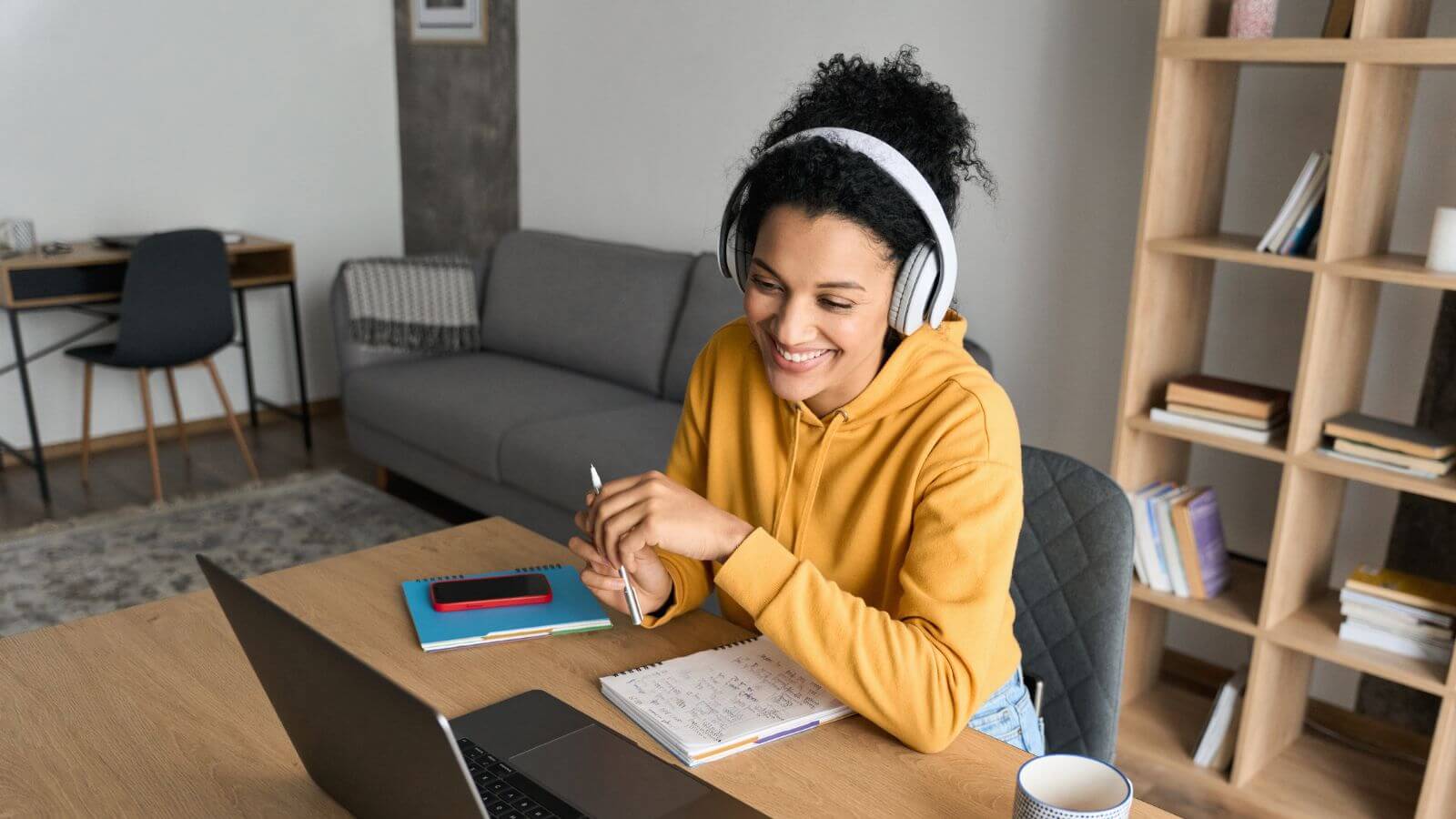 4. Webex by Cisco
Best for: Collaborating with peers or partners
Webex offers several plans and services, so, if you want to switch from Zoom to something that provides more advanced collaboration tools and other communication benefits in the workplace, this may be the service for you. Consider Webex if you plan to use your video conferencing software primarily for internal purposes.
Webex has a 4.4 out of 5 star rating on Capterra.
Pros
Desktop and mobile app for messaging, calling, and collaborating
Integrated audio and high-quality video
Content sharing
Interactive whiteboarding
Personal office spaces for professional meetings
Cons
More for workspace and collaborative use
Price plans and features offered may be confusing for some
Less effective for marketing to consumers (designed to be a meeting tool)
Pricing
Several price plans and services are available for Webex, so work with a sales associate to choose the plan best for you. Get started for free with a plan for meetings up to 40 minutes long and a maximum of 100 attendees. Other options are available based on whether you primarily want to host interactive webinars, meetings, or collaborations with peers.
Webex vs. Zoom
If you're more interested in hosting events to promote a healthier hybrid workplace or to set up meetings remotely like a pro, Webex is the platform for you. Explore the service's various plans that exceed what Zoom currently offers to achieve these goals.
5. Livestorm
Best for: Basic video engagement needs
Livestorm may be among the best online event softwares for marketing teams, especially if you need something simple to use. Produce quality videos with clear audio to engage your audience and share content without having to be a technology pro.
Livestorm has a 4.7 out of 5 star rating on Capterra.
Pros
Host live, on-demand, and automated webinars
Automated features for customer training
Virtual backgrounds and file sharing
Whiteboards for easy presentation
Expansive customization options
Ability to have multiple speakers
Cons
Poor webinar replay quality
No slideshow upload feature
Requires an internet connection to access platforms
Unclear pricing structure beyond the basic and pro plans
Pricing
Livestorm features a free plan that allows you up to 30 live attendees. Additional options include the Pro plan for $88 a month for up to 100 attendees, and the Business and Enterprise plans, whose costs you can learn by speaking with a sales associate.
Livestorm vs. Zoom
If you need an easy platform to host meetings and webinars, it's a no-brainer choice between Livestorm and Zoom. However, Livestorm can be far more versatile and user-friendly. Also, keep in mind that it's cloud-based and doesn't require a software download, which is a major advantage over Zoom.
Important Factors When Choosing a Zoom Alternative
If you're searching for a new platform to replace Zoom, your choice should rely on a few important factors, which we've outlined as follows.
Number of Expected Attendees
How many attendees you have at your webinars is a critical determinant of the type of plan and services you need. In addition to the number of attendees, consider the way you want to address your audience (split screen sharing, conferences, multi-speaker sessions, etc.). The strategy you choose will determine what features you need in your Zoom alternative.
Your Webinar Marketing Needs
Your webinar setup helps you craft an exceptional virtual event experience both for your brand and your audience. Hone in on your webinar marketing needs (e.g., whiteboard, automated emails, customized backgrounds, polls and Q&A for your attendees, data/analytics and other marketing tools) to narrow your webinar platform options.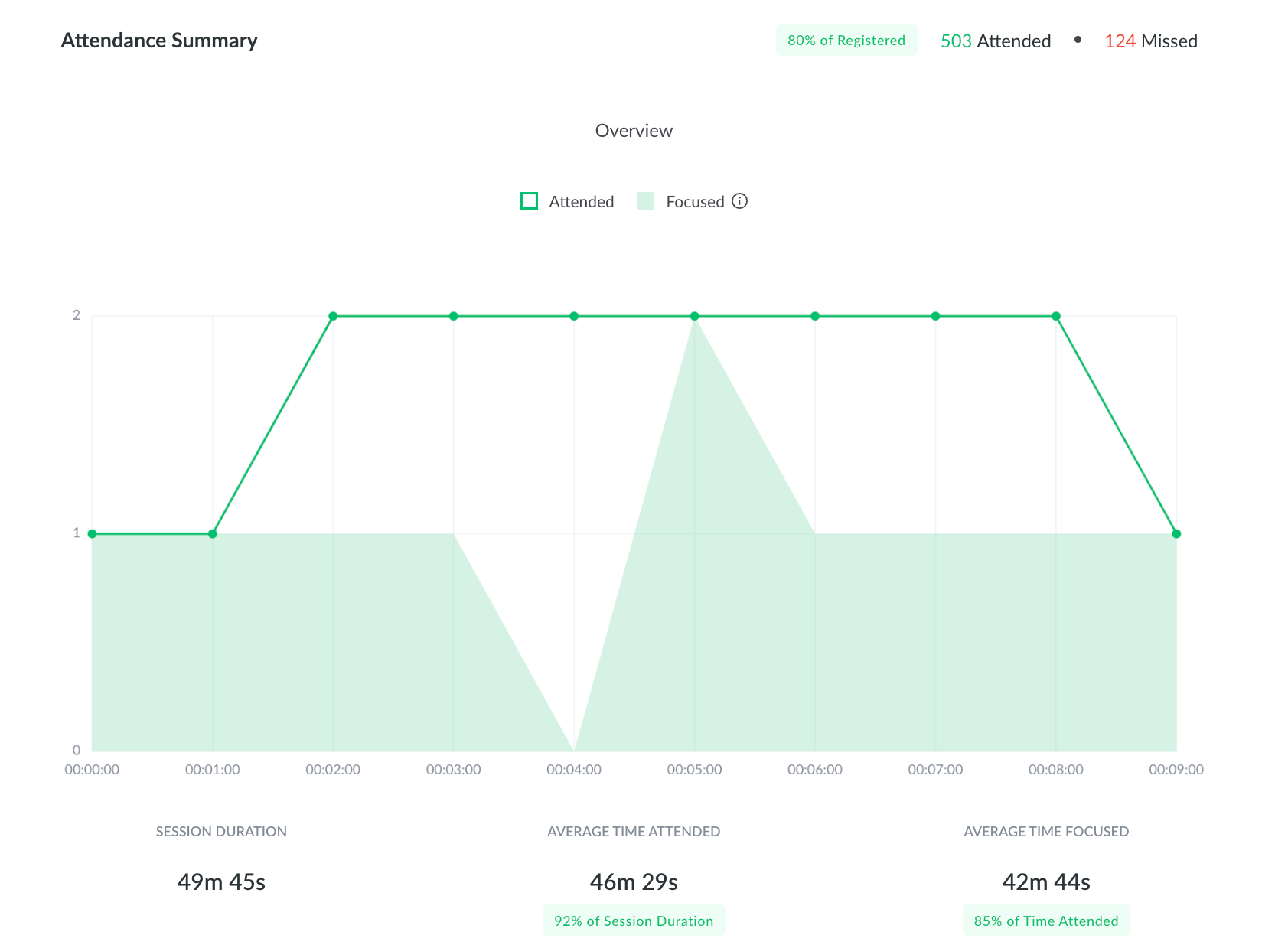 Your Budget
Some Zoom alternatives have free versions and plans but lack the features or attendee allowance you desire. To cut the inadequate options from your list, it's best to request a demo or quote from a sales associate for the webinar platforms you're considering, then compare their benefits and features.
Making the Switch From Zoom
Ready to try a new webinar platform? Any of these five alternatives can serve you well and provide you with plenty of interactive tools to engage your audience, expand your sales funnel, and build better relationships with your target demographic.
Demio makes it easy to switch. Allow our team of specialists to help you get started so you can keep your contacts and create your first engaging webinar within minutes. Not sure if you're ready to commit? Book a demo before selecting a plan that fits your needs and budget. Or, if you've already decided to migrate from Zoom, get started for free today.