A few months ago, we released a product update that changed how events were structured within your account. That update enabled a dedicated overview area for each event, containing sessions, recordings, customization options, sharing materials, and more.
Up until today, there were three tabs within each event overview:

We knew this was just the beginning of the event overview area, and we still had a long way to go to continue making this the central place to view, manage, and track anything related to your event. But as of today, we're one step closer to making that happen.
Introducing the fourth, all-new, Activity tab:

Bringing Your Entire Webinar Campaign to Life
The actual live (or automated) session of an event may run for about an hour, maybe two, but this is a small amount of time when compared to the overall event campaign.
From actually promoting your event to everything that happens afterwards, the new Activity area is for every other part of your webinar campaign. Any activity that happens across your event can now be found in one area.
We'll be releasing the Activity area in two parts, with part one being released today:
Part One: People
Previously, If you wanted to view people who registered, attended, or missed one of your sessions, you would be taken to a completely separate contacts area within your account.
This will no longer be the case. As of today, we are officially saying goodbye ? to the Contacts area.
Managing contacts in one central area became tedious, especially for customers with a lot of events. To find a specific group of contacts, you would first need to filter by event, and then filter by session. Afterwards, you would need to navigate back to your event on a completely different page.
Since there's no benefit of having all of your contacts in one area within your account (and we have no aspirations of becoming a CRM ?), we decided to scrap this concept entirely.
Now, as people register for your event, you'll see them appear in your Activity tab.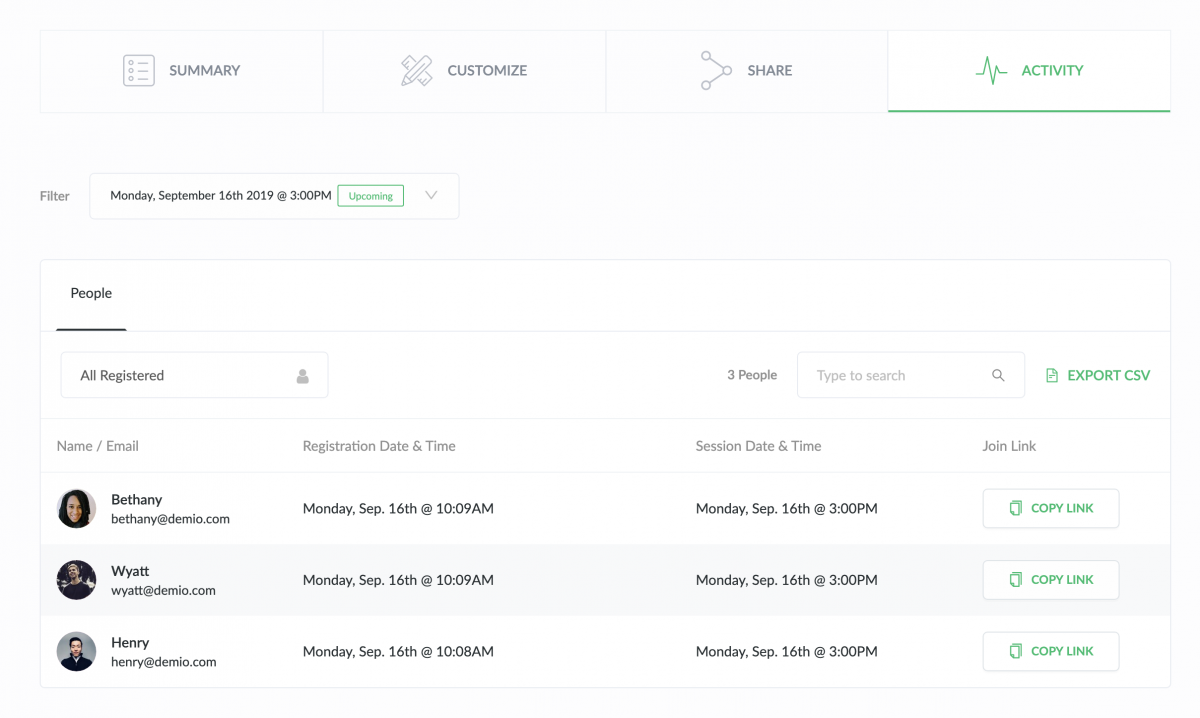 From here, you'll see a visual list of everyone who's registered for your upcoming sessions. You can run a quick search, or even export the list with one click. This list updates automatically as new activity occurs, without you even having to refresh the page.
By clicking on anyone in this list, a slide-out card will appear with additional options and details.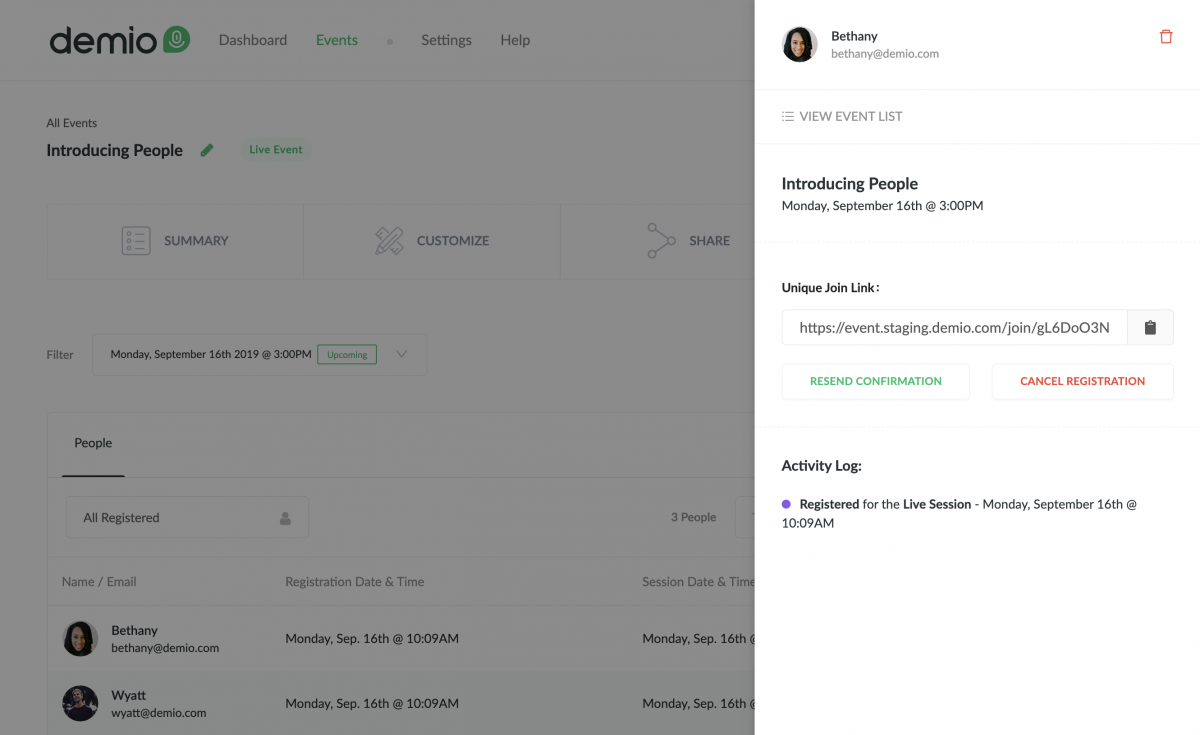 Without ever leaving your event, you can now cancel someones registration, resend their confirmation email, or even delete them from your account completely.
Even More Details After Each Session
Once your session has come to an end, you can simply navigate back to the same Activity tab to see how everyone engaged with your event.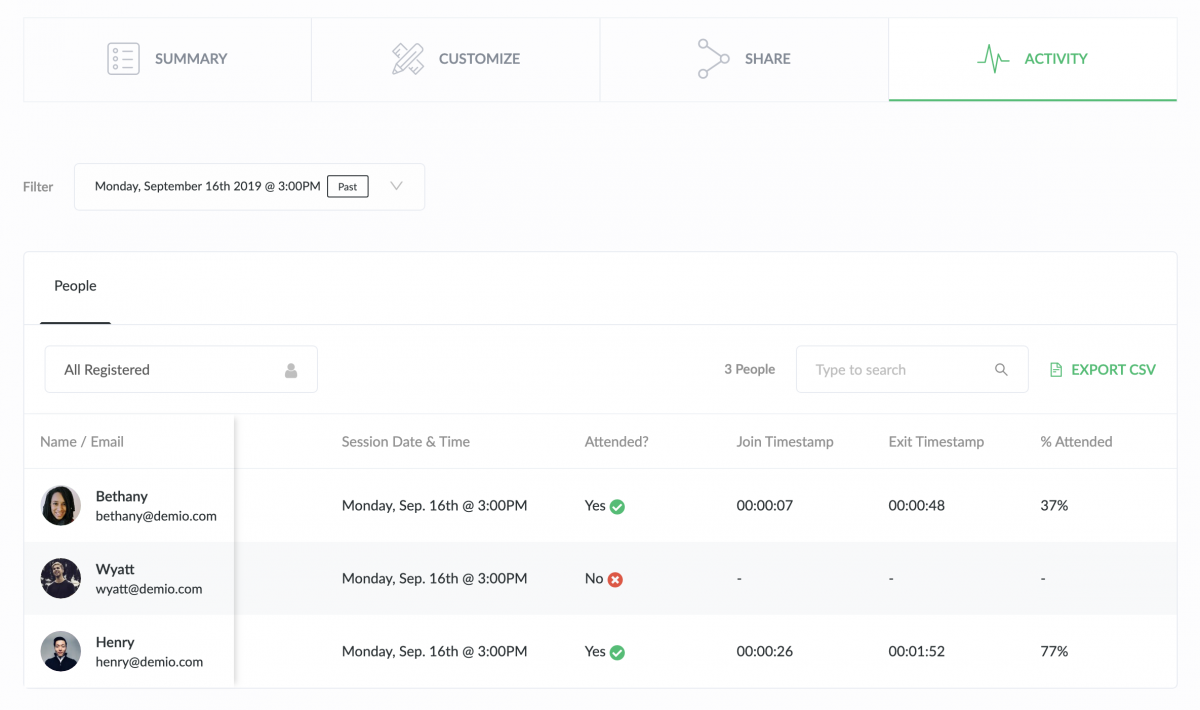 From a quick glance, you can see who showed up and who missed.
For people who attended, you'll get additional information such as join timestamp, exit timestamp, and the percentage (%) of the session he/she watched.
We built the new People area as a strong foundation for what's to come. As we collect more information in the future, we'll be able to easily add additional columns within this table to make your marketing campaigns more effective than ever before.
Additional Filtering Options for On-Demand
Not only can you view people attached to scheduled sessions, but you'll also have another option to view On-Demand activity across a date range.
This new functionality will allow you to see how many people registered or attended your Automated Event across a specific range of dates, while also being able to see those additional attendance details.
The Next Chapter
While this alone is a very notable product update, it's just the beginning for the new Activity area. Over the coming months, we hope to make this one of the most important pieces of the Demio product.
Coming soon…
Stay tuned! ?
Have any ideas what Insights are going to enable? Leave a comment below and let us know what you're thinking!