Millions of webinars are hosted every year for many different reasons. This is because webinars can be used for tons of different things, all of which can help you grow your company and build relationships.
Growing your business with webinars isn't just about sales and marketing, either. Many companies, as you will see, use webinars mainly for providing tons of free value to their current and potential customers.
We're going to go over some use cases from some companies that you probably know, and see how each of them are using webinars to grow their business.
1.
Neil Patel
– Lead Generation
Neil Patel uses webinars for lead gen constantly; he promotes webinars in everything he does. In fact, the first thing that you see when landing on his blog is a massive ad to join his free SEO training that teaches you how to get 195,013 visitors a month.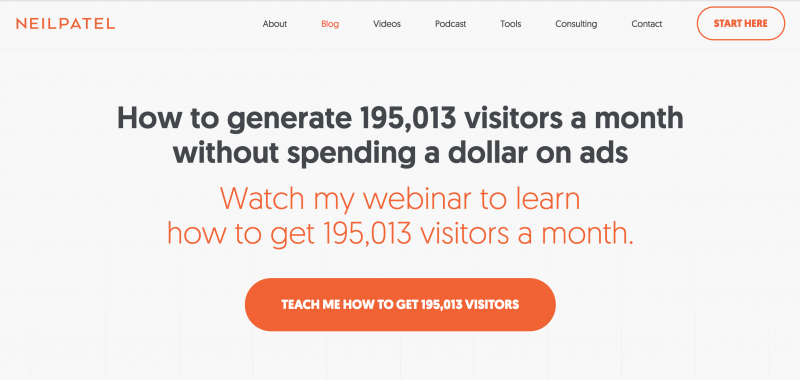 This training brings tons of value to anyone that goes to Neil's blog and is interested in SEO. After signing up for the free training webinar, not only does he get a new lead via their name and email address, but the lead will most likely be a fan of Neil's after watching his free training, where he doesn't try to sell anything up front at all. If the visitor enjoys the content and found it valuable (which Neil makes sure it is), then they're no longer just a cold lead, but a warm lead that is most likely open to receiving more value from you and your company. All from one webinar!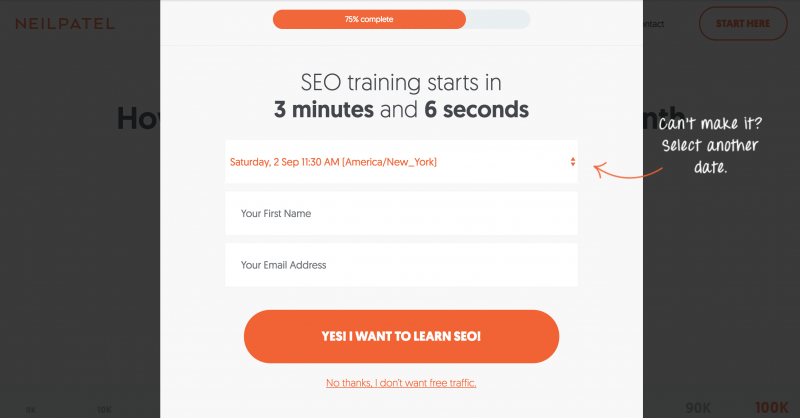 You can tell that it's working incredibly well for Neil, because you'll have difficulty finding a page where he doesn't promote his free value webinars: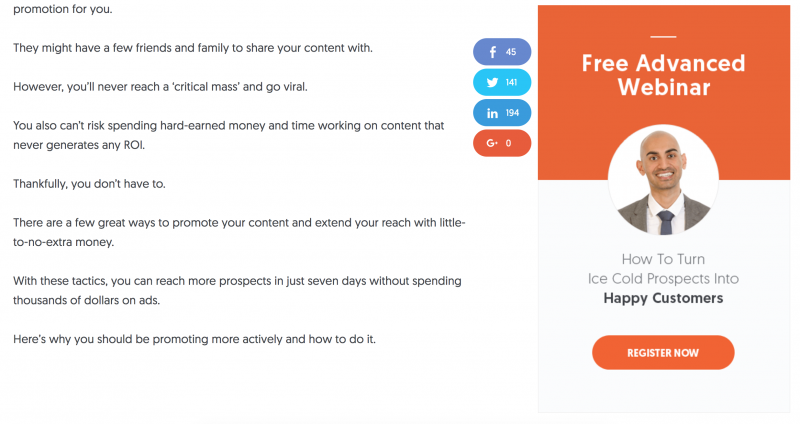 How You Can Do This
You don't need to be a thought leader in your industry to host training/information webinars on a topic that you or someone at your company knows a lot about.
This is similar to a typical Marketing/Sales webinar, but instead of selling, you're using the webinar as an actual lead generation source. You don't need it to be a step-by-step training, either. You can host a free content show or webinar that offers nothing except hot topical content, guest speakers, or edutainment (educational entertainment).
You might often see these as FB Live, Periscope, or Instagram Live streams giving pure free content on a live show.
The only difference by doing a webinar is that you'd be able to capture those leads instantly into your CRM / Autoresponder and continue to nurture them.
These are typically colder leads, and if you decide to do a pitch, expect a lower conversion rate on any product sales (unless you've really dialed in on a solid sales presentation + avatar that you're marketing to).
Mostly you'll be looking at ways to just cut through the clutter and get people interested in joining you live, cracking the door and getting attention.
When you are in Lead generation mode, your only obligation is to find and qualify leads who would be primed to purchase your product. Cold leads (once captured) need to be moved through a long process of "Know, Like, Trust" to warm them up to your marketing message and brand.
The goal is to get the relationship built on a solid foundation, so that when they face the pain or you remind them of the pain, your brand/business becomes the one they go to for help.
Running a weekly webinar giving free content to your LEADS can be a powerful way to start building that relationship. You can offer free gifts (or discounts?) just for coming on live and then use the time to have conversations.
I'm not just saying running a scripted presentation. Bring the content that's going to help your prospects, but take the time to ask questions, learn where they are in the process, and do your best to help them live.
Giving personalized information will trump any canned content and will build a relationship faster than ever.
I love this method. No pitch, pure content, and conversation.
Do a few of these and you'll find you've created raving fans who (even if not buying now) will be truly brand evangelists and go out of their way to help you and your business.
---
2.
HubSpot
– Sales Webinars
HubSpot uses webinars to train current and potential customers on different aspects of business, while promoting their own products. They basically provide you with a lot of valuable info, and then tell you about how their products and tools can help you execute that new knowledge. This is a great way to warm up leads and push them towards sales conversions.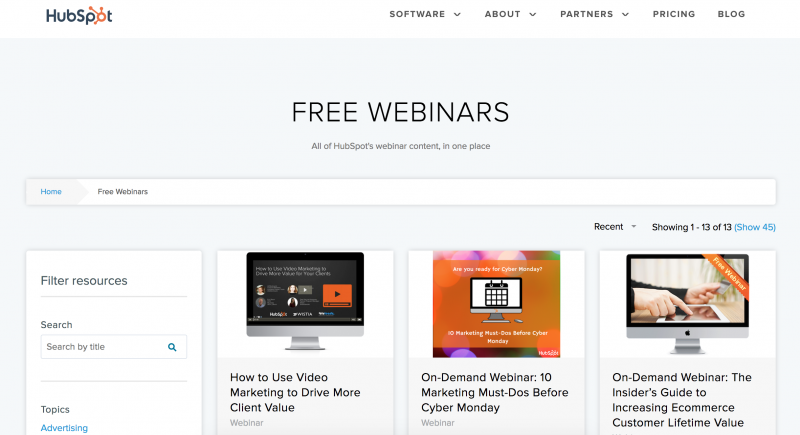 How You Can Do This
By far, the largest majority of webinars are used for marketing and sales. The coolest part about this, in my opinion, is that it's not only large companies running webinars; it's just as simple for solo entrepreneurs and small companies to run them. Many entrepreneurs have built their businesses purely using webinars.
If you'd like to do what HubSpot is doing, you should either be an expert in your niche or hire one to create free training sessions about different things in your industry. This works best if your training is based around something that can be improved by using your product.
An example would be if we (Demio) ran a live training on speeding up your sales funnel to get a faster ROI, and then mentioned during the training that using webinars can dramatically speed up the time from lead to sale, and we conveniently know the best webinar platform out there 😉
Note that we wouldn't pitch our product until after we've provided sufficient value. The attendees should be able to walk away feeling like that was a good time investment, regardless of whether or not they bought your product.
We've written an in-depth guide with specific tips to increase your webinar sales conversion rates, so be sure to check that out!
---
3.
Leadpages
– Live Training
Leadpages uses webinars to provide live product training.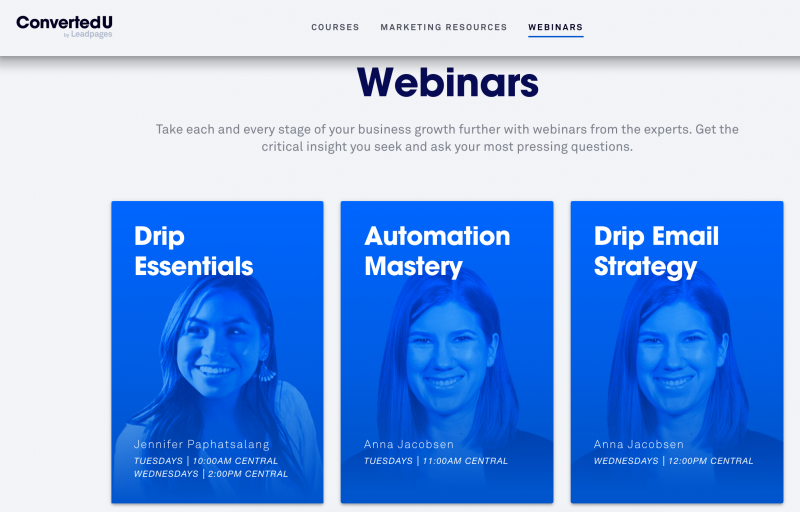 How You Can Do This
Have a remote team, or want to teach people how to do something? You can host your next employee training session on a webinar, and even if someone can't make it, you can just send them the replay! This can also work really well for customer product training as well; the more they know how to use your product, the more likely they are to continue using it.
Bonus points if you have a section on your website where you list all of your past and future customer training sessions. This way you will slowly build an archive of all of your training that you can refer to for future and current customers. Talk about value!
---
4.
UXPin
– Virtual Summits
UXPin uses webinars to host the world's largest event in their industry. So far for 2017, they've gotten 31,000+ registrants and 11,000+ attendees. Not bad, eh?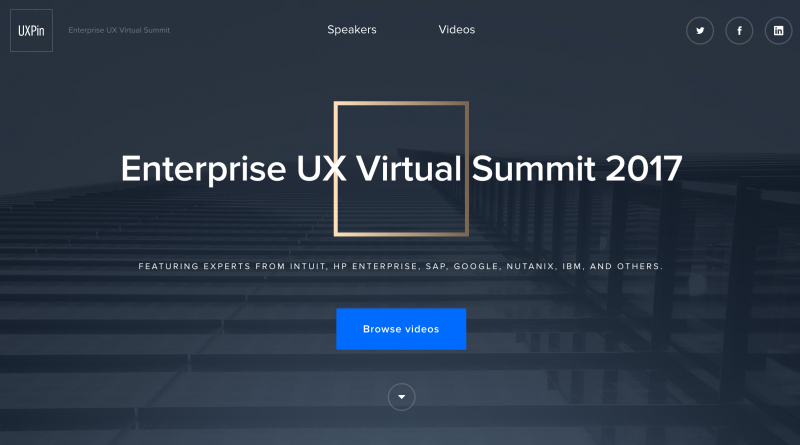 How You Can Do This
Virtual summits are basically online seminars where a bunch of experts come together to share their knowledge on a subject. If you have some authority in your niche, then you shouldn't have much trouble gathering experts to speak for the summit (sometimes for free!), as well as gathering an audience using your current connections.
If you don't have much authority in your niche yet, you might want to consider approaching experts early on and developing a relationship with them. When the time comes to start gathering experts for your summit, you can ask them if they would be interested in being involved, and then negotiate terms from there. You might have to pay them for their time, but if you do it right, the investment will be well worth it.
---
5.
Demio
– Live Interviews
Hey, that's us! You can provide massive value by conducting live interviews on webinars. For example, we have a webinar series called Demio Discover, where we frequently host interviews with top experts in the SaaS industry. This not only provides a ton of value for attendees (both our audience and our guest's audience), but also for our guests; we promote them to our audience, allowing them to reach more people and build their audience. It's a win-win situation for everyone..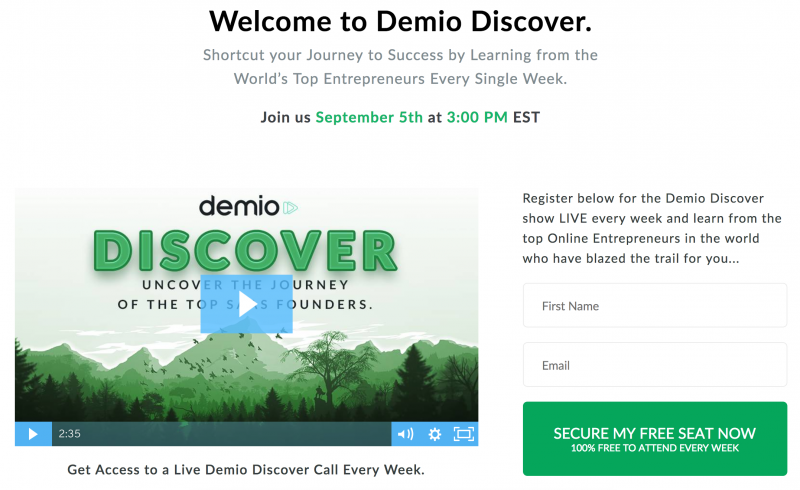 How You Can Do This
Even if you're just starting out, you can still leverage other things to get great guests on your live interviews. Sometimes it might be as simple as offering to pay the guest for their time, but you can also get a bit creative. If you have a product that your prospective guest could benefit from, offer to give them free access in exchange for their time.
If you have a large following, offer to share the interview with them, giving your guest more exposure (you should do this regardless). If they have a product to sell, consider allowing them to share information about the product on the interview.
Slowly, you can build up credibility and a following, to the point where amazing guests are asking to be on your show!
DOWNLOAD YOUR FREE WEBINAR STRATEGY CHECKLIST BELOW
Use this checklist
to design your very own high-converting webinar marketing strategy from scratch, then automate the process to attract high-quality leads.
We promise to never spam or send emails about cats.
Okay, maybe some cat stuff.
---
InVision uses webinars to help with their customer onboarding. They teach their customers how to use InVision live, answering all of their questions and helping them use their product more efficiently.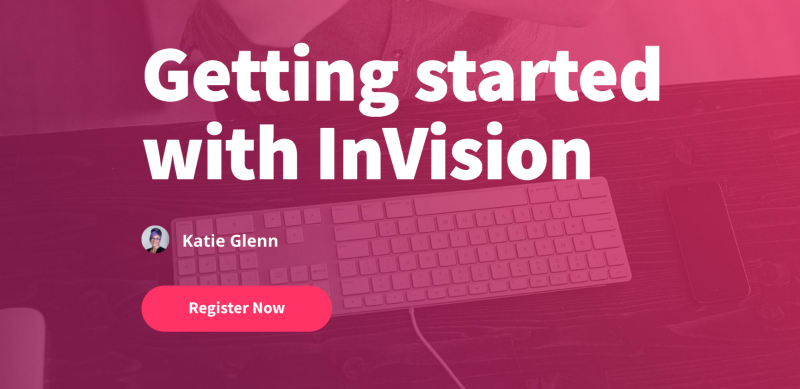 How You Can Do This
If you want to onboard your customers live, webinars can be your secret weapon to get happier customers and higher conversions. We've found that onboarding through webinars allows us to build strong relationships with current and potential customers, allowing us to increase our conversion rates and reduce churn with those customers.
But, a scalable way to do this would be through a scheduled weekly onboarding call to get everyone together. If you are in a coaching or product business where building a community is a big piece of your marketing, than this is an easy way to get everyone together, on the same path and have a group working together to help each other.
---
7.
Demio
– Live Product Demos
Us… again? Well, we wouldn't be much of a webinar platform if we didn't use webinars often now, would we? 🙂 We use webinars to do 1-on-1 demos of Demio (try saying that 5 times fast) with potential and current customers. This allows us to help potential customers see if Demio is right for them, and let's us help our current customers with any questions that they may have, personally.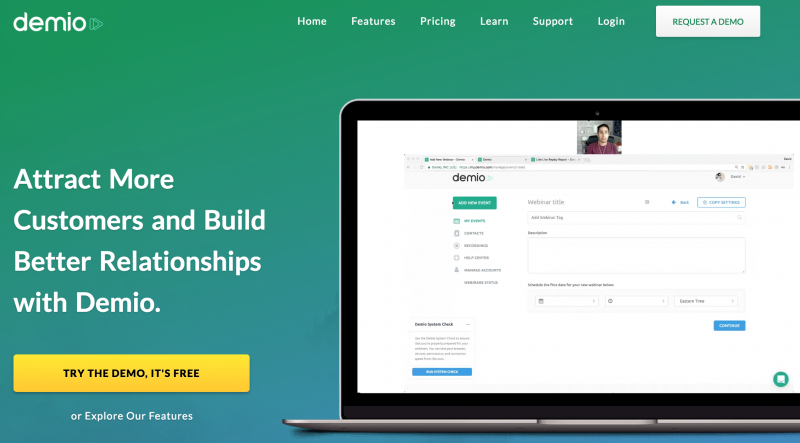 How You Can Do This
If you have a product that requires (or would benefit) from a live demo with your current and potential customers, then it's quite simple to use webinars to do demos. You then need to decide whether your demos would be better 1-on-1 or 1 to many.
We do 1-on-1 demos because our customers often have many questions specific to their business and how they will be using our platform. If you don't get many scenario-specific questions for your product from potential customers, then you'd probably be best using webinars for 1 to many demos, so you can answer questions for everyone to hear and get more done in a scalable way.
---
ClickFunnels uses live Q&A webinars to teach current and potential customers about their products. They allow anyone to come on the webinar and ask questions live about their product, and they will answer every question in depth.
They promote their webinars through Intercom to current and potential customers: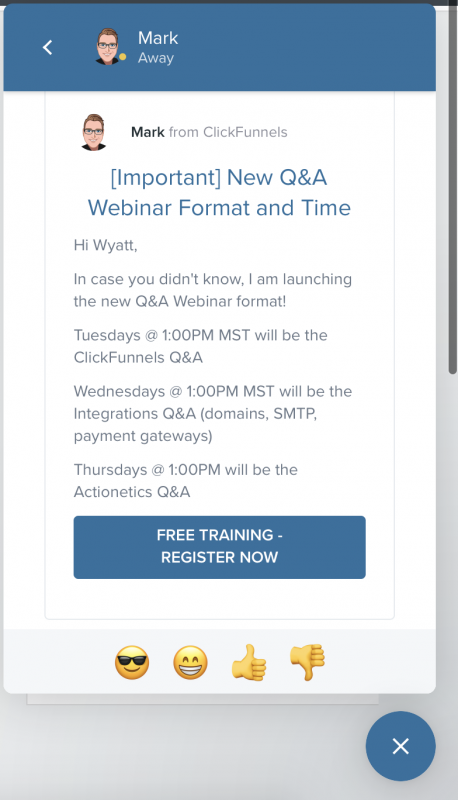 How You Can Do This
Get a lot of questions about your product/book/movie/cat/etc.? You can answer them live on a webinar! Not only does this help you improve, but it also provides tons of value to your audience, while also allowing them to interact with you and help you build a relationship with them.
These webinars are key for keeping monthly Churn down, user engagement high, and are often even better for moving users into your next programs.
Why? Again, because you are deepening your relationships with your customers and removing objections.
The easiest way to get people into your higher end programs and sales is to simply get them using your product.
Any results they get will help move them forward in your pipeline, so your mission needs to be aimed at getting them to take action.
This also gives you a great real time feedback understanding of what needs to be worked on in your product (no product is ever *perfect*) or how you can onboard/train users better from the beginning.
Use these webinars as great feedback channels for your business and marketing. (Any objections listed and overcome here can be used in Marketing later to better talk to your prospective leads).
DOWNLOAD YOUR FREE WEBINAR STRATEGY CHECKLIST BELOW
Use this checklist
to design your very own high-converting webinar marketing strategy from scratch, then automate the process to attract high-quality leads.
We promise to never spam or send emails about cats.
Okay, maybe some cat stuff.