We're delighted to share some exciting news with our valued community of marketers. Demio has recently received a remarkable recognition that truly underscores its excellence. Demio has been honored with not just one, but an astounding 15 prestigious awards from G2 in their Fall 2023 Reports, one of the most trusted and renowned software review platforms in the industry. These awards reflect the unparalleled value and exceptional performance that Demio consistently delivers to our users. In this blog post, we'll dive into the details of this fantastic achievement, exploring the significance of these awards, what they mean for our users, and why Demio continues to stand out as the ultimate choice for marketers.
G2's awards are a seal of approval from real users and customers who have experienced Demio's power firsthand. Here are the 15 awards Demio has proudly earned:
Demio ranked as "High Performing" in the following categories because the product consistently received high customer satisfaction scores.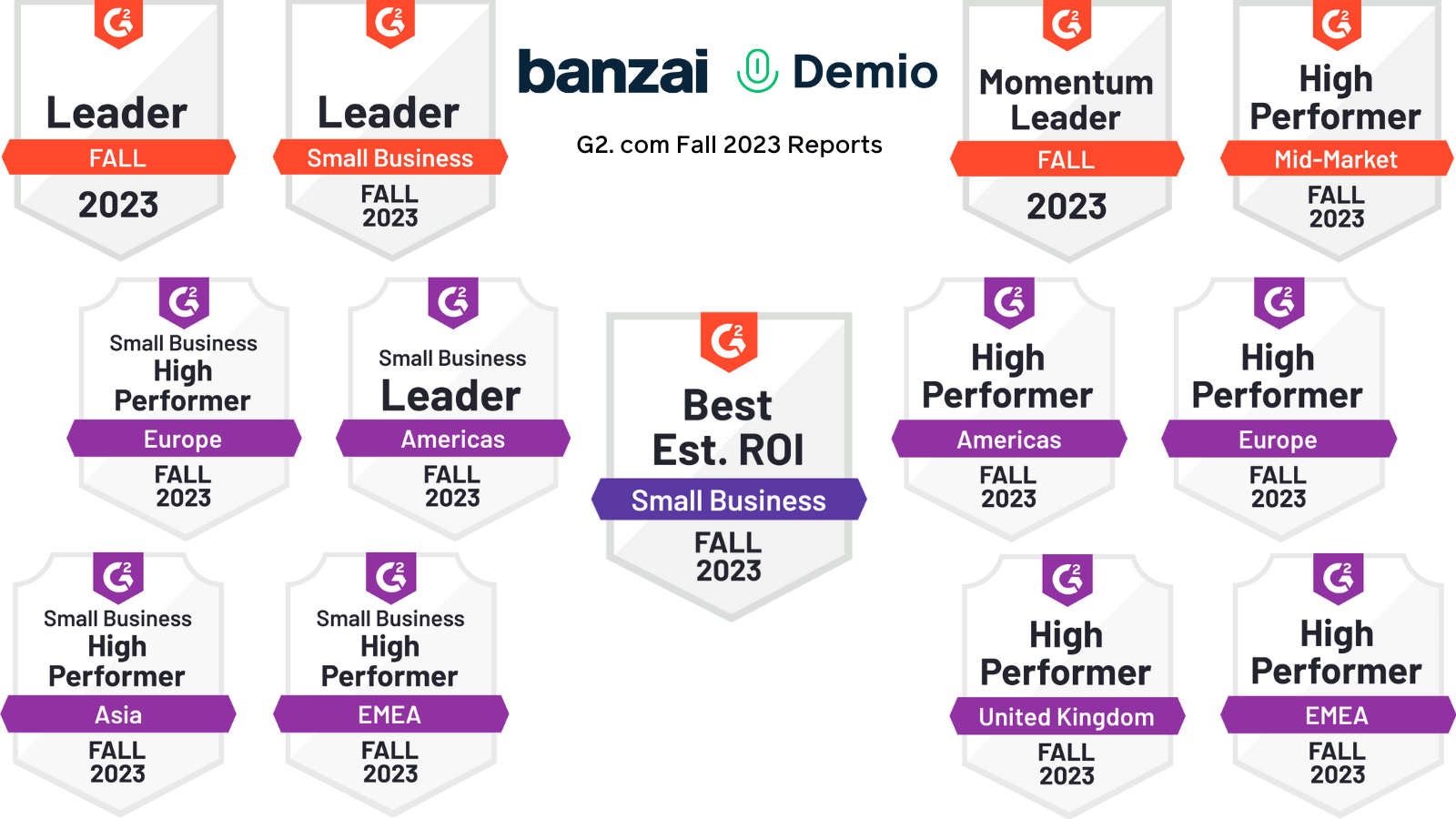 Mid-Market Webinar
Americas Webinar
Europe Webinar
United Kingdom Webinar
EMEA Webinar
Small Business Europe Webinar
Small Business Asia Webinar
Small Business EMEA Webinar
Americas Screen Sharing
Demio ranked as "Leader" in the following categories because the product is highly rated by G2 users and has substantial satisfaction and market presence scores.
Small Business Webinar
Small Business Americas Webinar
Webinar
Demio ranked as webinar and screen sharing "Momentum Leader" because the product ranks in the top 25% of webinar products and screen sharing, according to webinar users.
Demio ranked as "Best Estimated ROI" in the Small Business category based on a combination of estimated time to achieve ROI and time to go live.
For marketers, these awards signify more than just recognition; they translate to tangible benefits:
Proven Excellence: Demio's consistent recognition as a leader and high performer confirms its unwavering commitment to excellence.

Ease of Use: The "easiest to use" awards validate Demio's user-friendly interface, allowing marketers to focus on content and engagement instead of grappling with technology.

Recommendation Worthy: When your peers and colleagues recommend a product, it's a testament to its quality. These awards mean Demio is not just good; it's outstanding.

Meeting Diverse Needs: Whether you're hosting marketing webinars, virtual events, sales demonstrations, or customer success onboarding , Demio has you covered.

Efficiency and Productivity: Demio's ease of setup and administration translates to time saved and increased productivity for marketers.
In a crowded market, Demio continues to shine because of its relentless commitment to providing the engagement and data that marketers need to make impactful marketing decisions. Our commitment to delivering the best user experience, combined with cutting-edge features, ensures that you have everything you need to succeed in your marketing efforts. With Demio, you're not just getting a tool; you're gaining a partner dedicated to your success.
The 15 awards from G2 reaffirm that Demio is not just a webinar solution—it's a competitive advantage for marketers. We're incredibly proud of this achievement and grateful to our community for their trust and support. As we continue to innovate and improve, we look forward to helping marketers like you achieve even greater success with Demio. Thank you for being a part of our journey, and here's to many more accolades and victories together!