Do you want to attract high-quality leads? Then forget about creating countless lead magnets or designing subscription annoying pop-ups people will ignore. There are other, less-explored yet efficient strategies you can deploy TODAY.
In this post, we'll show you how to run a virtual summit and get remarkable results.
In fact: these are the same steps that we used to attract 1,659 high-quality leads with our first-ever SaaS Breakthrough Virtual Summit.
Let's dive right in.
What is a virtual summit?
Simply put, virtual summits are online events that feature different industry expert interviews or presentations aimed to reach a broader audience. 
DOWNLOAD YOUR FREE WEBINAR STRATEGY CHECKLIST BELOW
Use this checklist
to design your very own high-converting webinar marketing strategy from scratch, then automate the process to attract high-quality leads.
We promise to never spam or send emails about cats.
Okay, maybe some cat stuff.
Compared to in-person events, virtual summits lack the face-to-face interaction and networking element. They do, however, provide a powerful platform for knowledge sharing and, in some cases, live engagement.
Pre-recorded or live online summits ? ?
To run a pre-recorded virtual summit, you'll want to record multiple interviews with different guests, edit the videos, and publish them to your platform. Once the videos have all been prepared, you can launch the virtual summit and give people access to the content.
Pre-recorded virtual summits significantly reduce that uncertainty factor that live events often have. You won't have to go through the stress of moderating the knowledge sessions or deal with possible tech-related malfunctions, such as bad WiFi.
Additionally, you won't have to spend time figuring out the communication logistics between your virtual attendees and your speakers.
The downside, though, is that along with reducing the uncertainty factor, you're also reducing the audience engagement rate.
Yes, you can use a chat option during the pre-recorded virtual summit, but your attendees won't have the opportunity to interact with your speakers live, which could decrease their interest in staying connected during the entire summit.
That's why we recommend you to start by planning a live virtual summit.
Instead of pre-recording the speeches or guest interviews, you'll be interacting with them live, on a specific date, at a specific hour, with hundreds or thousands of people watching.
Obviously, running a live virtual summit is much more stressful; in fact, it's almost the same as running a real event. But with live virtual summits, you're giving your virtual attendees the opportunity to interact with your speakers, which will subsequently increase their engagement levels.
Should you run a virtual summit?
The fun part about running a virtual summit is that you can do it no matter who you are and what you do. Just like social media posts, blog articles, podcasts or videos, virtual summits are a great content format that will help you:
Increase your brand awareness
Grow your authority
Position yourself as an industry curator
Grow your email list and attract qualified leads
Get people to talk about your brand on social media
Attract more attention and organic traffic
So whether you're a CEO, marketing professional, SaaS founder, industry influencer, solo entrepreneur, or even freelancer, you can always run a virtual summit to achieve your goals.
At least, this is what we did … and we got some great results.
Here's our step-by-step process of how we ran our first virtual summit and attracted 1,659 qualified leads.
---
? BEFORE THE EVENT ?
---
Step 1. Know your "WHY"
Compared to recording podcasts or writing blog posts, planning a virtual summit takes a lot of time, resources, and effort. So knowing your "WHY" is crucial.
Why do you want to run a virtual summit? What are your goals?
These are the first questions you'll want to ask yourself before gathering your team and preparing for your first virtual summit.
Our WHY and goals were clear from the beginning:
Goal #1. Get exposure for Demio Live with a SaaS community. We're a webinar platform, and SaaS marketers can easily run virtual summits using our software. So how can we get more exposure and credibility? By running a virtual summit ourselves.


Goal #2. Generate new Marketing Qualified Leads (MQLs). Running virtual summits is a part of our content marketing strategy, meaning we've decided to use this type of content as a lead magnet and attract the right leads for Demio.


Goal #3. Increase the brand awareness for our podcast. That's self-explanatory. But in case you didn't know about our podcast, Saas Breakthrough, check it out on iTunes. You'll love it!
Having these goals in mind, we knew exactly what a successful virtual summit would look like for Demio. Plus, we had a specific roadmap that helped us narrow down our planning actions and focus on the essentials.
Quick tip ?
If you're struggling with figuring out your virtual summit goals, take a look at your business OKRs (objectives and key results). What do you want to achieve this year? What are your goals for Q1, Q2, or Q3?

Do you think that a virtual summit can bring you closer to those goals? If so, then there you have it. Choose one business goal you want to achieve in the near future and plan a virtual summit around it.
Step 2. Define your audience persona
You don't have to come up with profiles for Manager Tom and Overachiever Sarah. Who came up with these silly naming conventions for buyer personas, anyway?
By defining your audience persona, we mean deciding who your virtual attendees will be (their demographics, interests, pain points, etc.). Apart from that, you'll want to define where they are on their buying journey map.
In other words …
Will you be targeting people at the top of the funnel?
Will you be focusing on those who are at the middle of the funnel?
Will you be attracting those who are at the bottom of the funnel and ready to purchase your product?
In our case, we decided to target our current ICP, which is a range of mid-market SaaS companies of different sizes. We focused on talking specifically to the SaaS marketers, since they're our main podcast audience.
By defining our audience persona, we were able to partner with companies that had the same audience and work together on deciding specific topics that would be of interest.
Note that the companies we partnered up with aren't our competition. Although we are targeting the same group, we are focused on developing different products and tackling different issues.
Quick tip ?
If you have multiple buyer personas and audiences, we recommend you define one specific persona and build the entire virtual summit just for that one persona. Wanting to cover different buyer personas may be less attractive in terms of topics and problems you'll be tackling than a narrow-focused, online event.
Step 3. Decide who your speakers will be
We chose our speakers very strategically. Since this was an offshoot of our podcast, we wanted to continue interviewing different marketing professionals from SaaS companies.
We looked at both past guests and great SaaS companies that could provide quality content and specific promotion. Having this in mind, we wrote out our ideal guest list and reached out to the people on that list to see if they'd be interested in participating in our virtual summit.
Quick tip ?
If you aren't sure if your ideal guest list can provide quality content, we suggest you do some in-depth research before reaching out.

For example, you could search for the names of the people you're interested in and see if they've been invited to participate in podcasts or spoken at previous events or engagements.

Find out everything you can about them.

– Are they creating interesting blog posts or insightful LinkedIn content?
– Do they have YouTube videos explaining industry-related concepts?
– What are their engagement rates?

This will give you an idea about the content quality level they can deliver.
Step 4. Reach out to your potential speakers and get them to say YES
There's one simple secret weapon you can use to get potential speakers for your virtual summit: Spell out what exactly they will get by taking part in your virtual summit.
In all of our emails, we explained the benefits our potential speakers will get by accepting our offer. We also added credibility builders and mentioned a few other prominent potential speakers, such as, "We also talked to X or Y person."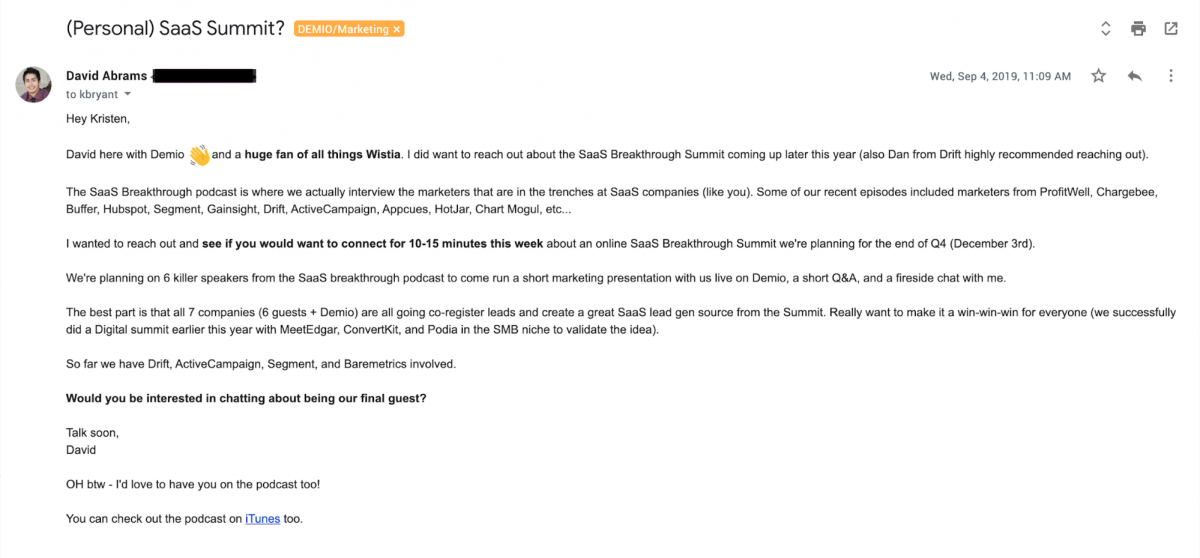 Then, we closed the email with a quick nudge, encouraging our potential speakers to get on a quick call with us.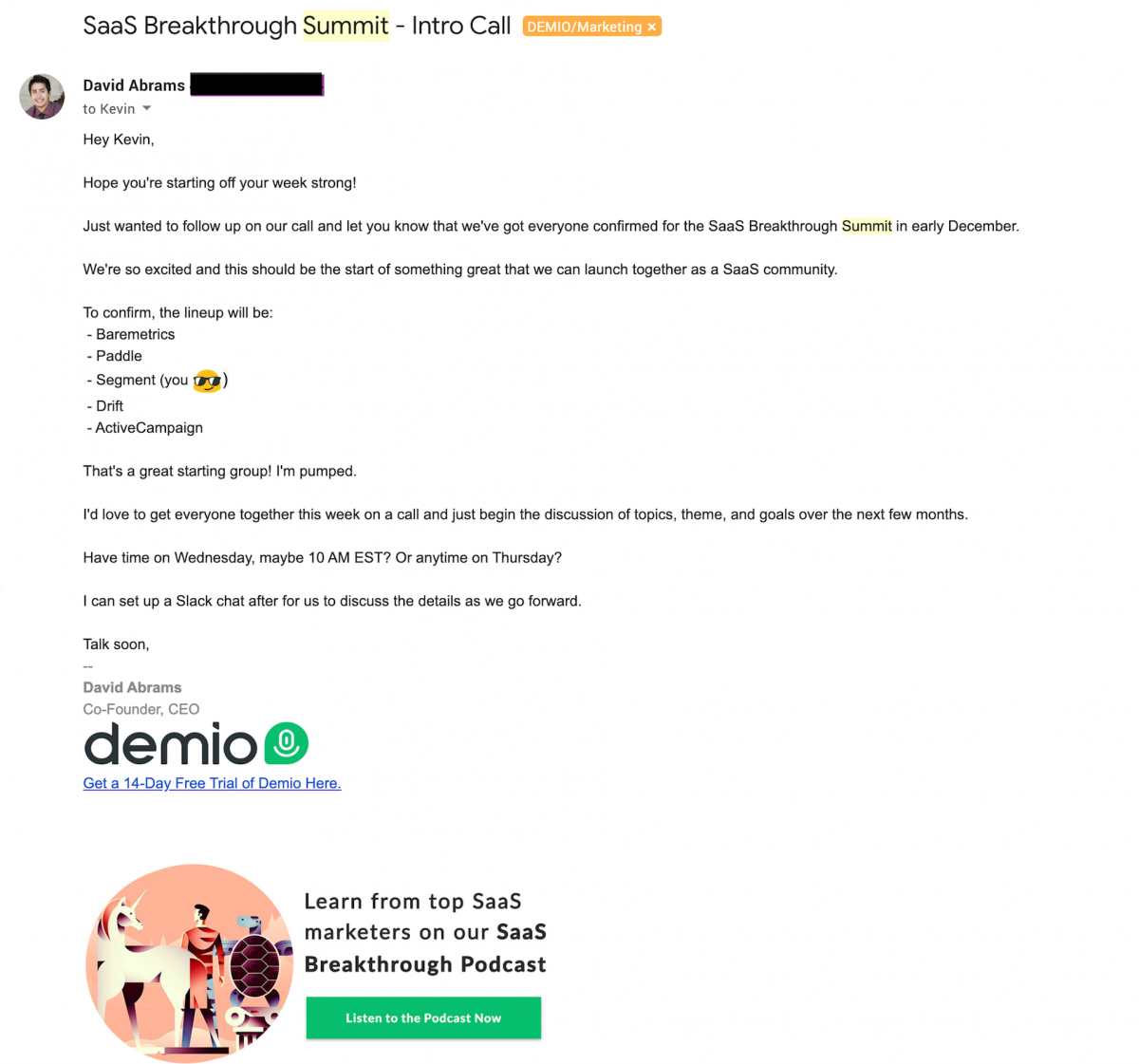 We made sure to talk directly with every single guest, answer their questions, and outline the group initiative. Luckily, we had most of the potential speakers' email addresses, since the outreach messages were follow-ups from our initial conversations from our podcast.
As an incentive for their participation, we did a co-marketing lead share with all companies for MQLs. We also allowed guests to launch pop-up featured actions during their speeches on their websites, lead generation forms, or materials.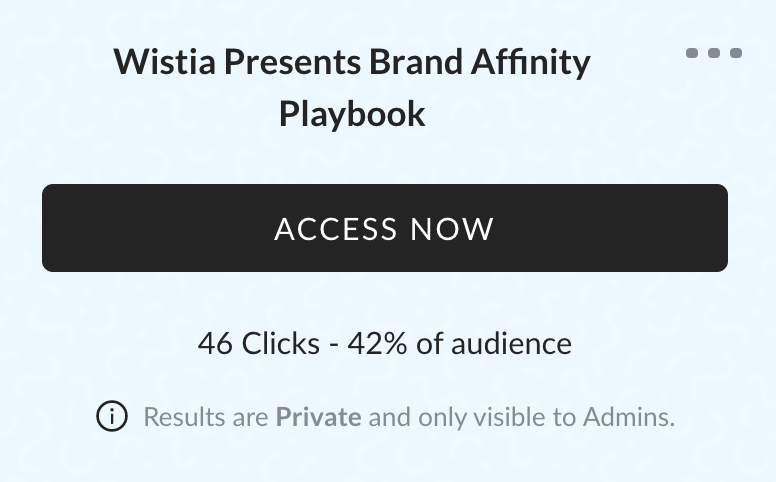 That way, everyone had a very good reason to both promote the event and focus on creating valuable presentations.
Quick tip ?
Start building relationships with industry stakeholders today. Invite people to your podcast, feature them and their websites on your blog, co-create content with them, or invite them to partake in a video interview.

These simple steps will lead to generating meaningful relationships with your industry influencers and stakeholders, and subsequently provide you with a database of potential virtual summit speakers.
Step 5. Communicate with your speakers efficiently
Your speakers are VIP guests, so you'll want to treat them right, making sure you're strengthening your business relationship with them and giving them the information they need to prepare for the virtual summit.
We wanted to make the entire pre-event dynamic as easy and frictionless as possible, so after the initial calls and confirmations, we scheduled a group call with all the guest speakers on Demio.
We introduced everyone together, went through the overall goal, specified the collaborative win of the initiative, and reviewed the timeline.
Then, we created a Google Doc folder shared with everyone that contained the summit overview, dates, bios, texts, landing page copy, email swipe copy, social media copy, and other resources our speakers needed.
We also added everyone to a private channel on Slack, where we would leave weekly updates leading up to the event to make sure everyone was staying connected. Before the event, we scheduled two different test runs and answered any questions and addressed any concerns our speakers had.

Slack proved to be a great tool for these situations, since we could communicate both as a group and through direct messages.
Quick tip ?
If you're planning a live virtual summit, then we definitely recommend you run one or two tests before the event. That way, you can make sure that your speakers understand how to navigate the platform, how they can showcase their presentations, and how the audience engagement will work.

This will also help you avoid any unpleasant surprises during the event itself and reduce the stress your speakers may experience.
Step 6. Help your speakers create killer presentations
Obviously, you can't have full control over the presentations your speakers will prepare. However, remember that it's in your speakers' best interest to deliver high-quality content.
Plus, you can always set up a few clear parameters for them to follow when designing their presentations.
In the case of the SaaS Breakthrough Summit, we wanted the presentations to be about 30 minutes maximum.
In addition, we asked our speakers to focus on talking about the things that were actually working for them, meaning their topics had to be relatable to their current marketing role.
Next, we walked through the ideas together and then organized them in a process that made logical sense. Once we had the speakers' presentations, we reviewed each one individually and then provided feedback if we thought any changes were needed.
We streamlined this entire process and made sure we were guiding our speakers through the full process of content creation.
Quick tip ?
The best way to get speakers to build powerful presentations is by asking them to share something from their own personal experience. Guide them to create their speech around the things that worked for them and what other people can do to replicate their results.
Step 7. Design the virtual summit landing page
The great thing about the SaaS Breakthrough Summit is that we already had a branding identity we could use thanks to the podcast.
What we did was create a new summit logo and then built the landing page using a Webflow template. We chose Webflow so that we could customize and design our page quickly without needing the support of our engineers.
To create our website, we wrote the copy for the page broken down by the following sections:
Introduction
About
Who the summit was for
Speakers
Sponsors
Companies
Call to action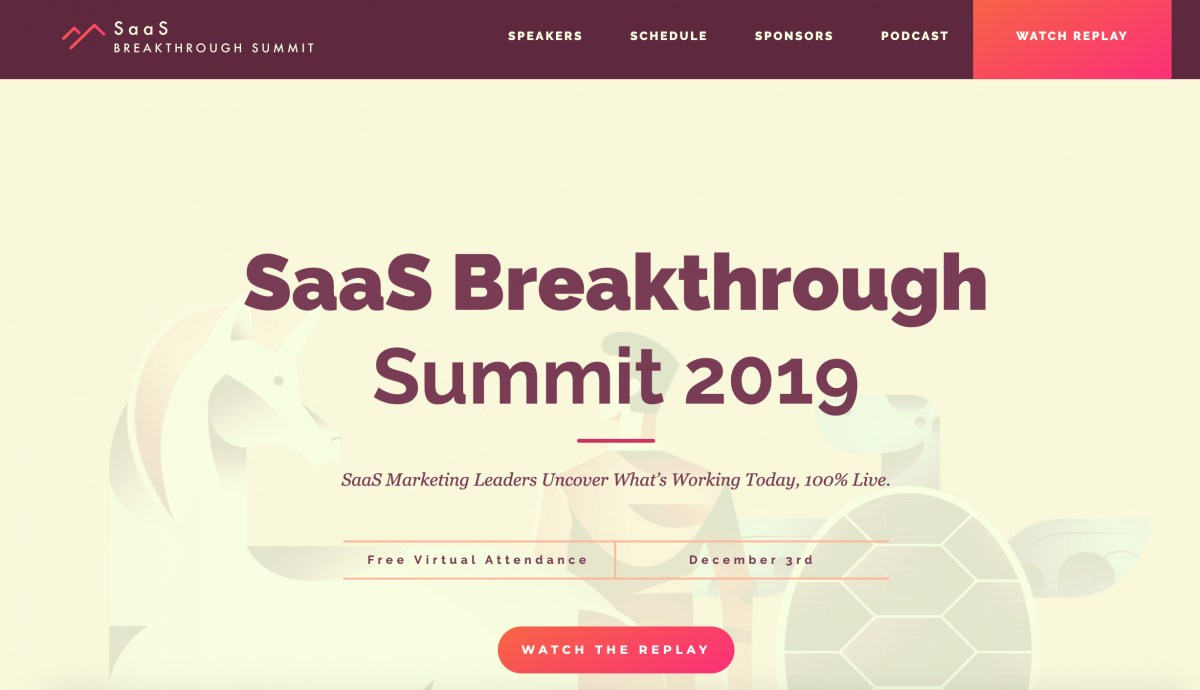 We also added Google Analytics to track users, Facebook pixels for retargeting, and Hotjar for heat-mapping and click-tracking. By having these analytics in place, we discovered a few major click leaks and added more buttons to link to the call to action section faster.
Quick tip ?
Don't overcomplicate your virtual summit landing page. Make it as simple as possible. Include basic information and provide a compelling call to action. Also, don't forget to track the users' behavior and make sure that the website design won't hinder the registration process.
Step 8. Set up the pre-summit email sequence for the virtual attendees
To nurture our relationship and communication with our virtual attendees, we hired an amazing copywriter who helped us immensely with the pre-webinar emails (after the registrants signed up) and the email copy for speakers.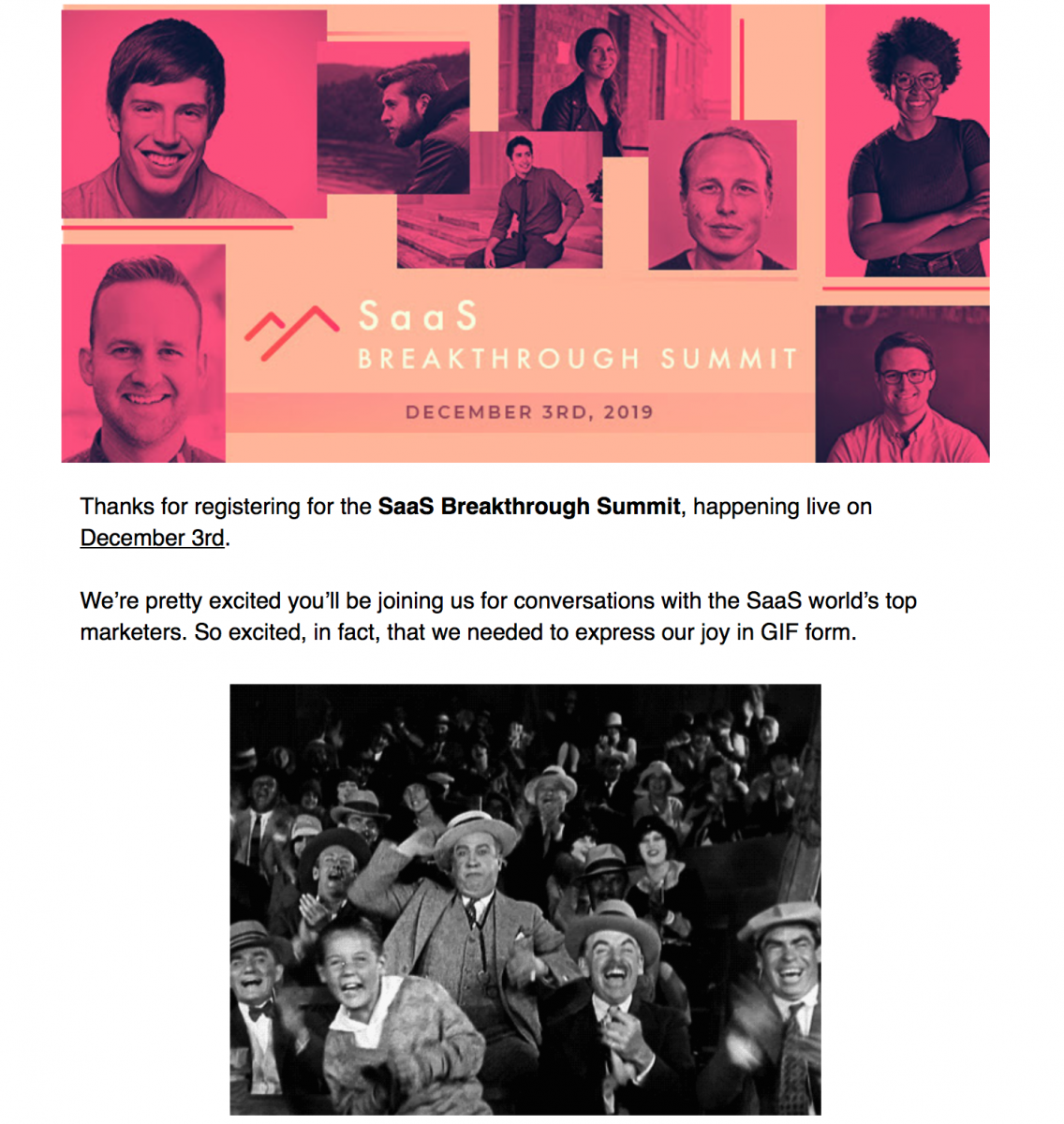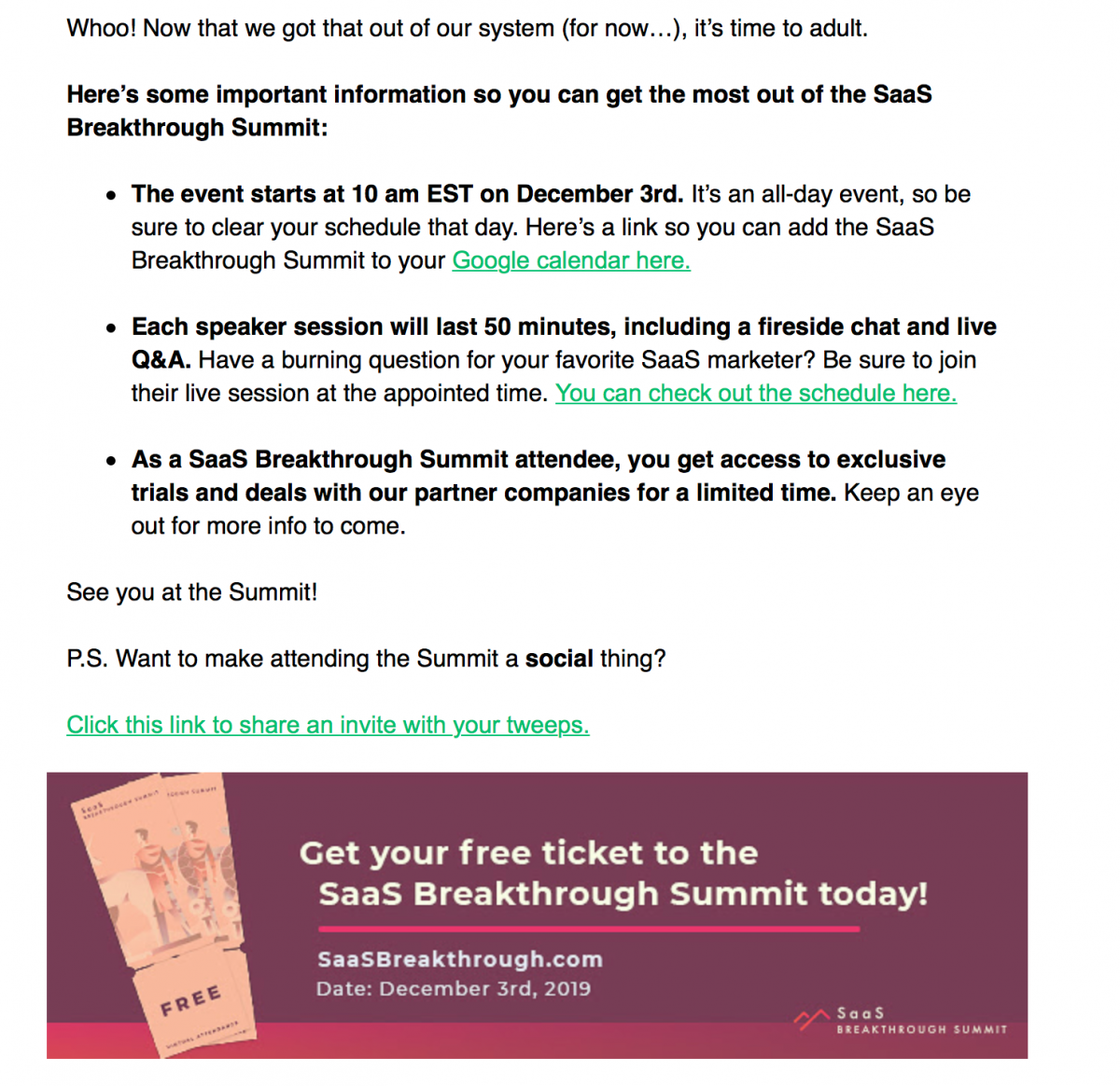 The hardest part was that we were marketing to marketers, so the copy had to be extra fun and engaging.
That's why we sat down for a strategy session and created an email sequence that contained our humor and quirkiness, along with the information about the upcoming event. We incorporated gifs and emojis.
We managed to create emails that were both fun and educational. We also worked with a contract designer who helped us design the headers, graphics, and headshots. Subsequently, these emails became the base for social media swipes and our initial lead campaign for registrants.
Quick tip ?
You don't have to do everything by yourself. You'll want to hire people who can help you create the best copy and designs for your communication campaign.
Step 9. Start promoting the virtual summit
Since our virtual summit was a co-marketing initiative, we ran a group promotion.
On our side, we promoted the summit on our podcast one month prior to the event, adding it to the beginning and end of each episode. We created a pre-summit email campaign to our lead list and started a social media promotion.
We also launched ads to the Demio retargeting list, along with retargeting to users who hit the SaaS Breakthrough Summit landing page.
Our speakers, on the other hand, mentioned the summit on their social media feeds (specifically LinkedIn) and published educational and promotional posts about the summit.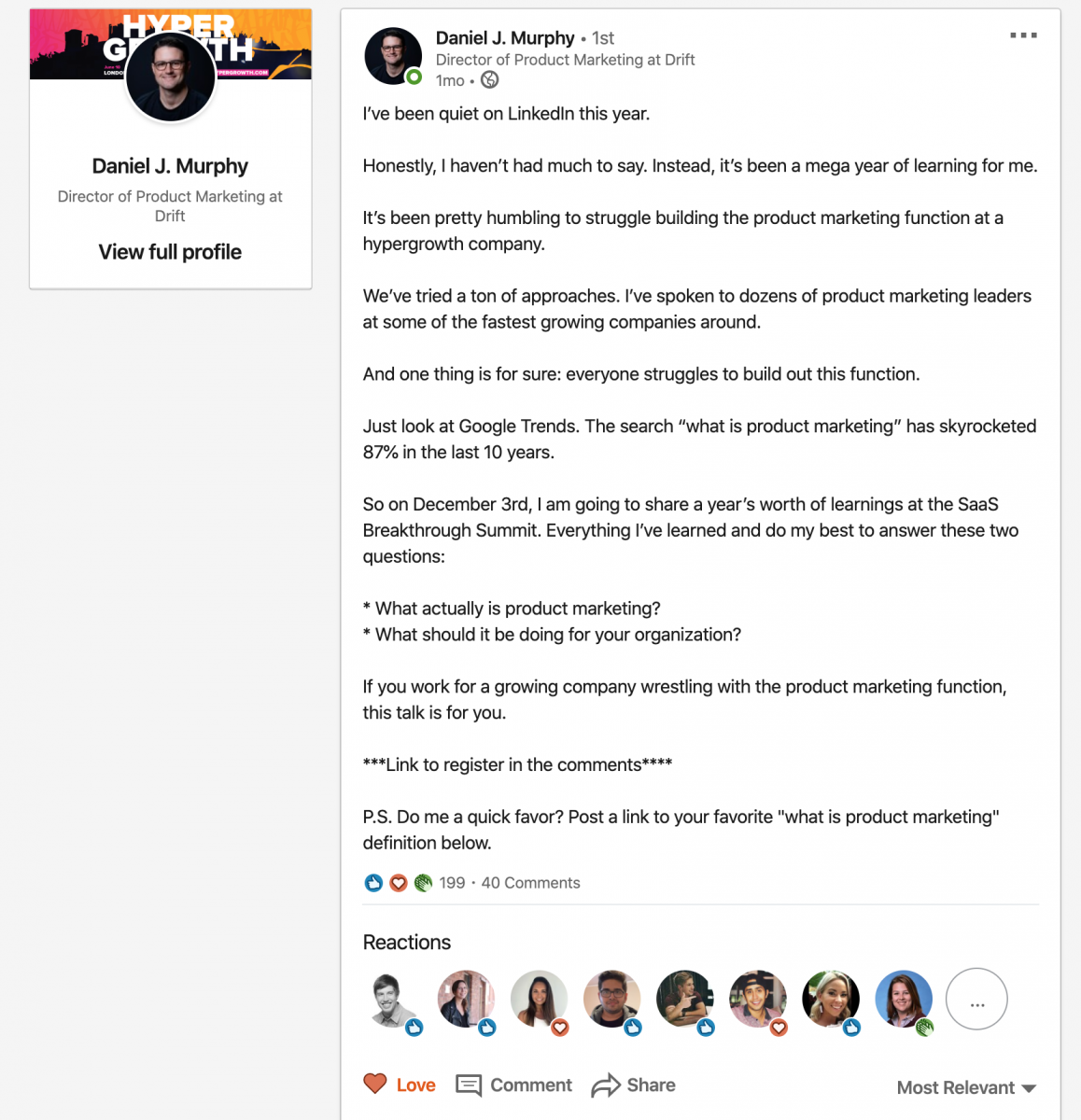 There were also some promotions on Facebook and Twitter, and a few speakers promoted our event to their email lists. We tracked their promotions through UTM codes with Google Analytics.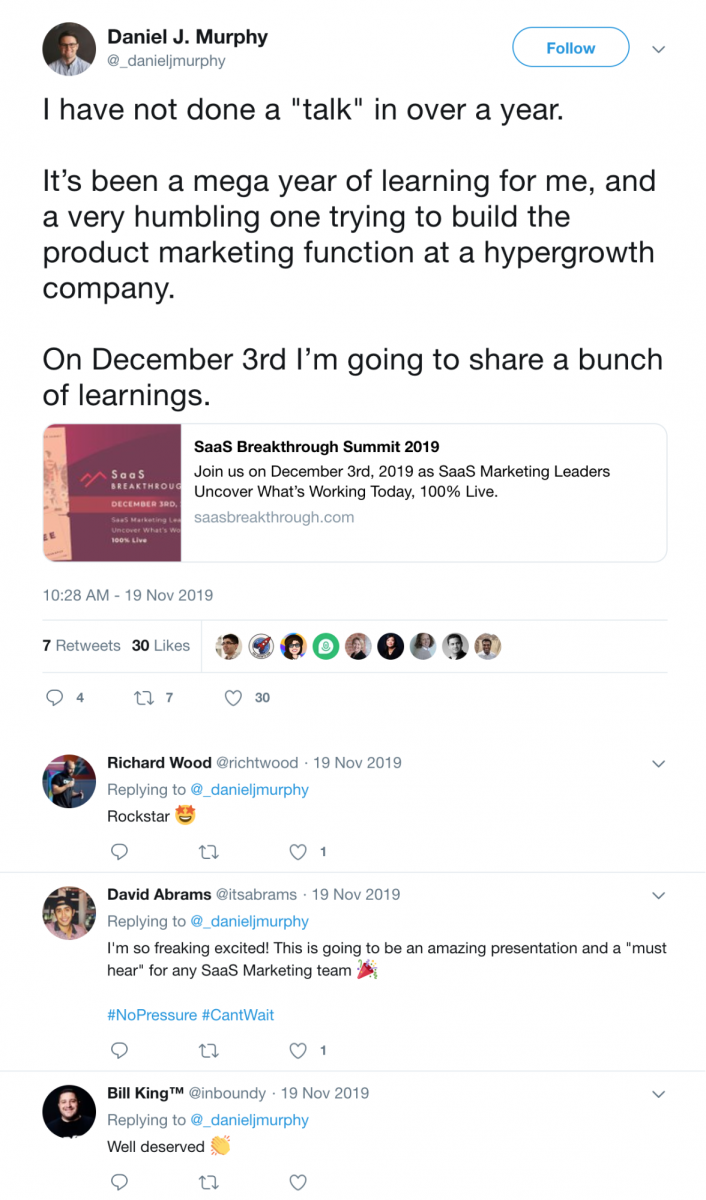 Quick tip ?
If possible, always involve your speakers in the promotion of your virtual summit. You can be the one who designs the marketing strategy and content, but always ask for their help. That way, your outreach will be much higher than usual, because the speakers will be talking about your event and your brand to audiences you didn't have access before.
Step 10. Decide how you'll run the online event
Choosing your virtual summit platform is crucial for both the event's success and your attendees' overall experience.
In our case, we can say for sure that Demio was the perfect platform for a summit like this. We simply created an event and invited our co-presenters to the upcoming date and time.
When we prepared for the event, we uploaded the PDF slides of each speaker's presentation into the room and added any featured actions and polls before the event. We decided to have a 10-minute intermission in between each guest and simply planned for the next presenter to show up about 10 minutes before going live.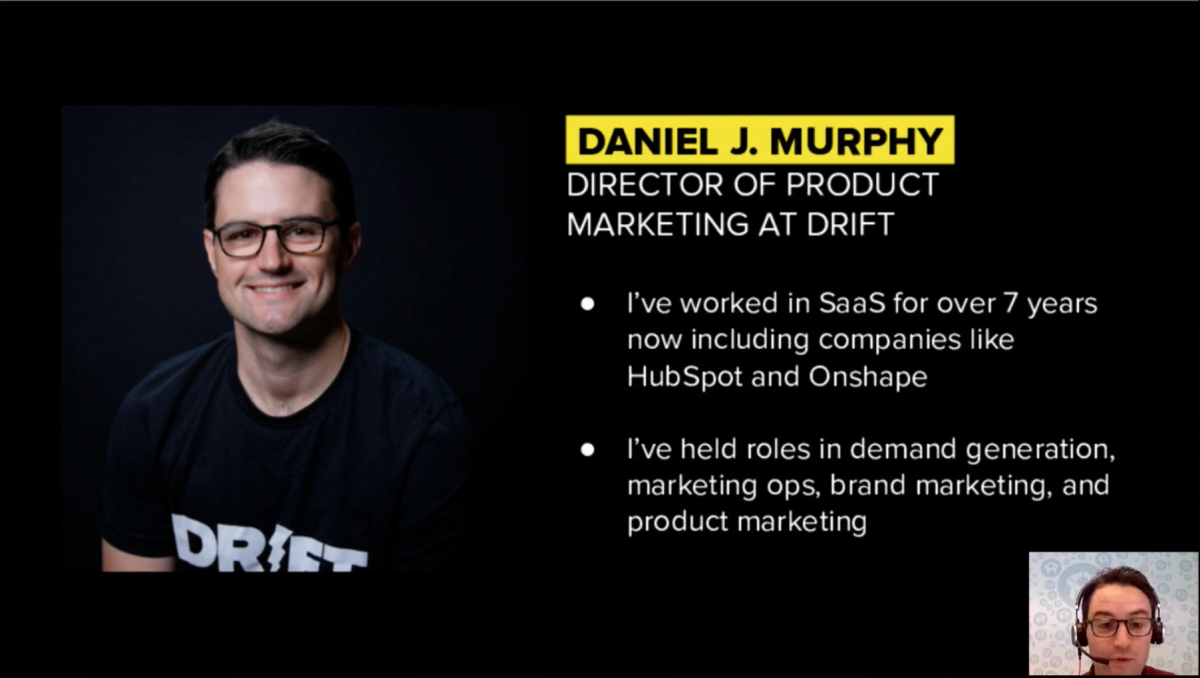 We would start with a webcam to welcome everyone in. Then, we would turn on the slide decks and swap to the webcam plus the slides in the Q and A, then moved to two webcams plus the slides in the Fireside chat. After each speaker's presentation was over, he or she would leave the room and the next speaker would show up to present.
Quick tip ?
Click here if you want to learn more about how Demio works and how it can help you run a flawless first virtual summit.
Step 11. Preparing to moderate the event
One last step you must take before your event is to … prepare for it. You can do this in multiple ways.
First, you'll want to read the bios of your speakers and decide how to present them. Then, you'll want to carefully review each presentation and draw out questions for the Fireside chat sessions.
To be even more prepared, as mentioned before, we also set up two test trial runs with the presenters both five days and one day before the event.
Quick tip ?
Make sure to ask for the guest presentations 24 to 48 hours before the event so you can upload them to the platform you'll be using for your virtual summit. In our case, we used our own product, so it was easy.
---
? DURING THE EVENT ?
---
Step 12. Ignite the engagement of your virtual attendees
Being a webinar platform, we know how important engagement is, especially during virtual events. To get our online attendees to interact, we initiated the conversion by asking them different questions, such as where they lived.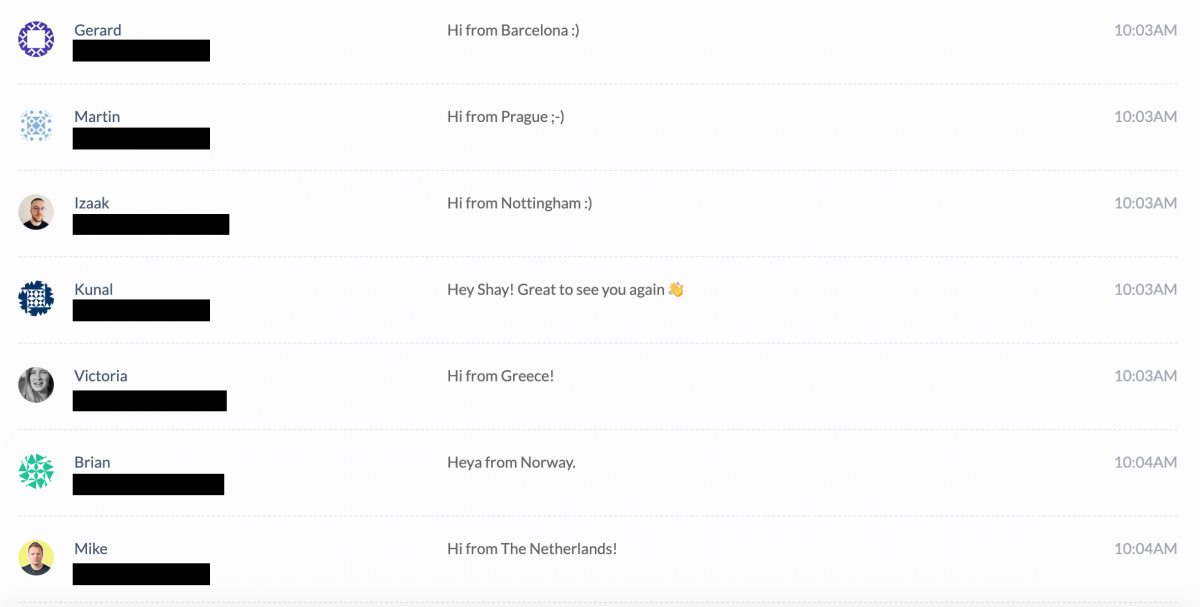 People shared their answers via the chat feature. We also prepared live polls for each speaker if they wanted to use them during their presentation. You can tell when engagement gets low that it's time for a question or poll to re-ignite the engagement.
Quick tip ?
Prepare at least one question or live poll every 15 minutes. This will keep people engaged and keep them interacting with the event. You could also use tools such as Demio to measure attendees' engagement levels and launch a question or live poll each time you see the numbers going down.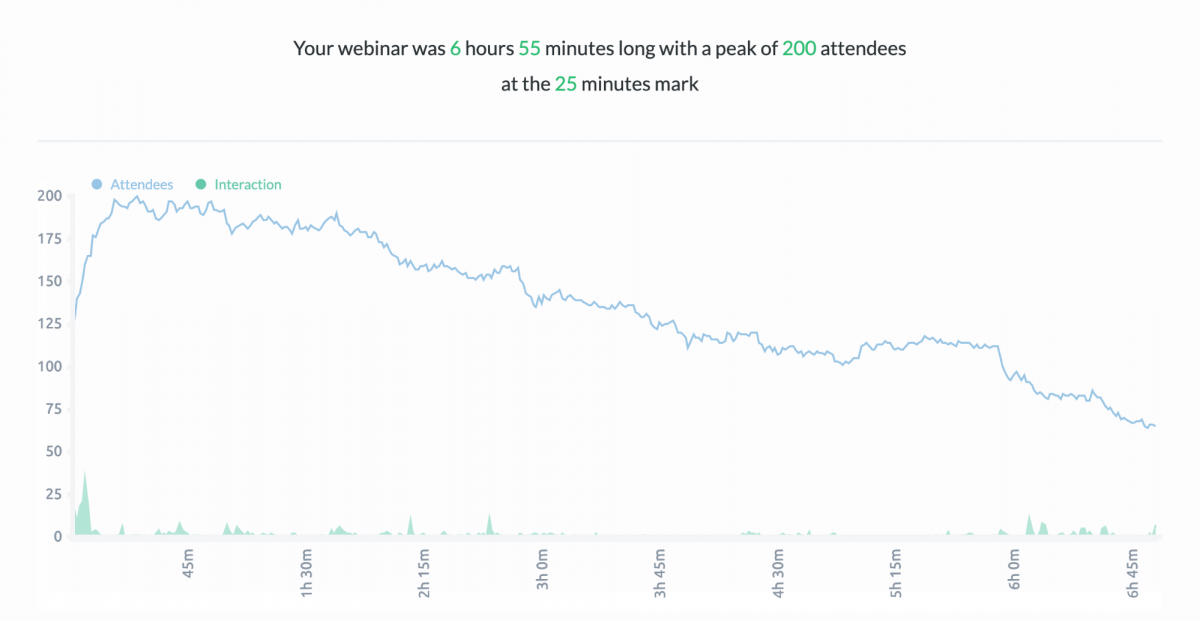 Step 13. Manage the attendees' engagement
We managed the engagement using interactive polling from Demio, feature actions, and our chat. Our emojis were a big hit and made it very easy to jump into the convo.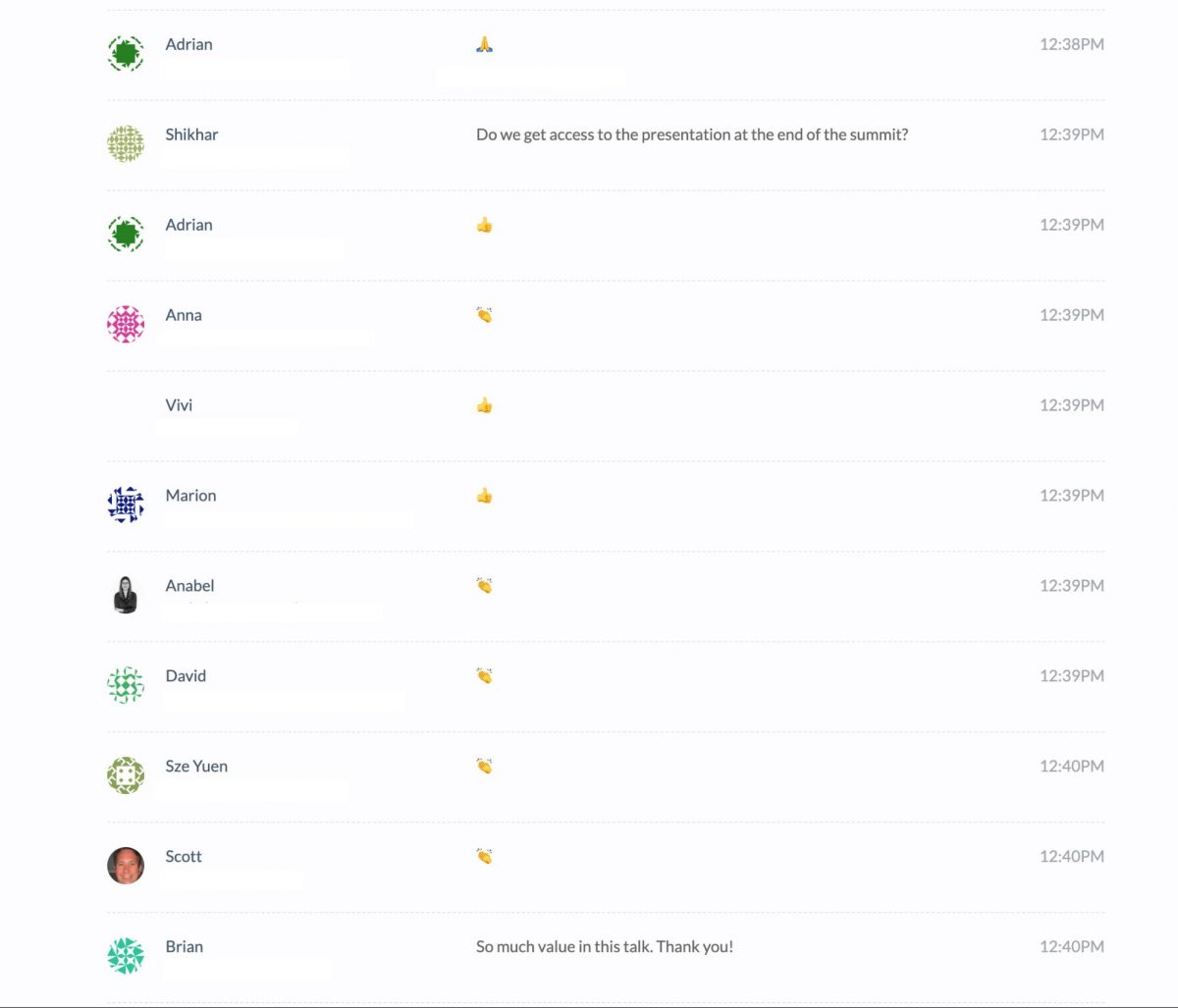 Our summit's moderators sat in the chat during all sessions and made sure to answer everyone's questions and keep the fun happening in the group chat.
Quick tip ?
Be aware of the negative comments. Although we encourage you to let attendees be free to express themselves, it's also necessary to remove any offensive or rude statements.

You can even publish a quick note on what the chat rules are to inform people about the type of comments that will be removed and the type of behavior that will get them banned from the event.
Step 14. Filter the attendees' questions for the speakers
We did this by simply reviewing each question and analyzing whether that question will be worth the answer and the time. We also prepared questions that the guests could answer in case the audience didn't have any questions of their own.
Quick tip ?
When your speakers promote the virtual summit, ask them to crowdsource the questions.

For example, they can publish a post on their LinkedIn or Facebook feed and encourage people to jot down any questions they have in the comments. Then the speakers can reply to those questions during the virtual summit.
---
? AFTER THE EVENT ?
---
Step 15. Decide what you will be doing with the virtual summit content
If you do a quick Google Search about virtual summits, you'll see that the majority of articles promote the idea of monetizing the post-event videos, meaning people have to pay to see the summit videos.
There's nothing wrong with that, but we decided to take a different approach.
Since the SaaS Breakthrough Summit was a strategic event for our brand, product, and podcast, we decided to give free access to the content. So what we did was edit the event into bite-sized chunks, upload the videos to a Wistia channel, and provide it as a lead magnet.
Using and leveraging the virtual summit as a free content and brand marketing play, we actually increased the percentage of new sales qualified leads.
The biggest mistake we made planning the virtual summit
Now that we've walked through the steps we took to plan and run the virtual summit, let's talk a bit about the mistake we made when designing the event.
What we learned is that seven hours for a virtual summit is too much ?.
It's a long time to sit and give full attention to anything. This meant that people either had to take a day off or could only tune into a few parts.
Plus, we didn't plan the date for the virtual summit well. It's not a good idea to promote your online event during the Black Friday and Cyber Monday period.
Things we'll improve for our second virtual summit
Thanks to SaaS Breakthrough Summit 2019, we've learned a great deal about planning an online event that will help us greatly improve the second SaaS Breakthrough Summit.
Here are some of the things we'll be working on improving next time:
Reduce the total length of the summit. As we previously mentioned, seven hours is a LONG time both to host and to attend an online event. Next time, we'll plan for a two-day virtual summit for a duration of three hours per day.


Increase the engagement levels. Some of our speakers used polls, featured actions, and questions throughout, but we'll push for more engagement next time. We'll ask our speakers to add more questions for the audience, polls, and handouts for the slides. The engagement was a major win this year, and we'll make it even bigger next time.


Add more bonuses for attendance. We'll add more fun activities and bonus to get a higher attendee rate. We hope that this alone will increase the attendee engagement.


Run better promotion. We'll focus on creating better pre-summit campaigns to get more attendees and make a bigger splash in the marketing. We'll be looking to attract 3,000 to 5,000 guests next time.


Design better intermissions. We did have breaks this time, but we didn't inform our attendees what was coming next. What we'll do next time is probably create short video countdowns and slides with some music to make the intermissions more fun.
What's next for Demio and the SaaS Breakthrough Summit 2020
The biggest thing we've learned during our first virtual summit is the countless ways in which we can improve our platform and the features we can add to it. With things such as engagement tools, question and answer live filtering, video uploads (for intermissions), an exciting replay process, and channel pages, we have an insightful roadmap we'll be using to continue building a powerful tool to enable people like us to share educational resources with different audiences.
This summit was a great experiment we're happy about. We've learned a great deal about our software, our audience, and our partners.
And although it takes a lot of time (we prepared for the initiative about five months in advance), it can definitely get you unexpected results in terms of qualified leads, a lot of buzz, and more brand awareness.
Having this in mind, we'll continue improving our platform, work on the SaaS Breakthrough podcast, and prepare for a bigger and better summit in 2020?
DOWNLOAD YOUR FREE WEBINAR STRATEGY CHECKLIST BELOW
Use this checklist
to design your very own high-converting webinar marketing strategy from scratch, then automate the process to attract high-quality leads.
We promise to never spam or send emails about cats.
Okay, maybe some cat stuff.