Our goal at Demio has always been to make the entire experience of attending webinars an elegant one—elegantly simple, but powerful. Beautiful, but uncomplicated.
With past updates like our webinar room rehaul and improved embed options, we've been moving closer to this goal.
However, the webinar experience doesn't just start when you hit the 'Start Webinar' button. It starts well before then—when the potential Attendee first arrives on your registration page.
Our old pages worked well for what they were meant to do (capture registrations, host replay recordings), but they were lacking when it came to the elegance factor.
The designs felt dated, the customization options were rigid, and the workflow outright confusing.
We wanted to build something simple, yet functional. Robust enough that it allowed you to craft pages that were consistent with your brand, but intuitive enough that you didn't need hours to figure it out.
With that goal in mind, we're pleased to introduce our new Registration & Replay Editor!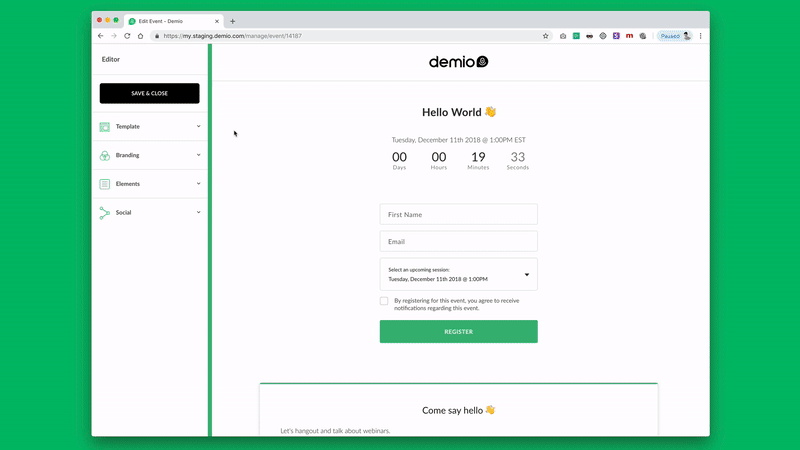 Everything in a Live Preview
The first thing you'll notice is how easy making and previewing changes has become!
Open the Editor and you'll be brought to an elegant interface that shows the live page directly on the screen, updating precisely as you make any adjustments.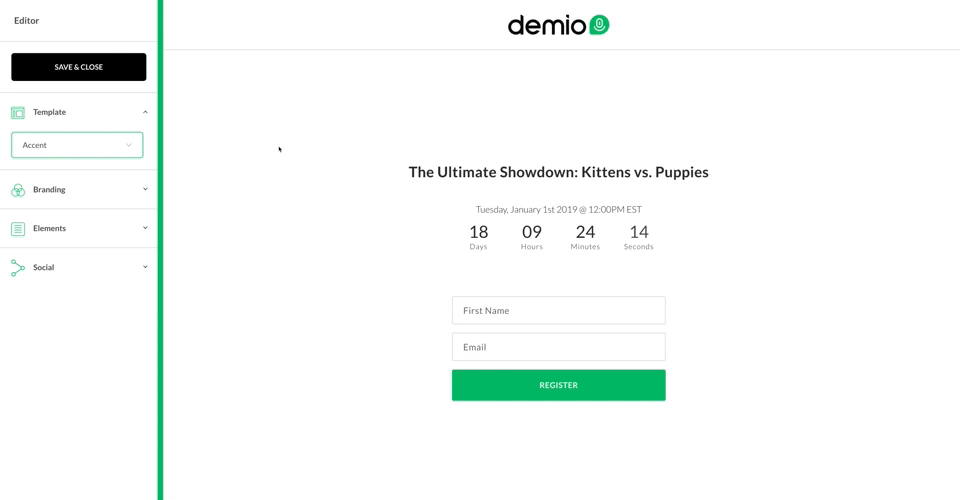 No more jumping back-and-forth from the preview to the editor just to see how your changes look.
Everything in one interface means you can focus on what matters—the actual content of the page!
Rocking some New Templates
Our old design (yes, it was a single design) was simple, but the lack of diversity meant it didn't always work well for some scenarios. It also meant that our principle of 'keeping things simple' could sometimes mean 'keeping things generic'.
The question we naturally asked ourselves was: How can we keep things from getting too complicated, while still allowing the flexibility to match your brand?
Here's where the new templates come in!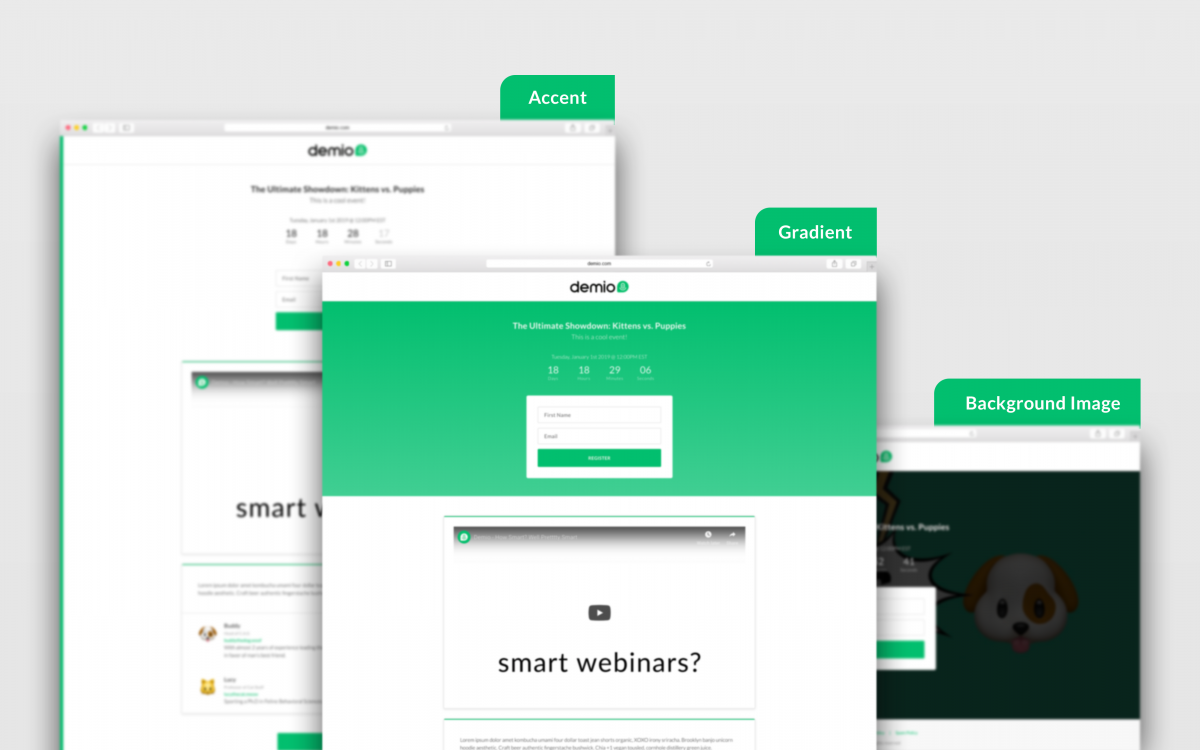 From a simple accent line to a custom image backdrop, you'll be able to choose from a few different options that work for you.
Pick-n-Choose Your Elements
Embracing a new modular approach to our editor, you'll be able to pick and choose elements to add to your page.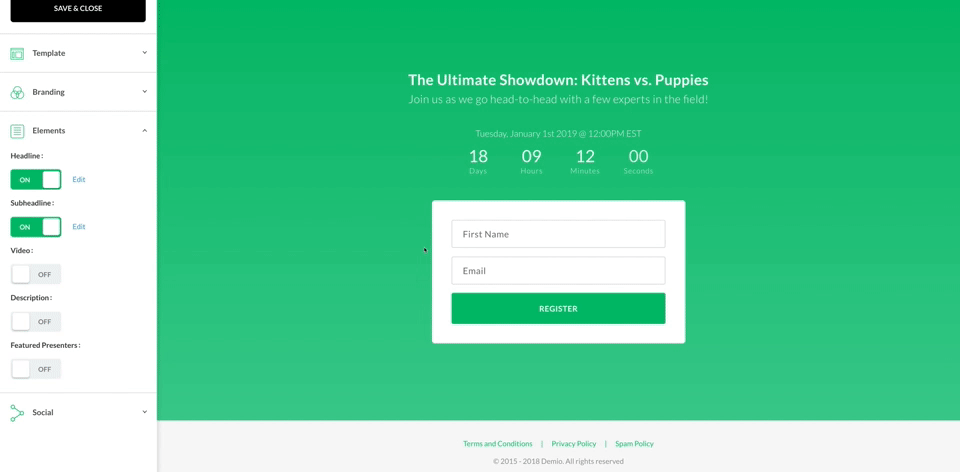 All of our elements will contain their respective customization options within the element itself, meaning everything is just a toggle away.
It also opens up opportunities for us to quickly introduce new elements down the line. If you have any ideas you'd like us to sport, drop us a note! We're always eager to listen to your feedback.
Now that we've got your attention 🙂
Are You Ready to Experience Webinar Software from the Future?
No Credit Card Required - Get Started in Seconds.
Sharing on Social
As part of our release, we'll also be bringing the highly-requested rich social sharing options. Built on the Open Graph protocol, you'll be able to customize exactly how your event's registration or replay pages appear when shared on social.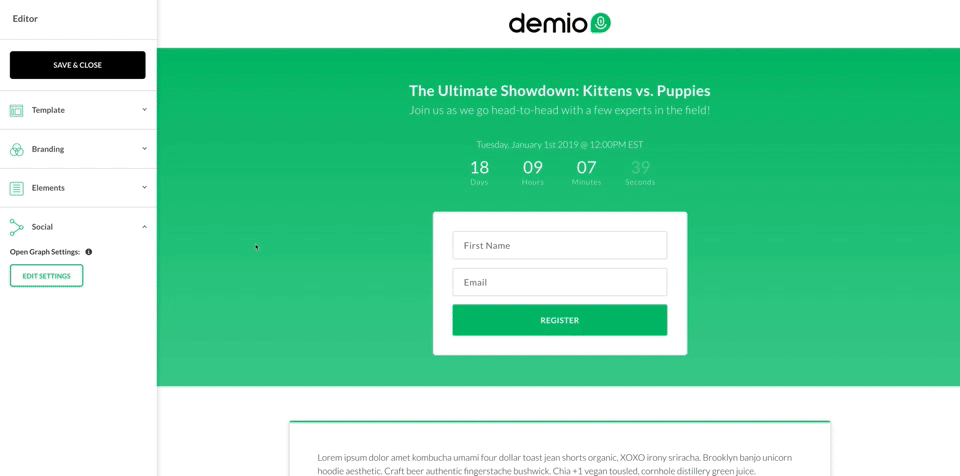 With options to set a social image and add a custom description, this will give you more top-down control over your campaigns and funnel.
Completely Mobile Optimized
There's responsive design, and then there's optimized design. Each template and element was carefully crafted to not just work on mobile, but work well.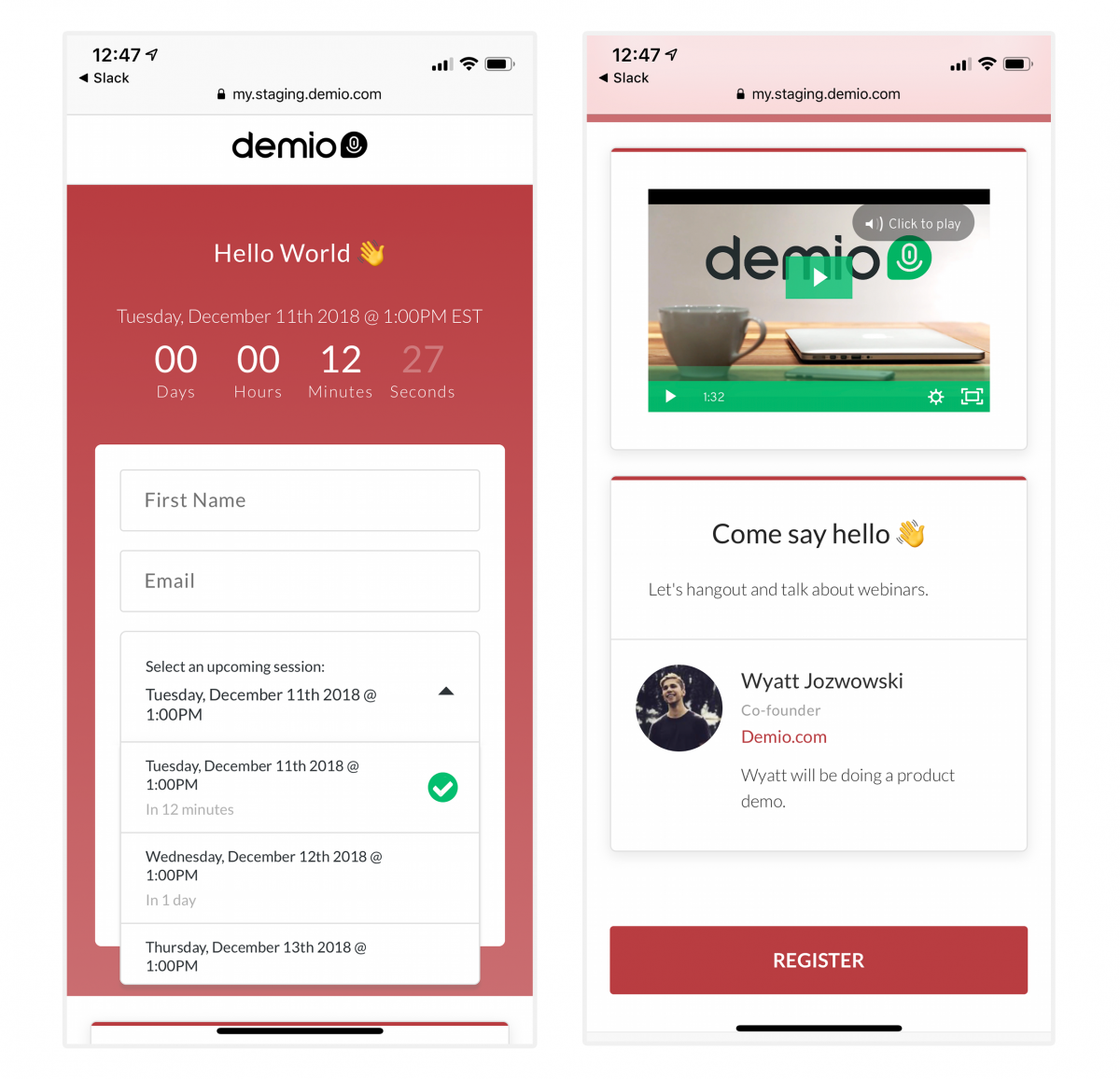 We all understand how broad (and broader) the mobile-first audience is becoming (psst… a native Safari-support for both iOS and macOS is around the corner), so we make sure you're completely covered there.
Consistent Across the Board
Our new editor experience will apply for both our Registration and Recording pages.
As an added bonus, all of your customizations made on the original Registration will be carried over to the Recording page automatically.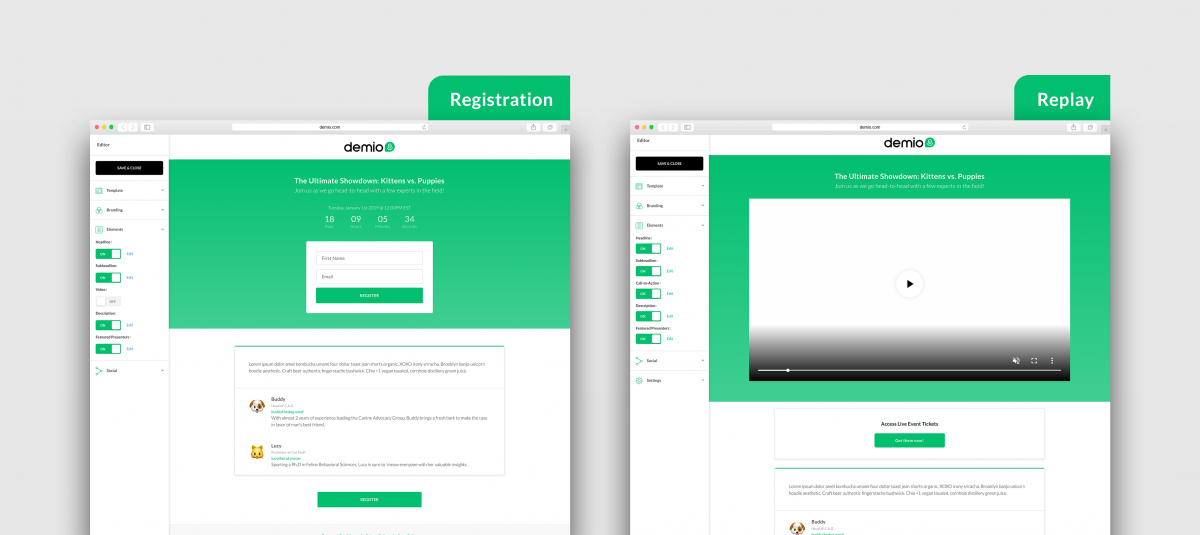 Pop over to the Recording Editor once your event is completed and you'll find all of your settings have been saved over.
We still take the opportunity to extend unique elements to each page, with options to include a pre-webinar video on Registration pages and the Replay editor sporting the option to add a custom Call-to-Action link instead.
Say Goodbye to Dead Links
As an added bonus, we're also adding the option to disable Recordings directly from the editor. You can drop a short custom message in its stead, leaving everything else on the page intact.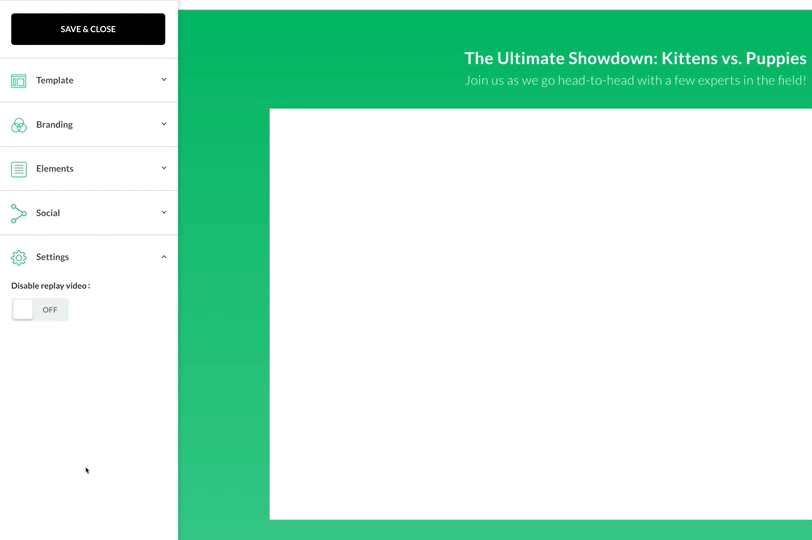 If you're ready to start sharing the Recording again, toggle it back on and the link will go live again!
Now that we've got your attention 🙂
Are You Ready to Experience Webinar Software from the Future?
No Credit Card Required - Get Started in Seconds.
Wrapping up!
That's it, folks! The new and improved editor in a nutshell.
We truly believe this is a big step (one of many more to come) towards adding more elegance to our platform—not just for you, our users, but also for your prospects, your customers, and your audience.
A step that will make the experience more enjoyable for everyone involved!
Jump on in and let us know what you think! We'd love to hear it.