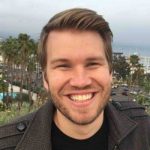 About Zach P. Johnson:
Zach is the Founder of FunnelDash.com, a simple & easy to use app that helps Facebook advertisers double their ROI from Facebook ads and scale their funnels profitably even if they're not technical, have a small budget, and are bad with numbers.
On this call we go through:
1) A sneak peak behind his new software company that specifically helps agencies get and retain high end clients (learn how it works and how to get in for free right now)
2) The secrets Zach used to scale his ad agencies to fund their software ventures.
3) How to consistently get and convert consultations into high paying clients with expert level status and confidence.