We made a lot of changes last year, from our powerful Automated events, to brand new Webinar Room upgrades, to our recently revamped Registration/Replay Editor.

We weren't quite done!

Our team wanted to start the new year right by bringing another, more foundational item: native Safari and Edge support.

For both our desktop and mobile/iOS experiences, Attendees will be able to join directly from within their browser.
Here's how this makes things awesome for you (and your Attendees)
One of the pillars behind our mission at Demio is helping our users drive results, and one way in which we did so was by removing hurdles and reducing friction, specifically for Attendees.

Less friction for Attendees means better Attendance rates, which means greater results for you and your business; and a native web-based experience was central to that idea.

We wanted each webinar experience to be a single link away — just click and you're in.

With this update, we'll be able to achieve this with nearly every browser experience. Safari alone currently holds a 30% share in browsers that are used in North America, and an 18% share for Europe (35% and 21% when you include Edge). This update means that nearly 99% of Attendees (with the inclusion of Edge) will be able to join without needing to change the way they browse.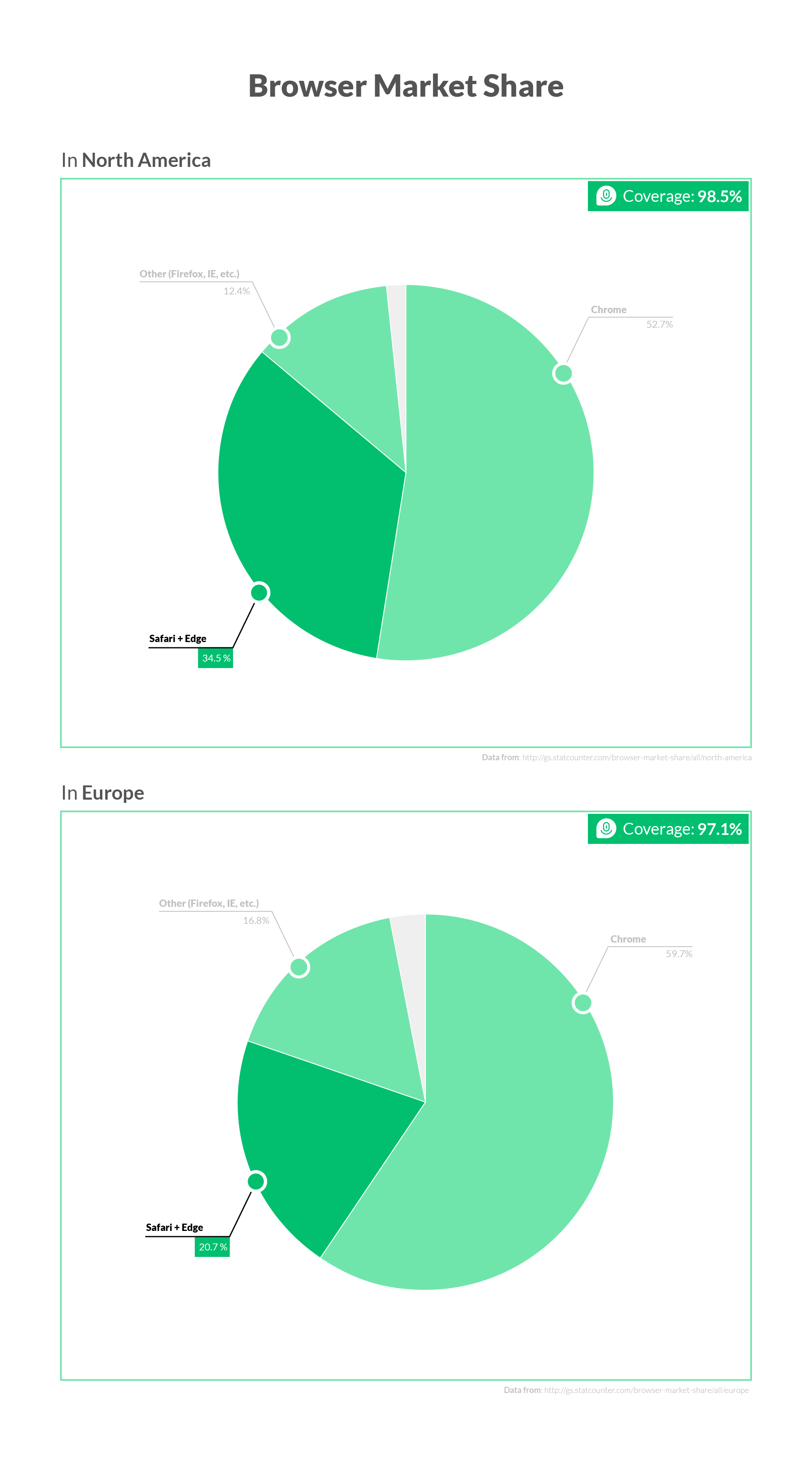 This will also be a huge win for our mobile front, particularly when it comes to you and your brand. Attendees that are joining from iOS won't need to download the Demio Viewer app and they'll instead be able to experience a completely custom-branded experience.
What it'll look like
With our new browser rollout, there is one technical limitation that is important to note: any session that is attended through Safari/Edge will incur a 15 – 20 second delay.

While this means we won't be able to tout the same zero-latency streams we've been able to provide on every other browser, we see this as a change that will continue to move things from a poor experience (not being able to attend at all) to a better one (attending with a single link).

With that in mind, our native Safari/Edge experience will be introduced today under Beta. You'll be able to toggle the option directly from your Event Preferences on a per-event basis.


Enabling Additional Browser support will open up Attendee sessions, allowing them to join directly from these browsers on both desktop and mobile. A notification outlining the delay will appear for all Attendees joining from Safari.

Keeping it disabled will continue to redirect Attendees to the current screen, redirecting them to actions that would allow them to attend: using an alternative browser (via desktop) or joining through the Demio Viewer app (via mobile).

Of course, we plan to keep the ball rolling. Newer versions of these browsers are making progress towards supporting the streaming technology we use. Once we're able to, we'll bring Safari fully on-board with the same zero-latency streaming that we aim to deliver.
Bells and whistles are great, but reindeers need love, too
Going into the new year, we'll continue to bring new features for our users (we have several exciting new updates underway ?).

Still, foundational items that improve the core experience — running webinars for you (our user) and attending webinars for your audience — will remain a priority for us at Demio. You can continue to expect improvements as they relate to stability, reliability, and accessibility.