You don't have to spy on your competition anymore—we did it for you. It wasn't easy, though. It took us countless hours, dozens of espresso shots, ☕ and multiple stretch breaks.
But we're happy to present you with an EPIC list of SaaS webinar practices that you can try right away.
DOWNLOAD YOUR FREE WEBINAR STRATEGY CHECKLIST BELOW
Use this checklist
to design your very own high-converting webinar marketing strategy from scratch, then automate the process to attract high-quality leads.
We promise to never spam or send emails about cats.
Okay, maybe some cat stuff.
If you want to see the best SaaS webinar ideas in one place, you'll love this guide. Scout's honor.
We reviewed all these practices and selected the ones that will help you level up your webinar strategy for greater impact. Plus, we've put together a filter through the list to help you find the best ideas that suit your current needs.
So whether you're interested in learning how to brand your webinar or how to increase people's engagement, you can easily discover all these topics by browsing the list. ?
Use Case
What's the first thing that comes to your mind when you hear the word "webinars"?
Let us guess: A simple, plain video meant to "sell" something? Well, think again.
Versatility is what makes webinars truly awesome. SaaS webinars come in different shapes and colors. Whether you want to achieve a specific goal or talk to your distinct target group, you have lots of great possibilities.
Here are some examples:
1. Proof Academy
SaaS companies aren't just creating awesome products—they're also designing a new way of doing things. Whether it's how to run an event or boost your conversion rate, SaaS brands have a great deal of knowledge and fresh insights they can share with their audiences.
That's why some of these companies create their online schools where they teach both their leads and prospects how to use their product.
UseProof is one of these companies. They use SaaS webinars to grow the content for its Proof Academy.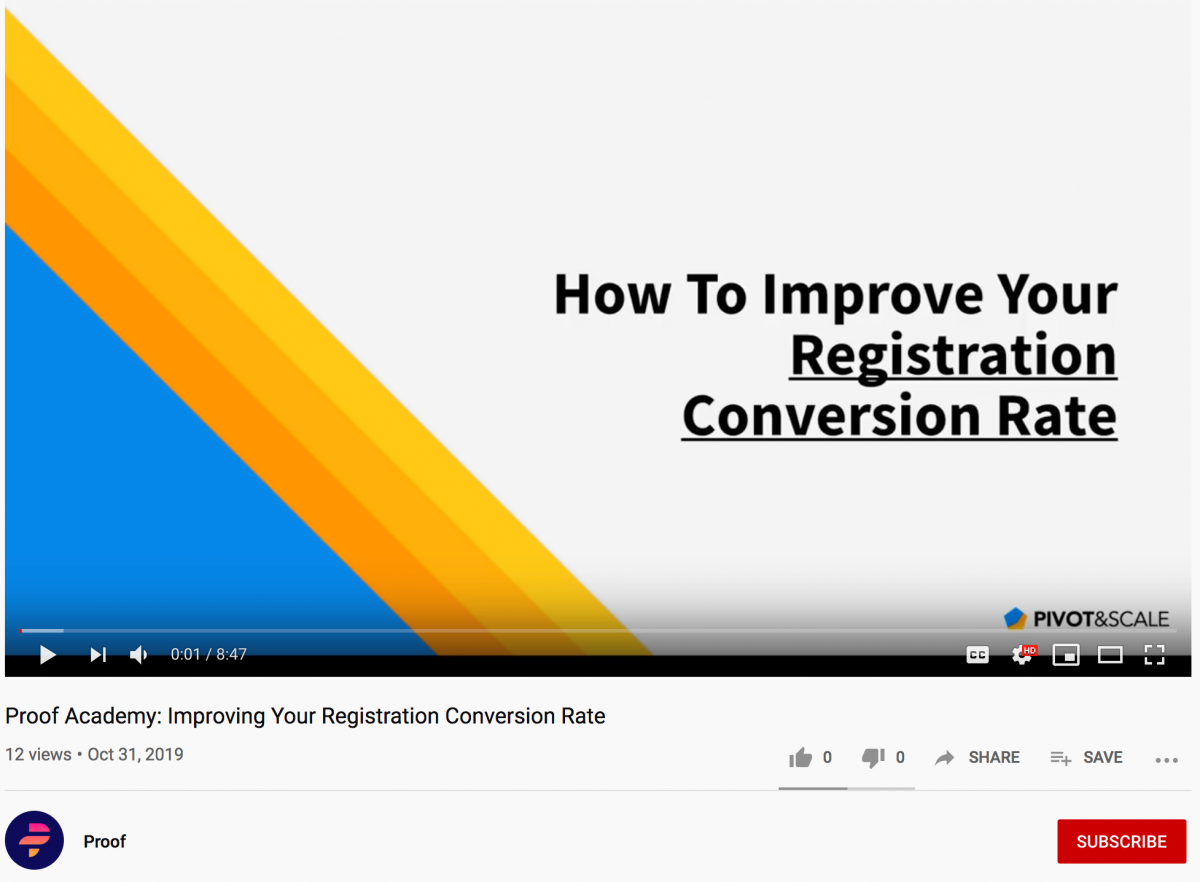 Note that these videos are not gated, and the UseProof team is uploading them on its YouTube channel.
2. Mention Use Case Webinars
Mention, a media and social media monitoring brand, is running webinars to present its own use cases, such as:
Media monitoring
Competitive analysis
Crisis and reputation management
Public relations
Social media marketing
Content marketing
Digital marketing
Influencer marketing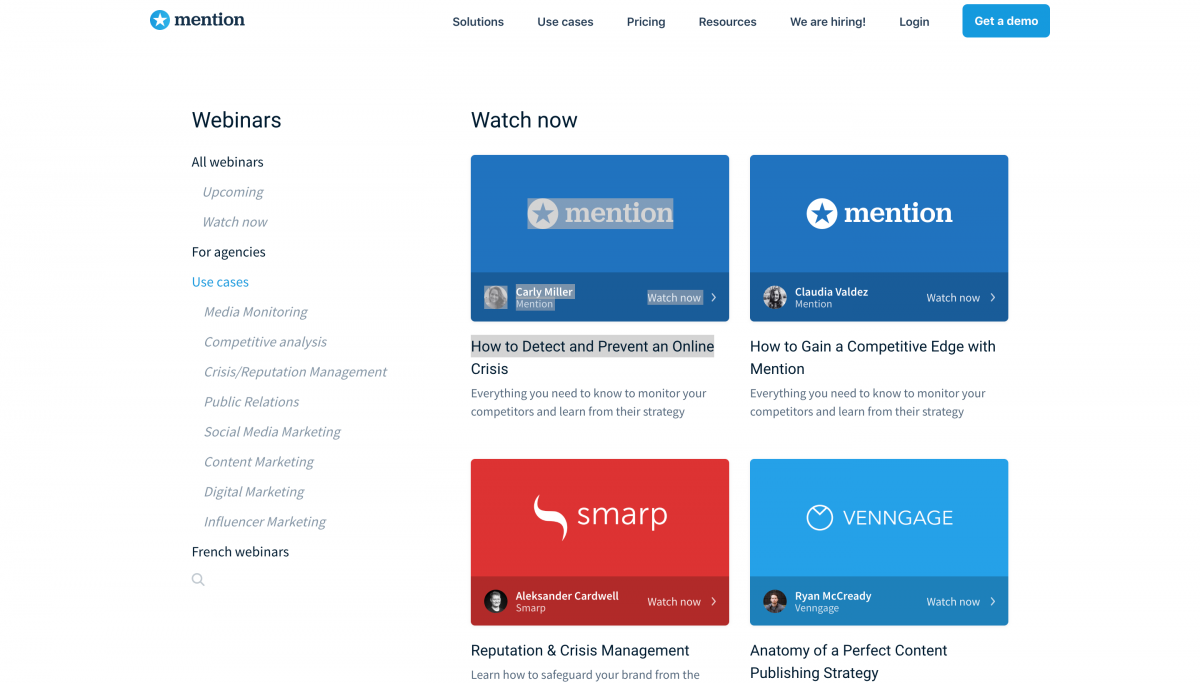 All of these webinars are on-demand and help Mention take lead qualification one step further by understanding which use case interests a specific person or company the most.
How about running a live demo webinar, which will help you target the bottom-of-the-funnel leads?
Keap is doing it perfectly with its Live Demo Webinar.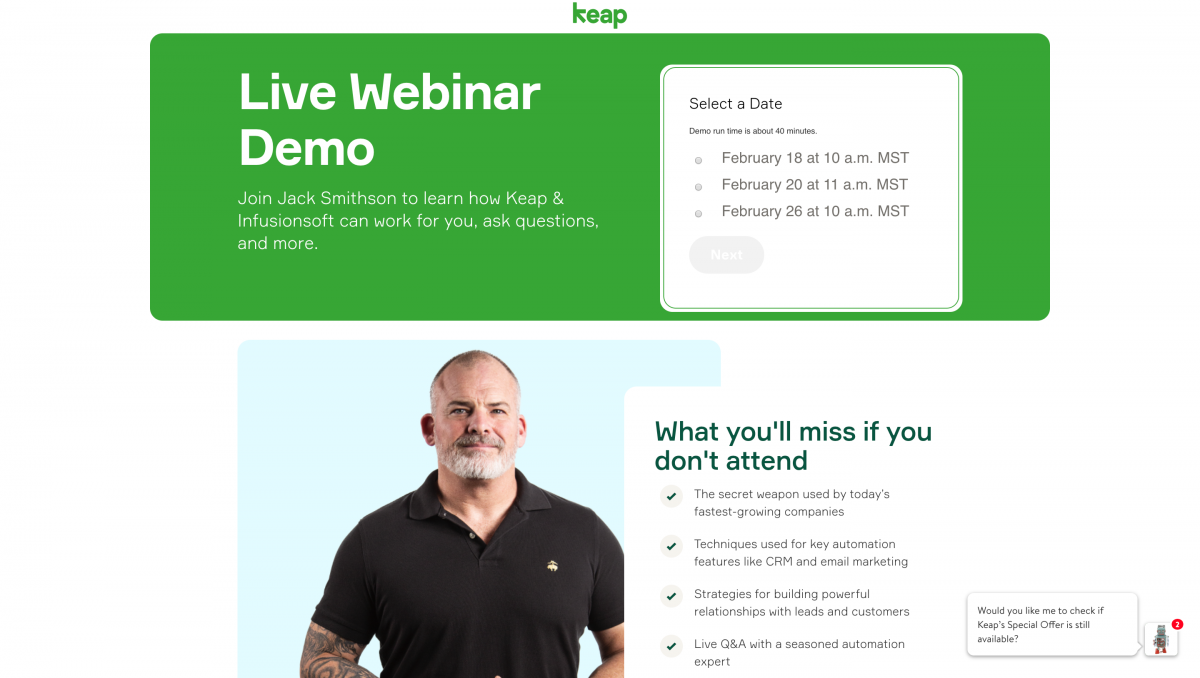 Each demo run time is usually 40 minutes. You just pick a date and register for the webinar. This is a perfect strategy if you want to save your sales team's time.
Instead of being in charge of running a demo for every single prospect, the team can easily redirect them to this page and ask them to attend the webinar.
Also, notice the copy Keap is using for its landing page. Instead of highlighting what will people get by attending the demo, Keap focuses on what their leads will miss if they don't.
This is a very nice example of reverse psychology, so take note of it.
4. Unbounce Workshop
Similar to UseProof, Unbounce is using its webinars to build a full-fledged Academy with one-hour workshop webinars, during which its leads or customers will learn how to use the product.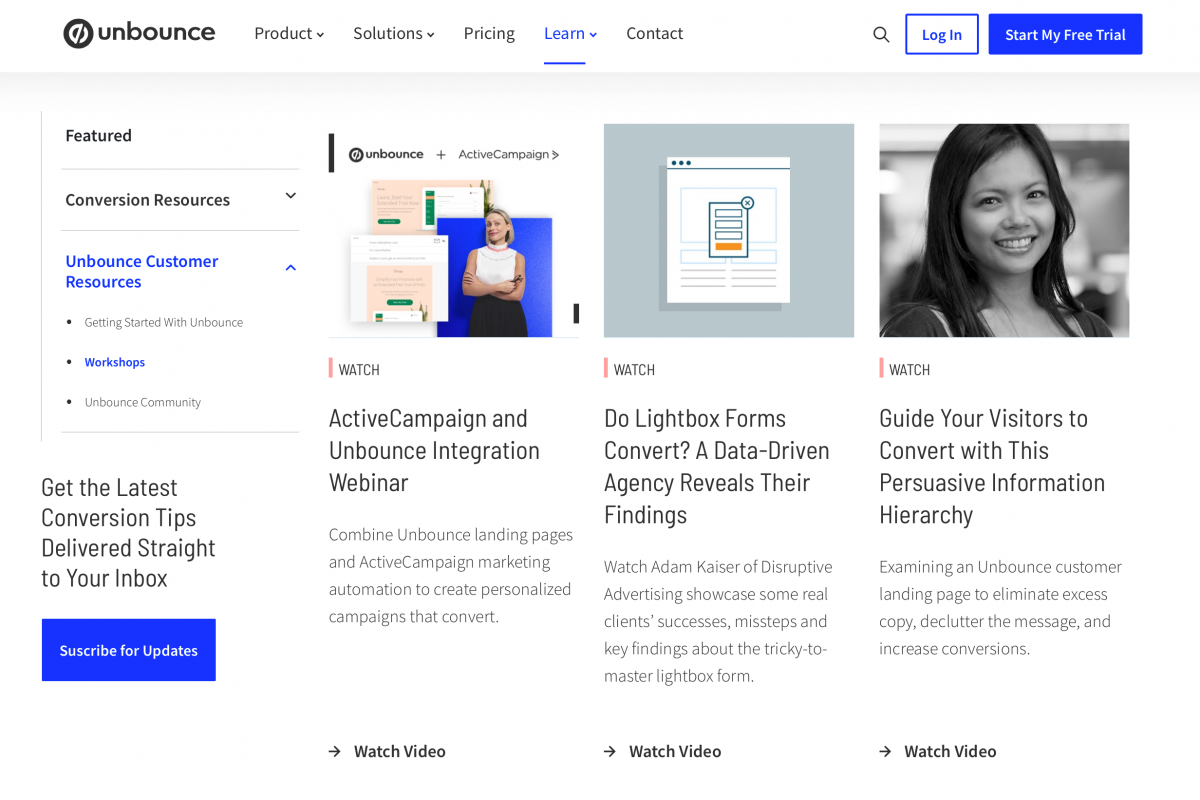 In some cases, the company runs SaaS webinars having their customers as guests. They subsequently explain how they're using Unbounce along with their best practices.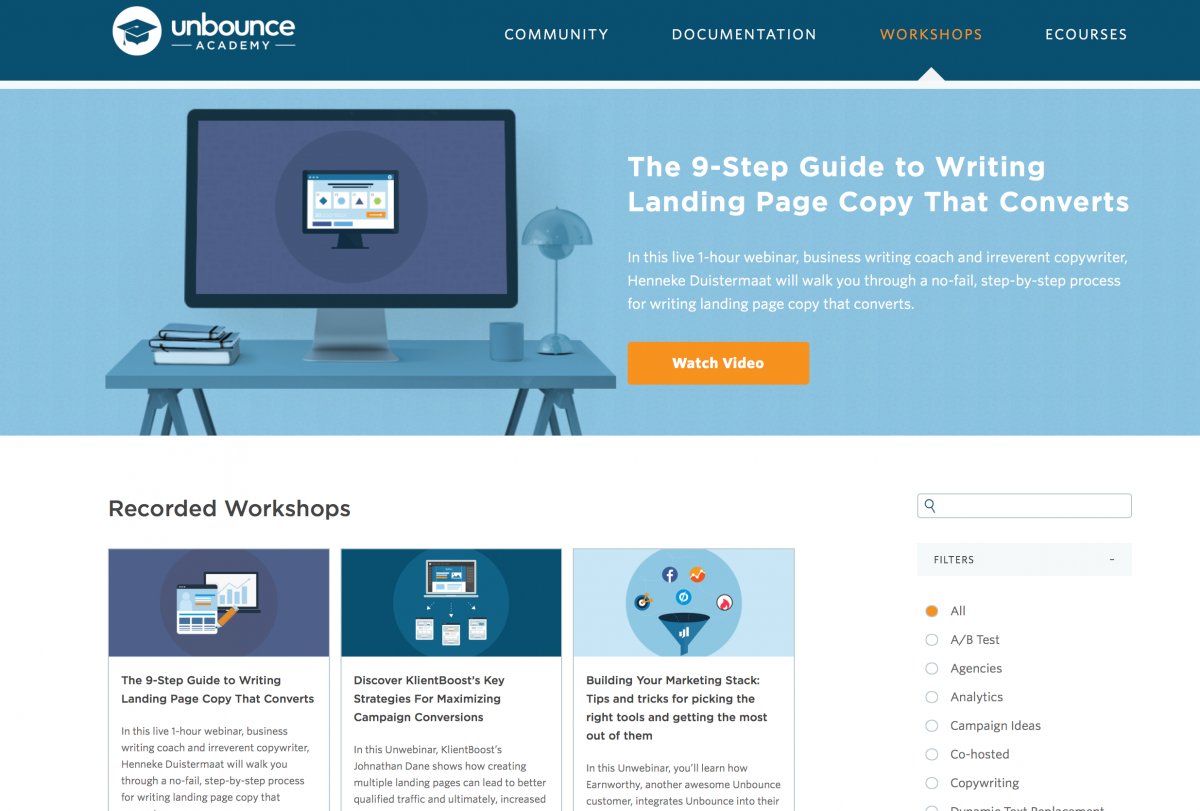 5. SurveyMonkey Case Study Webinars
SurveyMonkey, on the other hand, is using webinars to present its case studies. These webinars are gated, which is a great lead magnet for the bottom-of-the-funnel leads.
6. AWeber Get Started Webinar
The AWeber webinar is some sort of a demo slash primal onboarding video for the bottom-of-the-funnel leads and customers.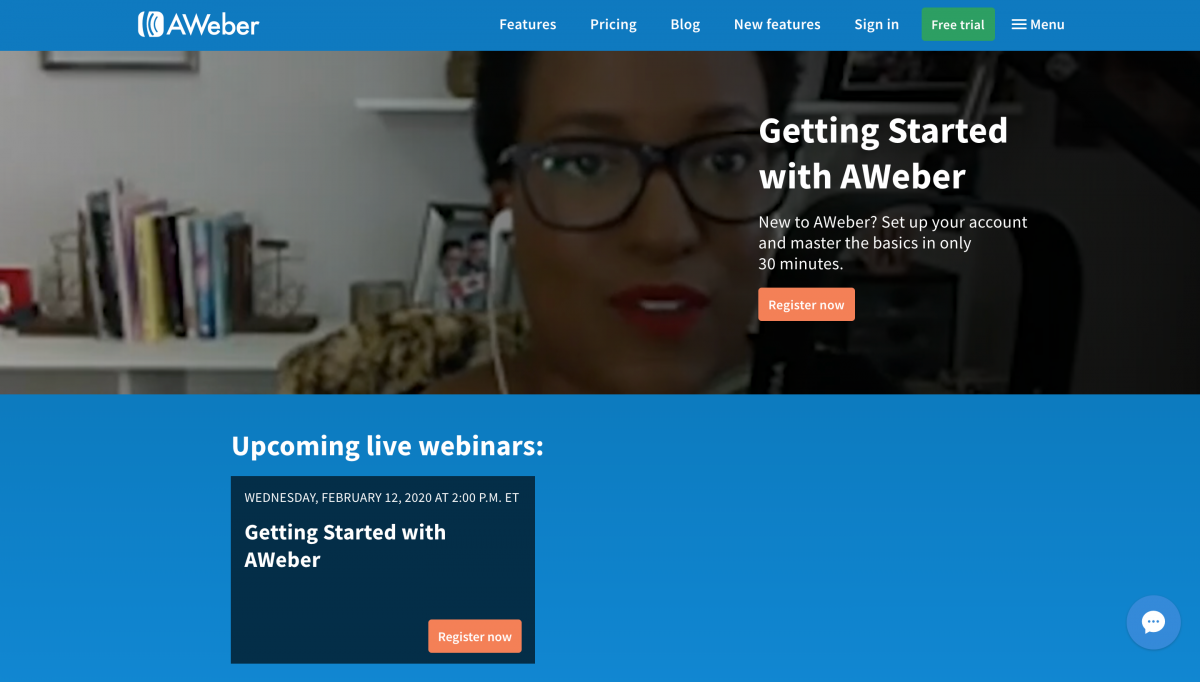 In this case, as you can see, one simple webinar can have different goals and help both the sales and onboarding teams save time and centralize their communication efforts.
Tip: You can put together video templates to quickly and easily provide custom onboarding videos depending on your audience.
7. ActiveCampaign Product Update Webinars
Another great way in which you could use webinars is to present different product updates or introduce new features. ActiveCampaign is a great example.
It has a dedicated webinar series (we'll talk a bit more about that later) devoted to product updates.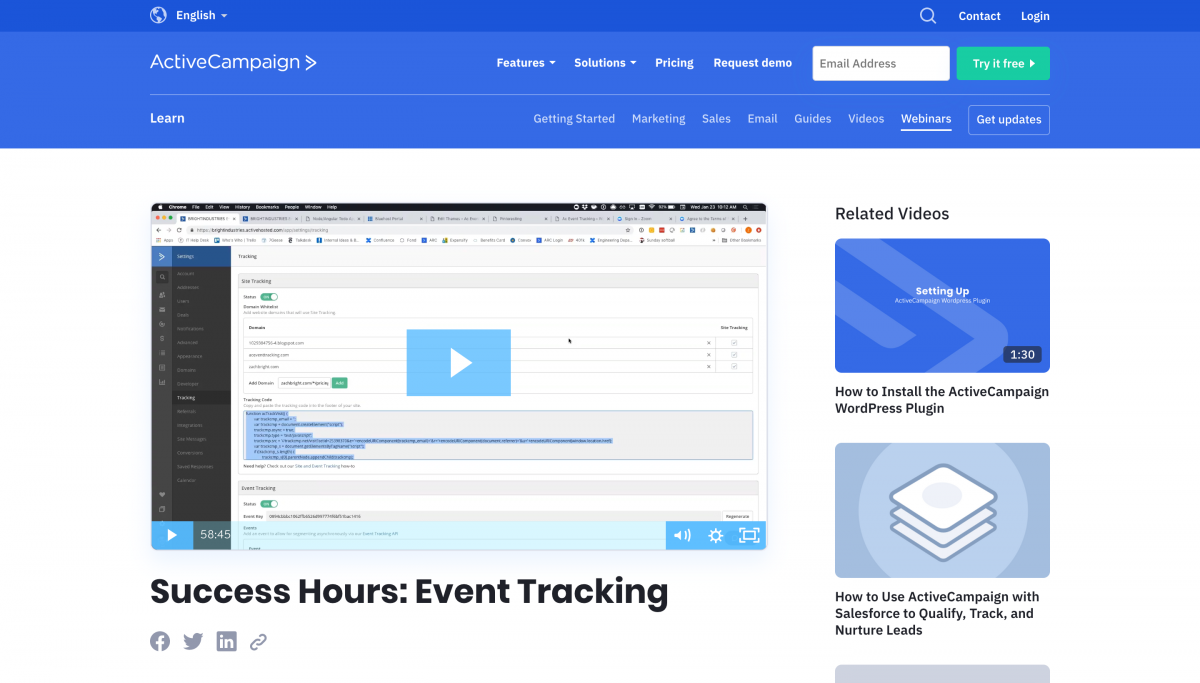 Note that these SaaS webinars aren't gated. ActiveCampaign uses these videos to promote the company and maintain easy communication with its customers.
8. BuzzSumo Customer Journey Webinars
The innovative thing about BuzzSumo's webinars is its focus on covering the stages of the customer journey.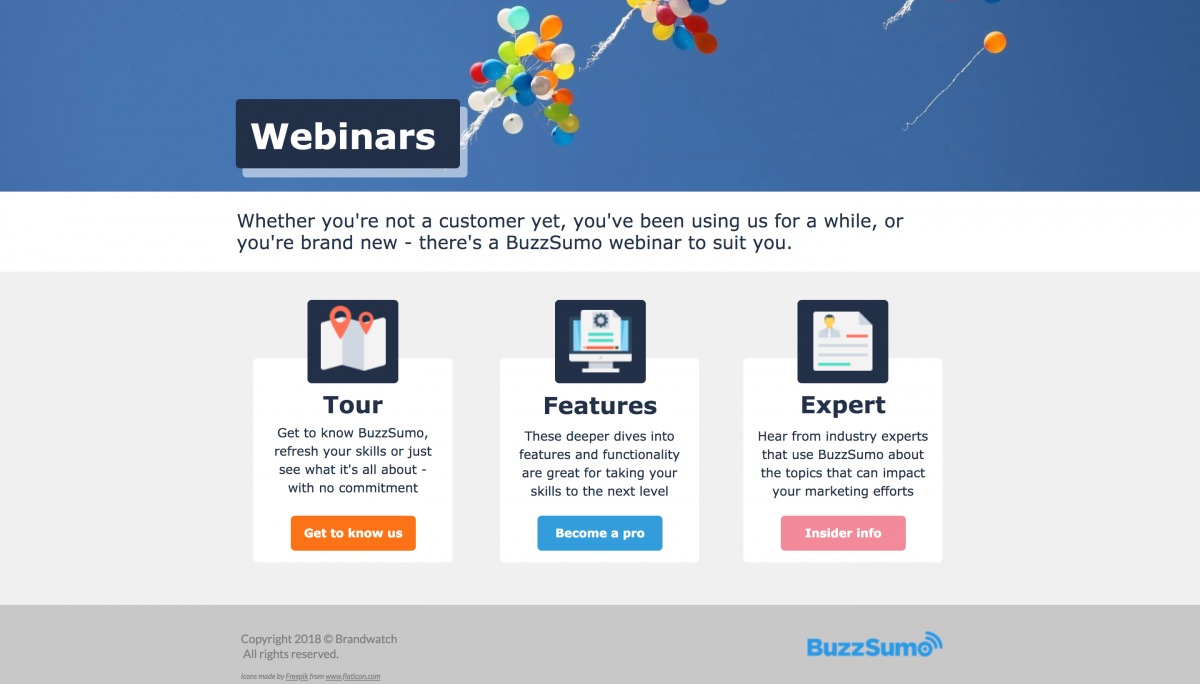 BuzzSumo runs an online "get to know us" tour every Thursday.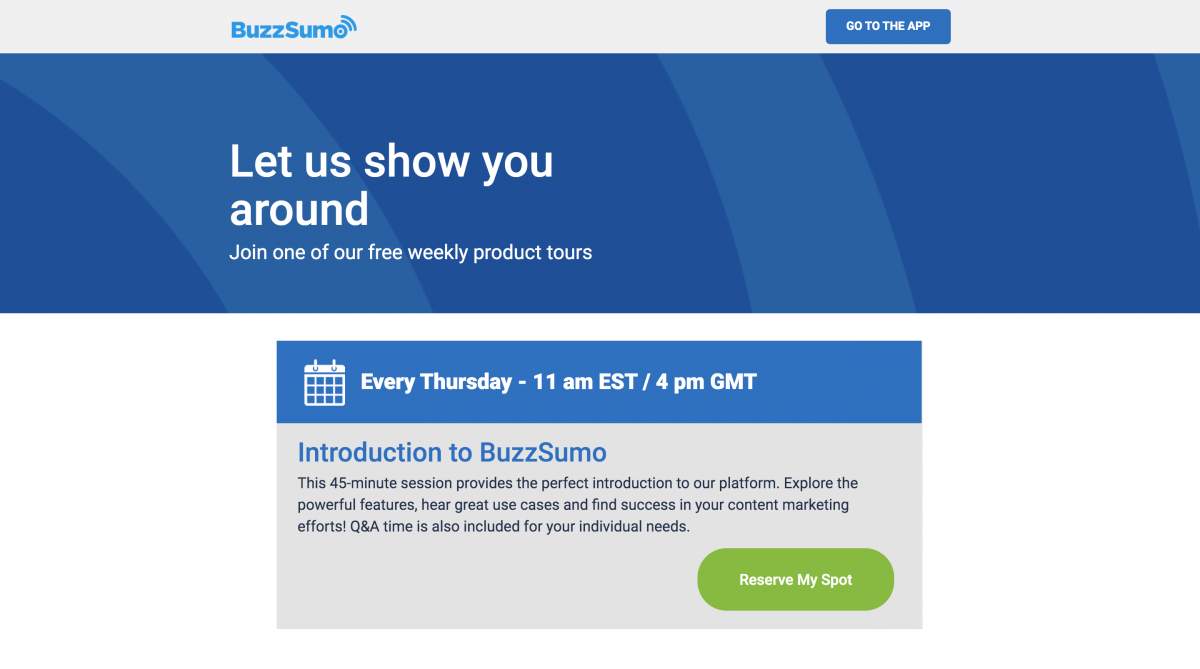 It also has a "Features" series that dives deeper into the subject and lets people become more familiar with some of the company's offers.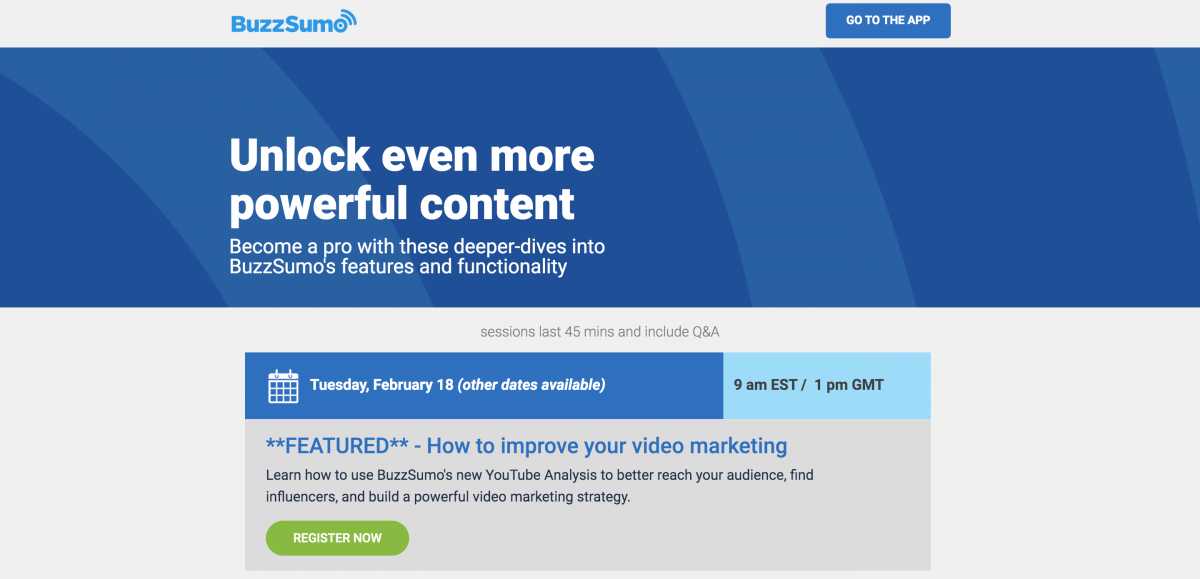 Both of these series are gated.
Finally, BuzzSumo provides "Expert" webinars that focus on talking to different marketing professionals who use its product. This last one is ungated and uploaded to YouTube.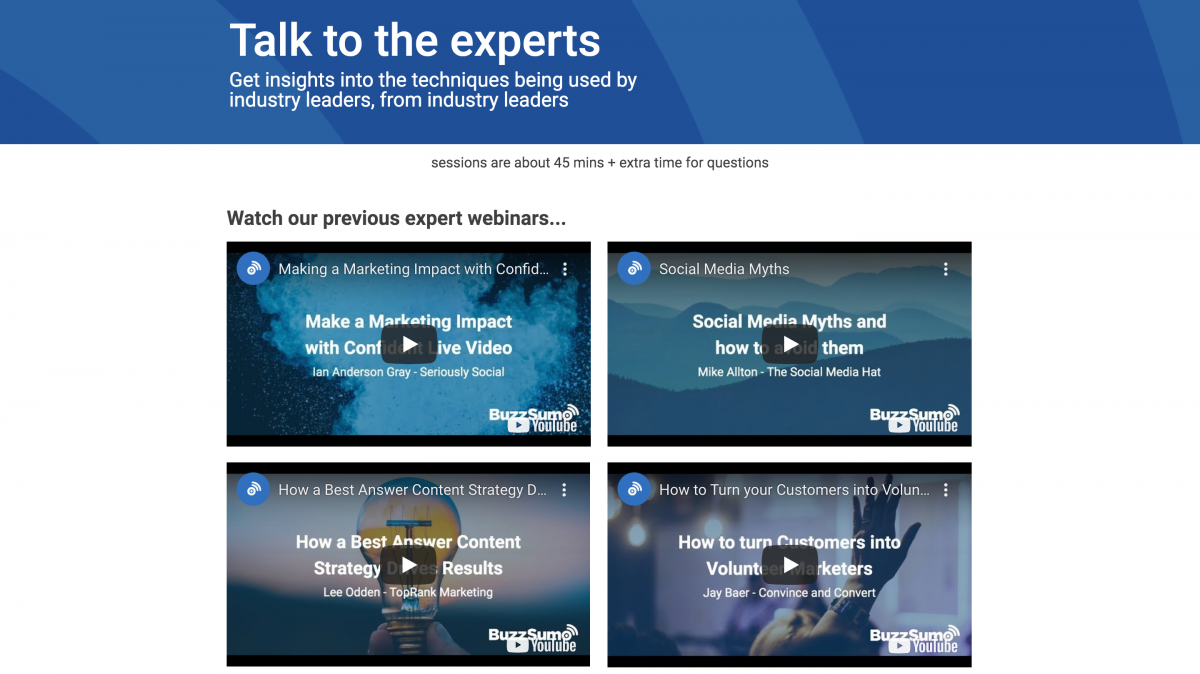 The interesting thing is that these three series are somehow aligned with what the journey prospects will go through before purchasing the product. First, they'll want to learn more about the product. Then, they'll want to understand how to use it and achieve specific goals.
Finally, they'll want to hear from other professionals how they can use BuzzSumo to overcome their specific challenges.
9. Webflow Live Q&As with the CEO
What can be more exciting than interacting with the CEO of a company who can answer questions about the product and the brand? In these terms, Webflow does an excellent job.
What they're doing is to runs live webinars at the end of every quarter with their CEO, Vlad Magdalin. People all around the world connect to watch the live streaming.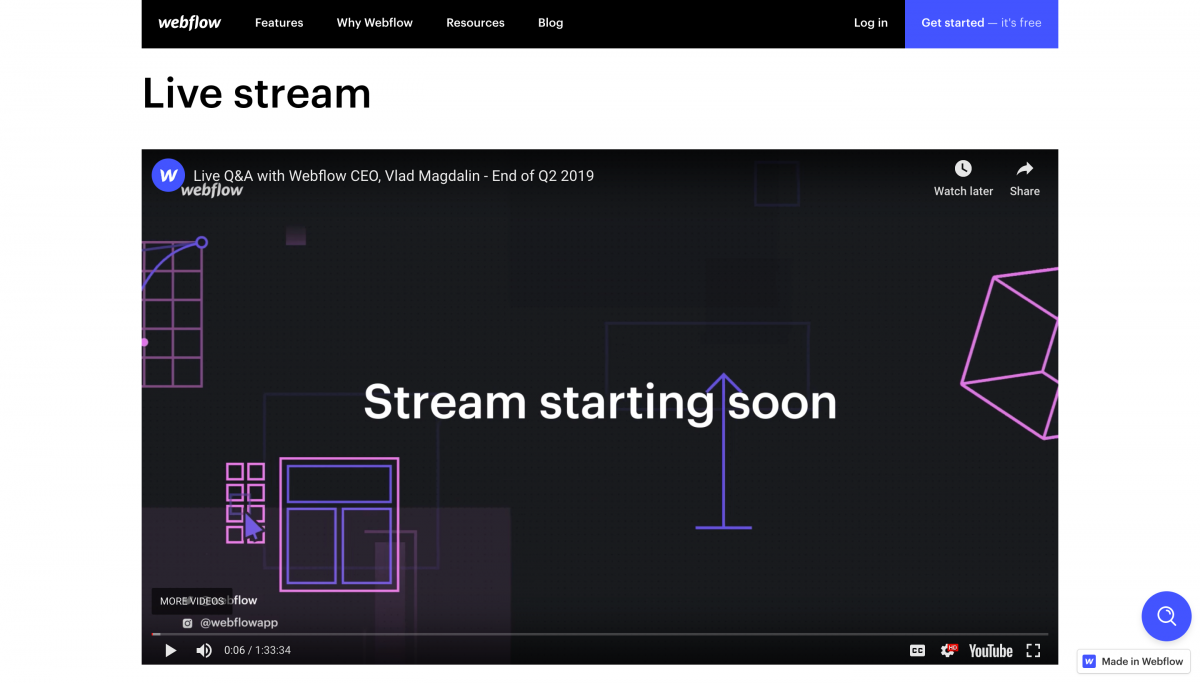 These live webinars are extremely important for branding, considering that the CEO is using this medium to present and reinforce the Webflow vision.
10. AdEspresso Onboarding Webinar
AdEspresso came up with a very specific type of webinar that reduces the workload of its customer success team. This webinar recording is not gated and can be easily presented to new customers.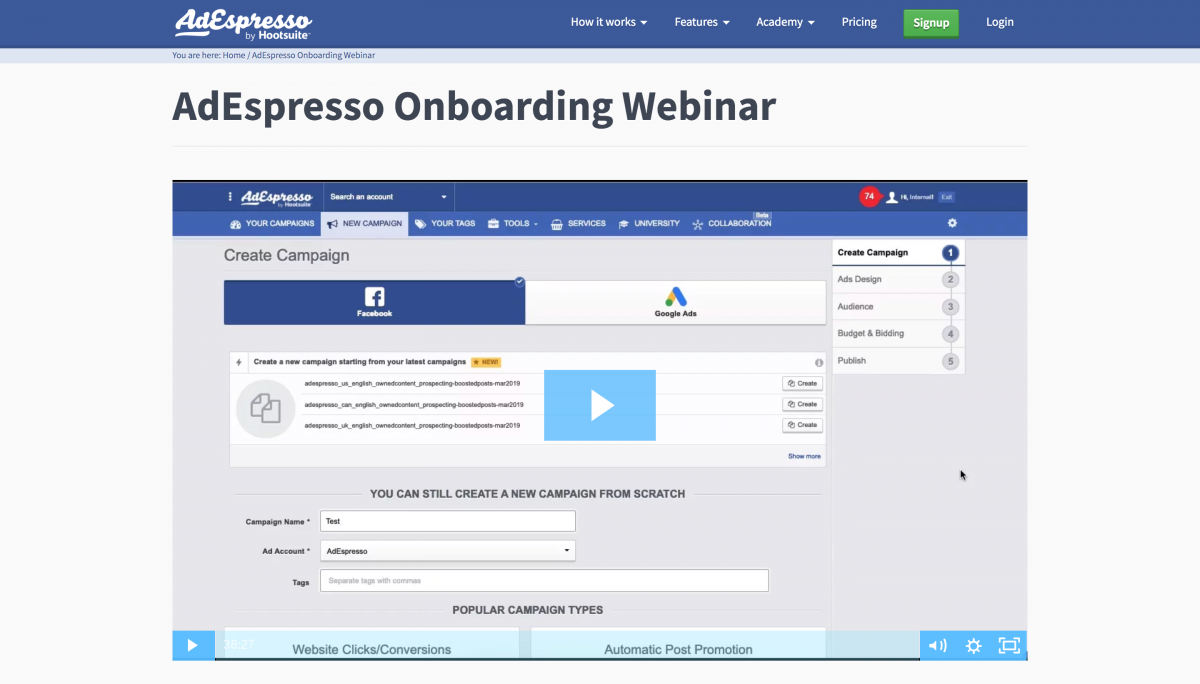 11. Khoros Webinars
Like many other SaaS companies, Khoros is creating webinars as part of its content marketing assets and downloadables that it can use to showcase as part of its Resource Center, along with eBooks, white papers, and checklists.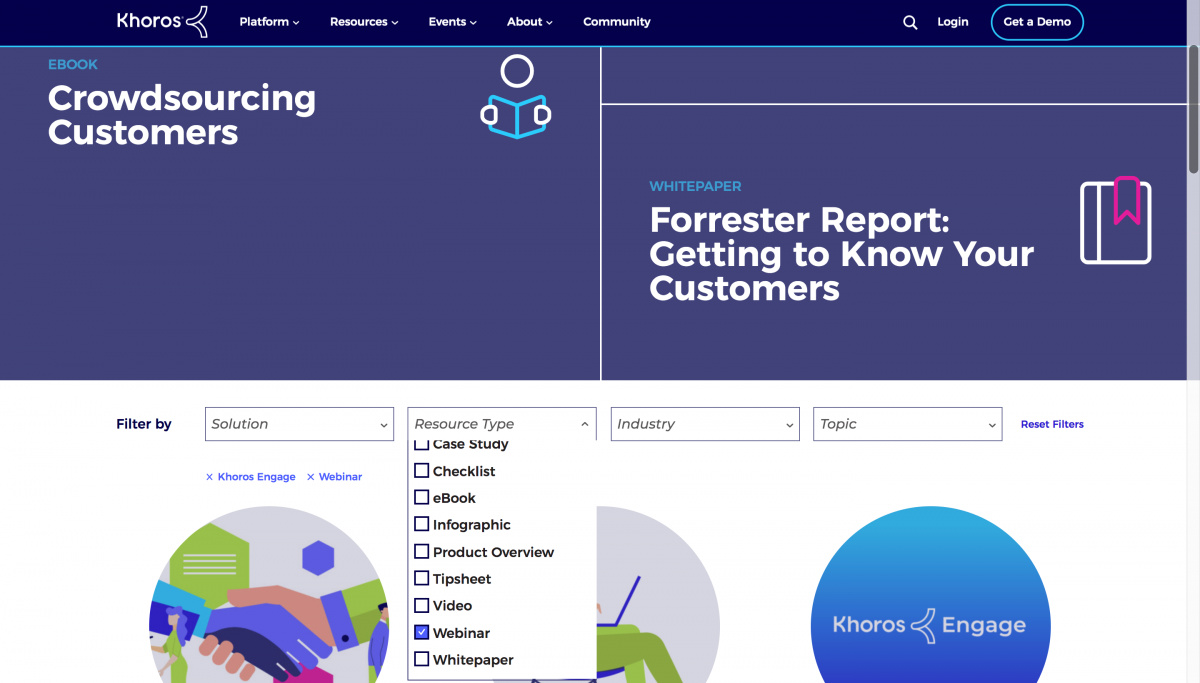 12. AdRoll Crash Course Webinar
If you want to run a crash course for your prospects or clients, why not use the webinar format? AdRoll does this perfectly with its Marketer Crash Course Webinar Series, focused on developing, launching, and executing a successful marketing strategy.
13. DemandBase Virtual ABM Innovation Summit
Running a virtual summit is a strong webinar use case. Demandbase marketing team knows it and does it successfully with its Virtual ABM Innovation Summit.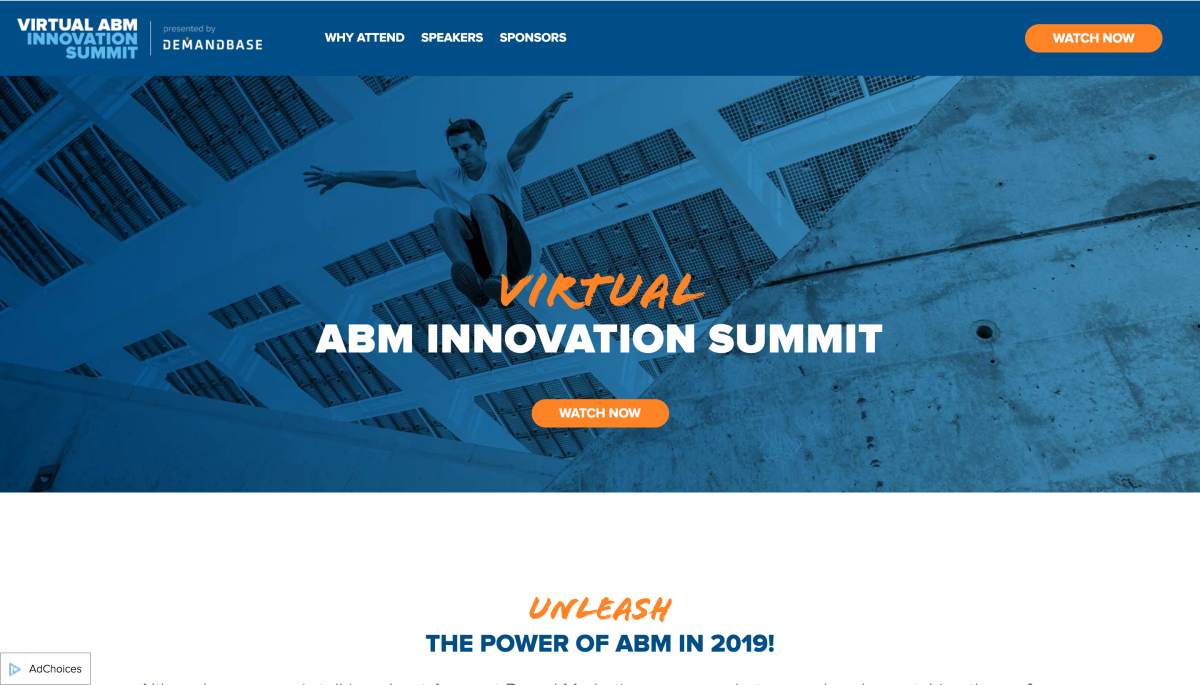 Virtual summits are great for the top-of-the-funnel leads, as well as increasing brand awareness.
14. BirdEye Industries
What do you do if your brand serves multiple industries? BirdEye has a simple answer: Create personalized SaaS webinars for different stakeholders and segment them accordingly. In this case, webinars serve as niche content focused on personalization.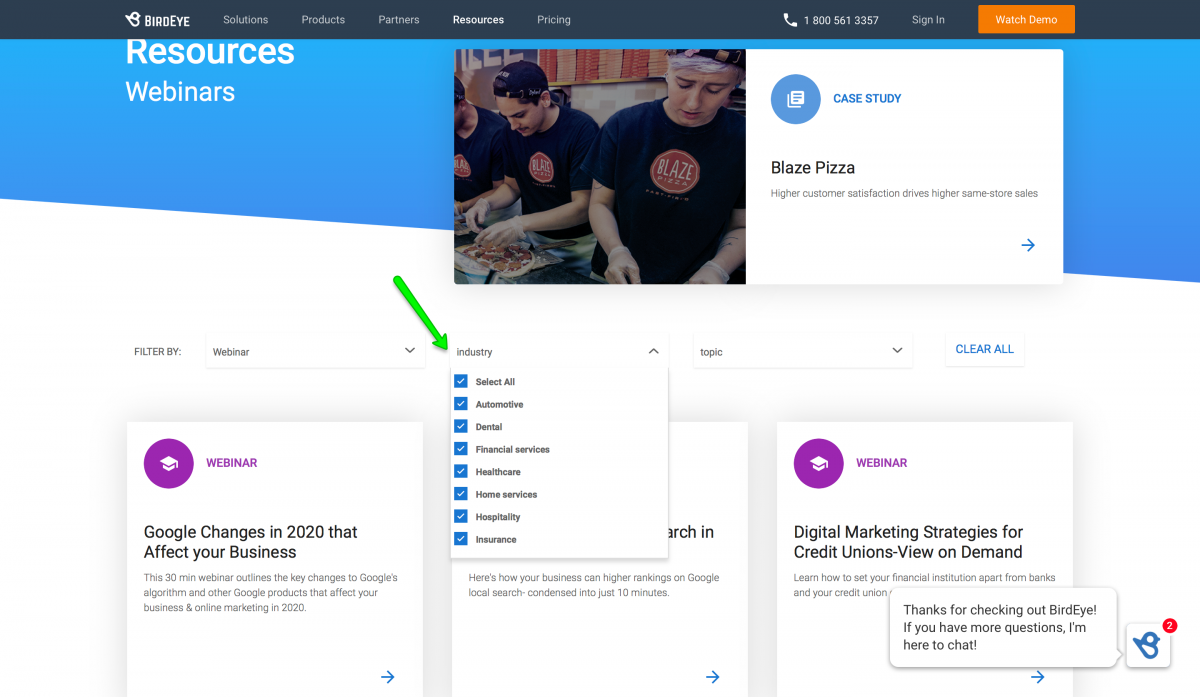 15. The Futur AMA
Ask Me Anything Webinars may be something new, but some brands are doing it successfully. The Futur is one of them. They runs live webinars during which the team connects with their followers visually (via camera and microphone). During these webinars, people can ask the marketing expert, Chris Do, any question they want.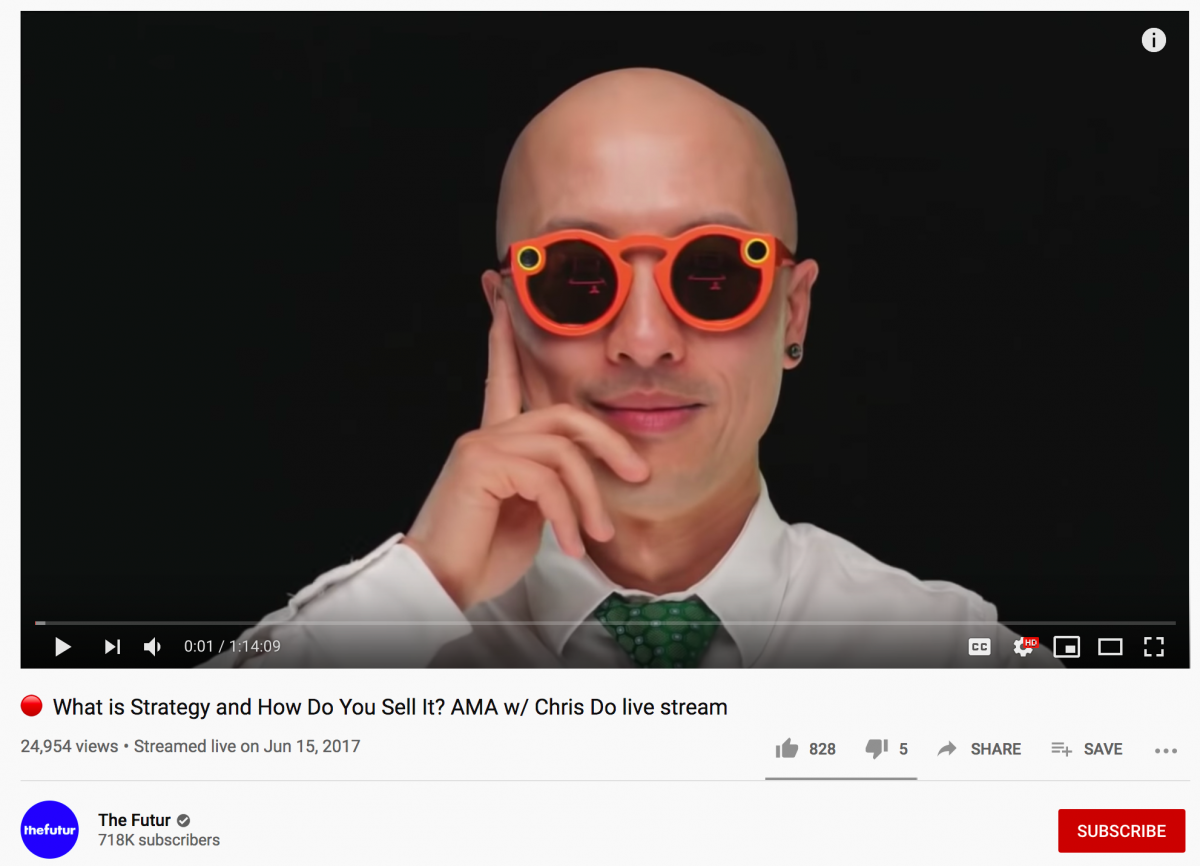 That's an awesome way to connect with your audience and generate a valuable content asset that you can publish on Youtube later.
16. Eventtia Recurring Masterclasses
What do you do when you have an all-inclusive platform that requires you to run multiple demos on different topics? Eventtia has the answer.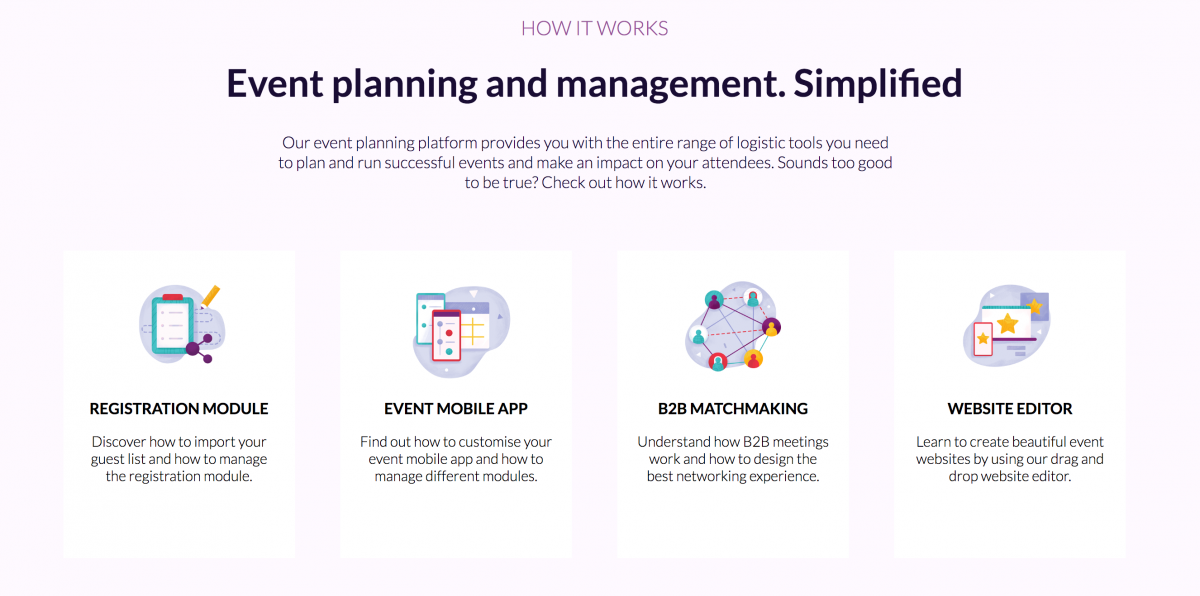 They've packaged all this knowledge into four recurring masterclasses during which the company's customer success team members showcase the product, engaging with leads and prospects.
? Structure & Format
From live events to presentations, you can choose the format and webinar type that suits you best.
17. Intercom In-Person Events
When we think about SaaS webinars, we tend to envision a talking head and a bullet-point deck, right? But guess what: Intercom decided to step outside the box and record face-to-face events.
Yes, we're talking about those real events where people get out of their comfort zone and gather to listen to interesting speakers.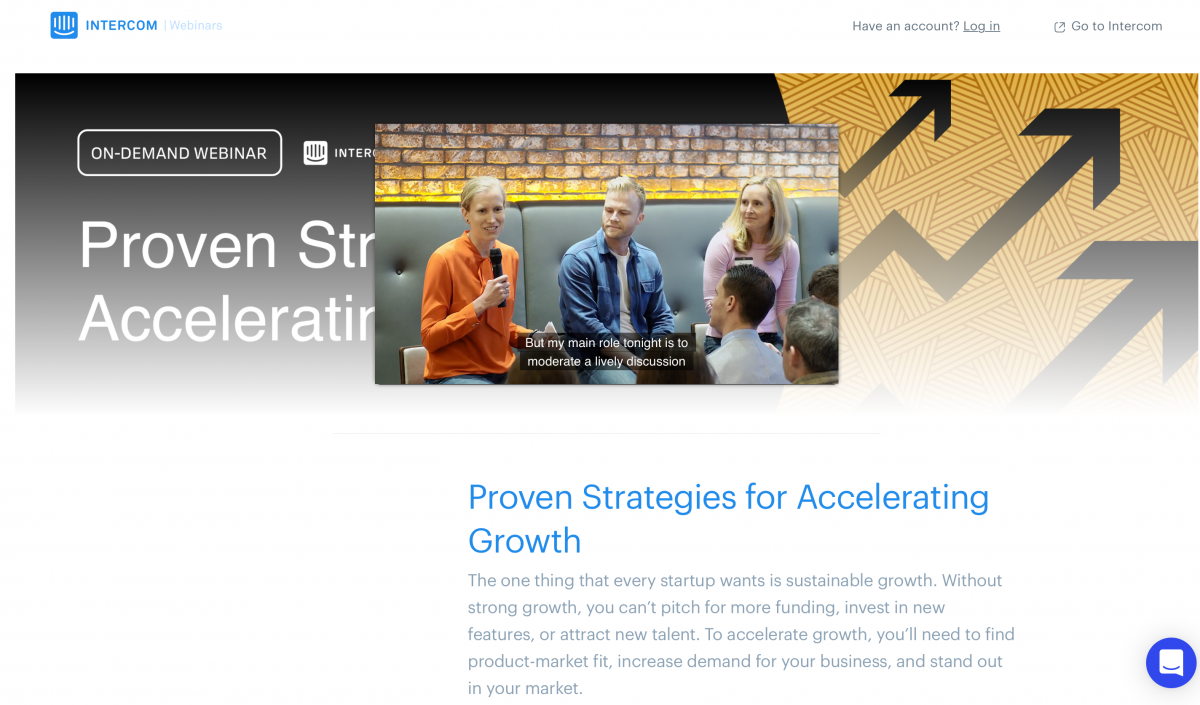 18. Intercom Conversational Webinar
Another webinar type from Intercom is the conversational model. Two awesome speakers in one place present a specific, industry-related topic.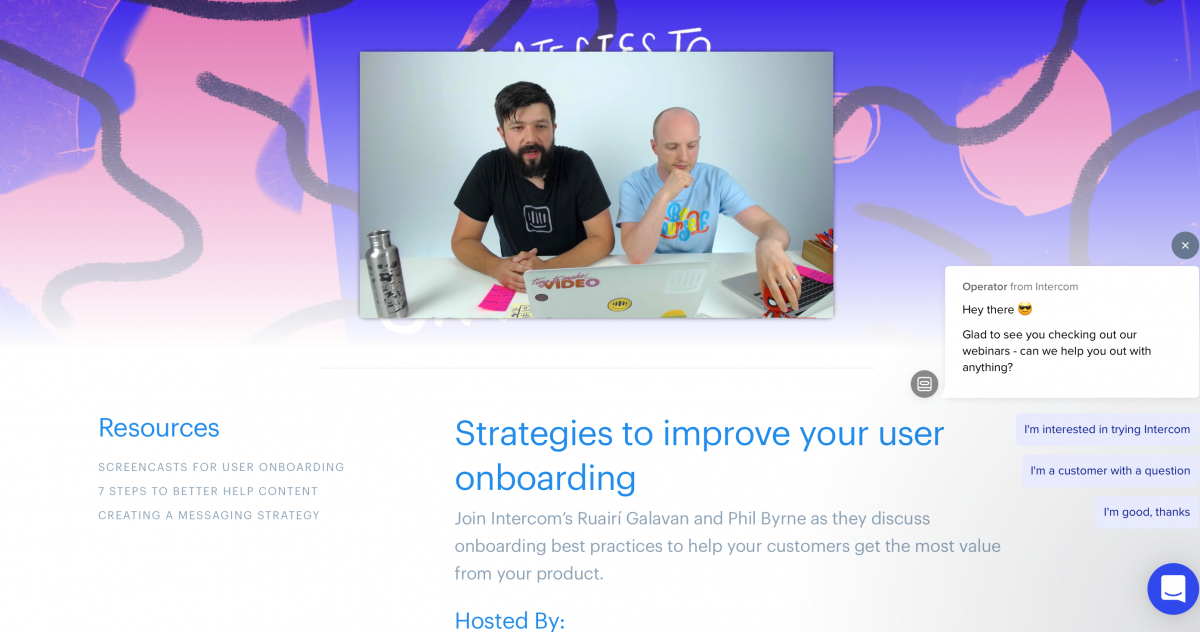 19. Intercom One-Person Show Webinar
A third Intercom webinar type is the one-person show. In this case, someone from the Intercom team talks about a product-related subject and provides a product tour.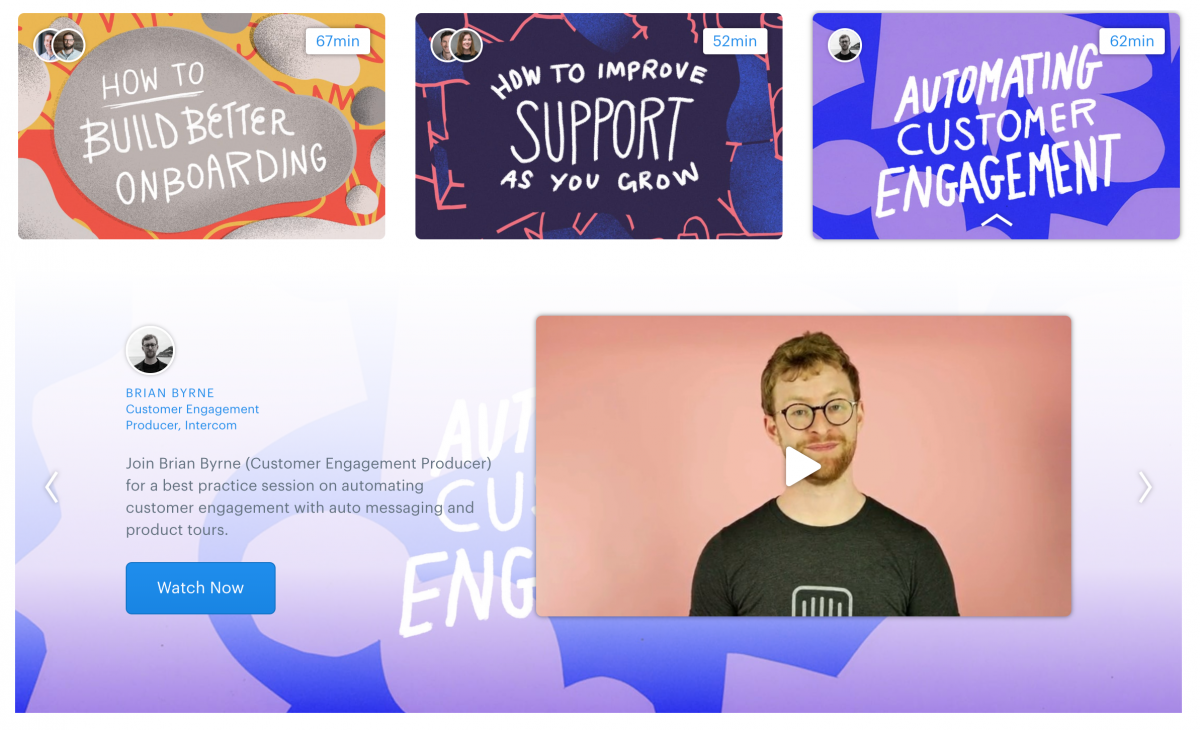 As you can see, this webinar is dedicated to those who are at the bottom of the funnel and truly interested in knowing more about the platform itself.
20. Keap Presentation Only Webinar
A different way of running your SaaS webinar is simply by preparing a slide deck with the main bullet points, like Keap does, and presenting it while talking behind the camera about a specific subject.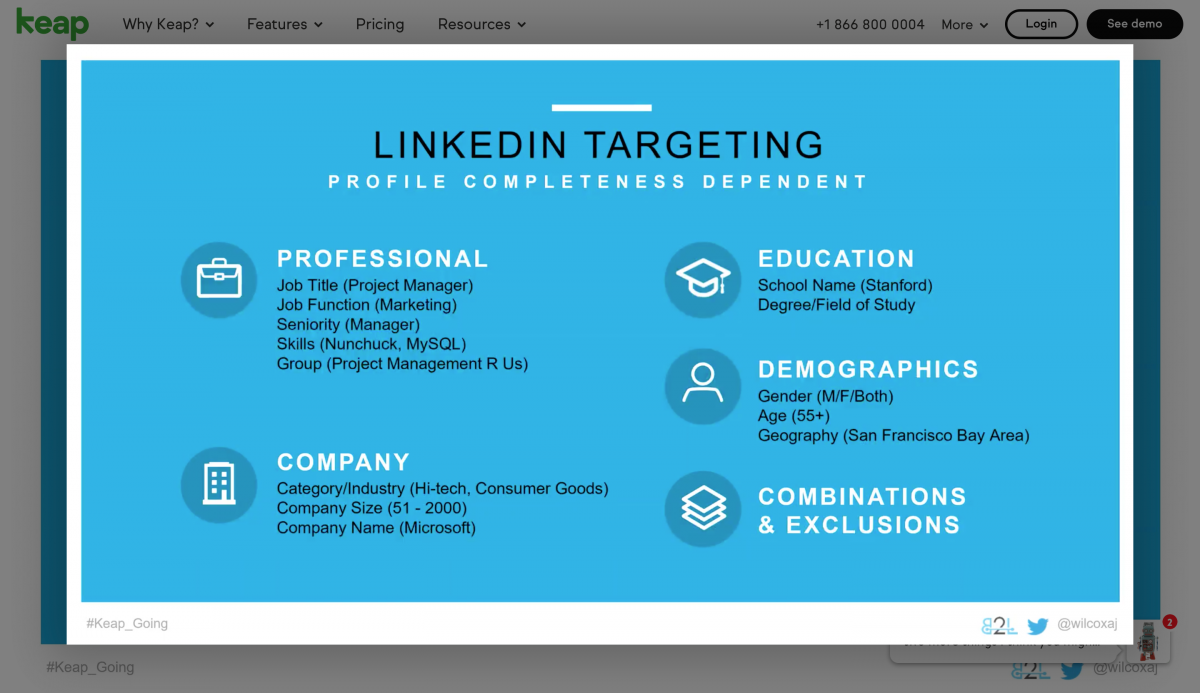 21. AppTweak On-Demand Webinars
You can follow the example of AppTweak and other companies by producing on-demand SaaS webinars. This means you can run a webinar and then use the video recording as a lead magnet and offer it in exchange for a prospect's information, such as their email, job title, etc.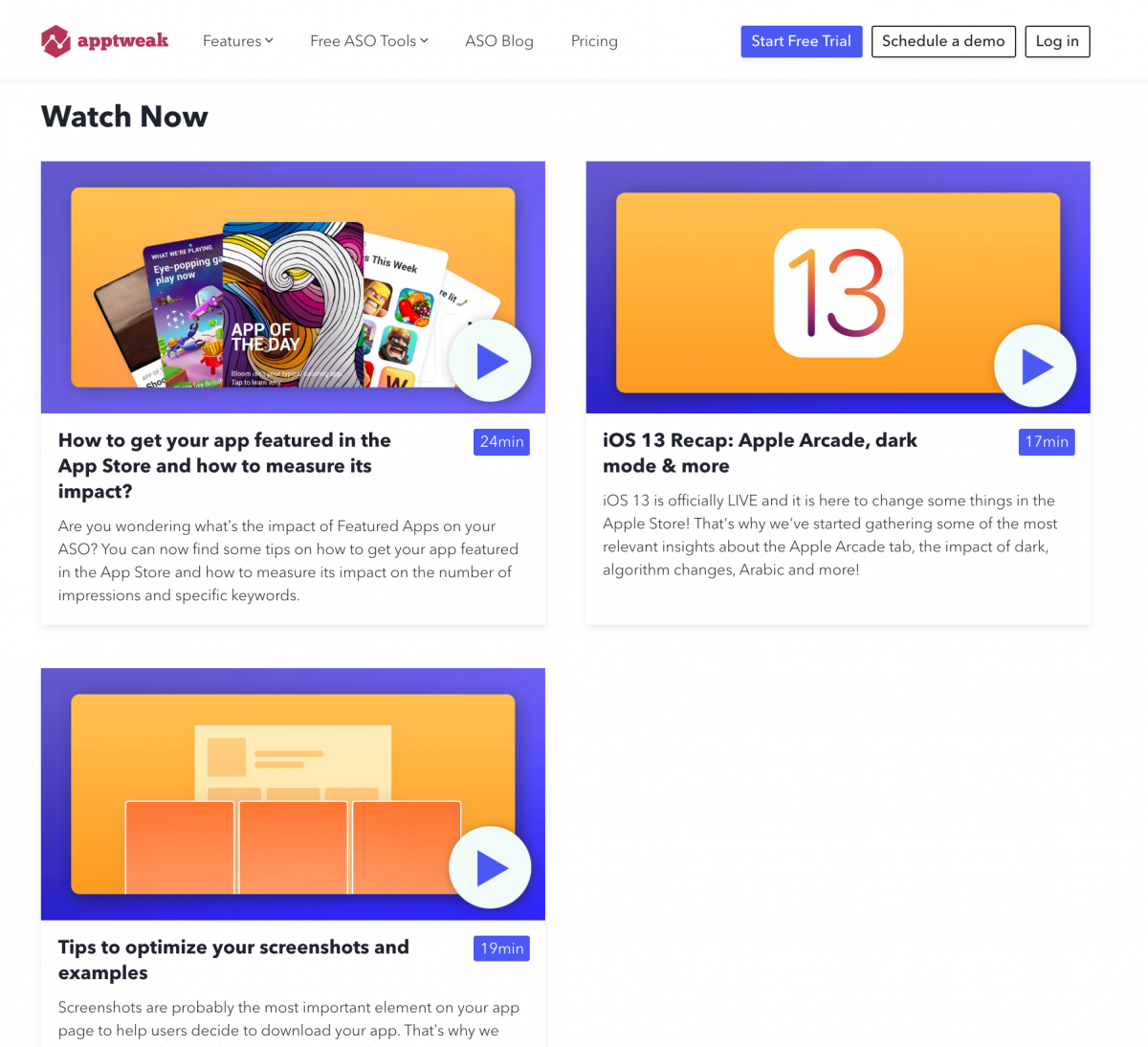 22. AppTweak One-Time Webinars
Another interesting webinar format is a one-time time offer. AppTweak does this perfectly by providing one recurring SaaS webinar. You can access it live only.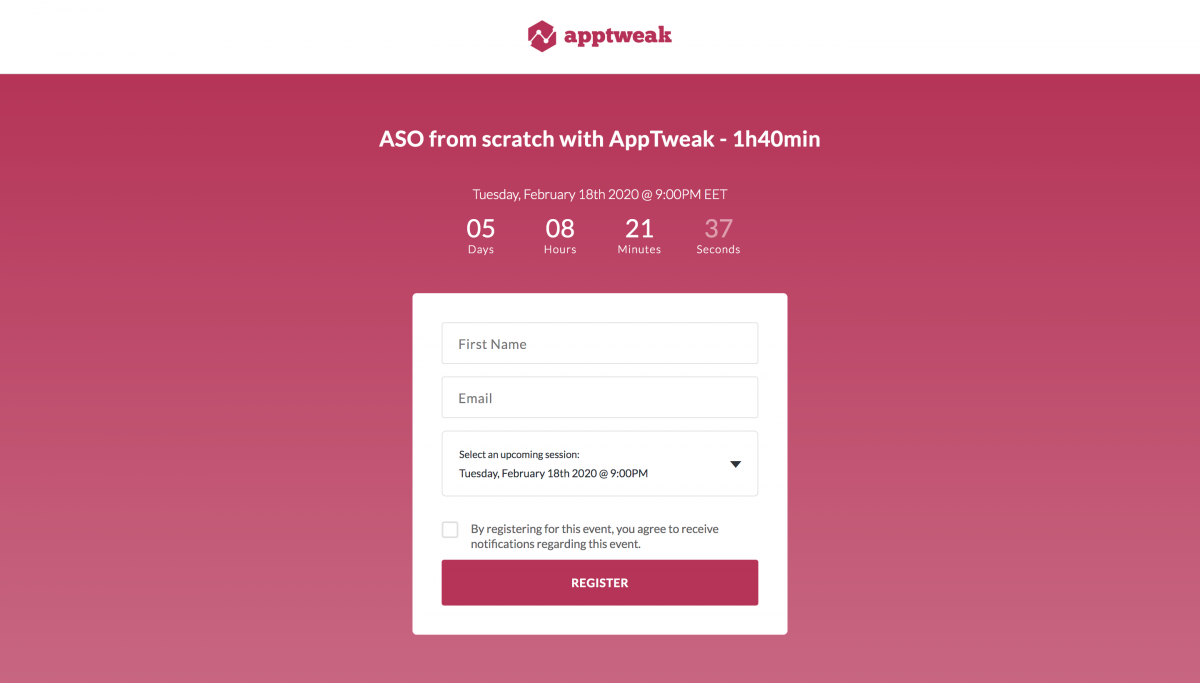 23. Semrush Multi-Language Webinars
What if you have a global audience? Do you provide all of the information in English? Semrush decided to take a different approach and personalize its content by translating it into different languages. This is also true for its webinars. Semrush's webinars are available in English, Spanish, Italian, French, and many other languages.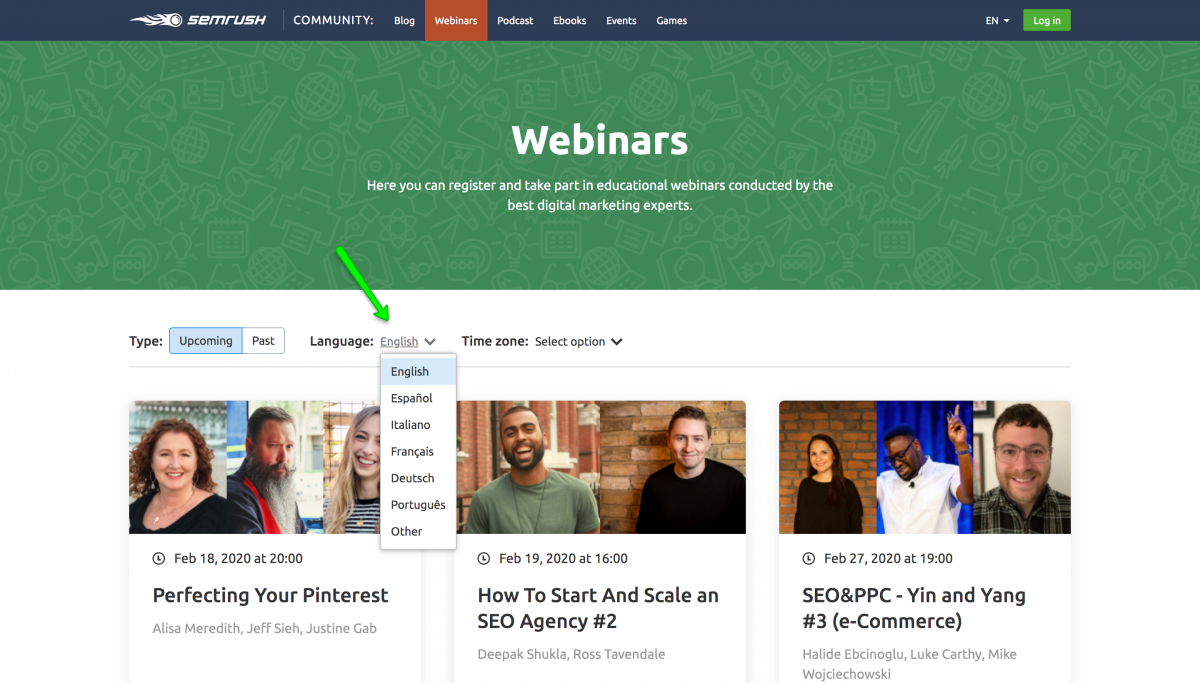 24. Mention Bilingual Webinars
If you don't have the resources to offer your content in multiple languages or you're targeting people in only two geographical areas, you can always take a page out of Mention's book—its webinars are both in English and French.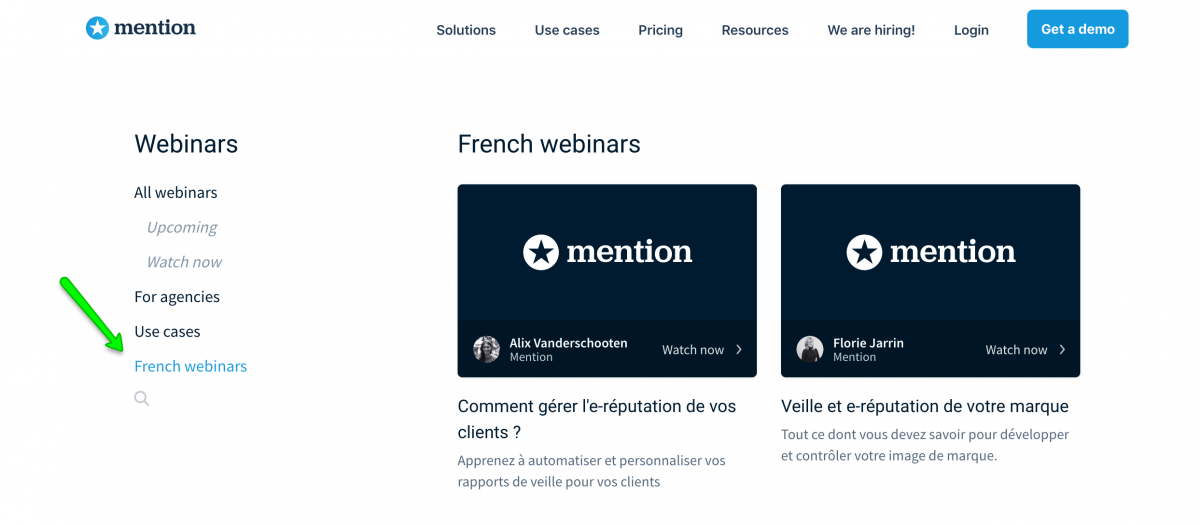 25. Mention Webinar Target Groups
When targeting a specific group, you could mirror what Mention does and create personalized webinars for that exact niche.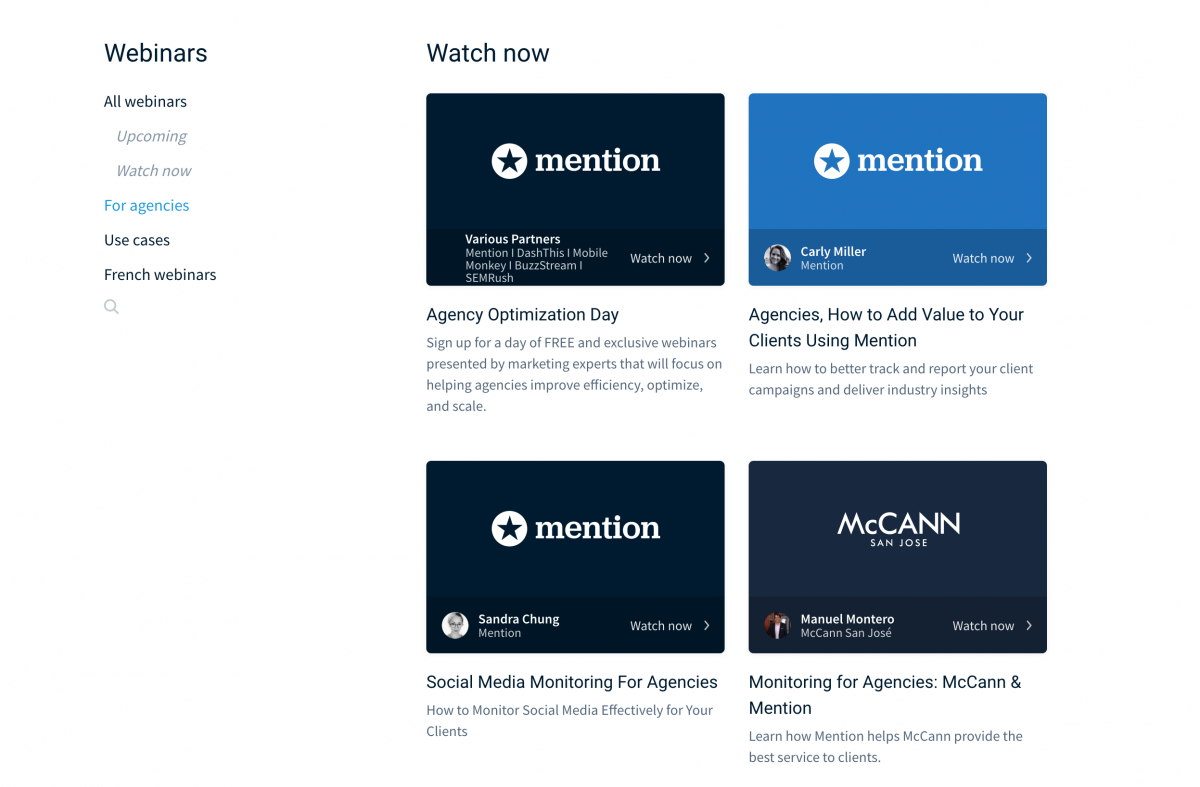 26. SproutSocial Fireside Chat
A very interesting webinar format is the fireside chat, which is an in-depth, immersive conversation with the speaker(s). While this format is typical for in-person events, SproutSocial managed to adapt this concept and transform it into an immersive webinar.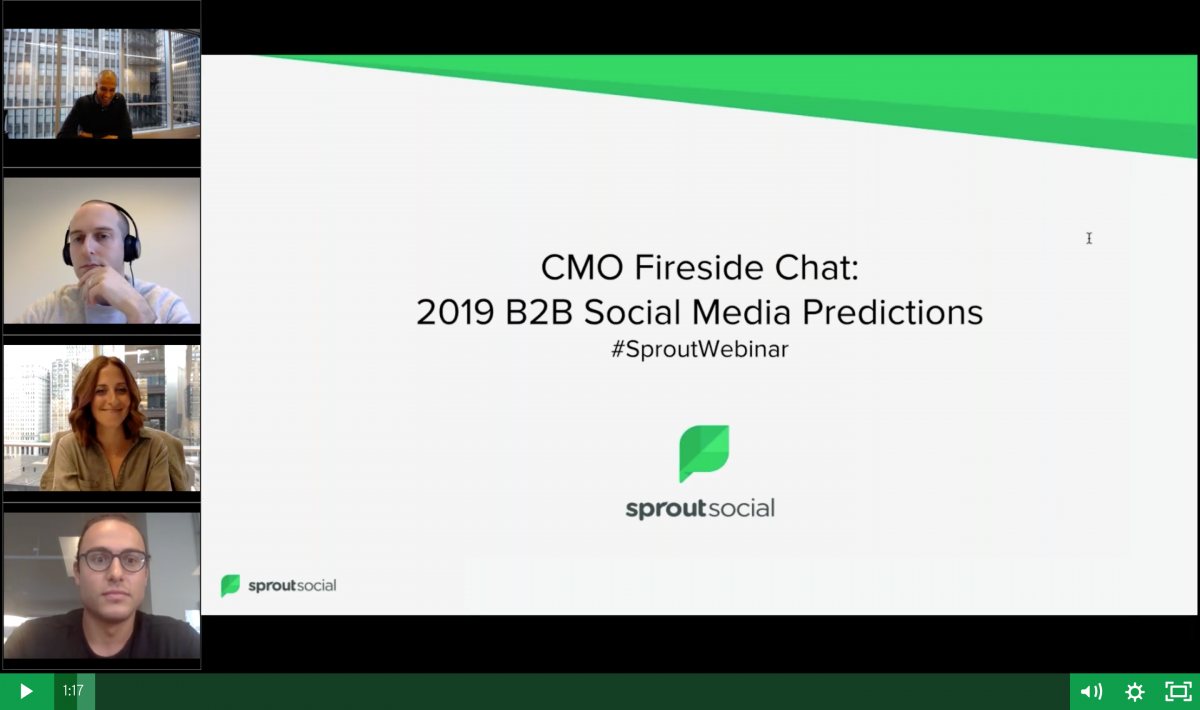 27. Litmus Webinar Collaborations
Content co-creation is a great way to generate massive value, connect with industry stakeholders, and gain access to a different audience. But apart from collaborating on editing an article or eBook, you can also co-create a webinar. For example, Litmus launched a webinar in collaboration with Trello.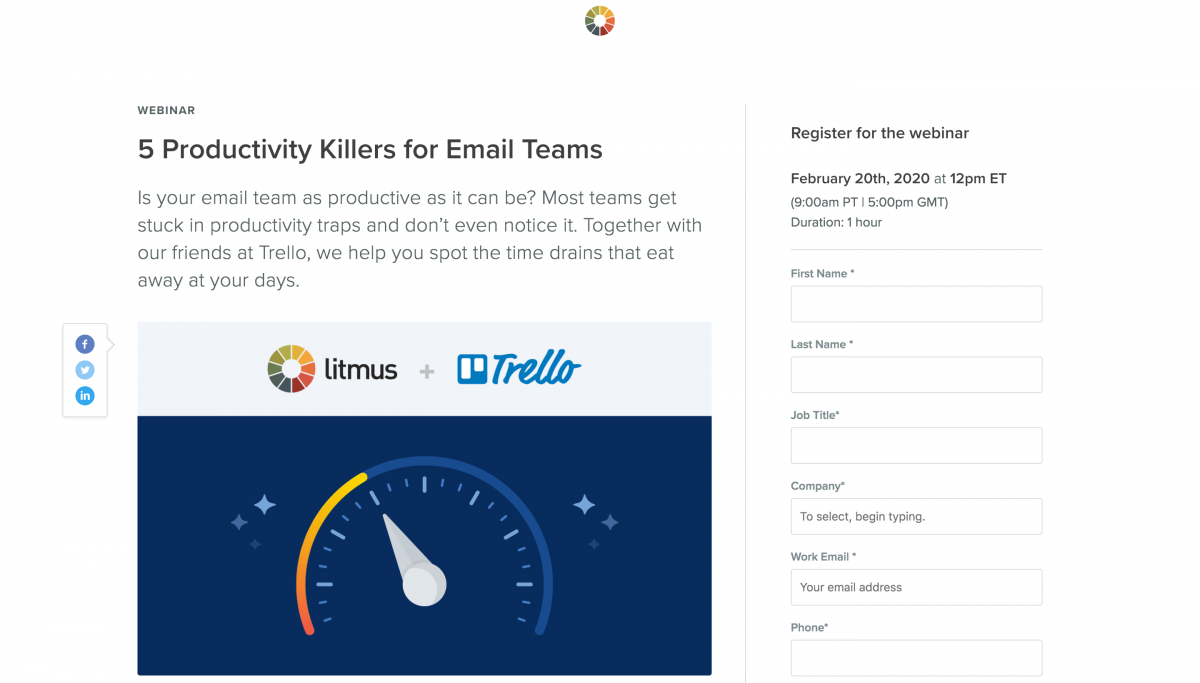 28. Dotdigital Podcast Webinar
Content repurposing is a wise way to increase your marketing assets. What if you could run a webinar and then transform it into a podcast? This is the idea we came up with after listening to a few podcast-like webinars from dotdigital.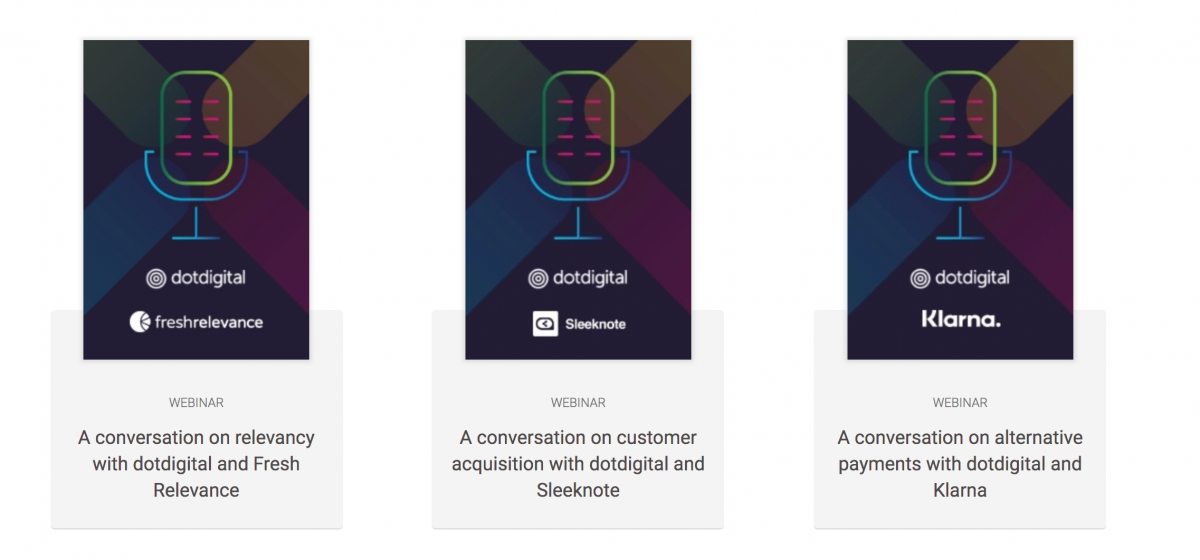 ? Branding
If you want to connect with your audience, run SaaS webinars. But if you want your audience to remember you, build a webinar brand. Here are a few examples that will give you some interesting webinar branding ideas. 
29. Drift All About ABM Webinar
Thanks to branding, Drift transformed from a chatbot company into a conversational marketing brand everyone knows about. So instead of just launching a few webinars on different topics, it took branding one step further and created a real series called All About ABM.

30. Drift Insider
Known for coming up with brilliant marketing ideas, Drift decided to also brand its on-demand webinars and make them part of Drift Insider, a library that stores expert-level content. People simply fill out a form and then gain access to all of Drift's webinars and additional content.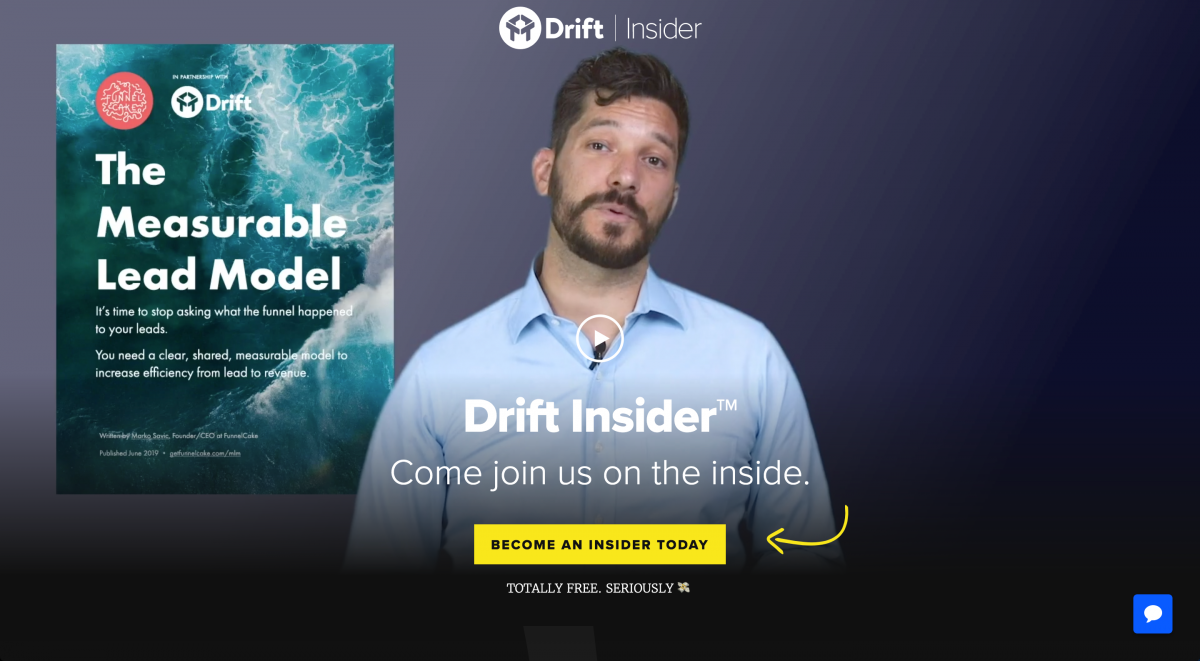 31. Scale or Die by UseProof
Scale or Die is an incredible two-season series from UseProof. In terms of branding, this is an excellent example of how you can increase your webinar outreach and combine it with video marketing.
Focused on uncovering proven strategies from founders and growth experts, the Scale or Die show enables its audience to experience it on the platform that suits them best.

Whether it's YouTube or Apple podcasts, this show is a great example of content repurposing and enhanced viewer experience.
32. ActiveCampaign Webinar Series
ActiveCampaign also decided to brand its SaaS webinars and create four different series.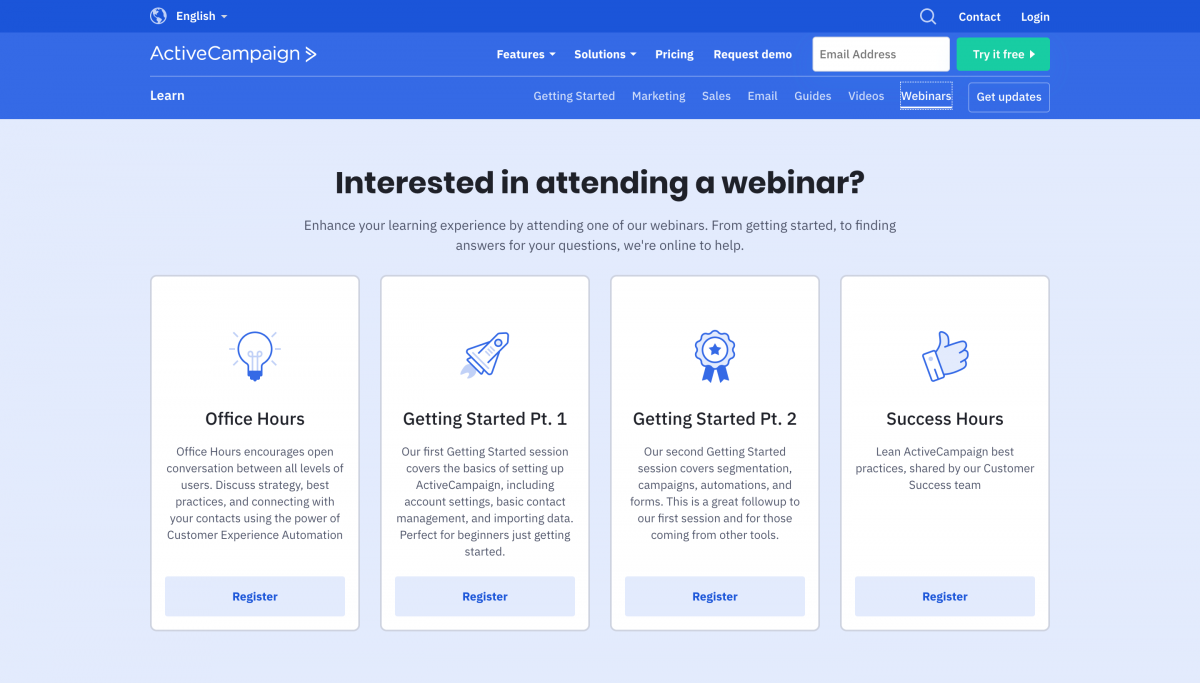 Office Hours is focused on providing insights into strategy and best practices and is mostly for ToFu and MoFu leads.
Getting Started Part 1 and Getting Started Part 2 series talk about the ActiveCampaign setup. These two series are mostly focused on BoFu and beginning customers, and also serve as onboarding documentation.
Finally, the Success Hours series talks about ActiveCampaign best practices that seasoned customers can apply to reach their goals.
33. GatherContent Branded Slides
When watching a webinar, you'll usually see a regular presentation with the company logo and a few branding elements. This GatherContent guest, however, took the design of the slides to a totally different level.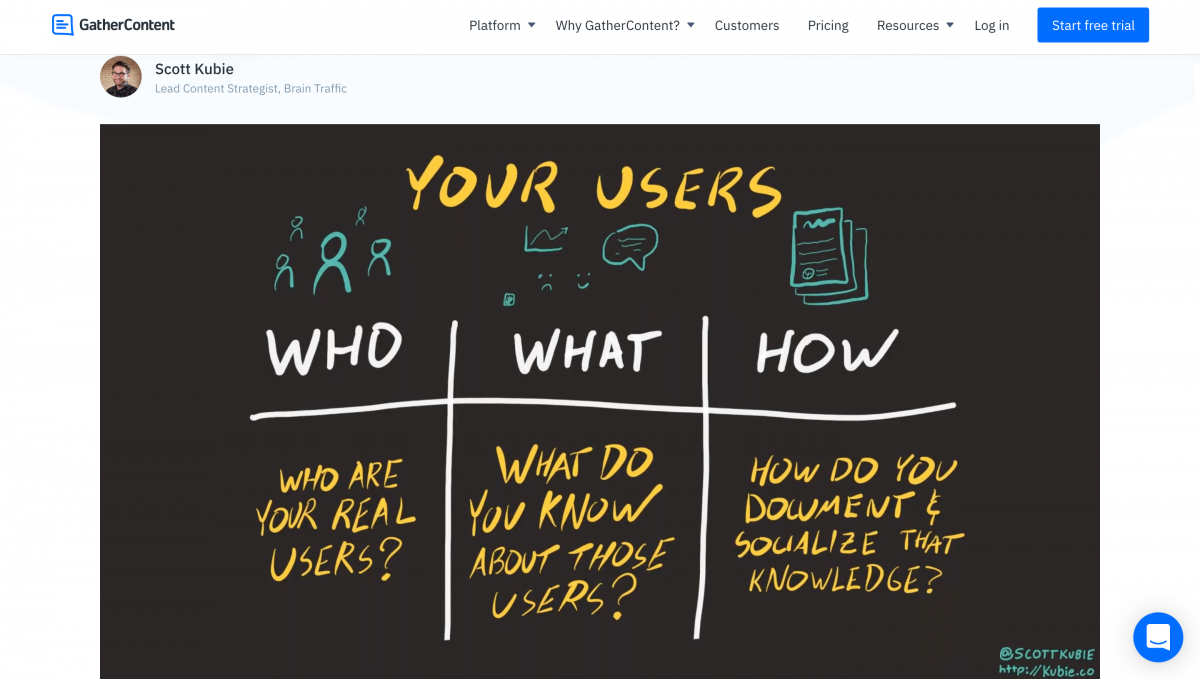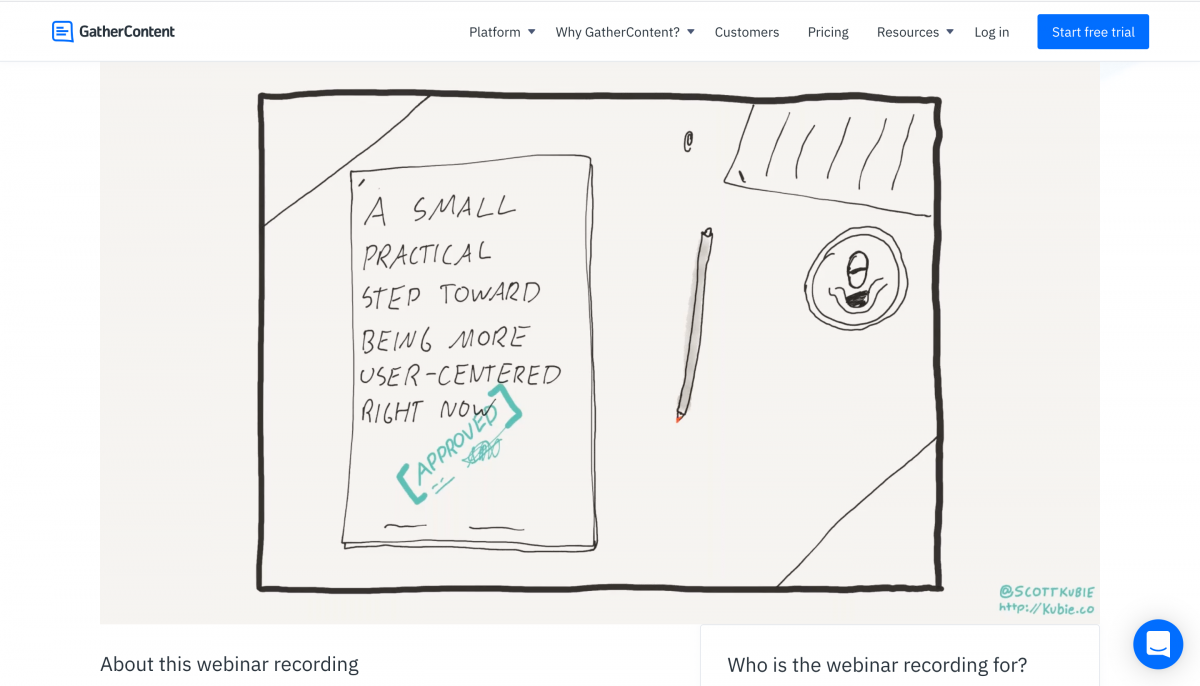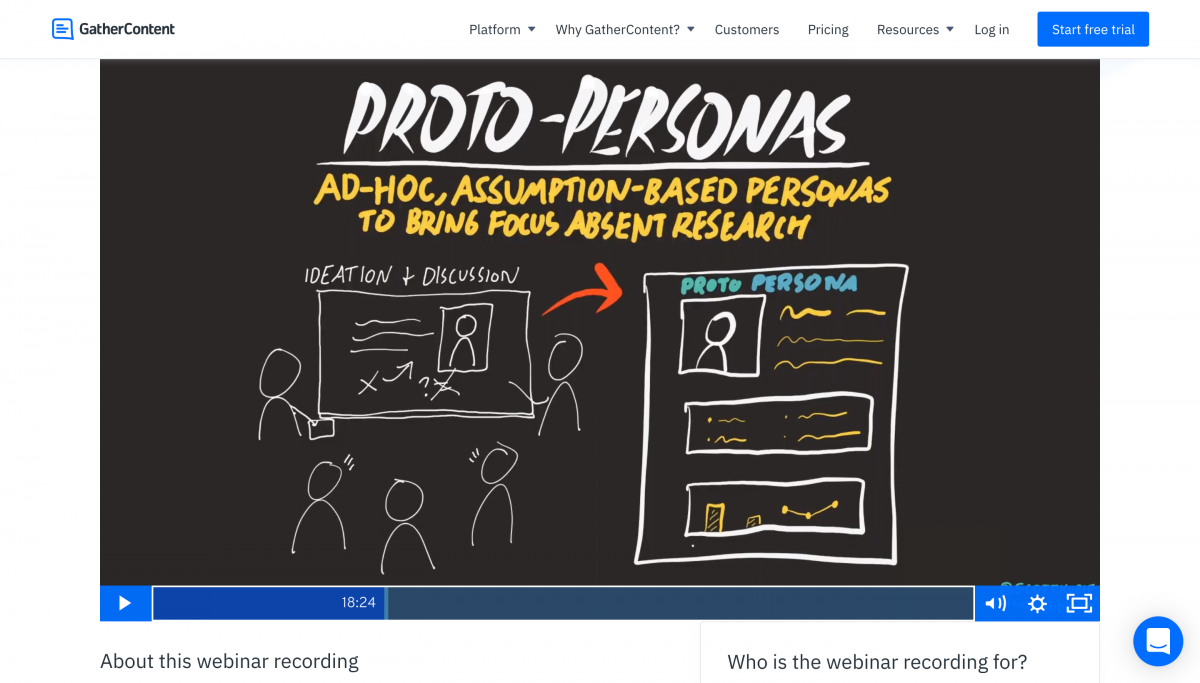 34. Intercom Featured Images
Take a look at your webinar's featured images. They look like a regular PowerPoint cover slide, right? Why not take advantage of an amazing branding opportunity and revamp these featured images?
Take a look at this awesome example from Intercom. They're easy to identify and recognize. Plus, it adds this branding element that makes the company more attractive and memorable.

35. Uberflip Thursday Webinars
Branding doesn't just involve cool designs or memorable trademarks. Creating a recognizable webinar series can also include publishing your webinars on a regular and consistent basis. Uberflip brands its On-Demand Webinar Series as an online event people can connect to every Thursday.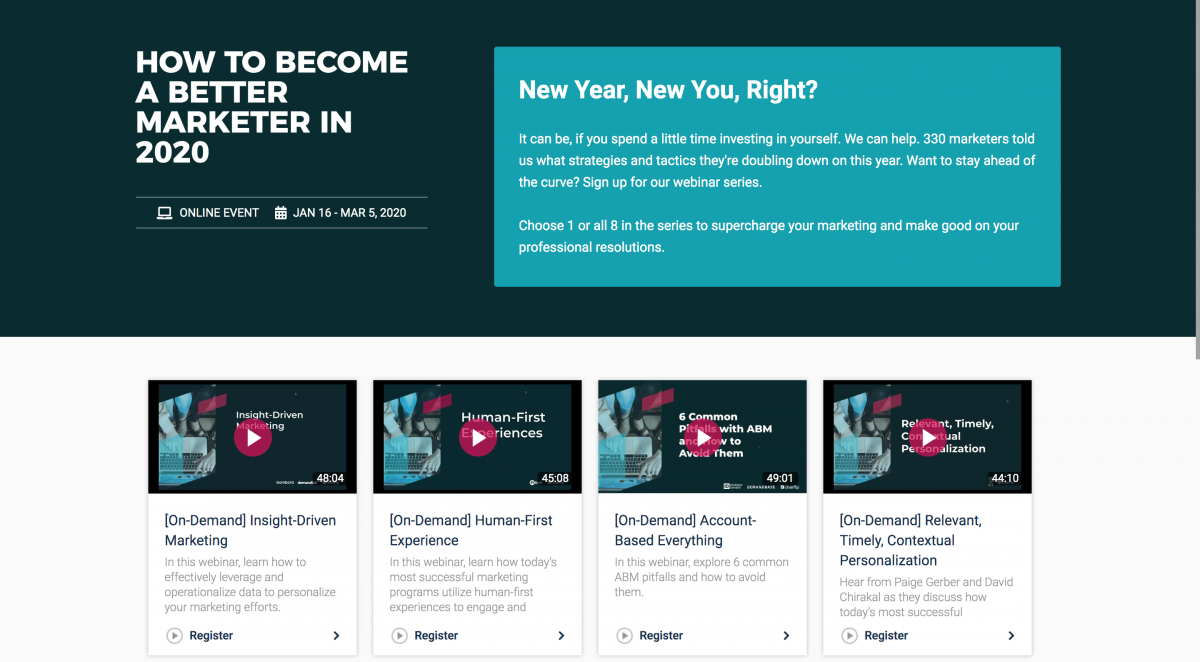 36. Demandbase ABM Unleashed Series
Here's another example from Demandbase. In this case, we have a successful branding example. Instead of just launching a few on-demand webinar videos, Demandbase decided to produce an entire series focused on account-based marketing available on demand.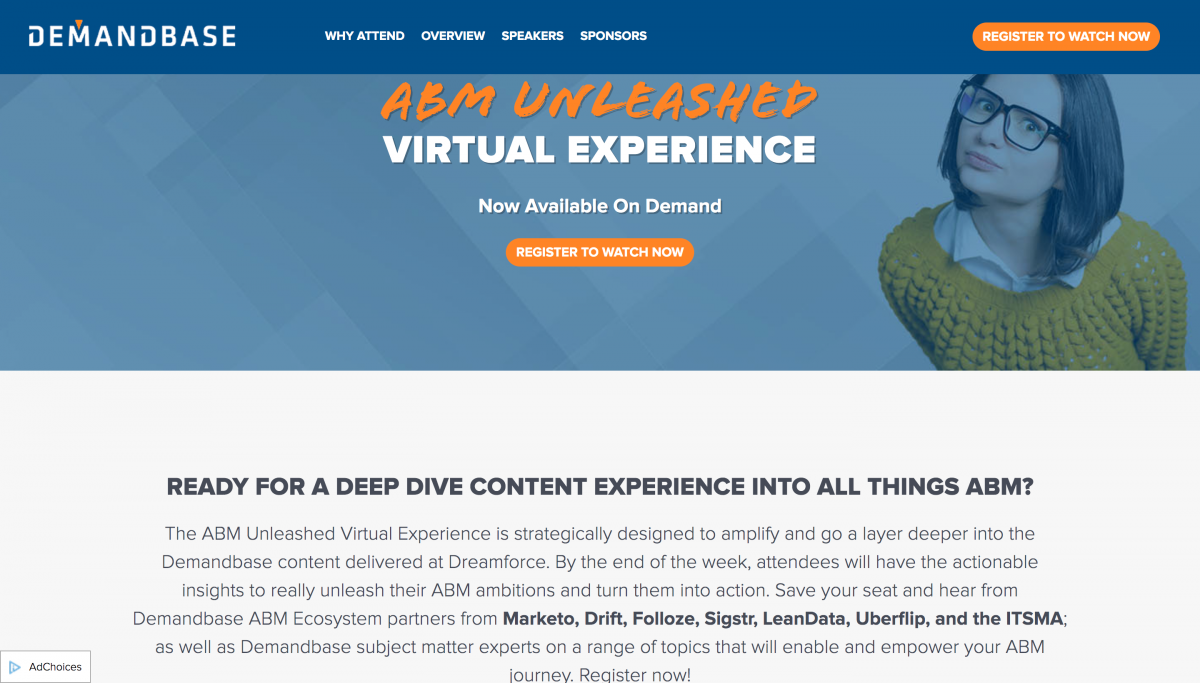 It's the same as connecting to Netflix and choosing your favorite series to binge-watch. ?
37. Convert Agency Accelerator Series
Convert publishes a monthly webinar presented as an in-depth talk with industry professionals. Instead of branding it like a webinar, Convert presents it as an Agency Accelerator Series, highlighting the boost these videos can offer to those who want to get results with Conversion Rate Optimization.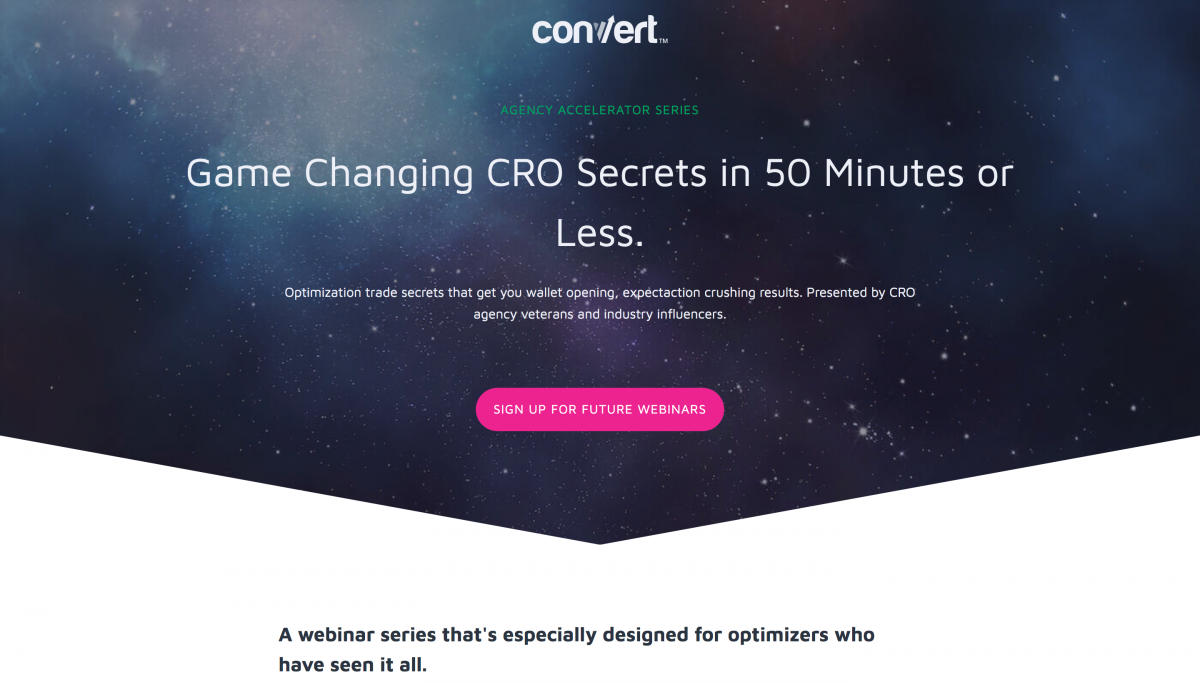 38. Conductor Webinars
People trust other people more than they trust brands, which is why putting a face on your webinar can be the perfect move.
Take MOZ, for example. There are few SEO professionals who don't know who Rand Fishkin (ex-MOZ CEO) is and what his Friday Whiteboard videos were about.
That being said, let's look at what Conductor did.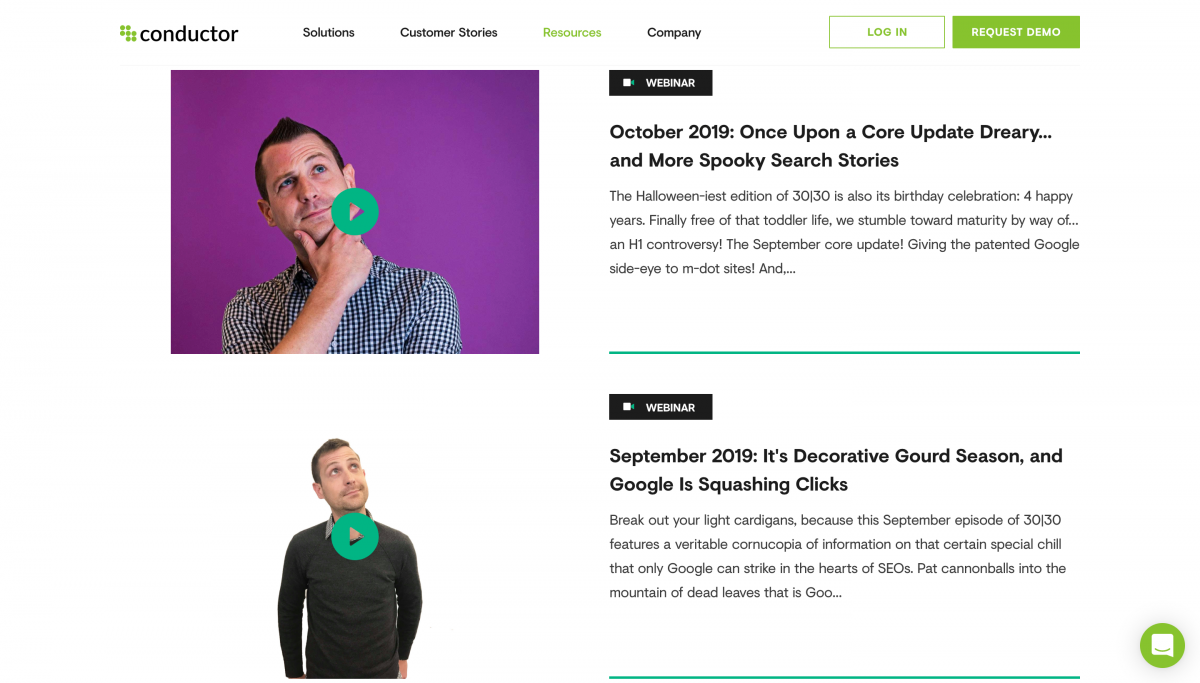 The company took its webinar strategy to the next level by putting a face on it through Patrick Reinhart, VP of Digital Strategies at Conductor. This simple move has made the Conductor's SaaS webinars much more personal and memorable.
39. Buffer Hosts
We just talked about putting a face on your webinar. Well, Buffer took this practice to a totally different level by having not one, but three hosts: Darcy, Heather-Mae, and Katie.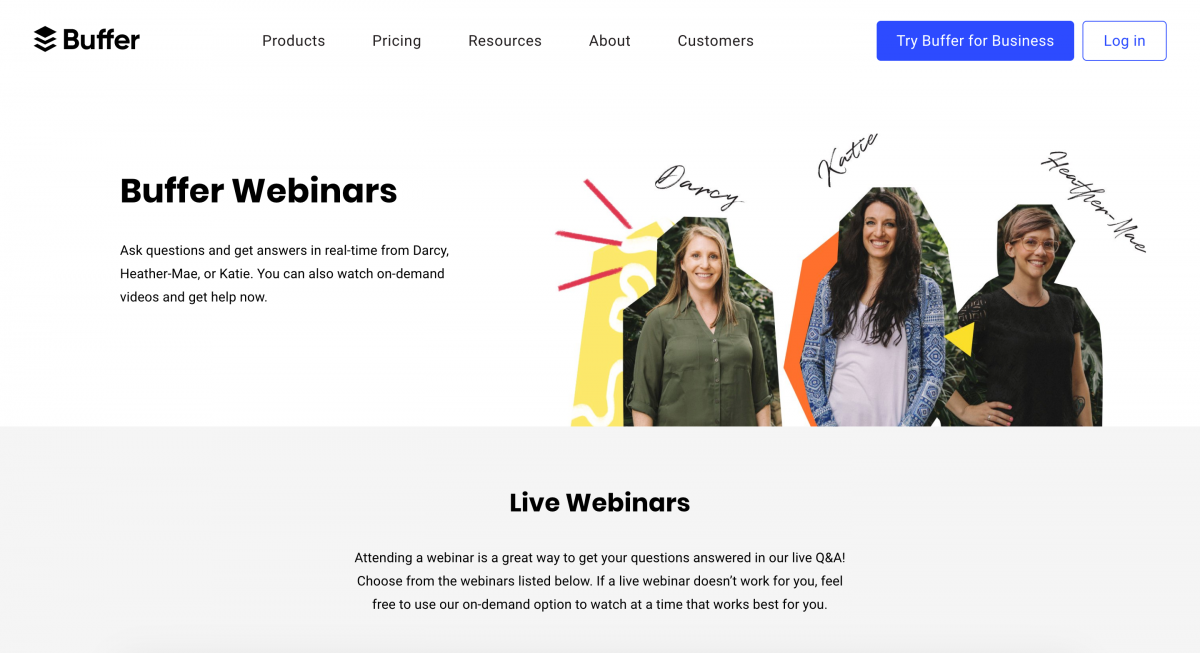 Each host presents a different webinar. The interesting thing about the Buffer hosts is the landing page and them being the heroes of the webinar strategy, making the entire webinar experience much more personal and interesting.
40. Conductor 30/30 Webinars Framework
Another interesting practice Conductor uses is the webinar framework. Instead of just talking about the industry news or talking to different guests, Conductor created the 30/30 framework, which is aligned with its product.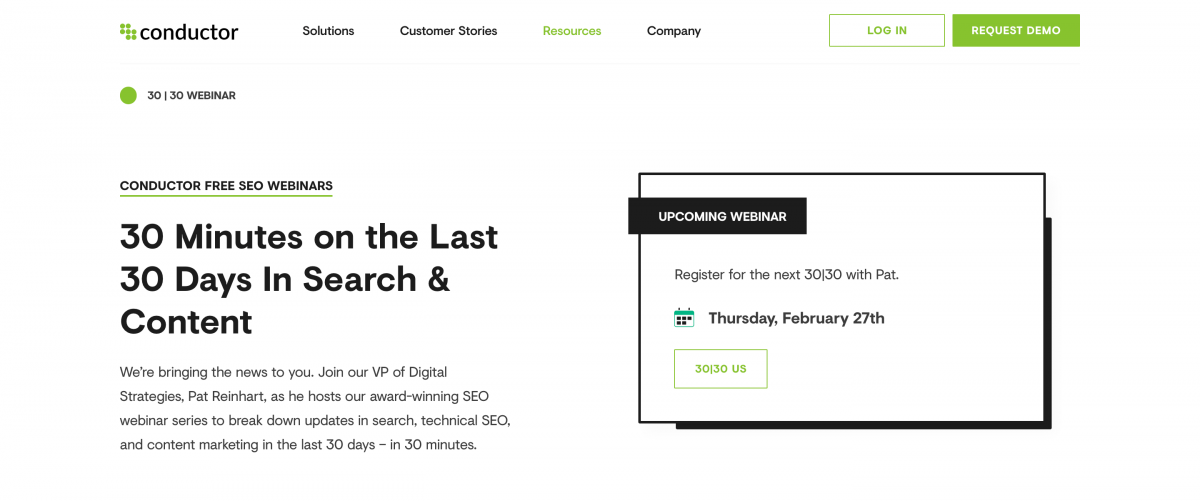 What does 30/30 stand for? It's simple: 30 minutes on the last 30 days of search and content. This means Conductor has a very specific topic and everyone knows what to expect from the webinar series.
41. RecurNow Show
As specified on the ProfitWell website, RecurNow is a daily show that gets behind the truth of the subscription market.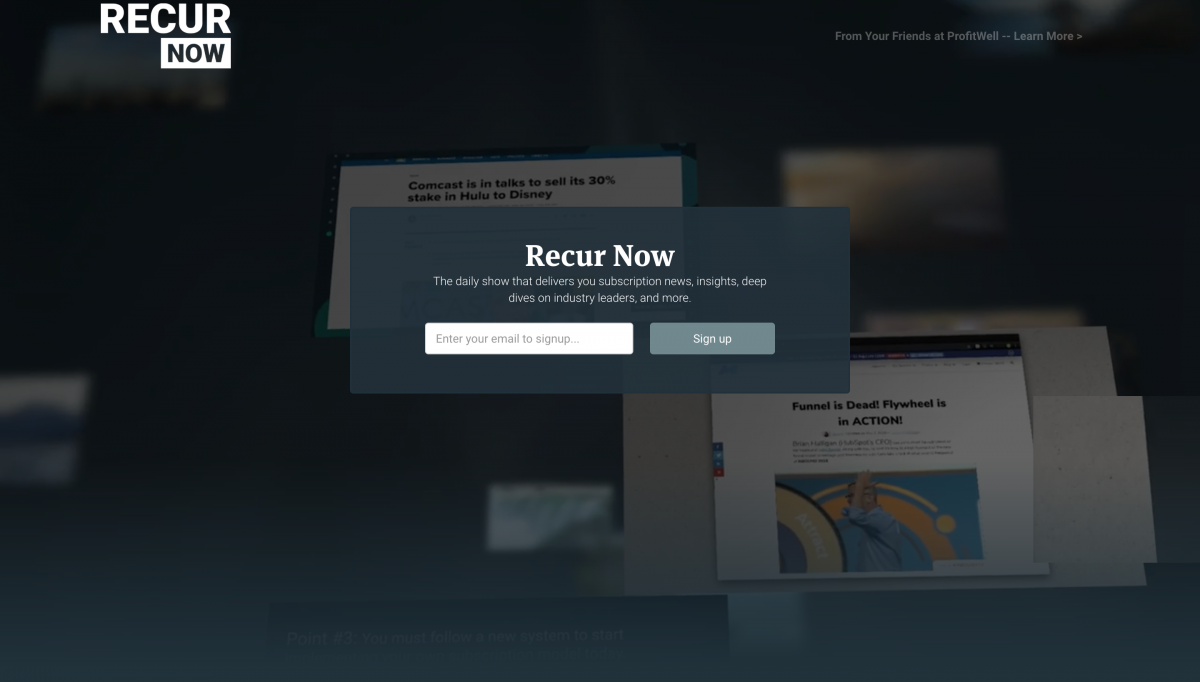 To access RecurNow, people have to sign up and then wait for an email that contains a daily message with the video.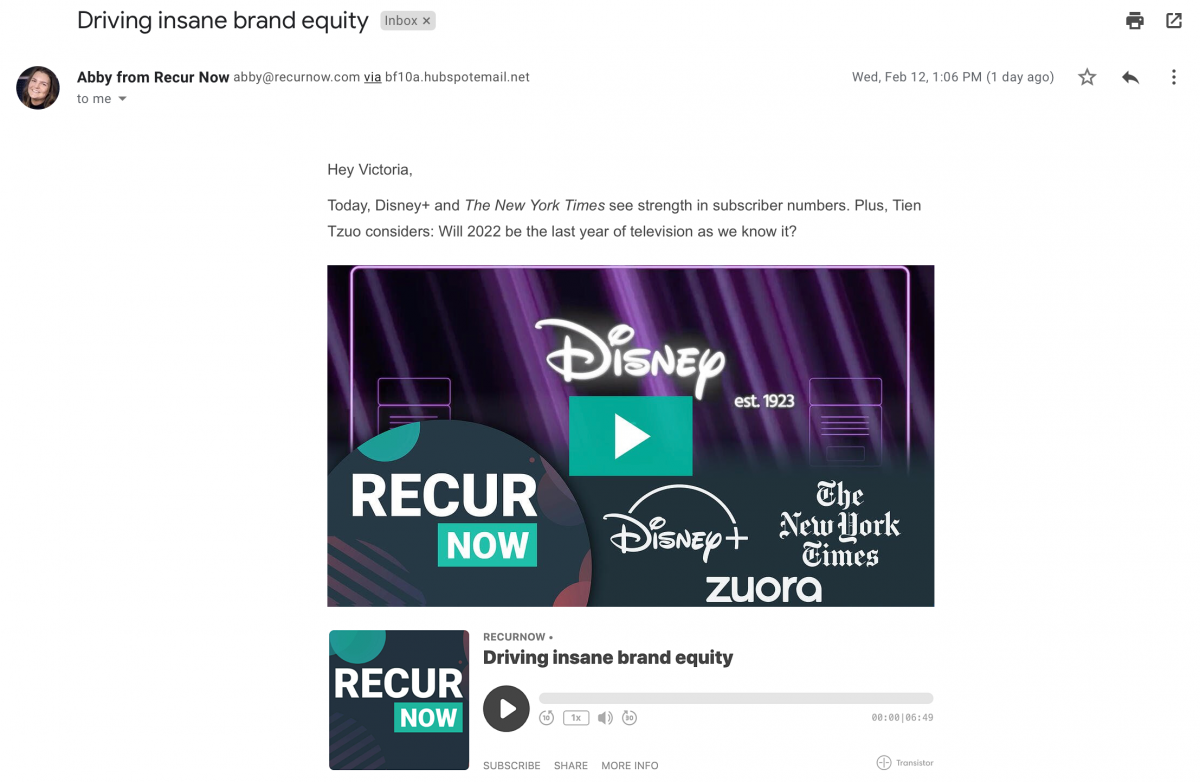 They also receive a podcast version of the show, which is an awesome way of considering the audience's content consumption preferences. These quick episodes start with the news analysis and usually end with the host, Abby Sullivan, exploring different topics.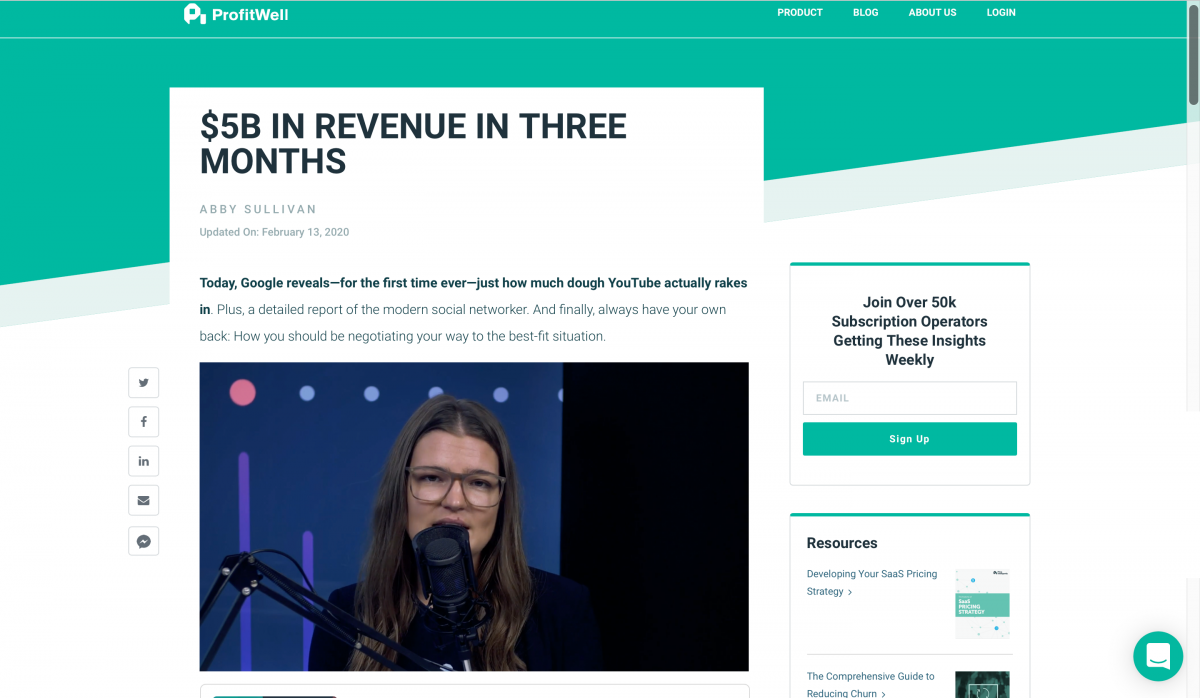 42. Jungle Scout Webinars
If there's one company that knows how to up its YouTube game, it's Jungle Scout. With 136K followers, JungleScout runs multiple webinars that later become ungated content that gets uploaded to the company's YouTube channel.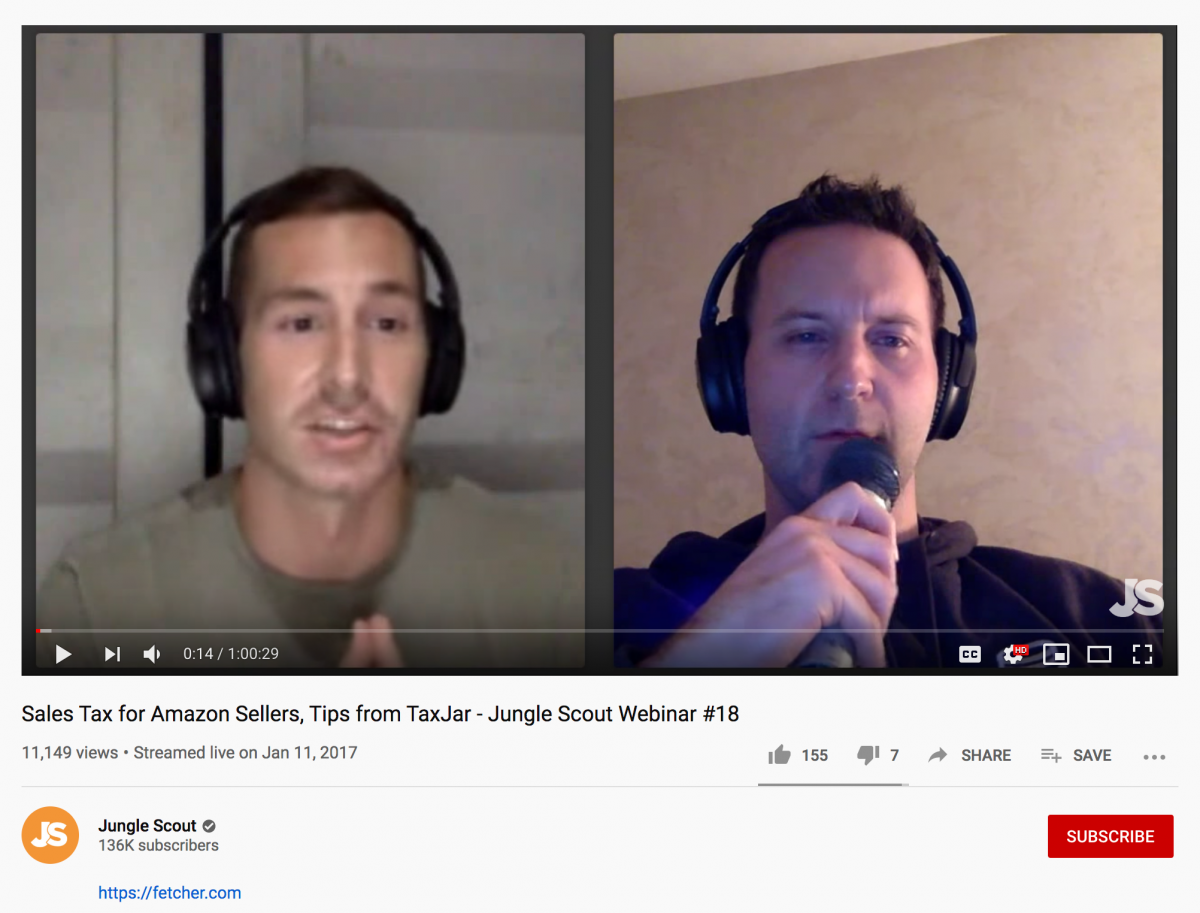 And considering how many followers, views, and comments Jungle Scout has, you can definitely say that this strategy works.
? Promotion
You know what they say … if you didn't post on social media, it didn't happen. The same thing is true for webinars. If you don't promote your SaaS webinars, they're essentially nonexistent.
To make sure your SaaS webinars have a good outreach and higher virtual attendance rate, you'll want to try different marketing practices.
43. Intercom Academy Course Trailer
Another Intercom example, but hey, what can we do? They're full of great ideas you can deploy today. One thing we haven't seen too often is recording a webinar course trailer.
By watching this short video, you'll discover what the course is about and if it's worth registering for. Isn't that cool?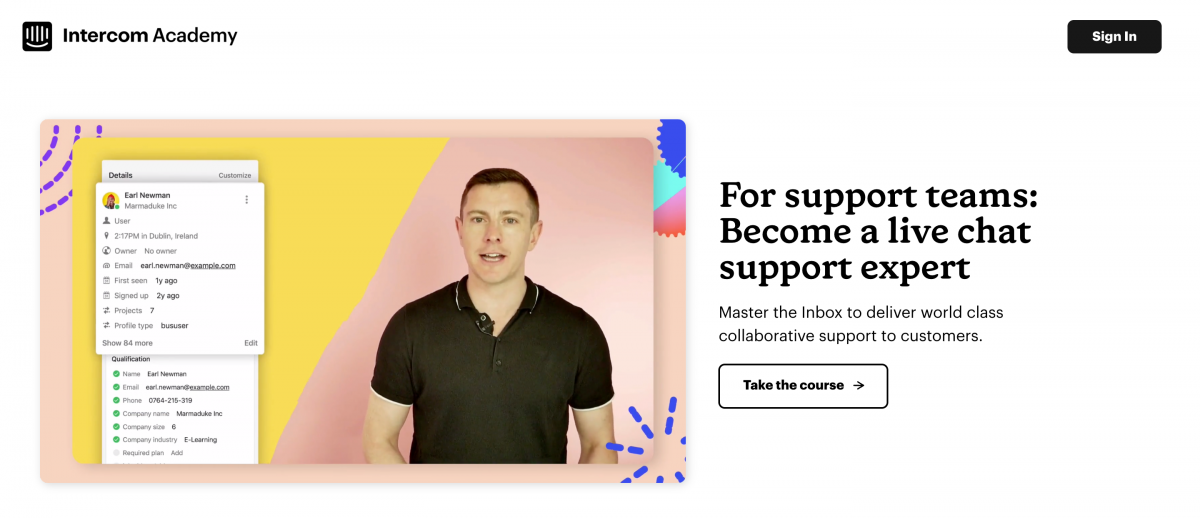 44. Hootsuite Most Popular Webinars
Apart from showcasing its upcoming webinars, Hootsuite decided to also highlight its most popular webinars, to convice get people to register. Isn't that clever?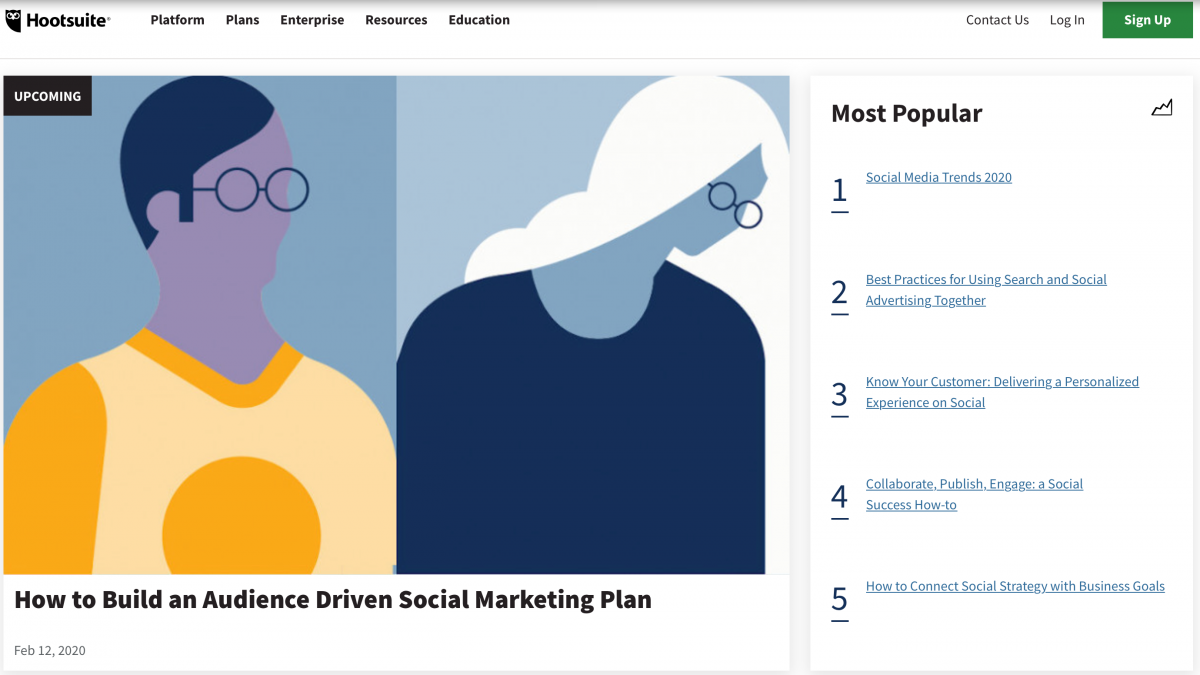 45. Mention Webinar Pop Up
Do you want to promote your webinar and make sure everyone will know about it? Then do what Mention does: Create a home page pop up with the details about one of its on-demand webinars, plus a strong call to action.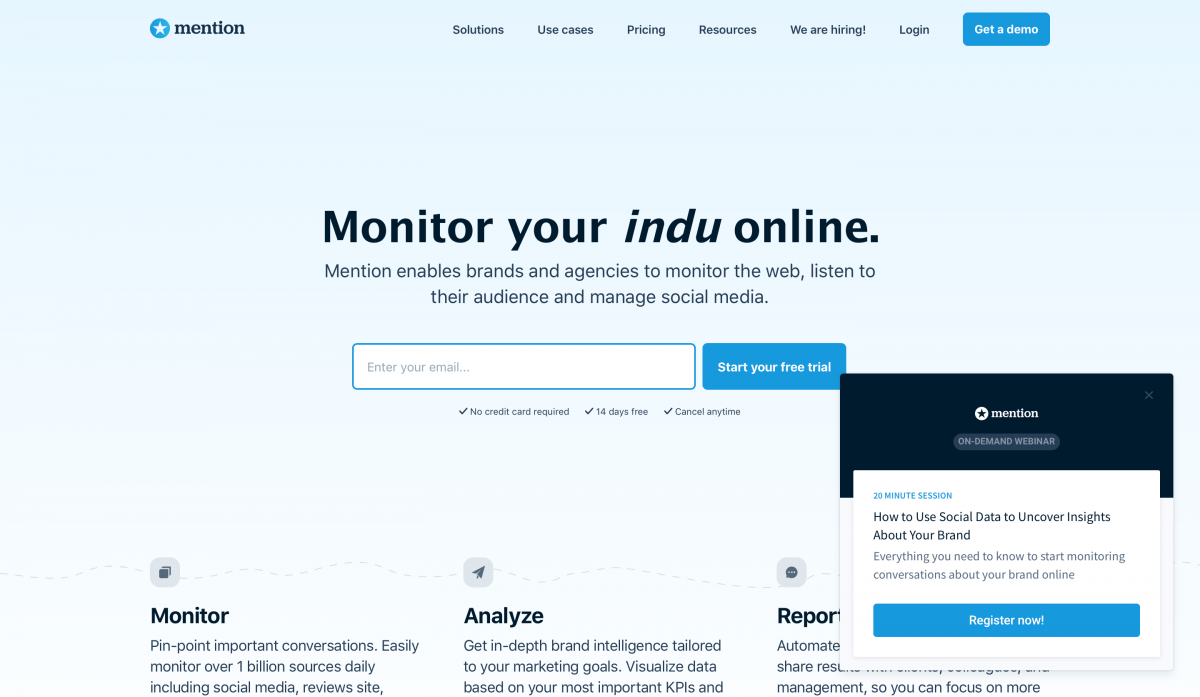 46. Unbounce Workshop Testimonials
Now that's absolutely brilliant. ? Who'd think you can collect testimonials about a webinar? But Unbounce did it.

If you want to gain the trust of your audience and get them to attend your webinars, then you should definitely follow Unbounce's lead and add a few compelling testimonials.
47. Unbounce #unwebinar
If you're running a face-to-face event, you'll want to come up with a hashtag people can use online when posting images or event-related posts on their social media.
But why not follow the same rule when running an online event?
Unbounce came up with the "unwebinar" hashtag their attendees can use when posting on Twitter. And it's working. Imagine the brand awareness you can generate by creating a good hashtag and encouraging your virtual attendees to use it.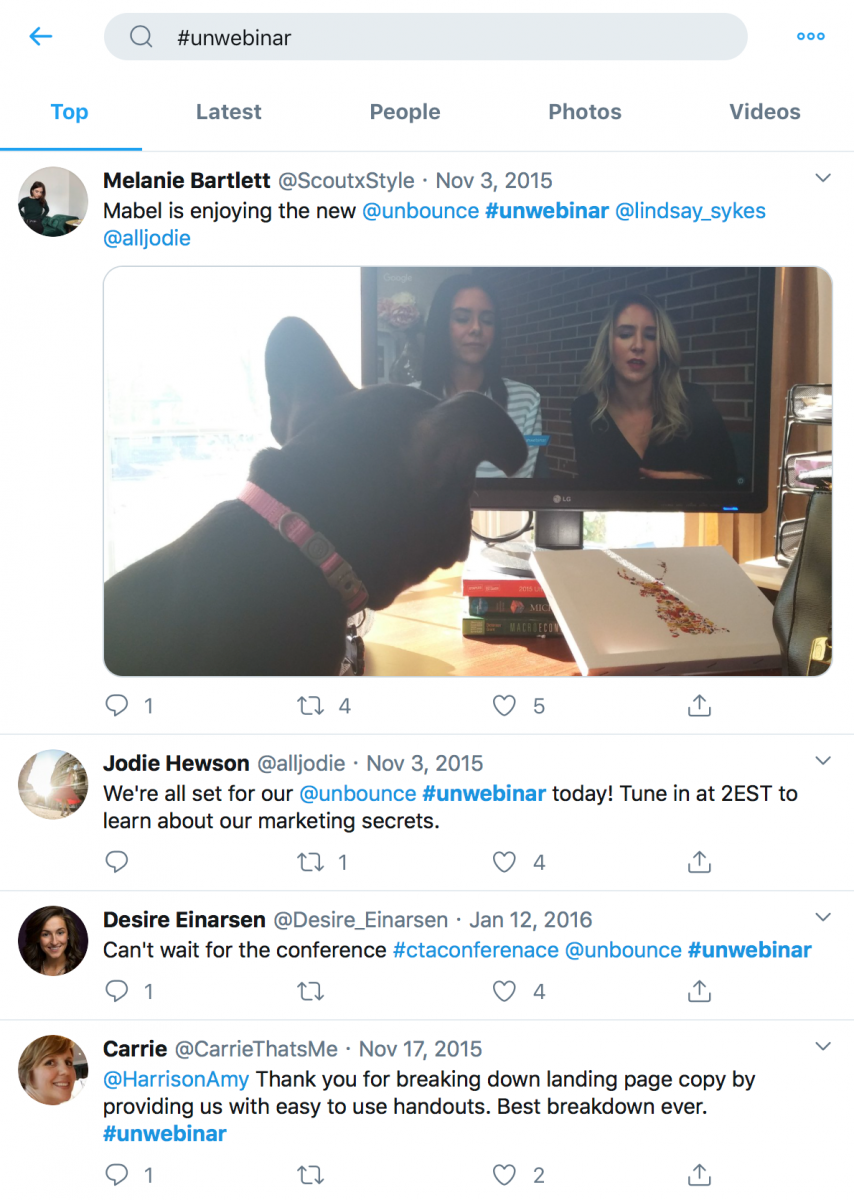 48. Brandwatch Webinar CTA
Who said you should only promote your webinar before it starts? You can also do it while the webinar it's running. Here's an awesome example from Brandwatch and how it uses the in-webinar CTA to encourage people to tweet about it, again using a special hashtag.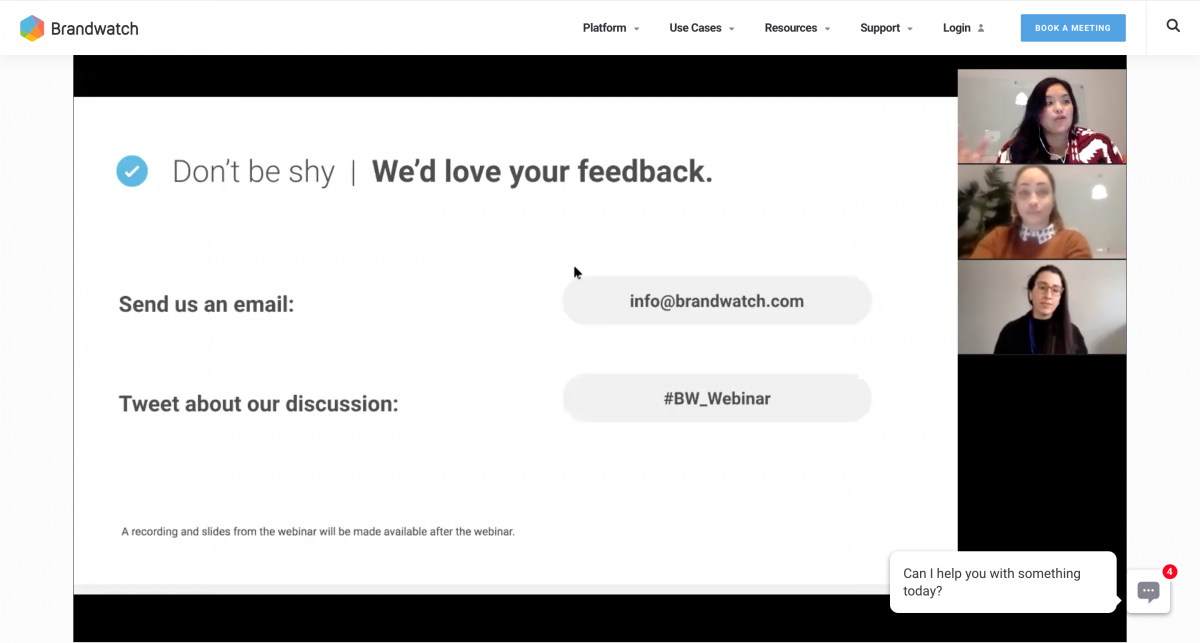 49. MindFire Trial
An interesting way to promote your webinar and motivate people to subscribe is to offer an exclusive two-week trial for a different product created by the same company. This is exactly what MindFire did to promote its webinar.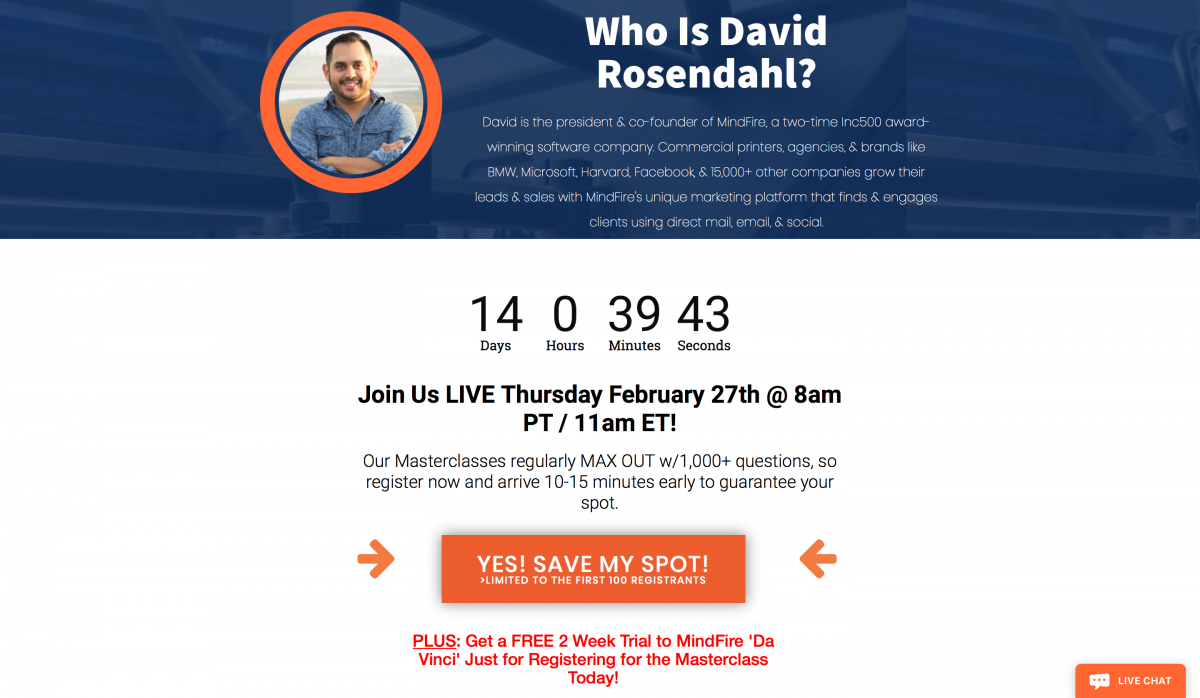 50. Gainsight Registration Numbers
Gainsight came up with an interesting promotion move by presenting the number of people who registered for the webinar. This shows its audience the interest other people have in the webinars, encouraging them to register, too.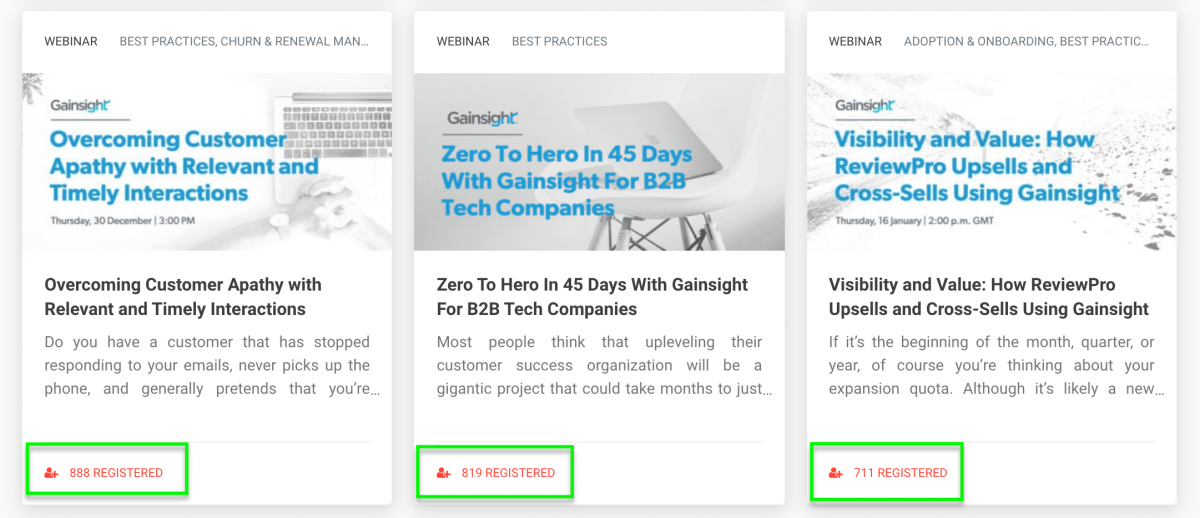 51. BirdEye Webinar Pop Up
What should you do if people want to leave your webinar page without registering? You can always do what BirdEye does and create a pop up that will catch people's attention and convince them to change their minds.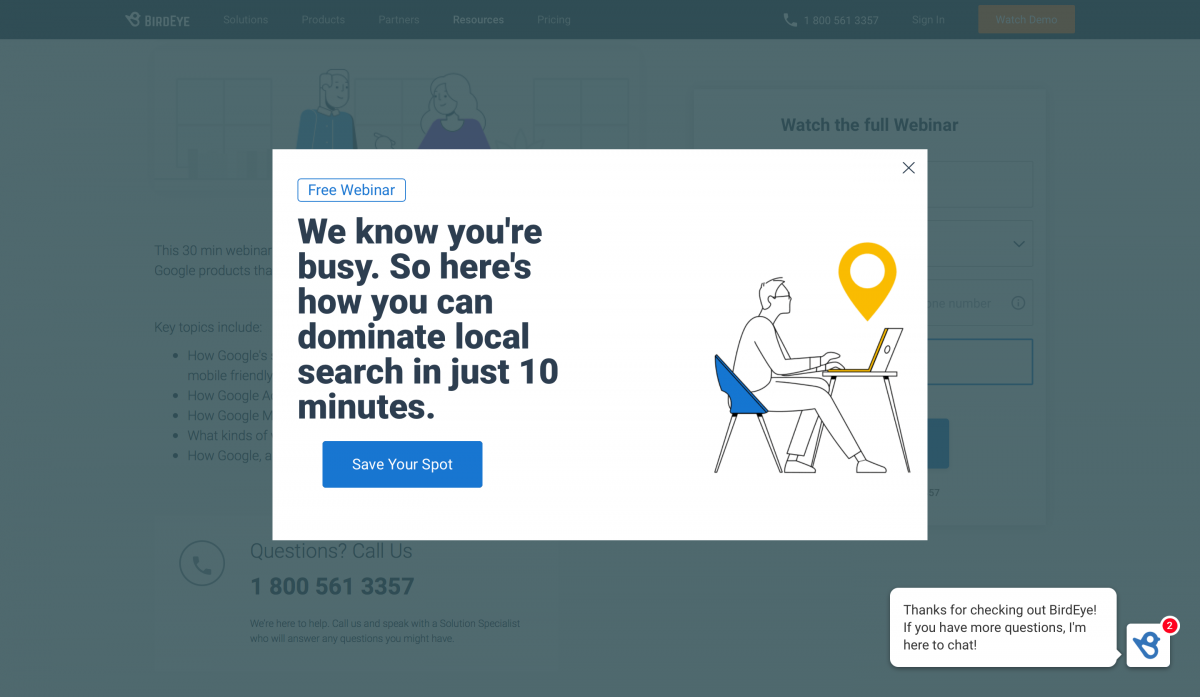 52. Acquisio Post-registration Product Promotion
Who said you should be only promoting your SaaS webinars? Why not promote your product, too? That's the case of Acquisio, which decided to use the webinar's post-registration Thank You landing page to present a one-minute video about its product.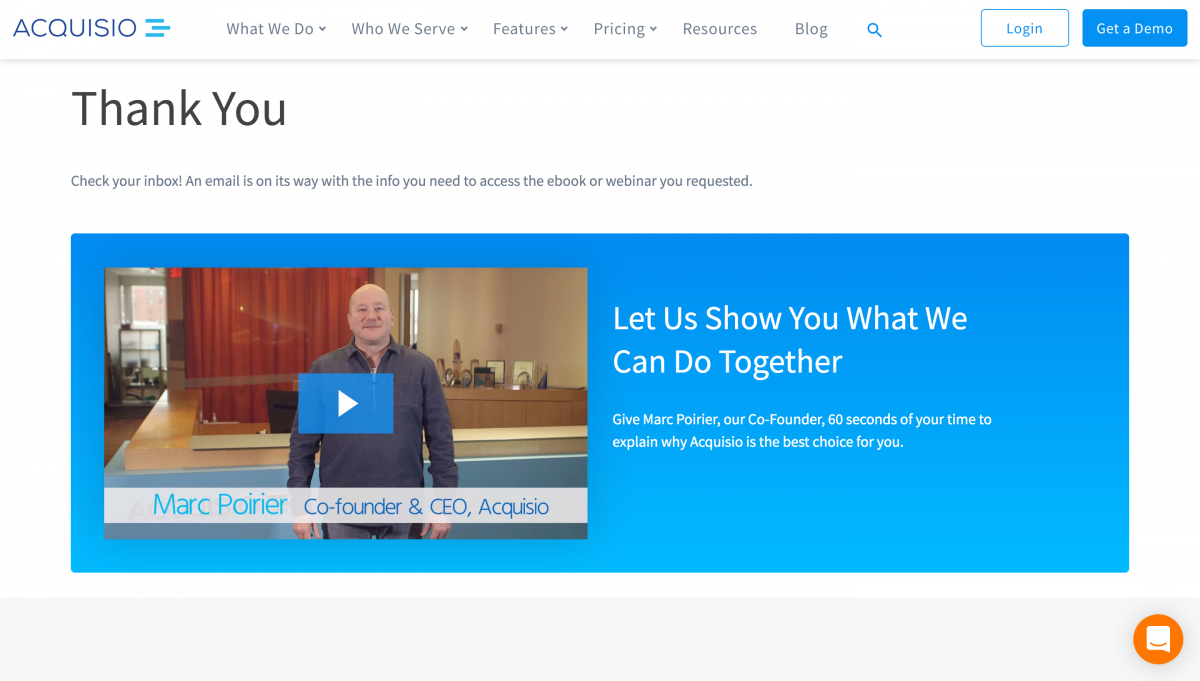 53. AdRoll Webinar Recommendations
Why limit your landing page to one webinar only, when you can also suggest a few related videos? This is exactly what AdRoll is doing to make sure more people will discover its awesome SaaS webinars.

? Landing Page
How many webinar landing page visitors do you convert nowadays? Is it the number you expected, or is it much lower? In case you don't convert as many virtual attendees as you want, check out these awesome webinar landing page examples you can try immediately.
54. Drift All about ABM
Going back to Drift—apart from having awesome branding ideas, Drift came up with an eye-catching and easy-to-navigate landing page for its All about ABM webinar series. As you can see, its biggest bet is on providing a clear structure and description of each episode.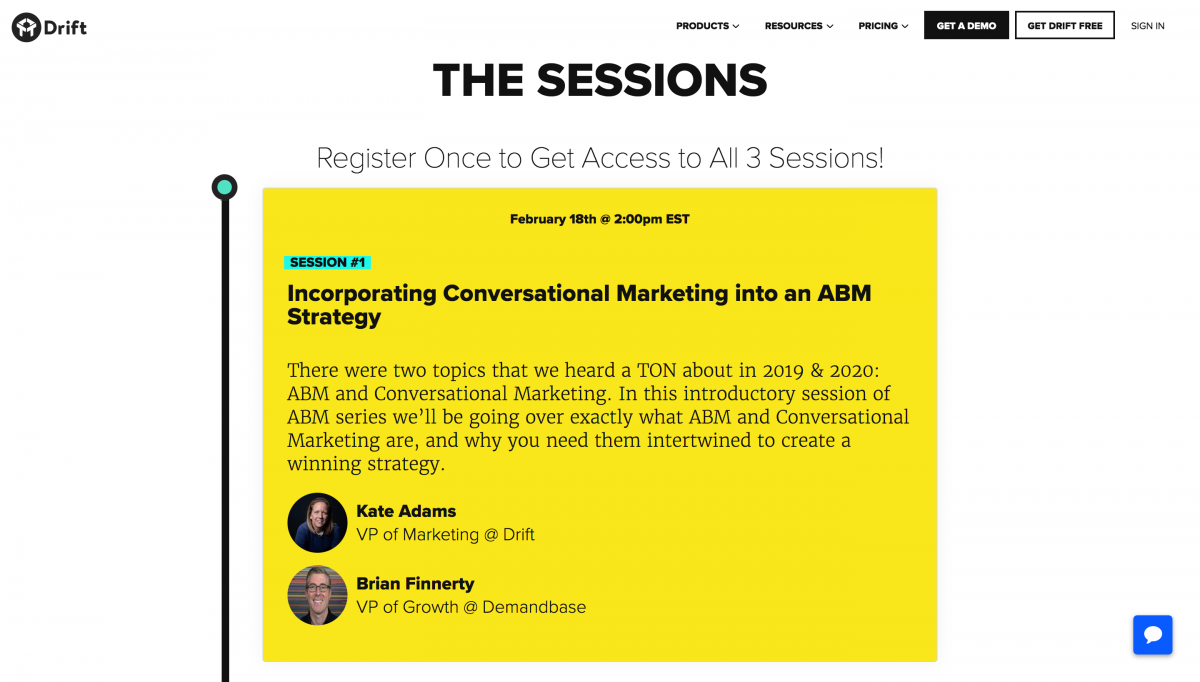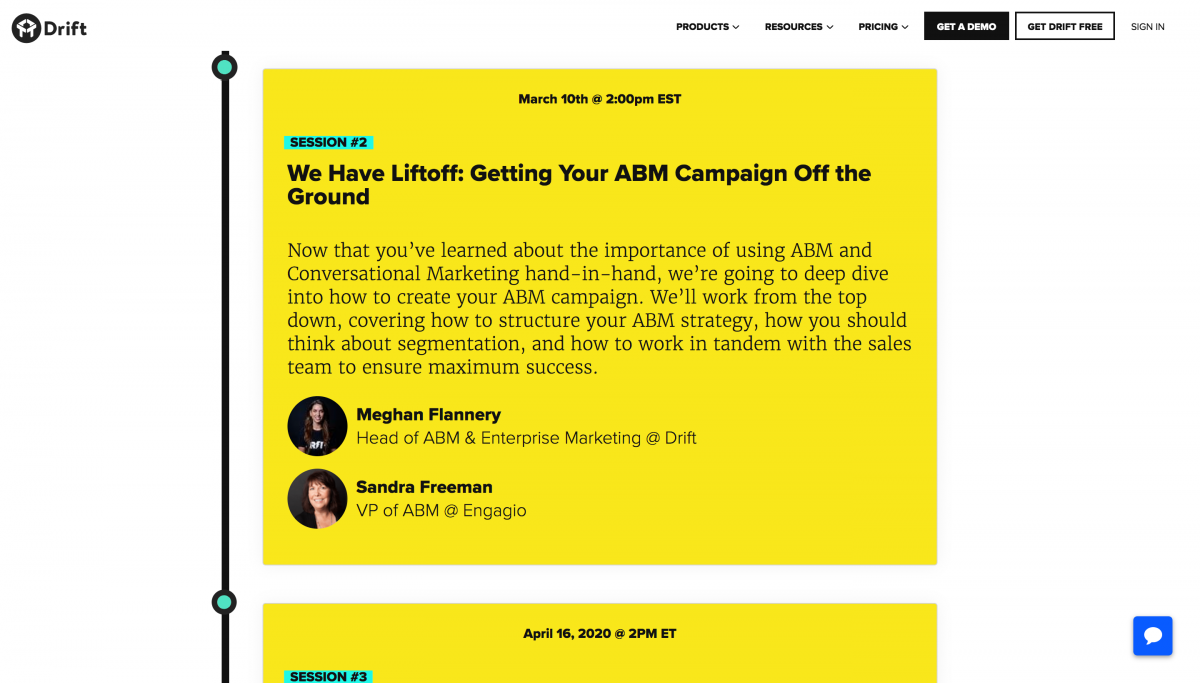 55. Mention GIF
Adding some humor to your webinars landing page is always a good idea. In this case, we love what Mention did to communicate that there are no upcoming webinars.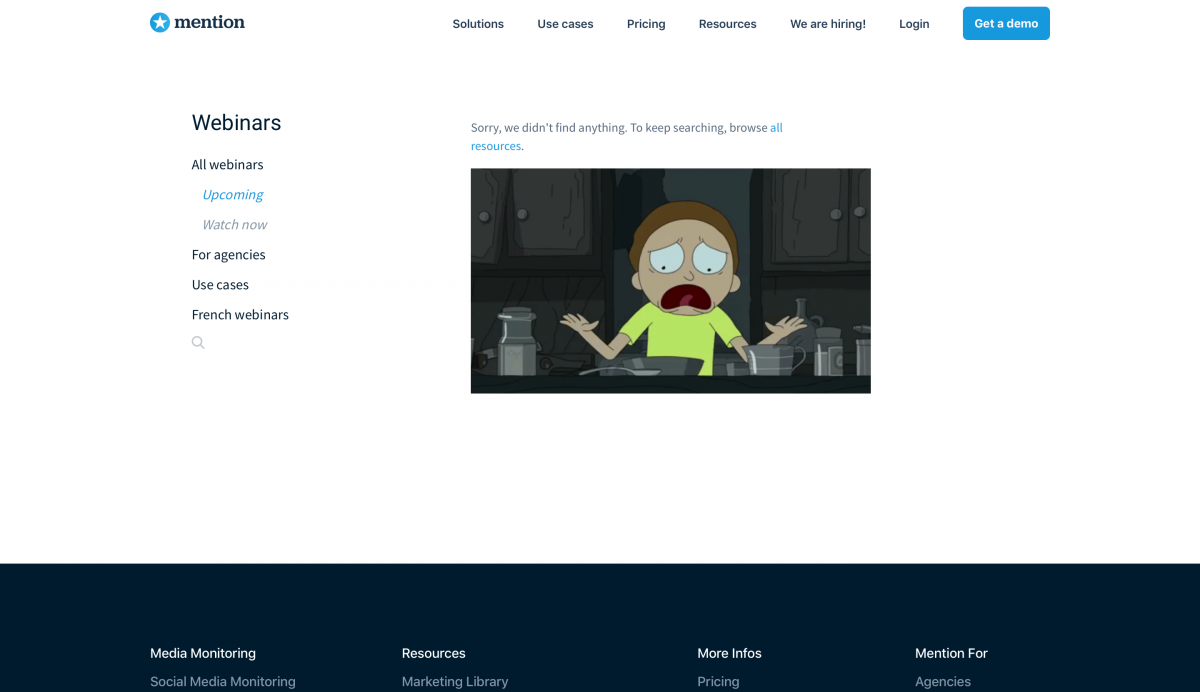 56. Mention Webinar Speakers
The next example is also from Mention, but this time, it's about the way in which it presents its webinar speakers.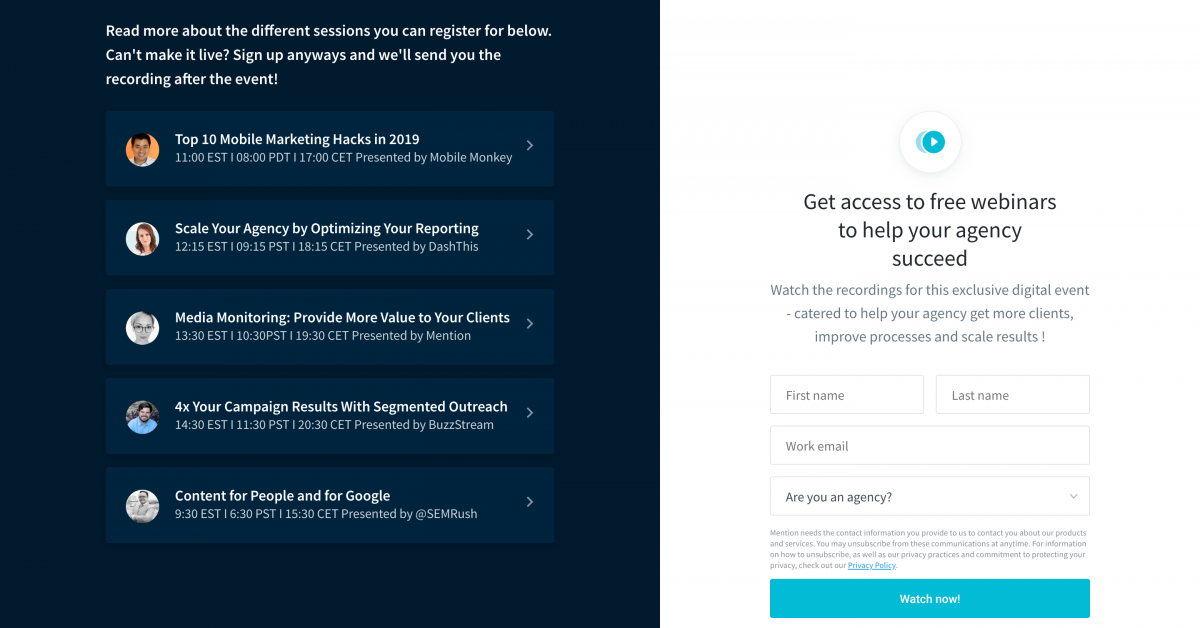 Instead of just throwing around names and job titles, Mention also provides detailed bios of all of the speakers, in case any of their potential attendees are interested in knowing more about them.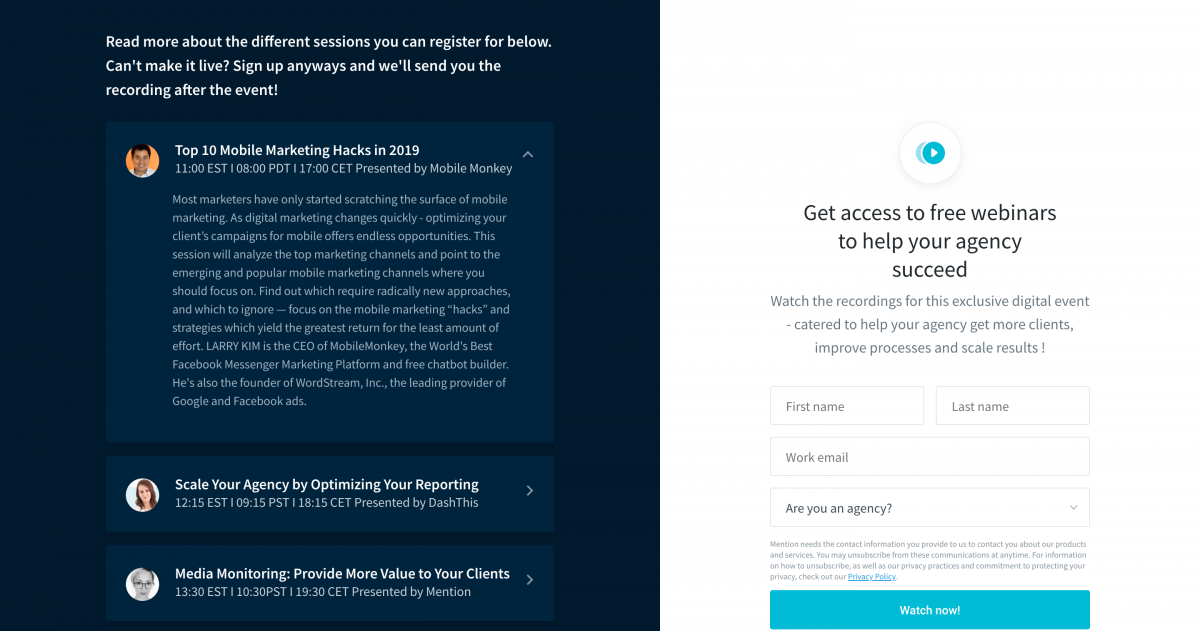 57. Litmus Webinar Calendar
Instead of just presenting a list of SaaS webinars, help your website visitors see them on a calendar. It'll give them a better understanding of whether or not they can attend the webinar. Litmus does a great job of using a calendar to showcase all its online events.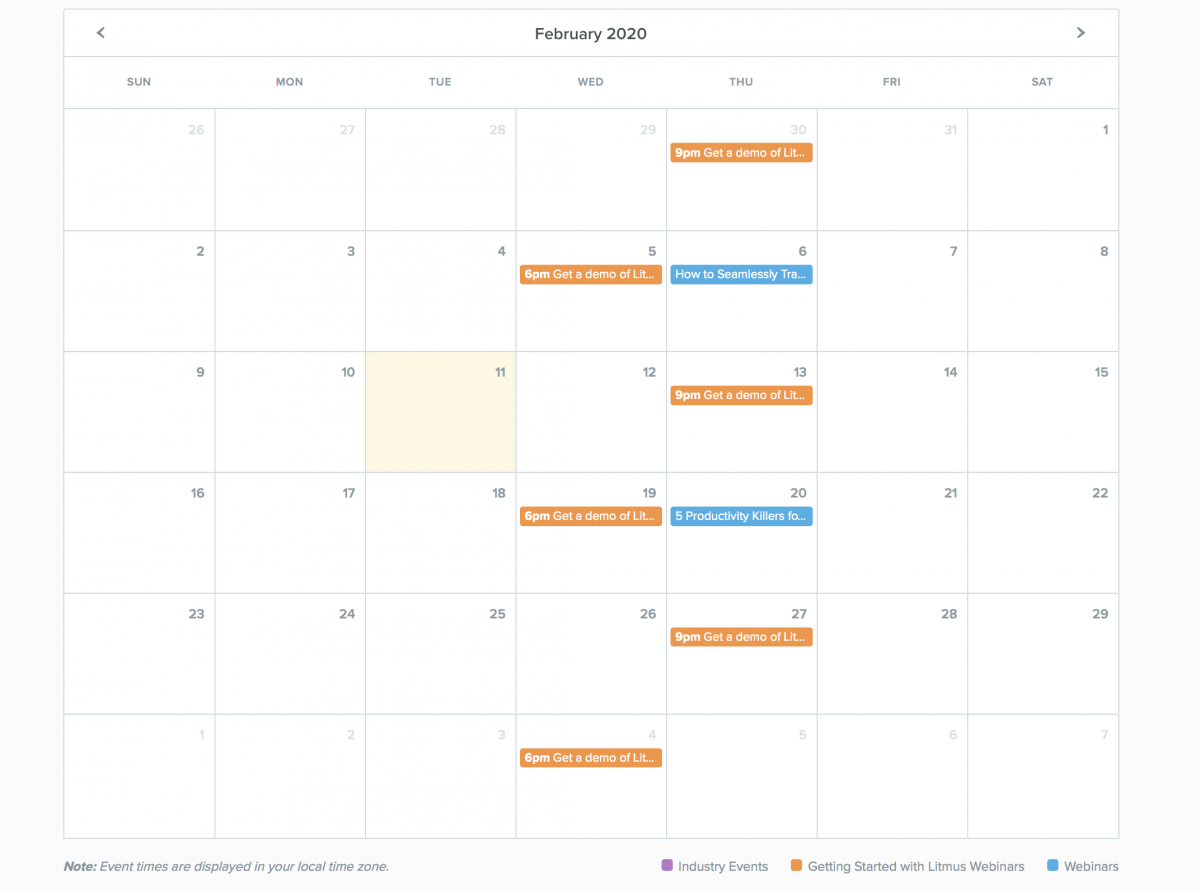 58. TINT Emojis
Who said a webinar landing page copy should be stiff and lack personality? Why not do what TINT does, and add some emojis to your text? This will personalize your copy and help people visualize it better.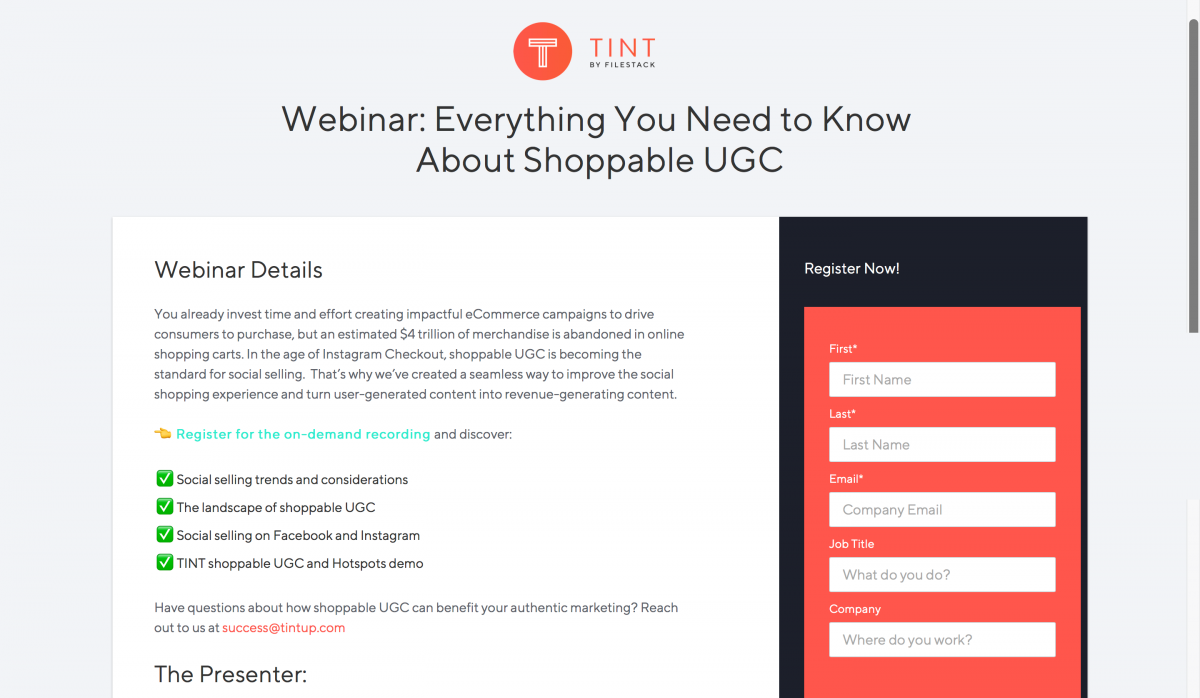 59. GatherContent Copy
GatherContent is doing a great job explaining what audiences would benefit the most from each of its webinars, which saves people from wasting time on a webinar that is not for them. Here are a few examples that vary depending on each webinar's target group.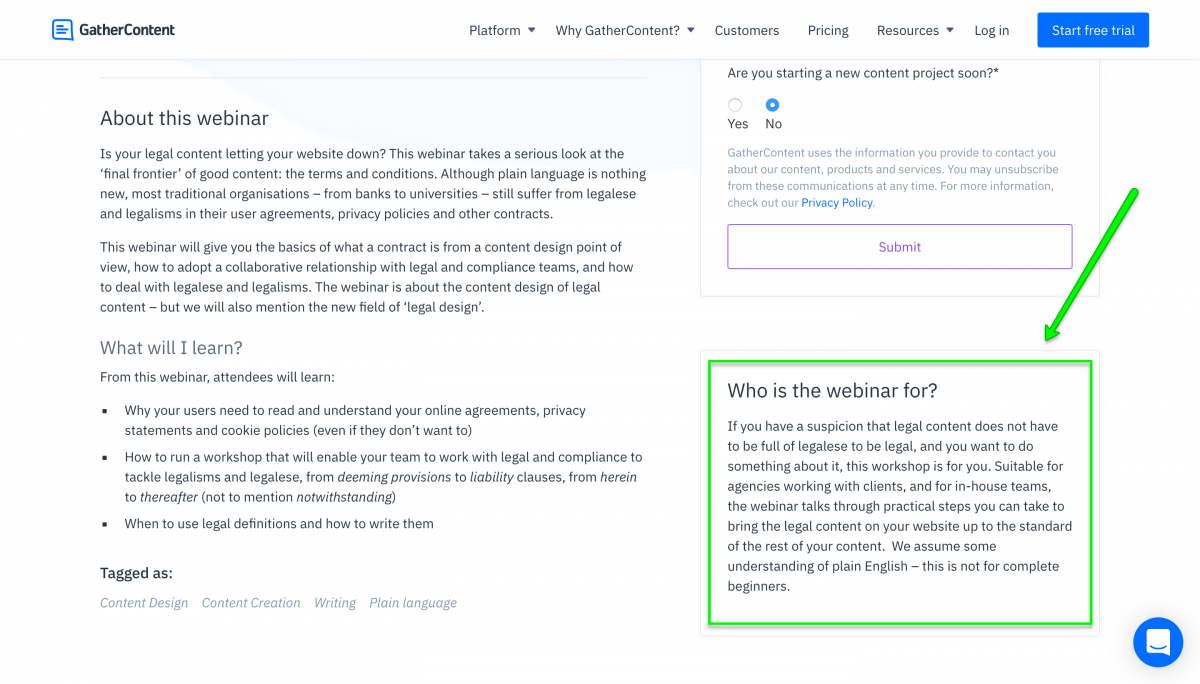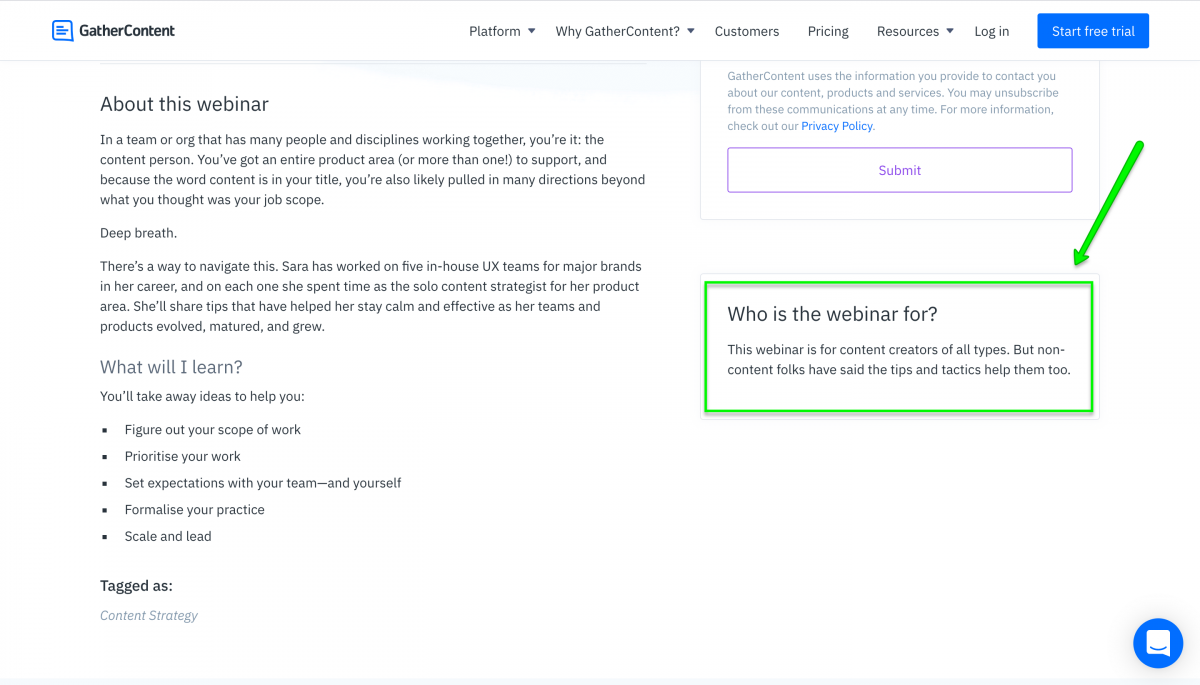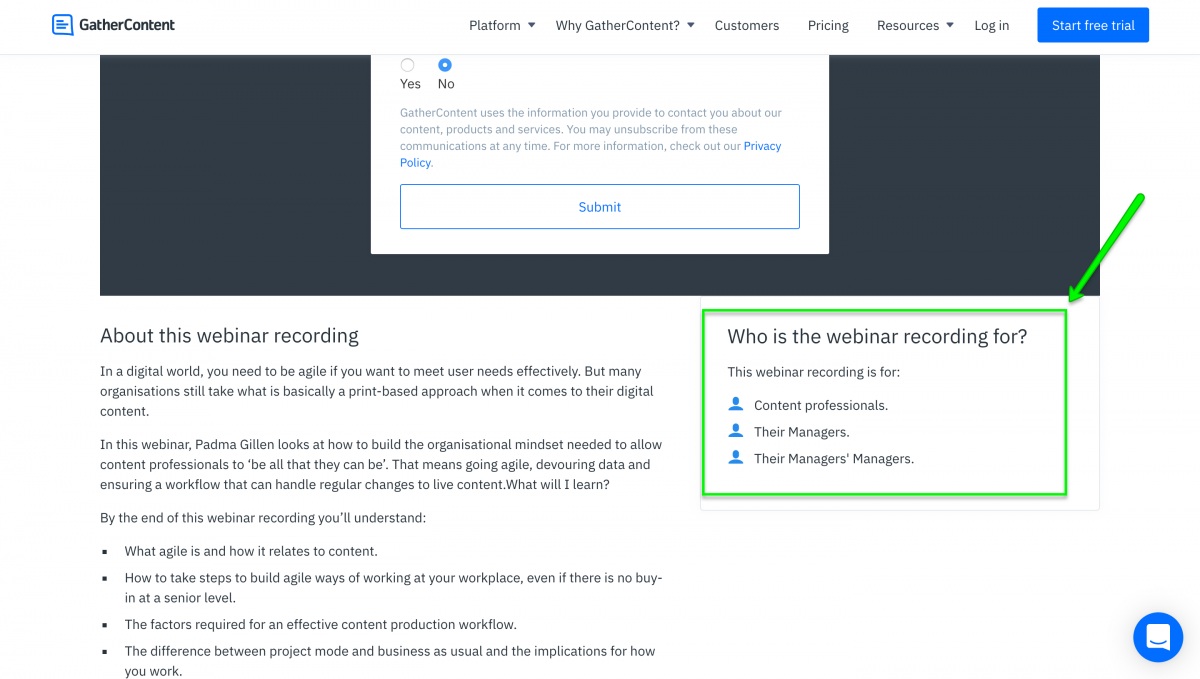 Instead of just listing your speakers' biography information, consider listing their contact information, too, in case your audience wants to get in touch with them with any questions or follow-up conversations. In this case, you can see that Cheetah Digital decided to display their speakers' LinkedIn accounts.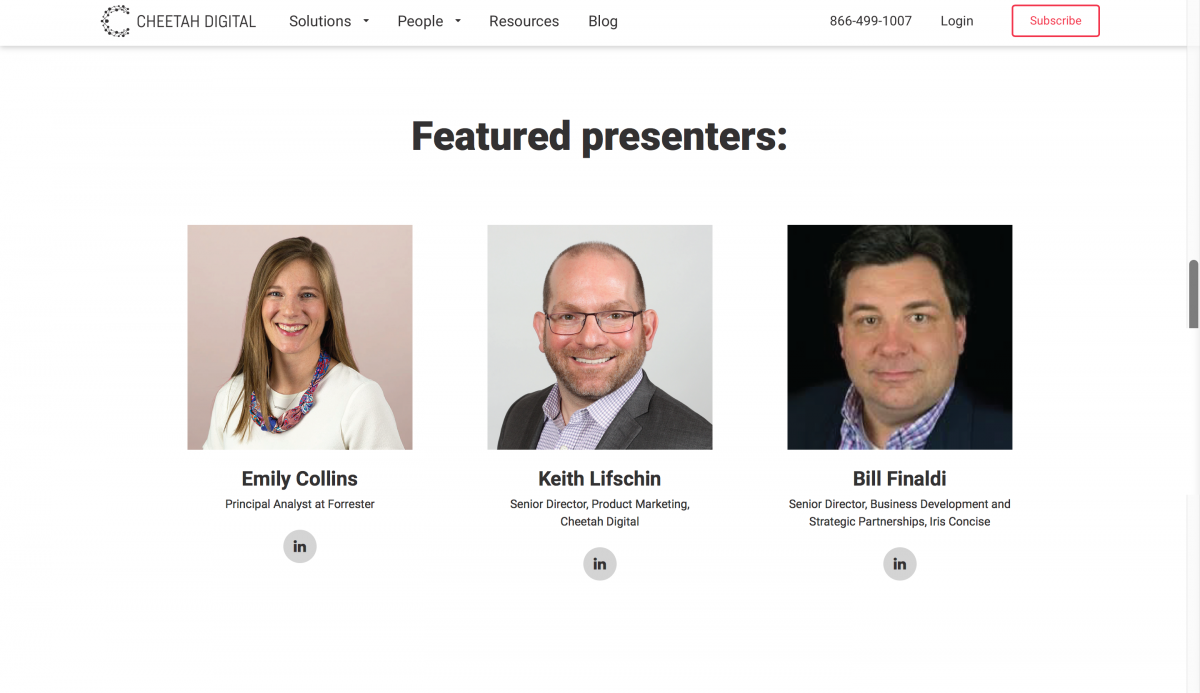 61. CheetahDigital Copy
A second webinar practice from CheetahDigital involves its copy. To be more precise, it's about highlighting the most critical data in the copy. This practice helps people prioritize the information and get them decide if they want to register for the webinar or not.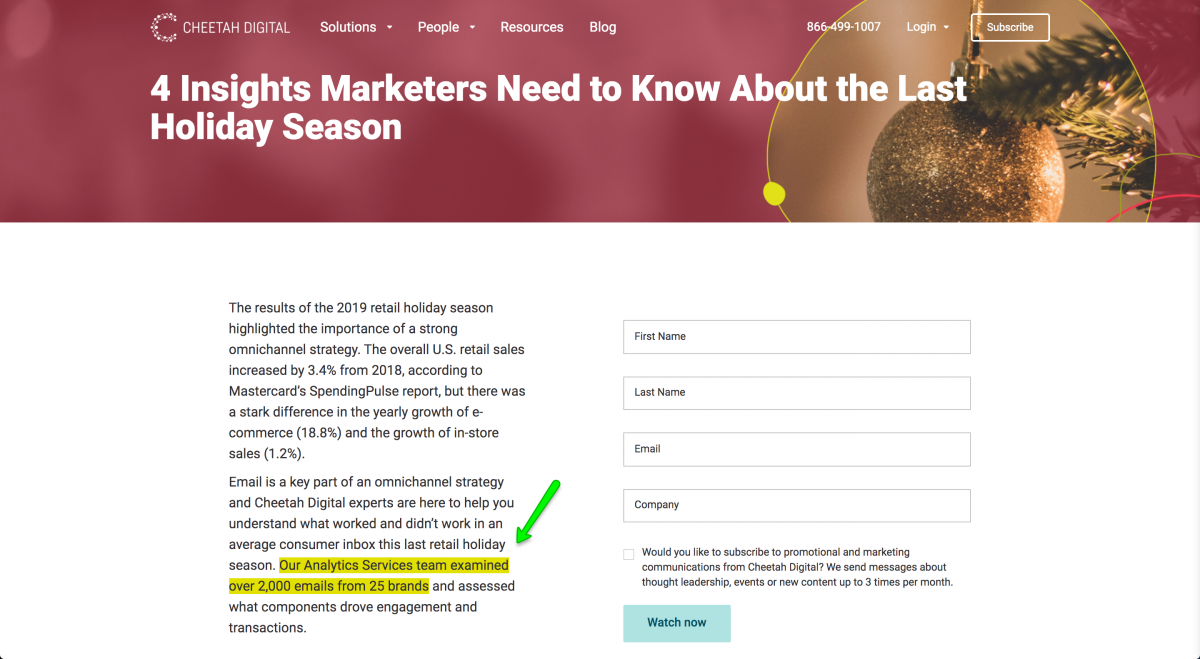 62. Dotdigital Webinars
In this case, dotdigital is presenting its webinars using personalized featured images. If it's an interview podcast, you can see the webinars are represented by a microphone. If it's a video or presentation, the feature image is a laptop. These images let people immediately distinguish the type of webinar.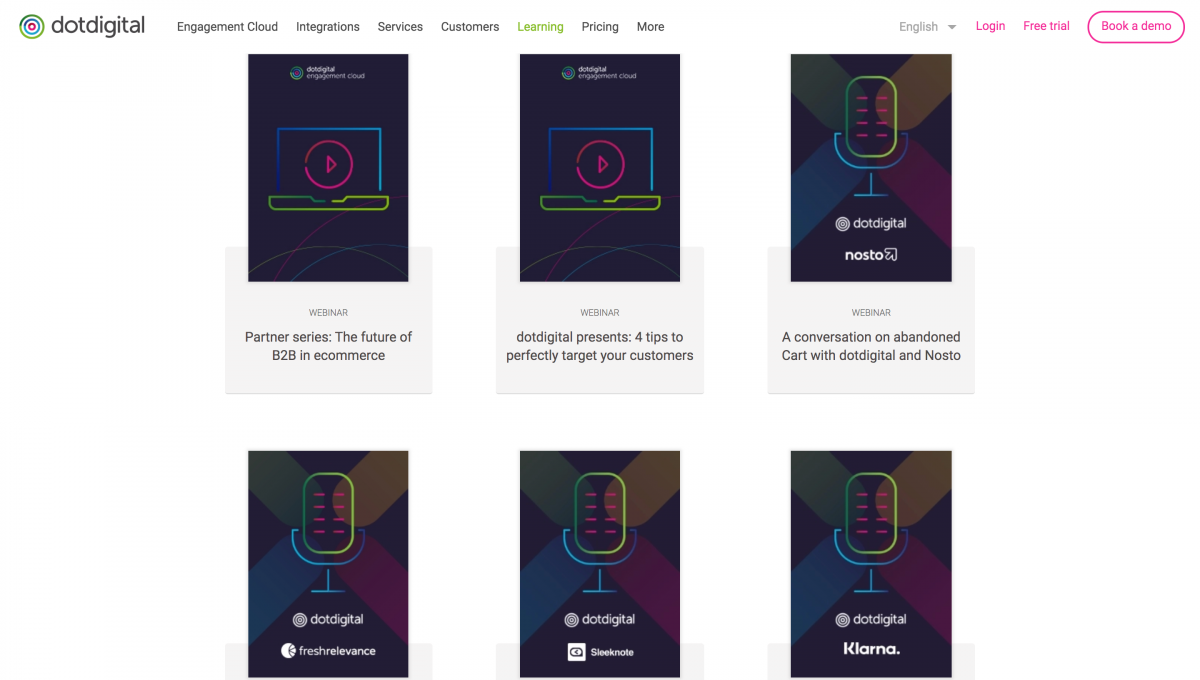 ✅ Registration
The webinar experience starts long before the online event. Registration is one of the first touchpoints between a virtual attendee and the company running the webinar.
Registration is also essential for companies to gather important information about their leads and decide how to qualify them. So if you're in doubt about how to set up your webinar registration process, check out these awesome ideas you can try today:  
63. AppTweak Upcoming Sessions
The best thing you can do for your audience is to let them decide when to watch one of your sessions. AppTweak does this very well with a dropdown menu that shows all the existing sessions, making it easy to register for any of the webinars.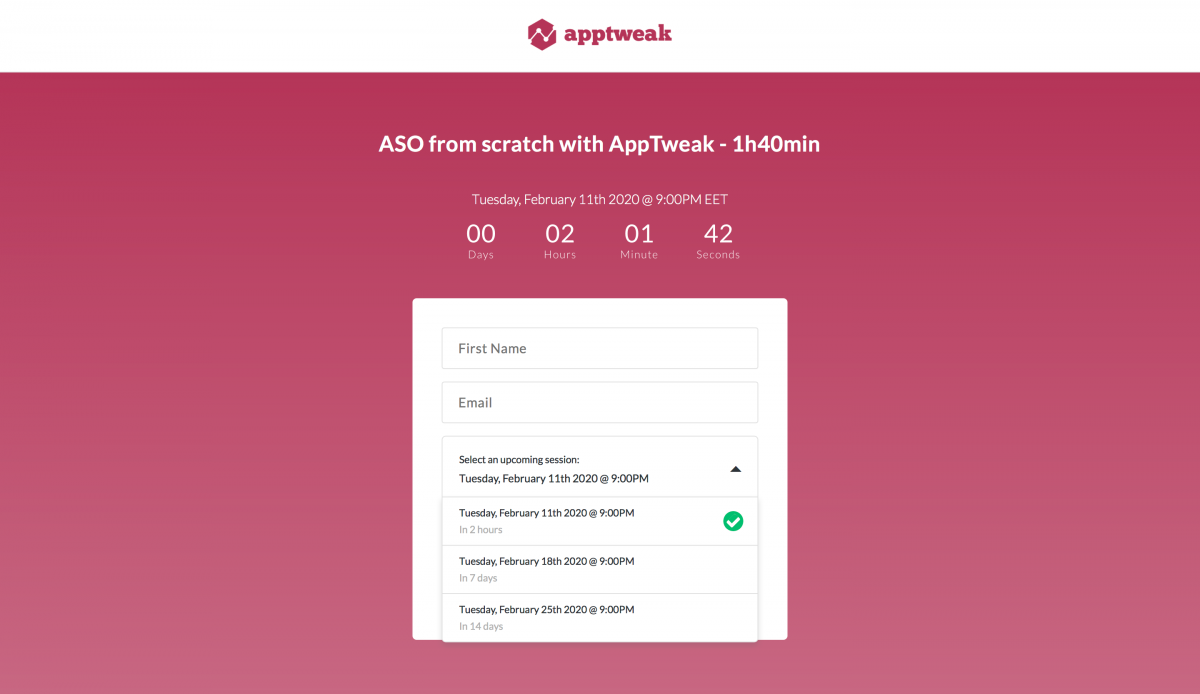 64. AppTweak After-Registering Landing Page
Here's another best practice from AppTweak. As you can see in the image below, this is what a good post-registration landing page should look like.
You'll also want to indicate the unique join link and offer your virtual attendees the option to add the event to their calendar making sure that they won't miss it.
65. AppTweak Pre-Event Notifications
One good webinar practice is sending pre-event notifications to your virtual attendees. You can always follow AppTweak's example and send your guests two pre-event emails both one day, one hour and then 15 minutes before the webinar starts.
1 day left until the webinar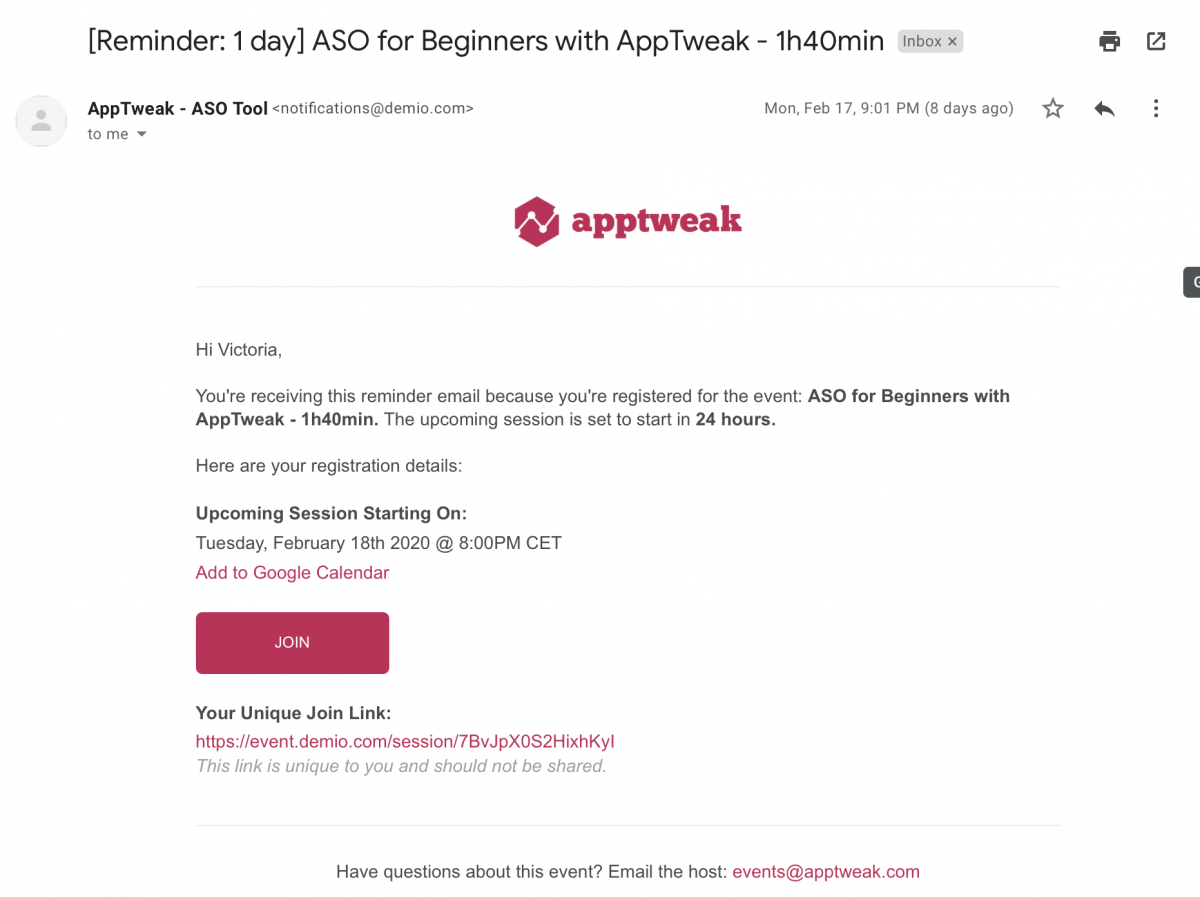 1 hour left until the webinar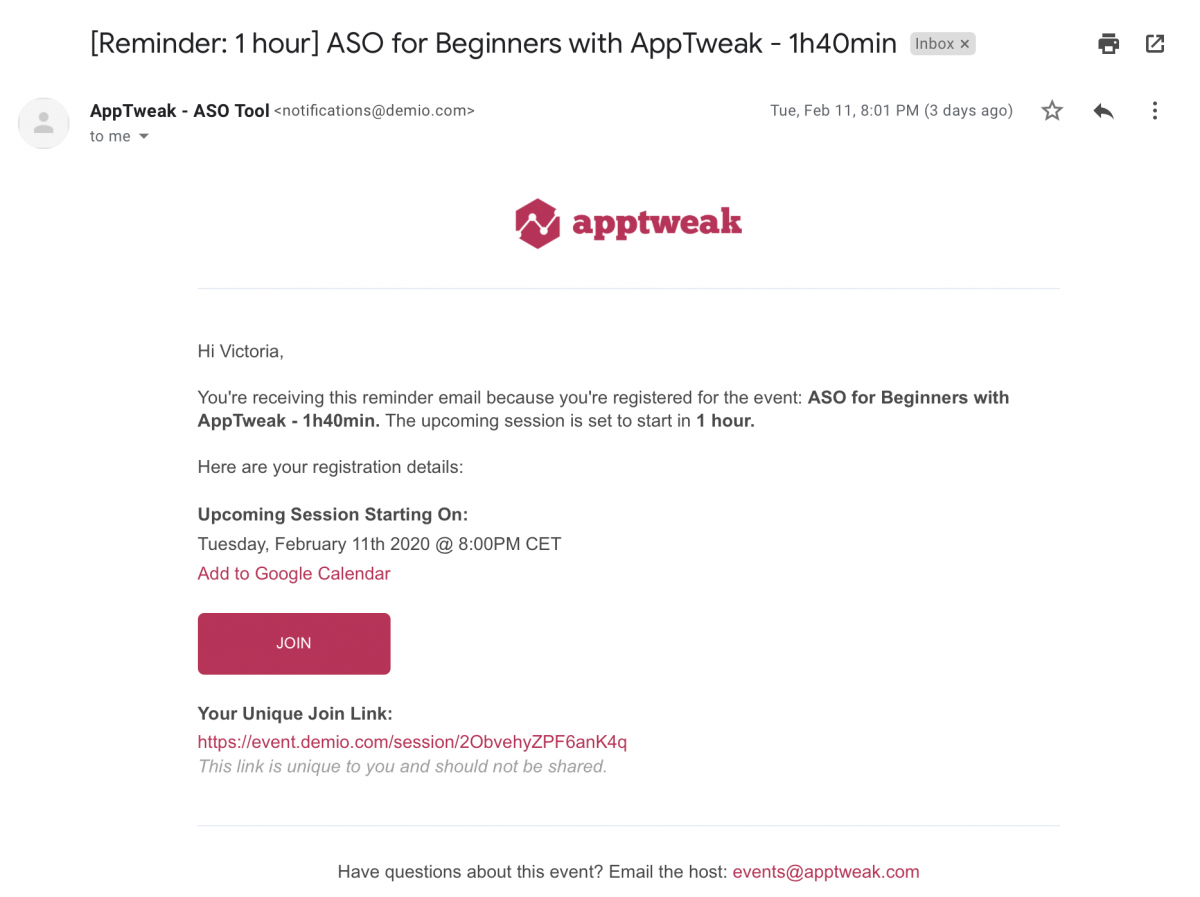 15 minutes left until the webinar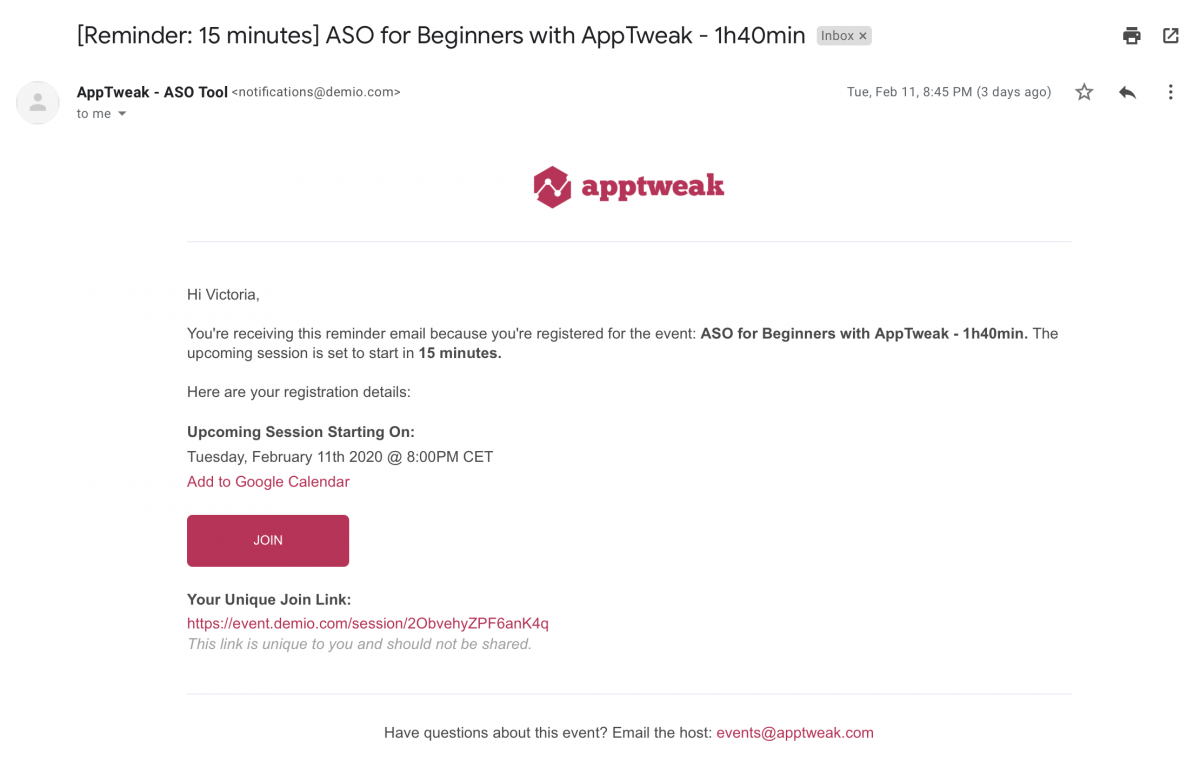 Sending these reminder emails can go a long way to increase the attendance rate because guests will be less likely to forget to attend. Moreover, you can do it automatically by using the right webinar software.
66. Drift Registration Chatbot
What if we took basic registration forms one step further and transformed them into conversational chats? That's how Drift registers its virtual attendees for its All about ABM webinar series.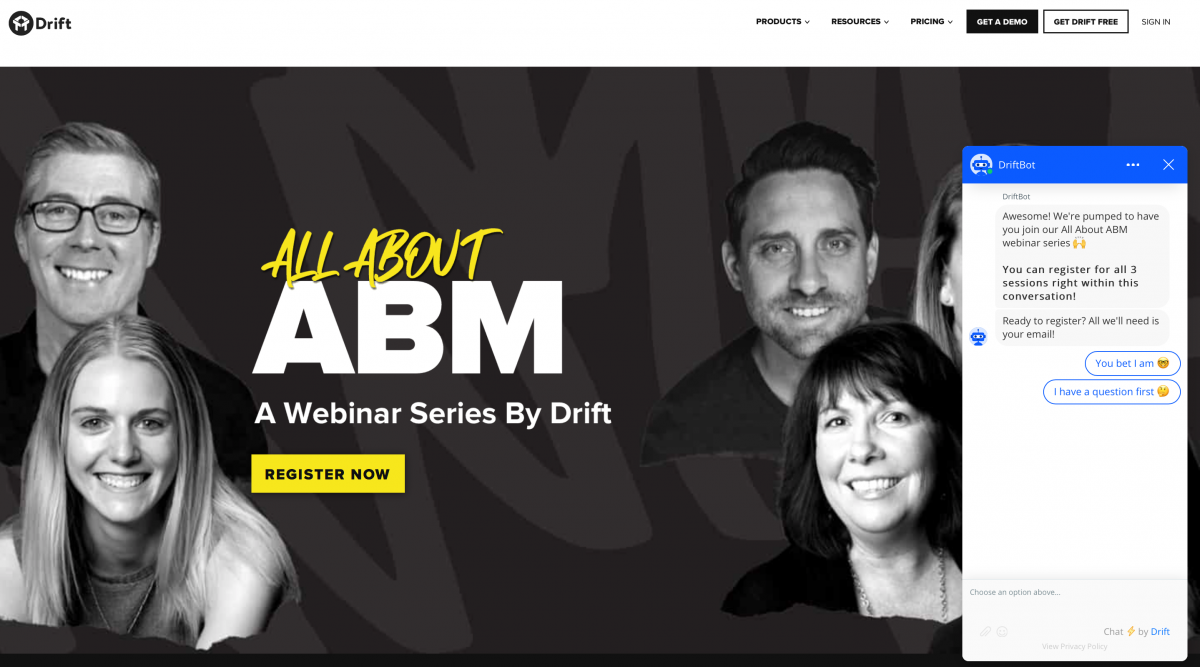 Once you access the webinar page, you're encouraged to register through a chat window. Drift also gives the audience the chance to ask questions.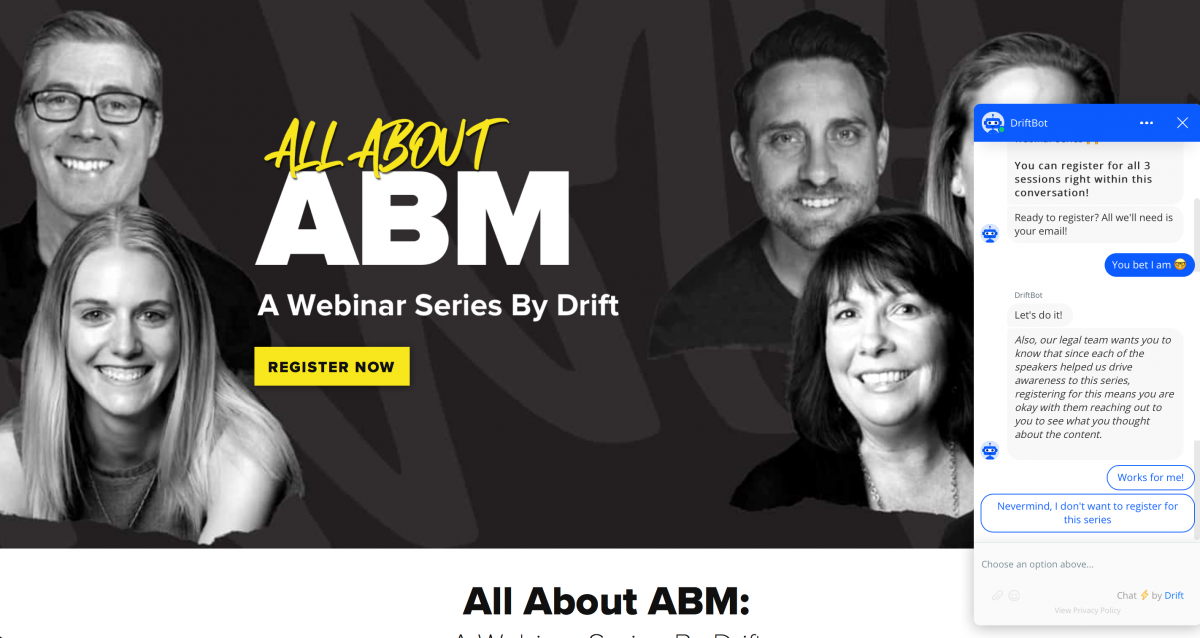 67. Drift Registration Email
Once people register for Drift's All about ABM webinar series, they receive an email with all the sessions plus the option to add these online events to their calendar.

Again, that's an important practice you'll want to try so that your virtual attendees won't forget about the webinar and receive a calendar notification before it starts.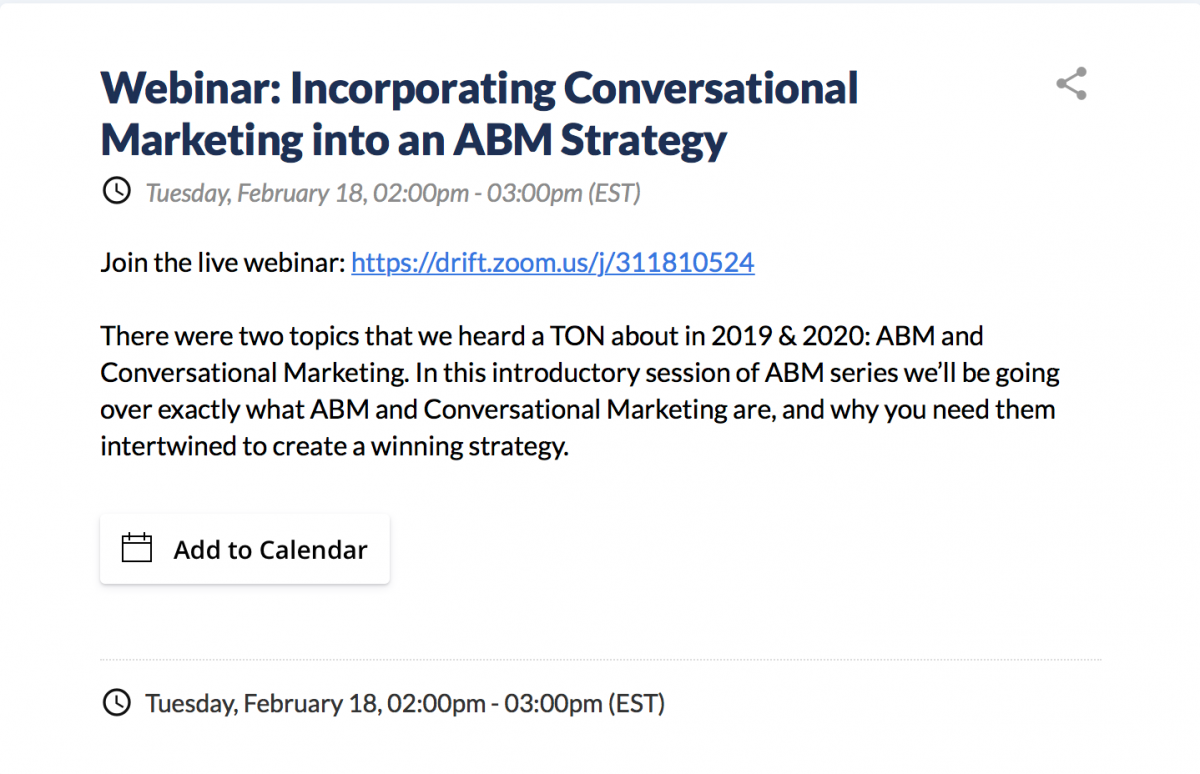 68. Leadpages Free Training Instant Access
One thing that may encourage people to register immediately is the use of smart copy. As you can see in this case, Leadpages is promising instant access once people register for the webinar. It's clever, isn't it?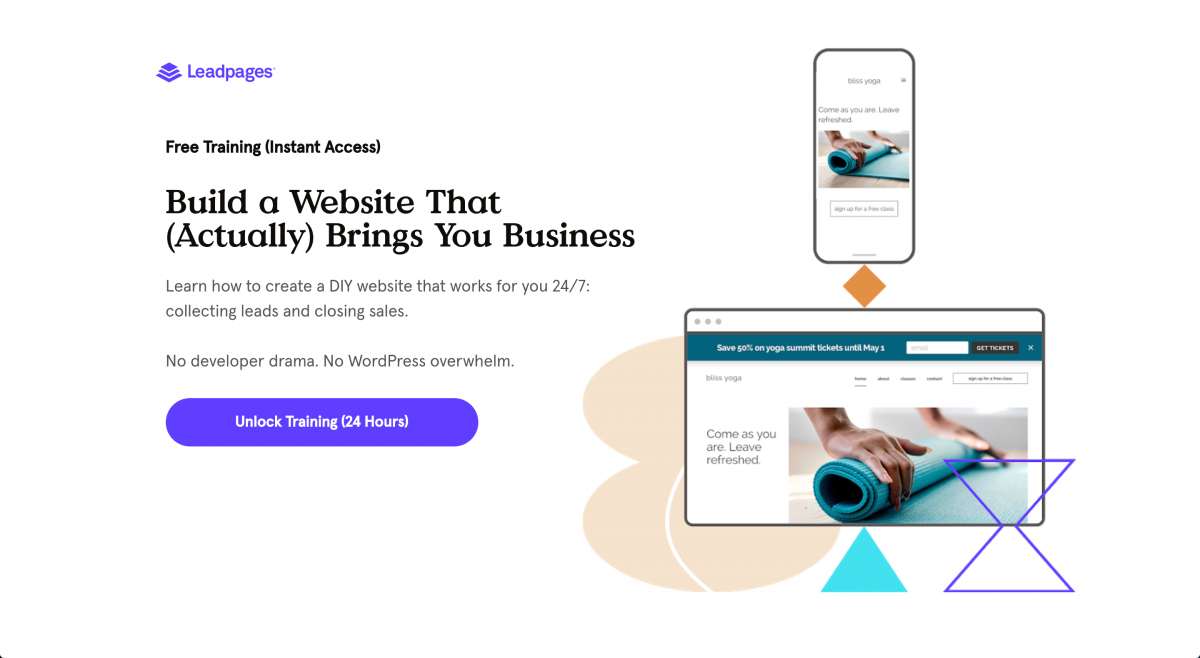 69. Leadpages Registration Form
To increase the registration rate, you may want to follow the example of Leadpages and create a basic registration form that only asks for an email address. The less time your audience has to spend on filling out the form, the more likely they are to register.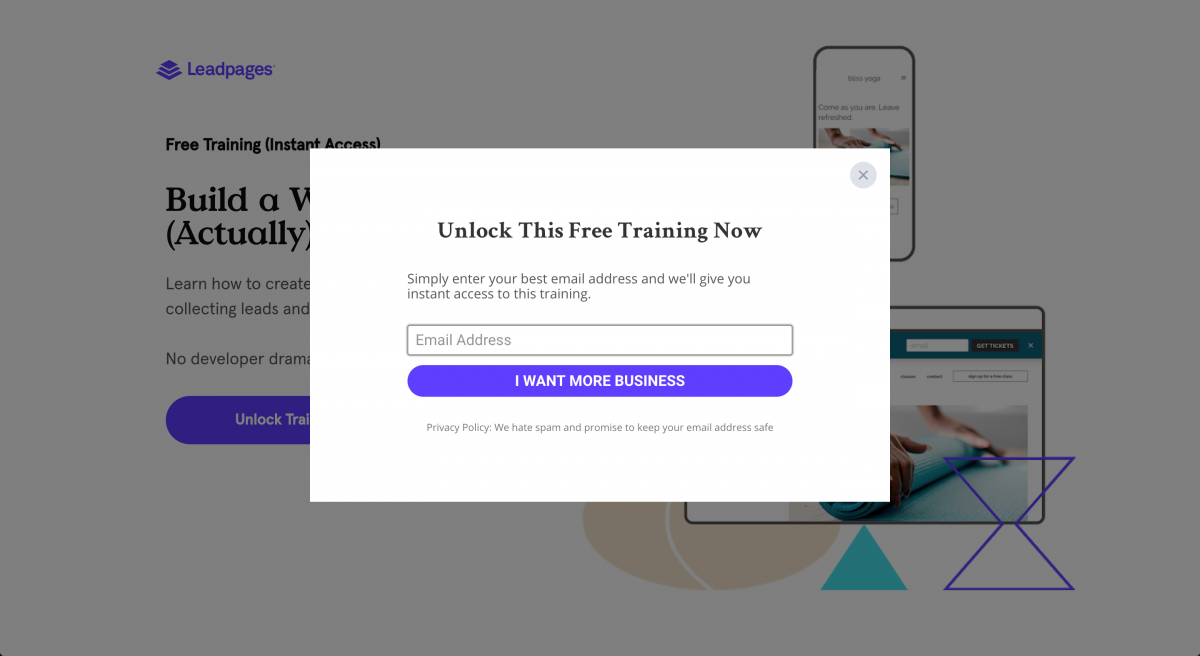 70. Leadpages 24 Hours of Access to the Webinar
This Leadpages move is extremely smart. ?
Maybe this has happened to you: You've registered for an on-demand webinar and you're looking forward to it, but then you got distracted and forgot about the video.
No problem, you think to yourself; you'll watch it later.
But what if you know that you have only 24 hours to watch it? Chances are you'll want to watch the webinar immediately.
Leadpages also added a countdown to create a sense of urgency.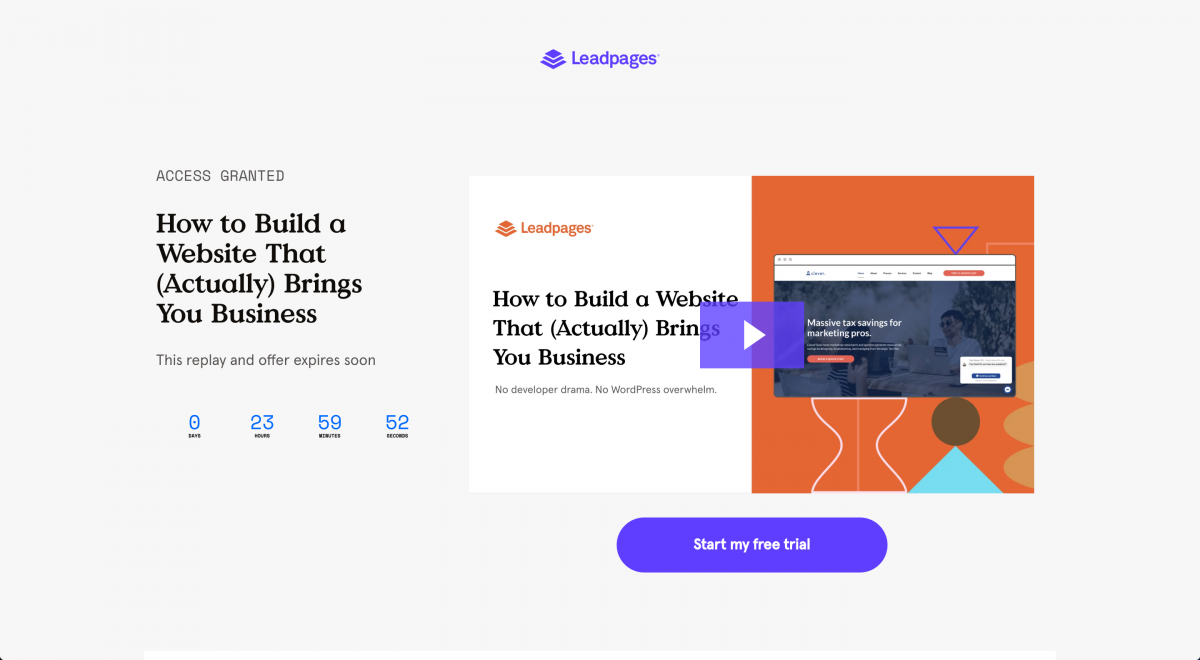 In case you forgot about it and came back later, you'll discover that you missed the webinar and can't access it anymore.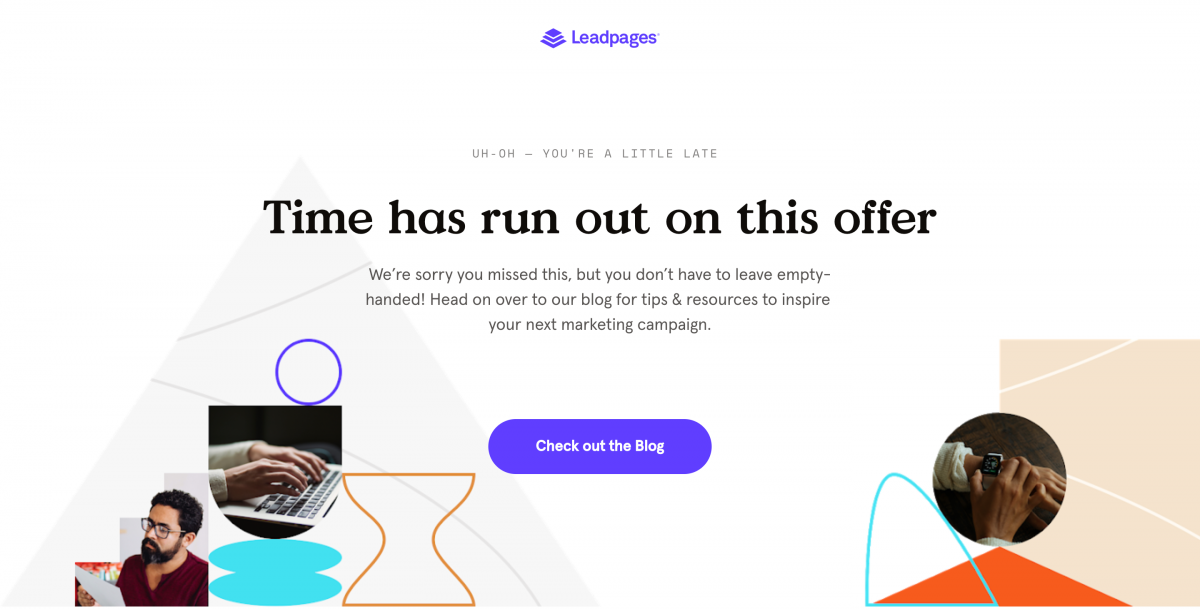 71. Intercom Registration
Intercom requires people to enter their work email address to register for the webinar. That's a smart move, especially if you're in the B2B industry.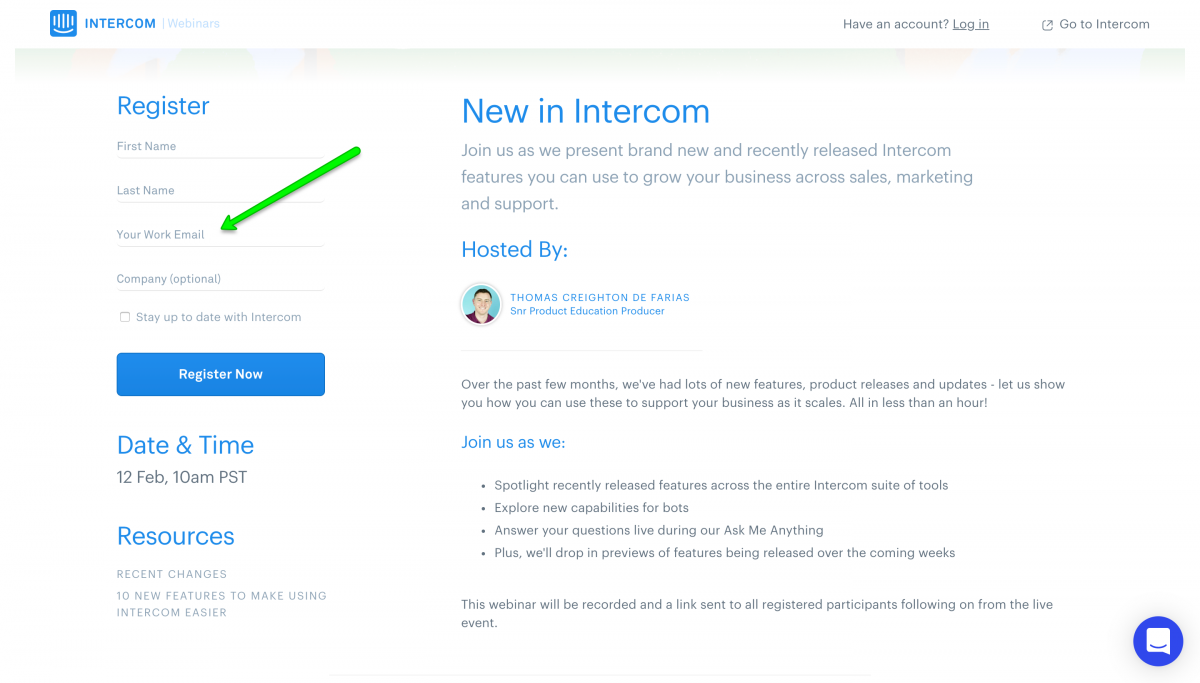 By requesting a work email address, you'll reduce the number of fake emails people use to fill in this type of form. Plus, you'll know exactly which companies might be interested in your brand or product.
72. Hootsuite Registration Form
If you want to get a better understanding of who your leads are, you can follow the example of Hootsuite and build an in-depth registration form.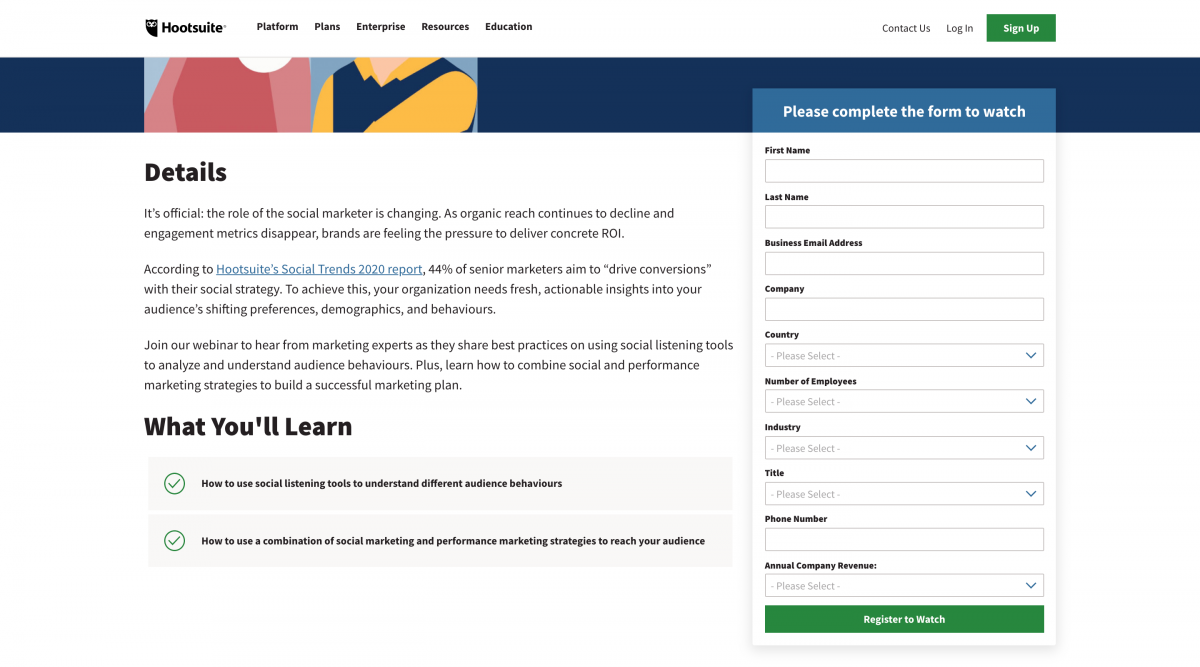 Obviously, chances are not many people will want to take in the take to fill out the form, but the ones who do can be qualified as warm leads since they're truly interested in your brand.
73. Convert Qualification Questions
How do you qualify your leads better? After all, you don't want your team members to be calling every single person who registered for your SaaS webinars. You'll waste their time and effort.
As a solution, though, you can follow the example of Convert and directly ask on the registration if the person wants to see a demo.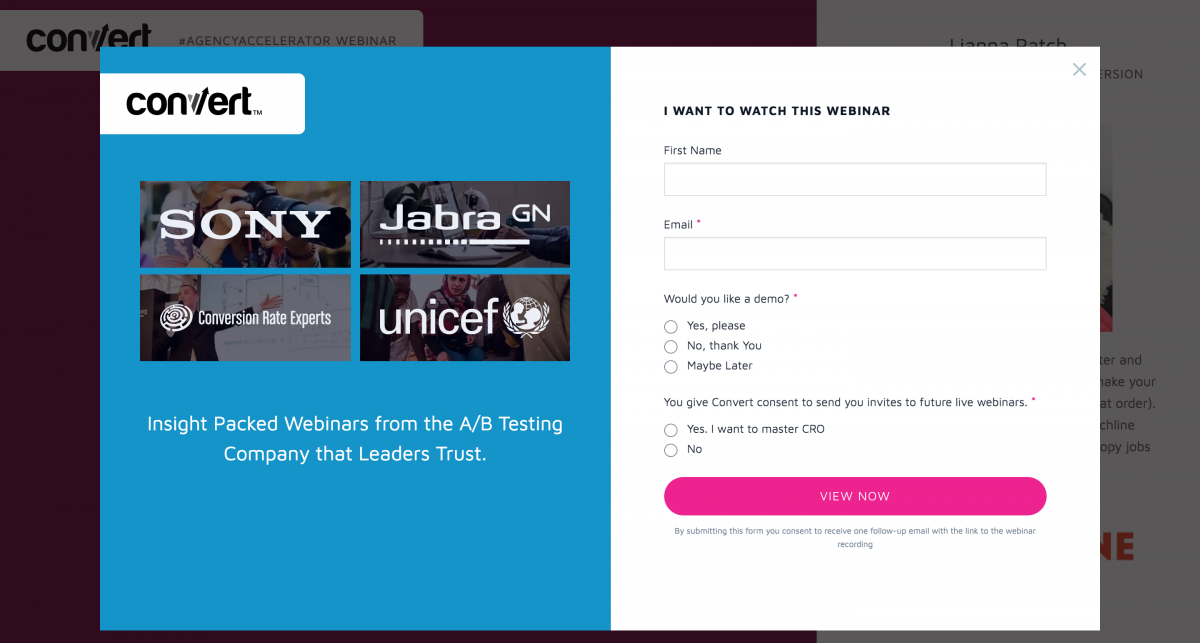 This way, you know exactly who is interested in your brand and who just wants to see the SaaS webinars without any strings attached.
74. Conductor Webinars
What's interesting about Conductor's strategy is the fact that it's providing gated live SaaS webinars, yet they give people free access to the recordings without asking for any information in return. So they have some sort of a balance, making sure they'll maintain their funnel running, but also increase brand awareness through ungated content.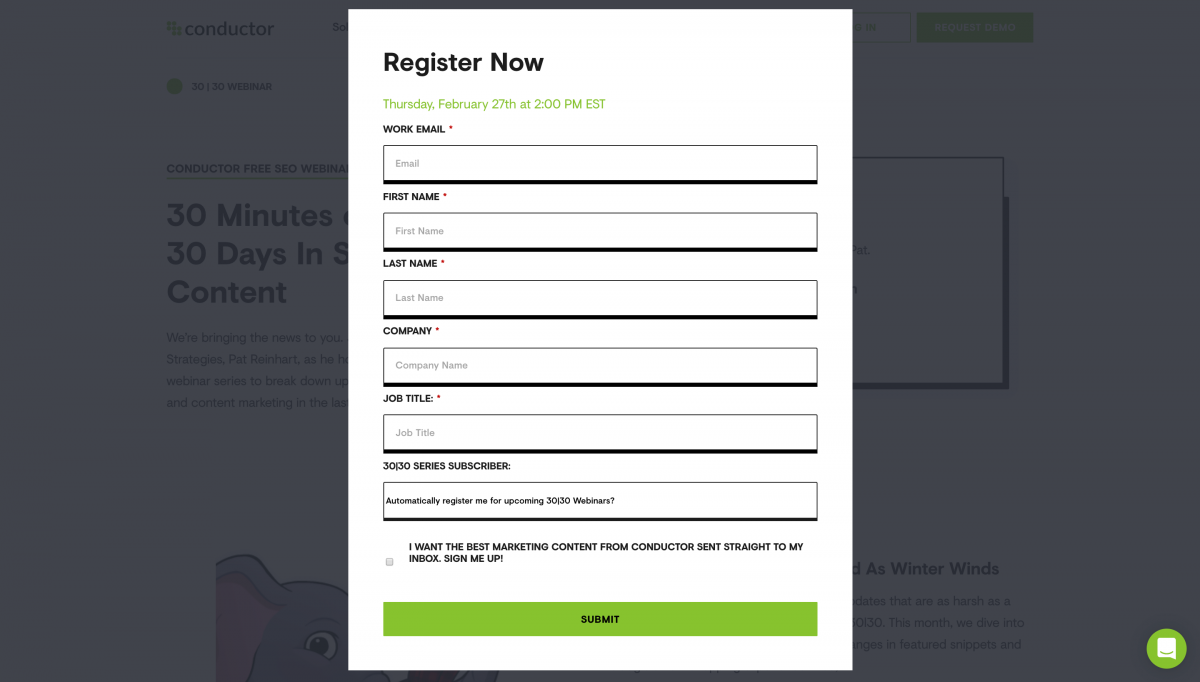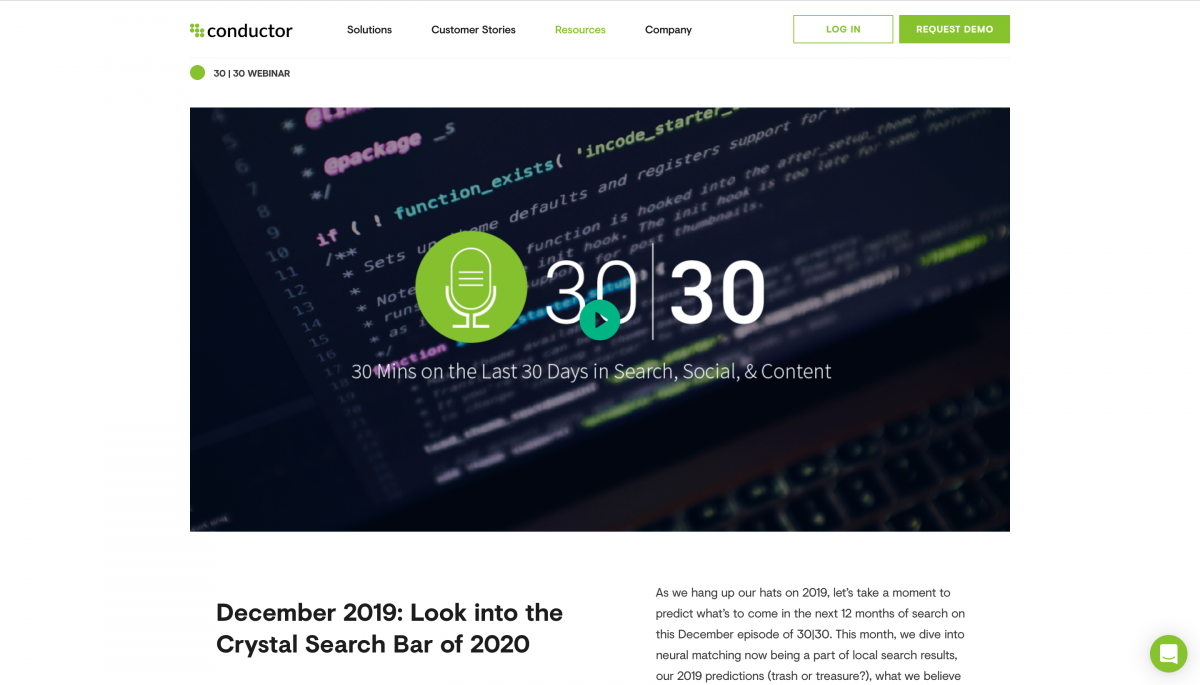 75. Jungle Scout Access to the Webinar
Jungle Scout provides simplified access to the webinar. Just click on the video, and while it's running (on mute), you need to fill out a quick registration form to be able to see the rest of the video.
76. Jungle Scout Registration Gift
Here's a very smart move from Jungle Scout. It not only sends a thank you note ? for registering an email, but it also offers two small gifts: a 400 Product Ideas document and a 50% off Jungle Scout discount. All that just for registering to attend a webinar!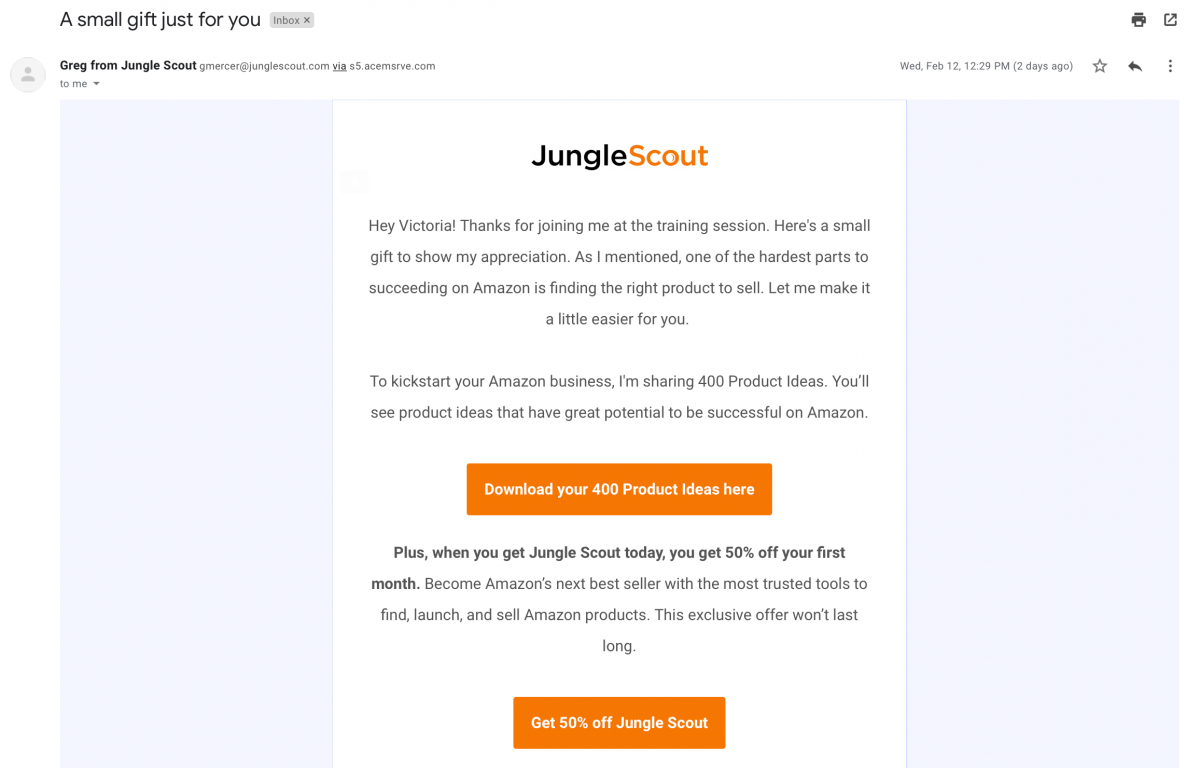 77. Atlassian Webinar Registration
Sometimes, simplicity is all you need to create an attractive registration form. Here's the example of Atlassian, which provides compact "Select date & time zone" and Register sections people can see at the same time.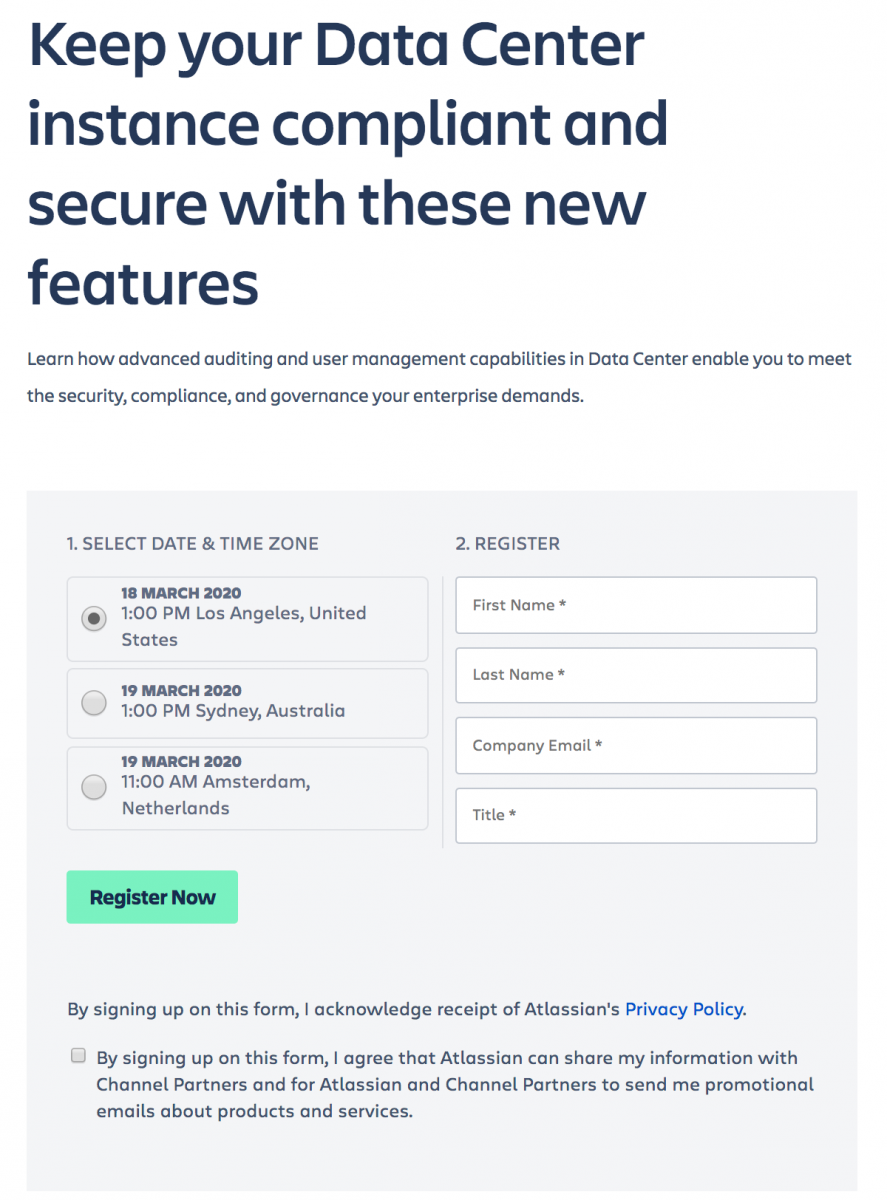 ? Engagement
The entire events industry revolves around engagement. The same is true for SaaS webinars. They're an incredible mechanism to get people to interact with your brand, ask questions, and build meaningful connections.
78. Drift Conversational Marketing
Pre-webinar engagement can be as important as the engagement during the webinar. By conversing with your audience before the webinar, you'll be able to uncover the most common questions and doubts people have and build a better presentation. To show you how this may work, we're going back to Drift's excellent example. As you can see in the images below, Drift is applying its conversational marketing technique and using chatbots to engage its potential virtual attendees.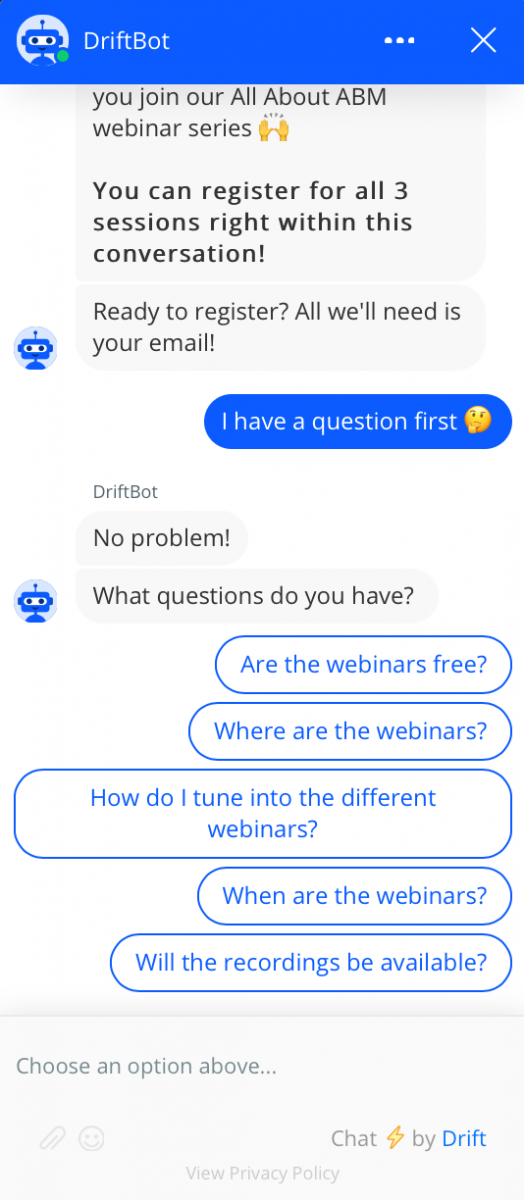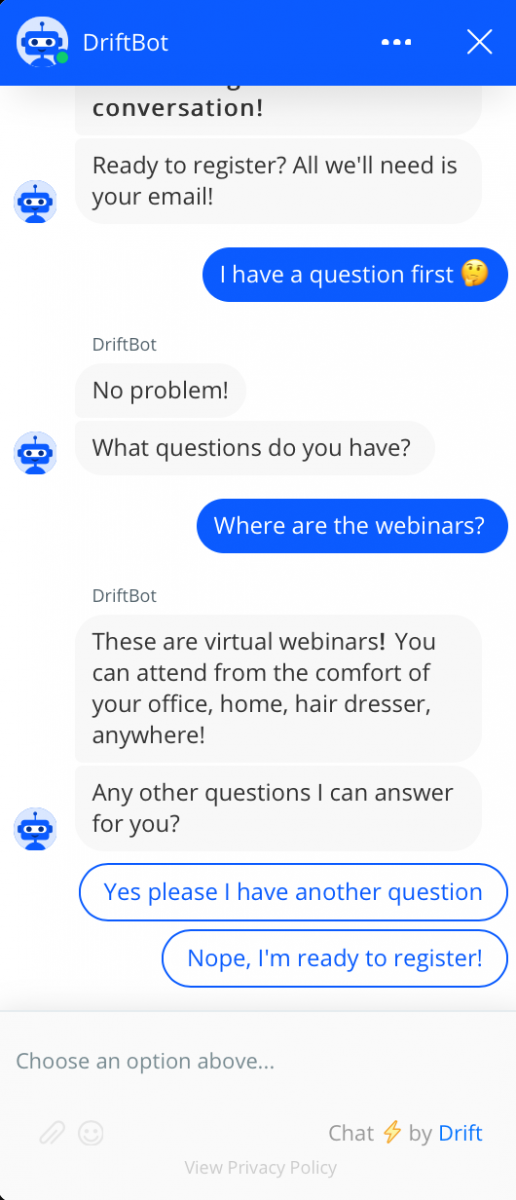 79. Intercom Bot Conversations
You can also use chatbots during the webinar itself to better qualify your attendees and gauge their interest in your product. Here's a good example from Intercom.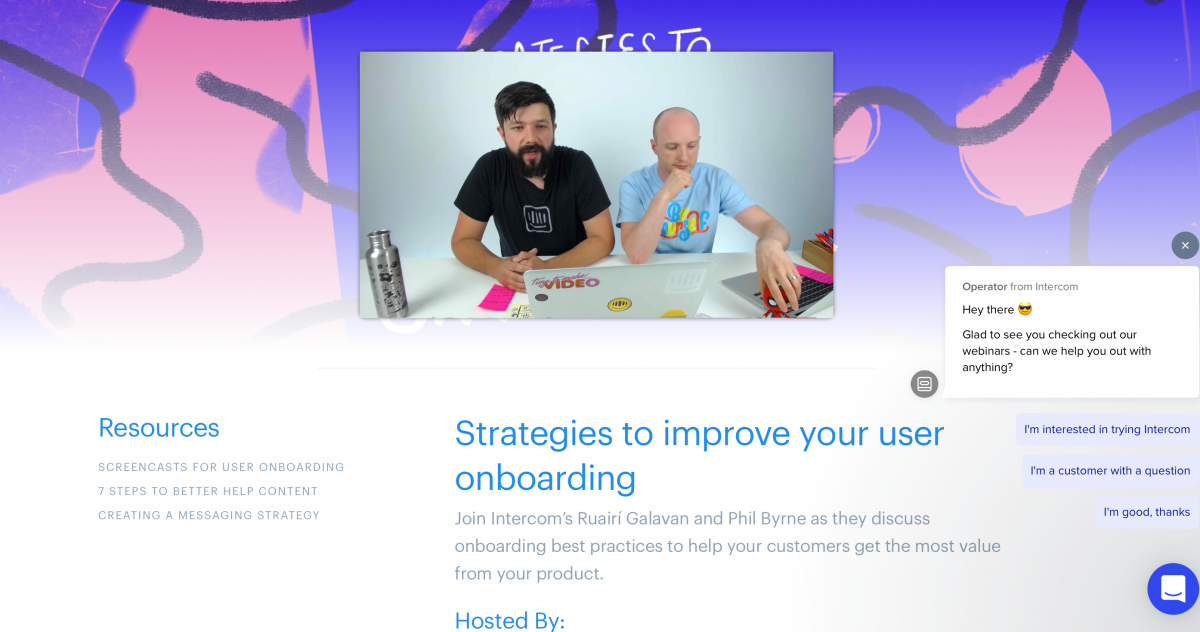 80. Semrush Live Website Audit
This example is truly extraordinary. Although it doesn't involve direct interaction between speakers and virtual attendees, Semrush offers its audience the opportunity to have their websites analyzed during the webinar. The only thing people have to do is submit their website when registering.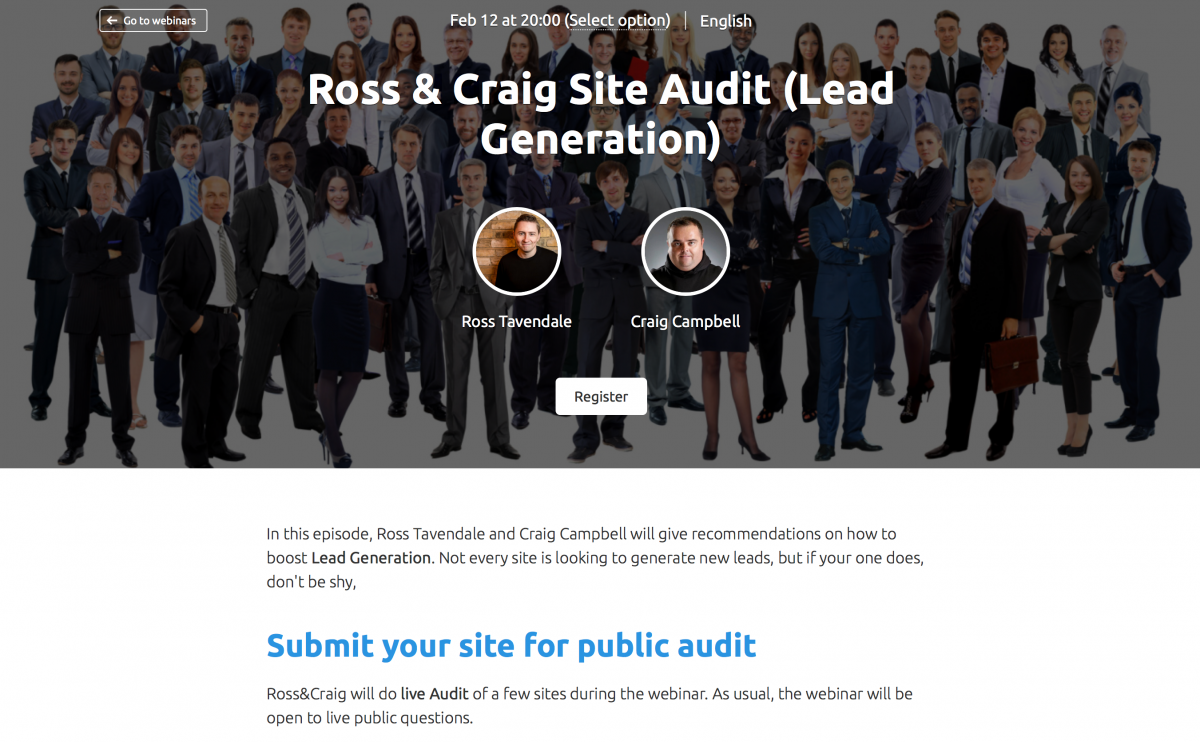 81. Keap Live Q&A
To maintain good interaction between your speakers and your attendees, you should always build a Q&A session into your presentations. Check out this example from Keap.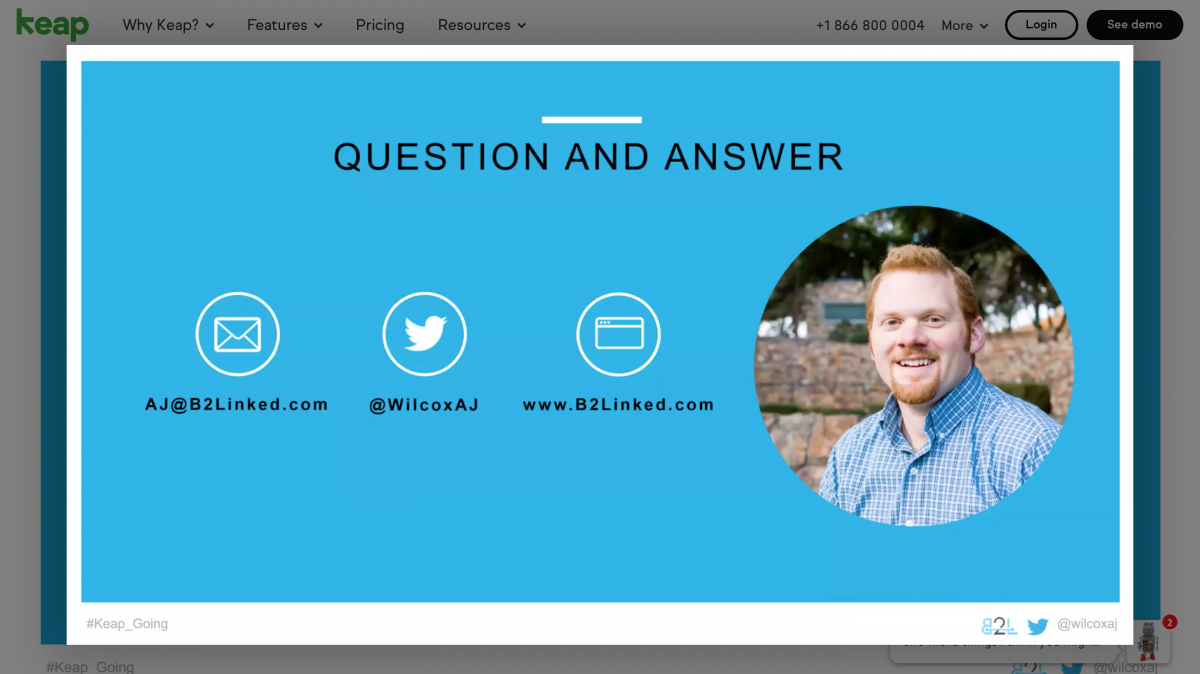 82. AdRoll Long Q&A Session
To increase the engagement rate of your virtual attendees, you can always do what AdRoll does: Reserve half the webinar time to answer people's questions.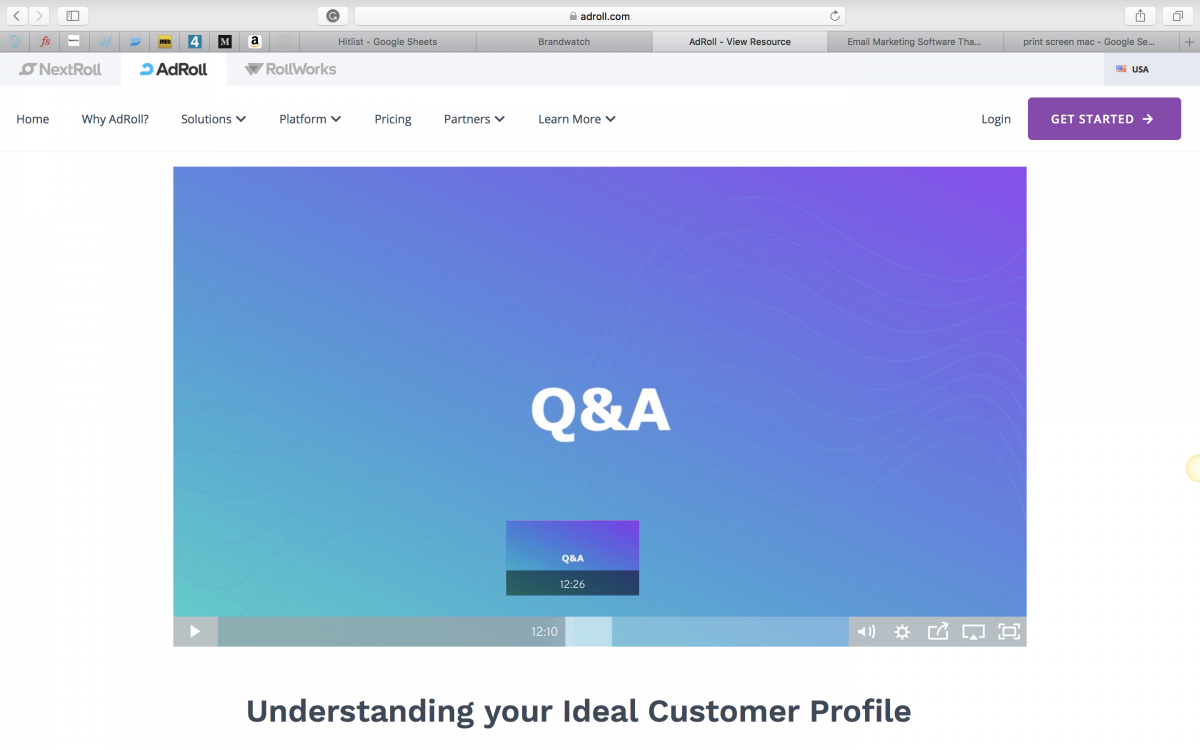 83. TINT Contact Data During the Q&A
Usually, people will post the Q&A slide during the engagement session. TINT, however, decided to do something different and share its team members' contact data in case people decide to interact with them after the webinar.
84. iContact Comments
If you're familiar with the YouTube live stream, you probably know about the opportunity of real-time commenting so that other people could see it, too. Why not make use of this feature to your webinars the same way iContact did?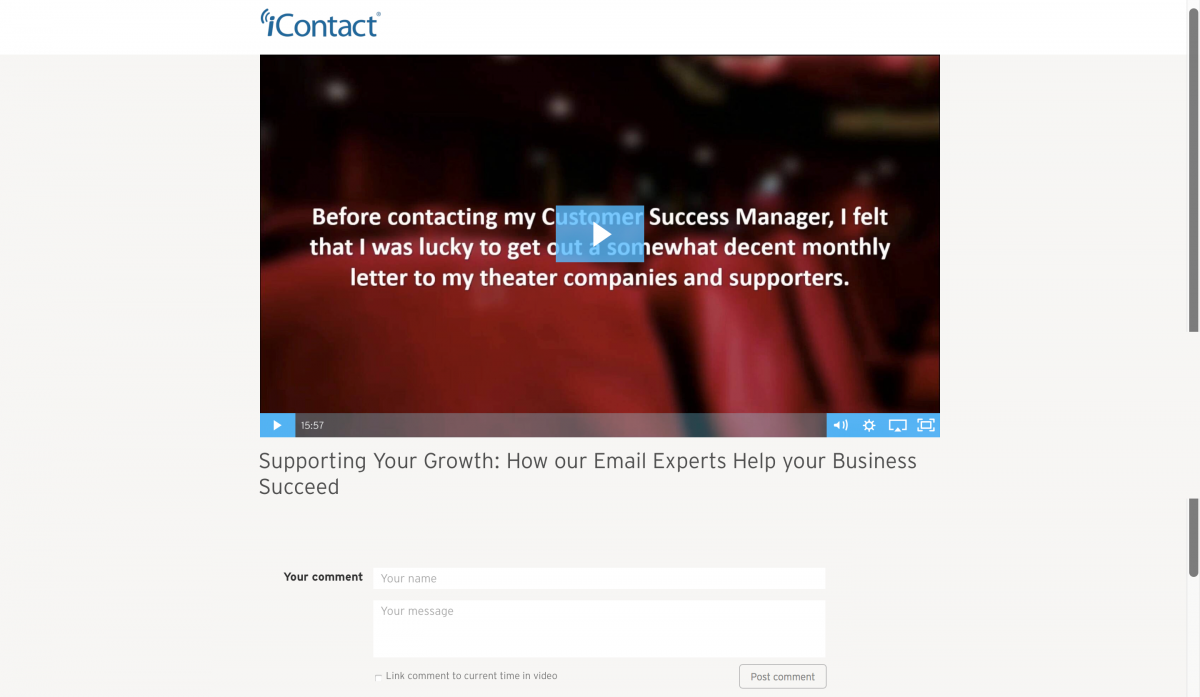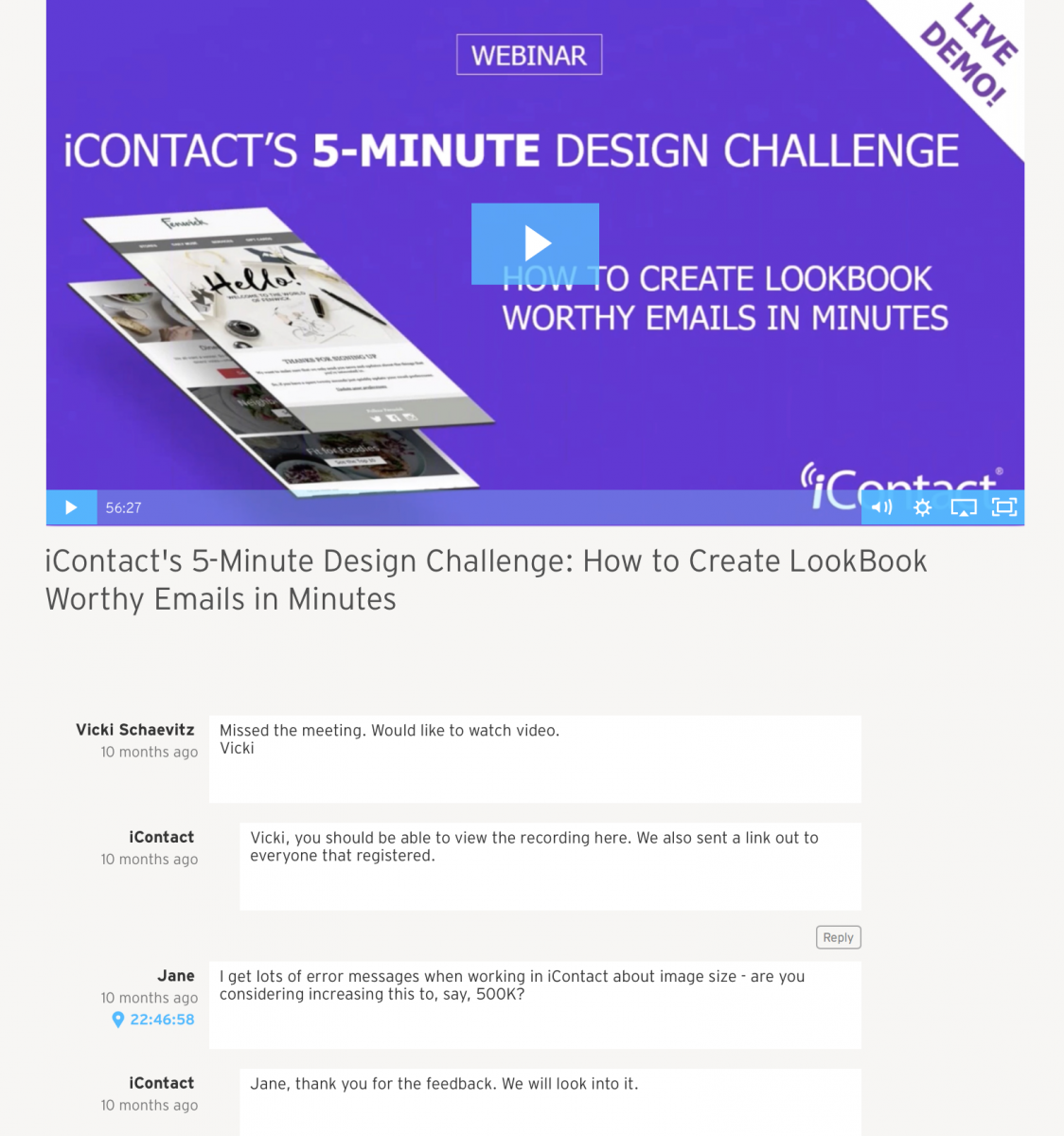 85. GatherContent Email Engagement
Ignite pre-event engagement by taking advantage of the webinar notification email. Here's a brilliant example from GatherContent that used an automatic email to notify attendees that every single question or comment will be personally answered by a team member.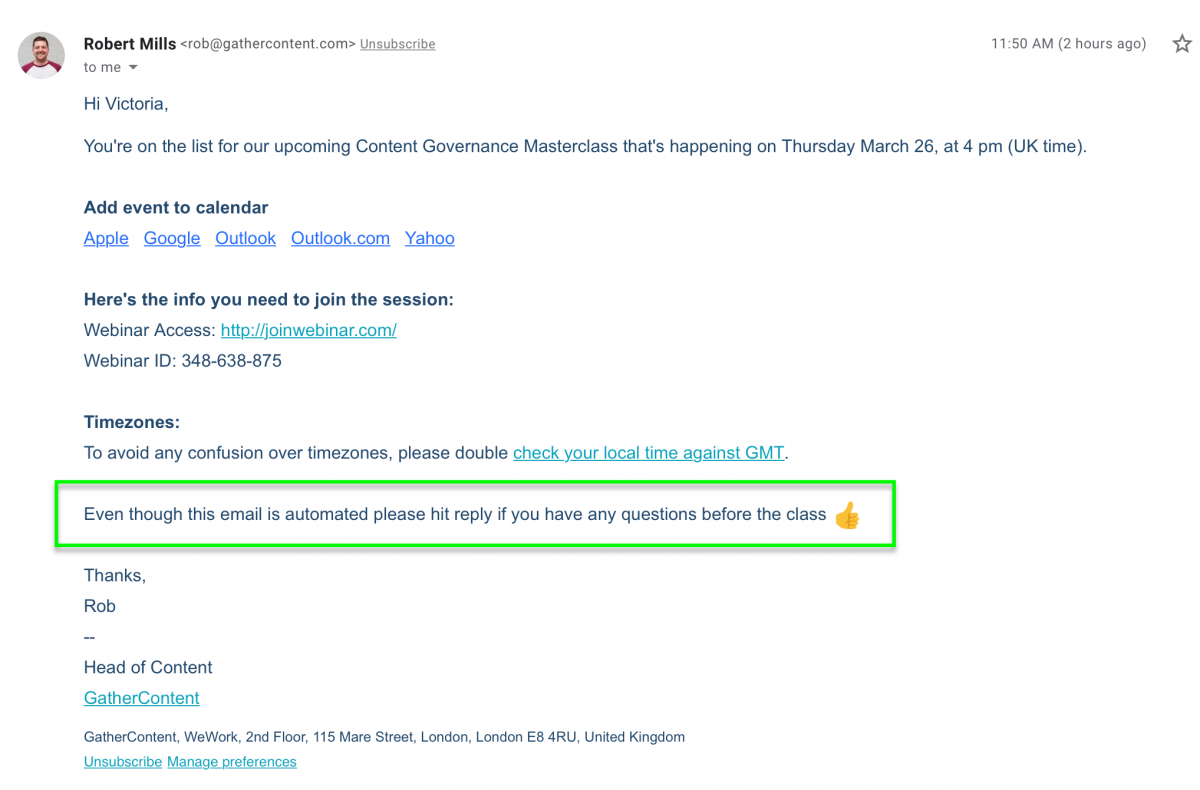 ? Webinar content
How can you approach the content for your SaaS webinars? What angle should you take? Also, what additional content can you provide to your virtual attendees? Let's find out.
86. Hootsuite "This Year" Webinars
If you're not sure what your webinar should be about, focus on researching and discovering this year's trends in your industry. Hootsuite is an excellent example when it comes to providing this type of content.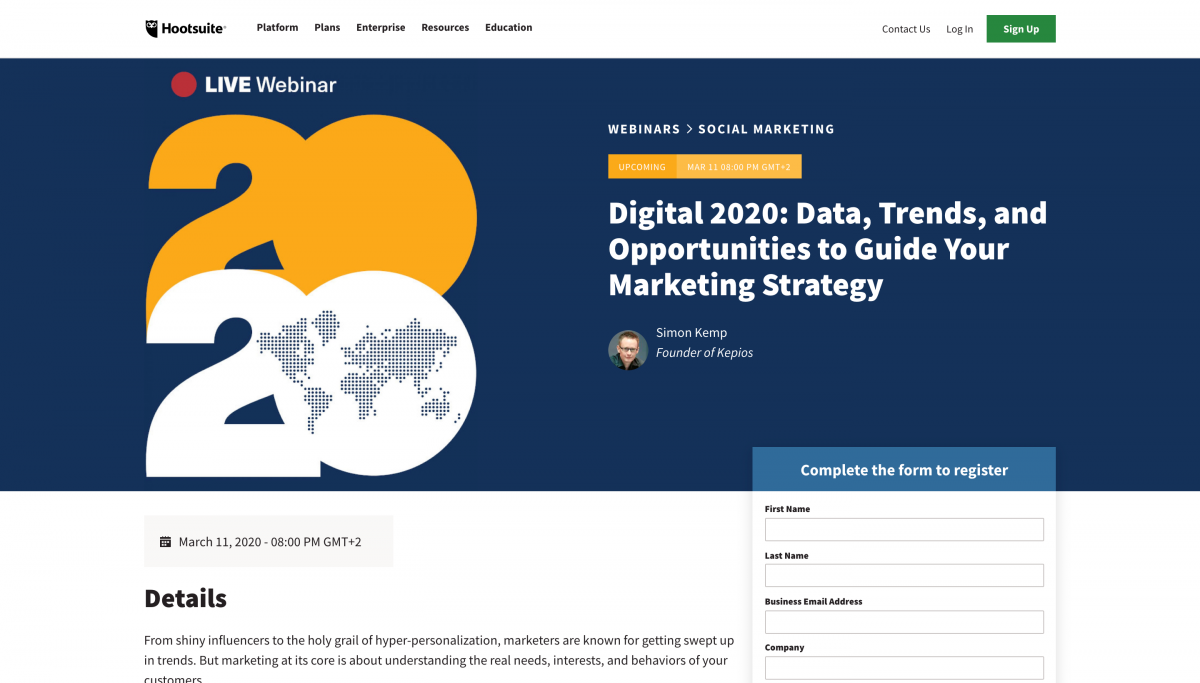 87. SproutSocial Index Reveal
Here's another idea for how to publish interesting content: Showcase your brand's original research. Showing your company's data, conclusions, and recommendations for your leads can be a powerful way of leading a webinar. Take SproutSocial, for example, which recorded a SproutSocial Index Reveal Webinar.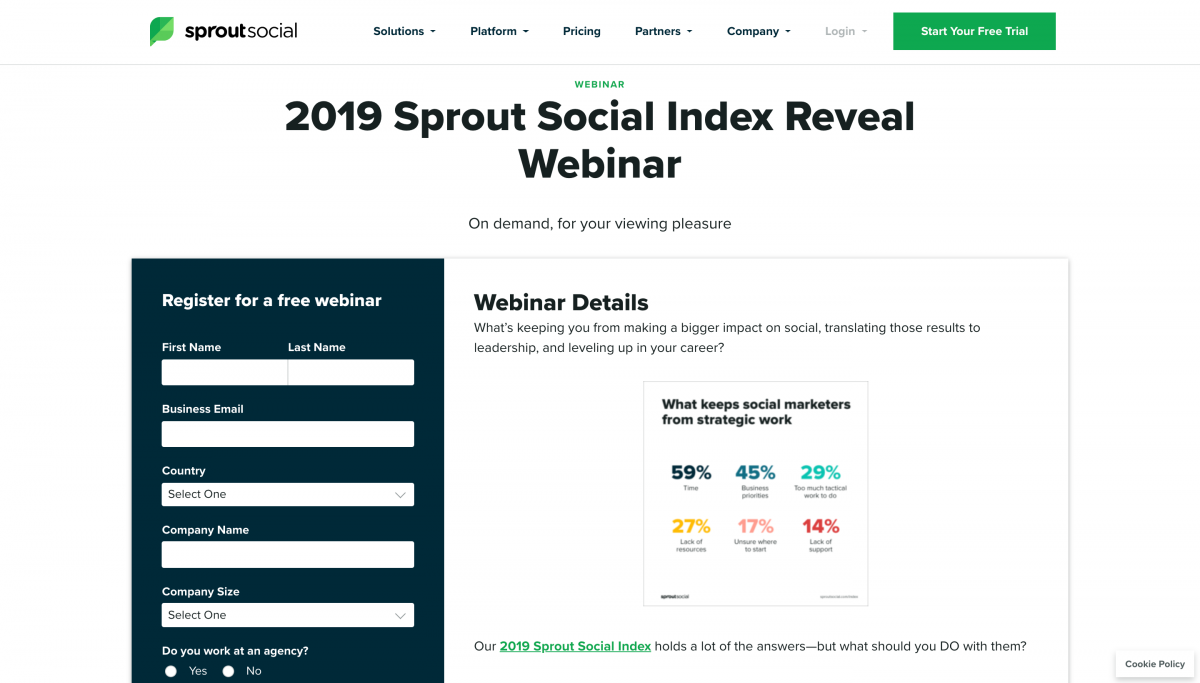 88. MindFire Specific Promise
Taking a general theme tactic for your SaaS webinars can backfire. No one wants to consume content that doesn't make a specific promise. To keep this from happening, follow the lead of MindFire and its The Weird B2B Lead Gen Strategy That Created 4,258 Leads webinar.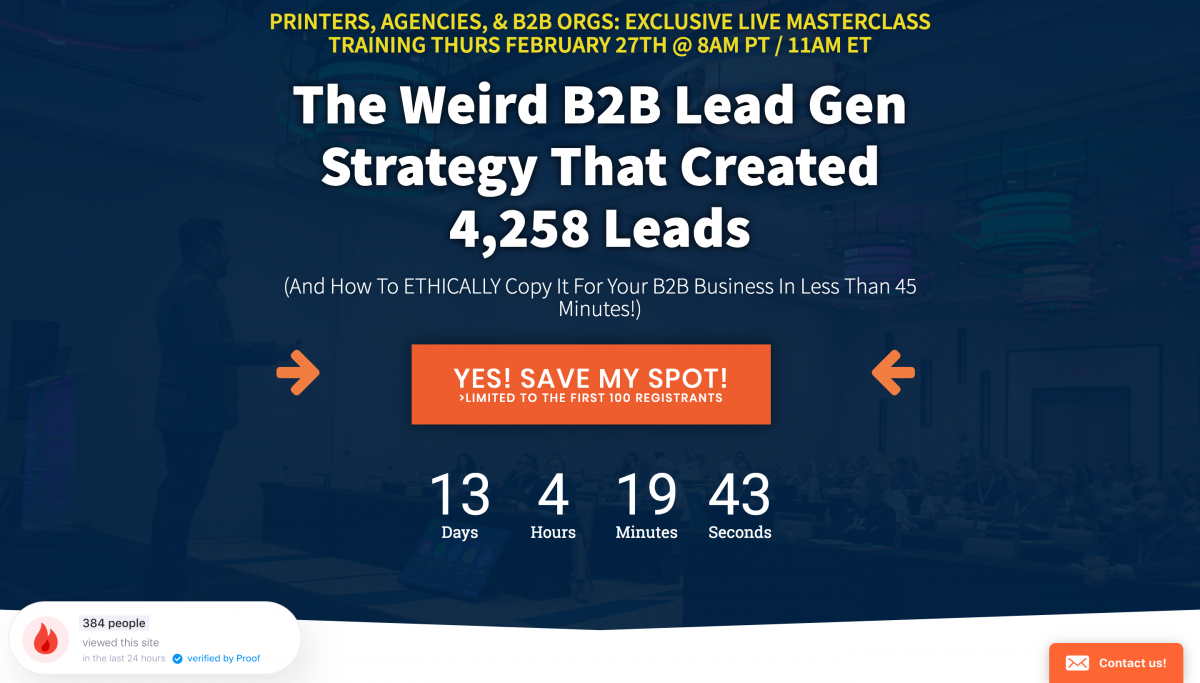 As you can see, it's a very clear promise based on results you can get, too, if you attend the webinar.
89. Hootsuite Webinar Library
Another example from Hootsuite is its smart webinar library.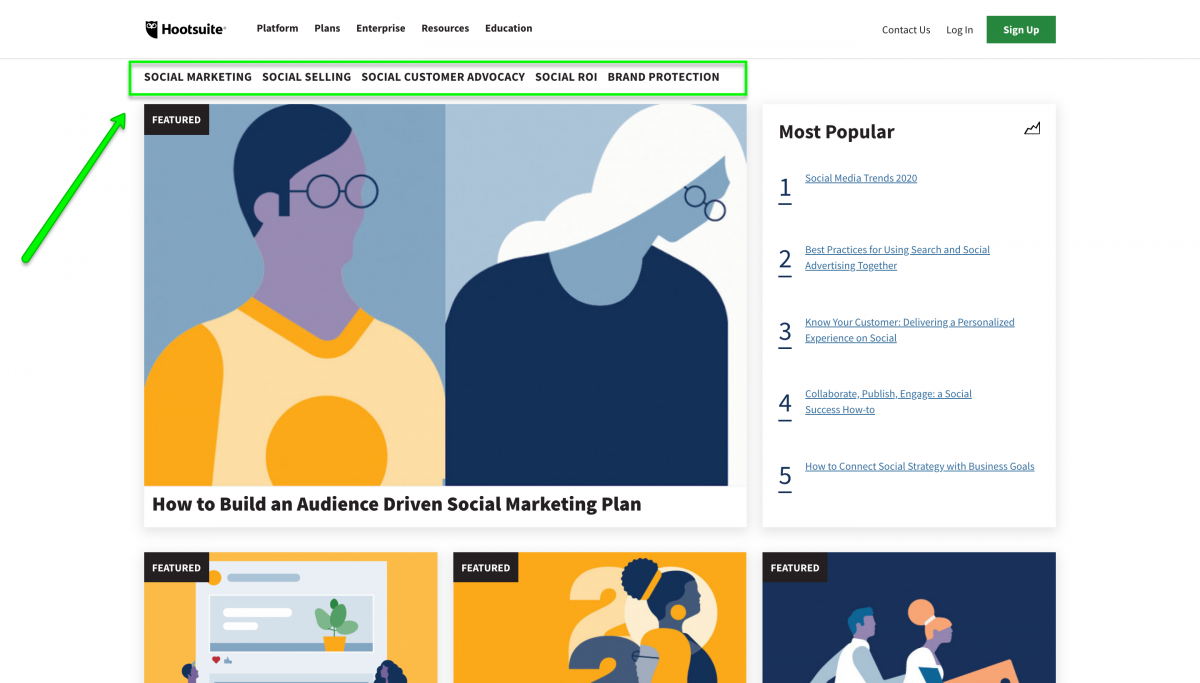 As you can see, the webinars are organized by topic and can be easily browsed and accessed.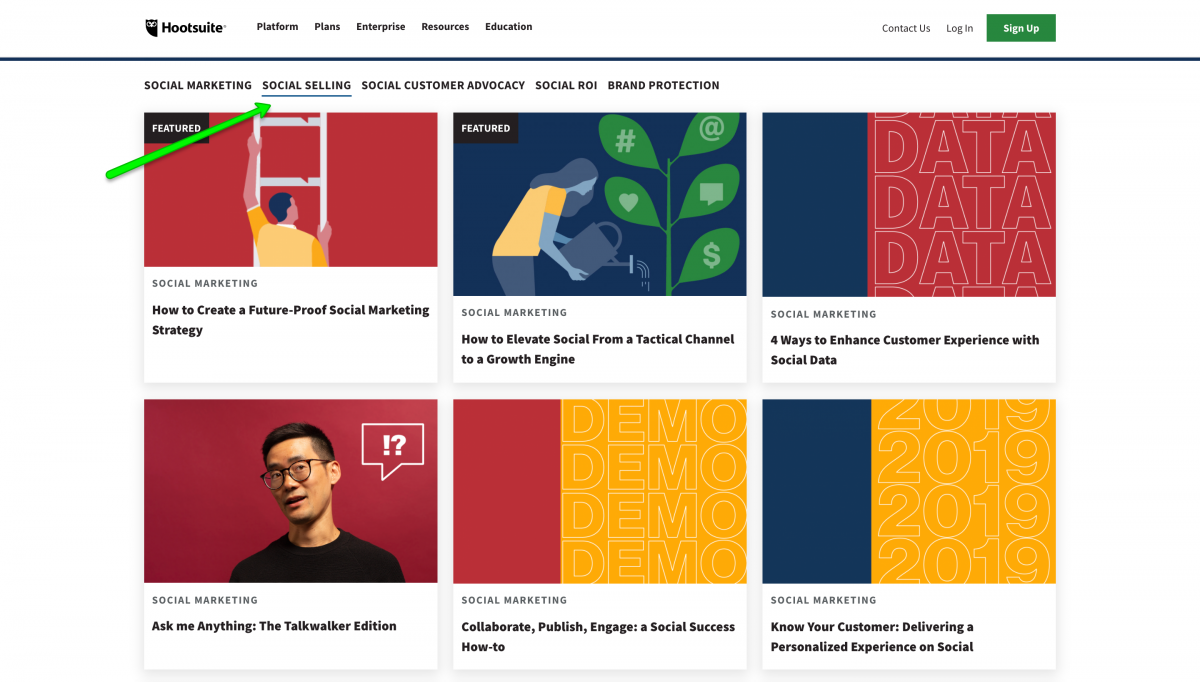 90. GatherContent Live Webinars and Webinar Library
GatherContent takes an interesting approach to content webinar segmentation. As you may know, other companies will just create a general category for its SaaS webinars. GatherContent, on the other hand, has two segments: one for webinars that haven't been launched yet and a Webinars Library.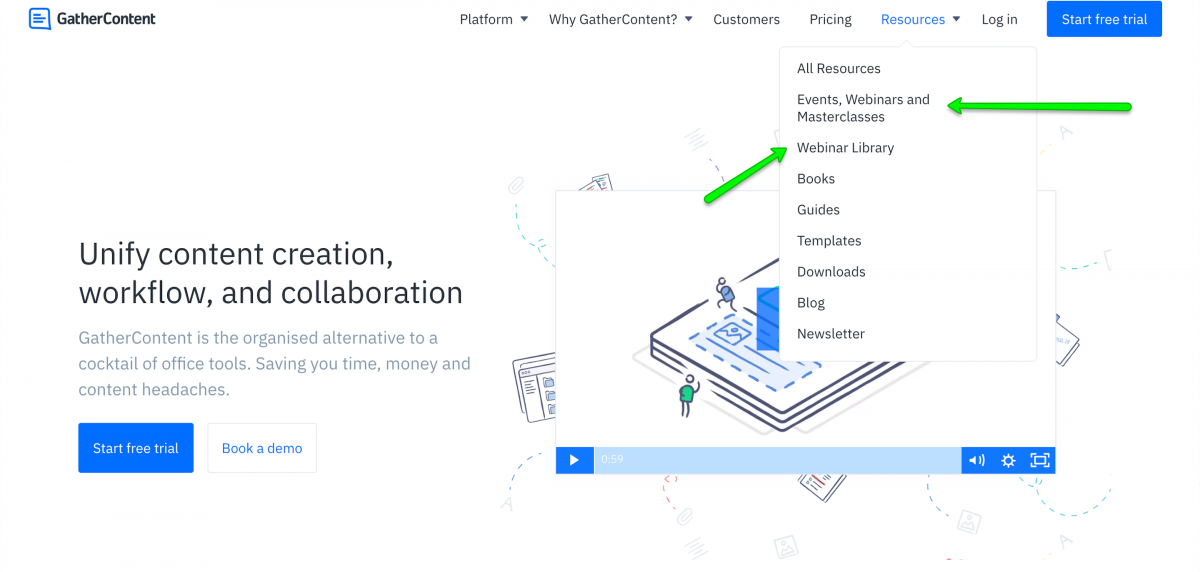 91. Demandbase Preview Slides
When watching a Demandbase webinar, you can easily see the slides by yourself by clicking the Show button on the top of the video player. This approach lets you view the presentation on your own time at your own pace.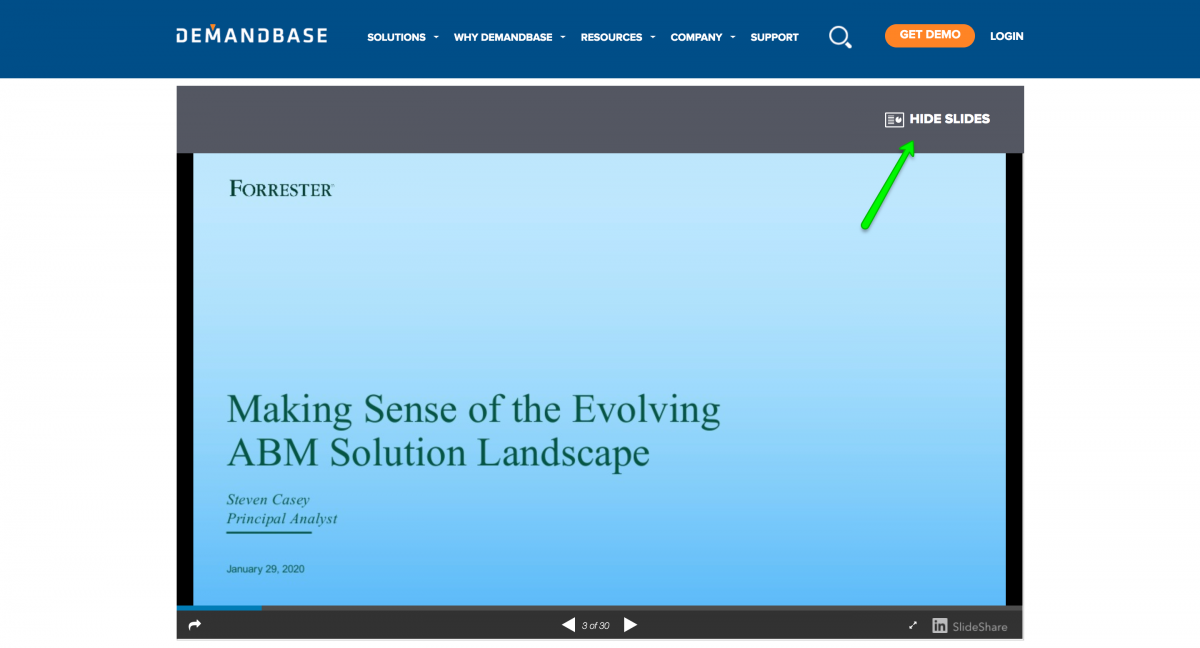 92. Drift Free Webinar Slides
When accessing on-demand webinars on Drift, people are encouraged to take two actions: register and check the video recording and access the webinar slides.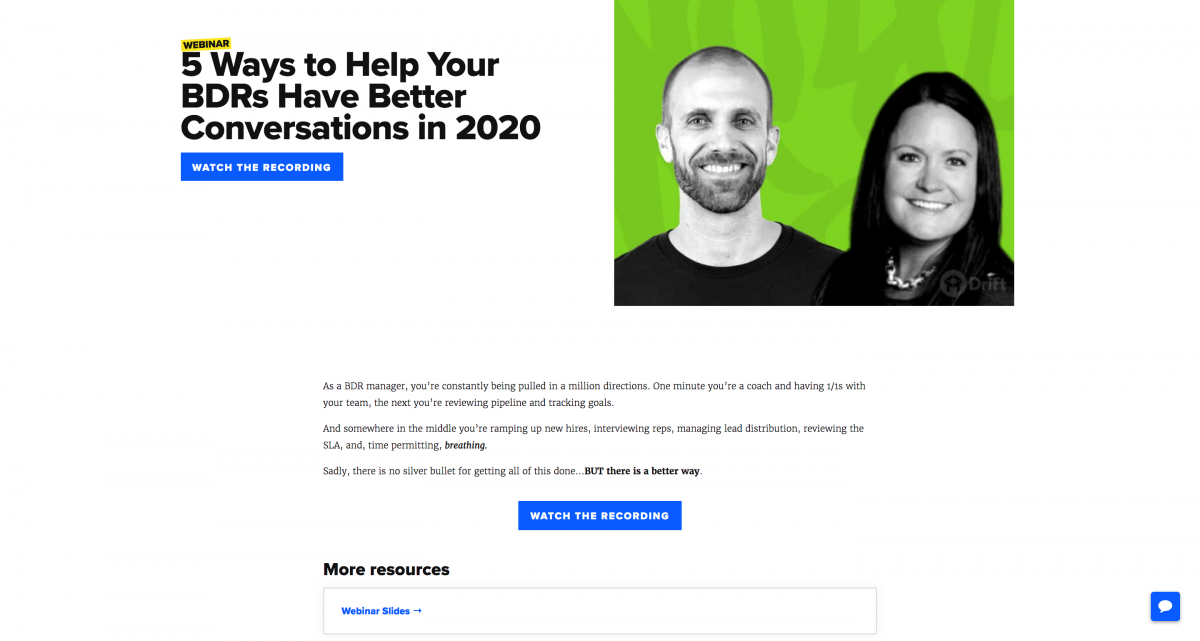 Note that the presentation is not gated.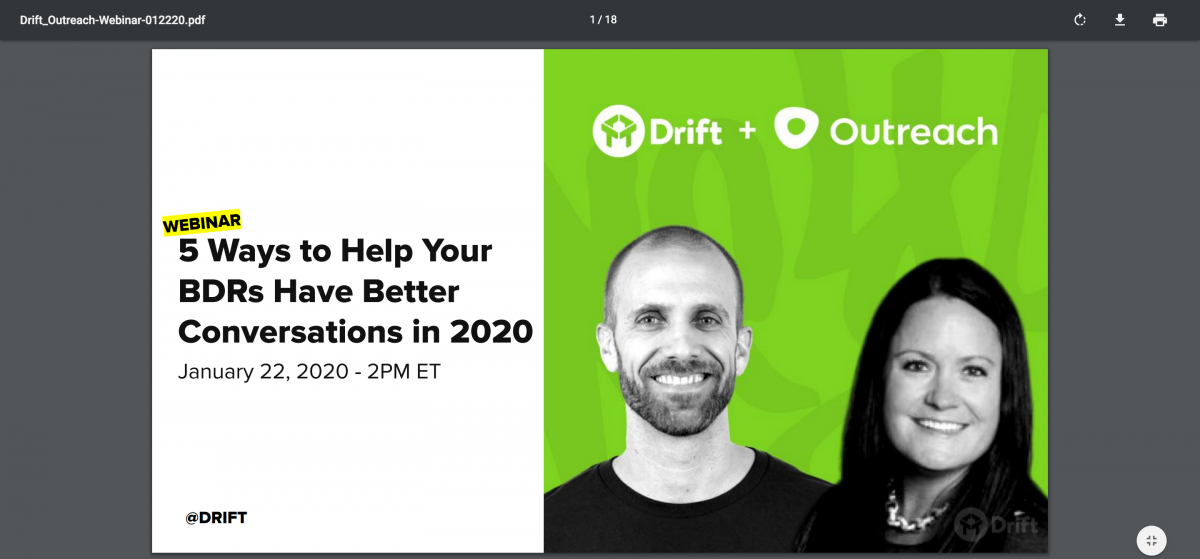 93. Useproof Scale or Die Script
Each Scale or Die episode has a dedicated blog post that shares the entire webinar script, as well as a timeframe of when each topic was discussed.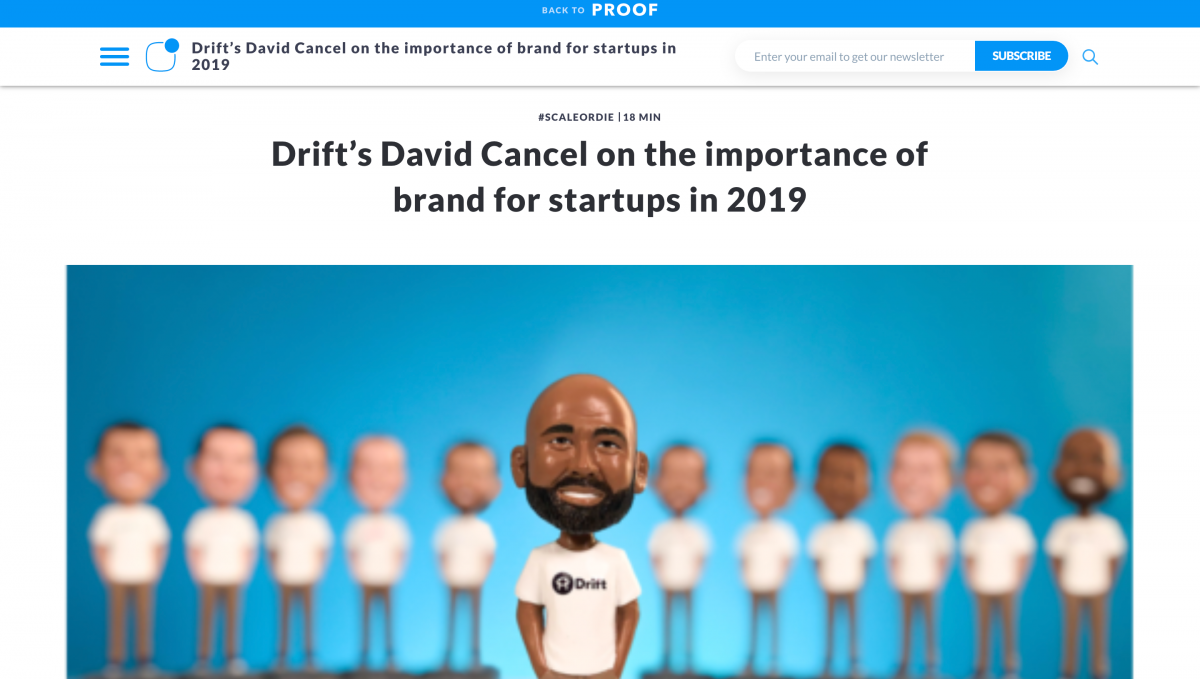 This is a great way to repurpose content, generate more organic traffic, and provide written content to those who prefer reading to listening to or watching a webinar.
94. Leadpages Workbook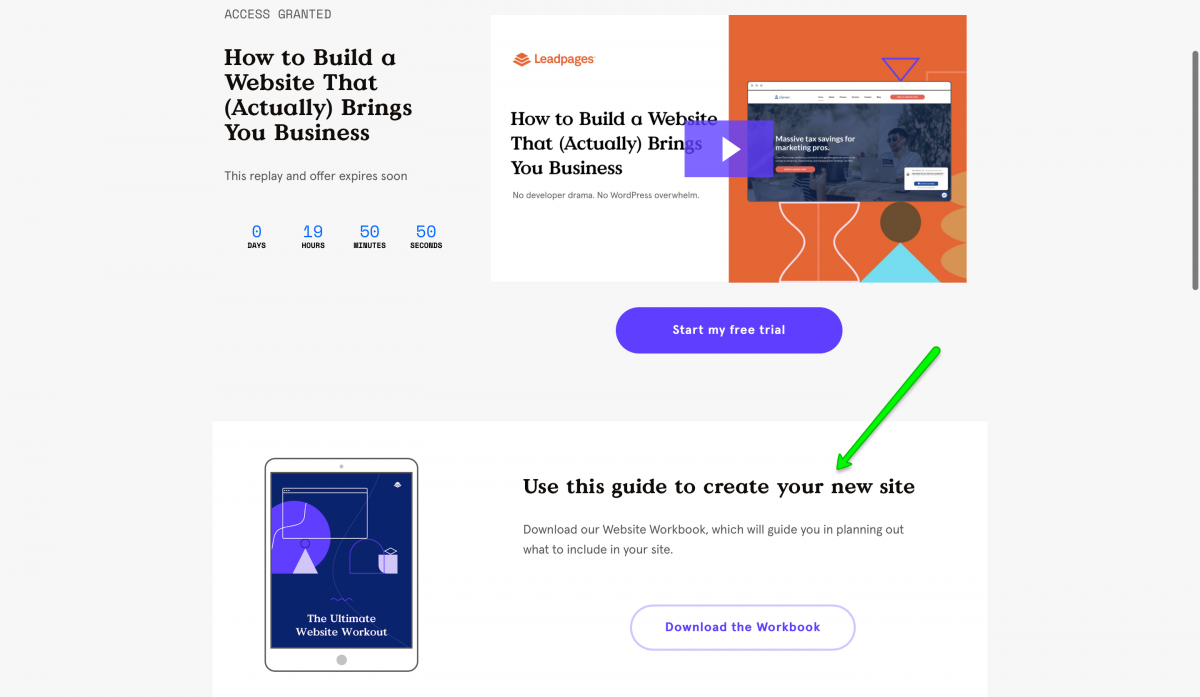 Leadpages is a very interesting example. Once you registered, they give you 24 hours only to watch the webinar recording. During these 24 hours, you can also download a workbook available on the webinar page.
95. Semrush Ungated Transcript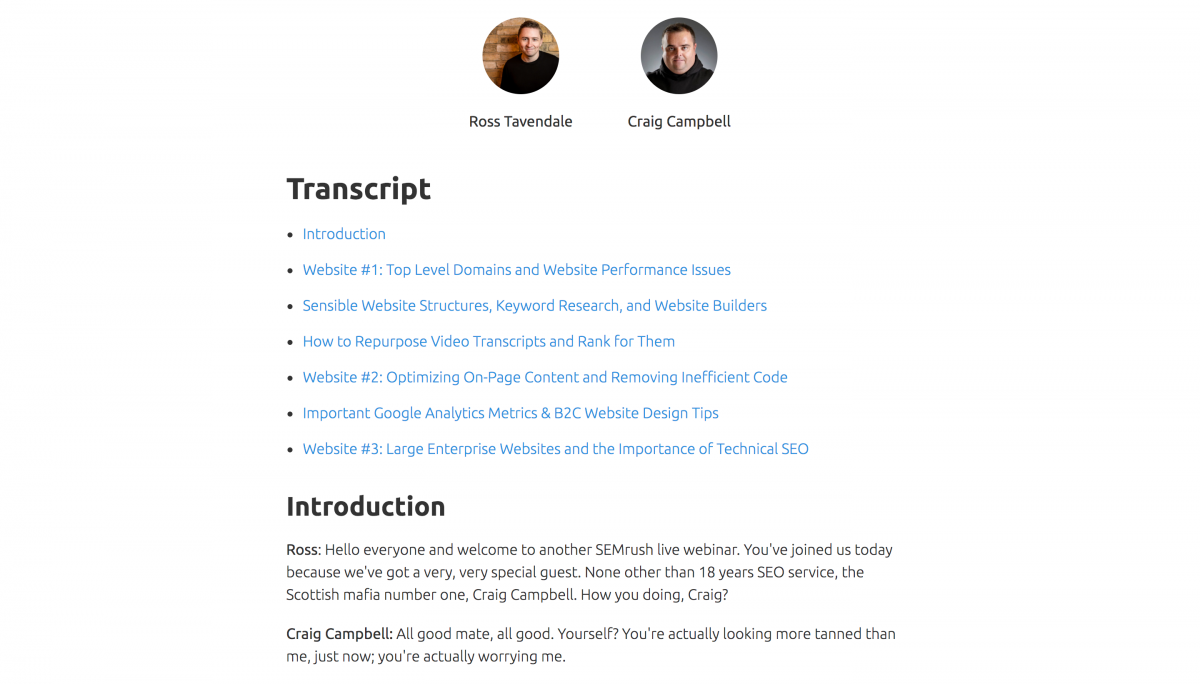 Semrush has a very interesting practice: It offers a gated webinar video, but the transcript can be accessed without people needing to fill out a registration form.
96. Unbounce Checklist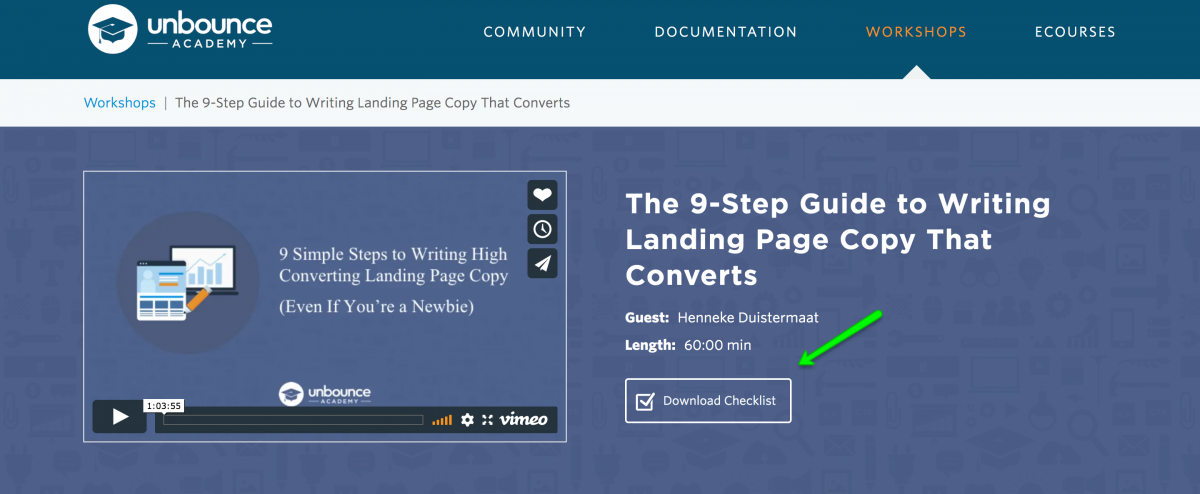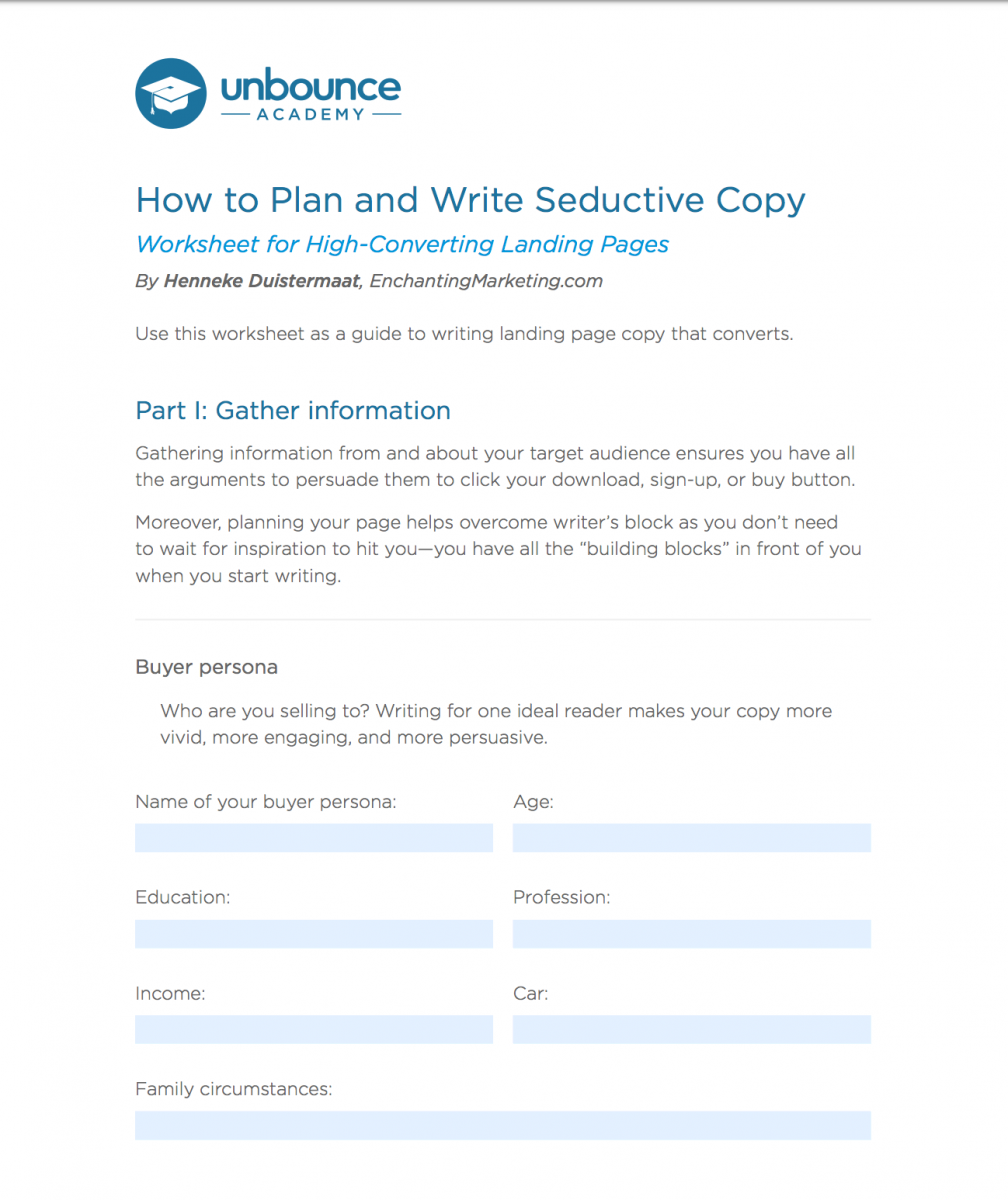 Unbounce provides a free webinar checklist that helps virtual attendees put what they learned during the online webinar into practice.
97. BrightEdge Webinar-Related Content
BrightEdge has an interesting approach to presenting its webinar-related content: It has a section with all the related resources (videos, blogs, documents) that people can access immediately right on the webinar landing page.  
98. TINT Video Download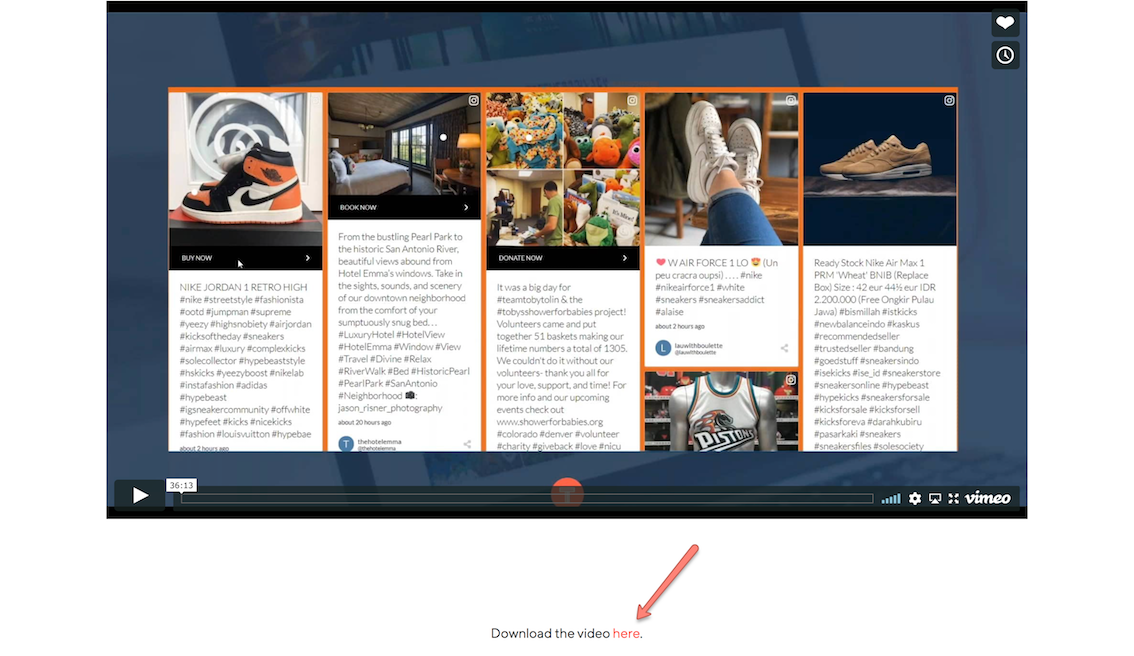 Here's another good example from TINT. You can both watch or download the webinar video.
99. Rival IQ Additional Materials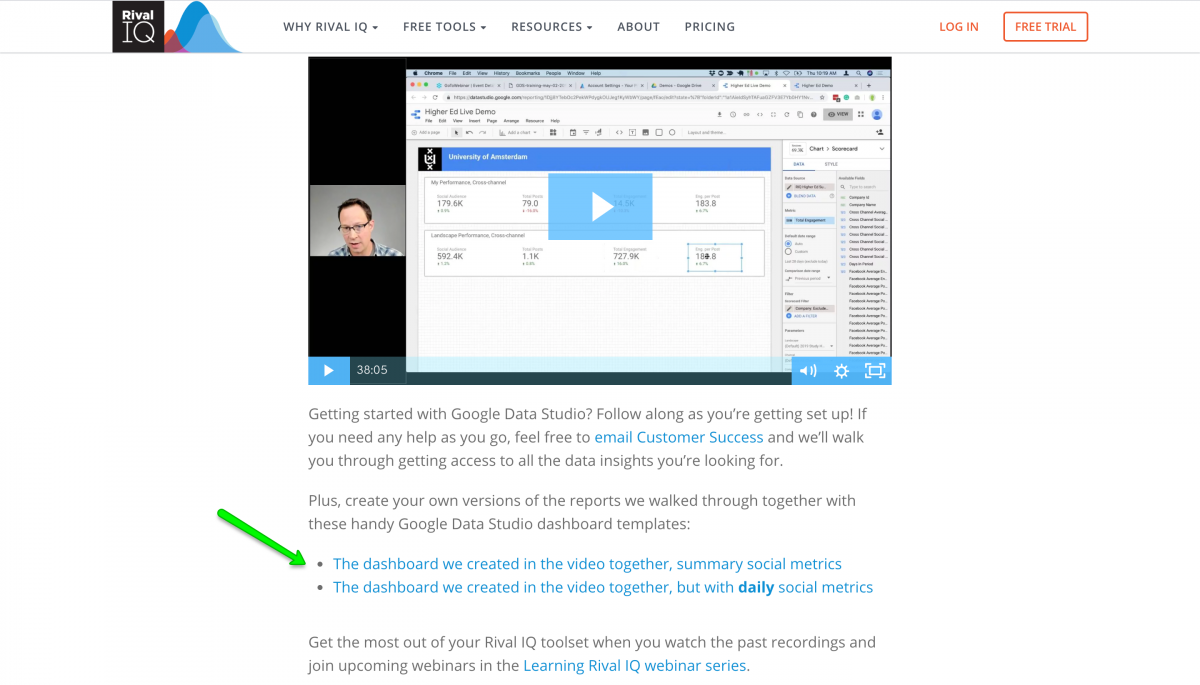 Apart from the webinar, Rival IQ will also share the templates the speakers built during the webinar so that the attendees can access it, modify it, and practice the information they learned during the session.
100. CampaignMonitor Time Marks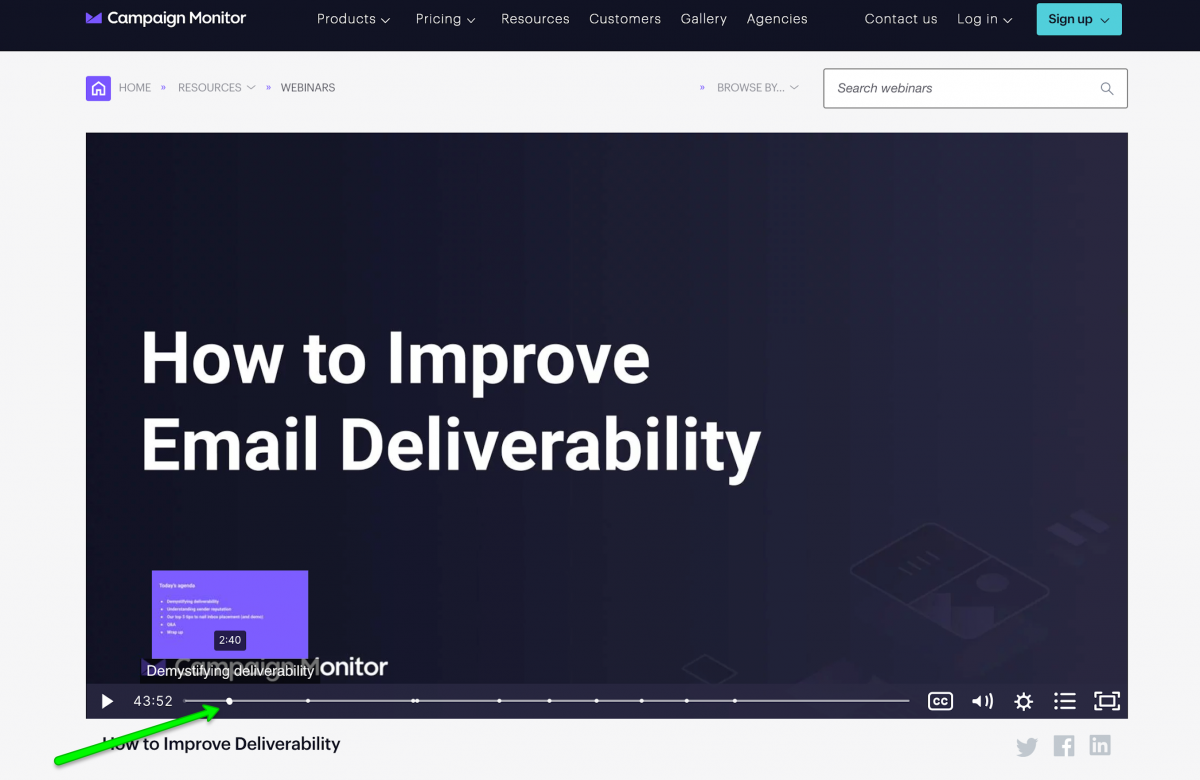 An interesting way to help virtual attendees navigate the webinar recording is by providing them with a specific timeline they can access easily. Here's an excellent example from CampaignMonitor that segmented its webinar into different themes and added specific marks on the video timeline.
101. SproutSocial Post-Webinar Email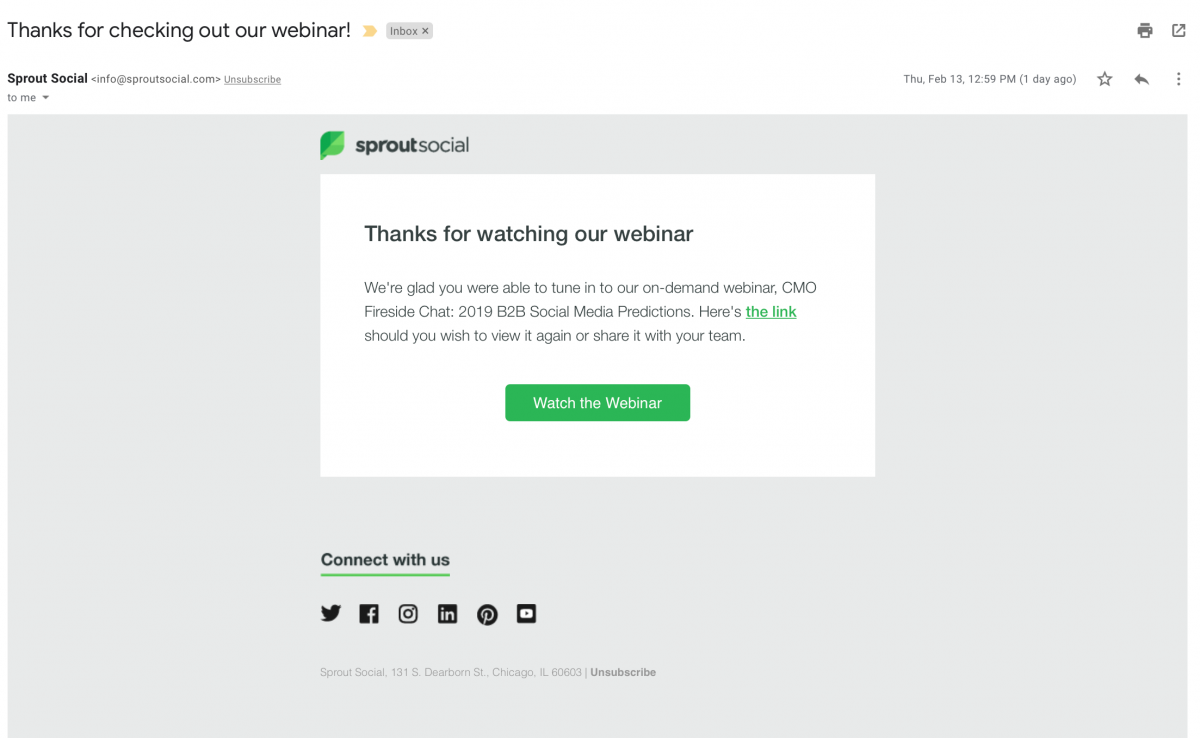 If you decide to offer webinar recording videos, don't forget to notify your leads. Whether people attended your webinar or not (although they've registered), chances are they'll want to have it and maybe watch it again or later. Here's a quick example from SproutSocial of how you can do it. 
102. Bizzabo FAQ Webinar
Bizzabo added an FAQ section to its webinar page. And as you can see from the images below, it's not a generic FAQ, but it also includes information about where the webinar speakers work.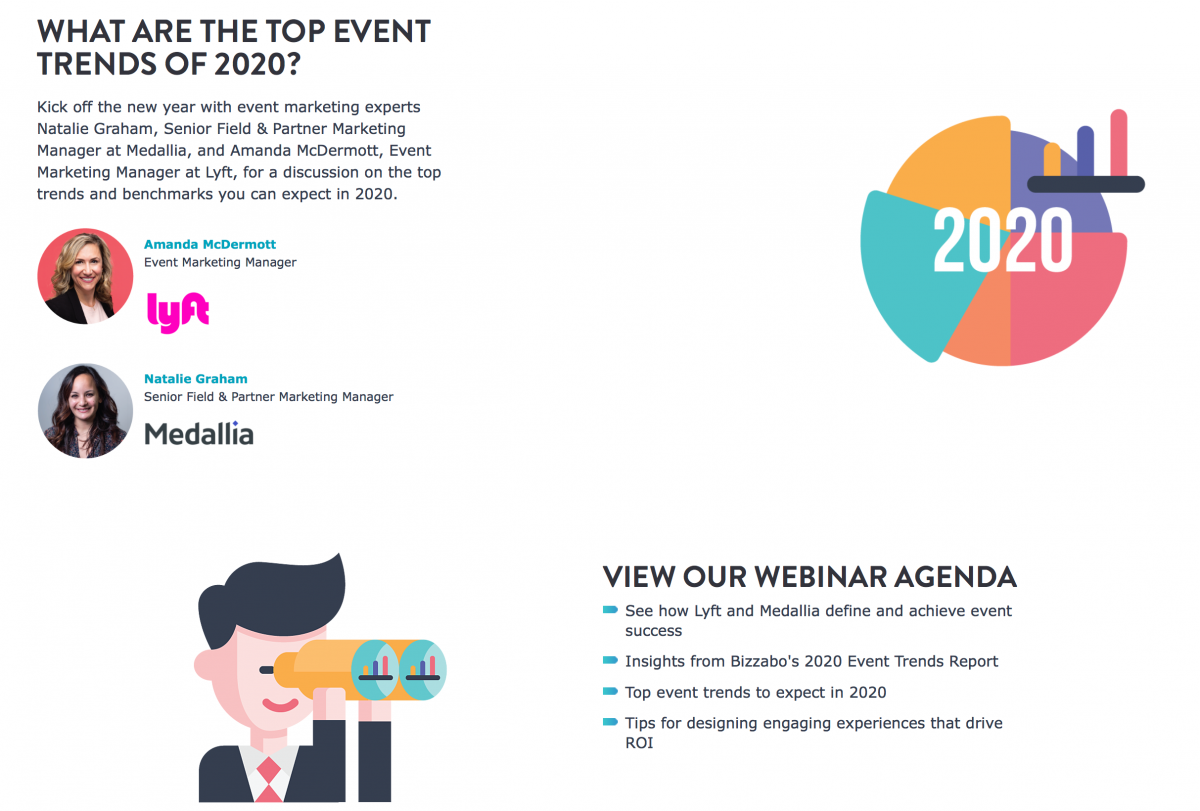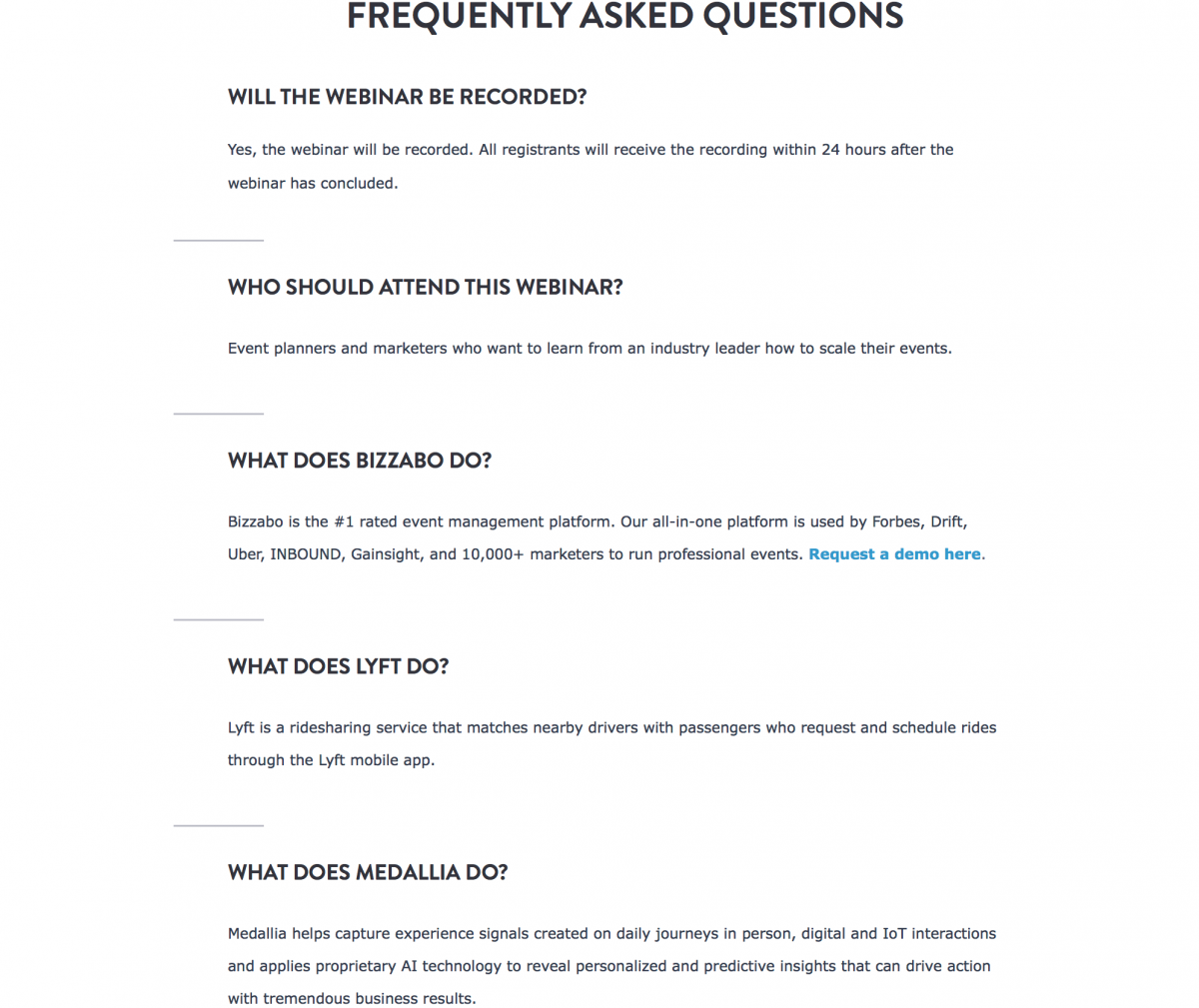 Phew!
We thought this list would never end. But here you have it! All the best practices SaaS companies deploy when setting up their webinar strategy. Now back at you … is there a good practice we've missed?
Let us know in the comments!
DOWNLOAD YOUR FREE WEBINAR STRATEGY CHECKLIST BELOW
Use this checklist
to design your very own high-converting webinar marketing strategy from scratch, then automate the process to attract high-quality leads.
We promise to never spam or send emails about cats.
Okay, maybe some cat stuff.