As a marketer, you're likely very familiar with the term "personalization." It's up there with "chatbots," "AI," and "omnichannel" as the most overused buzzwords in our field.
And while marketing trends like these generally have a negative connotation, personalization is one of the exceptions. It's a concept that's becoming a core focus for all types of teams for one reason: it just works!
So, what exactly is personalization?
The concept of building a customized online experience for each and every visitor. Rather than displaying a cookie-cutter, one-size-fits-all page, a personalized website displays a unique experience for each visitor based on known characteristics.
In short, a landing page that's hyper-personalized helps you effectively meet a visitor's objections, and it knows about your traffic without you first having to ask probing questions.
Here's an example of this tactic in action from Optimizely. Notice how they're able to adjust their page for visitors from Adidas with a custom background image and messaging — it's delightful and shows a level of detail for any visitor who comes from Adidas.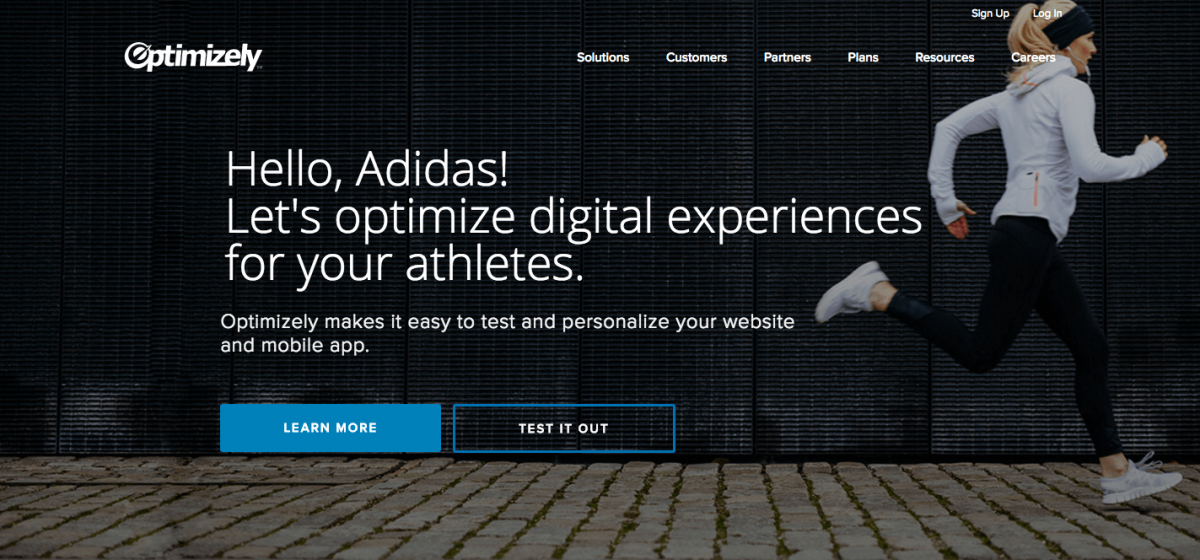 In the past, personalization was overly complicated. Until recently, the infrastructure and tools to easily sync up data from disparate locations simply didn't exist. If you wanted to personalize, you were straight out of luck in your quest to create unique experiences for your visitors.
You couldn't look up a visitor's IP address, couldn't sync a visitor's name from your CRM to your site, couldn't track events across channels…
But now, luckily for marketers, you can!
Faster internet speeds; new data tools like Segment, Hull.io, and Mixpanel; data providers like Clearbit, Datanyze, and Full Contact; and personalization platforms like Proof, Intellimize, and Optimizely have made it easier than ever to create a unique experience for each and every visitor.
While personalization can be complicated, it doesn't have to be with the right plan.
In this post, we'll walk you through how you can start thinking about this important concept throughout your funnel. This article will empower you with skills to obtain higher conversion rates and rock the socks off your visitors — from their first touch on your site through a webinar!
DOWNLOAD YOUR FREE WEBINAR STRATEGY CHECKLIST BELOW
Use this checklist
to design your very own high-converting webinar marketing strategy from scratch, then automate the process to attract high-quality leads.
We promise to never spam or send emails about cats.
Okay, maybe some cat stuff.
A Few Things To Note
Segmentation and personalization are separate concepts, but understanding how they work together is important as you consider the what and where of personalizing your website.
In short, segmentation is when you create grouping logic to display different experiences for your visitors. Personalization, on the other hand, is when you offer individualized journeys for each visitor.
At certain stages in the funnel, you won't be able to do much other than follow a segmented approach to audience creation. While true personalization follows a one-to-one approach, there's always a way to segment using smart groupings. And with each additional segmentation you implement, you'll move closer to a more personalized experience!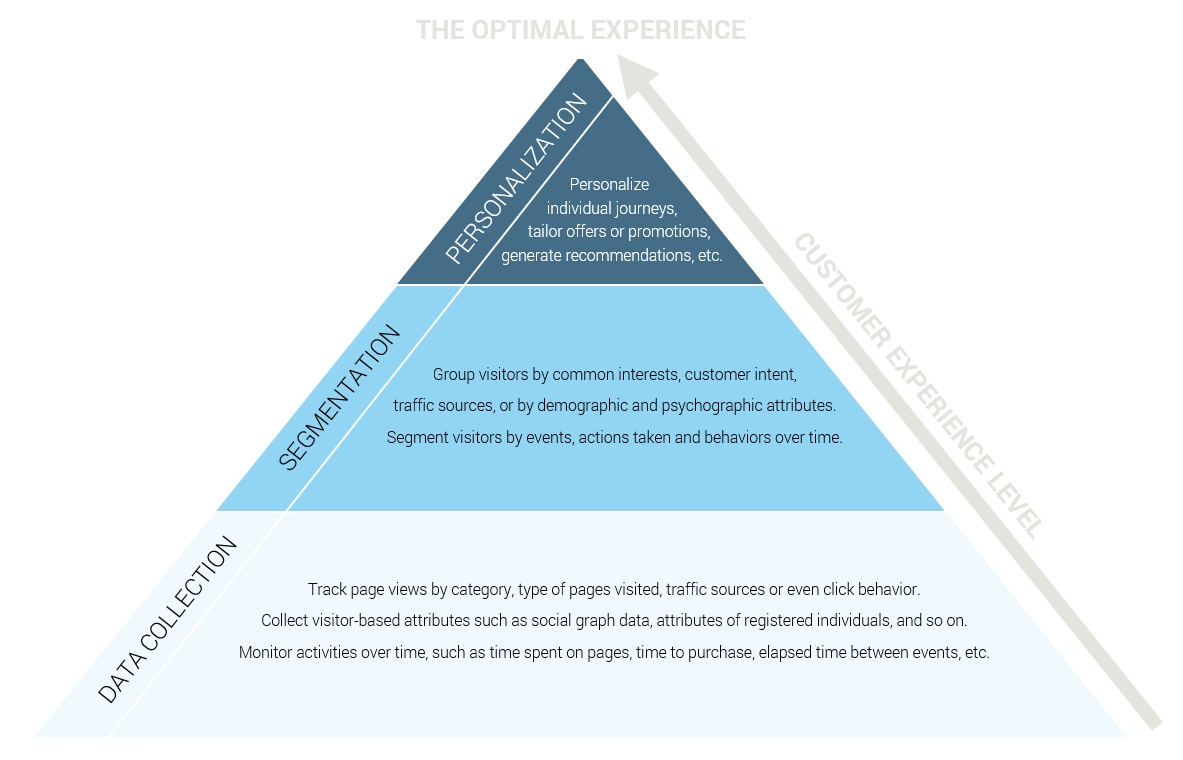 With all that clarified, it's now time to talk personalization. Here are 5 surefire strategies to personalize your website in 2019:
1) Make Ad Headlines Match Each Audience
If you're like most companies, your marketing mix will include some fraction of paid traffic. Spending money on Facebook ads, SEM campaigns, and the like might be unwanted, but it's a necessity to be competitive in today's digital age.
It's important to remember: your ad is often the first touchpoint someone has with your brand!
Rather than dropping a generic ad sending traffic to your homepage as CrazyEgg does in the example below, why not use your digital ads to deliver a message to exactly the right person?
You can carry the copy from an ad to a landing page and all the way to a webinar!
When you run personalized ads in this style, you're warming an audience to convert on a page further down the sales funnel. So, how exactly do you do this effectively?

There are two main methods you can follow here:
The first scenario involves creating custom audiences on Facebook and routing your traffic to different landing pages or online forms. You can match a landing page for each audience. This is a segmentation approach.
The second method involves dynamically changing the info on a landing page in real-time based on the ad a customer saw before routing to the page. This is a personalization approach.
2) Change Headlines for Different Audiences
Oftentimes, when you're selling a good or a product, you target several different industries. Today, using one headline for all of your traffic simply doesn't cut it.
A buyer in 2019 is used to a heightened level of attention — and a lack of specificity towards their needs can come off as careless, or even lazy. In fact, more than 85% of users expect and accept personalization as a part of their online retail experience today.

Let's say you sell software to two distinct industries: E-commerce and SaaS. Rather than displaying the same offer to both groups, you can use personalization to display different messages to each audience.
For instance, here's how you could directly call out your E-commerce customers in your headline: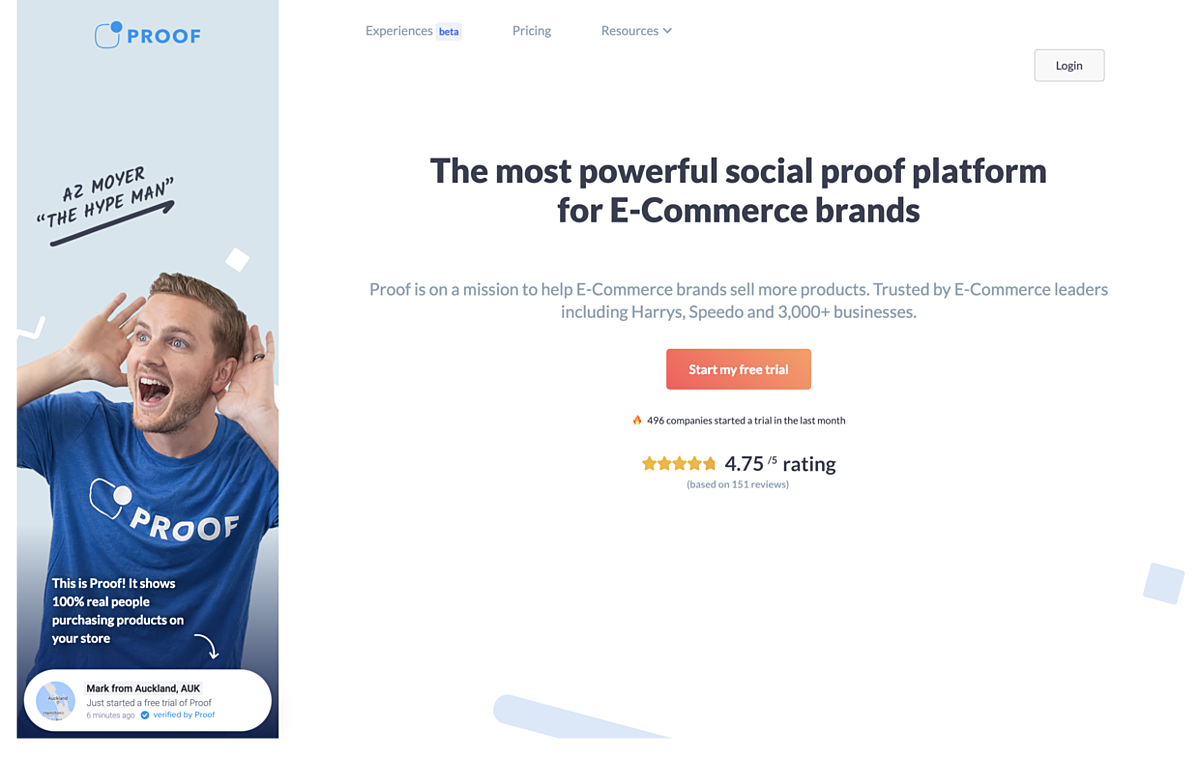 And when you have a visitor with an unknown industry, you could display a generic fallback headline such as "Increase your leads, demos, and sales by 10% in less than 10 minutes!"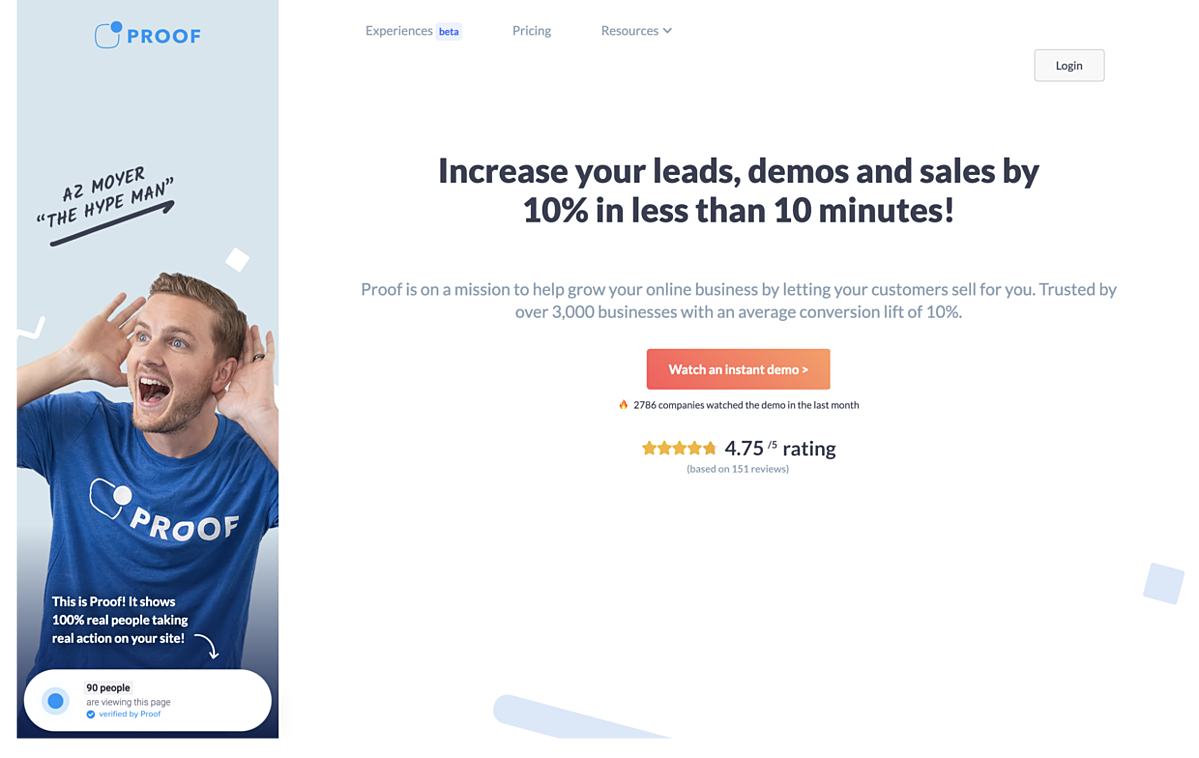 Another use case for swapping up your headlines could be when you're selling to multiple buyer personas!

Let's consider the case of Appcues.
Their product-led growth platform is a SaaS which several roles within the marketing and product organization might be interested in implementing. On their site navigation bar, they highlight these organization roles: growth, product marketing, customer success, product management, and customer marketing.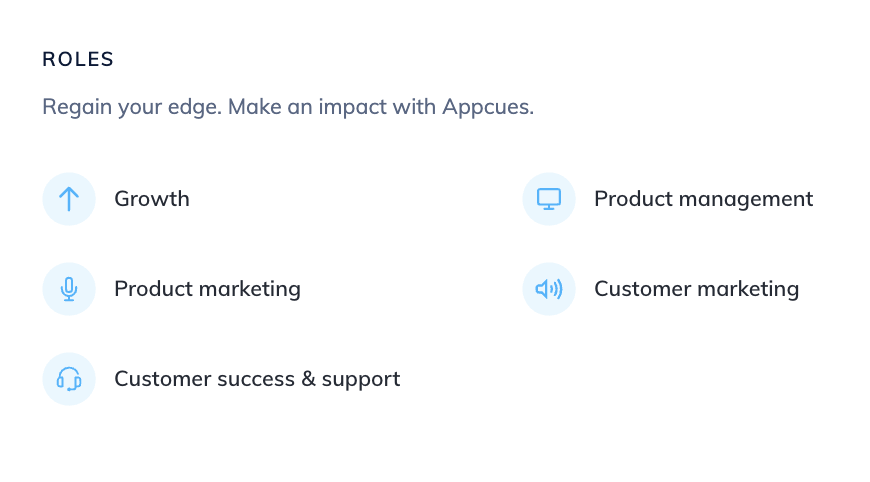 Using personalization software, they can track a user's site activity and note which roles a visitor clicks. Then, based on that interaction, they can personalize the rest of a visitor's on-site experience.
The best part? This tactic makes the page more relevant for visitors while increasing the likelihood they'll convert. Win, win!
3) Make Your CTAs Hyper-specific
Your goal is to get a visitor to click on a CTA and move to the next step in your buying cycle, whether that be signing up for an email newsletter, a demo, a free trial, or some other intent.

With the heightened stakes of CTAs, it's no wonder that making this touchpoint more relevant makes a visitor more likely to convert. So, how do you make your CTAs more relevant?
Make your language immediately relevant — and match the stage a buyer is at inside the funnel!
Here's how ShipBob targets a first-time blog visitor on their site — promoting their guide, The Guide to Offering Affordable 2-day Shipping.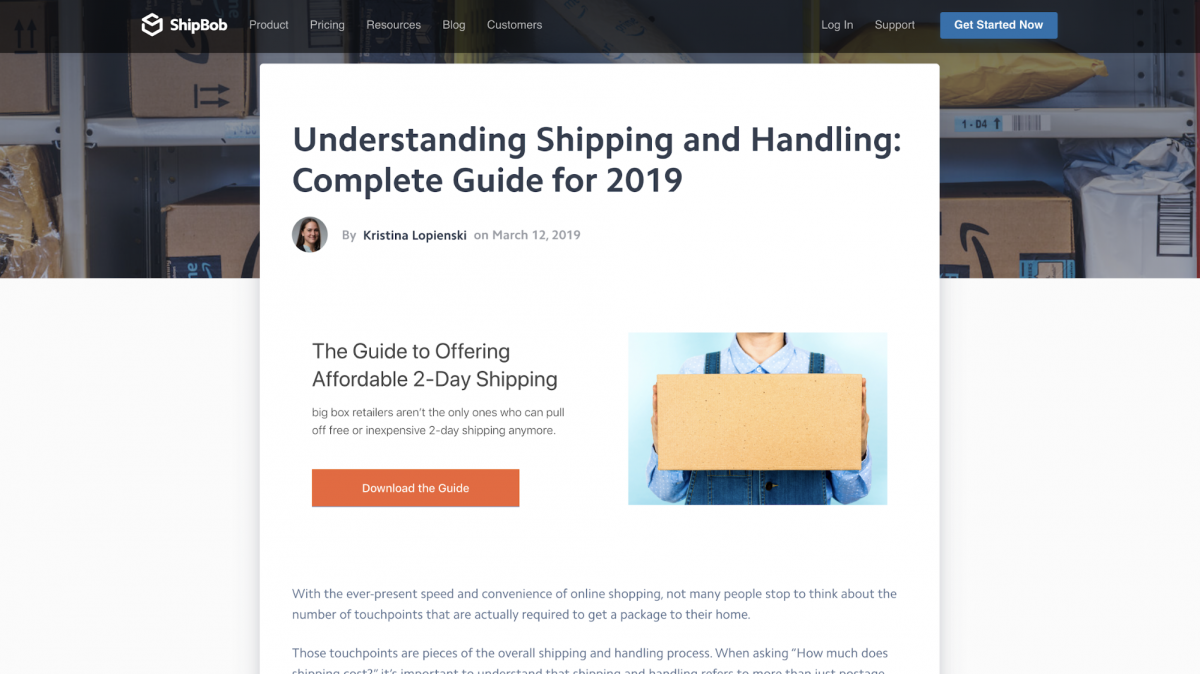 Then, if a visitor returns to the site, they change up their messaging, pushing a visitor to Request a Quote.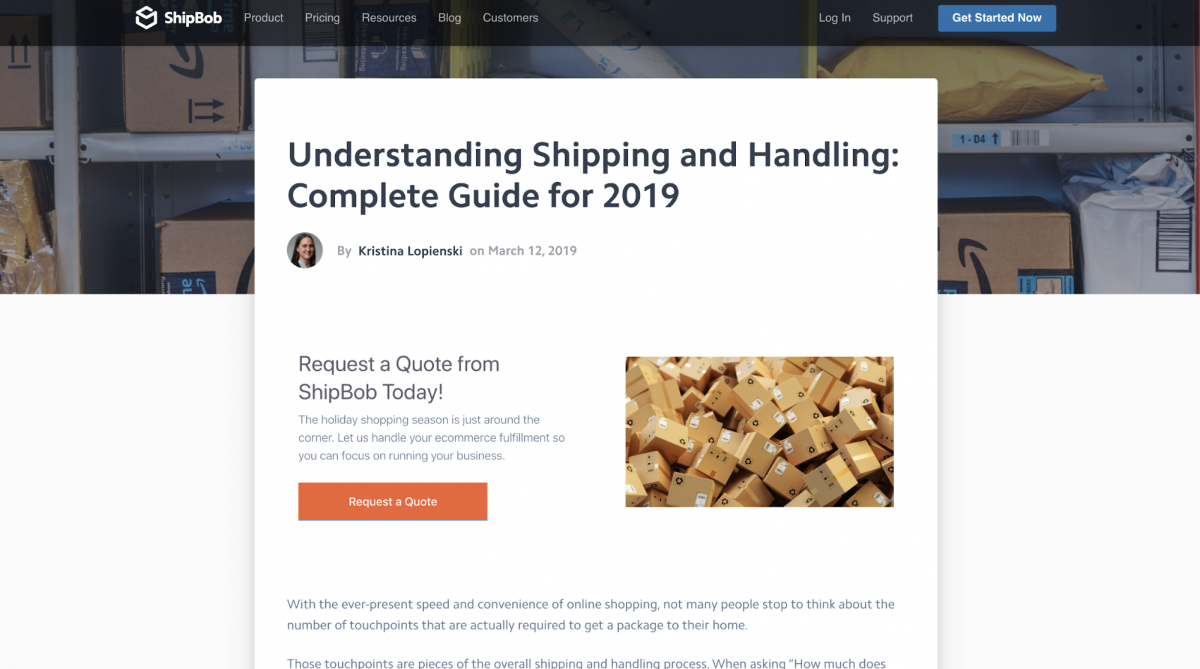 Notice how the blog article stays the same, but the in-line advertisement adjusts for each visitor.
In his article on lead capture, Alex Birkett explains that, in addition to personalizing to whom you display an offer, you can also personalize the offer itself and how you display it. Here's how he puts it:
"After covering the basics (determining our target audience and personas), we can start exploring how we target these people. Perhaps the CTA can be delivered at a different touchpoint on the website. Perhaps we can offer up a totally different lead magnet and CTA. For example, take this page on marketing automation software. We might change up the CTA based on previous website behavioral data, contact property stage, or IP data. At scale, personalizing CTAs like this has a huge ROI."
4) Recommend the Right Content for Each Buyer
When a visitor is reading your blog or browsing pages on your site, you as a brand have the opportunity to act as a curator of the perfect content for your visitor.
Rather than showing static recommendations or the same content to every visitor, why not take the opportunity to provide recommendations tailored to the content a visitor has already been consuming on your site?
For instance, consider a visitor who reads an ultimate guide on customer churn, then navigates to an article on SaaS conversion rates. Based on their browsing behavior, you can use a content recommendation engine to surface more relevant content for this visitor.
That's exactly what the live chat SaaS company Intercom does on their site, as they provide recommendations at the bottom of each blog post they've written to keep visitors moving to another high-value piece. This improves session duration and makes a visitor more likely to convert while on-site.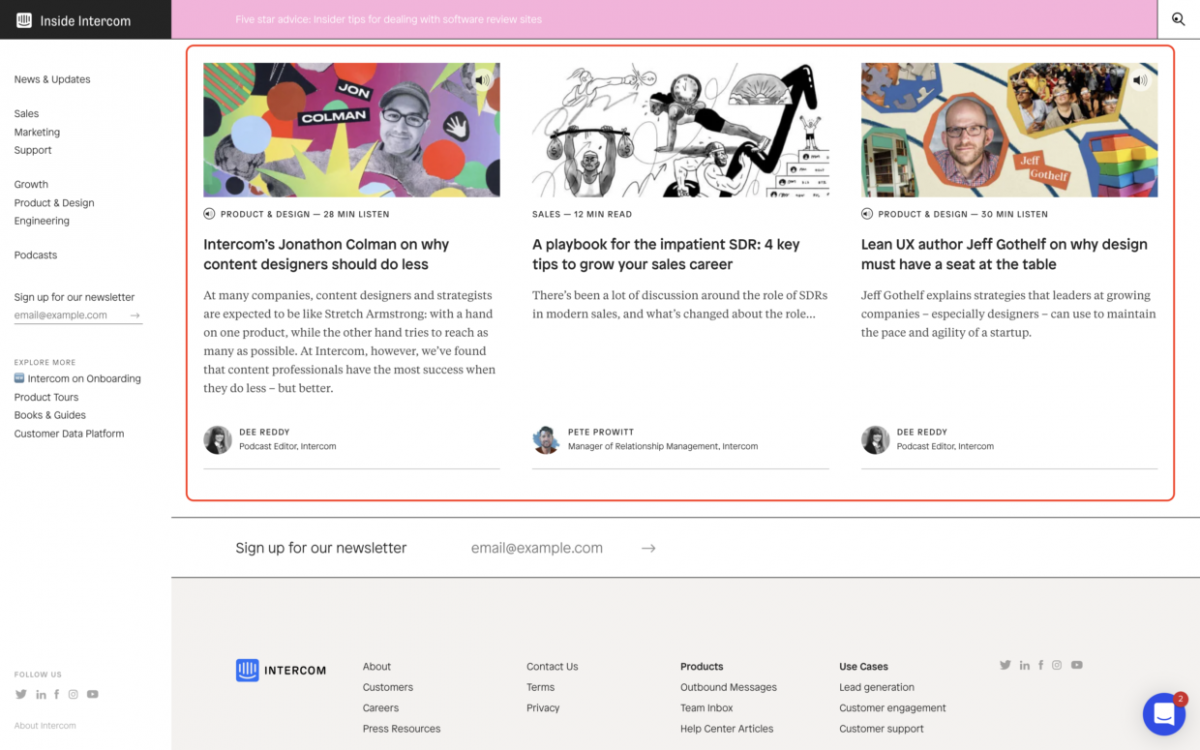 An alternative approach is to push your traffic based on the threshold of content they've consumed.
For instance, once a visitor has read three blog articles, you could stop recommending blog content and instead start pushing your visitors towards a free trial sign-up.
5) Create a Pre-recorded Demo for Each Audience
Once a visitor has reached a demo, you might think your job is done. But rather than stopping your efforts at the demo level, why not take personalization a step further and continue the concept all the way through the webinar to the end of your funnel?
Using Demio or your preferred webinar software, try creating custom pre-recorded demos for each of your segmented audiences. For instance, we could use the same segments we alluded to earlier — SaaS and E-commerce — and create unique demos with custom landing pages for each audience.
And in the demo video itself, you could change very little and still provide a great experience for a visitor. Perhaps record a separate introductory greeting and leave the rest of the webinar video untouched.
You can then update the messaging on your Demio landing pages. Try calling out your audience in the headline or CTA. Not only does this make the page content more relevant, but it also saves you from having to ask for a visitor's industry in a form field!
Here's what this could look like for a SaaS customer: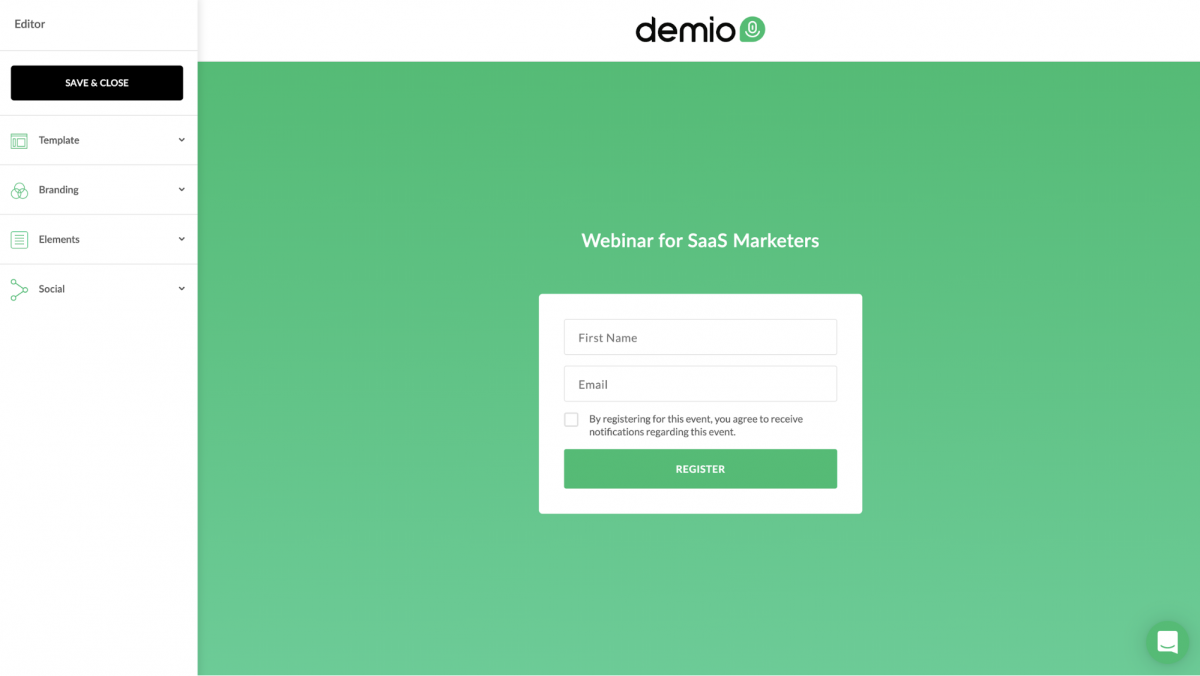 And here's the exact same page, but with a headline calling out E-commerce visitors:
Wrap up
Large brands have been using personalization to outcompete for years. Now, that power is available to companies of all sizes.
We hope this guide has given you some tactical inspiration on how to think about personalizing your own site. If you're interested in getting more inspiration for personalization or to learn more about Proof's personalization engine, visit UseProof.com/experiences.
DOWNLOAD YOUR FREE WEBINAR STRATEGY CHECKLIST BELOW
Use this checklist
to design your very own high-converting webinar marketing strategy from scratch, then automate the process to attract high-quality leads.
We promise to never spam or send emails about cats.
Okay, maybe some cat stuff.