Webinars are one of the best lead generation channels – 73% of B2B marketers agree with this, according to a study in 2017. However, not all webinars are successful. Unlike blog posts, they require not only quality content, but also substantial promotional efforts and technical support. B2B marketing is replete with webinars of all shapes and sizes, so you need to be at the top of your game in order to use your webinar effectively for lead generation. 
Those done live can become one of the most engaging ways to interact with your audience and boost your conversion rates. And thanks to our content repurposing strategy, one webinar can provide you with a month-long supply of content. Seriously, long after it's over, you can still turn that webinar into a written post, video, podcast, presentation, or even infographics.
Here's a look at why some webinars don't immediately explode out of the gate with instant results, and our easy steps to fix them!
Reason #1: Not getting enough attendees
In the majority of cases, low attendance numbers are the result of poorly designed promotional strategies. Also, many hosts forget that one hundred registered users don't equal to one hundred attendees. Most commonly, only 30% of people who register for a webinar actually show up.
Want to have more attendees? Then buckle up, here comes the solution:
Create a solid plan that involves promo shout-outs across various channels
If you've managed to build a strong brand for your business, the SM shout-outs can really help you turn SM fans into leads. This makes sense: an audience that follows you on social media is more likely to take an interest in your other activities.
However, some of us might just be getting started with building an engaged social media community around our brands. Reaching out to the audience and encouraging them to participate in the webinars might end up as a fiasco.
But don't you worry just yet! There is a solution that you might want to explore and invest in. Just be warned right away, it is not easy!
Building a strong personal brand is what I'm talking about. Sounds familiar, right?
And it can work like magic. We like to see real people behind the businesses we interact with. The human factor in your branding can change just about everything.
Just look at the webinars' wizard Frank Kern and check yourself if that's a solution that is worth investing in.
Frank has been using webinars to market and sell his products and services for years. His personal brand is so strong that his webinars fill up in no time by attendees who are excited to get a chance to listen to him. Of course, Frank is also providing a lot of value to the attendees and his copywriting skills are a major factor to encourage a lot of people to participate. He advertises his webinars on social media and via email to his already subscribed audience.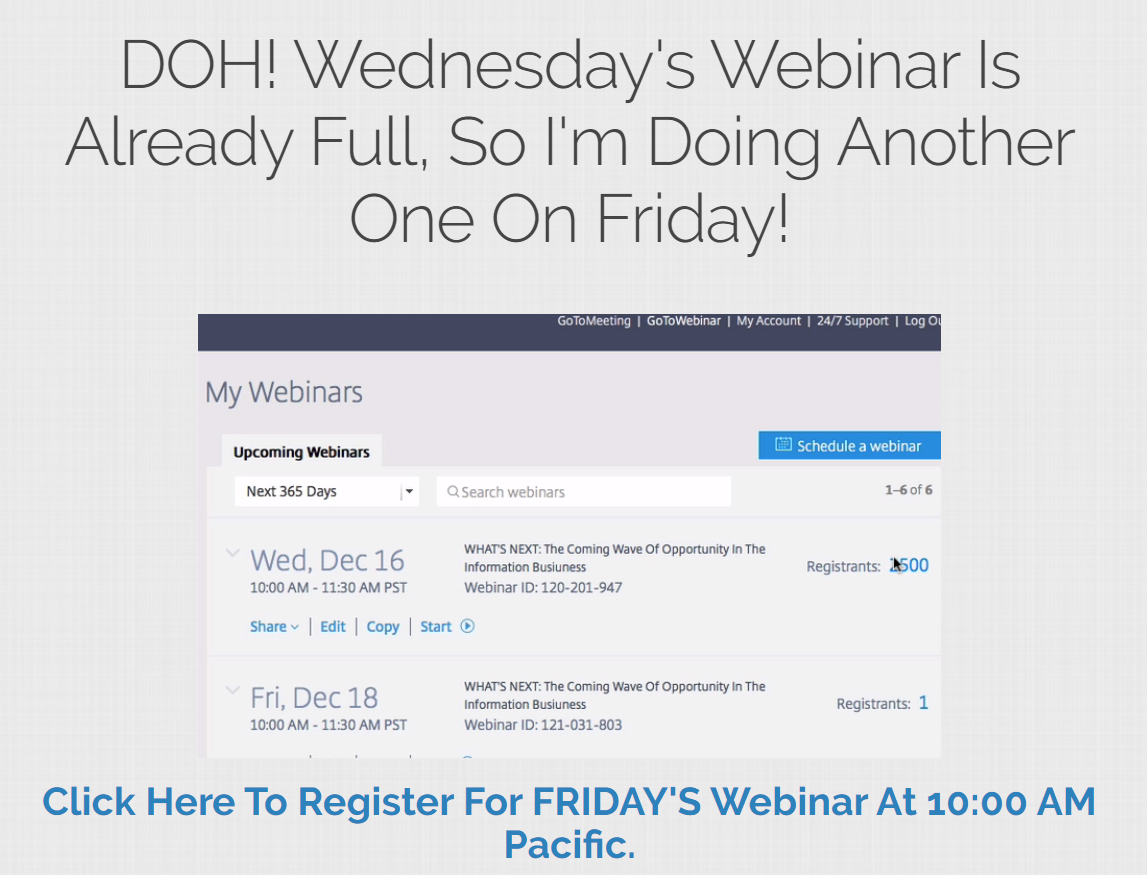 Perhaps it's time you start building your own personal brand along with your business and advertise your webinars using your reach. Don't ignore this opportunity, because…
Webinars are great also because you can use them to warm up leads that you've already generated. For example, the users who have subscribed to your newsletter might not be ready to buy from you yet — but a webinar could fix that! In fact, building a lead funnel that involves webinars is a solid strategy used by well-known companies like SEMrush and HubSpot.
Finally, you can use webinars to attract those users who have visited certain pages on your site but haven't yet left their contact details. For example, if they visited a page with a blog post or a guide on the same topic as the webinar, they might be curious to know more. This can be done with the help of Facebook retargeting, which allows you to target users who have visited certain pages on your site. And if your webinar doesn't have an allocated landing page, now's the time to create one.
If you need tips on what kind of landing page building tool to use, you can find all the necessary information along with a list of the most popular solutions in this post.
Partner up with experts to promote your event to their audience
Inviting experts to be webinar guests or even hosts is a popular strategy in the B2B niche. You can also kindly ask the experts who specialize in the webinar topic to promote yours to their audience.
For example, if your next webinar is about email outreach, asking a link building expert or a PR pro to promote it is the way to go about it. Those people have an audience of their own who are likely to be interested in the things you will cover in your webinar. Don't miss the chance to bring fresh lead prospects to meet you and your business. They might just be looking for what you are offering.
Two things to keep in mind here:
Nothing comes for free, and nobody is going to help you grow your business unless they get something out of it, too. That's why the best option is to ask experts to join your webinar as a guest.
Everybody has a busy schedule, so being present during the whole thing might not work for them. But joining in for a Q&A session for just a few minutes — why not? Moreover, you can later repurpose their answers and use them as expert content on your YouTube channel. An ideal option is to collaborate with people who run video channels, too — fingers crossed, you might score with a cross-promo.
If you have no clue where to start looking for experts, I recommend taking up the BuzzSumo tool and learning a few tactics from this post.
DOWNLOAD YOUR FREE WEBINAR STRATEGY CHECKLIST BELOW
Use this checklist
to design your very own high-converting webinar marketing strategy from scratch, then automate the process to attract high-quality leads.
We promise to never spam or send emails about cats.
Okay, maybe some cat stuff.
Reason #2: Using unreliable webinar software
The biggest share of your webinar success belongs to the reliability of the software you're using. Nothing turns people away from a stream faster than a host distracted by technical glitches. Making sure that everything works well and that you are prepared for possible technical issues should be your priority.
Select the best webinar software that perfectly fits your current needs
If you've just started running webinars, there's a risk that you'll pick a tool that doesn't really fit your needs. My tip is to test the waters by running a few webinars without full integration.
Leave the developmental process for when you have the solution that works best for your needs.
Also, pay attention to what the solution is offering. Thanks to pre-built integrations, there's often no need to reinvent the wheel. Demio, for example, allows you to sync your emails between the CRM system and your email marketing tool. At the moment, it offers by-default integration with such tools as Getresponse, Aweber, ActiveCampaign, and many others.
And if there are no integrations provided within a tool, I highly recommend taking a look at Zapier. This tool can help you integrate anything, let alone a webinar tool with more than one thousand web applications.
Create a list of requirements that an ideal software should have
An essential part of the process is the list of requirements for your future tool.
A few key requirements include user-friendliness and high brand awareness. After all, if the tool is used by many other marketers, chances are it will be a good choice for you.
Next, a handy webinar tool doesn't require attendees to download, install, or set up any software to join the webinar. And finally, it's super important for a webinar platform to be integrated easily into your current business processes. The best software is the one that has pre-built integrations with your email marketing tool, which spares you the hassle.
Once you have the requirements in place, I recommend going to Capterra where you can compare various webinar platforms by technical characteristics. Plus, Capterra allows you to read reviews from users who are currently using the software.
Reason #3. Selecting the wrong time
Time is a crucial factor. Choosing a start time that is inconvenient for your audience will result in a drastically low attendance rate. The best way to decide when to start is to account for your audience's time zones and select a time that fits the majority of attendees.
Select the right time for your future webinar
According to a discussion on Quora, people are more likely to attend webinars that are scheduled Tuesday through Thursday.
As for the most popular time, they prefer to watch webinars before noon, around 11 a.m., or during lunch time, between 1-2 p.m. Webinars scheduled at those times tend to see the most registrants.
But don't rely solely on others' experience — try things for yourself! Before you pick a regular date, I recommend running several webinars on different days of the week, during different hours. See how the number of attendees reacts to the new time, and pick the one they like the most.
Reason #4: Not investing enough time in technical preparation
There are a million things that can go wrong during a webinar, and even experienced organizers can overlook some of the smaller aspects.
Issues with sound, video, or connection, poorly-delivered visuals, unprepared guests (or hosts!) — these are only a few of the things to watch out for.
If you want to be truly prepared and not miss a single detail, make a checklist.
Use a webinar checklist
Your webinar checklist should include everything you need to take care of before, during, and after the webinar.
Here are some of the most crucial parts:
Click the recording button once the webinar starts. This may seem obvious, but it's actually a very common issue (and why Demio records for you automatically).
Running a sound/video check before the webinar. Ask a colleague to log into the webinar room to make sure everything works correctly.
Ask the attendees if they can see and hear you well. That's a very important step, but it tends to be skipped once the host dives into the conversation.
Explain to the attendees how the webinar room works: how they can communicate with you in the chat or by leaving comments; how they can ask questions; whether or not the recording of the webinar will be available and how they can get access to it, etc.
Rehearse switching to presenter mode. If your webinar features more than one host, have a little test run prior to beginning.
Watch the engagement level during your presentation. Run polls, ask questions — stay in touch with your audience.
Don't forget about the Q&A session. When you get to it, read the questions out loud first and then answer them. Otherwise, nobody will understand what you're referring to.
Selecting an interesting host
A good host who knows how to connect with an audience brings half the success to your webinar. Similarly, a bad host can turn people away form the most engaging of topics.
That's why many companies hire people with public speaking backgrounds when organizing their B2B webinars. They know how to engage people, entertain even, and can get out of technical difficulties with a smile and a good joke. This way, your attendees focus on the presentation contents and not the things that went wrong. 
Always be prepared for technical difficulties
Technical glitches are inevitable. They happen even to the most experienced of presenters, simply because some things can't be predicted.
Your task is to minimize the risks and learn from your previous mistakes. When you face a new issue, don't see it as a disaster. Let your host improvise while you're fixing it — in fact, it can add a certain charm to the webinar.
Once the issue is fixed, add it to your checklist of things to look out for before the webinar. Next time it happens, you'll be prepared.
Reason #5: Turning webinars into sales demos
Webinars are not sales pitches. They are supposed to do a lot of "e's": educate, engage, excite, and entertain. But they should not sell your product or service to cold leads.
Making your webinar truly engaging
What's the difference between a good webinar and a great one? It's all about the details. First of all, to make the discussion really interesting, invite industry experts to join your webinar to provide your attendees with valuable insights.
Make sure your presentations include valuable information, fresh news, or actionable how-to's. Don't focus strictly on your products or services. This will alienate your audience, as nobody wants to sit through an hour-long sales pitch.
And don't forget about visuals. Most of the presentation is what the attendees see on screen, so it's your job to make it visually appealing. Make a reservation in your budget for it, or, if that's not possible, make use of pre-built templates. Regardless of which option you choose, this part of the job is very important if you want to look professional.
Conclusion
Apart from being a strong lead generation channel and a fruitful device for content repurposing, webinars can help you in many other ways. It's an effective alternative to one-on-one events; it helps you build connections in the industry expert community; and above all, it allows you to build your personal brand or enhance your company's brand image, if that's your preference.
If you lack experience or knowledge, don't be afraid to try things.
All of the well-known webinar hosts started on this path at some point, and just like you, they've learned through trial and error. Use these tips to help you avoid the most common webinar pitfalls.
DOWNLOAD YOUR FREE WEBINAR STRATEGY CHECKLIST BELOW
Use this checklist
to design your very own high-converting webinar marketing strategy from scratch, then automate the process to attract high-quality leads.
We promise to never spam or send emails about cats.
Okay, maybe some cat stuff.