Webinars are an effective tool for generating leads, building awareness, and growing engagement with your audience.
But they can also be tricky to pull off.
The premise of a webinar revolves around getting people to tune in to the event. You can always send a recording afterward, but there's something to be said about getting people interested enough to show up in real time.
How do you get people to show up?
It's pretty simple: you've got to let them know about it.
DOWNLOAD YOUR FREE WEBINAR STRATEGY CHECKLIST BELOW
Use this checklist
to design your very own high-converting webinar marketing strategy from scratch, then automate the process to attract high-quality leads.
We promise to never spam or send emails about cats.
Okay, maybe some cat stuff.
But with more and more brands hopping on the bandwagon, it's harder to cut through the noise and get your message heard.
In this article, I share quick and easy tactics for promoting your webinar to secure more registrants (and actually get them to attend!).
Click here to get more quick and easy tactics sent right to your inbox with Do More, With Less
Don't Just Rely on Social Media For Webinar Promotion
An article about webinar promotion wouldn't be complete without mentioning social media.
When it comes to promoting anything, social media is a given.
But quickly putting together a post and throwing it into the rotation isn't going to cut it. People's social media feeds are already crowded. You don't want your audience to see your posts and think, "Not another webinar."
Here are some quick ideas to level up your social media promotion game:
Create a Webinar Teaser Video
People love videos.
Find the key takeaways from your webinar and create a 30-second video to highlight them. Try to choose something that will pique your audience's interest without giving away too much. You want people to know the basics, like when to tune in and how to register. But you should also tease something compelling that's related to the actual subject of the webinar, such as a relevant statistic or strategy.
Once you have that, add some eye-catching effects, and you have yourself a teaser video. It may take a little extra prep time to build this into your promotion plan, but you're guaranteed to make a splash on people's social feeds.
Make Your Webinar Promotion Interactive
In recent years, many social media platforms have expanded their functionalities to be more interactive. Twitter, LinkedIn, and Facebook all allow you to create polls as part of your posts. This feature lets you ask users multiple-choice questions, with answers personally designed to give you valuable information tailored to your webinar topic.
For example, let's say you're promoting an upcoming webinar about backlink building strategies. You can create a post with a poll that asks the audience to select what they think is the most effective method for generating backlinks and see which one gets the most votes. Then, you can reference the post during the webinar and tie it back to the subject matter.
It shows your audience that you care about their opinions. Plus, polls are easy to set up and even easier to take part in.
Cross-Promote Your Webinar
Does your webinar feature a special guest? If so, leverage your guest's network to promote the event further.
The easiest way to encourage a guest to take part in promotion is by creating a quick promo kit. Build out a doc with images, ready-to-go social copy, and anything else they would need to share the news.
Also, remember to tag the speaker and use their social media handle in anything you post. If they don't want to create their own post, they can simply re-share anything you tag them in.
Experiment With Powerful Copywriting
When writing messaging to promote your webinar, think strategically about the words and phrases you use. The goal is to generate buzz about your webinar and entice people to register. Your copy needs to reflect that.
Don't shy away from powerful vocabulary. Try to incorporate phrases that create a sense of urgency, such as "don't miss out" or "one-time only." This type of language taps into people's fear of missing out, also known as FOMO. It portrays your webinar as exclusive and in demand.
Most importantly, remember to communicate value every step of the way. What will people get out of attending your webinar?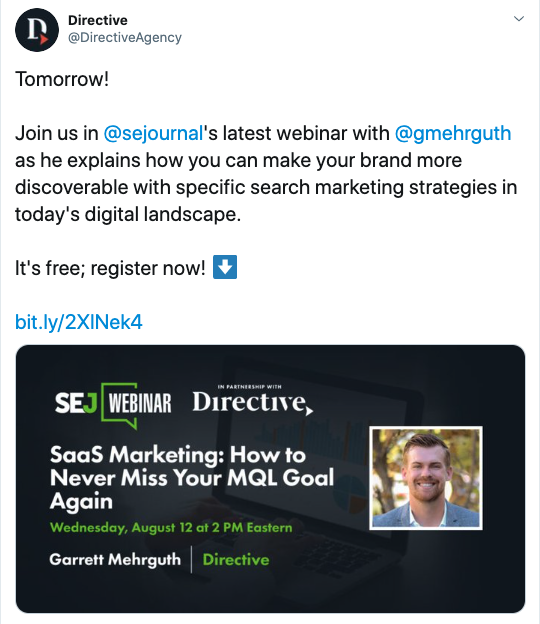 The language you use should directly address your audience, a business problem they have, and how your webinar will offer a solution.
Consider Paid Webinar Promotion
If you have the budget for it, pay-per-click (PPC) advertising on social media can be a very effective way to get your webinar in front of the right people.
Although each social media platform is a little different in terms of ad offerings, most of them have advanced targeting features that allow you to serve ads to a very specific audience. When you're posting on your company feed, Twitter, LinkedIn, and Facebook also offer remarketing, which is a feature that delivers ads to people who have previously visited your site without buying.
Paid webinar promotion essentially guarantees your message is going to land on the right person's social media feed. Unless your brand already has a massive following, you won't get this level of exposure with organic posts. If you have the resources, paid social media is worth the investment.
Engage Your Email List
Email is an incredibly powerful channel for promotion, but much like social media, it's become crowded. People's inboxes are flooded with promotional emails, so you have to get creative if you want your message to make an impact.
Write Email Copy That Packs a Punch
To reiterate, it's important to use language that's powerful and compelling.
When writing your emails, it's critical not to overload the message with text. It can be tempting to include as much information as possible, but remember, you only have the reader's attention for a couple of seconds. Use that space to communicate the details quickly and clearly.
Start with all the elements of a good marketing email: catchy subject line, concise copy, and a clear value prop. From there, add in the who, when, and where.
Think of every email as a touchpoint, and every touchpoint as an opportunity to provide your audience with additional value.
Before you can press "send," you have to consider the number of emails you're sending out and when.
A good rule of thumb is to start promotional emails two weeks before your webinar is set to air. This gives you enough time to send out two to three emails prior to the event. Any more than three and you start to inch towards spam territory.
The jury's still out on which day and time of the week is most effective for getting emails opened. This is something you can experiment with since it's largely dependent on your audience. A general best practice is to send emails during normal business hours only, and avoid Friday afternoons.
Aside from the promotional emails, you should also plan to send several follow-ups, too. Registrants should get a confirmation email right after they submit their information, a reminder email a few days before the webinar, and a quick "thank you" email after it ends. This is a simple way to keep registrants informed in the days leading up to the event and thank them for their participation once it's finished.
Promote the Webinar in Your Email Signature
Sneak in an additional promotional touchpoint by creating a custom email signature for team members at your company.
Think about how many emails are exchanged each day across your organization. Now, think about turning all of those emails into promotional opportunities.
It's a no-brainer.
Right now, your signature is probably filled with empty space or a generic company logo. That's precious email real estate that can easily be leveraged to promote your webinar (or any other marketing campaign you're running!).
To create a custom signature that really pops, I recommend using a banner image. This showcases your brand colors and really catches the reader's eye. You can either create the image yourself or look into email signature software that does it for you. Once it's complete, share it internally and encourage your colleagues to add it to their own signatures.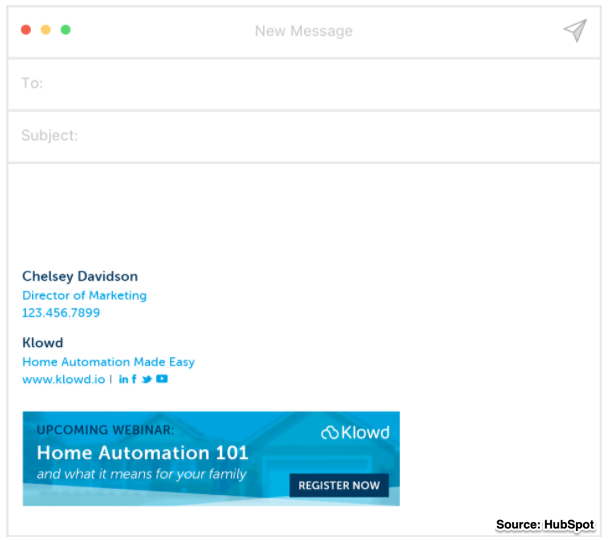 Leverage Your Website For Webinar Promotion
Your website is the digital face of your business.
In a perfect world, every visitor who lands on your site would go straight to the product/service page and convert into a lead.
But the world isn't perfect. The reality is that a significant number of those visitors aren't ready to buy from you just yet.
The best way to capture the attention of the people who fall under the "not ready yet" category is to provide something of value — like a webinar. These individuals already made it to your website, so you know they're at least somewhat familiar with your business. This instantly makes them a viable candidate for attending your webinar.
It may seem obvious, but marketers often overlook their own website as a promotional tool. It's as easy as throwing in a banner at the top of your homepage, or adding an exit pop-up that catches users before they click out of the page.
Another option is to place call-to-action (CTA) buttons throughout relevant pages on your site, such as a thank you page or a blog article that's related to the webinar topic.
Promotion doesn't always require thinking outside of the box. Sometimes it's as simple as making the most of the channels you already own.
Design a Webinar Landing Page That's Built To Convert
If executed correctly, your landing page can be a promotional tool all by itself.
You're already putting in the work to get people there. But if the page itself isn't engaging, you run the risk of losing registrants before they even fill out the information form.
A webinar landing page is made up of three core elements:
Headline
Marketing trends come and go, but good headlines never go out of style.
The headline is the first thing people see at the top of your landing page. A good headline should draw the reader in and compel them to stay on the page to learn more. The hard part is coming up with something that's catchy and concise. A headline that's too long can quickly cause the viewer to lose interest.
Description
The description is going to make up the bulk of the landing page text. This is where you provide additional information about the webinar, including details about the speaker(s) and when/where it will take place.
It's also a good idea to outline two or three key topics that will be discussed. This provides the reader with more context and helps them understand what to expect if they sign up for the webinar.
Lead Form
Last, but not least is the lead form. People are often cautious to give out their personal information, so think carefully about which fields to include. If you ask for too much detail, it might deter people from registering. If you ask for too little, you'll miss out on valuable lead data.
At a minimum, it's appropriate to ask for a name and business email address. Most people are familiar with how webinars work, and they expect to give out some personal details.
A properly optimized landing page will follow a 1:1 attention ratio, which means you should have only one lead form or CTA on the page. Promoting multiple offers can confuse the reader and cause you to lose that lead altogether.
Final Thoughts on Webinar Promotion
As you can see, creating the webinar content is only half the battle. To execute a truly successful webinar, you have to put a solid effort into developing a plan for promotion as well.
The good news is, webinar promotion is easy to replicate. Once you have an idea of which channels are the most effective for reaching your target audience, you can follow the same plan for future webinars.
It's also worth noting that your webinar promotion plan doesn't have to be set in stone. You can (and should) make tweaks along the way. It takes time to find the balance between channels. It's just a matter of testing out what resonates the most with your current and prospective customers and use that to attract high-quality leads with your webinars.


DOWNLOAD YOUR FREE WEBINAR STRATEGY CHECKLIST BELOW
Use this checklist
to design your very own high-converting webinar marketing strategy from scratch, then automate the process to attract high-quality leads.
We promise to never spam or send emails about cats.
Okay, maybe some cat stuff.